You might remember me yapping about wanting to see more of my home country Denmark, but I somehow never got around to it. Well, dear friends and readers, this summer I did and it was a huge success. I embarked not only on one Denmark road trip with Thomas but several, where I saw a lot of new, exciting places.
Read next: How to rent a car in Denmark
Most visitors that come to Denmark only visit Copenhagen, and that's a shame because there are SO many beautiful places here. Like Funen, which is the most romantic mini destination you've never heard of, or North Jutland which is blessed with enchanted forests and a watery and rugged beauty.
Here's a list of the best routes for a Denmark road trip:
Denmark road trip – the 6 best routes
Funen – nature and fairy tale castle
West Jutland – rugged coastline, the oldest town in Scandinavia (from 700 AC), the Wadden Sea – a UNESCO site
South Jutland – old war sites and the Danish prince & princess' castle
North Jutland – rugged coastline, nature, beach,
Copenhagen
Djursland – Fjellerup (beach and the world's best ice creams) and Ebeltoft (fairy tale houses)
Read next: 12 mind-blowing places for nature in Denmark
Funen – the fairy tale island
So, the best Denmark road trip this summer was to Funen.
Funen is best known for H.C. Andersen, the father of Fairytales who said those famous words: "To travel is to live". Well, a trip to Funen will reveal where he got his inspiration.
The southern part of Funen is lush, hilly and charming. Its most popular spot is Egeskov Castle, which is one of Europe's best-preserved Renaissance castles with an extensive collection of vintage cars and motorbikes.
We have quite a few castles and mansions in Denmark. I haven't been able to find the exact number, but on Funen alone there are 123 – which is a lot considering everything on the island is less than 2 hours drive away.
Thomas had booked us a room at one of the castles and it kind of blew me away. The surroundings were so serene and nature-rich. We had waiters serving us for the same price as a hotel room in Copenhagen, Aarhus or just about any other town in Denmark.
We also went to Valdemar Castle, which used to be owned by baroness Caroline Flemming. If you're a Dane, you know her for sure because she's often on Television. Now, she lives in London and the castle is open to the public. That's how it is with most of the Danish castles – they're part of the Danish heritage and therefore open to visitors.
Valdemar Castle is Denmark's largest manor house museum, on the tiny neighbouring island of Tåsinge.
The castle we stayed at is located right next to the most quaint and charming little town. It's called Faaborg, and I came there only for the houses. In the summer, there are flowers everywhere, bikes in the streets, people are out and it's so cosy – or hyggeligt as we say in Denmark.
During our Funen road trip, we also went to the northern part. We had a stopover in Middelfart, which is on the border between Funen and Jutland island. We have three major bridges in Denmark: Øresundsbroen (the largest) connecting Denmark and Sweden, Storebæltsbroen (the second largest) connecting Funen and Sealand, and Lillebæltsbroen (the smallest) from Jutland to Funen. In Middelfart, we went under the bridge, which is something I've never tried before – super fun!
And then we went to Odense, the island's capital and home of H.C. Andersen. We went to see his childhood home, the school for the poor, and we even saw one of his open-air plays outside his house, which is now a museum.
West Jutland
West Jutland is a part of my country that I rarely visit. The coastline is rugged and scenic as in the north, but there's still something different about this part of Denmark.
On this road trip in Denmark, we drove to Hvide Sande (White Sands) by the West coast and followed the coastline down to Blåvand (Blue water) and ended in Ribe, where we spent the night at a Bed and Breakfast → If you're visiting Denmark, this is by far the cheapest accommodation, plus you get to live in a Danish home. In Blåvand, we went to the lighthouse and got a terrific view of the scenery. It's really nice from the top.
Read next: Why magical Blåvand should be on your radar
Although I love the coast and the sea, my favorite stop on this trip was Ribe. Now, let me tell you something about this old, medieval Danish town. Founded around year 700, it's in fact the oldest town, not only in Denmark, but in all of Scandinavia. It's incredibly charming and definitely one of the Danish highlights if you ask me!
Read next: 12 reasons to visit Ribe – the oldest town in Denmark
Aside from a cute little harbour, Ribe has a majestic cathedral, a viking museum, lovely Danish cafés and a truckload of history. It's also the birth place of Maren Spliid, the last and most famous Danish woman, who was burned at the stake for witchcraft in 1640. It's a horrible story and even more horrifying to know that my countrymen burned so many innocent women. Luckily, those days are long over.
Right next to Ribe is Vadehavet (the Wadden Sea). It's a national park and UNESCO site, where the North Sea water flows into the Wadden Sea twice a day, flooding the mud flats with seawater. During low tide, you can go or drive out there and experience how it feels like to stroll on the sea bed.
Read next: Why you should visit the Wadden Sea
South Jutland
After spending the night in Ribe, we went on to South Jutland. Our first stop was Møgeltønder, which is where our prince and princess lived until recently. We hoped to visit their castle: Schackenborg castle, but unfortunately it wasn't open.
Møgeltønder is super, super small and has less than 1,000 inhabitants. It's a lovely little place though and we strolled through the village before moving on to the south-east coast of Jutland.
Read next: Discover the impossibly cute Møgeltønder
Now, I haven't been in Sønderborg since the 7th grade so it was interesting to be back. It's very close to the German border and there's a lot of war history in the area.
Read next: Why you should visit Sønderborg
North Jutland
If you've been reading this blog for some time, you know how much I adore North Jutland. It's by far my favorite place in Denmark, aside from my soul-city Aarhus of course.
I didn't spend as much time up north this summer as I'd liked, but I went there last weekend with Thomas. And it was epic! We first went to Tornby by the Western sea, which is where these photos are from. It's the most rugged and beautiful part of North Jutland because of the coastline. Afterwards, we drove to the east coast, to Kattegat, to visit my uncle. It's more quiet there, but still beautiful!
At sunset we went to see something very Danish and very unique. In fact I was surprised to learn that it even happens in the North. Normally you only see it at the Wadden Sea. Anyway, it's called Sort Sol (Black Sun) where hundreds of thousands of starlings turn the sky black when they are circling around creating fascinating formations in the air.
Copenhagen
I also went to Copenhagen this summer, just before I flew to Scotland. It's always good to be in Copenhagen because Thomas' sister lives there and it's the perfect excuse to see family. I had a few hours in the capital before flying off to the UK.
Plus, I got to test my new ultra wide-angle lens. I'm loving it by the way!
And of course… Djursland
Last but not least, I went to Fjellerup a few times to visit mom and dad. Normally, they spend most of the summer there, but this year they've been busy with other things. I hope I'm just as active and social when I reach their age.
Read next: 10 fantastic reasons to visit Djursland
This summer has been super eventful with family visits from the US, fun road trips and lots of family time. And I haven't even mentioned all the Europe traveling I've been doing – more on that in my blogiversary post next month!
Don't forget about the Danish food
Our road trip in Denmark was a major success, but road trips weren't the only thing I did this summer. I also had a lot of great Danish food!
Read next: 20 amazing dishes you must try in Denmark
My favorite thing about summer, aside from the sun and warmer temperature (a rare commodity on these parts) is the Danish summer food. The fresh peas, berries, vegetables and fish. Oh my gosh, it's SO good I can't even begin to explain it.
As usual, Pernille and I went pea picking early in the season, and I even planted some on my balcony. They're still growing, but hopefully by the end of October I'll have my own little stash.
Planning a Denmark road trip? Ask me anything in the comments
Pin to Pinterest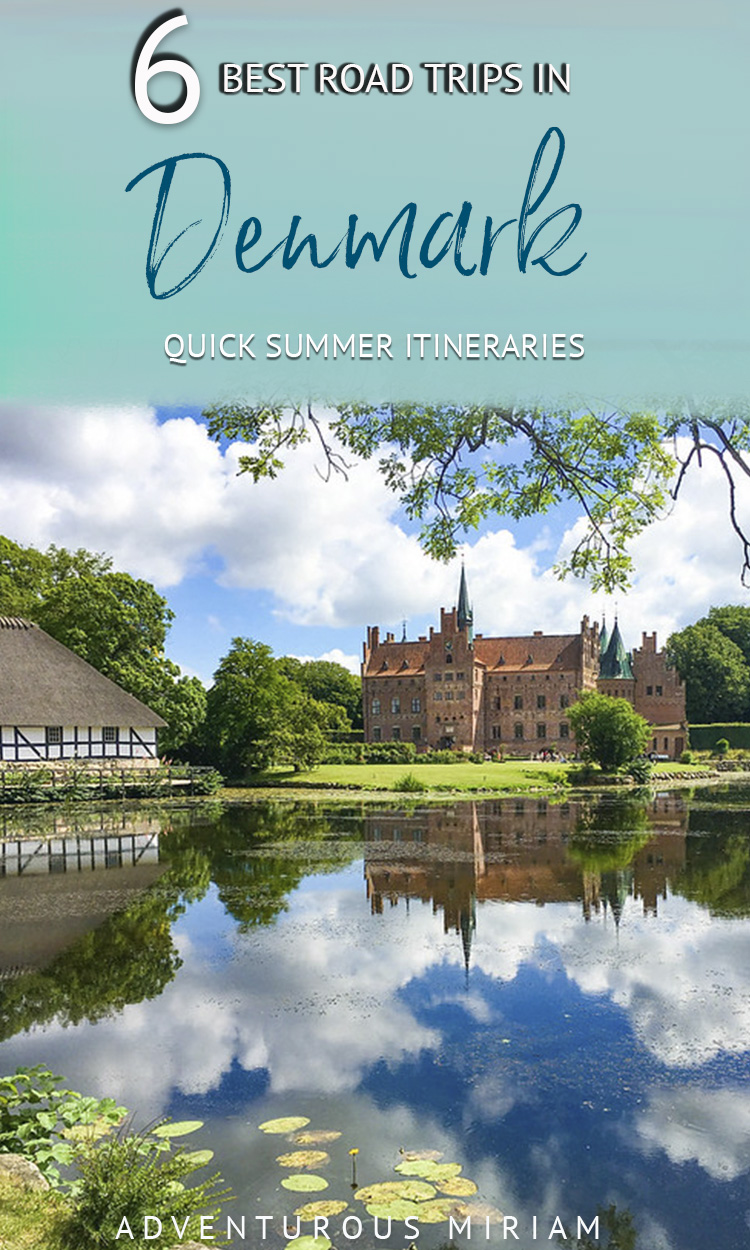 Psst! This post probably contains affiliate links, which means I earn a commission (at no extra cost to you) if you click through and make a purchase. As always, I only recommend products and services I trust.