Denmark Road Trip: 6 amazing self-drive itineraries
Planning a road trip? Denmark is a magical little corner of Europe that's perfect for self-driving. In this post, you'll find 6 tried-and-tested Denmark road trip itineraries to help you plan the best 2-5-day adventure.
Plan your trip to Denmark
👩🏻 Best guided tours in Denmark
🏡 Where to stay in Denmark
Most travelers only visit Copenhagen, and that's a shame because there are SO many beautiful places in Denmark.
Like Funen, which is the most romantic mini destination you've never heard of, or North Jutland which is blessed with enchanted forests and a watery and rugged beauty.
With your own car, you can cover the entire country (minus the small islands) in less than a week. Here's everything you need to know!
This post contains referral links for products I love. Adventurous Miriam earns a small commission at no extra cost to you if you make a purchase through my links. Thank you for your support ♡ Learn more
Renting a car in Denmark
The easiest, fastest, and most convenient way to travel to most Danish hidden gems is with your own private rental car.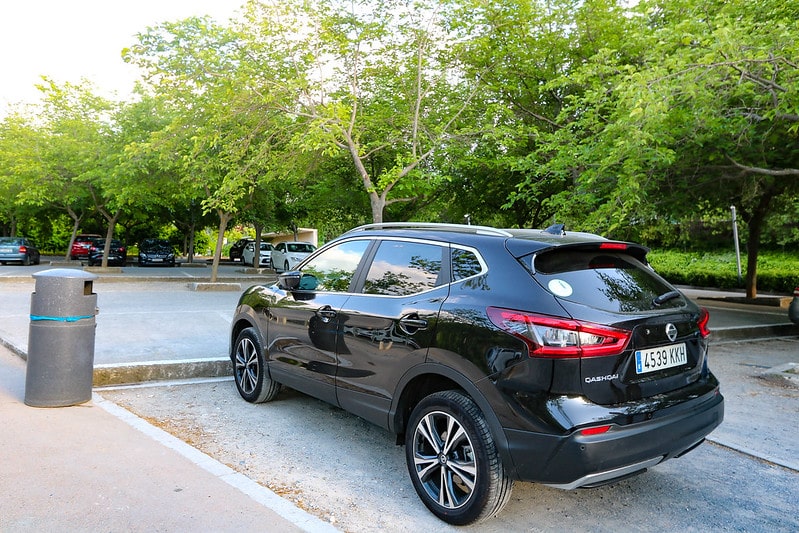 Best Car Rental Company:
DISCOVER CARS
When booking your car rental online, I recommend Discover Cars. They compare prices at car rental agencies all over the country to get you the best deal.
Denmark road trip – the 6 best itineraries
Denmark is a small country, which means you can do each of these itineraries in 1-2 days. But if you want to have time to actually enjoy your Denmark road trip, I recommend adding a few more days.
Here's a list of the best routes for a road trip in Denmark:
Read next: What to pack for your road trip
1. Funen
One of the best Denmark road trips is Funen. Funen is best known for H.C. Andersen, the father of Fairytales who said those famous words: "To travel is to live". Well, a trip to Funen will reveal where he got his inspiration.
Egeskov Castle
The southern part of Funen is lush, hilly, and charming. Its most popular spot is Egeskov Castle, which is one of Europe's best-preserved Renaissance castles with an extensive collection of vintage cars and motorbikes.
We have quite a few castles and mansions in Denmark. I haven't been able to find the exact number, but on Funen alone there are 123 – which is a lot considering everything on the island is less than 2 hours drive away.
Thomas had booked us a room at one of the castles (Hvedholm Castle in Faaborg) and it kind of blew me away. The surroundings were so serene and nature-rich.
We had waiters serving us for the same price as a hotel room in Copenhagen, Aarhus or just about any other town in Denmark.
Valdemar Castle
I also recommend Valdemar Castle, which used to be owned by Baroness Caroline Flemming. If you're a Dane, you know her for sure because she's often on Television.
Now, she lives in London and the castle is open to the public. That's how it is with most of the Danish castles – they're part of the Danish heritage and therefore open to visitors.
Valdemar Castle is Denmark's largest manor house museum, on the tiny neighboring island of Tåsinge.
Faaborg
The castle we stayed at is located right next to the most quaint and charming little town. It's called Faaborg, and it's the highlight of Funen!
In the summer, you'll see flowers and hollyhocks everywhere, bikes in the streets, people are out and it's so cozy – or hyggeligt as we say in Denmark. Do stay here for at least a day.
Read next: 17 beautiful small towns in Denmark you should visit
Lillebæltsbroen
During a Funen road trip, I also recommend heading to the northern part. Make a stopover in Middelfart, which is on the border between Funen and Jutland island.
We have three major bridges in Denmark: Øresundsbroen (the largest) connecting Denmark and Sweden, Storebæltsbroen (the second largest) connecting Funen and Zealand, and Lillebæltsbroen (the smallest) from Jutland to Funen. In Middelfart, you can go below the bridge – it's super fun!
Odense
No Denmark road trip is complete without a visit to Odense – the island's capital and home of H.C. Andersen.
You can visit his childhood home, the school for the poor, and maybe even one of the open-air plays outside his house in the summer, which is now a museum.
If you'd like to explore Odense further, I recommend a guided tour of the city.
2. South Jutland
If you're planning a road trip in Denmark, don't discount West and South Jutland. The coastline is rugged and scenic as in the north, but there's still something different about this part of Denmark.
Blåvand
Start your trip in Hvide Sande (White Sands) by the West coast and follow the coastline down to Blåvand (Blue Water). In Blåvand, make sure to visit the lighthouse for a terrific view of the scenery. It's really nice from the top.
Continue south until you reach Ribe, where you can spend a night or two at a Bed and Breakfast → If you're visiting Denmark, this is by far the cheapest accommodation, plus you get to stay in a Danish home.
Ribe
Although I love the coast and the sea, my favorite stop on this road trip is Ribe. Now, let me tell you something about this old, medieval Danish town.
Founded around the year 700, it's in fact the oldest town, not only in Denmark but in all of Scandinavia. It's incredibly charming and definitely one of the best places in Denmark if you ask me!
Aside from a cute little harbor, Ribe has a majestic cathedral, a Viking museum, lovely Danish cafés, and a truckload of history. It's also the birthplace of Maren Spliid, the last and most famous Danish woman, who was burned at the stake for witchcraft in 1640.
It's a horrible story and even more horrifying to know that my countrymen burned so many innocent women. Luckily, those days are long over.
The Wadden Sea
Right next to Ribe is the Wadden Sea (Vadehavet). It's a national park and UNESCO site, where the North Sea water flows into the Wadden Sea twice a day, flooding the mud flats with seawater.
During low tide, you can go or drive out there and experience what it feels like to stroll on the sea bed.
If you visit in the spring or autumn, you might be lucky to see a special Danish nature phenomenon.
It's called Sort Sol (Black Sun) where hundreds of thousands of starlings turn the sky black when they're circling around creating fascinating formations in the air.
Møgeltønder
After spending the night in Ribe, continue to South Jutland. Your first stop will be Møgeltønder, which is where our prince and princess lived until recently. Møgeltønder is super, super small and has less than 1,000 inhabitants.
It's a quaint little village with an old cobbled road lined with linden trees and thatched cottages from 1700-1800. This street (Slotsgaden) is known as the most beautiful street in Denmark.
Sønderborg
The next stop is Sønderborg. It's very close to the German border and there's a lot of war history in the area.
Make sure to pass by Dybbøl Mølle on the way. It's a famous war site, located just a few kilometers from the city center.
Christiansfeld
We have 7 UNESCO sites in Denmark, but Christiansfeld is the only UNESCO town.
Christiansfeld is unique because it was built with homogenous architecture in perfect symmetry by the Moravian Church.
If you stop by – 2 hours is enough – do make sure to get a honey cake. They're known as the best in the country!
3. North Jutland
If you've been reading this blog for some time, you know how much I LOVE North Jutland. It's by far my favorite place in Denmark, aside from my soul-city Aarhus of course. Here's what to see:
Rebild Bakker
If you visit in August, I HIGHLY recommend starting your trip with Rebild Bakker. The purple heath-covered hills make it one of the most beautiful nature spots in Denmark.
Troll Forest (Rold Skov)
Next to Rebild Bakker is Rold Skov. And inside Rold Forest, you'll find the troll forest.
Just park the car at the entrance and walk for about 7 minutes. You'll start noticing the crooked trees and you'll know you've arrived.
Jammerbugten
After Rold Skov, continue north to Jammerbugten.
Jammerbugten covers a bay area along the West Coast, and it's where you'll find the best beaches in Denmark.
Some of the most noteworthy beaches are Løkken, Blokhus, and Tornby. Jammerbugten is the most rugged and beautiful part of North Jutland because of the coastline.
On your way north, make sure to stop by Rubjerg Knude and Råbjerg Mile, which are huge sand dunes worth exploring!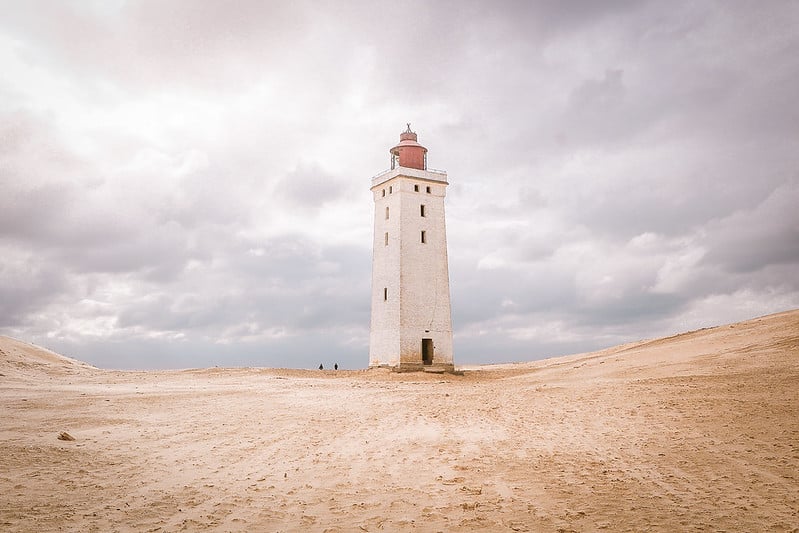 Skagen
Skagen is one of the most popular places in Denmark – and for good reason. It's the top of Denmark where two seas collide, nature is beautiful and the area is packed with history.
Because it's so popular, I recommend not spending the night here. It's quite expensive. Spend a day exploring Grenen, Skagen Centre, and the sand-covered church, and then be on your way.
Sæby
Next up is Sæby; one of the most charming towns in Denmark.
Sæby is quaint with half-timbered houses, and it has a really great seafood restaurant at the harbor (Jacobs Fiskerestaurant). We visit every year and it's great value for (very little) money.
4. North-west Jutland
We did this Denmark road trip last summer when I was pregnant with Toby. It's one of the better trips we've taken around Denmark because you'll see a different side of the country.
Thy National Park
I recommend starting in Bulbjerg, which borders National Park Thy, but you can do it the other way around – you decide.
Thy National Park is the oldest national park in Denmark. It has the wildest nature in the country and there's a lot to see!
Think unique landscape: sand dunes, dune heaths, wetlands and lakes, charming fishing villages, and tasty local food & craft beer.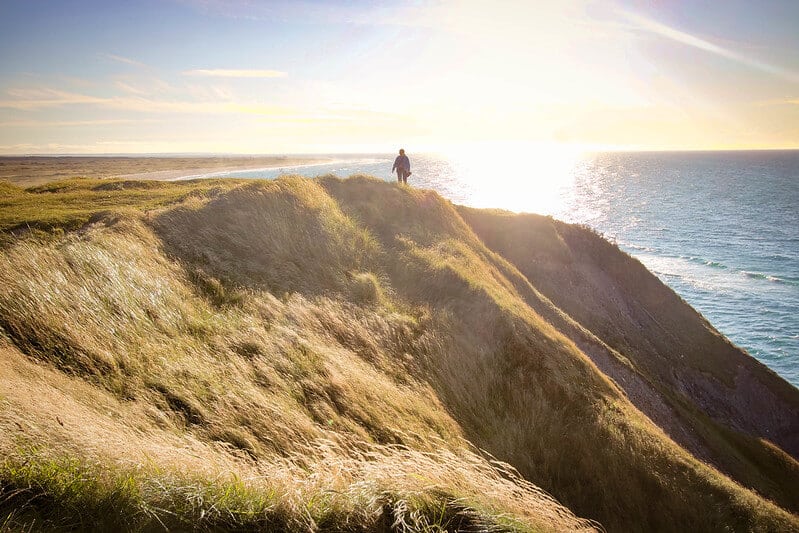 Mors
Mors is located between Thy and Fur Island, so you'll pass it on your way there or back. When you do, head north to Hanklit. There are several pretty cliffs in this area, and Hanklit is one of the best ones.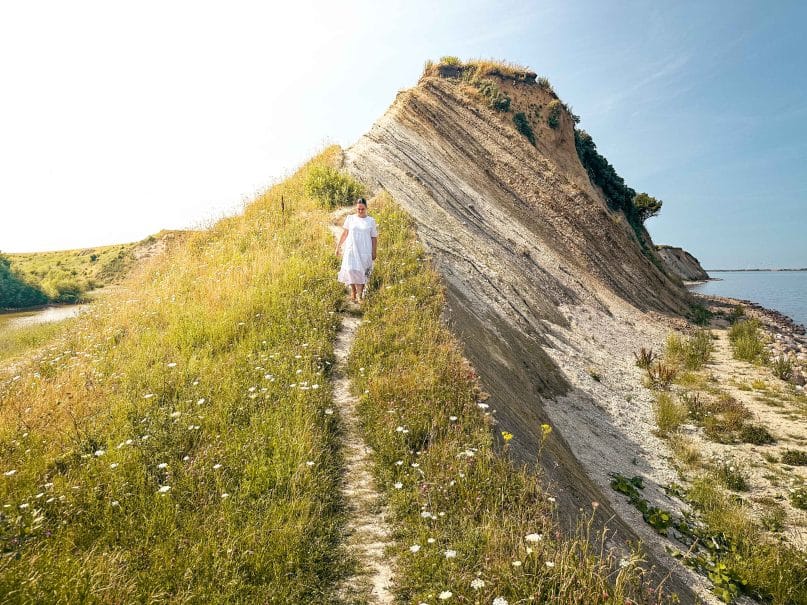 Fur
You should dedicate a whole day to Fur Island. It's a very small island, but there's just a whole lot to see.
The thing about Fur is that it has landscapes, unlike any other part of the country. Like the two beautiful cliffs (Knudeklinterne), the vibrant colors, and the moclay and you can go fossil hunting.
5. Djursland
When planning a Denmark road trip, do include Djursland. It's a beautiful little peninsula with raw, untouched nature, lovely beaches, the best ice cream in Denmark, and Mols Bjerge; a national park where you can hike, bike, and relax.
Fjellerup
Let's begin with Fjellerup – the town with the country's best ice cream and probably the place where I've spent most summers in Denmark.
Fjellerup town is small and not a particular reason to visit, but the beach and Vaffelbageri (ice cream place) are. Bring your swimsuit.
Sangstrup Klint
A little further to the east is Sangstrup Klint or Cliffs of Sangstrup in English.
This beautiful cliff is 17 meters tall, 5 km long, and made of limestone. Bring rubber boots or waterproof boots if you plan on walking along the cliffs (which you really should!).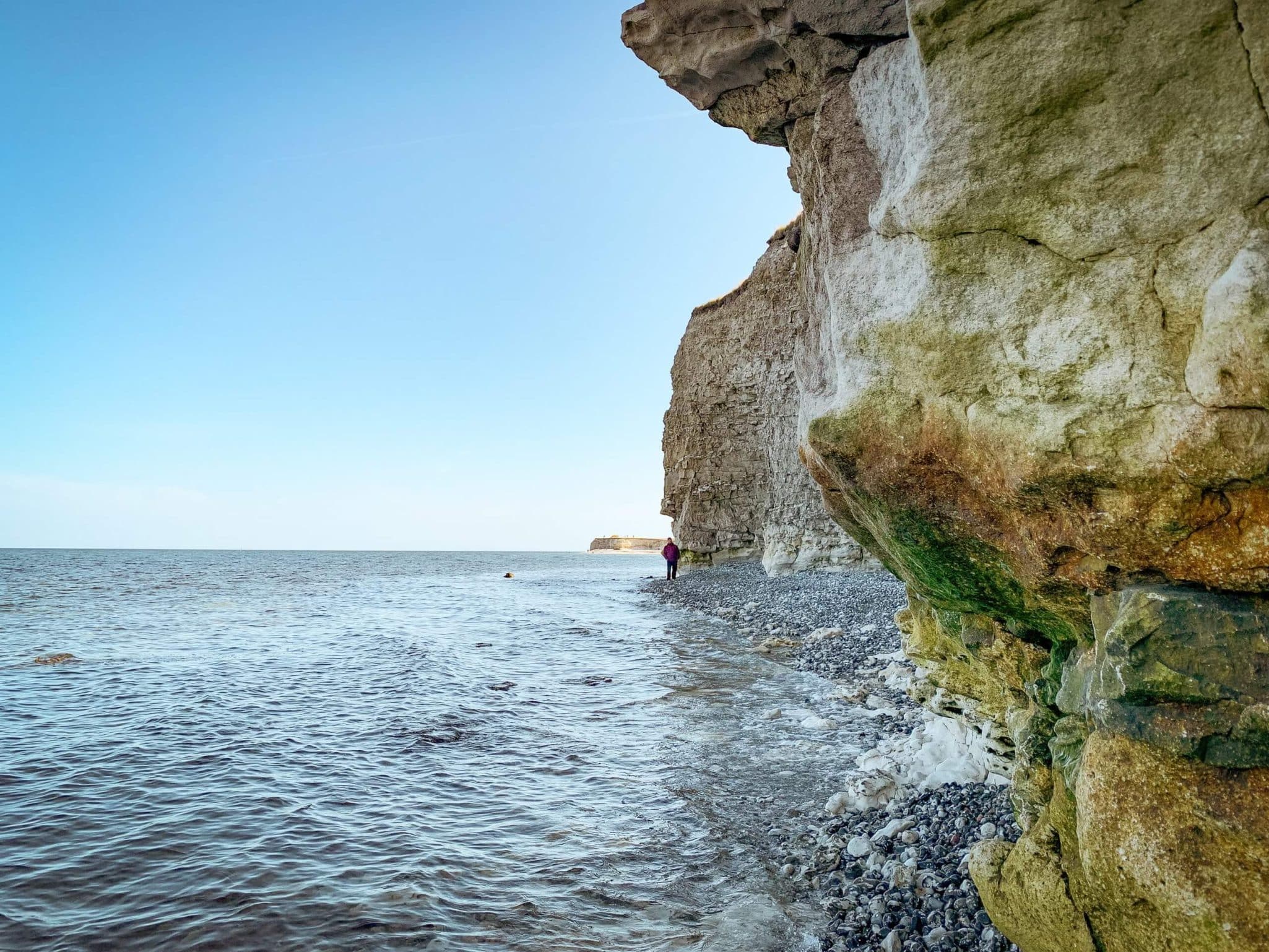 Ebeltoft
Now, drive south towards Ebeltoft.
Ebeltoft is probably the most visited town in Djursland, yet I've never experienced the crowds of Copenhagen or Aarhus (yet).
It's a charming little town with half-timbered houses, a medieval vibe, and winding cobbled streets, not to mention the fact that it's surrounded by the ocean, nice beaches and a lively culture scene during the summer.
Mols Bjerge
Next up is Mols Bjerge (Mols Hills), which is basically right next to Ebeltoft.
Mols Bjerge National Park covers quite a large area and it's ideal for picnics, hikes, bike trips, or a Denmark road trip.
Make sure to visit Poskær Stenhus, which is the largest round barrow in Denmark, dating back to 3.300 B.C.
Next to Mols Bjerge is Kalø Castle; a castle ruin in the sea. It's located in Kalø Vig and was built in 1313 as one of at least four similar strongholds in Jutland.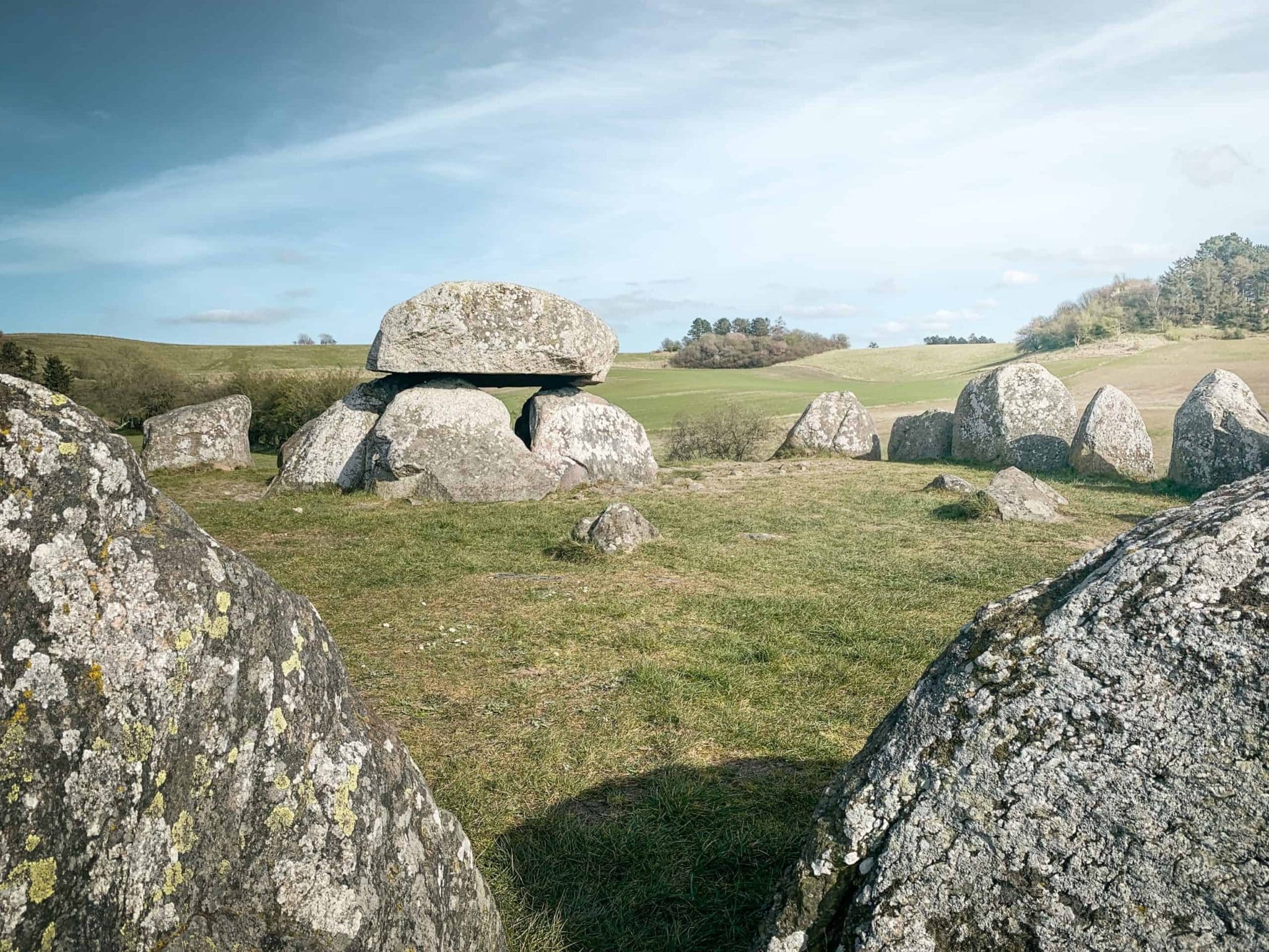 Old Estrup Manor (Gammel Estrup)
A little further north is Old Estrup; a manor dating back to 1340. In the museum, you can view the development of Danish nobility through the ages, and there's a baroque garden with apple trees, vegetables, an orangery, and many beautiful flowers.
Absolutely worth a visit.
6. Sealand
Copenhagen
Chances are, if you're not local, that you'll start your Denmark road trip in Copenhagen. You might even pick up your car here. So, I suggest spending a day or two exploring the capital BEFORE you pick up the car.
In Copenhagen, rent a bike, walk, or take the bus/S-train/Metro. It's very easy to get around from one attraction to the next.
You can also join a tour that will take you to the best of what Copenhagen has to offer.
Dragør
After Copenhagen, head south to Dragør. It's a small fishermen's village just 10 kilometers from the center.
Dragør is an easy day trip from Copenhagen and you can spend a whole day walking in the small alleys and streets while admiring the quaint houses.
Roskilde
This is a little detour, but it's worth it if you want to see the BEAUTIFUL gothic Roskilde Cathedral, which is where the Danish royal family is buried.
It's a UNESCO site. I also recommend stopping by the Centre for Historical-Archaeological Research and Communication, a few kilometers west of Roskilde.
These are replica homes and farms from the Iron, Stone, and Viking eras.
Faxe Kalkbrud
Continue south until you reach Faxe Limestone Quarry. This nature sight is off the path even for Danes (I just recently discovered it myself) so you'll have it to yourself.
The limestone quarry is 63 million years old and you can go fossil hunting here.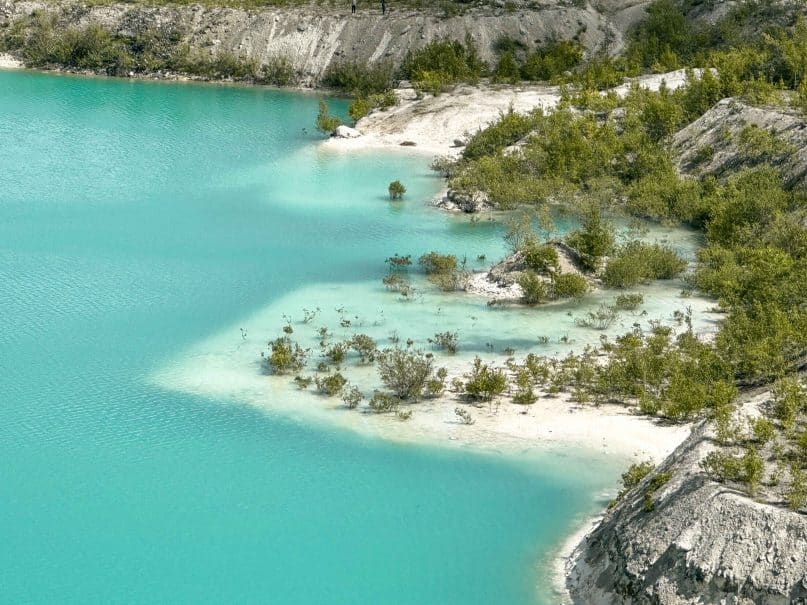 Stevns Klint
Another place to go fossil hunting is Stevns Klint, one of the seven UNESCO sites in Denmark.
At Stevns Klint you'll find crisp blue water and contrasting white chalk cliffs. The place has 65 million years of history and is without doubt one of the most unique places in Denmark.
When you're here, don't miss the Cold War Museum, 7 7-minute drive from the cliff.
If you have time, I suggest driving a little more south to Møns Klint (1.5 hours by car). It's similar to Stevns and just as breathtaking.
More stuff you'll love: