Denmark
One of the happiest countries in the world
Often touted as the world's happiest country – it's not difficult to see why almost as soon as you arrive. Denmark is home to Noma, the world's finest restaurant, and has made a name for itself with hygge, a philosophy that encourages seeking happiness through a cosy, simple, healthy life. Denmark is also a land of kind and friendly people, a flat and green landscape dotted with blue lakes, and the godfather of fairy tales, Hans Christian Andersen.
QUICK FACTS
Denmark is a country in Scandinavia. It's continually ranked one of the happiest countries in the world.
Population
5.7 million
Official Languages
Danish
Currency:
Danish Krone ($1 = 6 DKK)
Experiencing hygge
Hygge is all about the simple joys in life, when you're at your most safe, cosy, happy, and warm. It's meals with friends and picnics in the park. And because Denmark invented the philosophy of Hygge, it's the best country to experience it in. Strolling through the quiet streets of Odense or drinking white wine in the sun outside a pub in Nyhavn, Copenhagen with friends and family. That's all hygge, and we love it.
All the fairy tale towns
While Copenhagen might be the capital and most famous city of Denmark, it doesn't quite have that fairy tale charm found in other towns around Denmark. If you head to Ribe, Ebeltoft, Æreskøbing or even Aarhus' Old Town, you'll find that fairy tale atmosphere that feels like it was pulled right out of a Hans Christian Andersen story. This, in case you were wondering, is also hygge.
Wonderful Danish food
Liquorice may prove divisive amongst most people, but if you're someone who likes it (like yours truly), you'll love the Danish food. Even the chocolate from supermarkets is full of liquorice! Beyond that, there are the pastries, such as morgensnegle (or cinnamon buns), which are to die for. Then there's Noma, the world's greatest restaurant, which you can find in Copenhagen.
Skagen – where two seas meet
Denmark divides the North Sea and the Baltic Sea, and at Skagen you'll find that divide. Not literally, but it's there. Skagen itself is also a peaceful port town of beaches, a sandbar, a reef, and some lovely museums.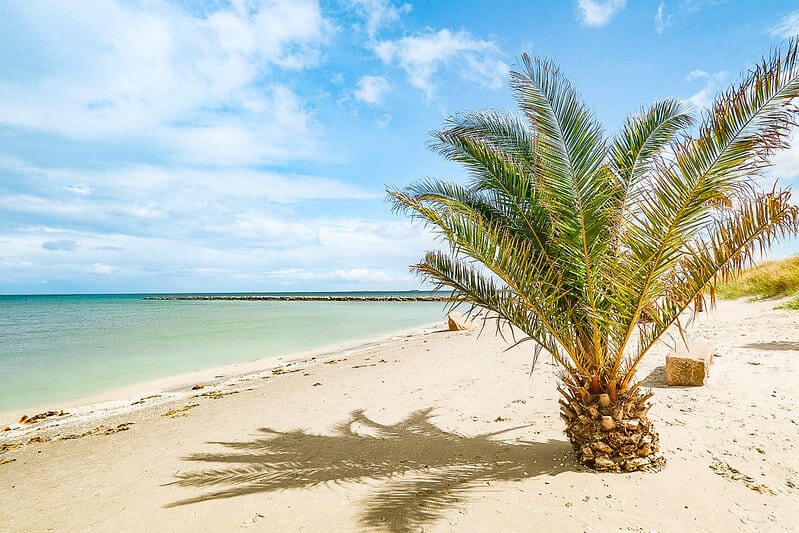 When to visit
Denmark is beautiful in the spring, summer and autumn months when the flowers are out, the days are long, and the rolling green hills can be enjoyed to their fullest. You'll also be able to enjoy the coastlines, beaches, and lakes that live up during the warmer months.
The summer, July-August, is particularly busy, but visiting anytime between May-September is a good call and perfect for sunny road trips.
Visa
Members of the EU can stay indefinitely in Denmark without a passport. US citizens can stay visa-free for up to 90 days.
ROUGH BUDGET
Transportation: Take the bus (trains are super expensive!)
#1 Copenhagen
The happiest capital city on earth. Copenhagen has the world's oldest theme park at its outer edge, and the second oldest in its centre, as well as a bustling music, art, and coffee culture.
#3 Skagen (411km from Copenhagen)
Jutting out into two different seas at the north of Denmark, Skagen is a remote port town whose soundtrack is the song of the sea. Quiet beaches and a reef teeming with wildlife define Skagen.
#5 Bornholm (180km from Copenhagen)
Bornholm is a dramatic viking island off Denmark's coastline, crowned by Hammershus – a medieval and epic Danish castle. Here, of all places, you'll find an inspired and fascinating art museum.
#2 Aarhus (186km from Copenhagen)
Denmark's second city is a city of fantastic museums and galleries, including the underground Viking Museum. Aarhus Old Town (Den Gamle By) is a step back in time to a simpler, happier place.
#4 Odense (164km from Copenhagen)
The birthplace of Hans Christian Andersen is a quiet town with some fantastic bars and restaurants, as well as discovering Andersen's life and childhood while you're there.
#6 Ribe (281km from Copenhagen)
This small Danish town is an absolute delight. It's hygge, if hygge was a place. Ribe is also Denmark's oldest town, and that's easy to see. It's a tranquil place to explore and feel at peace in.
Explore Denmark
All the best things to do in Denmark