A Fairytale Danish Wedding
I love weddings. Everything about them makes me happy to my soul; the celebration of love, the delicious food and the heartfelt speeches from family and loved ones. I haven't been to many weddings in my life, and my own was on a beach in Thailand, just Thomas and I. So, when my brother announced his wedding in April, I was over the moon and couldn't wait to celebrate them.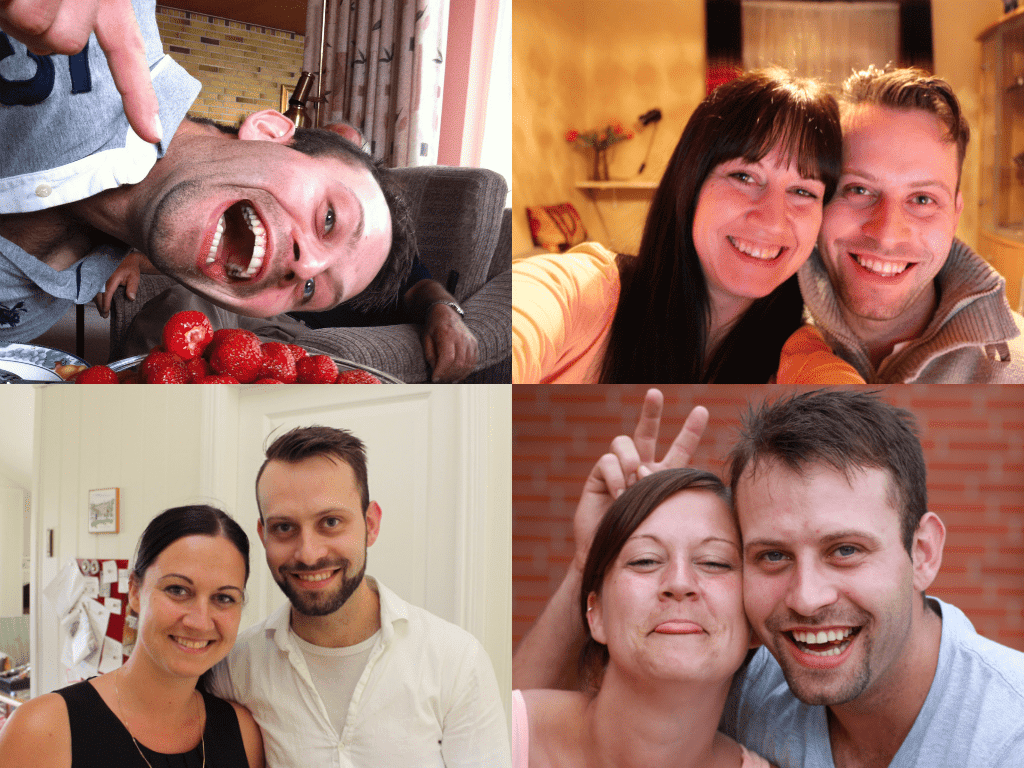 Since Daniel came into this world 29 years ago, he has been my close friend, my loyal companion through life, my confidant, my person to blame when I'd stolen cookies from the cookie jar, and the one who completely understands my occasionally lame humour. As kids, we constantly tormented each other, but we've always stuck together and protected one another. He is one of my favorite persons in this world; always has been, always will be.
A few years ago, Daniel met Naaja and from the minute he told me about her, I knew she was something special. We all loved her right away and a year or so later, Daniel and I were out shopping engagement rings and discussing proposals. On May 26, they said their I do's in the family church in Randers, Denmark and had the after party at the historic Hvidsten Kro.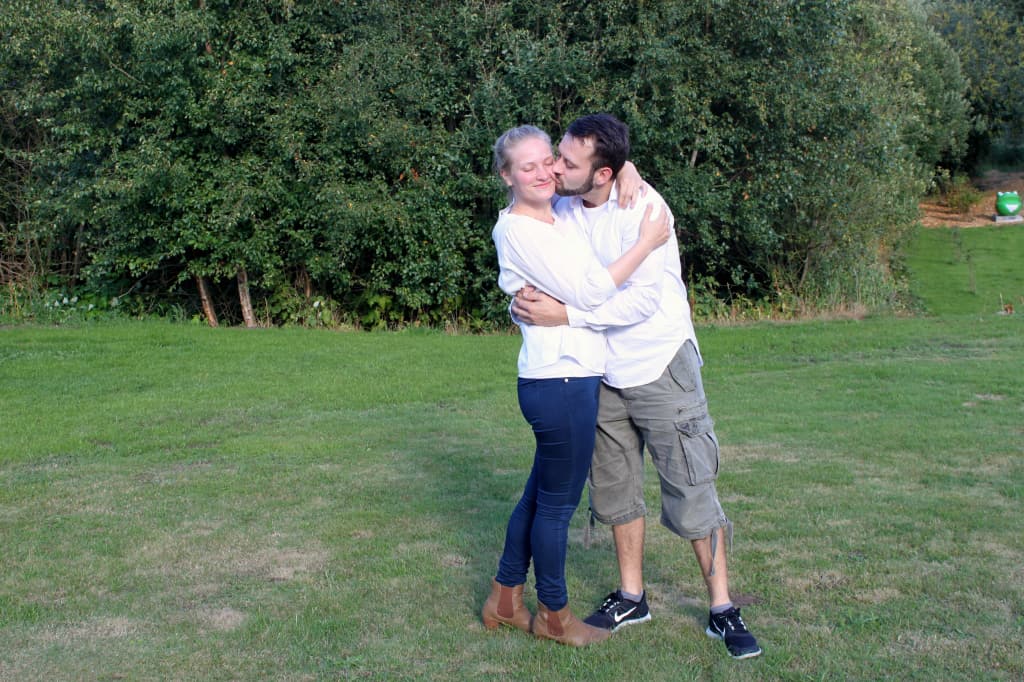 GETTING READY
Thomas & I'd gone to my mom and dads the day before the big day to keep Daniel company and to calm his nerves. But as always, he was the most relaxed of us all while mom was all over the place speed talking about weddings and marriage and I was having the obligatory wardrobe crisis.
Next morning, the whole family had breakfast together and we got our dresses, suits, flowers and rings in place. We were all ready to go, but then….
Just a few minutes before leaving the house, Daniel suddenly realized that his speech – you know those important words that a husband tells his beloved wife and that she will remember for time AND ALL ETERNITY – hadn't been written down. Minor crisis, but it was soon handled as he had it on his phone.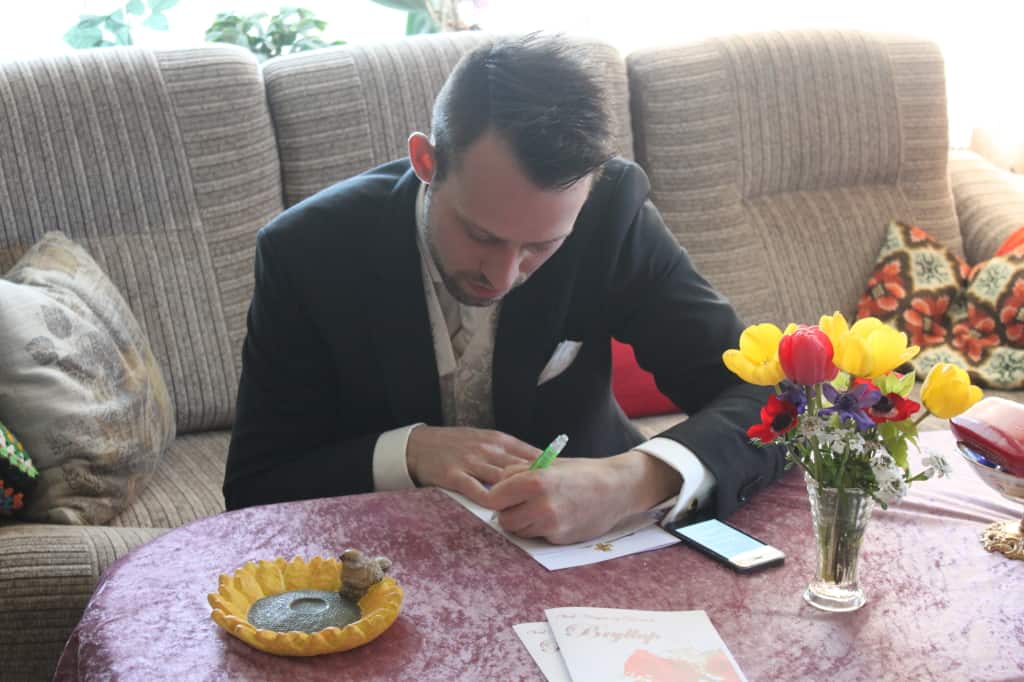 The wedding was being held at my family's church, and everyone had helped with baking, decorations and overall preparations. A few minutes before the ceremony, someone said to me: Aww, you're gonna be all tears, and my immediate answer was: No, I won't. I have never cried at a wedding. I mean, this is a happy day and as you all know, I am in total control of my feelings!
As time reached 1pm, Daniel looked like he was all butterflies inside and everyone in the room kept turning towards the door at every tiny sound just waiting for the bride to walk up that aisle. Then at 1.15, the doors were opened, everyone stood up and looked in the same direction while trying to see her first.
This is it. Look. Look, she's coming. I can see her, people whispered excitedly to the one next to them, while children crawled up on their stairs to have a look of what was going on. Then the enchanting tunes of a harp filled the room, everyone sighed, and I completely lost my breath (and possibly my jaw, too) when I caught a glimpse of something white at the door…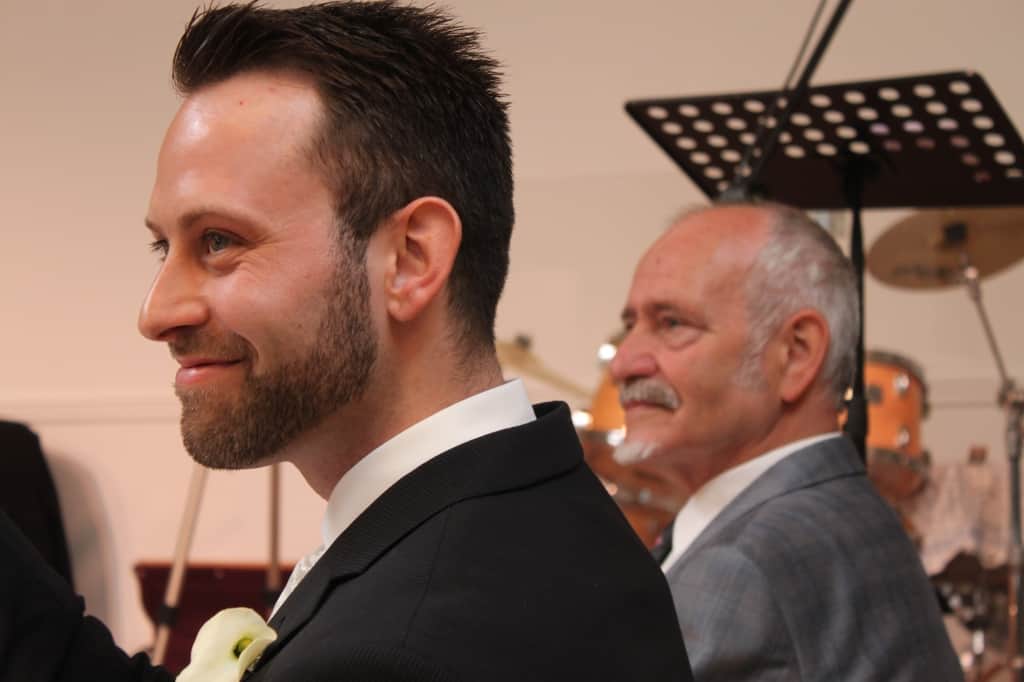 Through the glass doors came the most stunning young bride I have ever seen, smiling with a touch of shyness while gently looking around at the staring people and finally up at her husband to-be. In that moment… In that particular moment, all my brave intentions of being the cool sis that didn't weep was utterly defeated and I could feel the whimpering building up hard until I caved in and bursted into tears. For the next 25 minutes.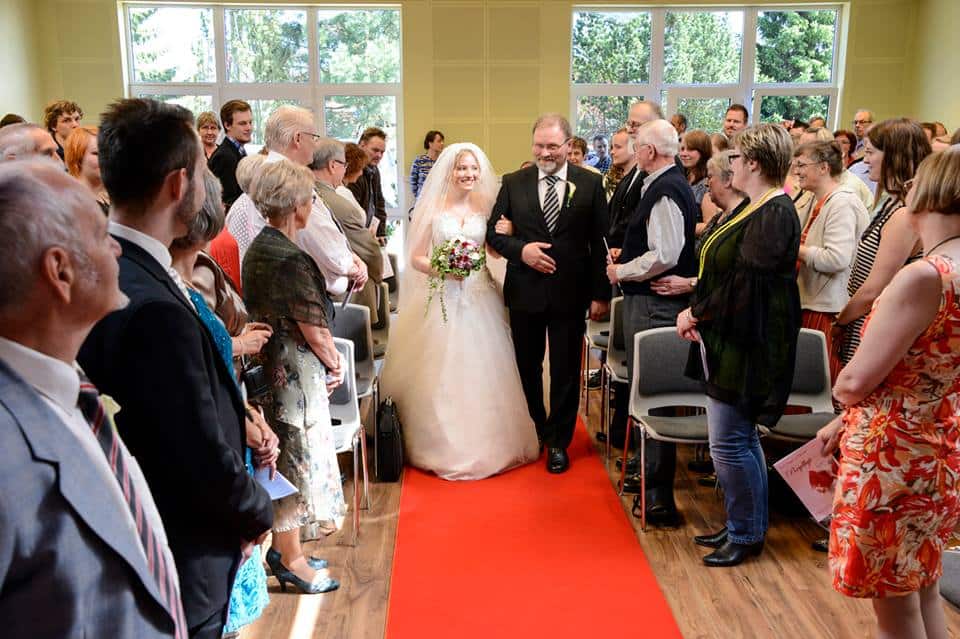 Aside from the crying, it was a beautiful ceremony. One that lasted about 40 minutes and had us all laughing every two-minute thanks to the wonderful paster Simon who added humour and irony to his sermon about married life. It was so refreshing to hear a joyous (okay, I admit – it was hilarious) preach and to be laughing under these serious, but happy circumstances. Judging by the laughing, I suspect the rest of the guests felt the same way.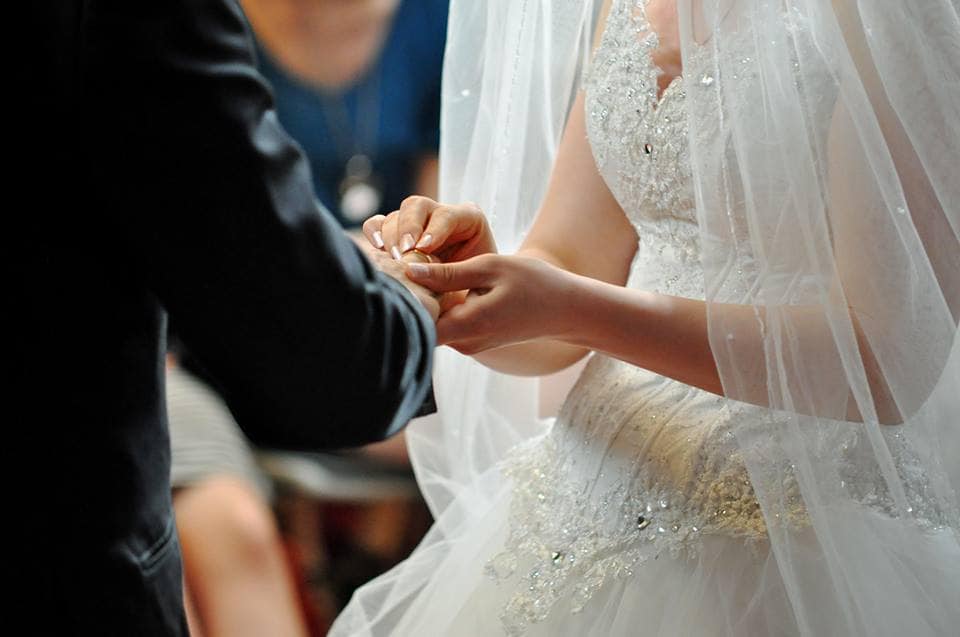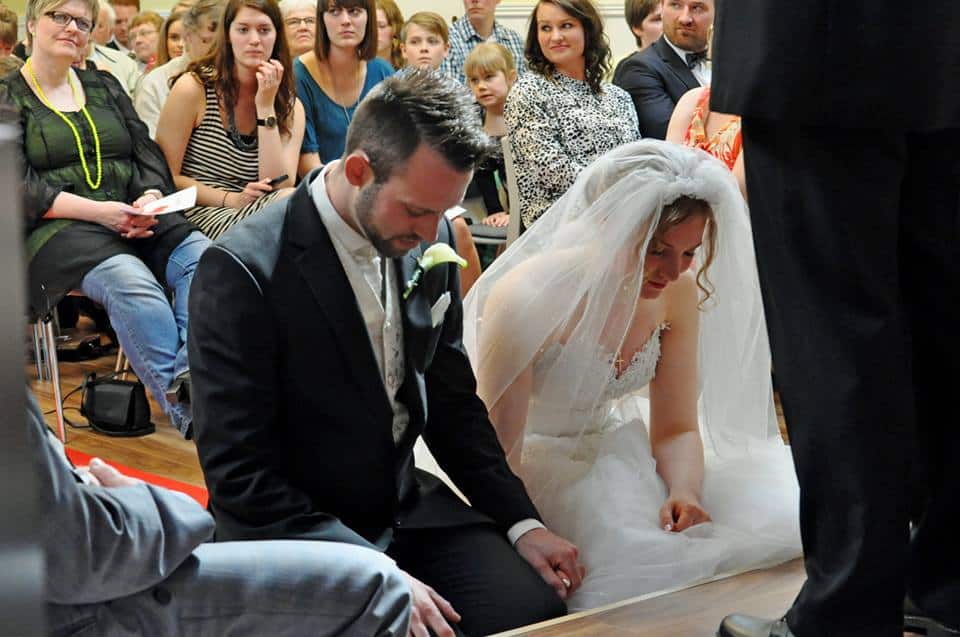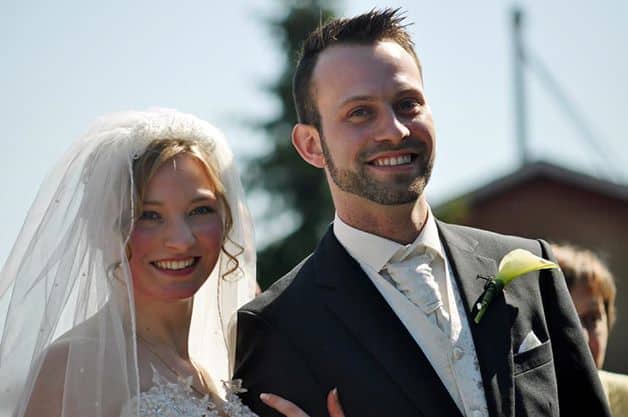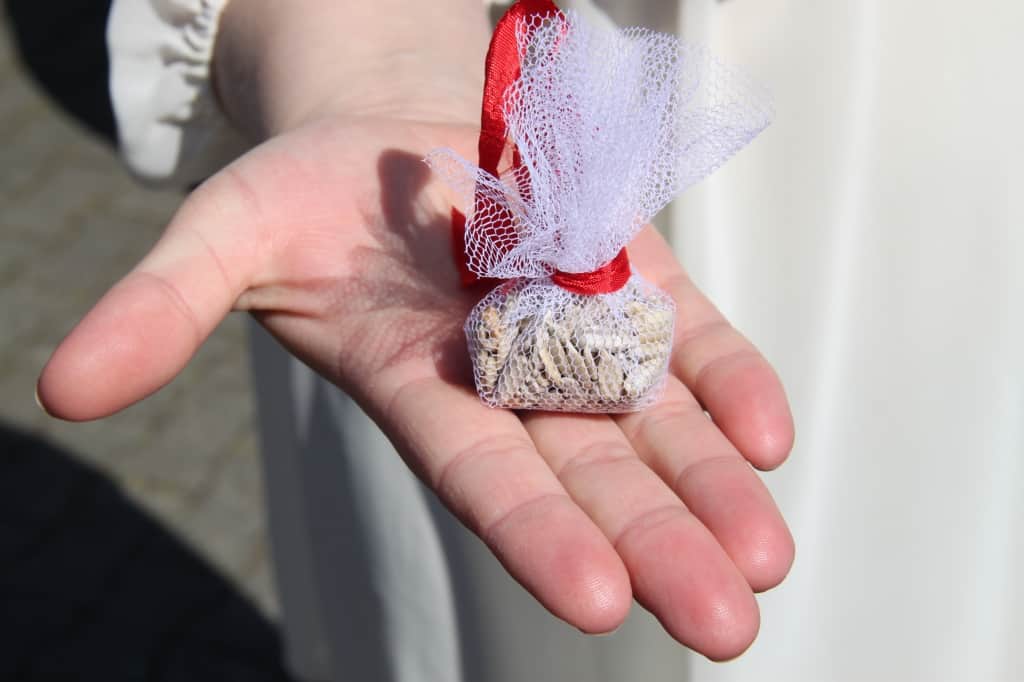 RICE & BUBBLES
After the ceremony, we all went outside and waited for Mr and Mrs Olstrøm. We have a custom in Denmark where we throw rice and blow soap bubbles at the newly weds as they leave the church. I think they do it in other countries too, but in our culture it's a symbol of good luck and fertility (two nieces and one nephew, please!).
Sometimes (or most times), the closest friends and family sneak into the newly weds' house and throw rice everywhere, but I think this particular couple was spared.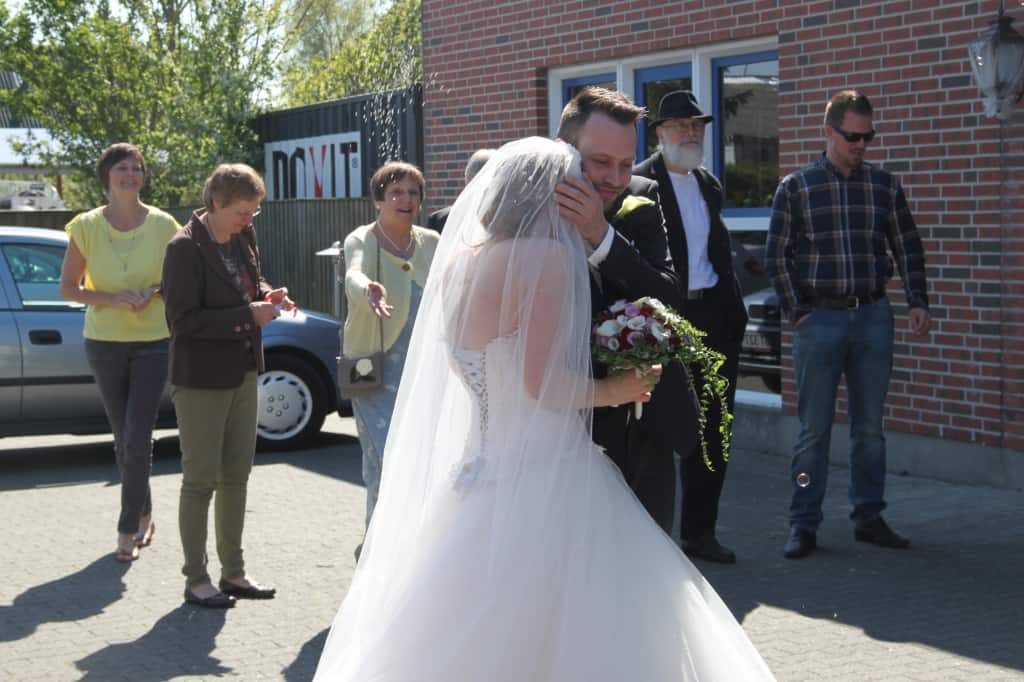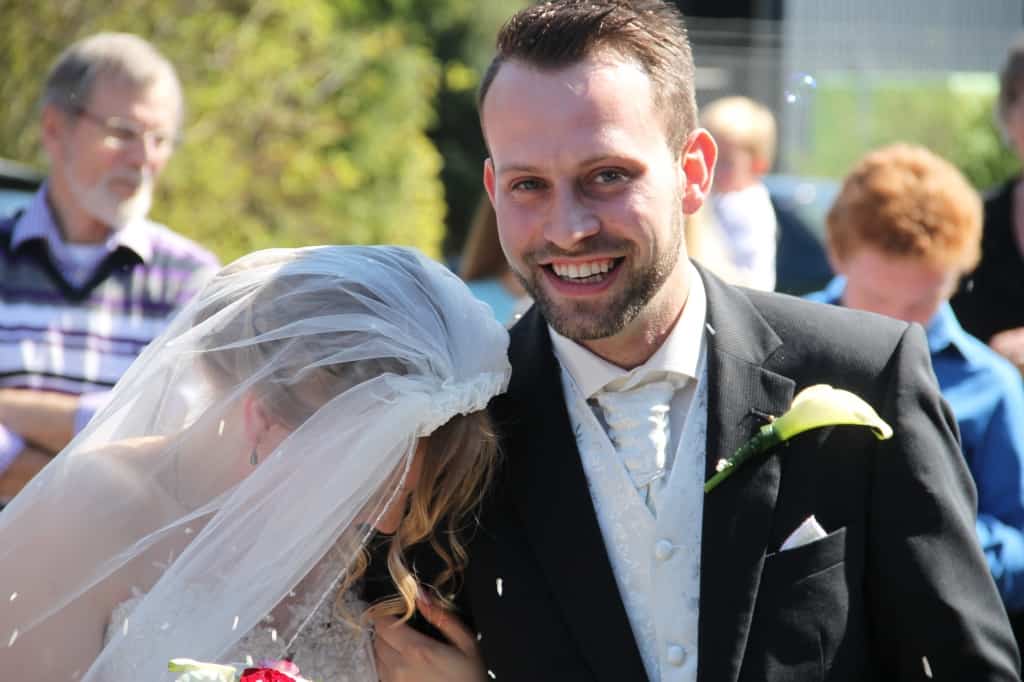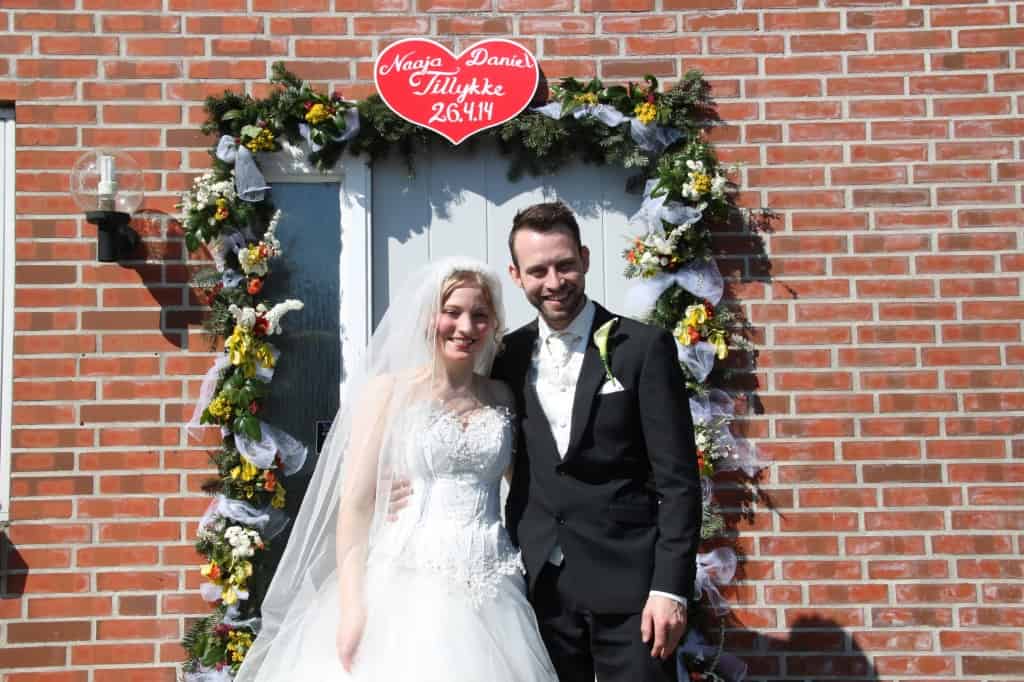 They had arranged for a reception where close to 120 people had come to congratulate and celebrate the young couple. My name-sister Mirjam, who also happens to be Naaja's sister, had made the best wedding cake with butter creme, like ever, and there were lots of cookies and sweets on the side, too. If anyone left the reception hungry, they only have themselves to blame!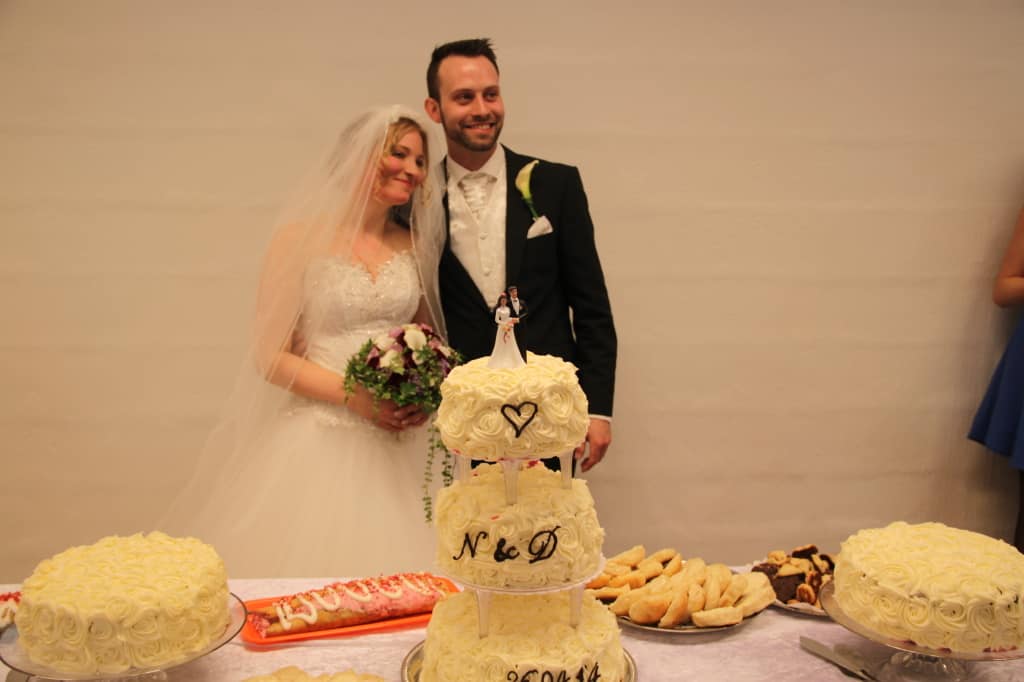 WEDDING PHOTOGRAPHY
The happy couple had asked me to be their wedding photographer so shortly after the cake consummation, we drove off to Gammel Estrup, which is an old historic castle with a baroque garden. This place provided the perfect setting for wedding pictures, and I'd done my location research from home and the rest was done spontaneously.
On our way to the castle, Thomas said casually: It's a pretty huge responsibility you've got, huh babe? Shooting their wedding photos… You must be so nervous.
Um, no. I wasn't up until this minute (!)
But Thomas was right; this was a big deal and it was so important to get the pictures perfect. I started thinking: What if I can't find the light? What if there's too much light. The sun is awfully strong today so that might be a problem. Oh no, what if the camera breaks down. The camera. Where, where is it? Did I even remember to bring it?!
Oh yes, my faithful over-thinking brain never fails to join the party when it comes to self-doubt and perfectionism. (Luckily), we were short of time and the lovebirds were so happy that they didn't notice a thing, so I quickly snapped out of it.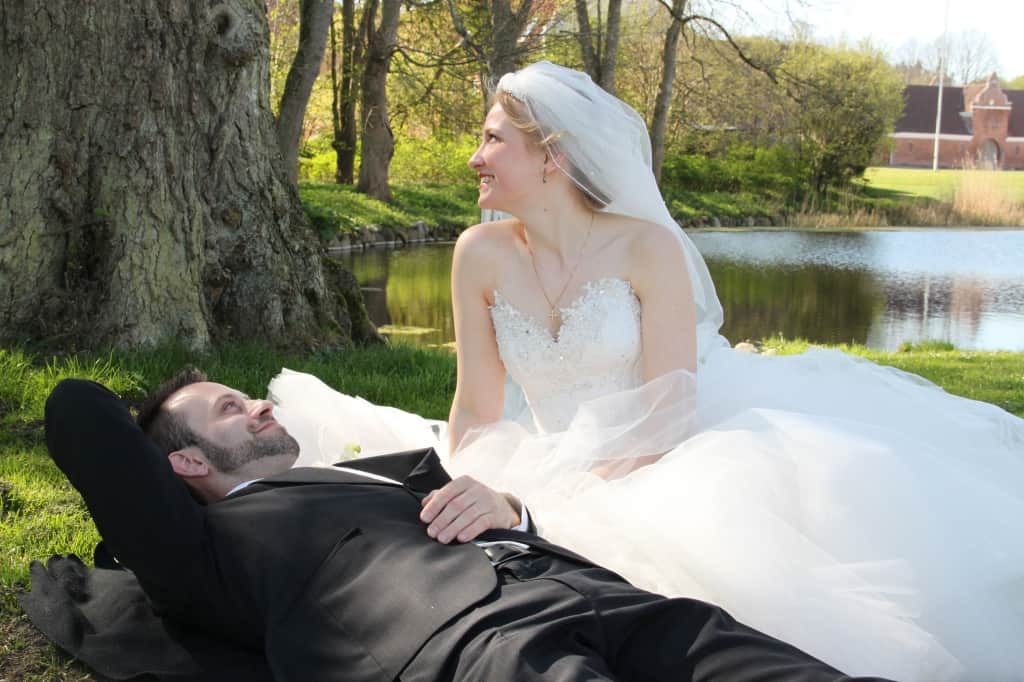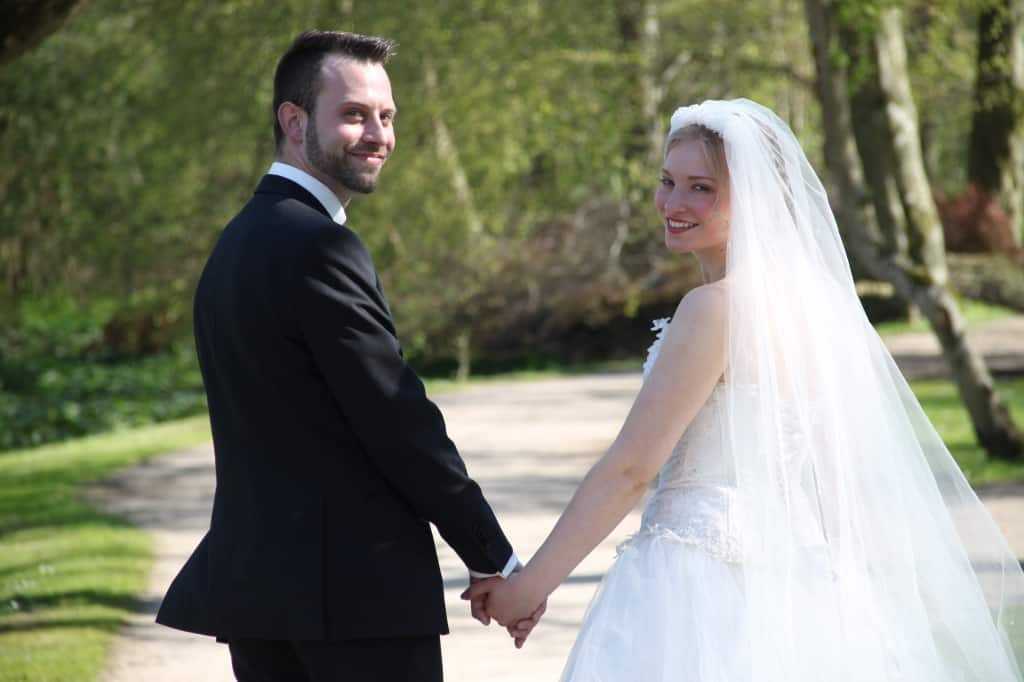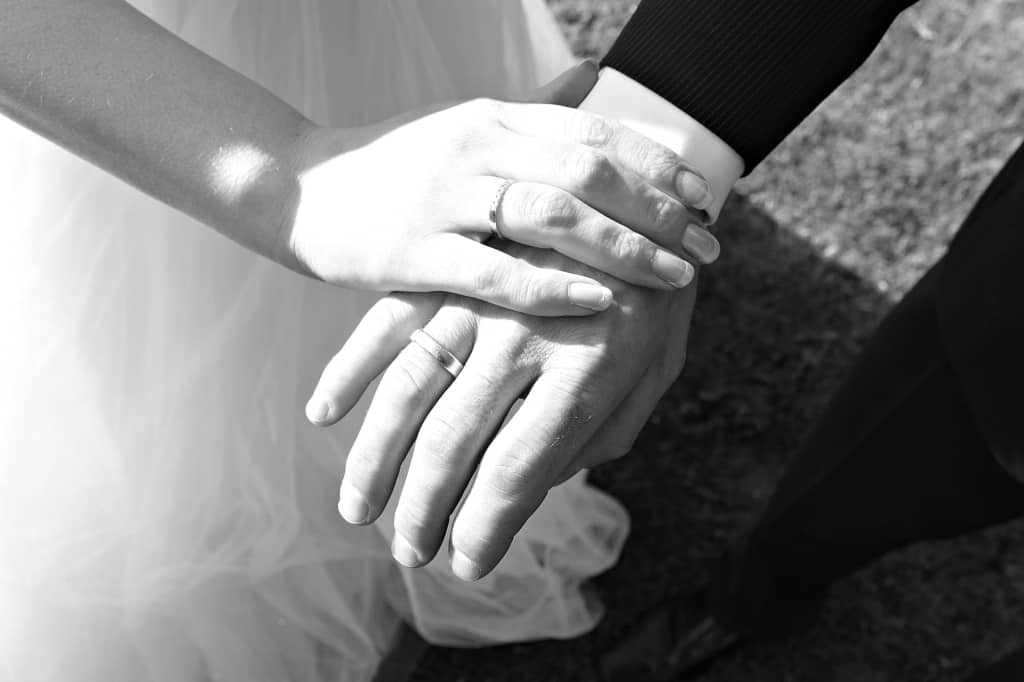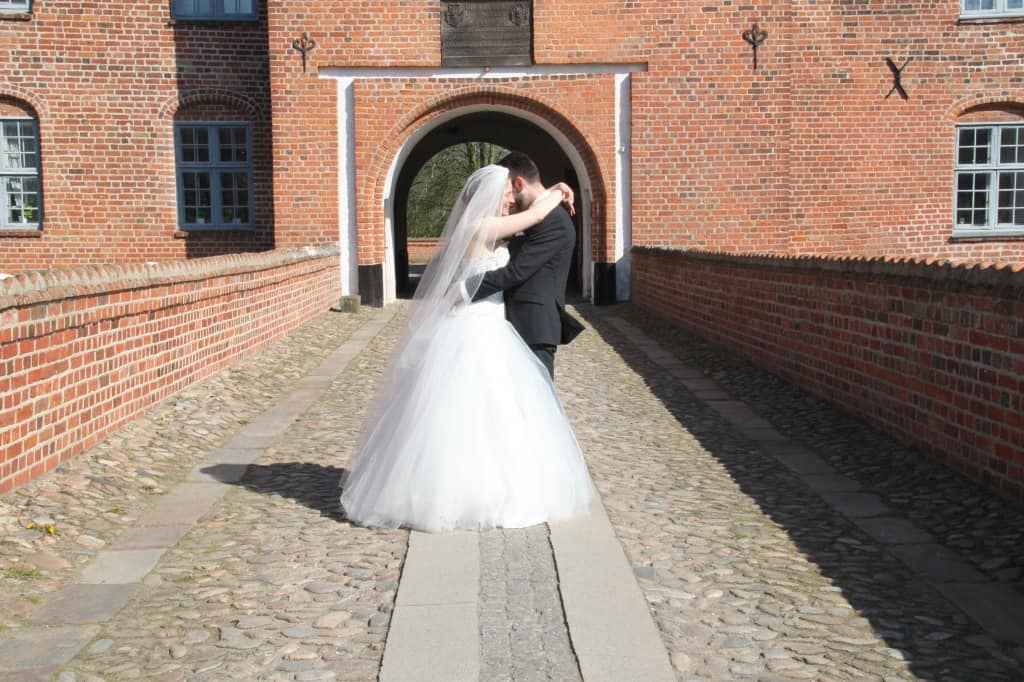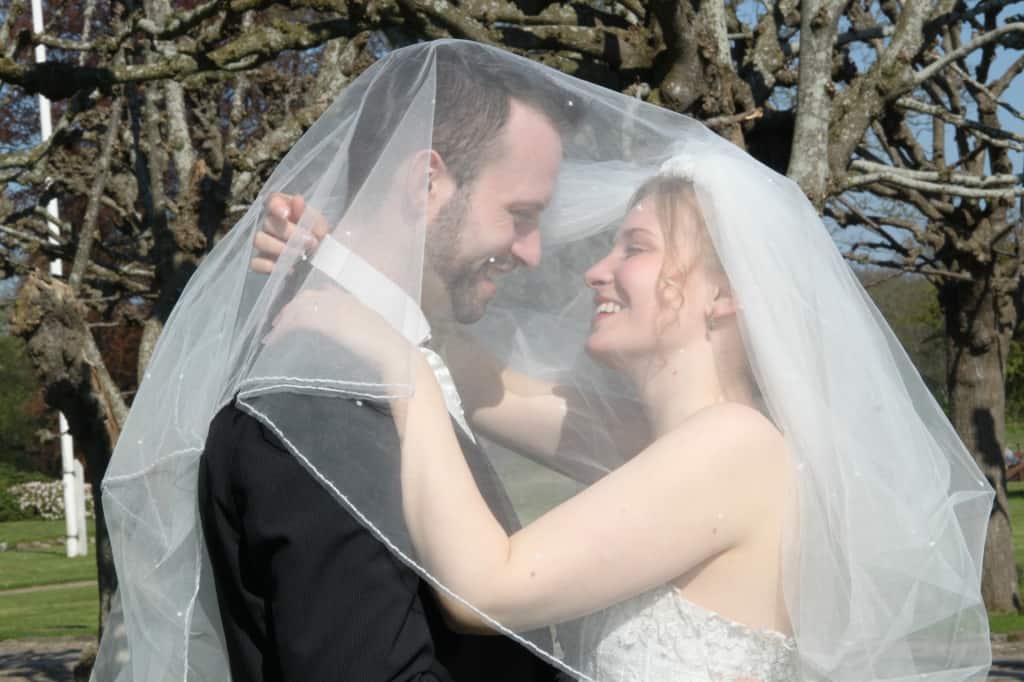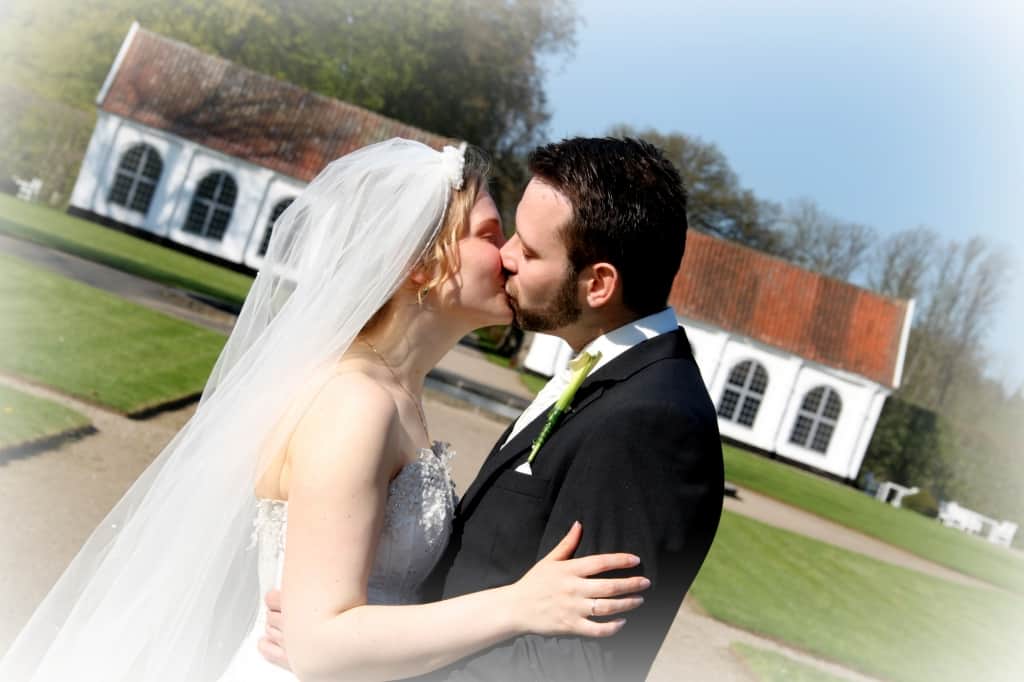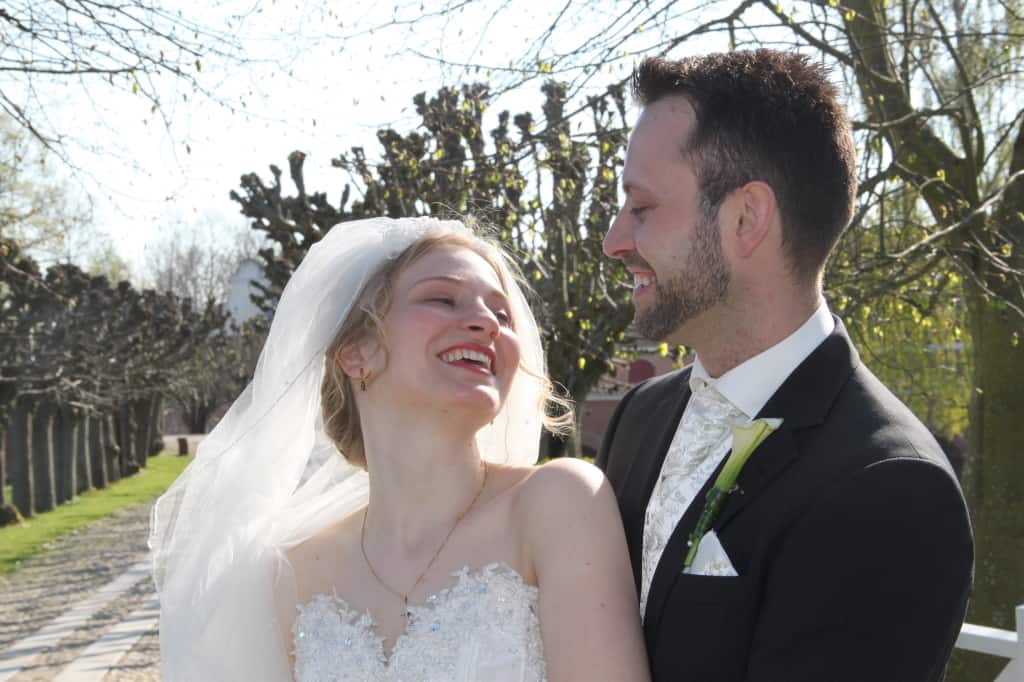 The picture above is my favorite. I love the way they look at each other all loving and caring (you can't at all see that he's pinching Naaja to make her laugh).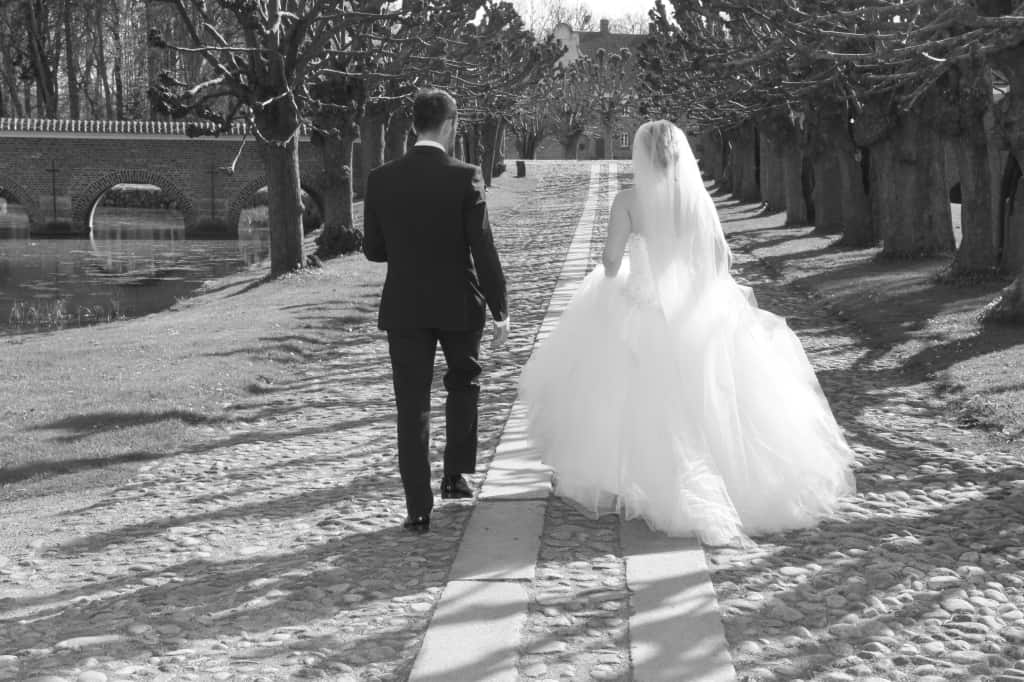 WEDDING AT HVIDSTEN KRO
Daniel & Naaja had decided to have the wedding at Hvidsten Kro, which is a historic place just north of my hometown, Randers. Aside from having existed for 350 years, it's most known for the Fiil family who owned it during World War II. They were active members of a resistance group (the Hvidsten Group) who fought against the German oppressors, but got arrested and executed three weeks after D-day.
This place has an important meaning in Danish heritage and it offers beautiful surroundings which is great for occasions like weddings and birthdays.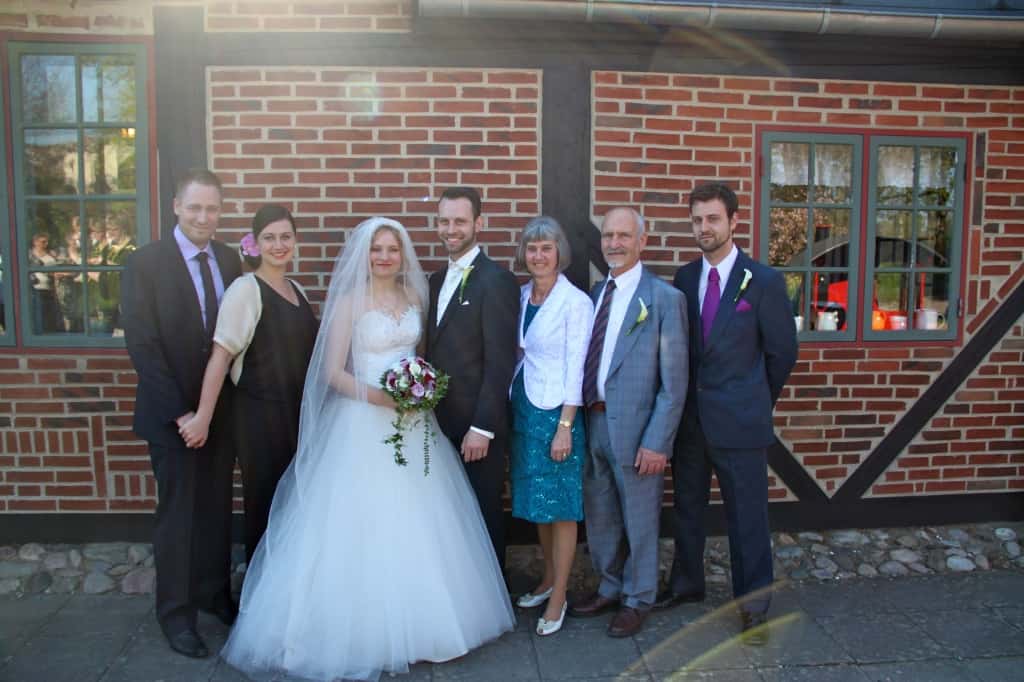 The dinner was a three meal course, all traditional Danish. For starters, we had Stjerneskud, which is a fried plaice fillet, steamed cod fillet, shrimps and lemon in a pastry cup. Main dish was roast lamb with veggies, gravy and scalloped potatoes. Dessert was three flavors of ice cream in a baked caramel cup with fresh strawberries. The night dish was omelette with bacon which the place is quite famous for.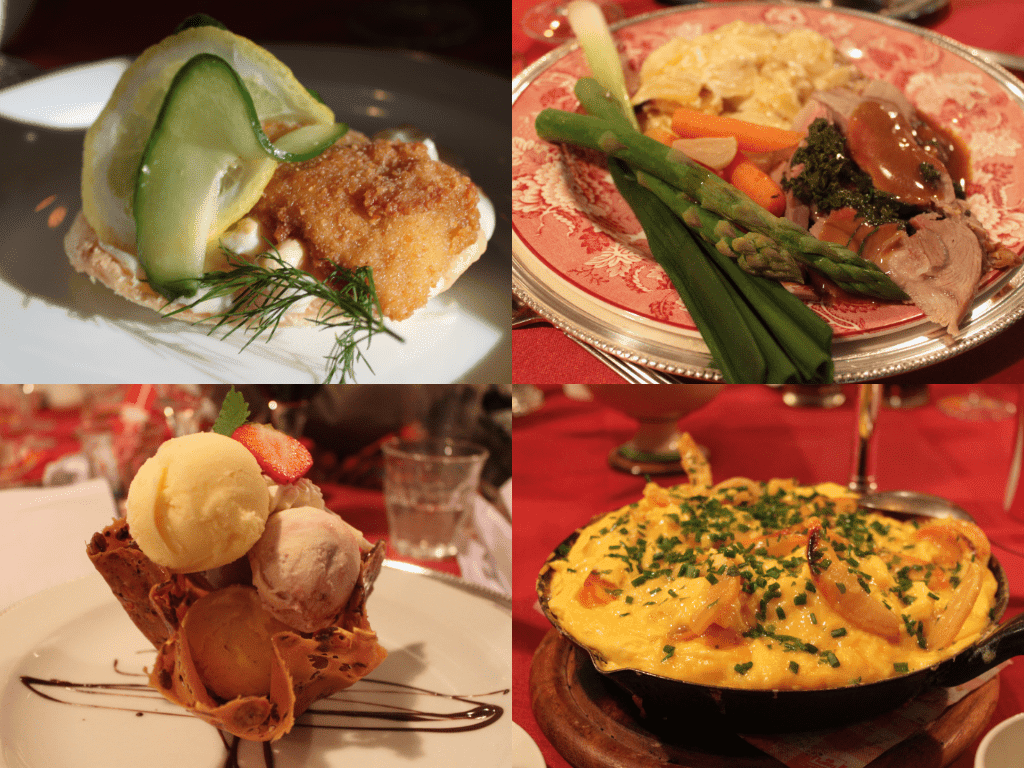 The evening was full of loving speeches and entertainment from friends and family, and lots of traditions were carried out, too. For one, when Daniel would leave the room all the men would run to Naaja and kiss her on the cheek. The opposite applied for Daniel as well. Here's Henrik (her brother-in-law) kissing Naaja.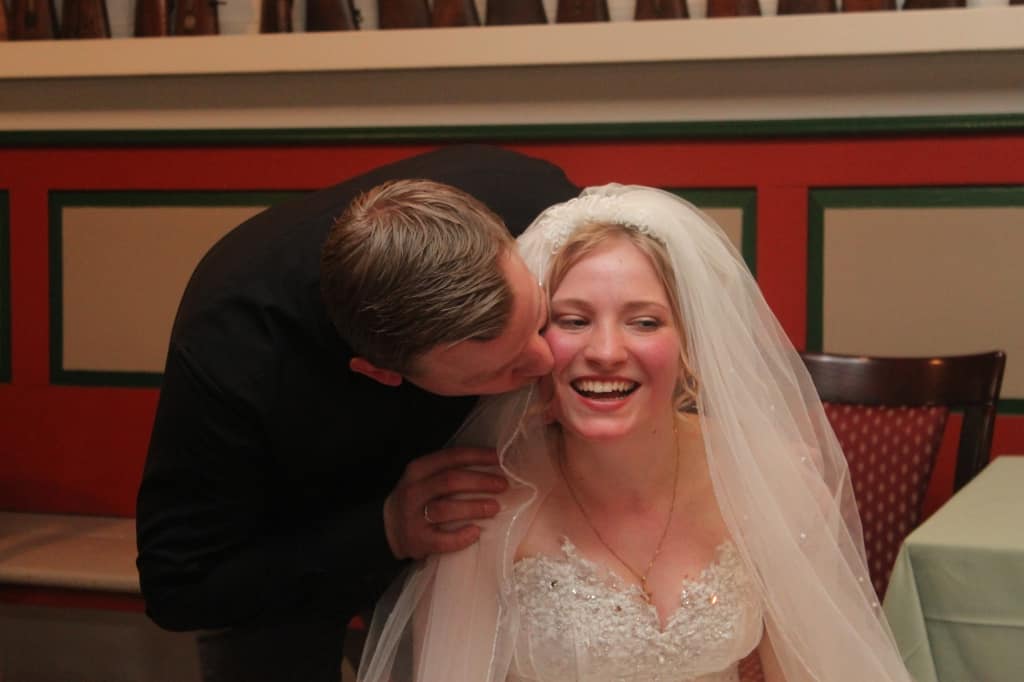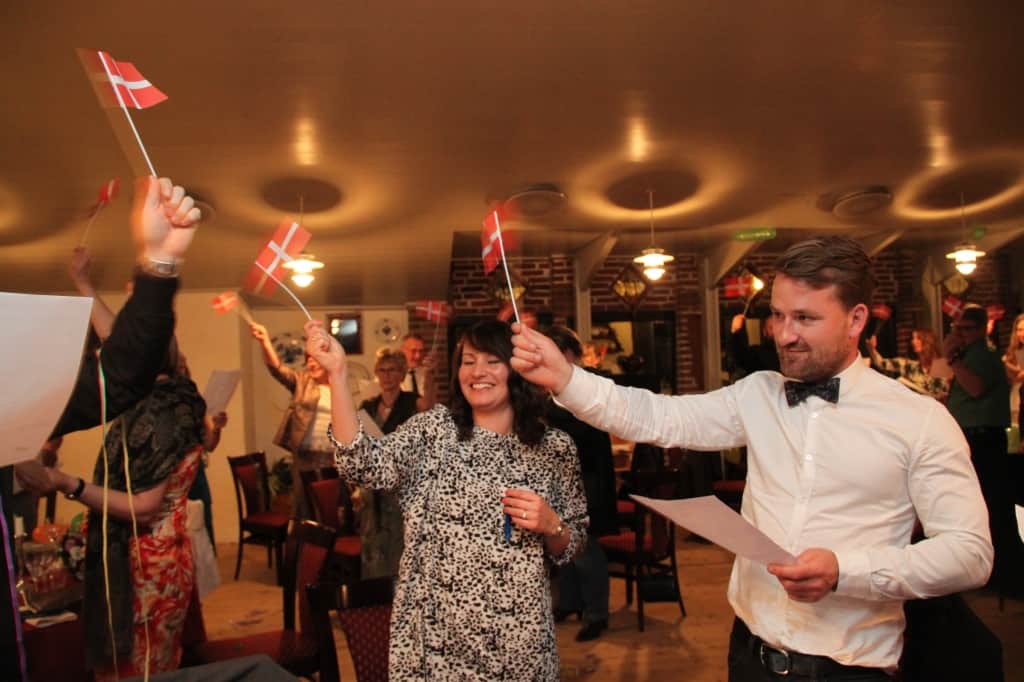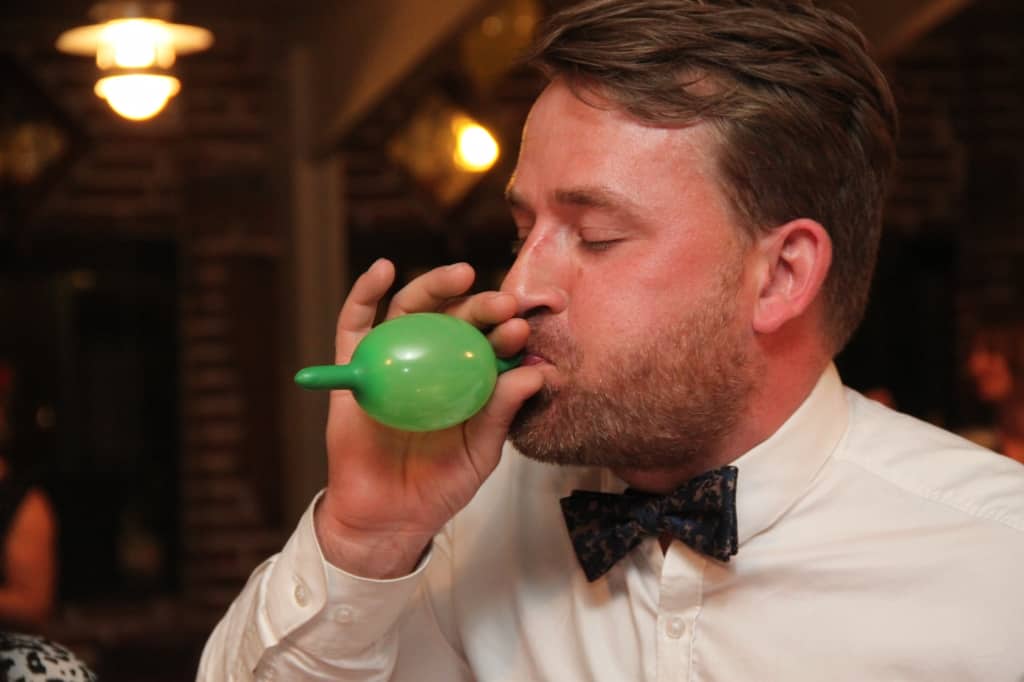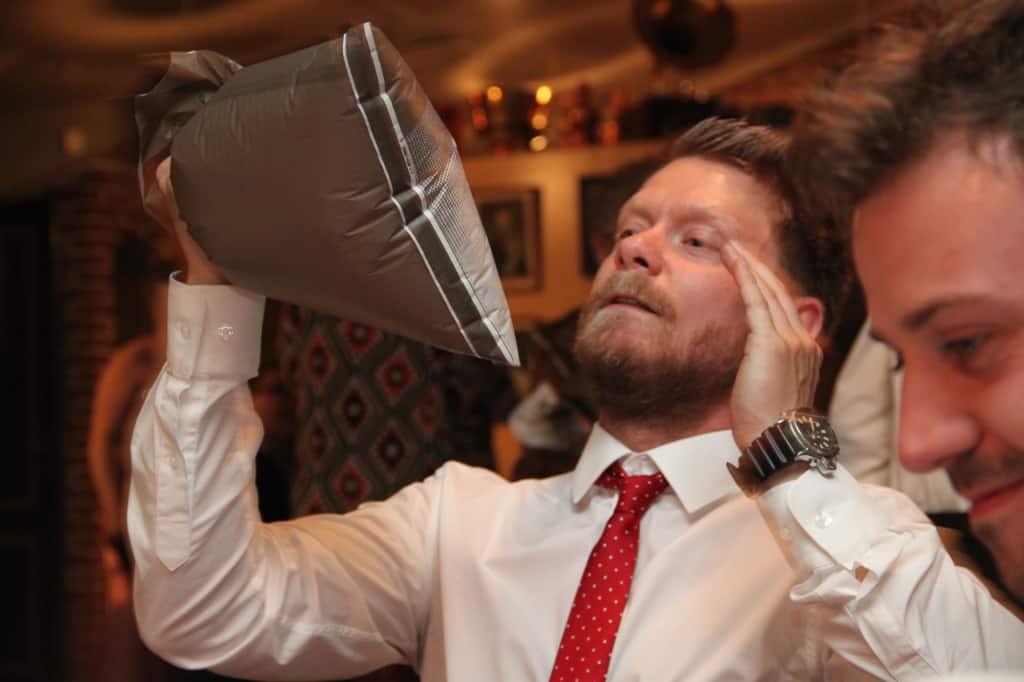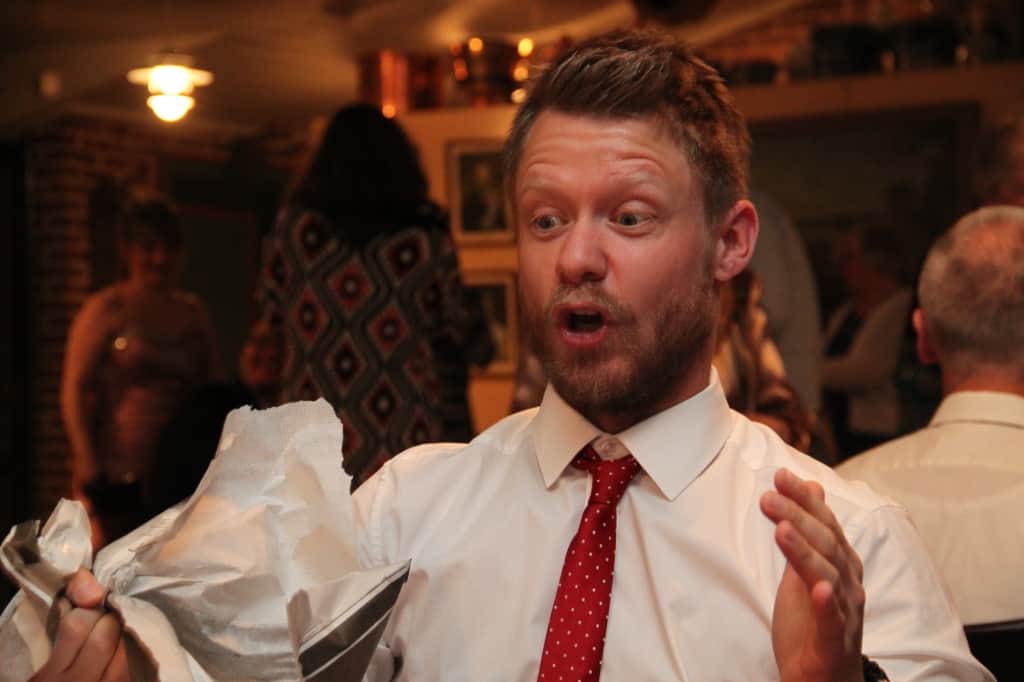 We had lots of songs and fun, and when it was time for the wedding dance, we all gathered around the couple and clapped to the music. Seconds later, (a rather surprised) Daniel was turned upside down and the guys cut his socks in half. Meanwhile the girls cut Naaja's veil.
It had been the perfect wedding. Everything was well planned, everyone was happy and the weather was fantastic! I know Daniel & Naaja had the best day they could have wished for, and I couldn't have been happier for both of them.
Love you, guys x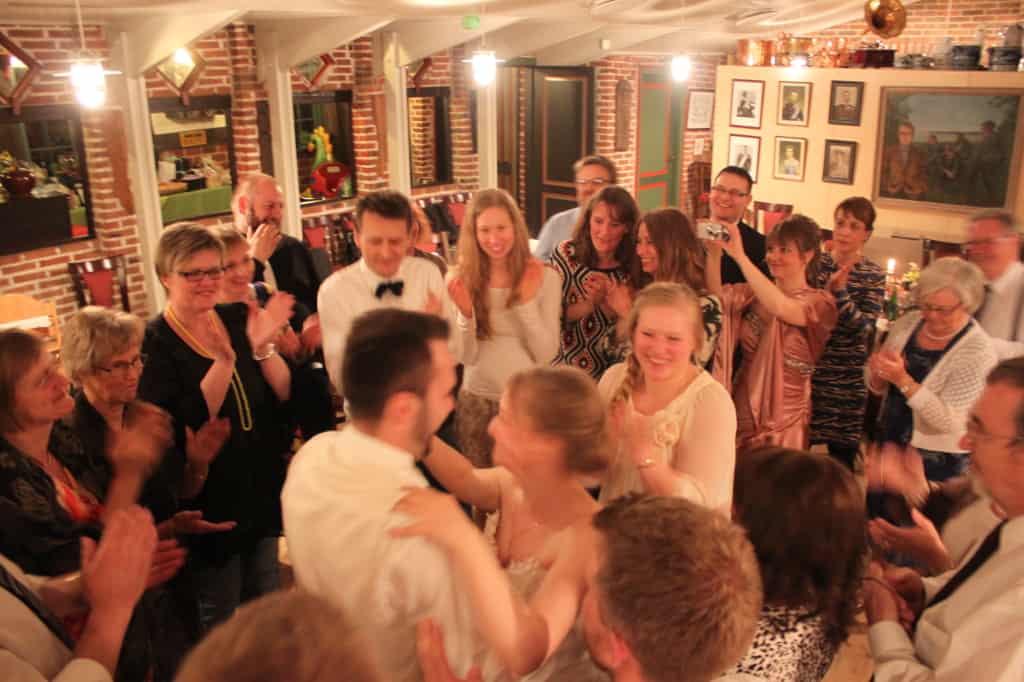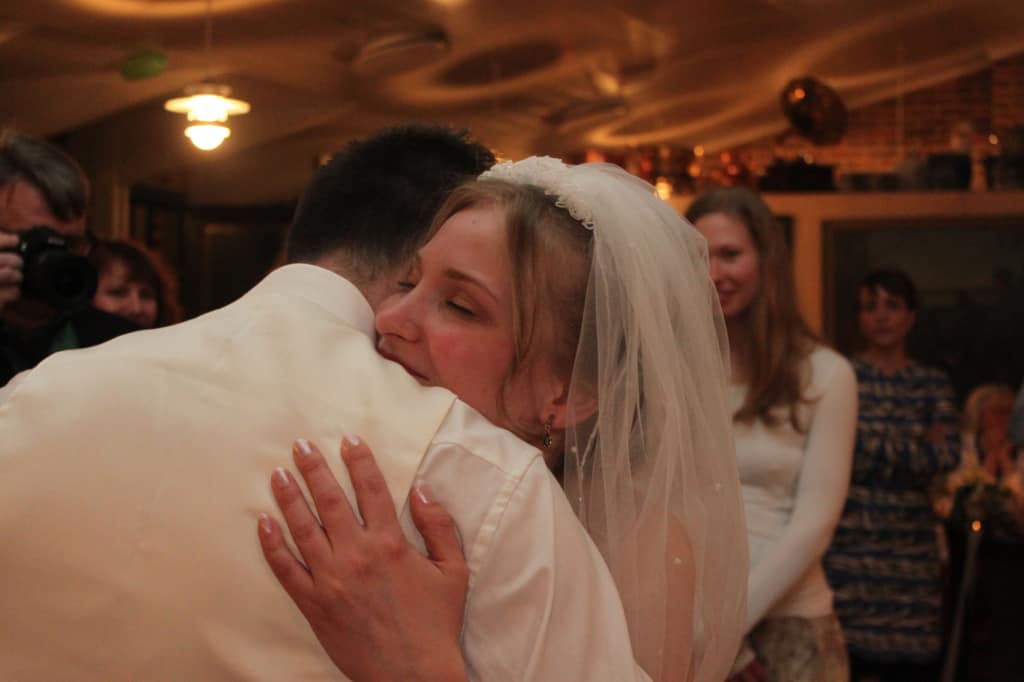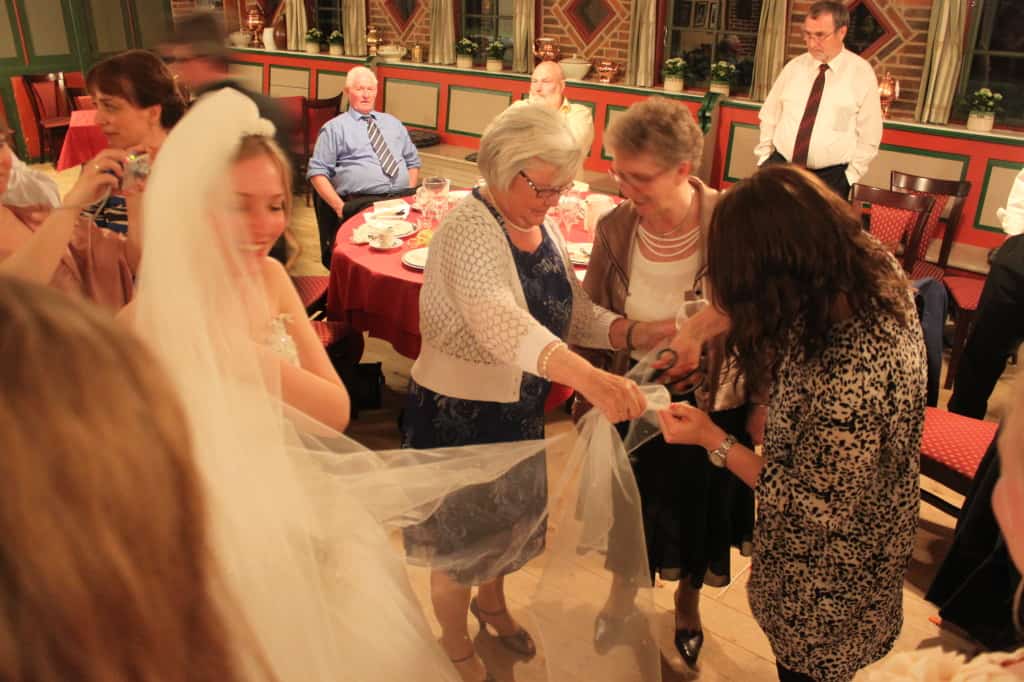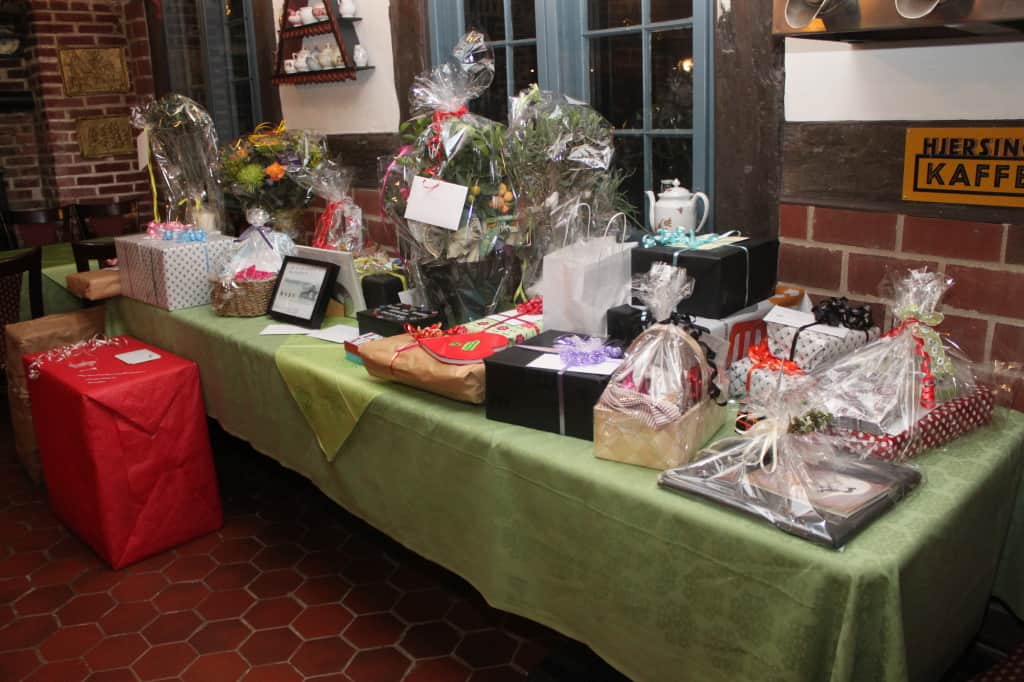 This is how a classic Danish wedding is celebrated. How do you celebrate weddings in your country?