Surprise! We got married in Thailand
On the 17th of March 2012, Thomas & I eloped and got married in Thailand. Today, we're celebrating 3 years of marriage.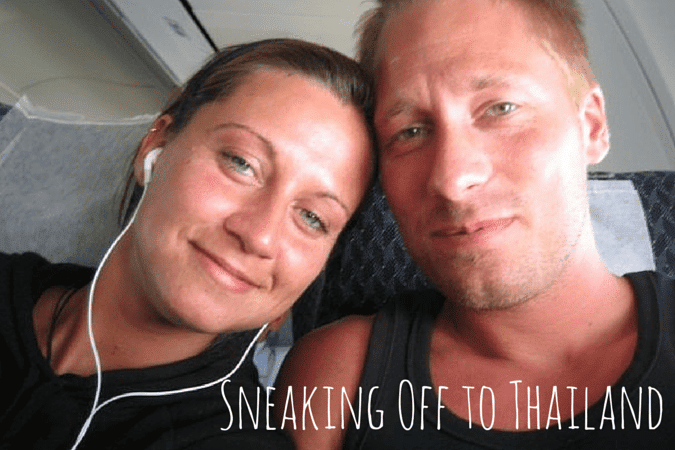 Four months before our wedding day, I was on my way home to my dashing husband-to-be and the only thought in my head was "I can't stand one more minute of wedding planning."
I thought I had it all prepared. I had spent months looking at dresses and guest lists. But somewhere along the way, talking about our wedding – the day that was supposed to be the happiest of our lives – had become simply something to get through, like an important work deadline or a final term paper. Not on purpose, it just happened. Thomas was unhappy. I was constantly frustrated. And none of us were getting the wedding we dreamed of.
So that day on my way home, I realized that something had to be done. After all, this was a once in a lifetime event. There was no do-over and no regrets. So if this was it, it had better be the BEST darned wedding of our lives!
And that's when I got the idea. Right there in the bus while Coldplay's "Help is around the corner" blazed through my headphones….
We would elope and get married in Thailand.
It made sense. Thailand had always been special for both of us and it seemed like the perfect place to celebrate our love and concentrate on what really mattered – just the two of us.
We bought the plane tickets that same night and two weeks later we were on our way to Thailand.
This post contains referral links for products I love. Adventurous Miriam earns a small commission at no extra cost to you if you make a purchase through my links. Thank you for your support ♡ Learn more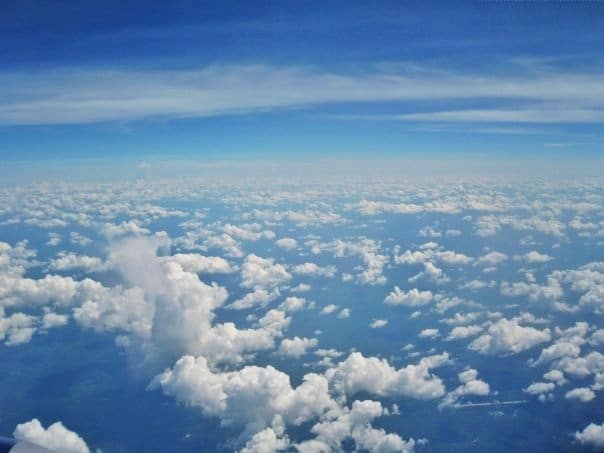 PLANNING A WEDDING IN 2 WEEKS
The point of eloping was partially to get married without anyone knowing. We wanted this to be ours alone so everything was arranged in secrecy.
Before leaving, I had booked the best hotel I could find, arranged for a wedding photographer and a priest. We already had a tailor in Bangkok so he made my wedding dress.
I had emailed the hotel and ordered a bridal bouquet of purple orchids. They had decorated the hotel room with flower petals and romantic details, and there would be a hair dresser in the hotel to do my hair.
Everything was planned in less than two weeks, and it would be ready for our arrival.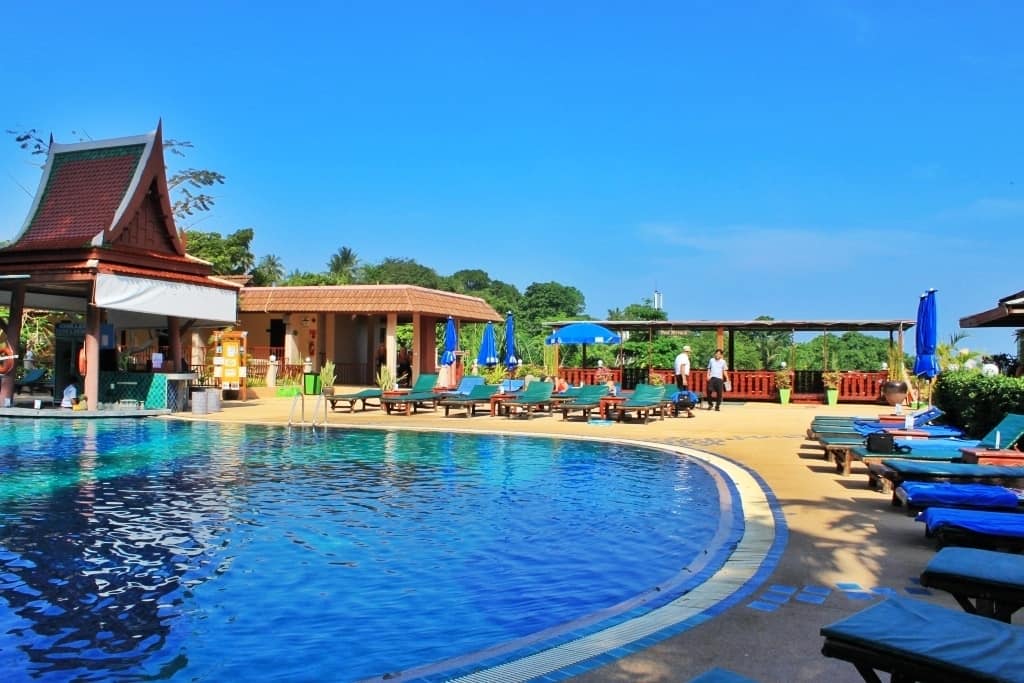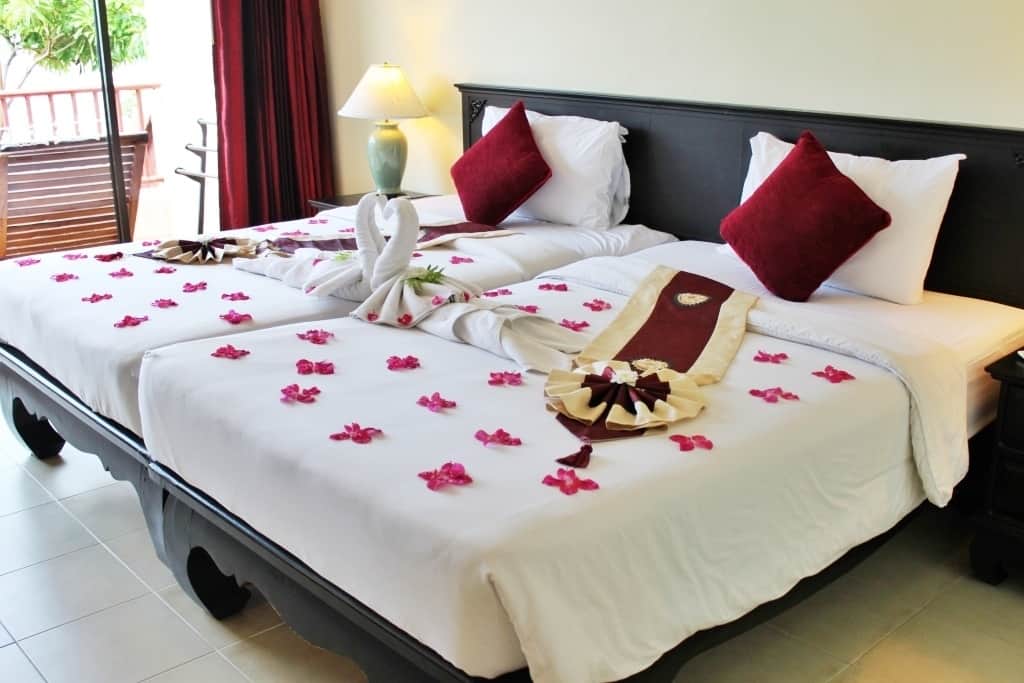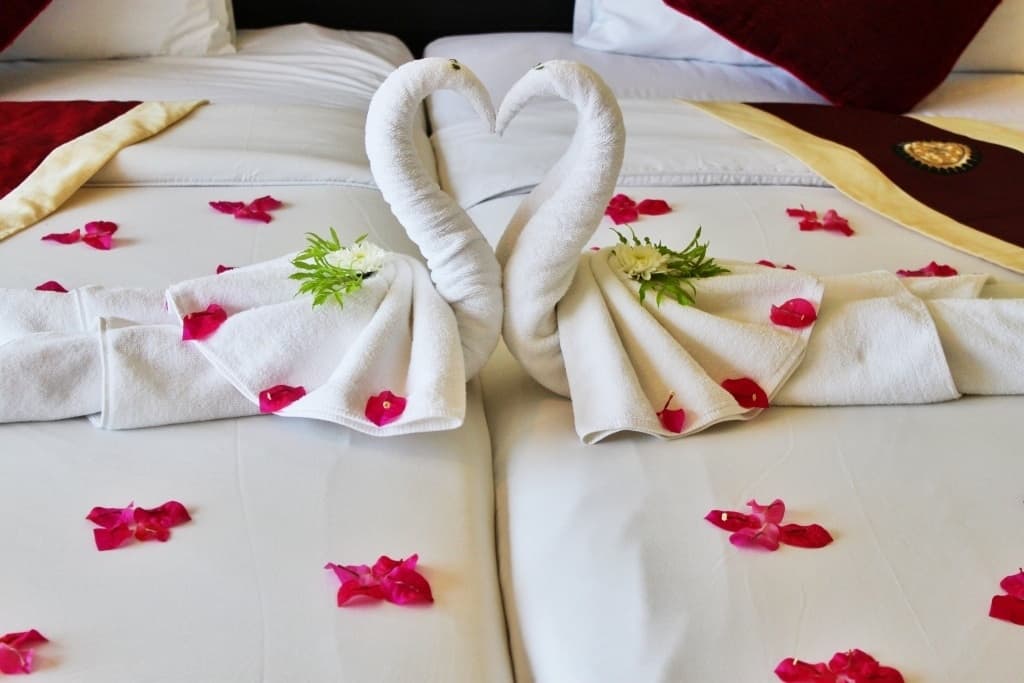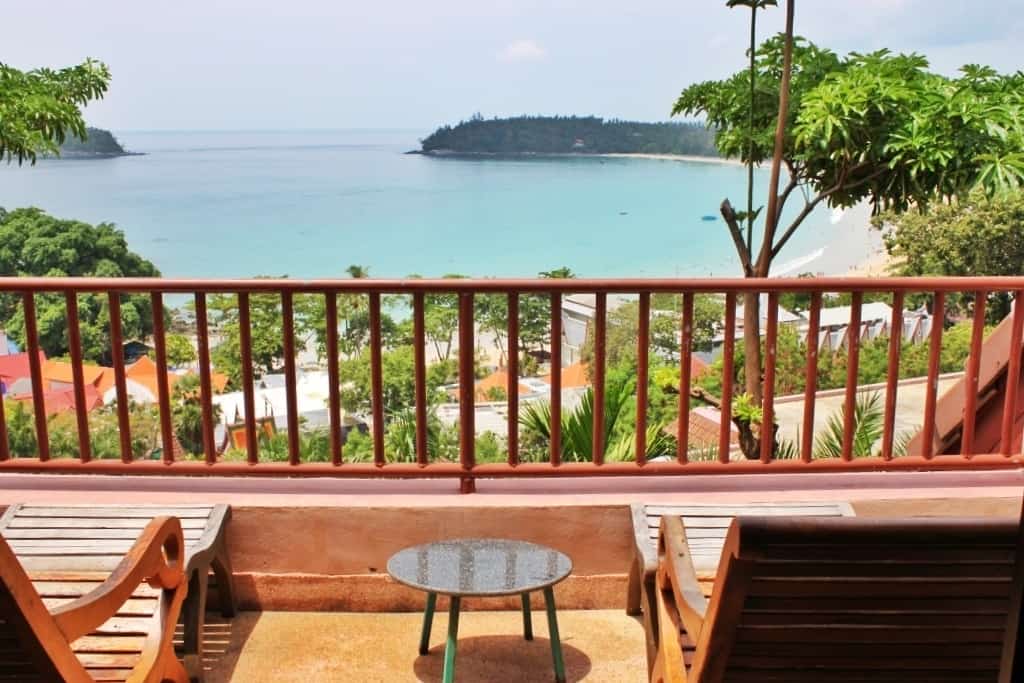 BUT THEN OUR WALLET GOT STOLEN
It had been a long flight from Denmark. I was worn out, hungry and slightly annoyed after waiting in customs for two long hours. Sleep-deprived and stomachs roaring, we went to the taxi line after withdrawing 20,000 Thai baht and putting them safely in Thomas' wallet. We would divide them later at the hotel, we figured.
After a few minutes of silence, Thomas suddenly turns to me in horror, eyes wide open…
"Where's my wallet? My wallet, it's not here. Its', it's gone."
This is not happening. This cannot be happening, was all I could think.
The airport police was involved and a report was filed. But the wallet was nowhere to be found. We walked around Bangkok airport for hours, pleaded with the bank to let us withdraw more money, but without luck. Although we still had my VISA card with money on it, it was basically worthless because we'd just made a withdrawal and we weren't allowed to use the card until 24 hours later. We had no money for a taxi, no money for a hostel or food. Not even for a bottle of water.
We contacted the embassy, we called our Danish banks, begged vendors and taxis to let us pay with card, but there was no help to be found. After three hours and on the verge of a mental breakdown, we finally found an overprized limo service that was willing to accept payment by card.
What a welcome.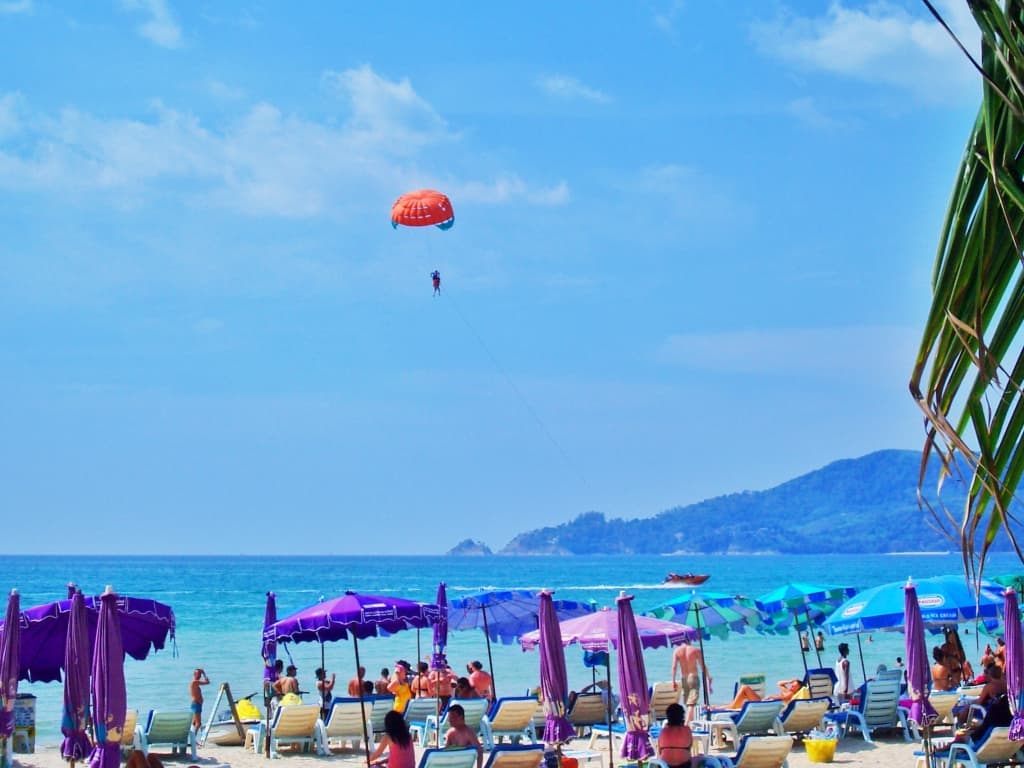 RAIN ON OUR WEDDING DAY
Two days later we had arrived in Phuket. I had taken care of the final preparations so everything seemed to be ready (what a relief). On the day of our wedding, I went to the receptionist to confirm my appointment with the hair dresser later that day. When will she be in? I asked?
"No, miss. She live 2 hour away. Not come until next week," she chuckled as I stared at her in panic.
"But. But I made an appointment via email. You accepted and promised she would be here," I said, befuddled.
No answer.
She glanced at me, "Anything else, miss?"
Ok. No panic, calm down, I thought to myself. There must be other hair dressers in Phuket, and if everything goes wrong, I shall do it myself! I tried to put up a smile for the receptionist.
On my way to our room, I looked outside and spotted the looming dark clouds right above the hotel.
And then… It started raining. Heavy.
You have got to be kidding me.
FIVE LOOONG HOURS LATER
As the hours went by, the rain grew heavier, so heavy that it seemed as if it were being poured from the sky out of buckets.
This is Thailand, I thought to myself. I know this can happen. It rains, and then the sun comes out a few hours later – that's perfectly normal.
Only, the sun didn't come out and the rain kept pouring.
Despite the rains, we decided to get ready and hoped that the weather would change. Postponing was not an option since both the photographer and priest had plans the upcoming days and we had booked and paid for the honeymoon hotel in Koh Lanta already.
Dear rain, please go away so we can get married. I prayed to God as I looked outside at the flooded empty streets.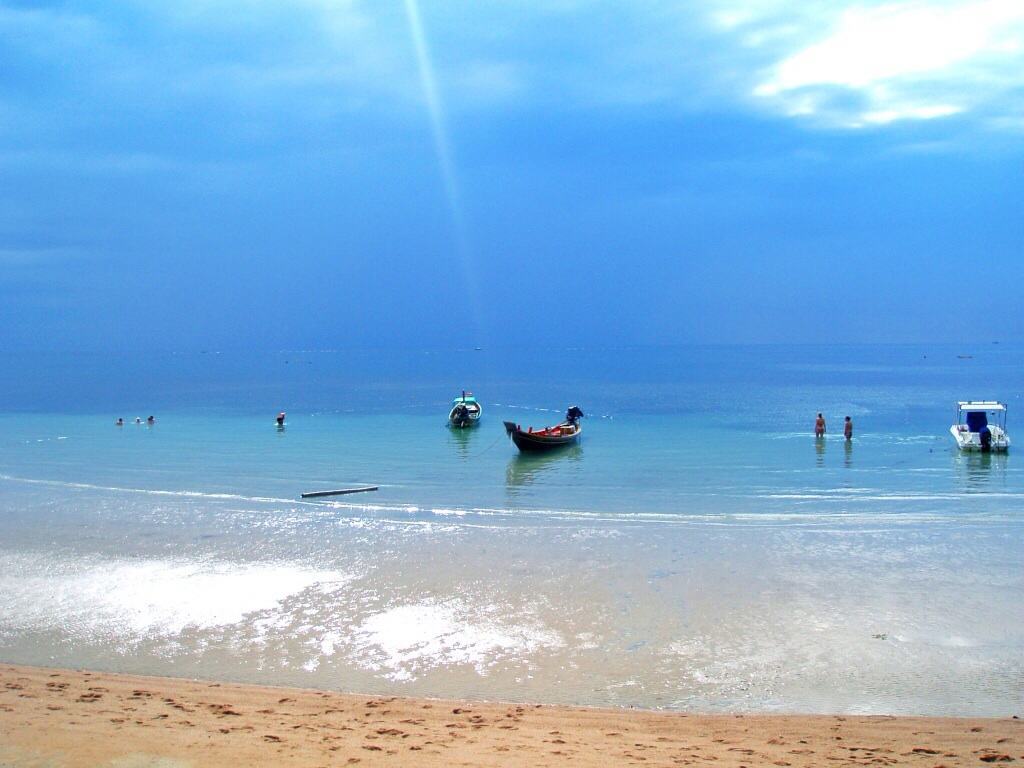 A BEAUTIFUL WEDDING CEREMONY ON THE BEACH
At 4pm, I picked up my bridal bouquet and walked down the long aisle to the lobby. I was afraid to look outside. Afraid that it would still be raining and that we had no choice but to cancel our wedding. But when we got outside, the sky had lifted and the rain was gone. It was as if it had never been. I could not believe it. Had my prayer been answered?
By the time we arrived at the beach, the sun had come out and risen over the land. People were swimming, the temperature was nice and chilly and we were finally ready to set up the ceremony.
At the end, it all worked out. The ceremony was beautiful. There were tears. Smiles. And lots of happiness.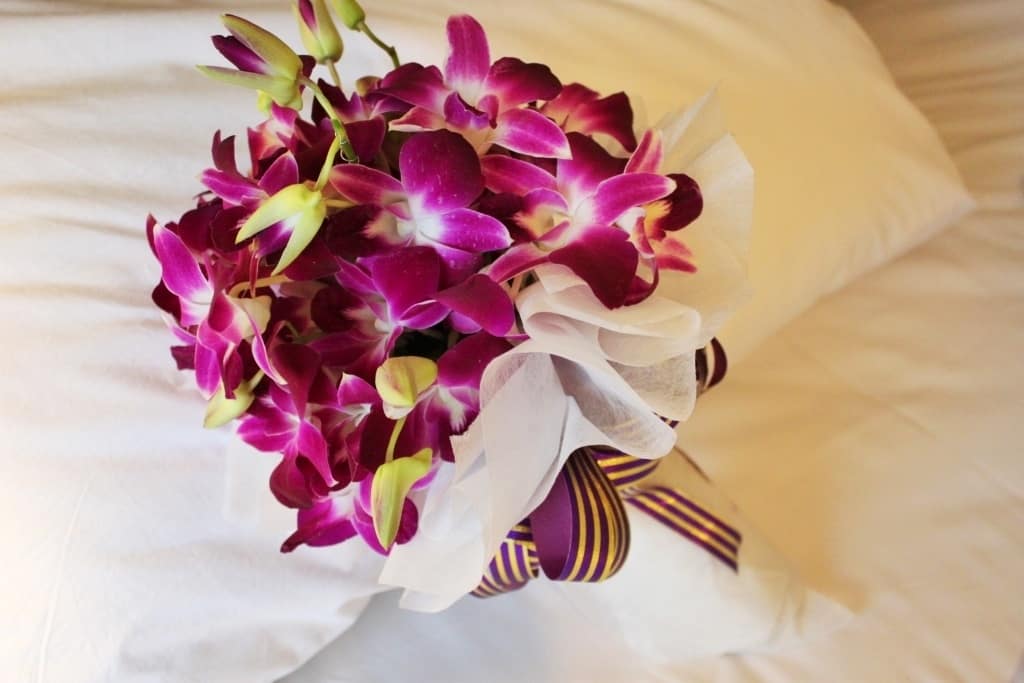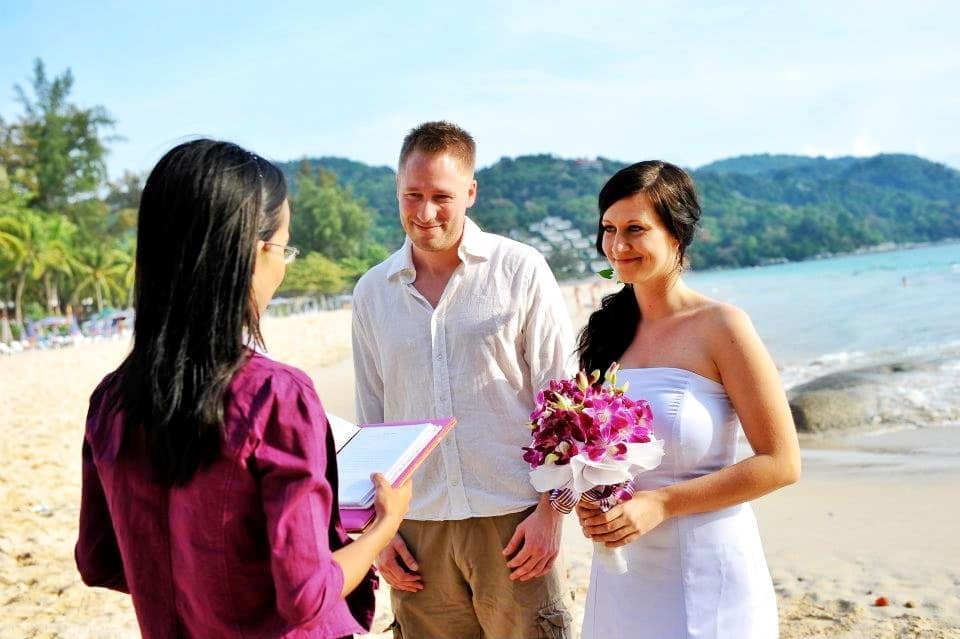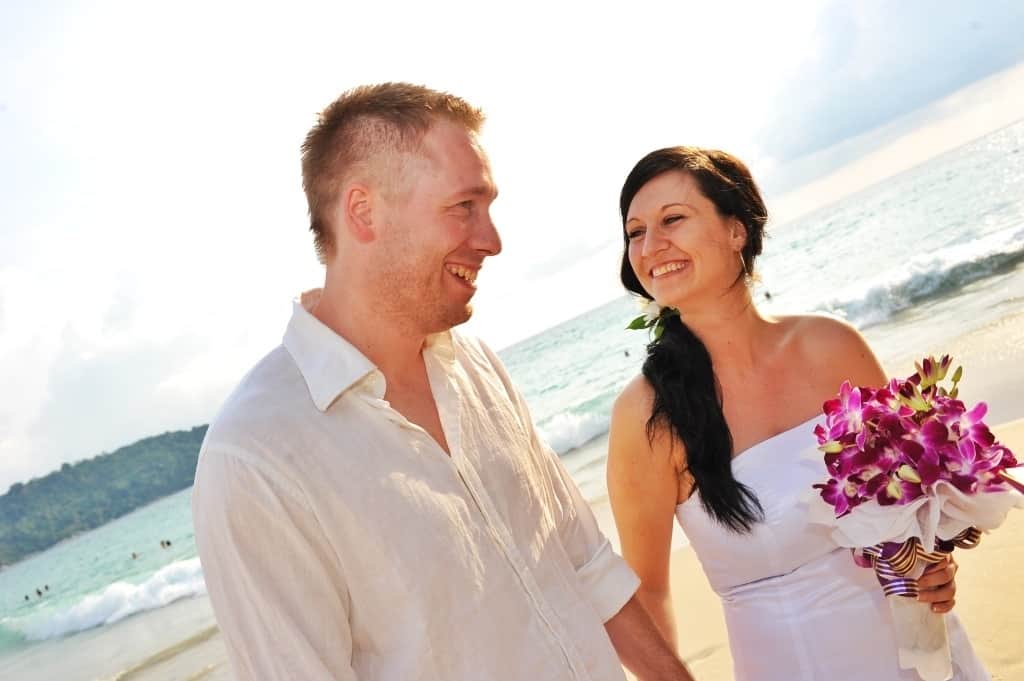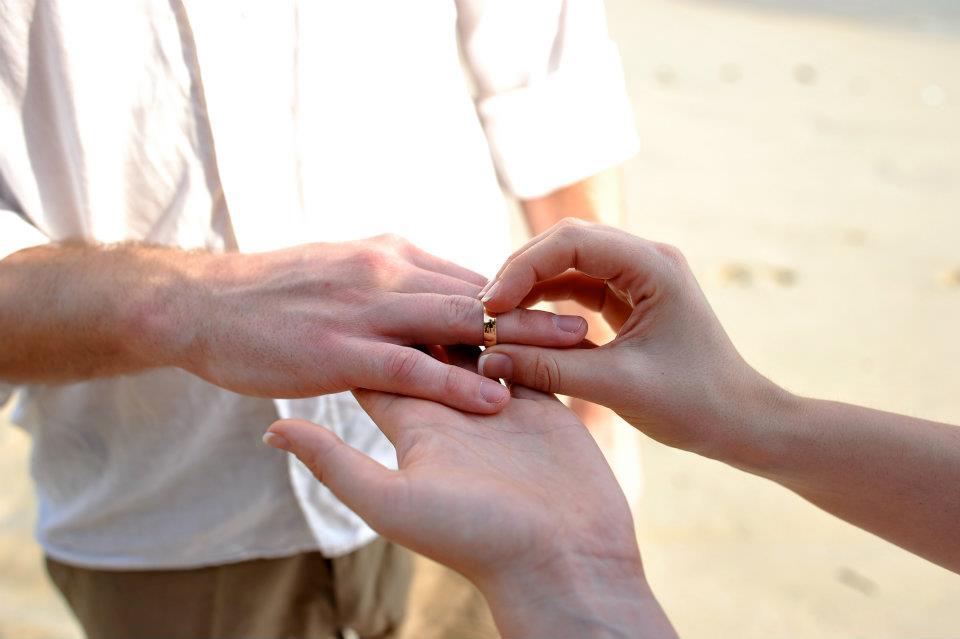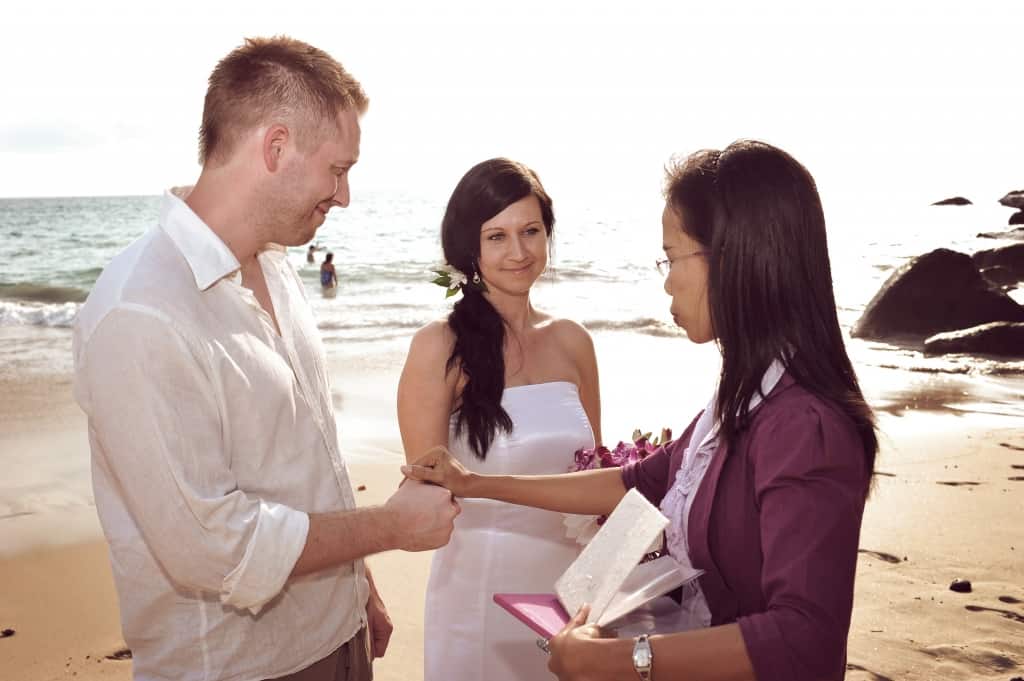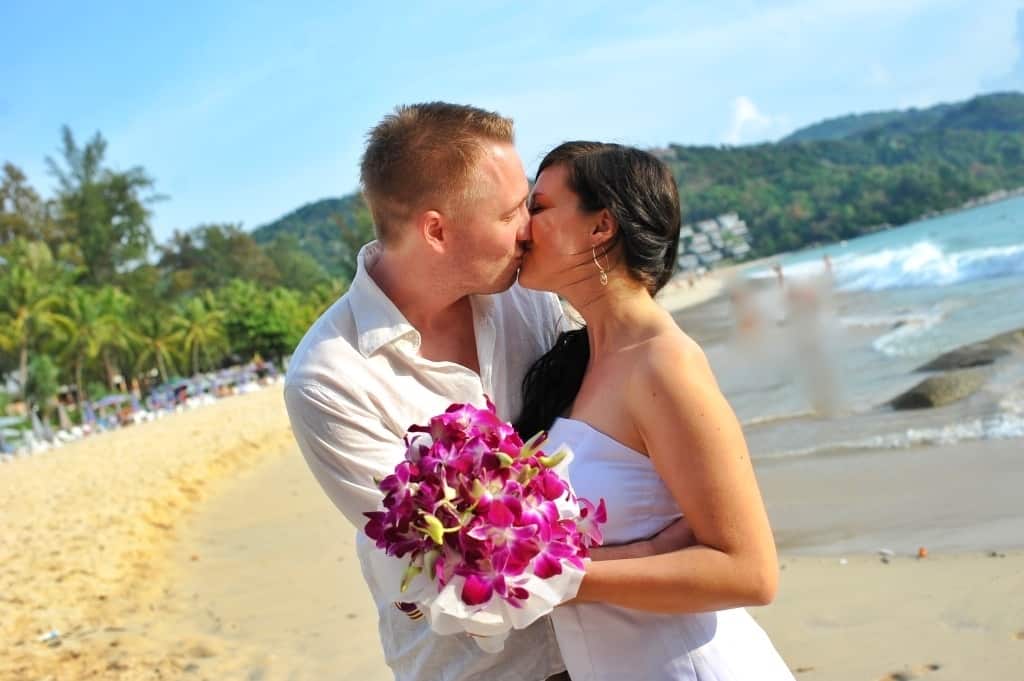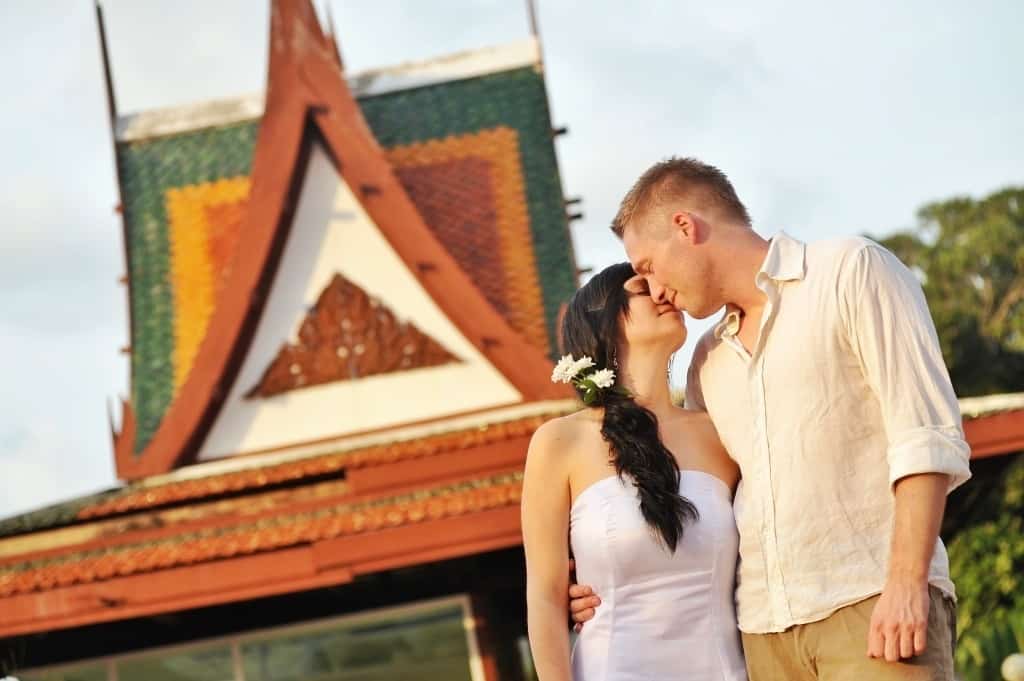 A HAPPY ENDING WITH MY LOVE
I got to marry the love of my life, and in the end that's all that mattered. Sure, it would have been nice to have everything go smoothly and you know, not get robbed. It would have been great to stay at a luxurious resort without finding a deadly cobra in our room during the honeymoon. Yes, that actually happened! But at least it was eventful and today we laugh about it.
And I'm pretty happy with that.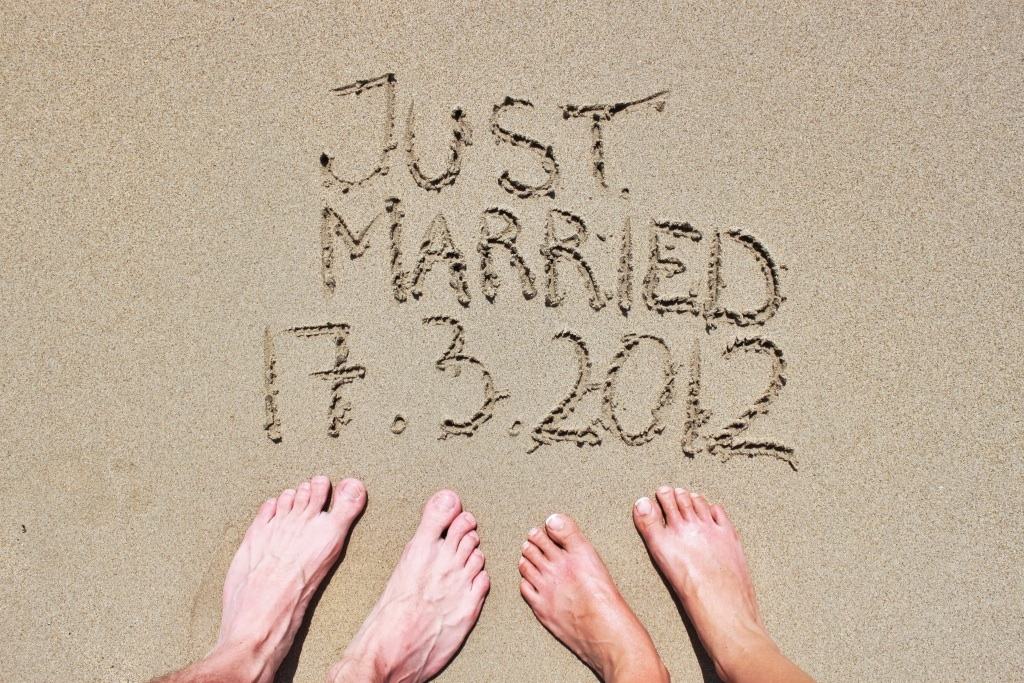 Are you married? What is your dream wedding?
More posts from Thailand you might like