The perfect 10 day Philippines itinerary
From the lush rice paddies and cascading waterfalls to the tropical wildlife and the pristine dreamy beaches, here's the perfect 10 day Philippines itinerary.
Plan your trip to Philippines – Quick tips
👩🏻 Best guided tours in the Philippines
🏡 Where to stay in the Philippines
Ready to experience the best that the Philippines has to offer? This 10 day Philippines itinerary will show you how!
I've made this Philippines itinerary for you with tips from my time there.
I've selected the best from my trip and suggested how long to spend in each place. Distances are far and you'll need to book flights and ferries in advance. But – if you're keen on seeing it all, it is possible.
Here's how to spend 10 days in the Philippines.
Read next: How much does a trip to the Philippines cost?
This post contains referral links for products I love. Adventurous Miriam earns a small commission at no extra cost to you if you make a purchase through my links. Thank you for your support ♡ Learn more
10 day Philippines itinerary
Spending 10 days in Philippines? Make sure you get the most out of every moment with this intensive itinerary!
I've mapped out the best places to visit in this expansive Southeast Asian country – more precisely Bohol, Boracay and Palawan.
As mentioned above, if you make sure to plan ahead and pre-book your flights, ferries and hotels, you'll be able to experience the best that the Philippines has to offer.
Here's an overview of your 10 day Philippines itinerary:
Arrival in the Philippines
Kick off your 10-day Philippines adventure with a flight to either Ninoy Aquino International Airport in Manila or Mactan Cebu International Airport.
If at all possible, I recommend arriving in Cebu as it will save you a domestic flight.
Take advantage of your first day by checking into a hotel near the airport and exploring the city. Next day, take the flight to Coron in Palawan!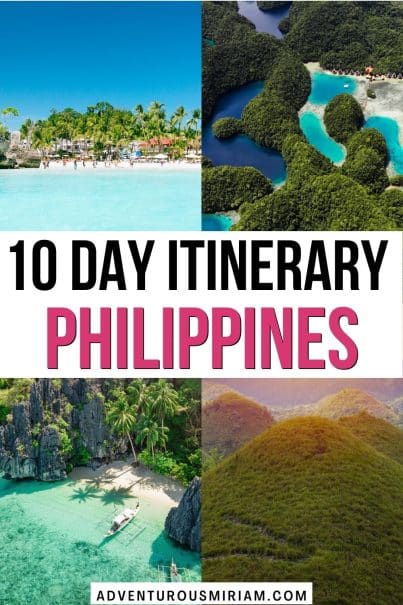 Palawan: 4 days
Itinerary for Philippines: Day 2-5
How to get there
An early flight at 7.30 takes you from Cebu to Coron, Palawan – one of the top islands and beaches in the world.
Once you're in Coron, it's time to hit the beach! Afterwards, savour a seafood feast at one of Coron town's restaurants before settling in for a good night's sleep.
Coron
Coron Island is home to six sunken Japanese ships from WWII, colourful corals and marine life, so it's perfect for diving and snorkeling. Some of the must-see places include:
Twin Lagoon, which is surrounded by jagged black hills and with crystal clear water
Banol Beach for its powder white sand and turquoise sea
Kayangan Lake – one of the most picturesque locations in the world
Be sure to experience an island hopping tour.
Where to stay
Most people stay in Coron town, about 40 minutes away from Busuanga airport.
The Funny Lion (⭐ 9.0) features a spa, pool, and immaculate rooms. After a full day of island-hopping in Coron, relax and unwind at this ultra-modern accommodation. Don't forget to enjoy the rooftop bar and dining as well! Book here.
El Nido
Next up on your Philippines 10 day itinerary is the world-class El Nido.
You can get from Coron to El Nido in two ways. Either take a 5-hour ferry that departs at 6 or 7am, or opt for the more expensive but faster Airswift flight which takes 1 hour.
Once you've checked into your hotel in El Nido, hire a tricycle to take you to Nacpan Beach – 45 minutes from town.
This beautiful stretch of white powdery sand beach is the perfect spot to relax and unwind for the day. Enjoy your time here amidst its breathtaking beauty!
Make your 10-day itinerary complete with an island hopping tour in El Nido. Home to some of the best beaches in the world, you can book your tour online or visit the many travel agencies in town for packages.
A great option for first-timers is Tour A. You'll get an action-packed day with snorkeling and lunch.
Where to stay
Frangipani El Nido (⭐ 8.8) has a tropical-modern feel that's perfect for couples and friends – providing an array of amenities and facilities near Corong-Corong Beach Enjoy.You'll get a private balcony with panoramic views of the bay. Book here.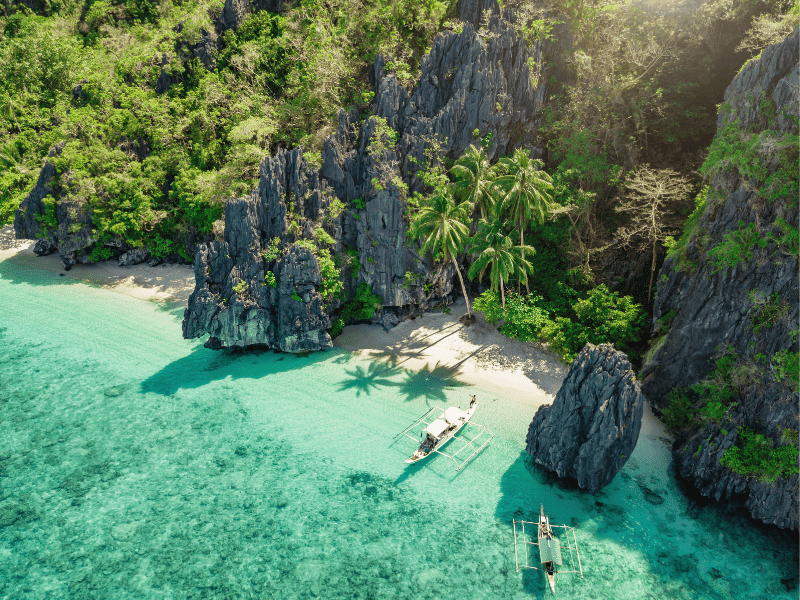 Bohol: 2 days
Itinerary for Philippines: Day 6-7
How to get there
From your hotel in El Nido, head to the airport and fly to Cebu. From Cebu, take a taxi or jeepney to the marina. Here, you can take the ferry to Bohol. Ferries are quite frequent.
When you arrive in Bohol, take a jeepney to Panglao. I recommend staying at Alona beach from where you can explore Bohol and Panglao on a rented scooter or an organised tour.
Most hotels can help you rent a scooter and have it delivered to your doorstep.
Things to do in Bohol
Bohol is a paradise for nature lovers! On this picturesque island, you can get up close and personal with the world's smallest primate – the Bohol Tarsier, enjoy the pristine beaches at Virgin island and see one of the world's wonders – the majestic Chocolate Hills.
You can either rent a scooter and explore on your own, or go with Viator to the top places.
Read next: The perfect Bohol 3 days itinerary
Where to stay
I recommend staying in Panglao at Tamarind Hotel (⭐ 9.1) It has a lovely pool and is less than 1 km from Alona Beach. We loved staying there! Book here.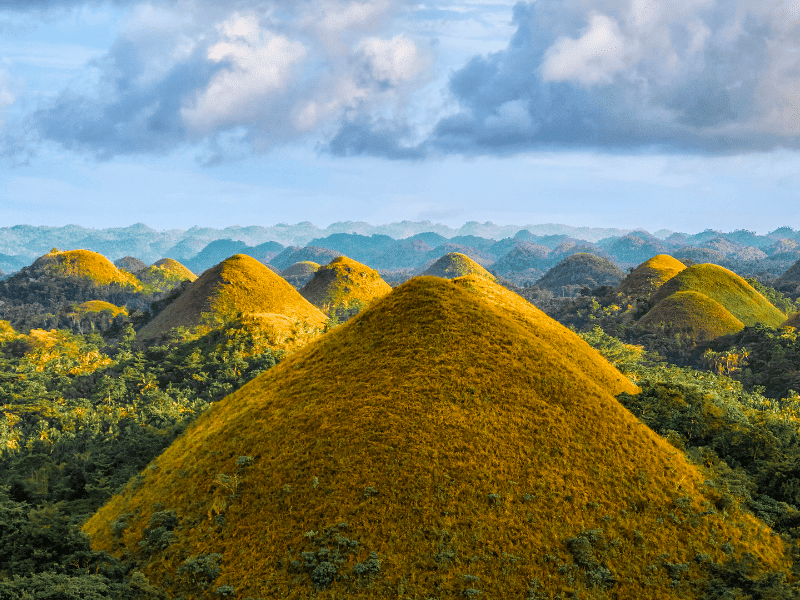 Boracay: 3 days
Itinerary for Philippines: Day 8-10
How to get there
Make your way to Tagbilaran Port and take the ferry back from Bohol to Cebu. This two-hour journey will get you to Cebu, where an afternoon flight will carry you over to Boracay in time for sunset.
You'll arrive in Caticlan, where you can pre-order an airport pickup. That's what we did and it's super easy.
Things to do in Boracay
Next on your 10 day Philippines itinerary is Boracay island! Start your morning early and opt for either an island-hopping tour or a tour of the island, then spend the rest of your day beach hopping.
Once you've experienced all that Boracay has to offer, take advantage of its many water activities. We tried helmet diving and it was so much fun and a great introduction to scuba diving if you aren't certified.
Read next: The perfect 3 day itinerary for Boracay Island
Where to stay
Make sure you stay at one of the beachfront hotels on White Beach's Station 1 or 3 – the perfect spots to make the most of this stunning island.
Station 1: Boracay Haven Suites (⭐ 8.9) is a highly rated hotel with a pool and modern rooms. A great luxury escape to a very affordable price! Book here.
Station 3: Surfside hotel (⭐ 8.9) is less luxurious, but has SO much charm and a great atmosphere. There's a spa next door and the Japanese owner is really nice and makes you feel at home. Book here.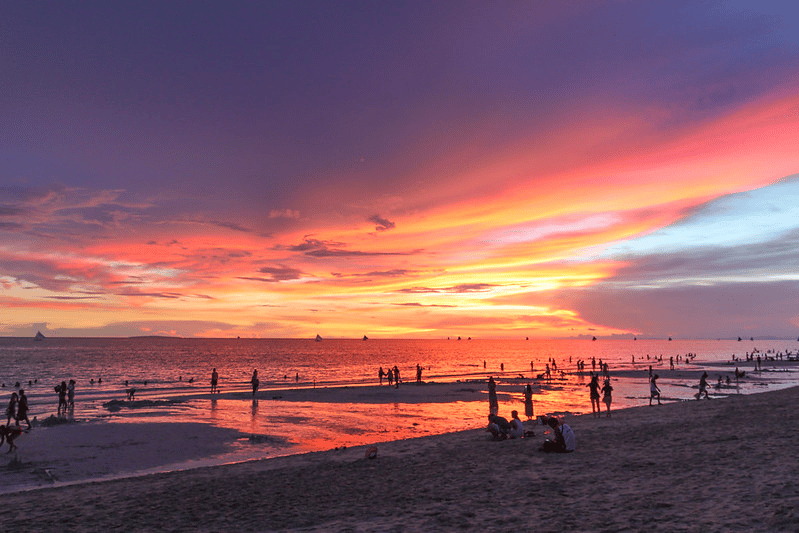 If you have more than 10 days
The Philippines are AMAZING and if you have more than 10 days, the country has much more to offer. These are some of the best places for the best itinerary for Philippines.
Banaue rice fields
Nestled in the beautiful mountains of Northern Luzon lies the peaceful town of Banaue, home to one of the Philippines' most iconic sights – the Ifugao Rice Terraces.
This spectacular network of rice fields has been carved into the mountain slopes over thousands of years using nothing but stone and mud walls.
Ancient water systems have also been engineered to provide an efficient way to irrigate these remarkable terraces that are now listed as a National Cultural Treasure in the Philippines. Definitely worth visiting!
This amazing 3-day tour takes you to the 2000-year old terraces on a round-trip private air-conditioned van with an English speaking driver. No more than 6 persons will be on the tour, which makes it more customisable and private. Check availability and latest rates here.
Malapascua
If you're a diver, you'll love Malapascua Island. It's the only place in the world where you can witness thresher sharks in their natural habitat. Plus, the beaches here are gorgeous.
Siargao
Siargao is another island that's worth visiting! Its unique charm lies in so much more than just its scenery.
From the tranquil Maasin River to the incredible Magpupungko Pools, you'll find amazing sights around every corner.
The best way to explore Siargao and the top sights like Guyam island and Cloud 9 is on an island hopping tour like this amazing island hopping tour with Viator.
How to travel around the Philippines
The Philippines is spread across more than 7.000 islands. The two main ways to get around are by flight and ferry.
On land, the main transportation are jeepneys (public transportation jeeps), taxis or rental scooters.
Domestic flights
Flying in the Philippines is easy, but is often comes with delays. You can fly with the local airlines, Philippines AirAsia, Philippine Airlines, Cebu Pacific, Cebgo and Air Swift between the main islands.
If you book in advance you can get flights down to $60.
Ferries
Ferries are a common form of transport in the Philippines due to the long coastline and abundance of islands.
There is an extensive network of ferries connecting larger islands. Ferries are a cheap, safe, and scenic way of travelling between the islands.
Safety in the Philippines
It's generally safe to travel to the Philippines, as long as you take proper precautions.
Petty theft (including bag snatching) is the most common type of crime you'll face in the Phillipines. And that can be avoided if you follow these general safety tips:
Don't wear flashy items
Don't leave your items unattended
Be alert of petty theft when using public transportation
Avoid isolated areas
Another danger is traffic. Make sure to wear a helmet and travel with travel insurance so you're covered, just in case.
With proper precautions and knowledge, your 10-day Philippines trip can be a safe and fun experience.
Read next: 27 essential travel safety tips everyone should know
What to pack for the Philippines
While planning your adventure, make sure to pack smartly! Depending on the season, you don't need much on your 10-day Philippines trip.
A pair of flip flops and sneakers, a sun hat, swimwear, and light layers for unpredictable weather.
And don't forget your camera – you're going to want to capture it all!
Packing list for Southeast Asia
More posts from the Philippines you might like