Why you should experience island hopping Bohol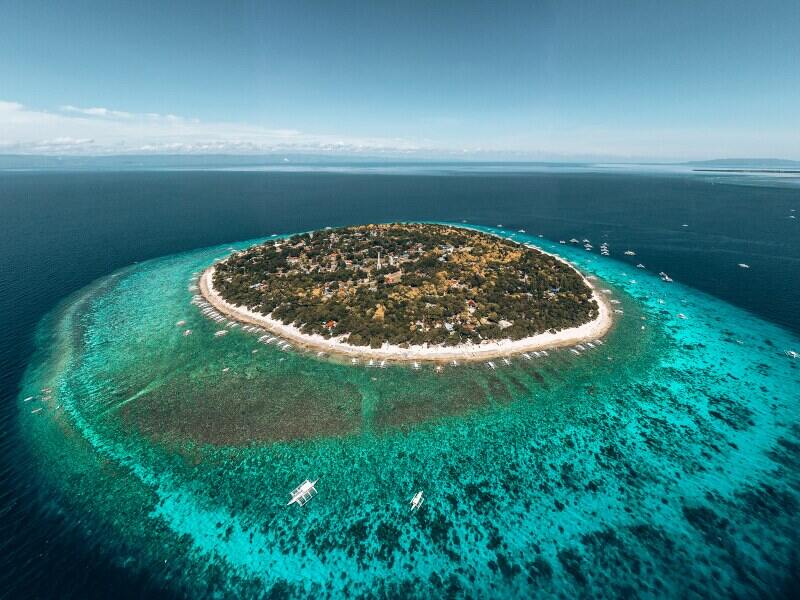 Island hopping Bohol is one of the top things to do in Bohol and Panglao.
For six hours, you'll be swimming with sea turtles, see dolphins and explore pristine beaches and islands. Sounds amazing, right?
In this guide, I'll share everything you need to know about Bohol island hopping, including the itinerary, where to book the tour and what to bring.
Let's dig in.
Read next: The perfect 10 day Philippines itinerary
This post contains referral links for products I love. Adventurous Miriam earns a small commission at no extra cost to you if you make a purchase through my links. Thank you for your support ♡ Learn more
Island hopping Bohol
Island hopping Bohol actually takes off from Panglao, which is nearby island, connected to Bohol by two bridges. That's why it's also known as the Panglao island hopping tour.
There are two ways to do island hopping. Either by booking this organised tour through Klook, which comes highly recommended or by finding a tour yourself on Alona beach.
The benefit of booking an organised tour is that the price is fixed and snorkeling masks are included. The tour costs $27.15 and you can book it here.
If you go with one of the boats on Alona beach, you'll need to negotiate the price (unless you're willing to pay what they ask – and you shouldn't). The boat will leave when there are enough passengers, which means you may miss the dolphins, which are active around 7 am. Also, you may need to pay extra for snorkeling at Balicasag Island and other unforeseen add-ons. Expect to pay around $18-20 (with the add-ons and a negotiated price).
Both tours last 5-6 hours and have the same itinerary which I'll got through below.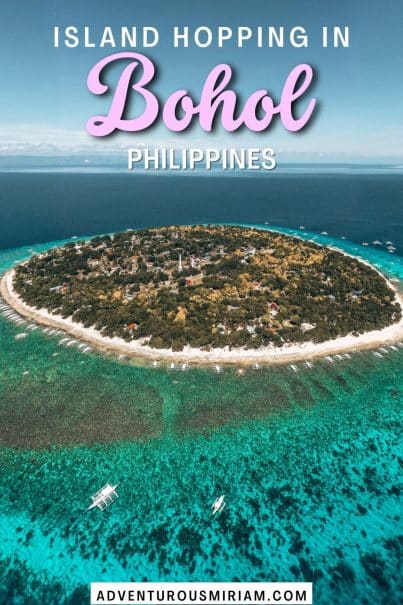 How to book your island hopping Bohol tour
Whether you choose to purchase tickets right from the boatmen at Alona beach or book your Panglao island tour package online is your decision. When I travel, I prefer a hassle-free experience, so this is the option I chose: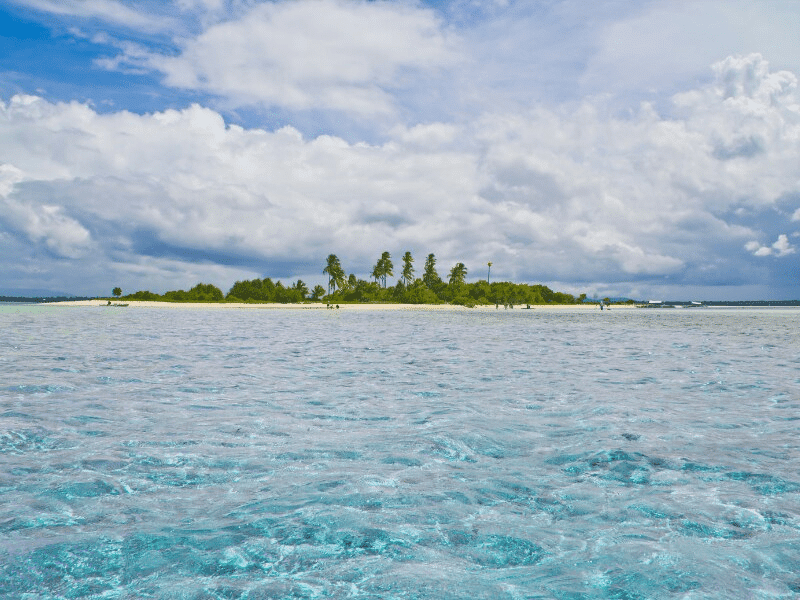 Island hopping Bohol
Snorkeling
Dolphins
Tropical beaches
Itinerary of Bohol island hopping tour
All island hopping tours from Panglao start at Alona beach. They usually leave at sunrise, so make sure to eat something before the trip. It's probably too early to have breakfast at your hotel, but you can ask them to put some fruit and bread aside for you or simply buy it yourself at a grocery market. That's what we did. You should also bring water and some snacks, like crackers.
This is the Bohol island hopping itinerary we followed (times may vary):
6 am: Take-off from Alona beach
6-6.30 am: Dolphin watching on open sea
7-9 am: Snorkeling at Balicasag island
9.30-11.30 am: Virgin island
12 pm: Return to Alona beach
What's included:
This is included in your Bohol island hopping tour with Klook:
Transport
Round-trip transfers to and from your hotel
Insurance provided by the operator
Snorkeling mask
What to bring
I've made a list of things you need for your Bohol island hopping below. Also, you should make sure to eat something before and also bring snacks as lunch is not included in the trip. Here's what to bring with you:
Swimsuit
Towel
Flip flops
Camera or GoPro
Snacks (crackers, fruit, bread)
Water
Motion sickness pills (if that's an issue)
Sunhat
Money (if you want to buy food at Virgin island or rent gear)
Your own snorkeling gear (optional)
Take-off from Alona beach
We stayed at Alona beach so we simply walked to the pick-up place. If you're staying further away, you'll be picked up and dropped off.
The boat leaves at 6-6.30 so be there on time. Dolphins are waiting.
Dolphin watching in Bohol
As you leave Alona beach, make sure to scout for dolphins in the distance. The guide will tell you where to look, and he stops if a pod of dolphins swim by. I always make sure to have my camera turned on and ready to snap because I've previously missed some really amazing photo ops in the past.
As with all wildlife, there's no guarantee they'll surface. But don't worry, sea turtles and lots of beautiful fish await you at Balicasag island.
Snorkeling at Balicasag Island
Balicasag Island was an absolute highlight of our island hopping Bohol tour. I only wish we had more time here, but even if we had spent 5 hours snorkeling, I probably still wouldn't want to leave.
So many sea turtles, corals and colourful fish showed up around us. It was AMAZING!
Read next: Best snorkeling gear for your next underwater trip
Virgin island
Next up on your island hopping tour Bohol is Virgin Island.
The sand here is incredibly clean and pure, not to mention the crystal-clear water!
However, you should know that it's not a pristine and undiscovered island. You'll see many tourist boats and stalls with local dishes & seafood at the beach, so there's no 'hidden tropical island' vibe here.
You can still have a great experience, though, if you just adjust your expectations. Do that, and I'm sure you will be able to better enjoy it.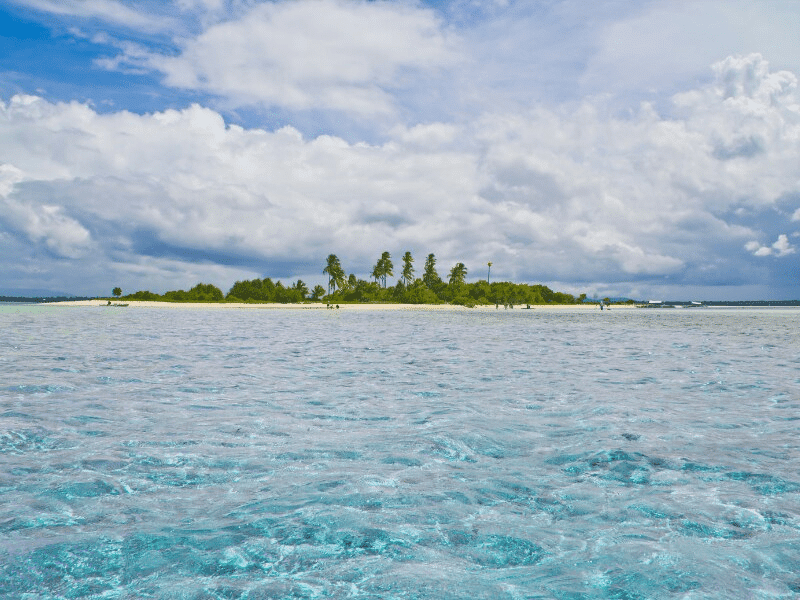 Return to Alona beach at noon
After you've swum and seen Virgin island, it's time to head back to Panglao. It only takes 20 minutes and you'll be back at Alona beach around noon, just in time for lunch.
If you're wondering what else to do the rest of the day, take a look at my awesome posts about things to do in Panglao and my Bohol itinerary.
Where to stay in Bohol
In Panglao, I highly recommend staying at Alona beach. It's close to everything and you've got the best beach right on your doorstep.
We stayed at Tamarind Hotel (9.1 ⭐), which had a lovely pool and super nice staff. You can book here.
What to pack for the Philippines
While planning your Philippines adventure, make sure to pack smartly! A pair of flip flops and sneakers, a sun hat, swimwear, and light layers for unpredictable weather. And remember your camera – you're going to want to capture it all!
Packing list for Southeast Asia
More posts from the Philippines you might like