How to visit the Bohol tarsier responsibly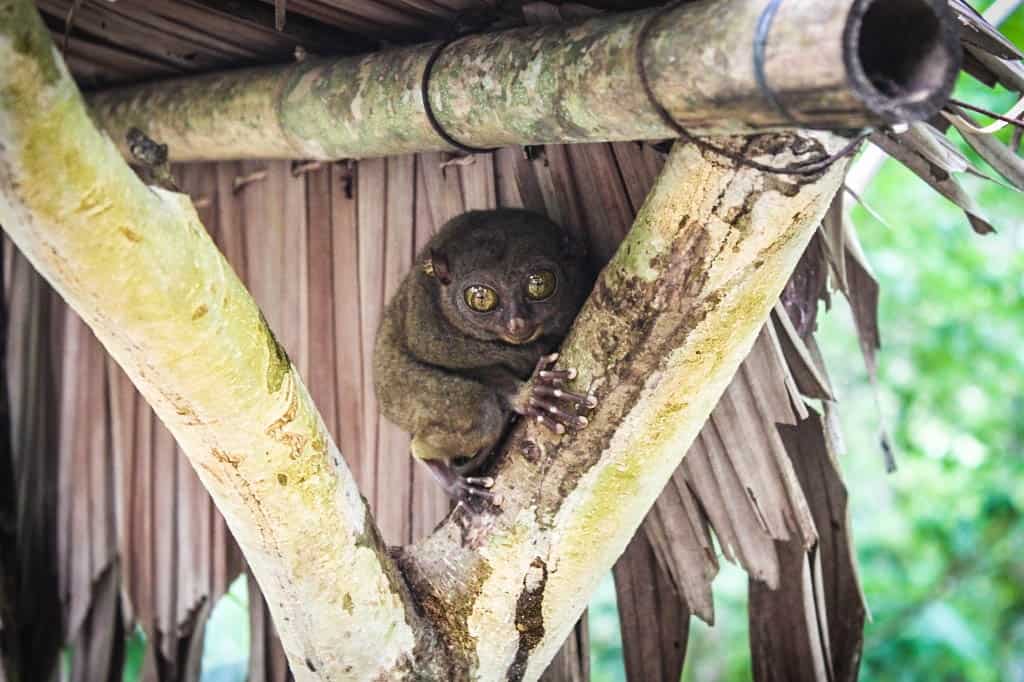 A few days ago, I met the cutest, fluffiest and odd-looking animal – the Bohol tarsier. Have you ever heard of it? I hadn't, but as soon as I did, I immediately put Bohol on our itinerary for the Philippines!
The tarsier is one of the smallest primates in the world, and it's also endangered. So, in this post I'm going to share exactly where you can find them in Bohol responsibly and where you should avoid.
You'll find a map, prices and everything else you need to visit the Philippine tarsier responsibly.
Let's dig in.
Read next: The perfect 10 day Philippines itinerary
This post contains referral links for products I love. Adventurous Miriam earns a small commission at no extra cost to you if you make a purchase through my links. Thank you for your support ♡ Learn more
Interesting facts about the tarsier
The Philippine Tarsier is a small, nocturnal primate found in the islands of Bohol, Samar and Leyte of the Philippines.
It's not a monkey, but it is one of the world's smallest primates. And with a body length of only about 85 to 160 mm (which is about the size of my fist), they're the 2nd smallest primate in the world. That makes them difficult to spot up in the trees. Plus, their soft creamy fur make it blend easily into its preferred habitat – dense forests with plenty of leaves and trees!
Despite its small size, the Bohol tarsier has huge eyes which have evolved to give it excellent vision in dim light. This shy creature has long slender limbs that are perfect for climbing trees and leaping from branch to branch.
The tarsiers are so adorable, but also really weird-looking with their bat ears, rat tales, frog fingers and toes and extremely huge eyes.
While we were there, we learned that they are able to turn their heads 180 degrees and that they can jump 40 times more than their own weight! Quite impressive.
Read next: Things to do in Panglao, Philippines.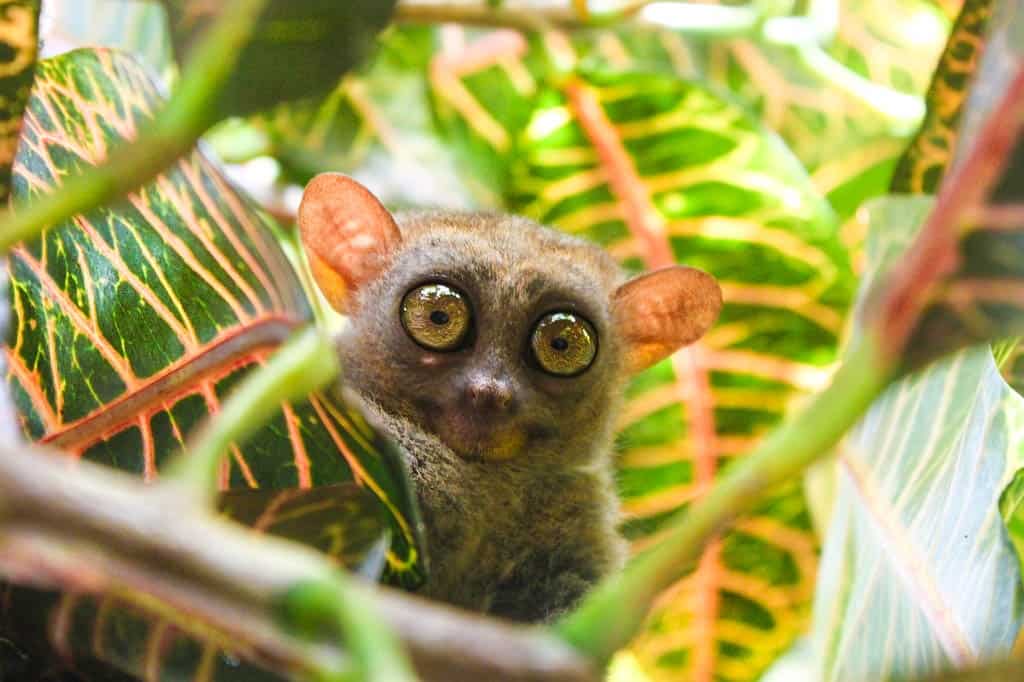 The Philippine tarsier is endangered
The Philippine tarsier is an endangered species due to several major threats. These include:
Habitat destruction, leading to a decreasing number of forests in their natural habitat.
Human hunters and pet traders, as tarsiers do not survive well in captivity and can become suicidal.
Too much noise, sunlight, or physical contact from foreign things, such as humans.
Predators like cats, snakes, owls, large birds, and other smaller carnivores.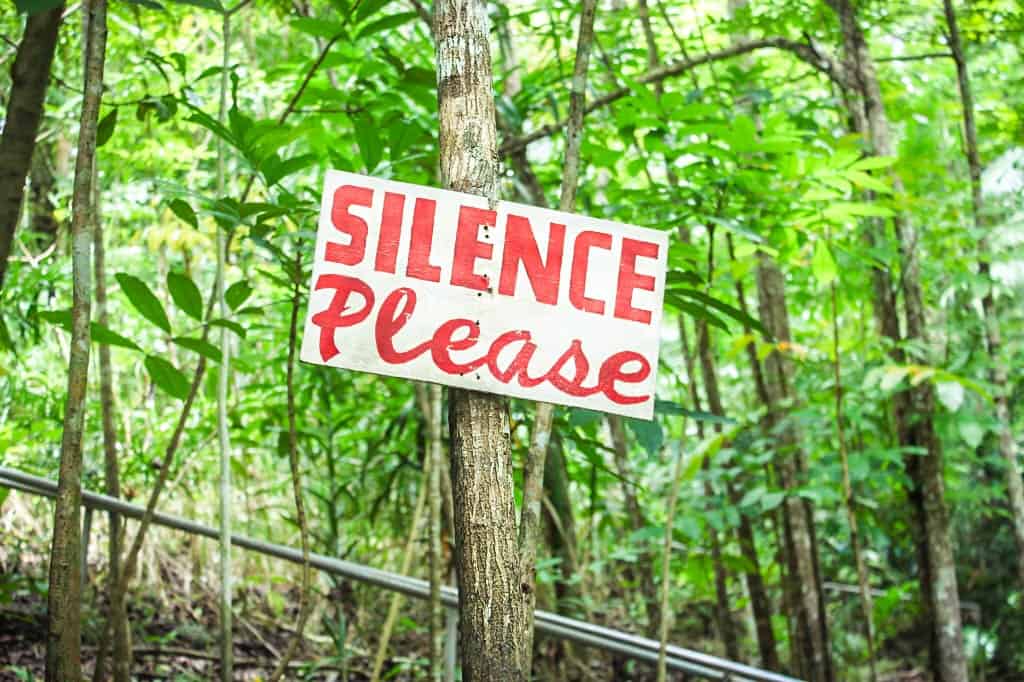 Avoid the Loboc Tarsier Conservation Area
If you're interested in seeing Philippine tarsiers in their natural habitat, please do so responsibly. Avoid if you see them in cages in the streets, and also don't visit uncertified tarsier centres such as The Bohol tarsier conservation area. It's NOT a certified tarsier sanctuary and the conditions are poor.
The delicate nature of tarsiers and that they can suffer from stress-induced suicide when exposed to loud noises or kept in captivity makes it important that we take extra care when visiting such places.
Instead visit the official Philippine Tarsier and Wildlife Sanctuary in Corella. You can read the TripAdvisor reviews here.
To help you differ between the two: Avoid the tarsier centre in Loboc. Visit the tarsier centre in Corella instead.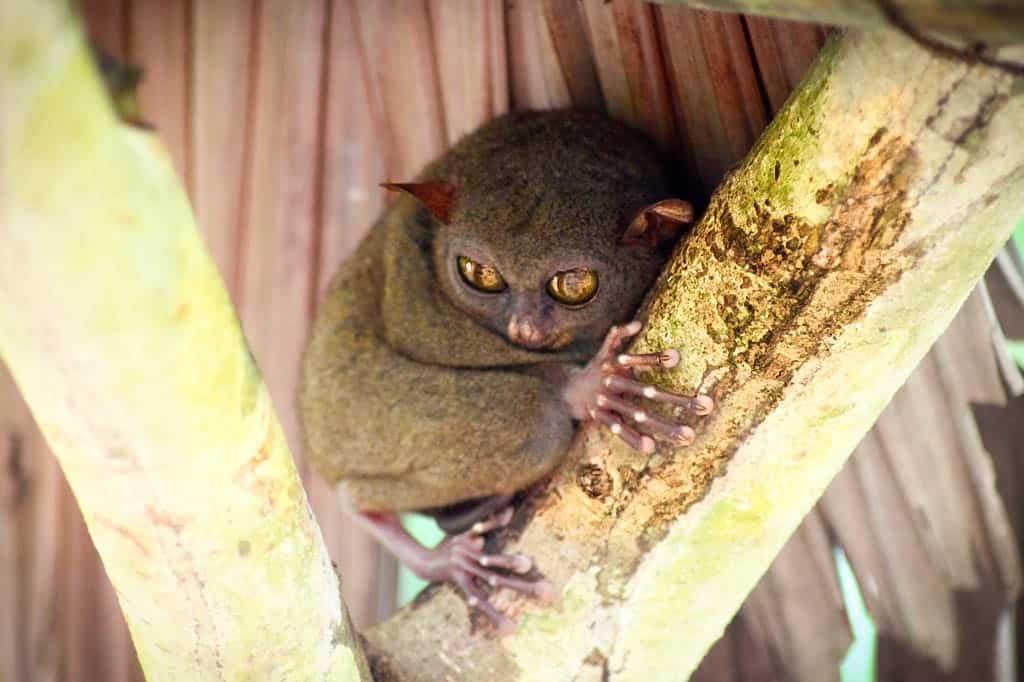 Where is the Bohol Tarsier Sanctuary?
The Philippine Tarsier Sanctuary is located in Corella, just 13 kilometres from Tagbilaran City and 27 kilometres from Panglao Island. Use the map below to zoom in and out.
The Philippine Tarsier and Wildlife Sanctuary
At the Philippine Tarsier and Wildlife Sanctuary in Corella, Bohol, tarsiers are living in their natural habitat. It's not allowed to talk loud or use flash when taking pictures.
You follow a trail through the outdoor centre where you can try and find them (the guides will help point them out in the trees). You can't touch the tarsiers.
Here are a few essential things to know before you go:
Opening Hours: 9.00 to 16.00
Ticket Price: Php 80 ($1) guided tour inside the enclosure
Time for visit: 30-60 minutes
Trail: As it's a natural environment, expect the trail to be muddy when it rains. Umbrellas are not allowed so bring a raincoat if needed.
Rules: No flashes, keep your voice low, don't touch the tarsiers, don't stay too long in one spot.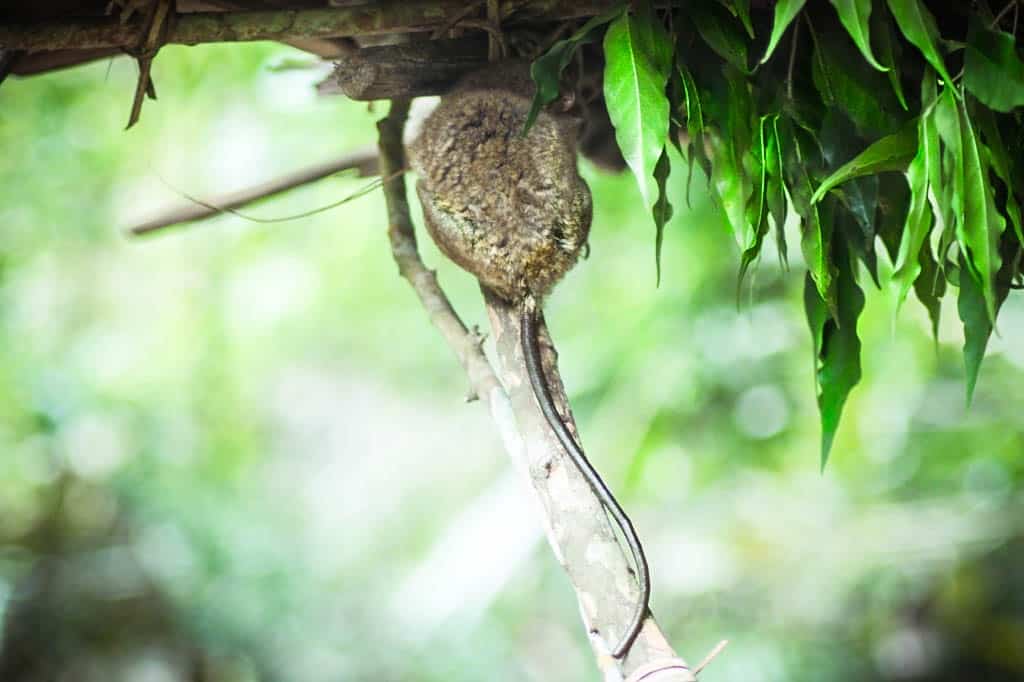 How to get to the Tarsier Sanctuary Bohol
To get to the sanctuary, head to the Dao terminal in Tagbilaran and look for jeepneys heading to Corella. You can also rent a scooter and drive there yourself. There are lots of things to see and do in the area.
Rent a scooter
Renting a scooter for the day is faster and more convenient than taking public transport and cheaper than hiring a driver.
We had our hotel arrange it the night before – when we woke up, two local men and their scoters were standing outside waiting for us! We literally just handed them cash and they handed us keys in return. Easy, peasy.
Riding a scooter is a popular way of getting around in many parts of Southeast Asia. While it's an easy and convenient mode of transport, it can be quite dangerous too. This is why I always, ALWAYS wear a helmet and make sure we have travel insurance.
Entrance fee
The entrance fee to the Philippine Tarsier and Wildlife Sanctuary is 80 pesos. You'll get a guided tour inside the enclosure.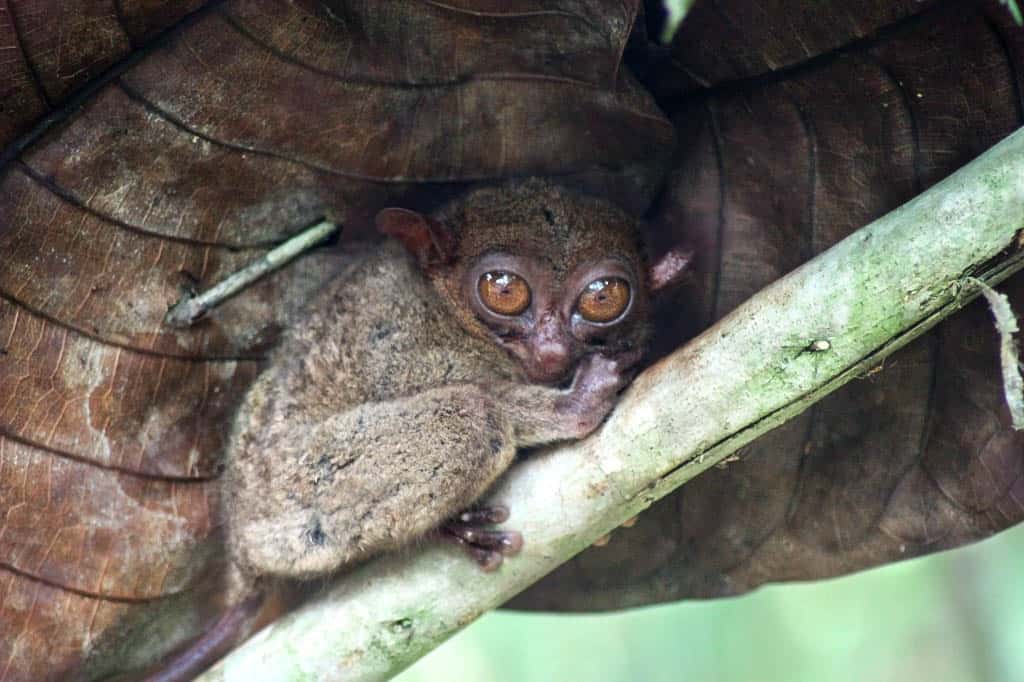 Help protect the tarsiers
I loved visiting the tarsiers and it was definitely worth going.
These little cuties are so fragile, nervous and shy that they hide in the trees behind the leaves for protection. Unfortunately, too many opportunists are keeping them in small cages and displaying them to tourists which has a huge effect on the tarsiers life expectancy (up to 12 years in captivity as opposed to living 24 years in the wild).
Sometimes, the captive tarsiers get so frightened by flashes, noise and people touching them that they commit suicide by hitting their heads against an object.
It's almost unbearable to think of.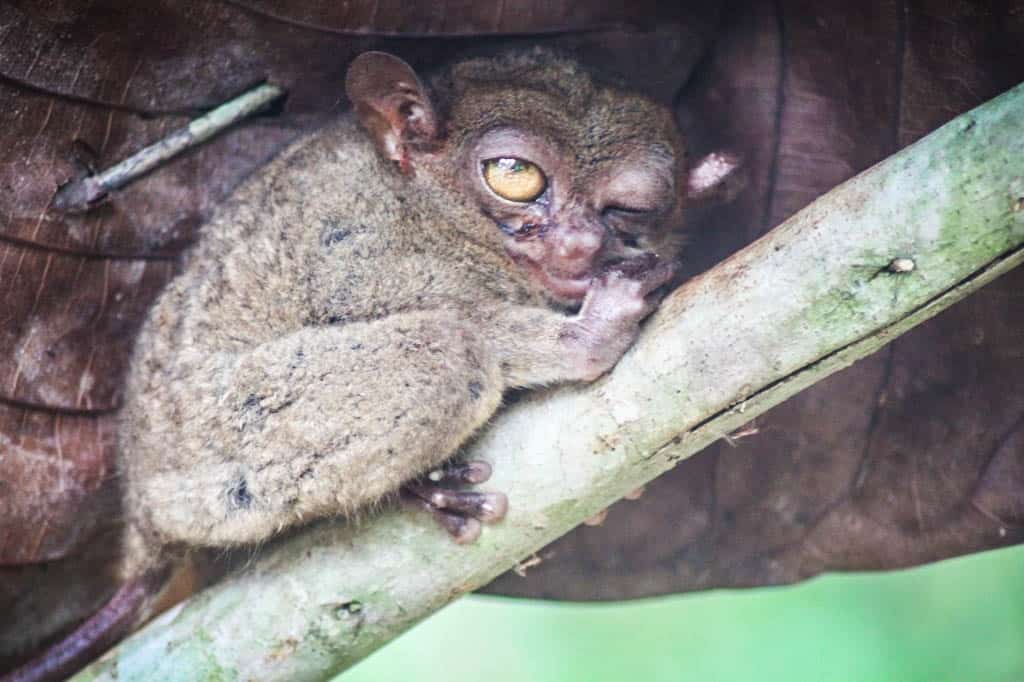 Responsible tourism is an important part of travelling, and when it comes to endangered species like the Bohol tarsiers, it's even more critical that we take active steps to ensure our actions are having a positive effect.
I strongly encourage you to avoid places that do not contribute to the well-being and survival of these animals.
It's fine to want to get up close and personal with animals as unique as tarsiers; however, this should only be done if we make sure our actions don't further endanger them.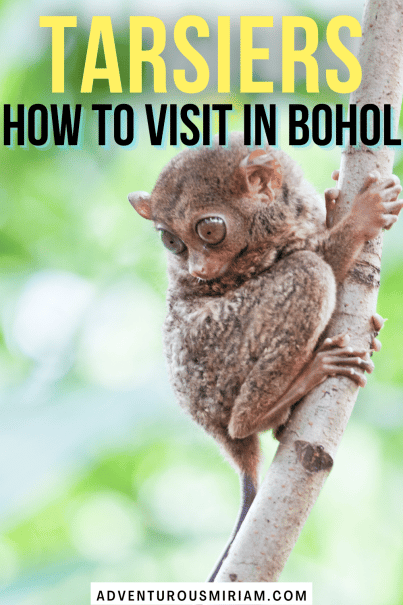 Where to stay in Bohol
Most people stay in Anda in east Bohol or in Panglao, which is an island, just 20 mins drive south. It's connected by two bridges.
Best hotel in Anda
Casa Amihan (8.9) Beautiful turquoise waters just outside your door. Need I say more? There's also a pool in case you need a change of scenery from the sea. Book here.
Best hotel in Panglao
Tamarind (9.1) This hotel has a lovely pool and it's less than 1 km from Alona Beach. We loved staying at the Tamarind hotel! Book here.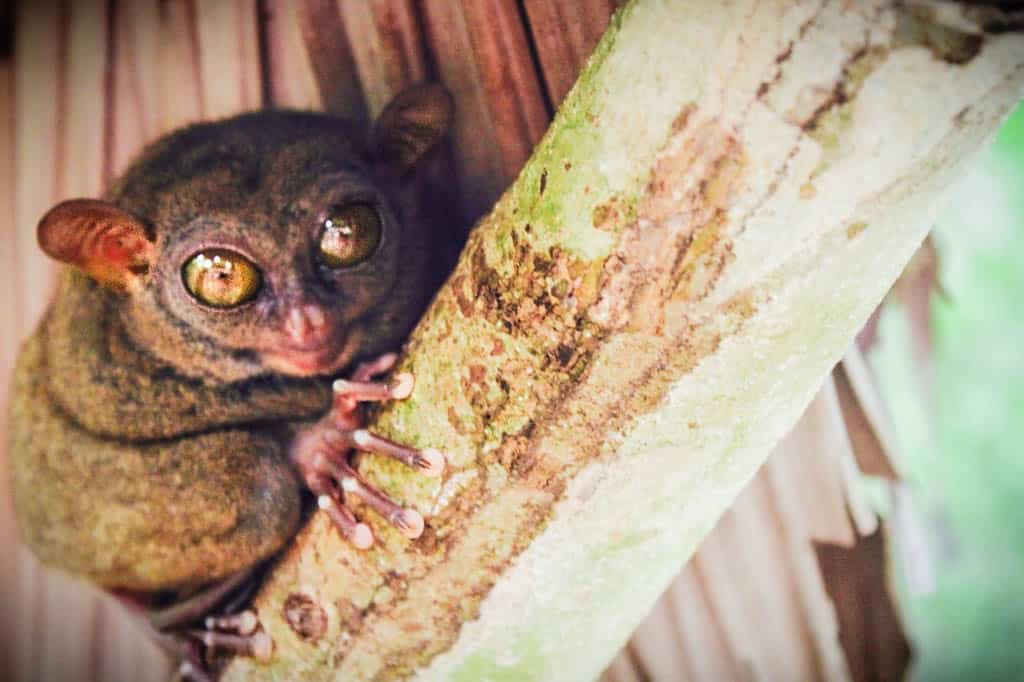 More posts from the Philippines you might like