Psst! This post probably contains affiliate links, which means I earn a commission (at no extra cost to you) if you click through and make a purchase. As always, I only recommend products and services I trust.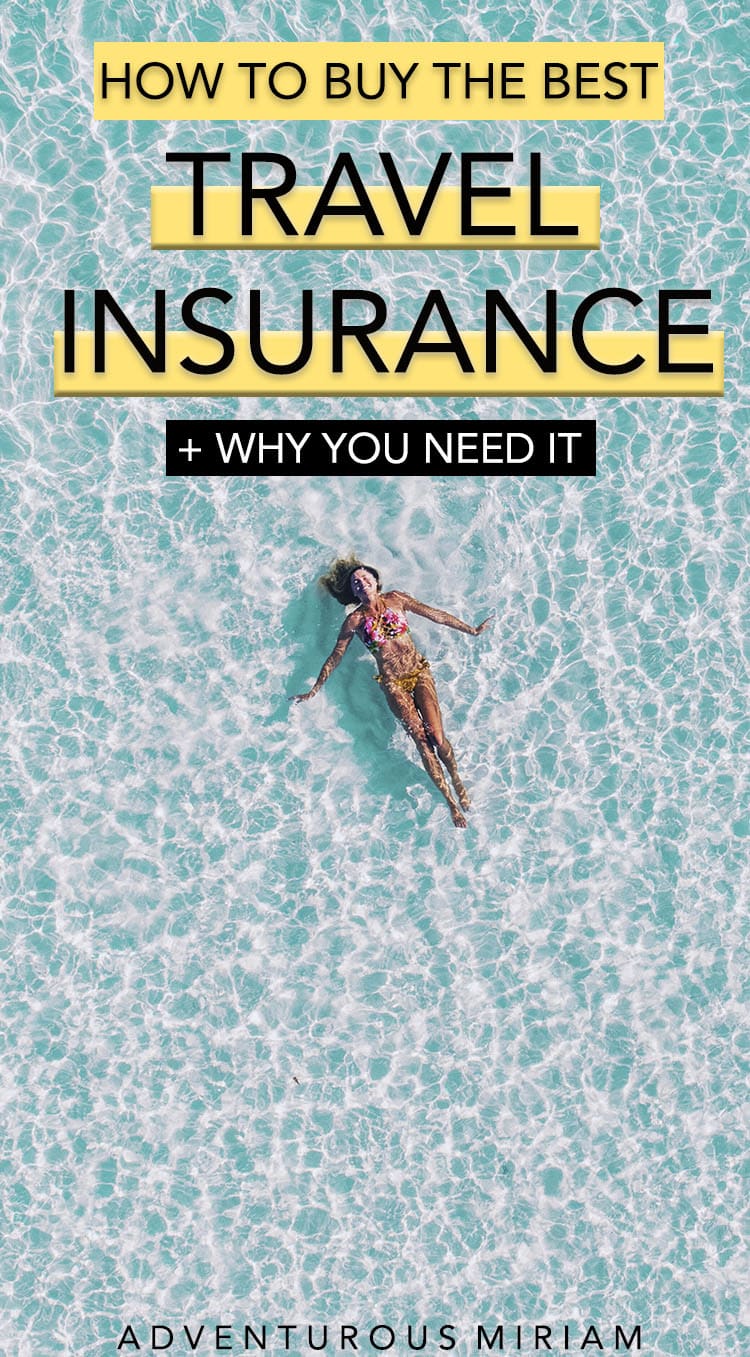 In this World Nomads Travel Insurance review, I'll explore what their insurance covers, who is eligible, and whether the plans are worth it for you. 
If you're going on vacation this summer, you've probably already booked your flight and hotel. But have you purchased travel insurance?
Maybe you're thinking: Is it really worth it? What am I actually buying?
So, let's begin by answering that question. Because as a cardinal rule, you always need travel insurance, but sometimes it's actually not worth it. Find out below when you should and should not get travel insurance.
Do I Really Need Travel Insurance?
This is probably the first question at your lips, both as you prepare to travel and as you begin reading this World Nomads Travel Insurance review. So, here's an overview of when you need it and when you don't. 
| Skip it | Get it |
| --- | --- |
| If you're traveling within your own country | For International trips |
| For flights (offered by airlines) | For medical reasons |
| If your credit card offers it (like the Chase Sapphire Preferred card) | For cruises |
In short: If you're traveling Internationally, you should always get travel insurance.
Why?
Because accidents happen in the most ridiculous situations and when you least expect it. And when they do, it can be terrifying if you have no travel insurance.
I've been saved twice by having worldwide travel insurance. The first time was on a flight from Thailand to China. The airline lost my luggage in the dead of winter, and I had no warm clothes. With travel insurance, I was fully compensated and able to rescue the situation almost immediately. The second incident happened just last summer in Spain when I got Lyme disease. With my worldwide travel insurance, the hospital bills were completely covered and, as a result, the whole experience was totally stress-free.
So, yes, you do really need travel insurance.
I've already benefited from it twice myself. I know that I will go on to be saved by my worldwide travel insurance in the future, as will you.
World Nomads Travel Insurance: Why They are the Best
Flexibility
The first thing offered by World Nomads which makes their travel insurance unique and stress-free is their flexibility. A lot of insurance companies can be a little frustratingly wooden when it comes to when you must purchase the insurance, how much preparation you should do, and how long you can be covered for. World Nomads, on the other hand, offer the fantastic option to buy more insurance cover while you're on the road.
Simply log into their site and pay a little extra to extend the insurance you've already bought. If you're stranded somewhere, or you simply want to extend your travels a little longer, World Nomads give you the option to simply extend.
Local charities
Their other fantastic services include links to local charities. Many of us travel to help communities around the world, and if that's you as well, World Nomads can put you in contact with communities in your travel destination to encourage contact and support.
They speak your language
More personal support for you comes from their multilingual team. Not all of us speak English, and those of us that do would still rather turn to our most comfortable language in panicked or stressful situations; that's where a multilingual team can offer an amazing amount of comfort to you, making you feel comfortable and secure in any bad situation.
Perfect for adventurers
World Nomads very much understand travel and adventure. They understand what we seek when we're on the road. They know what dangerous and strange activities we travellers and adventurers often get up to. And they offer full support for any and all activities that you might be drawn to when on the road.
What's Included in World Nomads Insurance?
When you buy travel insurance, the most important thing is to know what's covered and what's not. First, let's take a look at what's covered:
Medical Emergency and Accidents

Emergency Evacuation

Trip Cancellation and Interruption

Lost Baggage

Overseas Dental

Adventure Sports and Activities

24-hour assistance
Medical Emergency and Accidents
This is probably the primary reason most of us take out travel insurance. Every country has vastly different rules when it comes to medical costs. Travel insurance simply guarantees that you can and will get treated for almost any accident or emergency situation when you most need it.
Medical expenses covered by World Nomads include: hospitalisation, day surgery and out-patient treatment, visits to registered medical practitioners, prescribed medications, and ambulances. With all of these fundamentals covered, you feel completely protected in any and all situations.
There's no accident or sickness that could happen, which isn't covered by World Nomads Insurance. And that gives incredible peace of mind worth any price (or, at least, any reasonable price – which is what World Nomads insurance offers).
Emergency Evacuation
Some accidents and injuries can involve the need for evacuation via air ambulance, and the cost of these things can be astronomical. As you're injured and being airlifted to safety or back to your home, you do not want to also be thinking about how much debt could be piling up at the same time. And you don't want to risk more serious injury by attempting to avoid the costs.
All of this is alleviated by simply relying on World Nomads insurance. Their emergency evacuation cover includes: air ambulances, sea level aircrafts, helicopter evac, ground ambulances, flight upgrades (if medically necessary) which include attentive medical staff. This coverage is honestly incredible, and one of my favourite perks of World Nomads insurance. Having this level of coverage guarantees that you couldn't worry about accidents and injuries if you tried!
Trip Cancellation and Interruption
Moving away from the accident and sickness worries, there are also the more subtle and private worries. Like, worrying if your trip will be be cancelled or interrupted due to medical issues involving both you or a loved one. If your trip is fully booked and paid for, World Nomads can help with reimbursement in the case of a medical emergency, which your doctor has certified makes you unfit for travel. Or if you, your travel partner, or a close relative suddenly falls ill or dies prior to your travel, which requires sudden cancellation.
In circumstances such as these, the majority of us would simply wave goodbye to flight tickets we've book and paid for, considering that we now have sudden and bigger problems to face. With World Nomads Insurance, however, you can deal with your new emergency situation and still receive reimbursement of your lost travel expenses, so long as proof can be provided.
It goes without saying, however, that this does not include such circumstances as you simply changing your mind or your plans at the last minute. Or you breaking up with your partner or having your visa refused, as sad as that might be. Those are your issues, not the insurance company's.
Lost Baggage
This feature, as I've already mentioned, has personally saved me once already, and will probably save me again. Just to be clear: it doesn't ever matter what airlines you like to rely on, accidents and losses can and do happen across the board. 
Baggage gets mislaid every day around the world, especially when there are connecting flights and stopovers involved. The more you fly, the higher the chance of this happening to you. With lost baggage fully covered, the stress of loss doesn't exactly go away but is massively alleviated. This is the kind of insurance cover that most people don't really consider, prioritising instead (and rightly so) their own health and safety. But if your insurance does cover lost baggage as well, then super-duper! And World Nomads Travel Insurance does just that.
Having experienced it myself in the middle of winter, I can't quite express the relief you feel when you know that everything is covered. Lost baggage is out of your hands and happens to us all by chance, anytime, anywhere, so you need to be protected.
Overseas Dental
This one is a gem of a feature! A lot of travel insurance doesn't include dental, since teeth are almost always a concern for dentists, not doctors. But with World Nomads insurance, dental is totally covered. If you suffer an infection, crack or break a tooth, or you injure your mouth in an accident, the World Nomads insurance will cover any dental costs.
Dental is definitely something that's easy to forget but should be considered always.
Adventure Sports and Activities
As I've mentioned, World Nomads insurance prioritises adventure; they understand that people who take vacations like to engage in risky and dangerous activities, and they're prepared for that. Under World Nomads Travel Insurance, you're covered during activities such as: skiing, snowboarding, SCUBA diving, hiking, kayaking and rafting (though these two cost extra), mountain biking, and even bungee jumping! 
With this much cover, there are few activities where your insurance wouldn't cover you. With other travel insurance, they tell you that their insurance doesn't cover that activity, because you were doing something risky. With World Nomads, that kind of situation will not happen.
24-hour assistance
With World Nomads, you don't ever need to consider time differences or getting hurt and sick in the middle of the night. Don't wait until morning; simply call them up and deal with your insurance there and then. They have round-the-clock support in multiple languages, so there is never a time or a place where your insurance problems cannot be dealt with.
How Much does it Cost?
This can depend on a number of factors. Those being: your age, the location of the countries you are visiting, the number of countries, your country of residence, and the length of your journey.
Here's an example:
You're a US citizen in your 20s, and you're traveling across Europe (say, four or five countries) for two weeks. For the Standard Plan, you would pay about $80.
Now, let's say you're from Europe (including UK). For the same trip, you would only pay around $30, whether you're in your twenties, thirties, or forties. Because of the distance from home you'll be travelling (and a few other factors).
So, answering this question is not completely straightforward, but the process of getting a quote very much is. If you visit the World Nomads website and click to get a quote (or simply use the form below), you'll be able to find out the exact cost of your insurance in less than thirty seconds. And that's with no need to sign up or hand over any information; only your age, country of residence, and travel plan. From there, you'll be given an exact quote which you can follow to secure your insurance.
Use this form to check what it costs
What's Not Covered by your Travel Insurance?
A lot of things are not covered, but every single one of them is reasonable. They are also very transparent, with none of that awful fine-print which, if missed, can leave you paying for insurance as well as your full bills.
World Nomads don't pull that. Every single thing they cover is transparently presented in simple terms on their website. On each of these tabs, you are also given a list of what's not covered. It's all there in black-and-white. For example, I've already mentioned that medical cover includes such things as hospitalisation, prescribed medication, and ambulances.
On that same page, the list of medical things not covered includes:
If you have used drugs or alcohol

Contracted STDs (they don't put this quite as elegantly on their page as I have here)

Non-emergency treatments that can be dealt with after returning home

And any pre-existing conditions which you are already aware of
All of this is reasonable and actually falls under the bracket of 'common sense', which is another plus on top of their open and honest transparency. If you want to know what's not covered, it's all plain to see before you take out your cover, which I completely respect.
World Nomads Travel Insurance: Pros and Cons
| Pros | Cons |
| --- | --- |
| You can purchase or renew while abroad | Standard and Explorer Plans do not cover seniors aged 70+ |
| The plans include both medical and trip insurance | The Standard Plan trip insurance might not be sufficient |
| The pre-existing conditions exclusion only looks back 3 months (shorter than many other providers) | Pre-existing conditions are not covered |
| An extensive list of adventure sports and activities are covered | Coverage is not customisable |
| Can get support or make claims online or by phone 24 hours a day | |
Why I Love World Nomads Travel Insurance
The two points that I have just mentioned – transparency and common sense – are very big reasons why I enjoy World Nomads so much. For my World Nomads review I wanted to give an honest overview of everything they cover because I simply find it so impressive.
They are thorough; they are reasonable; they are honest; and they are supportive. With 24-hour customer service in multiple languages, no hidden fine-print, the ability to get a quote before you've even handed over your email address, and coverage which goes far beyond that of so many other travel insurance companies, it's almost dizzying how secure and safe you come away feeling after taking out travel insurance with World Nomad.
While you might find travel insurance that's a little cheaper elsewhere (I'm not going to lie about that), you'd be very hard-pressed to find more thorough and supportive insurance with anyone else.
How to Stay Safe on your Travels
A lot of what World Nomads don't cover actually doubles as good guidelines for staying safe. If you don't look after yourself, they won't look after you either; much like a strict parent. My go-to tips for saying safe include:
Don't ever drink irresponsibly and in excess

Don't have unprotected sex

Make use of your hotel or hostel safe

Learn the emergency services number for every country you visit

Don't give out your personal information readily

Get good travel insurance
Read my 27 essential travel safety tips that everyone should know
How to Make an Insurance Claim
This is broken down into a series of very simple steps which are actually covered in detail (with images) on their website. But I'll also cover them here to show how simple the claim process really is:
Collect your receipts and invoices

Sign into your World Nomads membership

Click 'make a claim'

Explain what happened

List your expenses

Provide proof (receipts, invoices etc) by scanning and uploading everything they ask for

Review your claim

Submit your claim

Communicate with the claims team
It's as simple as following these steps, which can be done as soon as you're in a safe and secure situation (possibly a hospital).
Thinking about getting travel insurance? Do you have any questions?