25 Budget Travel Tips That Will Save You Money To Travel More
Over the years, travelling has become infinitely more manageable, available, economical, and diverse in its options. We can now fly from one corner of the globe to another. Not only quickly and relatively cheaply, but so easily that we end up taking it for granted.
That does mean, however, that we can run the risk of forgetting that there are always even cheaper ways to travel. Remembering this can save you a lot of money, which means more money for more trips! Imagine saving so much on a trip that you were able to take a second trip that same year. Something you never counted on happening!
Read next: 15 best travel hacks to find cheap flights
This post contains referral links for products I love. Adventurous Miriam earns a small commission at no extra cost to you if you make a purchase through my links. Thank you for your support ♡ Learn more
How to save money to travel more
So, how do we go about saving the big bucks?
Well, there are some very easy, very doable cheap travel hacks that are so easy to implement. Most of what I cover here isn't breaking the system in any way. But mostly just doing a little extra research, shifting your plans around a little, adding a bit of strategy to your travel, and making a few cuts here and there which, I promise, will not compromise your enjoyment or your relaxation in any way. So, let's look at some cheap travel hacks and cheap flight hacks that can save you a heap of money!
Accommodation
1. Be a House-sitter
This is the biggest accommodation travel hack I've got for you. House-sitting is, in short, a way of staying in a very comfortable home completely for free! In exchange, you must offer your services by looking after the home. Like, keeping it clean, performing chores such as collecting mail, mowing the lawn, and most importantly looking after the pet or pets.
Websites such as Trusted Housesitters provide you with hundreds of house-sit options every single month from the UK to Australia. Almost all of them include a dog or a cat, at least, to be looked after.
If you love pets, want to live somewhere completely for free, and don't mind a few chores in exchange for a free stay, this is the best way to travel cheap. In fact, there are people who live permanently on the road, moving from housesit to housesit, because it can save you that much money!
2. Make Use of

Airbnb
Airbnb is a huge service these days. And yet so many people still instantly gravitate towards hotels when planning their next vacation. It'll save you so much money if you can train yourself into heading to Airbnb first when thinking about your next trip.
The range of options on this site very much means that any kind of traveller – from budget to luxury – can find something cheaper than a hotel. And still with all the benefits (in fact, quite often more so) of a high-class hotel. Airbnbs can be as cheap and simple as a room in someone's apartment and as luxurious as an entire private house or penthouse suite for you and your family to use.
3. Pick your Days Carefully
Hotels are often far cheaper in the mid-week. This is something that is so easily forgotten when booking a hotel. If you're booking a hotel for only a few nights – less than a week – do your best to avoid Fridays and Saturdays. Turn up on Sunday and leave on Wednesday or Thursday, and you'll save yourself a very good amount of money.
It's a simple budget travel tip which only involves a little bit of fore-thought and planning ahead to avoid travelling on weekends. On the plus side, flights are also at their most expensive on Fridays and Saturdays as well. So that's a two-for-one deal on saving money!
4. Stay During the Off-Season
If you have kids, it's tragically unavoidable that you'll have to travel during school holidays. And hotels know very well when these holidays are. They raise their prices through the roof as a result. If you can avoid these school holidays and public holidays like the plague, you can save half the money you would spend otherwise. Of course, this cheap travel hack cannot be taken up by everyone, but if you can, you should.
Pro tip: Check the public holidays and festivals in the places you're flying to. What might not be an important month in your home country might be a very important festival in India, China, or Brazil, for instance. So, check when the holidays and festivals are, and dodge them as best you can.
5. Avoid the City Centre
When you've got a few days of vacation and you want to be in the heart of it all, you probably want to find a hotel in the centre of London, Paris, New York, or Tokyo. But it's very unnecessary.
Every major city and metropolis today has a hundred cheap travel options, including subways, trams, Uber, Lyft and buses (buses are criminally overlooked). This means that you absolutely can stay in the suburbs, or even a small satellite or neighbouring town, and make your way into the centre of your city of choice within an hour. You'll sacrifice so little to guarantee an incredible saving on your hotel price.
6. Make use of Free Meals
So many good hotels today offer breakfast, and sometimes even lunch and dinner, inclusive in their price. This unavoidably means that these hotels are a little more expensive. But think about it and do the math: is it cheaper to avoid a meal-inclusive hotel to save you a few pennies? Or is it better to pay that buck more and avoid having to go out to a diner, a café, or a restaurant for all three of your daily meals?
$10 extra on your hotel bill is less than a simple, cheap meal at most diners around the world. You're sacrificing a little bit of money to save a lot more money that you usually don't consider but you still have to budget for. It's common sense, but it's the kind that so few people really consider.
Consider it.
7. Don't Shy Away from Hostels
Hostels provoke images of sweaty rooms with no locks on them, filled with tired backpackers in the suburbs of Bangkok. And while those exist, they make up a small percentage of hostels around the world. In fact, if you ever travel around China, the words 'hostel' and 'hotel' are relatively interchangeable, and you'll usually get yourself a private suite when you book.
In fact, most hostels around the world offer private rooms with all of the privacy and amenities of a hotel, but at a fraction of the price.
The only sacrifice you make here is that the rooms outside of your own might be slightly busier and a little louder during the day. Apart from that, you're securing yourself a private room in the heart of a city for a fraction of the price of your typical hotel.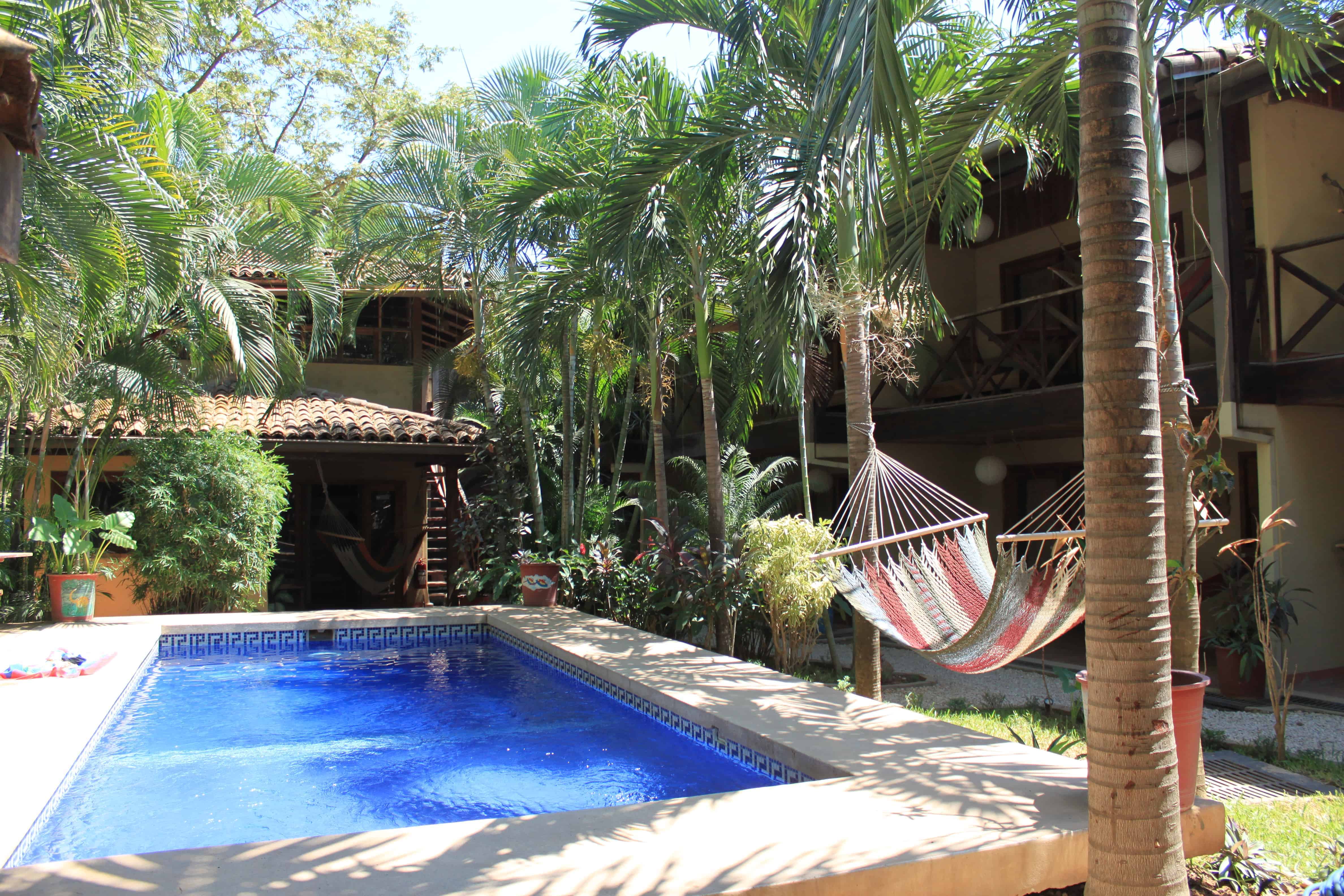 Flights
8. Fly on Cheap Days
This is a very simple cheap flight hack but I promise it will surprise you! The cheapest days to fly are those furthest from Friday and Saturday – always aim to fly on Tuesdays and Wednesdays, if you can. Consult SkyScanner and compare the prices of flights on Saturdays and Wednesday; you'll be amazed at the difference in price between the two days. Make use of this on both your out-bound and return flights, to ensure you can save as much money as possible on both journeys.
9. Use the Right Websites to Find Cheap Flights
There are a handful of fantastic websites that find the cheapest flights for your convenience. They are an absolute lifesaver. It's incredible to see them working, honestly. You spend days scouring the internet for the cheapest flights, yet you'll never find the deals that these sites find.
The best site is Scott's Cheap Flights. This site is constantly being updated with all of the best cheap flights from all around the world, meaning that you've got to be on your toes, checking the site every day, to guarantee you strike a great deal. You can also sign up for the newsletter so you'll get the offers delivered straight to your inbox.
Pro tip: If you're not fussy about layovers, you can save yourself even more money.
10. Use Flight Search Engines
Flight search engines like Skyscanner, Kiwi, and Momondo should be saved in your Chrome bookmarks if you're looking to save as much money as possible on your flights. Using these search engines guarantees the best, cheapest, most convenient flights for you. I also suggest juggling between all three of these sites, searching for the same flights on each.
What one site might miss, the other will pick up on. Using all of them to search for flights means you're guaranteed not to miss out on the best deals. The best cheap travel hacks don't come without a little extra time and research.
11. Fly with Budget Airlines
Budget airlines get a lot of bad press, and I personally don't know where this comes from. Flying with airlines such as WizzAir in Europe, JetBlue in the US, and Tiger Air in Asia can save you dizzying amounts of money. These airlines provide all of the services and security that a more luxury airline offers.
Read my tips for finding cheap flights
The only thing to be aware of is their increased restrictions on luggage allowance for both size and weight. Check the airline's luggage allowance guidelines very carefully, with a fine-tooth comb, before booking your flights. This is to make sure you aren't caught out and have to pay extra for your luggage.
12. Fly to Cheaper Places
This might not be a cheap travel hack that everyone can get on board with. But if you're the kind of person who seeks adventure wherever they can get it, or you simply need a short getaway and don't really mind where, then consider Skyscanner. Be random with your destination choices. I recently found return tickets to Bosnia for just $50, and had an amazing trip.
Depending on the season, the day of the week, and the location, you can find flights to the most incredible places for a handful of dollars. With the right kind of adventurous spirit, you can be whisked away to the last place you'd expect for next to nothing. All in the name of fun.
13.

Sign Up for Alerts
It can be heart-breaking to have your eye on a flight, only to see prices for that day suddenly rise. To avoid this, sign up to alerts on both Skyscanner and a range of airline websites. These alerts will immediately, well, alert you to cheap flights that have just been announced and added to the site.
You can jump on these flights immediately and score a cheap deal that you never would have found otherwise. Alerts are a simple and effective cheap flight hack which can easily save you an awful lot of money.
14.

Avoid the Busy Seasons
This goes for both hotels and flights. Once you've picked your location of choices, check when that country's public holidays are and make sure you ignore them. This is because flight prices skyrocket during these weeks and months and must be avoided.
More than that, visiting a place during a festival can actually be far less fun for you than it sounds. That's because the local people close shop to travel themselves. Cities empty, trains fill up, and the whole country is at a stand-still. So, think very carefully about what time of year you fly, and save yourself a lot of money, a headache, and a potential disappointment.
Travel Credit Cards
15. Accumulate Flight Points
If you shop around for a new credit card, it's very likely you'll come across several credit card companies which offer flight points. If you can purchase a new credit card which offers free flight points for signing up, you can then use them to purchase cheaper flights which gather you more flight points. From here, you'll never pay full price for a flight again.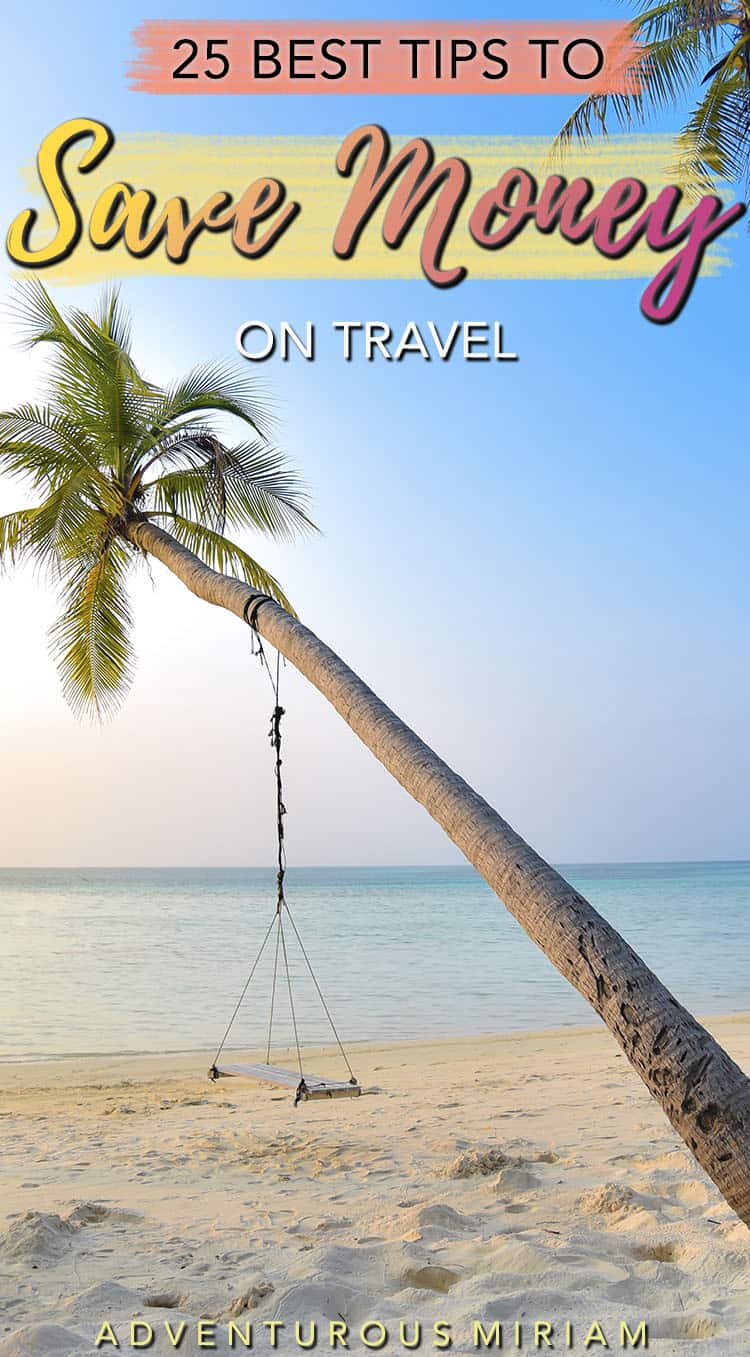 16. Gather Hotel Points
Some credit card companies do the same thing as flight points but with hotels as well. The same methods used to garner flight points can be adapted to hotels, allowing you the chance to stay in hotels ordinary beyond your budget for a far more reasonable price.
Planning
17. Create a Travel Budget
Before you've spent a penny, consider your expenses. To do this, simply write down your travel itinerary and everything you're willing to spend on it. From your flights and your hotel to every meal, tour, and ticket you're aiming to buy. Look at how much the average meal costs and what kinds of food are cheapest.
Look at how much entry into museums and galleries costs. Tote all of this up before you've even bought your flights. Then you can start shaving things off and being savvy about your journey.
18. Keep Track of your Expenses
For this, I absolutely recommend the Trail Wallet app for Android and iOS. This app allows you to set yourself a daily budget, add in your expenses as you go, and calculate all of your outgoings.
It keeps track of everything you're spending and planning to spend. That way you don't have to keep it all in your head, make rough estimates, and rely on jotting everything down on paper. It's seamless and dynamic, ensuring you're never over-spending or breaking your budget without realising it.
19. Avoid Scams
This sounds like an obvious point, but scams can be surprisingly difficult to spot. For example, a popular scam in Bangkok is for a monk to strike up a friendly conversation with you in the street, give you some advice on what to visit, then to help you hail a taxi and send you off to visit the places he has suggested.
The taxi has been circling the block, has raised his fare, and has cut the monk in on the profits. It's such a good scam, you won't even know it's happening to you. Scams like this can be avoided with a little research on popular scams in whatever city you're about to visit.
Don't be caught out. Be savvy.
Luggage
20. Avoid Souvenirs
This might seem like an obvious point but it's certainly tough when you're faced with so many shiny and pretty cultural artefacts! If you pack exactly what you need, adhering to precise size and weight guidelines, that means there's no room for souvenirs. And that's a good thing!
It gives you more space in your luggage for useful things that you actually need, and it will save you money on potentially useless things that you'll likely regret buying as soon as you've had to lug them home on your return flight. Avoiding souvenirs means more money for local food and maybe a nice hotel room.
21. Check the Airline's Weight Limits
Airlines can be your friend, but they are also looking for easy ways to make extra easy money. The easiest way is for you to turn up at the airport to find out that your luggage is 1kg over the weight limit. Or your hand luggage has to be put in the hold because it's bulging a little too much.
As soon as this happens, you have to part with anything from $10 to $100 in order to get your luggage on-board. Avoid this by checking the airline's website first and packing accordingly.
22. Check your Accommodation's Facilities
Do you need to pack two weeks' worth of clothes – swimsuits, shirts and dresses for dinner, five T-shirts, fifteen pairs of underwear – if your hotel has a washing machine?
No.
You can save yourself money, luggage weight, and needless bulk by checking to see if there are washing facilities in your hotel. With facilities like these, you can cut your luggage in half and avoid having to buy extra clothes to bring with you when you set off on your vacation.
Activities
23. Take Free Walking Tours
It's a criminally well-kept secret that most cities around the world offer free walking tours that nobody knows about. (Just like the well-kept secret that those in-flight magazines are meant to be taken – it's not stealing; they want you to take them).
If you venture to your city of choice's local tourism office, they'll set you up with a free walking tour. Even one that's provided by a very generous and helpful English-speaking local guide who will show you all the best spots in the city. You'll learn all the history you could ask for and learn about even more cheap and fun things to do in the city.
24. Get a Tourism Card
These are particularly popular in Europe, with cities like Paris, Oslo, and Berlin readily promoting them on their tourism sites. A tourism card allows visitors to the city to be able to do anything from enter museums and galleries, to taking cheap trains and buses, for a much lower price than if you were to pay for each activity and journey individually.
These tourism cards are a fantastic cheap travel hack that are easy to get hold of and will save you a massive amount on tickets. These come particularly recommended if you are a history, art, and culture lover!
25. Make your own Tour
This is a very cheeky cheap travel hack, and one which can save you a ton of money. A lot of tourism boards provide details articles, leaflets, and summaries of their available tours. They cover such things as: must-visit museums and galleries, local cafes and restaurants, routes through the city's best districts, and more. They then charge you to see and do all of these things with a guide.
To save on all of that money, simply turn their tour itinerary into your own private travel route and cover the entire planned route yourself. Take the tour for free by turning the tour into your own personal day out, hitting all the tourism spots without paying the fees.