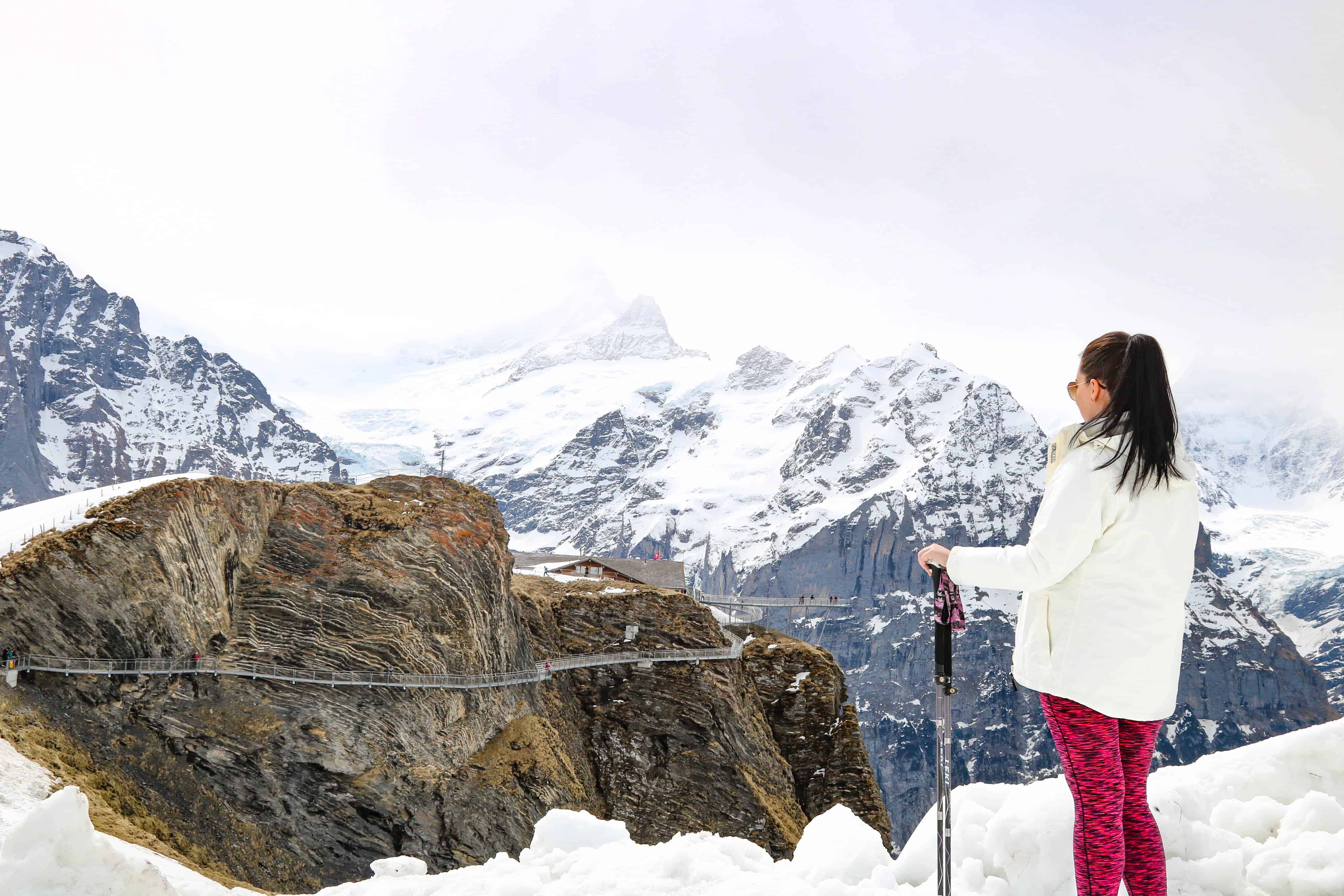 It's time to go skiing! But before you leave, you have to know what ski gear, ski goggles and ski boots to have on your ski trip packing list. But also, what ski essentials you need aside from the actual equipment.
This includes small but important things like sunscreen and lip balm, as well as the best thermal clothing. When you're going skiing, whether it's one of the big places like Canada, Austria or Norway, or to the hidden gems of skiing like Slovakia and Romania, be sure to bring all of the ski essentials you need for a perfect trip.
Here is the ultimate ski trip packing list that will ensure you have everything you need for your ski holidays.
Ski trip packing list
Important documents
There are three ski essentials that are made of paper and plastic. Three things that must be on your skiing checklist before you head off. They may seem obvious, but you'll be lost without them.
Passport – This is an obvious but crucial one. If you don't have your passport then you're not going skiing!
Money and credit card – Keep these safe and secure at all times, especially in a place where you'll be getting wet.
Ski lift card – You'll be using this multiple times a day. Keep it somewhere safe (and zipped) but easily accessible at all times.
Clothes
When making your ski trip checklist, make sure to include everything you need on the slopes. Think about your underwear, your thermals and outerwear. You're packing for your ski holidays and it'll be cold and snowy, so you need something warm and comfortable.
Sports bra and panties – These are a must for having a good, fun time on the slopes. You'll want something unrestrictive and non-chafing.
Ski socks – Go for moisture-wicking merino wool socks to keep your feet warm and dry.
Base layers – You need a good merino wool or fleece-lined base layer for maximum insulation and comfort.
Waterproof outerwear
Now that you have your underwear and base layer, think about your outerwear. You need something that's entirely waterproof. Snow is water, after all. So, ensure that whatever ski jackets and ski pants you bring are completely waterproof and insulated from the cold.
Ski pants – Your ski pants should be something completely waterproof, something light and easily flexible for when you're skiing, and something that insulates well to keep your body heat in.
Ski jacket – The same goes for your ski jacket, which needs to provide warmth, movability, and complete waterproofing.
Gloves – It goes without saying but ski gear is not complete without ski gloves. And you may want to consider two pairs: one specifically for skiing and the other for when you're walking and exploring outside but not on the slopes.
Fleece ear warmer or hat – Again, this is something you'll want both on and off the slopes to keep the heat in and your ears warm. Nothing hurts more in the icy cold than exposed ears.
Neck gaiter – Scarfs are an absolute no-no because they're dangerous while skiing! So go for a neck gaiter for warmth and protection.
Ski and snowboarding equipment
Most of us rent our ski gear (the actual skis and poles) when we get to the slopes, but there's some ski gear that you may want to add to your ski trip packing list. Let's look at a few bits of equipment that are important for keeping you safe when you're out on the slopes.
Ski helmet – It's an essential to protect your head from injury. Definitely wear a helmet (and one that's certified for impact protection)!
Snow goggles or polarized sunglasses – Ski goggles are absolutely vital. When you're skiing, the sun will be in your eyes, snow will flick up and hit your face, and various bits of debris like stones and wood can fly everywhere as you're skiing. So, make sure you're wearing a strong pair of polarized ski goggles to completely protect your eyes.
Butt pads for snowboarders – Skiers don't have to worry about this, and it's not appropriate for mobility anyway. But for snowboarders butt pads are a must-have for safety and protection.
Aprés skiing
(what to wear off the slopes)
You won't always be skiing. So, what do you need to have on your ski trip checklist that isn't for skiing? What clothes and accessories do you need to relax in, or even go out in? Let's take a look.
Pants – You'll want something comfortable to relax in, like sweatpants or yoga pants.
Tops – Something thermal is good but not necessary as long as you wrap up warm. Also bring a fluffy fleece sweater or a hoodie to keep you feeling warm and cosy
Underwear and bra – Again, make it warm and cosy. That's your top priority.
Fleece socks – Make sure to bring a selection of both regular cotton socks and warm knitted socks.
A cosy knit – Ski lodges are cosy and romantic places, so have a nice warm and soft knit sweater with you to wear by the fireside or when relaxing after a day on the slopes.
Leggings – These are a must. Comfortable, warm enough, flexible, and something you can throw on after you're done skiing.
Pyjamas – With everything you need to remember, it's easy to forget pyjamas. But don't!
Swimsuit – If your lodge has a heated pool or a hot tub, or you're in a thermal area, you'll want to have your swimsuit with you.
Evening attire – If you go skiing in more high-end places like Aspen, you'll need something dressy for nights out.
Electronics
Whether this is for when you're on the slopes or off them, there are a few accessories you're going to want to add to your skiing checklist.
Phone and charger – I think this goes without saying.
Camera – You'll want to photograph and film everything you see up on the slopes. And for the real action shots, maybe bring your GoPro 7 (plus accessories).
Toiletries
These toiletries are the essentials and must be on everyone's ski packing list.
Tumi toiletry bag – This is just such a great toiletry and cosmetics bag.
Lip balm – I just love this one with beeswax! It's perfect for chapped lips in that ice-cold and dry air.
Sunscreen – Super important! Cover your exposed areas in sunscreen every time you hit the slopes!
Moisturiser for hands and face – Same as lip balm, your hands and face will dry up and get chapped so bring moisturiser. Apply it before and after you ski.
Makeup – Go for snow-proof (waterproof) makeup.
Shampoo & conditioner – These come in travel size, too.
Toothbrush and paste
Hairbrush and elastics
Glasses or lenses
Tampons
Hair straightener – I personally never go anywhere without my GHD straightener. If there's no room, I make room.
Daily medicine – Do you take any daily medicine, like insulin or asthma inhalers? Remember to bring them – and don't forget aspirin. The altitude, the cold, and the exertion can make your muscles and your head ache.
Tissues – For runny noses.
Shoes
You'll want shoes for the slopes and shoes for relaxing in. These are my picks.
Ski boots – You'll want them to be both warm and waterproof. This is an absolute must.
Flip flops – For when you're relaxing by the hot tub, the fireplace, or in your room, there's nothing further from snow boots than flip flops, making them ideal for relaxing in!
Waterproof boots for aprés skiing – Either a pair of snow boots or these ones from Tommy Hilfiger – LOVE them.
Travel safety when you go skiing
Travel Insurance – Keeping safe requires more than just first aid. You'll need insurance (and I really mean this). I always book my insurance with World Nomads Travel Insurance because they offer the biggest coverage for activities like skiing and snowboarding. Not all insurance companies do this, or they charge crazy amounts extra to do so.
First aid kit – A first aid kit should be on every single ski packing list. And you're going to want to be prepared for a few bruises and catching a cold, with being exposed to so much cold air. Make sure you pack the essential first aid items.
Beacon – This is only necessary for backcountry skiing. It sends out a signal of where you are if there's an avalanche.
Pin it!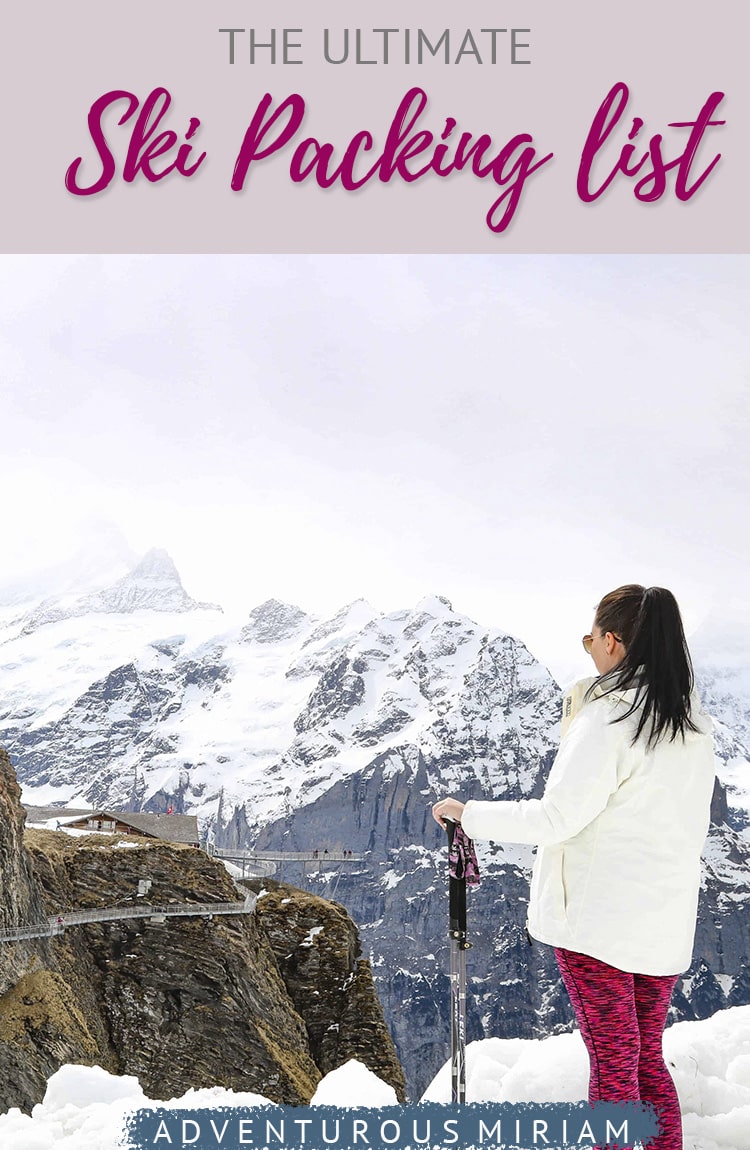 Psst! This post probably contains affiliate links, which means I earn a commission (at no extra cost to you) if you click through and make a purchase. As always, I only recommend products and services I trust.