How to plan the perfect Nuremberg to Bamberg day trip
Are you planning a Nuremberg to Bamberg day trip? Get all the facts you need to get the most out of your stay.
Have you heard of Bamberg before? I hadn't until recently. When I was planning a trip to Bavaria, a friend recommended I go there to see how beautiful it was. "It's a UNESCO site," she said. "And only a one-hour train ride from Nuremberg." So I followed her advice and went to Bamberg.
If you're taking a day trip to Bamberg, simply follow the tips in this post as I'm sharing exactly how I did it as a solo traveler. It's super easy.
This post contains referral links for products I love. Adventurous Miriam earns a small commission at no extra cost to you if you make a purchase through my links. Thank you for your support ♡ Learn more
Nuremberg to Bamberg day trip
Nuremberg to Bamberg is an easy day trip. Bamberg has a lot to offer, but it's small enough to explore in a day.
How to get from Nuremberg to Bamberg
You can get from Nuremberg to Bamberg in a variety of ways. The easiest way is by train, with direct connections taking under an hour.
There are also regular bus services between the two cities, as well as car rental options if you want to take the scenic route.
With a car
There are 61 km from Nuremberg to Bamberg. Simply follow A73 north and you'll get there in 45 minutes.
By train
The fastest trains from Nuremberg to Bamberg take around 31 minutes, and there are about 78 trains per day running between the two cities. They leave approximately every 7 minutes. The price is €13.64 for a one-way ticket. I took the train and it's super easy.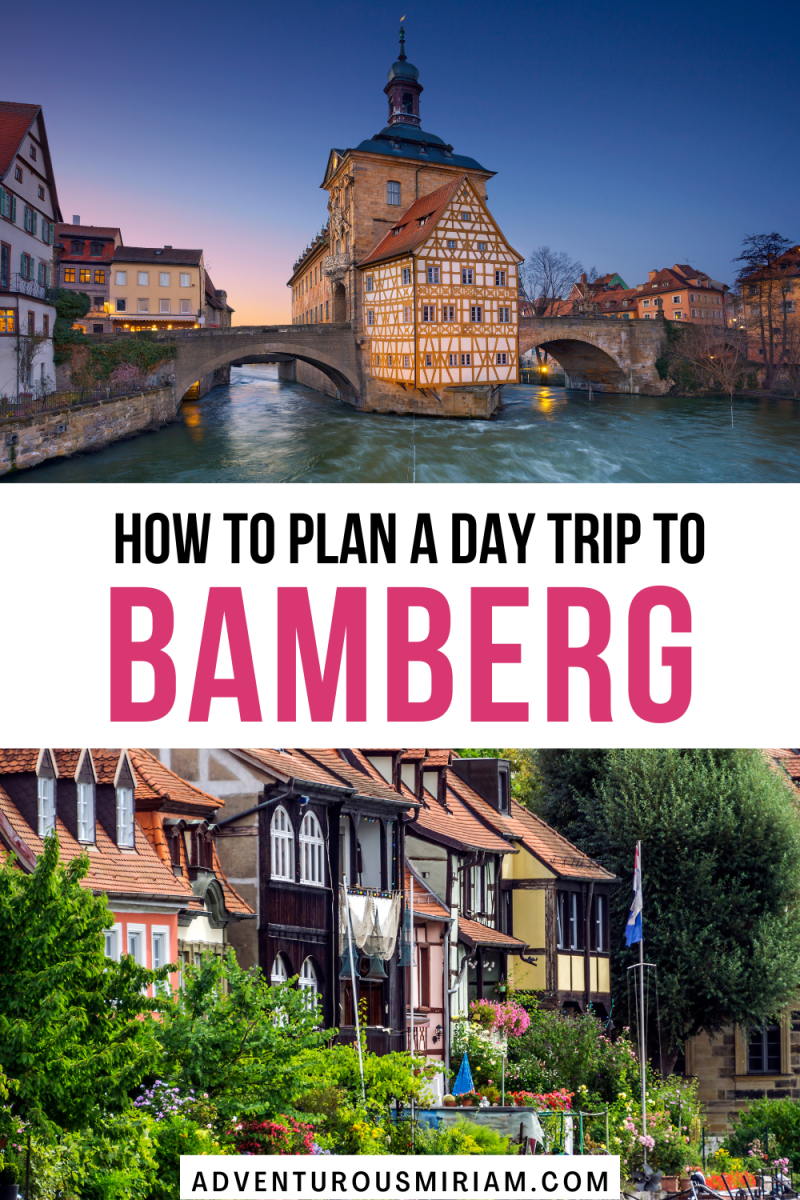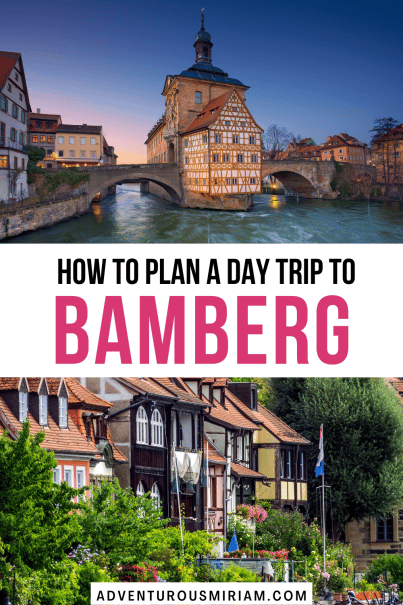 Is Bamberg worth visiting?
Absolutely! Bamberg is a historic and charming town, full of iconic attractions like the Town Hall or the medieval old town.
Be sure to try some of the local restaurants for amazing food, too! If you ask me, Bamberg is a must-visit destination when you're exploring Bavaria.
Bamberg itinerary for one day
Make sure to leave Nuremberg early to get the most out of your day in Bamberg. There's about 1 km from the train station to the old town, so you'll be onto your Bamberg itinerary shortly after you arrive.
Grüner Markt
As you walk from Bamberg's train station to the historic Altstadt, the pedestrian zone begins at Grüner Markt.
Here, you'll find a selection of fresh produce from nearby Bamberg Gardens and wholesalers selling exotic fruit. Exploring the Grüner Markt is a fun activity on any Bamberg itinerary, especially as it's incredibly convenient!
Most stalls are open Monday to Saturday but check with individual stalls for their opening hours.
Bamberg old town
Bamberg has more than 1,000 years of history on its belt. The city has survived perishing fires, a pope (the only pope that is buried outside Italy), and World War II almost without a scratch.
Bamberg's old town is the reason that Bamberg made the UNESCO world heritage list in 1993. And honestly, it's not difficult to see why.
It has three historical centres; the market gardener's town, the island town, and the episcopal town. Although I did get lost finding the different sites, I had fun wandering through the narrow, winding cobbled streets and watching the medieval houses.
Altes Rathaus Bamberg Germany
For me, the highlight in Bamberg was the Altes Rathaus, also known as the old town hall. The old town hall was built in 1467 as an artificial island, connected by arched bridges on both sides. It was built on the Regnitz River between the bank where the common people lived and the opposite bank where the bishop ruled. Supposedly it was built on the island because the bishop didn't want to relinquish any land.
What makes the old town hall so special is the one-of-a-kind frescos in trompe l'oeil on the exterior walls and the half-timbered Rottmeister house (1688) that floats above the river. No wonder this is the most popular and photographed place in Bamberg.
Bamberg cathedral (Bamberger Dom)
Open from 9am – 6pm
On your stroll around the old town, you'll come across Bamberg cathedral. This cathedral hasn't had the best of luck since it was built in 1004. In less than two centuries, it was burned to the ground twice, and twice rebuilt. The third and last construction in 1237, which contains romanesque and early gothic elements, has survived to the present day.
The highlights inside the Bamberg Cathedral include the tomb of the holy imperial couple (Kunigunde and Heinrich II), the Bamberg Horseman, the altar and the tomb of Pope Clemens II. My favourite was the choir stalls that feature wooden carvings of saints, prophets and apostles.
Neue Residenz Bamberg
At the Neue Residenz you can get a glimpse into the opulent life of Bamberg's prince-bishops. Explore the over 40 rooms, some of which are hundreds of years old, through guided 45-minute tours. Admission tickets also include access to the Bavarian State Gallery featuring works by Renaissance masters such as Lucas Cranach the Elder.
Afterwards, stroll through the baroque Rose Garden, it's super beautiful.
Entrance is €4.50, and a guided tour is €4.00.
Lunch in the old town
You're probably getting hungry about now, so I recommend having lunch before heading out of the old town.
Try Kachelofen for a hearty Bavarian meal or the old pub Schlenkerla that has been brewing beer since 1405. If you're looking for ambience, there's also the Hof-Apotheke, which has been in the business since 1453.
*Please note that some of the restaurants in Bamberg accept cash only. So make sure to bring Euros.
Klein Venedig (Little Venice)
Right outside the old town, there's a picturesque row of half-timbered, colourful houses along the Regnitz river. They're fishermen houses and this area is known as Klein Venedig (or in English: Little Venice).
You can take a boat ride around the island to relax and take in its beauty. It's also home to several restaurants and pubs where you can enjoy some of Bamberg's fantastic local food and beer before you head back to Nuremberg.
Got questions regarding your Nuremberg to Bamberg day trip? Ask me anything in the comments.
More posts from Germany you'll love: