Is Neuschwanstein Castle Germany on your bucket list? It should be
Built by a mad king and the inspiration for Walt Disney, Neuschwanstein castle is the world's most famous fairytale castle and a sight for sore eyes. More than 1.4 million people visit Neuschwanstein annually, and this year I was one of them.
If you're planning a trip to Neuschwanstein, you've come to the right place. I'm sharing all the information you need to visit the fairytale castle on a day trip.
Let's dig in.
Read next: Your travel guide to Germany
This post contains referral links for products I love. Adventurous Miriam earns a small commission at no extra cost to you if you make a purchase through my links. Thank you for your support ♡ Learn more
Is Neuschwanstein castle Germany on your bucket list?
You might be wondering if it's worth going to Neuschwanstein and if it's too touristy.
I say a big fat YES to both.
This world-famous fairytale castle is surrounded by green meadows and snow-capped mountain tops. From miles away you'll spot the white castle by the soaring high turrets towering above the lush, green trees.
Heck, the setting is so idyllic, it served as Walt Disney's inspiration for Sleeping Beauty's castle. No way you'll want to miss this if you're in Bavaria.
And sure, the number of tourists is unappealing, but that's expected at a popular site like this. I'm very glad to have seen Neuschwanstein castle and I would definitely go again.
Visit Neuschwanstein and Linderhof in one day
Neuschwanstein castle and Linderhof castle were both built by King Ludwig II. They're only 44 km apart, so I recommend you visit Neuschwanstein and Linderhof in one day.
I joined a 12-hour organised Neuschwanstein castle tour from Munich. The tour took me to see Neuschwanstein and Linderhof castles, and along the way, we stopped at the fairytale village Oberammergau.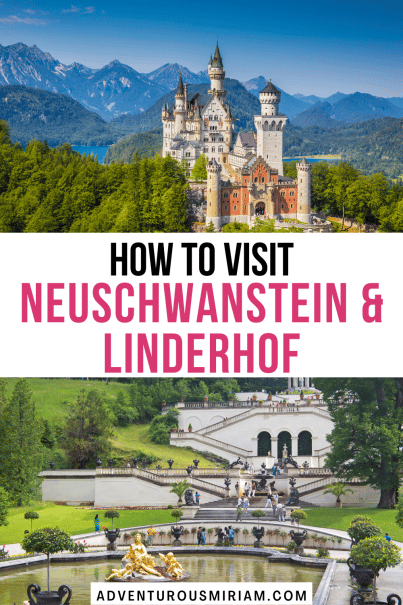 How to get from Munich to Neuschwanstein castle
Wondering how to get from Munich to Neuschwanstein castle?
I did, too. So, I found the three best ways to get to Neuschwanstein from Munich: by public transportation (train and bus), by organised tour or by renting a car. I usually travel solo or with one of my sons, so I prefer organised tours. But you should choose what makes most sense for you.
Here's how to do it:
By car

(most freedom)
Renting a car is an easy way to get from Munich to Neuschwanstein and Linderhof. Having your own car means you get to plan your own schedule and your own route. You can take your time, take the most scenic routes, and spend as long as you like.
The drive from Munich to Neuschwanstein is pretty straightforward. It's a 1 hour, 46 minute drive via A95.
The address is: Neuschwansteinstraße 20, 87645 Schwangau, Germany
And if you're worried about the no-speed limit autobahns in Germany, you'll actually barely notice it. It's not like people are reckless drivers. Plus, you can always just stay in the right lane cruising at a comfortable speed for you.
By public transportation

(cheapest)
Getting to Neuschwanstein castle by train takes 3 hours and costs €26 for a round-trip. Although there are no direct trains between these two destinations, getting to the castle is still much easier than it may first appear. With a little bit of planning and the help of the DB Navigator app, you can make the 3-hour journey in no time.
I highly recommend choosing an afternoon tour when booking your tickets.
By organised tour

(most convenient)
I joined an organised group tour that left Munich early in the morning and set out for Neuschwanstein castle (or Schloss Neuschwanstein to use its proper German name), then Linderhof and eventually the fairytale town of Oberammergau before heading back. It's an easy way to explore several gems in Bavaria in one day so I highly recommend it. Book your trip here.
Intro to Neuschwanstein
Now, a bit of background.
Ludwig II was a peculiar man. In 1869, he ordered the construction of Neuschwanstein castle and intended it a place to retreat and live in solitude. Inspired by the medieval legends in Wagner's opera, Ludwig created a fairytale masterpiece that included state-of-the-art technology like telephones and electric bells to summon servants. He even had flushing toilets.
"I want to remain an eternal mystery to myself and others"
– The Mad King Ludwig II
But like so many of Ludwig's grand schemes, his fairytale castle was never finished. He spent just 170 days in Neuschwanstein before he was declared insane and arrested at the castle. Three days later he was found dead in Lake Starnberg in what was called a suicide. His drowning is still shrouded in mystery.
Join the guided tour of Neuschwanstein castle
Once you arrive at Neuschwanstein castle, you'll need to walk a bit from the parking lot. There's also a shuttle bus (€3.50 roundtrip) and a horse-drawn carriage ride (€8 to ride uphill and €4 to go downhill).
At the entrance to the castle, you can get a 35-minute guided tour of the castle. You can't take pictures inside, but this is one of those places that are JUST as beautiful from the outside. We got the story of the castle and King Ludwig on the bus, which was good because the castle tour was mainly about Neuschwanstein.
Neuschwanstein has a lot of uniquely-designed rooms, but my favourite was Ludwig's artificial grotto, which was an allusion to the Tannhäuser opera by Wagner. It really shows how eccentric he was.
Discover Neuschwanstein from Marienbrücke
Once you've toured the castle, it's time to behold it from the outside. To get that postcard view of Neuschwanstein, you'll need to head to Marienbrücke (Mary's bridge). It's about 500 meters from the castle, but easily reached.
Unfortunately, the day I visited, the bridge was closed due to reconstruction. Talk about bad timing.
This is the best I got ↓
If you walk down from the castle, you'll see Hohenschwangau Castle. This is where Ludwig lived when he built the fairytale castle. Hohenschwangau was also his childhood home and an inspiration for him to create a "more beautiful and habitable" castle.
If you have time, you should visit this castle, too.
Have lunch in Hohenschwangau or Fussen
Once you're done touring the castle, it's time for lunch. If you're on a guided trip, you'll probably have lunch in Hohenschwangau. If you're driving yourself, you can also head to Fussen, a cute nearby town.
Intro to Linderhof castle
After lunch, it's time to visit Linderhof castle; the smallest of the king's three castles.
Ludwig was a recluse. So it's no surprise that he built Linderhof in a secluded area, surrounded by forests and hills. Ludwig wanted to build a castle similar to Versailles in France and although Linderhof is much smaller, it's easy to see the similarity.
Join the organised tour of Linderhof castle
Like Neuschwanstein, you can take a guided tour of Linderhof castle (photography is not allowed)
Linderhof has a more private or intimate feel as opposed to Neuschwanstein, which is big and grandiose. Ludwig's favourite room – and mine too – was the mirror room. With large mirrors on every wall, it looked like an endless hall wherever you looked. It was really cool.
Explore the gardens
The gardens and water fountains are really beautiful, too.
I also ran into a swan who lived by the nearby lake. He posed and waddled by the entrance and made a fun addition to the Mad King's castle.
Tips for visiting Neuschwanstein and Linderhof in one day
Make sure Marienbrücke is open on the day you visit.
If you don't have a car, I recommend booking a day trip to see the castles. Alternatively, you can organise the trip yourself from Munich or simply stay in Fussen, a small village just a few km from Neuschwanstein. But it's difficult without a car and impossible to visit both castles on your own. If you join a trip, you get to see more than one castle, and everything is taken care of – from transport to ticket booking and tours.
Oberammergau is 90 km from Munich. I recommend visiting Oberammergau, Neuschwanstein and Linderhof on the same trip.
If you visit Neuschwanstein and Linderhof on your own, check the times of the castle tours so you won't miss them.
Many thanks to Munich Tourism and Gray line & Autobus Oberbayern for hosting me on this trip to Neuschwanstein and Linderhof Castles. All opinions are my own.
Is Neuschwanstein castle Germany on your bucket list? If you're still in doubt, let me know and I'll do my best to convince you.
More posts from Germany you'll love: