Adventurous Miriam uses affiliate links, which means that if you make a purchase through my links, I may earn an affiliate commission.
2 days in Munich is the perfect amount of time to explore the main sights and get a good sense of the Bavarian city. If you have more time, I recommend doing a day trip from Munich to Neuschwanstein Castle, Nuremberg or Salzburg.
Friday in Munich dawned bright and beautiful, perfect for sightseeing. I arrived with train from Nuremberg and was ready to take on Munich, full of enthusiasm and energy.
Munich is thriving. More and more people visit every year, and its walkable centre makes it an easy and popular place to visit. Throw in the famous Oktoberfest, world-class beer and Lederhosen thigh-clappers and you have an Alpine wunder-destination, worthy of its unofficial title as Bavaria's capital.
MORE GERMANY TRAVEL TIPS: GET MAPS, ITINERARIES AND GERMAN PHRASES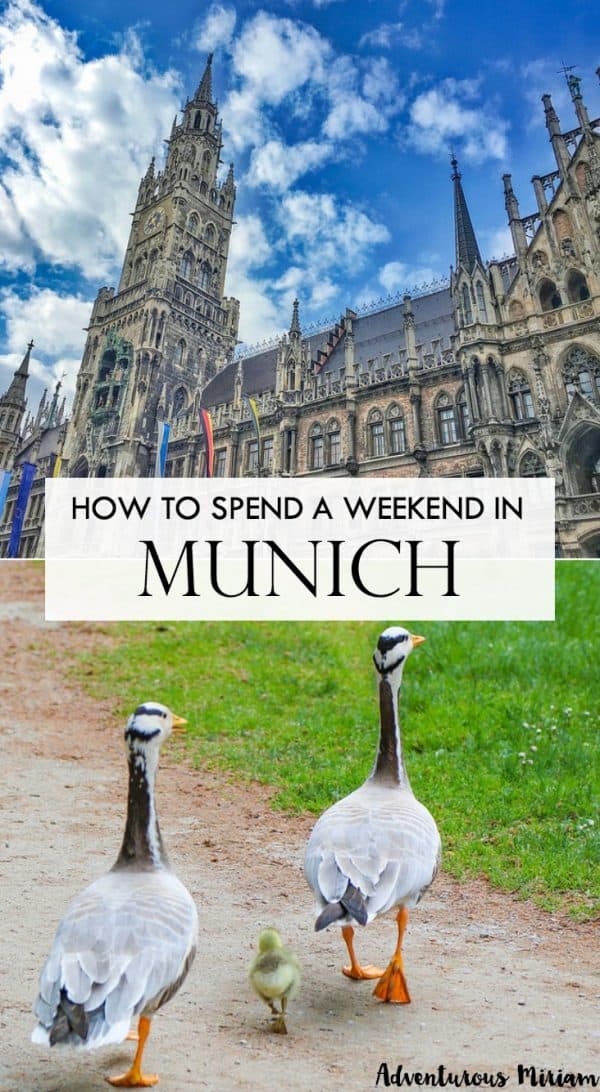 DAY 1
MARIENPLATZ AND FC BAYERN MüNCHEN
After checking in at the hotel, I took my camera and aimed straight for Marienplatz. But the closer I got, the more people I had to squeeze through. Apparently, FC Bayern München had just won the Champions League – again – which seemingly the whole planet had come to celebrate. So Marienplatz was closed.
🙁 🙁 🙁
With no passion for fussball whatsoever, the lockdown of Munich's main site was rather inconvenient, mainly because I only had one day there. No one knew when Marienplatz would be cleared so I returned hours later in the afternoon. To my luck, it had just re-opened, just in time for the famous Rathaus Glockenspiel.
Marienplatz is the heart of Munich and the important sites are placed here; the old town hall and the new city hall. It's also here that you can hear the Glockenspiel and get a panoramic view of the whole city from the top.
Tip: The Glockenspiel chimes at 11am (and 12 p.m. and 5 p.m. in summer) every day.
SURFING IN THE ENGLISH GARDEN
After listening to the glockenspiel at Marienplatz, I ventured off to the English Garden. The name comes from the traditional English gardens, which were an informal landscape style, popular in Britain around the mid-18th century.
Want to hear a fun fact? The English Garden was created in 1789 and with an area of 3.7 km2, it's one of the largest urban parks in the world.
All sorts of quacking animals call the English Garden home. Frogs, ducks, swans, birds. They waddle alongside runners, families and moms with strollers and bring life to this park, which is larger than New York's Central Park.
The English Garden is a lovely place for a picnic, a Sunday stroll – and surfing. Small rivers and waterfalls run through the garden and lead to a standing wave produced by a water pumping mechanism. This is where surfer dudes flock to show their moves.
MUNICH RESIDENZ
Right next to the English Garden is the Munich Residenz; former royal palace of the Bavarian monarchs. It was easy to find, but was it open?
Unfortunately because of my rendezvous with FC Bayern München, I missed the opening hours and had to suffice with the outside view. The interior is supposed to be grand so if I ever return, I'll come back here!
ASAMKIRCHE
I had heard about a unique church in Munich called Asamkirche (or Asam Church in English). What makes this church extra special is the ceiling frescos and super cool Baroque and Rococo style.
It's really, really small. In fact, it's built between two buildings and I almost didn't see it from the outside. But worth it, it was.
DAY 2
Müller'sche Volksbad's makes you feel like you're in ancient Roman times. It's decorated with beautiful art nouveau, so if you're not interested in swimming, come for the historic surrounding.
Wiener Platz
Wiener Platz is a local market place with a charming feel. Much like an idyllic town square with trees, wells and a maypole.
Nymphenburg Palace
Mo-Su: 10:00-16:00
A fairy tale castle just outside of Munich – definitely worth visiting. There's a park at Nymphenburg Palace where you can talk a walk or bring lunch or picnic.
MUNICH BEER AND SCHNITZELS
If there's one thing any visitor to Munich must try, it's the beer and the schnitzels. And what better place to pass time than a traditional German beer garden?
Most tourists go to the popular Hofbräuhaus, but be warned: it's crowded and touristy. A more off the beaten track beer house is Augustiner Bräustuben that serves great beer and a good atmosphere. Go here instead.
FINAL THOUGHTS ON MUNICH
My visit to Munich was good. What I really liked about it was the small city center, the culture and the beer! Plus, just outside, you have the Alps, lakes and the extraordinary Neuschwanstein (sleeping Beauty's castle) so the location is great. Munich as a city however didn't quite speak to me – at least not like Nuremberg, which was more quaint and historic.
I'm always up for giving Munich another shot, though. Maybe I'll be surprised.
Many thanks to Munich Tourism for hosting me in Munich. All opinions are my own.
So, what do you think about Munich? Would you visit?