How to spend amazing 2 days in Munich itinerary
2 days in Munich is the perfect amount of time to explore the main sights and get a good sense of the Bavarian city. If you have more time, I recommend a day trip from Munich to Neuschwanstein Castle, Nuremberg or Bamburg.
Munich is thriving. More people visit every year, and its walkable centre makes it an easy and popular place to visit. Throw in the famous Oktoberfest, world-class beer and Lederhosen thigh-clappers and you have an Alpine wunder-destination, worthy of its unofficial title as Bavaria's capital.
I spent 2 days in Munich and got to see everything on this list. Let's have a look at your Munich itinerary.
This post contains referral links for products I love. Adventurous Miriam earns a small commission at no extra cost to you if you make a purchase through my links. Thank you for your support ♡ Learn more
2 days in Munich itinerary
First of all, are you wondering if two days in Munich is enough? It's actually the perfect amount of time to see the highlights, especially because you can walk to most of the places. With this 2 days in Munich itinerary you will hit all the main attractions and get a good sense of the city vibe.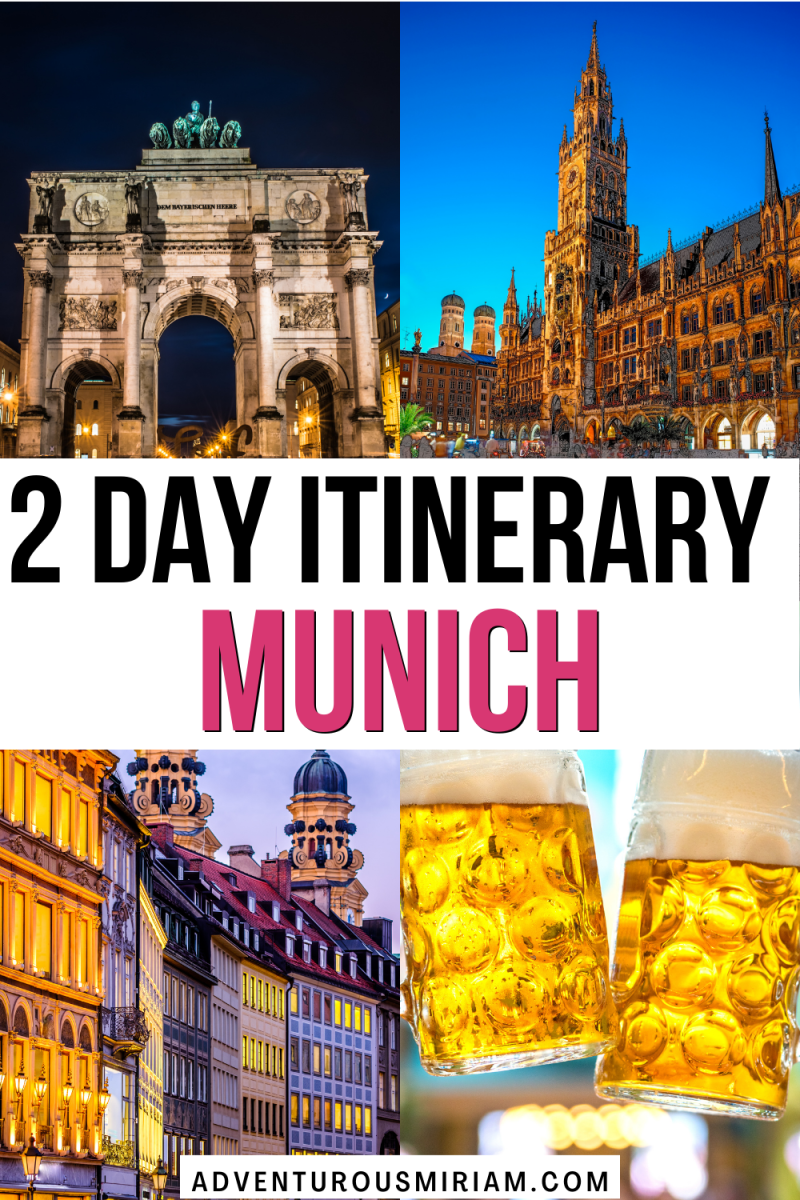 DAY 1 in Munich
Marienplatz
Marienplatz is the heart of Munich and several main sights are located here; the old town hall and the new city hall. It's also here that you can hear the Glockenspiel and get a panoramic view of the whole city from the top.
At 1158, Marienplatz square is the oldest public square in the city, surrounded by impressive historic buildings. Make sure to explore the narrow alleyways and side streets, too – there you'll find cafés, bars, restaurants and tucked away boutiques.
When I visited, the crowds were enormous.
FC Bayern München had just won the Champions League again, which seemingly the whole planet had come to celebrate. So Marienplatz was closed. Luckily, it reopened in the afternoon, just in time for the famous Rathaus Glockenspiel.
Stuff like this often happens when you travel – sights are closed due to renovations or events – so it's a good idea to adapt to the situation and change up the itinerary.
Neues Rathaus
The Neues Rathaus is the main building at Marienplatz. This majestic structure was built in 1874 when the old town hall became too small. Check out the Gothic style architecture and enjoy a spectacular view from 85 meters high – just take the elevator.
Opening Hours: Mon – Sat 10am-7pm, Sundays & public holidays 10am-5pm
Tickets: €4
Glockenspiel
Every day at 11am, 12pm and 5pm, you can listen to the famous Glockenspiel. 30 life sized figures come to life as they tell stories from Bavaria's past with the sound of chiming bells.
Altes Rathaus
Across from the New Town Hall is the Altes Rathaus of Munich. This 15th century Gothic building, designed by the same man who built the Frauenkirche, was severely damaged during WWII but has since been restored to its original glory.
Inside you'll find the Spielzeugmuseum with a vast collection of toys from Europe. Ticket prices are €6 for adults and €2 for children. Opening hours: 10am – 5pm daily.
St. Peter's Church
Next up is St. Peter's Church. This lesser known church may be even more impressive than the Frauenkirche (the second photo below is Frauenkirche).
You can also climb to the top of the tower for breathtaking views of the city.
Heiliggeistkirche (Church of the Holy Ghost)
Now, head to the last church for now: the Heiliggeistkirche.
It dates back to the 17th century and was also damaged during WWII. However, it was renovated in 1991 and its interiors have been restored. Make sure to visit, the frescos are really beautiful.
Surfing in the English garden
It's time to leave Marienplatz and head to the English Garden. The name comes from the traditional English gardens, an informal landscape style that was popular in Britain around the mid-18th century.
Want to hear a fun fact? The English Garden was created in 1789 and with an area of 3.7 km2, it's actually one of the largest urban parks in the world – it's even larger than New York's Central Park.
All sorts of quacking animals call the English Garden home. Frogs, ducks, swans, birds. They waddle alongside runners and moms with strollers and bring life to this park.
The English Garden is a lovely place for a picnic, a Sunday stroll – and surfing. Small rivers and waterfalls run through the garden and lead to a standing wave produced by a water pumping mechanism. This is where surfer dudes flock to show their moves.
Munich Residenz
Right next to the English Garden is the Munich Residenz; former royal palace of the Bavarian monarchs. It was easy to find, but was it open when I swung by?
Unfortunately, because of my rendezvous with FC Bayern München, I missed the opening hours and had to suffice with the outside view. The interior is supposed to be grand so do make sure to check the opening times below.
The Munich Residenz dates back to the 14th century and has undergone many changes over the centuries. It was once the seat of the Bavarian government and home to the Wittelsbach monarchs from the 16th to 20th centuries. The lavishly decorated halls and chambers contain carefully preserved art collections and original furnishings. The Antiquarium Hall is supposed to be amazing. It's the oldest room in the palace built in 1568 and used for special functions like banquets.
Tickets: €9-adult free-children
Opening Hours: The palace is open daily
April – Oct 18: 9am-6pm
October 19 – March: 10am-5pm
Asamkirche
I know I've already put several churches on your Munich itinerary, but I've got this last one for you today, and I promise – it's totally worth it!
This unique church is called Asamkirche (or Asam Church in English). What makes it special are the ceiling frescos of Christ's life and death and the impressive Baroque and Rococo style.
It's really, really small. In fact, it's built between two buildings and I almost didn't see it from the outside. But worth it, it was.
DAY 2 in Munich
Müller'sches Volksbad
Open hours: 7.30am – 11pm daily
2 days in Munich go by so fast, so make sure to get an early start and head to Müller'sche Volksbad's.
This historic public bath house makes you feel like you're in ancient Roman times. It's decorated with beautiful art nouveau, so if you're not interested in swimming, just come for the picturesque surrounding. It's listed as a heritage building.
Wiener Platz
After your morning bath, stroll down to Wiener Platz, a local market place with a charming feel. It's much like an idyllic 16th century town square with cobblestone streets, trees, wells and a maypole.
As you wander around this historical district, you'll find plenty of shops, restaurants and cafes where you can have lunch.
Nymphenburg Palace
Monday – Sunday: 10 am – 4pm
It's time to head out of town to visit the Nymphenburg Palace (7 km from the centre). You can get there with the S-bahn or the U-bahn:
S-Bahn (suburban railway) to "Laim", then bus to "Schloss Nymphenburg"
U-Bahn (underground) to "Rotkreuzplatz", then tram to "Schloss Nymphenburg"
This fairytale baroque castle is worth visiting. Not only because of the interior, but there's also a beautiful park surrounded by lakes and fountains. The castle was built in the early 17th century and houses a number of treasures, stunning ornate décor, majestic halls and luxurious bedrooms.
Beer and schnitzels at Augustiner Bräustuben
That's it, guys.
There's only one thing left on your two days in Munich itinerary, and that's to taste the beer and the schnitzels. And what better place to do that than a traditional German beergarten?
Most tourists go to the popular Hofbräuhaus, but be warned: it's crowded and touristy. A more off-the-beaten track beergarten is Augustiner Bräustuben that serves great beer and a good atmosphere. Go there instead.
More things to do in Munich
During your two days in Munich, make sure to check out some of the other amazing attractions nearby. I already mention Nuremberg and Bamberg, but my personal favourite was Neuschwanstein Castle – also known as Sleeping Beauty's castle.
If you have time for a day trip to Neuschwanstein Castle, go– you won't regret it.
Got any questions about the places to visit in Munich in 2 days? Ask in the comments and I'll do my best to answer.
Before you go – check out these posts about Germany: