18 magical things to do in Istanbul in winter (2023)
In this guide, I'm sharing the best things to do in Istanbul in winter – from visiting the magnificent Hagia Sophia to celebrating New Year's Eve. That way, you'll know exactly what to expect when you visit in the winter months.
Istanbul in winter is a magical experience.
It might be cold with occasional snow, but you'll be able to visit without the crowds and long lines at the most popular landmarks.
Personally, I love visiting in low season because it's a more authentic and down-to-earth experience.
Ready to find out what to see in Istanbul in winter?
Let's dig in!
This post contains referral links for products I love. Adventurous Miriam earns a small commission at no extra cost to you if you make a purchase through my links. Thank you for your support ♡ Learn more
Istanbul weather in winter
There are many great reasons to visit Istanbul in winter.
Most importantly, it's low season so you'll avoid the crowds and long lines of the summer tourists. Plus, Istanbul might even be covered in snow which gives it that winter wonderland look.
In winter, average temperatures range from 8-12°C (46-54°F) in the daytime and can drop to around 3-7°C (37-45°F) in the evenings.
Bring warm clothes like a warm winter coat, gloves, and a hat!
Getting from the airport
Chances are, you're flying into Istanbul Airport. After a long flight, you might want to get to your hotel and relax before going sightseeing.
I suggest pre-booking an airport transfer to avoid scamming taxi drivers (I speak from bitter experience).
Turkey is notorious for haggling drivers, and Istanbul has the worst of the lot.
Book your ride 👉 Istanbul Private Airport Transfer (⭐ 5/5)
18 things to do in Istanbul in winter
1. Join a walking tour of the best sights in Istanbul
Whether you visit Istanbul in the summer or the winter season, I recommend joining a walking tour. It's simply the best way to experience the highlights and top tourist attractions.
This private tour takes you to Istanbul's Old City gems.
You'll cover landmarks like Hagia Sophia, the Blue Mosque, and the Grand Bazaar.
You'll cruise the Bosphorus and see the Dolmabahce Palace, and you'll also visit the Suleymaniye Mosque and vibrant Fener and Balat Districts (my favorite areas in Istanbul!).
Book your tour – Best of Istanbul: 1, 2, or 3-Day Private Guided Istanbul Tour (⭐ 5/5)
2. Visit the best highlight: Hagia Sophia
The number one landmark you cannot miss in Istanbul is Hagia Sophia.
Hagia Sophia is frozen in time – you can literally sense how old it is when you step inside!
Originally built in 537 AD as a cathedral, it transitioned into a mosque before becoming a museum and then in 2020 the mosque we know today.
Hagia Sophia is free to visit, but on a guided tour you get to skip the lines and hear all the interesting facts about the mosque.
Book with Viator – Hagia Sophia guided tour (⭐ 5/5)
3. Basilica Cistern
Next to Hagia Sophia is The Basilica Cistern – an old underground water storage from the 6th century.
It's packed with 336 cool marble columns and has this eerie, dimly lit vibe.
If you're in Istanbul, it's one of those places that gives you a real feel for the city's deep history. Definitely worth checking out.
Book your tour – Best of Istanbul: 1, 2, or 3-Day Private Guided Istanbul Tour (⭐ 5/5)
4. Bosphorus Cruise
The Bosphorus Cruise in Istanbul?
It's basically a boat ride that takes you between Europe and Asia along the Bosphorus Strait. You'll get amazing views of the city's skyline, historic palaces, and bridges.
These are the most popular Bosphorus cruises:
5. Visit the Grand Bazaar
The Grand Bazaar in Istanbul is this massive old market, dating back to the 15th century.
Walking inside feels like a maze with thousands of shops selling everything from spices to lamps and rugs.
Whether you're looking for that Aladdin feel or a souvenir to bring home, this is where to go!
6. Turkish Bath (Hamam)
Ahh, a Turkish spa – the perfect winter activity in Istanbul!
A Turkish Bath, or "Hamam" as they call it in Istanbul, is a centuries-old tradition.
Think of it as a spa day but with a rich historical touch. You get scrubbed down, massaged, and leave feeling super refreshed.
This Turkish bath experience takes place at one of Istanbul's best hammams. It's over 600 years old and designed by the architect who built the Topkapi Palace.
The experience is rated 4.5/5 stars based on 228 reviews.
Book your tour – Turkish Bath Package in Istanbul at Aga Hamami (⭐ 4.5/5)
7. Galata Tower
The Galata Tower is hard to miss in Istanbul's skyline.
This tall medieval stone tower was built back in the 14th century as a defense tower, so it's packed with history.
You can climb to the top to get awesome panoramic views of the city. There's a lift inside so it's wheelchair friendly, and there's a museum on the different levels of the tower.
8. Join a food tour
Mmhm, Turkish food is one of my favorite cuisines in the world.
While you can spend all day devouring kebabs on your own, I highly recommend joining a food tour where you'll get to taste the most delicious food in town!
On this full-day, small-group tour, you'll explore the spice market and savor a Turkish breakfast.
Then, cross the Bosphorus to Kadikoy, a trendy area where you'll sip on Turkish coffee and visit various restaurants to try Istanbul's signature dishes.
Book your tour – Taste of Two Continents: Istanbul Food Tour (⭐ 5/5)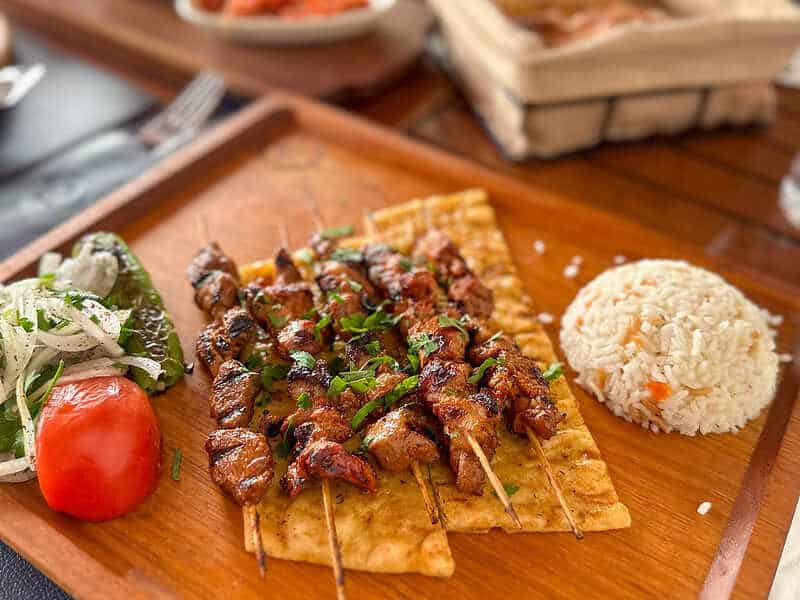 9. Visit the magnificent Blue Mosque
The Blue Mosque, or "Sultanahmet Camii" is a historic mosque from the 17th century, and it's famous for its iconic blue tiles.
It's located right across from Hagia Sophia and the Basilica Cistern. A must on an Istanbul winter visit.
Book your tour – Best of Istanbul: 1, 2 or 3-Day Private Guided Istanbul Tour (⭐ 5/5)
10. Taste baklava
Do you have a sweet tooth? Then you'll love baklava.
Baklava is a sweet Turkish dessert made of layers of filo pastry, filled with chopped nuts and sweetened with syrup or honey.
It's a sugar bomb and the perfect treat in the winter cold.
11. Whirling Dervishes ceremony
One of the best things to do in Istanbul in winter is experiencing a Whirling Dervishes ceremony.
It's not just dance; it's a 800-year-old Sufi ritual that reflects deep mysticism.
You'll gain an authentic insight into Turkish tradition, witness a unique form of meditation in motion, and enrich your understanding of the country's depth and history.
Book your tour – Whirling Dervishes at Hodjapasha (⭐ 3.5/5)
12. Watch the sunrise at Ortaköy
If you don't mind early mornings, head to Ortaköy mosque and see the sunrise over the iconic Bosphorus Bridge.
It's magical.
Afterward, take a stroll in the (if you're lucky) snow-covered streets. This neighborhood has got this chilled, vibrant vibe where locals and tourists mesh.
Ortaköy is a great spot to chill, grab a 'kumpir' (stuffed potato), and soak in some authentic atmosphere.
13. Walk in the footsteps of sultans at Topkapi Palace
One of the main attractions in Istanbul is Topkapi Palace.
This massive palace, stretching over centuries, was home to sultans and their courts, so expect opulent rooms, treasury, and sprawling courtyards!
Make sure to visit the Harem – it's my favorite place in Topkapi because it's so beautiful.
Book your tour – Best of Istanbul: 1, 2, or 3-Day Private Guided Istanbul Tour (⭐ 5/5)
14. Spend New Year's Eve in Istanbul
Istanbul is an amazing place to spend New Year's Eve!
Expect fireworks at the Bosphorus, packed Taksim Square, boat cruises, and street parties.
Just make sure to book your hotel in advance. The city is busy this time of year.
🥂 Best tour on New Year's Eve – New Year Party Cruise through Bosphorus (⭐ 4/5)
15. Turkish tea by the Bosphorus
Turkish tea is one of the things you shouldn't miss on a trip to Turkey.
The tea is robust and slightly bitter, and it's a cultural staple that locals drink several times a day. We did, too, when we were in Istanbul!
16. Relax at one of Karaköy's cozy cafes
In Istanbul, Karaköy is your must-visit for authentic cafes.
Set among historic lanes, it offers a range from strong Turkish coffee to contemporary blends. It's where locals head for their coffee breaks and relaxation.
17. Don't miss the Spice Bazaar
Spice Bazaar in Istanbul is a sensory explosion. Imagine aisles jam-packed with colorful spices, teas, and sweets.
The aroma? Incredible.
Located in Eminönü, this place is older than your grandma, dating back to the 1600s. It's one of the best places to snag some authentic Turkish delight or just wander and soak in the vibes.
18. Head to Taksim Square
If you're spending winter in Istanbul, you'll find Istiklal Street and Taksim Square buzzing, with the iconic Republic Monument and nostalgic trams.
Whether you're looking for festive fun or a quiet moment of reflection, this is your go-to spot to experience the city's vibrancy during the colder months.
FAQ – Istanbul in winter
Is Istanbul worth it in the winter?
Yes, Istanbul in winter is worth it for its snow-covered sights, fewer crowds, and authentic atmosphere. The most popular attractions are indoor activities.
Is it worth visiting Turkey in winter?
Yes, Turkey in winter is still a great destination. Istanbul offers snow-covered landmarks and a magical atmosphere.
Cappadocia's fairy chimneys are stunning with a white blanket, making hot air ballooning even more picturesque.
For skiing, head to Erciyes in Kayseri or Uludağ near Bursa. Fewer crowds round out the winter appeal.
Is December a good time to go to Istanbul?
Yes, December is a good time to visit Istanbul if you like cooler temperatures and fewer tourists.
You might get rain and occasionally snow.
How is Istanbul during winter?
Istanbul in winter is chilly, with temperatures between 8-12°C (46-54°F) during the day and 3-7°C (37-45°F) at night.
Fewer tourists mean you can explore at your own pace.
And hey, the cafes are cozy spots to warm up, while the Bosphorus lights up really nicely in the evenings.
More posts about Istanbul you might like
Save it!