What to wear in Iceland (packing list for all seasons)
Wondering what to wear in Iceland? This Iceland packing list includes everything you need to bring, no matter what time of year you visit Iceland.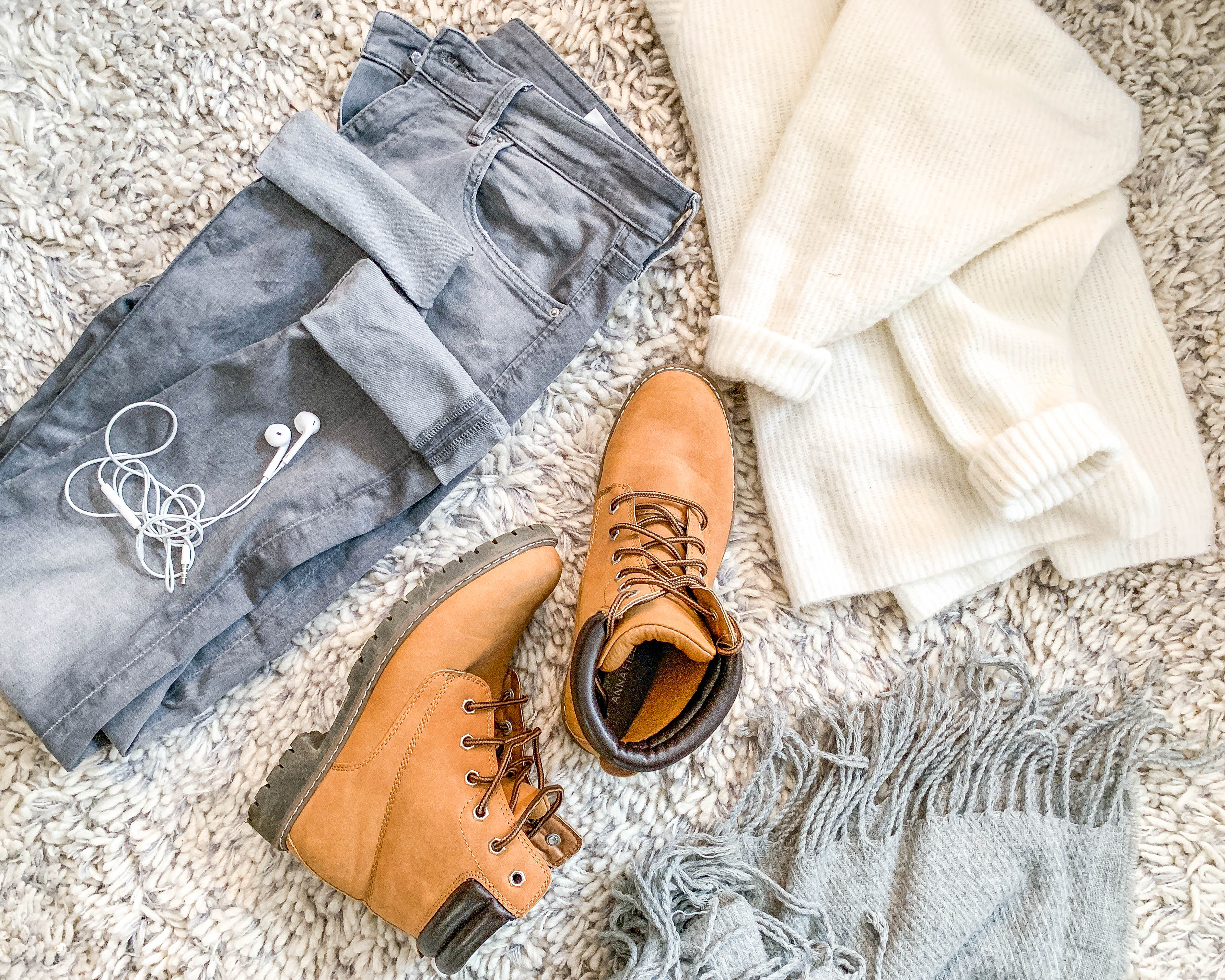 Iceland is one of the most beautiful places in the world. A rugged wilderness landscape with sights and experiences you can't come close to anywhere else.
So, visiting is a no-brainer, but then comes the question of what to wear in Iceland?
No matter what time of year you visit, you can experience different kinds of weather in one day.
We once went through a snow blizzard, fog, rain, sunshine and a hailstorm during a 2-hour drive. So, my point is: be prepared for more or less anything.
Let's take a look at the ideal Iceland packing list for any time of year!
This post contains referral links for products I love. Adventurous Miriam earns a small commission at no extra cost to you if you make a purchase through my links. Thank you for your support ♡ Learn more
Bags
Let's start with the first item on your Iceland packing list: your bags. For a trip around Iceland, you're going to need a suitcase, a daypack, and definitely consider some packing cubes for easy organising.
Suitcase
I personally love this Kenneth Cole suitcase, and not just because of the girly colour (it comes in other colours, too). It's durable, sturdy and lightweight – perfect for a road trip across Iceland.
Carry-on bag
The perfect carry-on is comfy and roomy, (but not too big – check the airline's carry-on bag size and weight allowance).
Toiletry bag
Your toiletry bag should be something waterproof and big enough to hold all of your essentials in one place. If you're keeping it in your carry-on, be mindful of shampoo, perfume, etc. – max 100ml per container.
Daypack
I recommend bringing a light and comfortable daypack. One that's well-padded so you can take it on long hikes over streams and up mountains.
Packing cubes
These are life-savers! Packing cubes make it so much easier to access your clothes. They're durable. They stack neatly in your luggage, and they save up space. Need I say more?
Important documents
These are the documents you need on your trip to Iceland. I always keep mine in a folder in my hand luggage – organised and ready for when I need them.
Passport – Keep your passport in a special travel sleeve, so you won't loose it.
Credit card – You can use credit cards anywhere in Iceland, but if you're going on a road trip, it's always a good idea to have a few Kronas in the car.
Travel itinerary – I always print out my itinerary and keep it in a folder with my other documents. It's the best way to keep organised.
Read next: What to pack in your carry-on
What to wear in Iceland in Winter
Iceland, as its name suggests, gets cold. Especially from November to March. However, it's not like Antarctica cold, and definitely not as harsh as I expected (I visited in January, which is considered the coldest month).
The wind is what makes it cold, so make sure to wear thermal base layers and wind- and waterproof outerwear. 
Let's take a look at what to wear in Iceland in winter:
Outerwear and accessories
So, what's the best outerwear for a holiday in Iceland? You need to consider hats, a waterproof jacket, gloves, and even sunglasses (trust me) when you're travelling across Iceland.
Waterproof parka coat – Iceland in January isn't just snowy and icy; it's also a place of waterfalls, rivers, and streams. So, having waterproof clothes is important! Get yourself a thick, comfy, warm parka that's also totally waterproof and will keep the chill at bay during your adventures.
OR a Packable down jacket – For days when it's chilly and a bit drizzly, get yourself a jacket that you can easily take off and pack down into nothing in your daypack.
Rain pants – They come in handy when it rains. But also when you want to get up close and personal with some waterfalls, beaches or icebergs. Which I guarantee – you will.
Knit hat – A warm, wool knit hat is a must.
Warm scarf – An extra thermal scarf is one of the most pleasant, cosy, warming things around. So keep one on you at all times for Iceland in January.
Gloves – This is something a surprising number of travellers actually overlook. But gloves are a lifesaver, and if you can get a pair that allow you to use your phone with them on, all the better!
Crampons – Another thing that's often overlooked, but for Iceland in winter, you'll need them! Simply strap them to your hiking boots to avoid slipping.
Sunglasses – Iceland in winter is surprisingly sunny, and the sun reflects hard off the snow and ice, so definitely pack some sunglasses!
Clothes
Now that your jackets, hats, and scarves are sorted, let's look at what to wear in Iceland underneath all of that!
Base layer – A warm base layer of thermal T-shirts and vests is a simple and comfortable way to keep warm.
Warm roll neck – It'll keep you cosy in the hotel if it gets a little cold, but it can also be worn comfortably under your jacket during a hike.
Cashmere sweater – The same goes for a wool sweater, something even more warm and cosy than a roll-neck. Though be careful about getting it wet. It's best to take a wool sweater on just the dry days.
Fleece zip – This is a great alternative to a wool sweater. Thinner, more breathable, but just as warm and comfy.
Trousers – Think insulation. When jeans get wet, they stay wet, but they still make for decent insulation in the winter, especially with rain pants on over the top.
Fleece-lined leggings – These are an absolute must when it comes to what to wear in Iceland! You can wear them under anything and they're super warm.
Long-sleeved tops – These are great if you'd rather avoid feeling too stifled by a thick wool sweater but still want to have your whole body protected. Think thermal!
Pyjamas – For pyjamas, get some nice thick ones to wear to bed. Cotton, not silk.
Underwear – If you're going hiking, I would bring a sports bra.
Wool Socks – Another lifesaver. Under a pair of hiking boots, a pair of wool socks will keep your feet toasty and soft all day long.
Swimsuit – Iceland has amazing thermal baths, so make sure to take a swimsuit. I'd go for a one-piece over a bikini for that extra warmth.
Boots for Iceland
Boots are one of the most essential things to pack for a trip to Iceland, no matter the season. It's a rocky place covered in ice and snow, so packing boots for Iceland is an absolute must!
Waterproof shoes – For those rainy days, walks along the river, through the snow, and across the ice, waterproof shoes or boots are vital to avoid some real chill and discomfort.
Snow boots – For those energetic hikes and long walks across the landscape, snow boots are the best boots for Iceland. They're thick, strong, waterproof, and can handle any terrain.
Casual sneakers – When it comes to what to wear in Iceland, the best boots for Iceland aren't enough. You also need some casual sneakers for when you're on the plane and strolling through Reykjavik.
What to wear in Iceland in Summer
Summers in Iceland still means dressing for rain and chilly winds, as well as boots to handle the terrain. But you don't have to worry as much about being covered head-to-toe in waterproofs and wool.
Let's take a look at what to wear in Iceland in summer:
Outerwear and accessories
Knit beanie – Summers still carry a chill in the air, and it can often be cold enough to warrant bringing a knit hat in your carry-on.
Rain coat – Iceland gets rain all year round, so make sure to still bring a waterproof jacket, even in the summer months.
Rain pants – Rain pants are essential if you want to get close to the waterfalls – and there are so many you'll want to get close to.
Warm scarf – The same goes for scarves as it does for knit hats. Chill winds and cold nights are aplenty in the summer, so pack a scarf just in case!
Sunglasses – If you need them in the winter, then you definitely need them in the summer! Pack some quality sunglasses.
Clothes
Summers in Iceland still require warm, sensible clothes. Just not as warm as winter. So you can definitely pack a little lighter in the summer but prepare for some cold nights and days all the same!
Trousers – Jeans or any comfy trousers will do. Not shorts or skirts, though; you'll still want your legs covered.
Leggings – They don't need to be fleece lined. Regular leggings in the summer are enough to keep you warm.
Long-sleeved tops – Same with trousers: you want to keep your skin covered and warm, but not too warm.
T-shirts – If you're wearing a big waterproof coat, a T-shirt underneath will be plenty for a sunny day, so pack a few.
Pyjamas – Any pyjamas will do for the summer, but pack cosy for a relaxing evening after a busy day of hiking.
Underwear – Comfy. Always comfy, for the long hikes and climbs that will make up the bulk of your Iceland adventure.
Socks – As long as you're wearing waterproof shoes or boots, any long and thick socks underneath will be fine in the summer.
Swimsuit – You'll want to pack a swimsuit for the hot springs and The Blue Lagoon!
Boots for Iceland
Snow boots are no longer essential for Iceland in summer, and neither are crampons. But you still need to wear sturdy, waterproof and comfy boots.
Combat boots – These are just great for anything. You could bring Chelsea boots instead (but no need for both).
Waterproof shoes – You'll cross streams and get close to waterfalls, so make sure to pack some high-quality waterproof shoes!
Casual sneakers – For exploring Reykjavik and the other towns of Iceland, you'll want some comfy casual sneakers that breathe and are sturdy enough to survive a fair amount of walking. I definitely recommend Nike walking shoes for this!
Electronics and accessories
These are the essential electronics you'll want to take with you on your trip to Iceland.
Camera + batteries – If there's one place to take a camera, it's Iceland. Bring spare batteries, too, so that you don't miss a thing!
Canon EF 24-105mm f/4 L IS USM Lens – This lens ensures absolute sharpness and quality. It's my everyday lens that I take with me everywhere I go.
Canon EF-S 10-22mm f/3.5-4.5 USM – This is a great wide-angle lens – perfect for landscape shots.
Waterproof phone cover – If you're wearing rain pants, you'll also want a waterproof cover for your phone. This will ensure you get the most epic shots of The Blue Lagoon and the waterfalls of Iceland.
Universal adaptor – If you're coming from the UK or the US, you'll need a travel adapter for Iceland. Iceland uses European plugs at 230V.
Kindle or iPad – Fill your Kindle or iPad with a few of your favourite books and movies!
iPhone – This might sound like a no-brainer, but an iPhone means having a GPS, a camera, and music on the road in Iceland. Just what you need.
GorillaPod Focus with Ballhead X – This flexible tripod is absolutely fantastic! It lets you use a bench, a tree or whatever else you can find to get the perfect angle.
Car charger – If you're doing a road trip, you'll need a car charger for your electronics. Just check with your rental car company if you need to bring one, because you may not have to.
Toiletries
As well as what to wear in Iceland, you also need to consider what toiletries to bring. There are a few obvious and a few you may not think of.
Tumi toiletry bag – This is just such a great toiletry and cosmetics bag.
Make-up
Toothbrush – Don't forget your toothbrush, as they always say! And while you're here, allow me to enthusiastically recommend getting an electric one!
Shampoo & conditioner – Your hotel may have some, but it also may not! Make sure to carry it in your suitcase because carry-on luggage won't allow more than 100ml of liquids.
Moisturiser – In the colder months, Iceland's chill air will chap your skin, so bring hand creams and moisturisers to fight back!
Sunscreen – Just like with sunglasses, sunscreen is a must-bring to Iceland! Even on cold days the sun can really shine, and sunburn is a real danger!
Contacts and/or glasses – If you do wear contacts, definitely bring a pair of glasses for emergencies or if your eyes get too dry from the cold winds.
Medicine – Painkillers and antihistamines are a must-bring for any vacation, including Iceland. Also consider bringing emergency bandages and disinfectant for any cuts or scrapes you might get.
How to get around Iceland
Rent a car – There are two main ways to explore Iceland, and one is to rent a car and guarantee your freedom completely! You can rent a car with Discover Cars and pick it up when you arrive.
Join a guided tour – The other way to explore Iceland is with a guided tour. GetYourGuide offer the best selection of incredible tours that will guarantee you see everything. Here's a list of my favourite Iceland tours.
Where to stay in Iceland
When researching where to stay in Iceland, Reykjavik has a few incredible hotels, and so do many of Iceland's other beautiful towns. So, let's take a look at where to stay in Iceland, regardless of where you are.
Reykjavik: Storm Hotel by Keahotels
This minimalist and modern hotel is in the heart of Reykjavik's best district for restaurants, cafes, and shopping. It's bright and welcoming, giving you a comfy and happy place to stay. Easily one of the best Reykjavik hotels.
Vik: Puffin hotel Vik
This hotel looks humble on the outside, but on the inside it's warm, charming, and beautifully decorated. A great place to stay when you're out exploring the wilderness of Iceland. You can read my review of the hotel here.
Jokulsarlon: Fosshotel Glacier lagoon
This epic hotel looks like something out of a dystopian novel. Surrounded by bleak and dramatic landscapes, it's one of the coolest hotels you'll ever stay in, both inside and out!
Myvatn: Fosshotel Myvatn
This huge and very fancy hotel is out in the Icelandic wilderness, surrounded by rugged terrain and distant mountains. Yet inside it's the height of class and sophistication. An exciting treat in North Iceland.
Snæfellsness: Fosshotel Hellnar
A simple and tranquil hotel surrounded on all sides with green fields and snow-capped mountains. And here, you're just three miles from Iceland's most famous and epic volcanoes and glaciers.
FAQ – What to wear in Iceland
Is it OK to wear jeans in Iceland?
Yes, you can wear jeans in Iceland. But for outdoor activities, consider layering with thermals, as jeans can get cold and uncomfortable when wet.
What is the best clothing to wear in Iceland?
The best clothing for Iceland is layered, waterproof, and windproof attire, with sturdy footwear for varied terrains.
What do people normally wear in Iceland?
In Iceland, people usually dress in warm, layered outfits and tend to prioritize comfort and weather-resistance. So, think practical and cozy!
Can you wear leggings in Iceland?
Absolutely! Thermal leggings are a fantastic choice for Iceland in winter. They'll keep you warm and comfortable.
More posts from Iceland you might like
Save it!