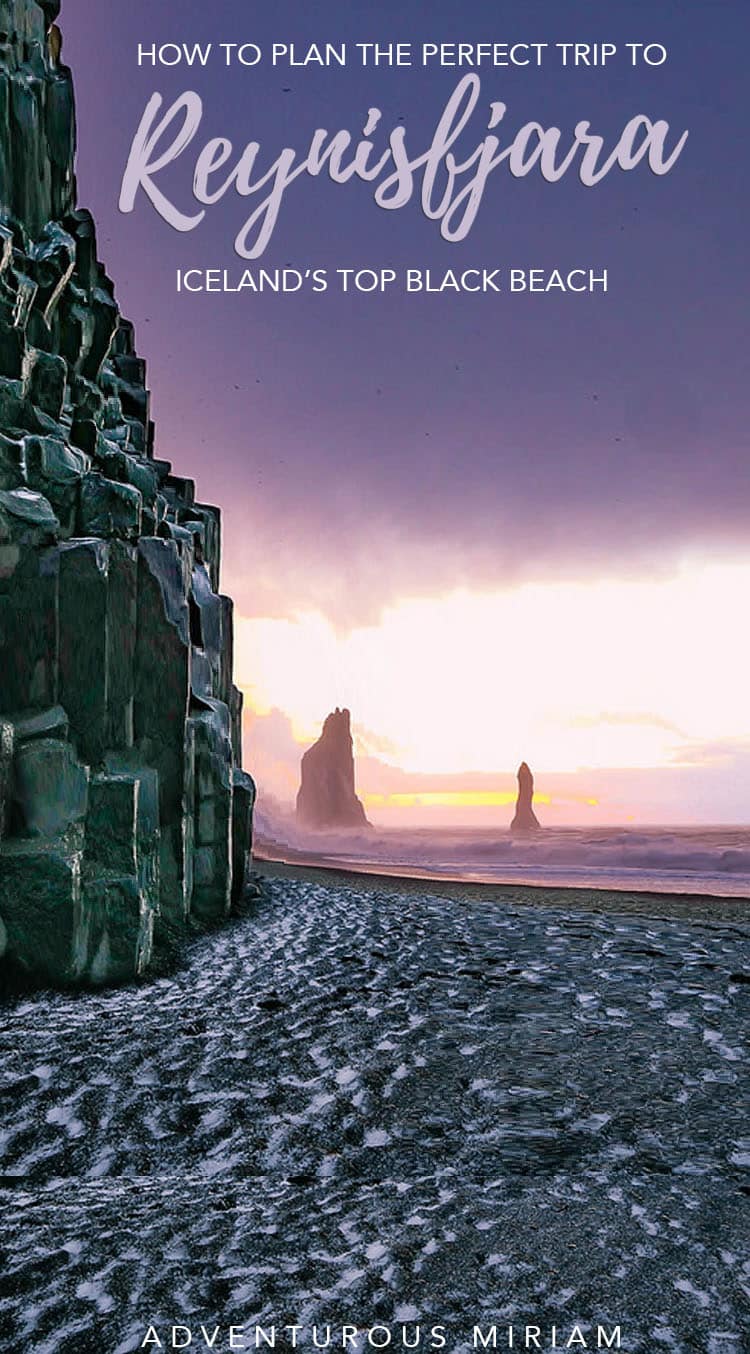 White sandy beaches? Yes, they're nice. But what if I told you there's a lava beach in Iceland that has risen from the ashes? Actually, Iceland has several volcanic beaches, but Reynisfjara Black Sand Beach is hands down the coolest with its black sand, insane basalt columns, lava formations, towering cliffs, and caves.
It wasn't ranked one of the 10 most beautiful non-tropical beaches in the world in 1991 for nothing. Oh, no.
Read next: 2 days in South Iceland – must-see sights
REYNIS… WHAT?
I'll be honest with you: the Icelandic words for this black sand beach seriously confused me. So far I've heard people calling it Reynisfjara, Reynisdrangar, Reynisfjell and Reynisfjöru, so for us mere mortals that don't speak Icelandic.. I googled around a bit and this is what I learned:
Reynisfjara is the black sand beach
Reynisfjöru is the local word for Reynisfjara
Reynishverfi is the village and area next to the black sand beach
Reynisdrangar is the 66 m high rock pillars that stick out of the sea
Reynisfjell is the 340 m high mountain with hexagonal-shaped basalt columns at the bottom
HOW TO GET TO REYNISFJARA AND DYRHOLAEY
Reynisfjara is some 180 kilometers from Reykjavik (2,5 hours) and it's an easy drive on the Ring Road. Just head for Vik, Iceland. When you get close, there's a sign from the Ring Road so you can't miss it. On the way from Reykjavik, you'll pass two major waterfalls: Seljalandsfoss and Skogafoss. They're pretty epic so you should stop to see them.
Drive yourself: You can spend the night in Vik, if you're on a road trip or don't want to return to Reykjavik. Vik only has about 300 residents, but it's still the biggest village in the southernmost part of Iceland. Make sure to check out the church while you're there.
Join a tour: An equally convenient way to explore Reynisfjara is with an organised day trip. This way you'll see most of the highlights on Iceland's South coast, including the famous black sand beach of Reynisfjara and Dyrholaey, the Seljalandsfoss waterfall, Skogafoss waterfall and Sólheimajökull glacier.
Book here: Black Sand Beach Iceland Tour
REYNISFJARA BLACK SAND BEACH IS MADE OF LAVA
Reynisfjara black volcano beach on Iceland's South Coast is one of the most unique black sand beaches in the world. It's not a tanning kind of beach. More look than touch, it was created by lava flowing into the ocean which cooled almost instantly as it touched the water.
Reynisfjara surprised me a little. For some reason I expected fine black sand, but the beach was actually various sizes of shiny black pebbles and stones. It was rugged and wild – very different from the white sand beaches I usually visit.
Read next: How to plan an Iceland road trip in winter
REYNISFJALL AND GARDAR BASALT COLUMNS
The black sand isn't the only lava creation on Reynisfjara. Opposite of the sea is an enormous natural pyramid made of basalt columns that looks like a staircase to the sky. This basalt cliff is called Gardar.
Notice how perfectly shaped these basalt rocks are. It's hard to imagine that nature did this.
The symmetrical columns were shaped when, once upon a time, lava flowed out, cooled and contracted. The slow speed at which the lava cooled made it crack and create these hexagonal forms. This process is known as columnar jointing, which is explained in the link.
You'll find basalt columns all around Iceland, for instance at Svartifoss waterfall or Dettifoss waterfall.
REYNISDRANGAR AKA THE SEA TROLLS IN ICELAND
You see those basalt cliffs that rise from the sea? They're called Reynisdrangar sea stacks.
Legend has it that the Reynisdrangar formations are actually two trolls. One night when they were trying to pull a three-masted ship out of the sea, the sun began to rise. And, as all us fairy tale fans know, trolls caught in daylight are turned to stone, so these two guys got stuck with this craggy rock form for time and eternity.
Read next: How to plan an Iceland road trip in winter
DYRHOLAEY AND THE LIGHTHOUSE
If the black lava sand wasn't already an attraction for most visitors, add the massive 120 m high Dyrhólaey promontory to that list. Dyrhólaey is located at the southernmost tip of Iceland and if you visit during summer, you might see puffins here.
In Icelandic, Dyrhólaey means "door hole island," although it's not really an island. The name stems from the 120 m high archway that was created by a volcano eruption thousands of years ago and formed by the erosion of the ocean's currents. The arch in the cliff is so big that ships and even small air planes can pass through it – hence the name.
A short walk from the parking lot is Dyrhólaey lighthouse from 1927. From the top I got a full view of the area and the gorgeous coastline. To the north I saw Mýrdalsjökull glacier, to the east the beautiful Reynisdrangar, to the west the endless black coastline and behind me was the massive lava peninsula in the sea.
It was really windy up there, but totally worth it for the views!
At this end of Reynisfjara black sand beach was a high lava rock called Arnardrangur or "Eagle Rock". The name comes from the eagles that nested there until 1850.
We spent a couple of hours watching the sunrise and the apocalyptic-looking landscape – most of it looked like another planet! I had an amazing trip to Reynisfjara black sand beach and it's seriously one of the coolest places. A MUST see in Iceland for anyone doing a South Iceland drive or looking for a day trip from Reykjavik. I highly recommend it.
WORDS OF WARNING
I totally understand that people want their photo taken with the waves in the background (I did it, too), but the beach can be dangerous. In this Iceland article by a local you can see a video that shows exactly how dangerous those Iceland sneaker waves are – and you'll see how they got their name. It's scary.
The waves at Reynisfjara sand beach can be extremely powerful and deadly – and yes, by this I mean that the seemingly calm ocean could send a sneaker wave high up on the beach without warning and suck you out to sea where your are helpless to fight against the strong current. Don't go too close to the waves, and never turn your back to the water.
The cave under the basalt rocks, also known as Hálsanefshellir, is pretty cool, but if you go inside, make sure it's during low tide. You don't want to get trapped inside when the tide is high.
HOTELS NEAR REYNISFJARA
Reykjavik: The Capital-Inn is a budget hotel at a great value. I've stayed there twice and had a great experience both times. Click here to see the latest prices.
Vik: Puffin Hotel Vik is a cute, little hotel near the beach. Rooms are lovely, the breakfast is really great and the staff is so helpful and welcoming. Loved this hotel and it's a great base for exploring South Iceland. Click here to see the latest prices.
WHAT TO PACK
In Iceland, the weather can change very quickly no matter what time of year you visit, so packing layers is always a smart option. Also, in the winter, the most important things to bring are waterproof outerwear and sturdy boots. After all, there's nothing worse than freezing and having cold feet. Here's my packing list for Iceland:
Waterproof and windproof jacket
If you're going to Iceland in the winter, it's worth investing in a reliable waterproof jacket. I've had my white Helly Hansen snow jacket for almost 10 years, and it's still just as great. A ski jacket or a parka would also do the trick. It just has to be waterproof – not water repellant.
Sturdy waterproof boots
I brought my trusty Salomon hiking boots, which have served me well on hikes in Peru, Slovakia and the Swiss Alps. What I like the most about them is that they're waterproof and sturdy, which comes in handy when you're walking on glaciers, icebergs or lava beaches. You know, just another day in Iceland.
Ski Pants
Iceland is cold and windy, so you'll need to pack a pair of ski pants. Not only will they keep you warm, they're also convenient if you need to sit on the ground (for that perfect photo) or walk close to a waterfall (like Skogafoss), which is a wet although unforgettable experience.
A warm hat
While the most practical choice would be a balaclava, they're not really the sexiest, are they. I wore my pom pom hat, which I also use during the winter in Denmark. It protected my ears and head, which is all I can ask from a hat. Just make sure it sits fairly tight, so it won't blow off in the wind.
A scarf
And it should be warm and snug around your neck, so go for a wollen scarf.
Waterproof Gloves
Yes, even the gloves need to be waterproof. Otherwise, your hands will be soaked the minute you touch something covered in snow or ice, which you probably will during the winter. Make sure to buy a pair of waterproof gloves with touch screen so you can use your iPhone.
Fleece-Lined Leggings
Lastly, you'll need a pair of warm leggings to keep warm with maximum movability. I recommend this pair for women. They're insulating and affordable.
TIPS FOR VISITING REYNISFJARA
Entrance and parking is free
Dress warmly and in layers. It's very cold and windy.
Wear sturdy shoes. The pebbles aren't particularly easy to walk on.
Try to go early in the morning. That way you'll avoid the tour busses and crowds, and you'll be there for sunrise.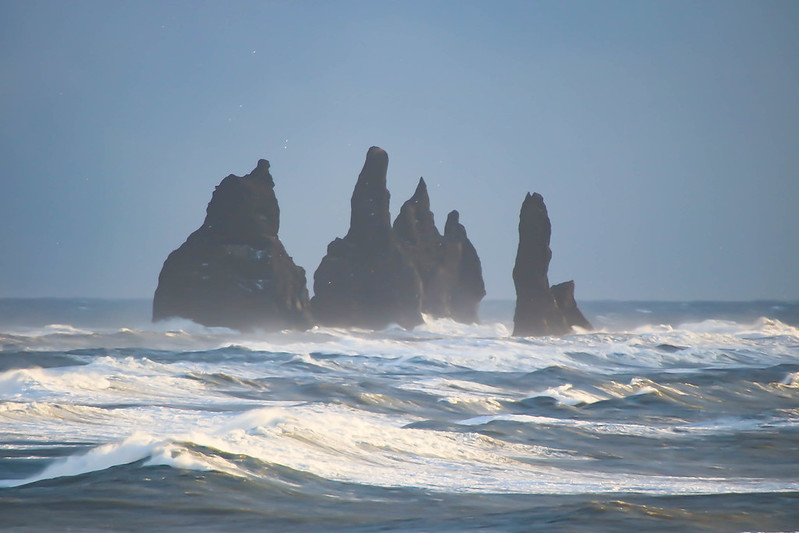 Are Reynisfjara or Dyrholaey places you'd visit?
Read more from Iceland
10 important tips for visiting The Blue Lagoon Iceland
Jokulsarlon Glacier Lagoon is seriously world-class
2 days in South Iceland: The most awesome sights
An adventurer's guide to driving The Golden Circle in Iceland
How to plan an Iceland road trip in winter
Psst! This post probably contains affiliate links, which means I earn a commission (at no extra cost to you) if you click through and make a purchase. As always, I only recommend products and services I trust.