Jokulsarlon in winter: How to visit icebergs in Iceland
Jökulsárlón Glacier Lagoon is one of the most unique places you'll visit in Iceland. Here is my complete guide to visiting the epic Jokulsarlon in winter.
Iceland has glaciers, volcanos, and thundering waterfalls, it has lava beaches and Northern Lights, green canyons, and some pretty impressive geysers.
But the coolest place in Iceland has got to be the luminous-blue icebergs at Jökulsárlón Glacier Lagoon and the nearby Diamond Beach.
I'm telling you: TOTAL highlight of my trip to Iceland. It's one of the most beautiful places I've ever been.
If you visit Jokulsarlon on a winter trip, you'll see fewer people, which is a huge plus. The weather conditions in Iceland are always unpredictable, but in winter you can expect snow, rain, and lower temperatures.
Ready to find out how to visit this popular destination on a winter tour?
Let's dig in!
This post contains referral links for products I love. Adventurous Miriam earns a small commission at no extra cost to you if you make a purchase through my links. Thank you for your support ♡ Learn more
Jokulsarlon in winter
What is Jökulsárlón Glacier Lagoon?
Jökulsárlón is a lagoon of icebergs and ice blocks that come crashing down into the water from Breiðamerkurjökull glacier in Vatnajökull National Park. 
Jökulsárlón means "glacial river lagoon" in Icelandic.
The glacier lagoon is not very wide, but it's the deepest lake in Iceland with a maximum depth of 260 meters.
It's getting larger each year, and although it looks like it's been around for an ice age or two, it's actually only 80 years old. This makes Jökulsárlón special because it grows and looks different every time you visit it.
Each visit is unique.
Where is Jokulsarlon Glacier Lagoon?
Jökulsárlón Glacier Lagoon is located right by Diamond Beach on the south coast of Iceland.
It's 380 km from Reykjavik, so you can expect a 5-hour drive.
When to visit Jokulsarlon
Jökulsárlón is most crowded at mid-day, but nearly everyone stays within 100 meters of the parking lot so it's easy to escape the crowds. You can visit all year round.
Try to get there by sunrise or sunset for colorful photos – plus, the ice diamonds at Diamond Beach are glistening more in the light at those times. Also, look for reflections in the water.
How to get to Jökulsárlón
Buses from Reykjavik to Jokulsarlon take about 11 hours, so it's not a great solution. Your best option is to visit by car (5 hours) or an organized day tour.
I'll go through your two options below:
Guided tour
You can find day tours and multi-day tours to Jokulsarlon from Reykjavik. I've handpicked the best tours for you below:
1-day tour from Reykjavik to Diamond Beach and Jokulsarlon (⭐ 4.5/5) Book here
2-day tour from Reykjavik to Diamond Beach and Jokulsarlon (⭐ 5/5). Book here
Rental car
If you're not joining a day tour, you'll need a rental car.
A self-drive tour is how I prefer to get around in Iceland because there's so much to see off the path. You can rent a car in Reykjavik and other major cities in Iceland.
It's easy to get from Reykjavik to Jökulsárlón – it's a 5-hour non-stop drive on Road 1 (The Ring Road).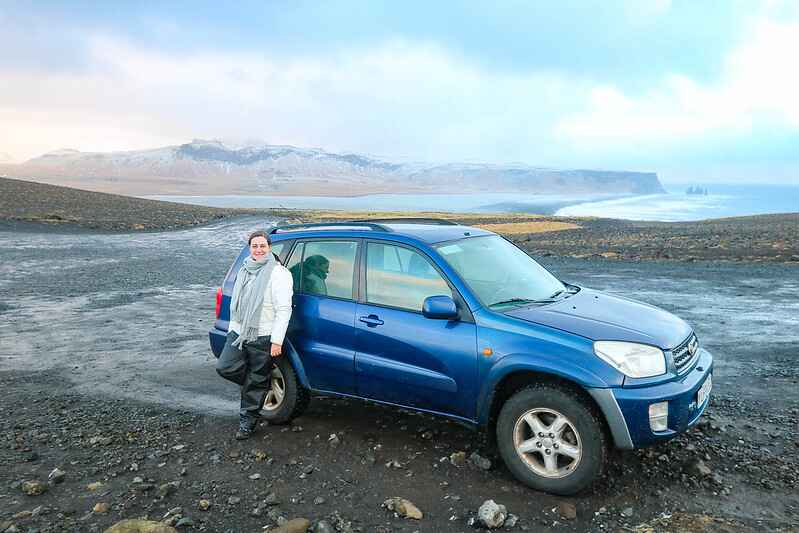 Best Car Rental Company:
DISCOVER CARS
When booking your car rental online, I recommend Discover Cars. They compare prices at car rental agencies all over the country to get you the best deal.
Things to do at Jökulsárlón Glacier Lagoon
1. Photograph the icebergs
The best thing to do at the lagoon is to walk around and see the different sizes and colors of the icebergs.
The turquoise water and floating ice is the perfect backdrop for beautiful photos, especially during sunrise and sunset.
2. Look for seals
Icebergs are not the only noteworthy sight at Jökulsárlón glacier lagoon.
Aside from birds like big seagulls and the occasional Eider duck, you can see seals swimming in the lagoon, relaxing on the blocks of ice, or resting on the shoreline.
I spotted one just as we arrived, but I was fumbling too long with my camera.
✶ Facepalm ✶
3. Visit Diamond Beach
Imagine 1000-year-old icebergs and a black volcanic beach covered in glistening, translucent blocks of ice in different shapes and sizes, much like diamonds.
That's what you'll find just across the road from the lagoon.
On Diamond beach, the ice chunks from Jokulsarlon float out in the Atlantic Ocean and get washed back onto the black sand.
I've never seen anything like it!
Read next: How to visit Diamond Beach Iceland in winter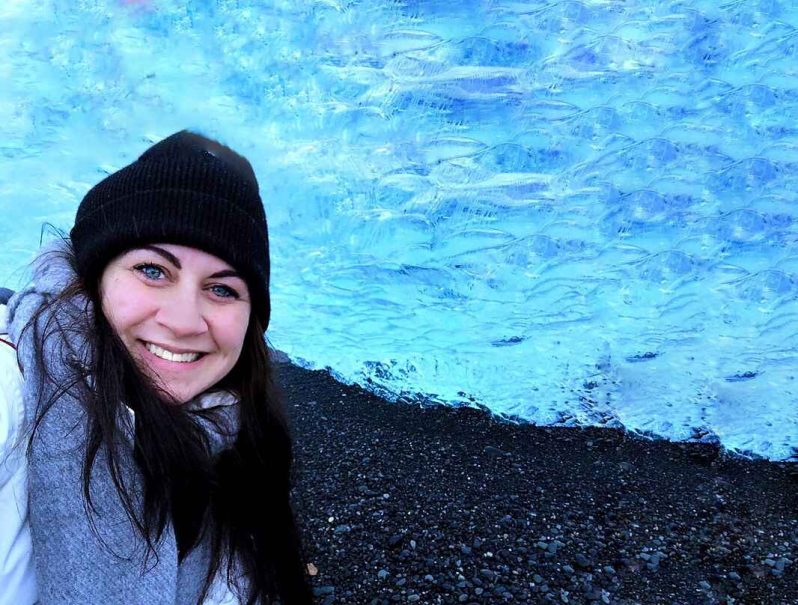 4. Northern Lights
Oh, yes.
One of the major benefits of visiting in winter is the aurora borealis. If you visit the glacial lake from October to March and the skies are clear, the lagoon can be an incredible spot to watch the northern lights dance above the ice.
5. Hike to the top
At Jokulsarlon, there's a hill you can climb to get a good panoramic view from the top.
I highly recommend wearing sturdy boots as it gets slippery, especially in winter.
Boat trips are not available in winter
From May to October, you can join a boat tour and sail between the icebergs! Unfortunately, it's not open in winter.
There are two boat tours at Jökulsárlón:
The Amphibian boat tour is done in a large boat and takes 30–40 minutes. During the excursion, you sail among the huge icebergs.
The Zodiac boat tour is a smaller boat (max 10 people) so you get closer to the icebergs than on the amphibian.
Before you get on the boat, they suit you up in flotation suits and a life jacket.
What's it like to visit Jokulsarlon in winter?
It's going to be cold, I won't lie. It might also rain. But trust me when I say, this place is so unique that you won't care. You'd want to visit even in a snowstorm.
When we got to Jökulsárlón Glacier Lagoon around 11 a.m., the sun had just risen but was hiding behind a rainy and cloudy sky.
I didn't care.
I jumped out of the car, into my rainwear, and skated towards the icebergs on the slippery, wet snow. And guys – they did not disappoint.
There are icebergs everywhere! In the water, on the shore, and along the shoreline.
How much time to spend at Jokulsarlon
In the winter, you'll probably spend around 2 hours at Jokulsarlon. Add 1-2 more hours if you're visiting Diamond Beach across the road – which you obviously should!
What to wear in Jokulsarlon Glacial Lagoon
Since the weather in Iceland is oh-so unpredictable, you should always bring rainwear (a rain poncho would do, too). And dress in layers.
In the winter months, definitely wear a warm, waterproof parka and snow boots.
Read next: What to wear in Iceland (packing list for all seasons)
FAQ – Jokulsarlon Glacier Lagoon
Is Jökulsárlón Glacier Lagoon worth it?
Absolutely! Jökulsárlón Glacier Lagoon is a stunning natural wonder where you will see icebergs – it's a unique experience and a must-visit when in Iceland.
How much time to spend at Jökulsárlón Glacier Lagoon?
Plan on spending 2-3 hours at Jökulsárlón lagoon to truly soak in its beauty and enjoy the activities.
Remember that days are shorter in the winter season, so plan accordingly.
What is the Jökulsárlón Glacier Lagoon famous for?
Jökulsárlón Glacier Lagoon is famous for its stunning floating icebergs, turquoise waters, and being a prime location to spot seals. It's a true Icelandic gem!
Jokulsarlon is also a popular film location and has already featured in a slew of blockbuster films including Die Another Day, Tomb Raider, and Batman Begins.
Can you swim in the glacier lagoon?
Nope, you can't swim in the glacier lagoon. It's icy cold and not safe for swimming. It's better to enjoy its beauty from the shore or a boat!
More posts from Iceland
Save it!