7 absolute best waterfalls South Iceland
Planning a trip to Iceland's waterfalls? Sounds great! They're some of the most beautiful in the world. Here are the 7 best waterfalls South Iceland.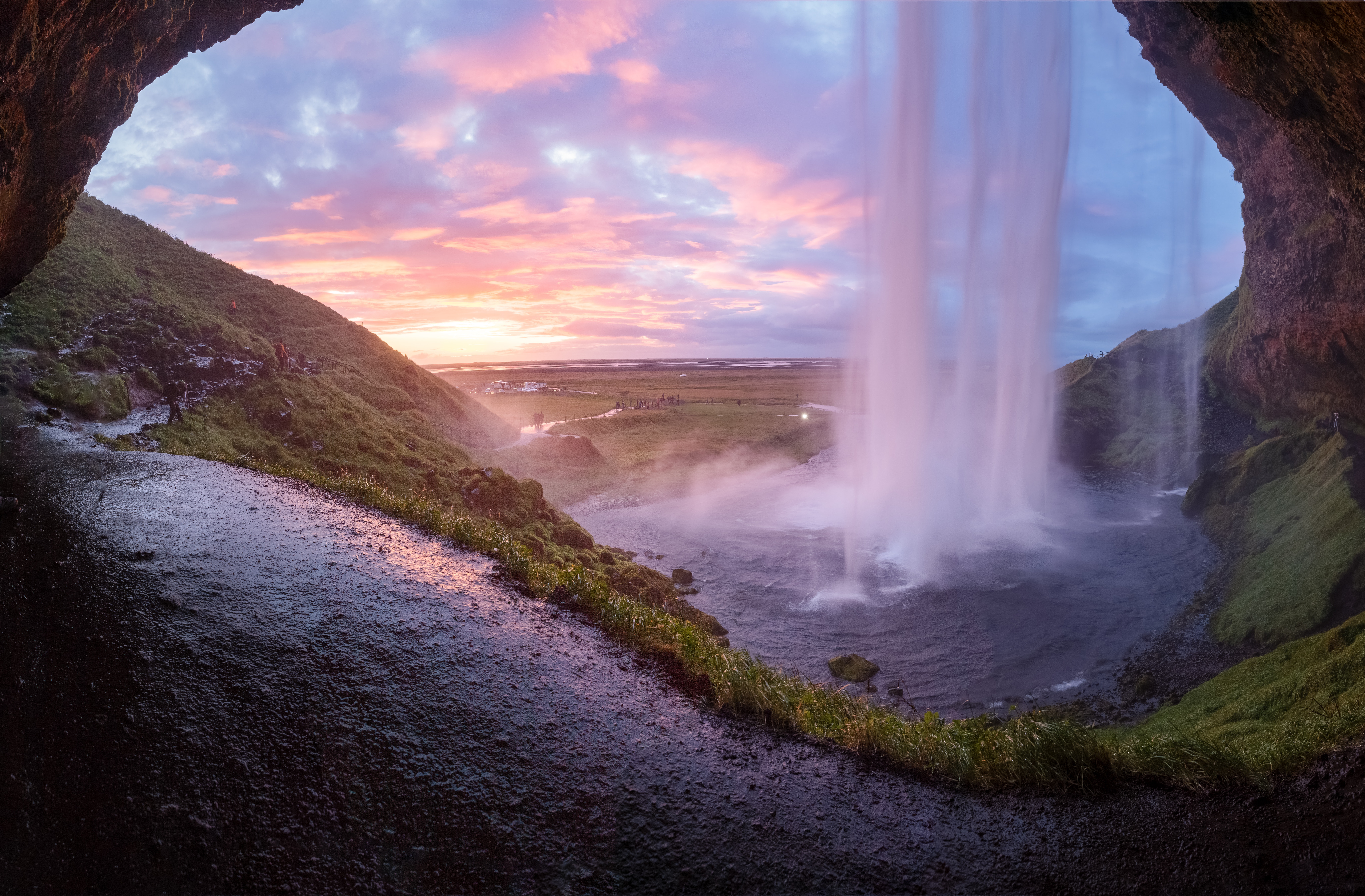 Haven't explored any of Iceland's incredible waterfalls yet?
You're in luck. Iceland's nickname, The Land of Fire and Ice, gives you a guarantee that what you'll find in Iceland is a lot of hot and cold natural beauty.
Volcanoes, lakes, lagoons, and waterfalls abound, and these waterfalls are some of the most beautiful in all the world.
With so many waterfalls to choose from, however, it's important to know which ones to track down.
Here are the 7 best waterfalls in South Iceland.
This post contains referral links for products I love. Adventurous Miriam earns a small commission at no extra cost to you if you make a purchase through my links. Thank you for your support ♡ Learn more
7 absolute best waterfalls South Iceland
1. Seljalandsfoss
This 65-metre-tall waterfall is one of the most wild and roaring in all of Iceland.
The water doesn't fall directly down but rather almost shoots out a little, falling in an arc.
This means that you can actually follow the path behind the waterfall (though I do recommend you come prepared with a raincoat and a hood when you go).
Seljalandsfoss is one of the most popular and most-visited waterfalls in Iceland.
This is partly because it's so easily accessible from the country's main highway, meaning all you need to get there is a car. You can even visit the Black Sand Beach after.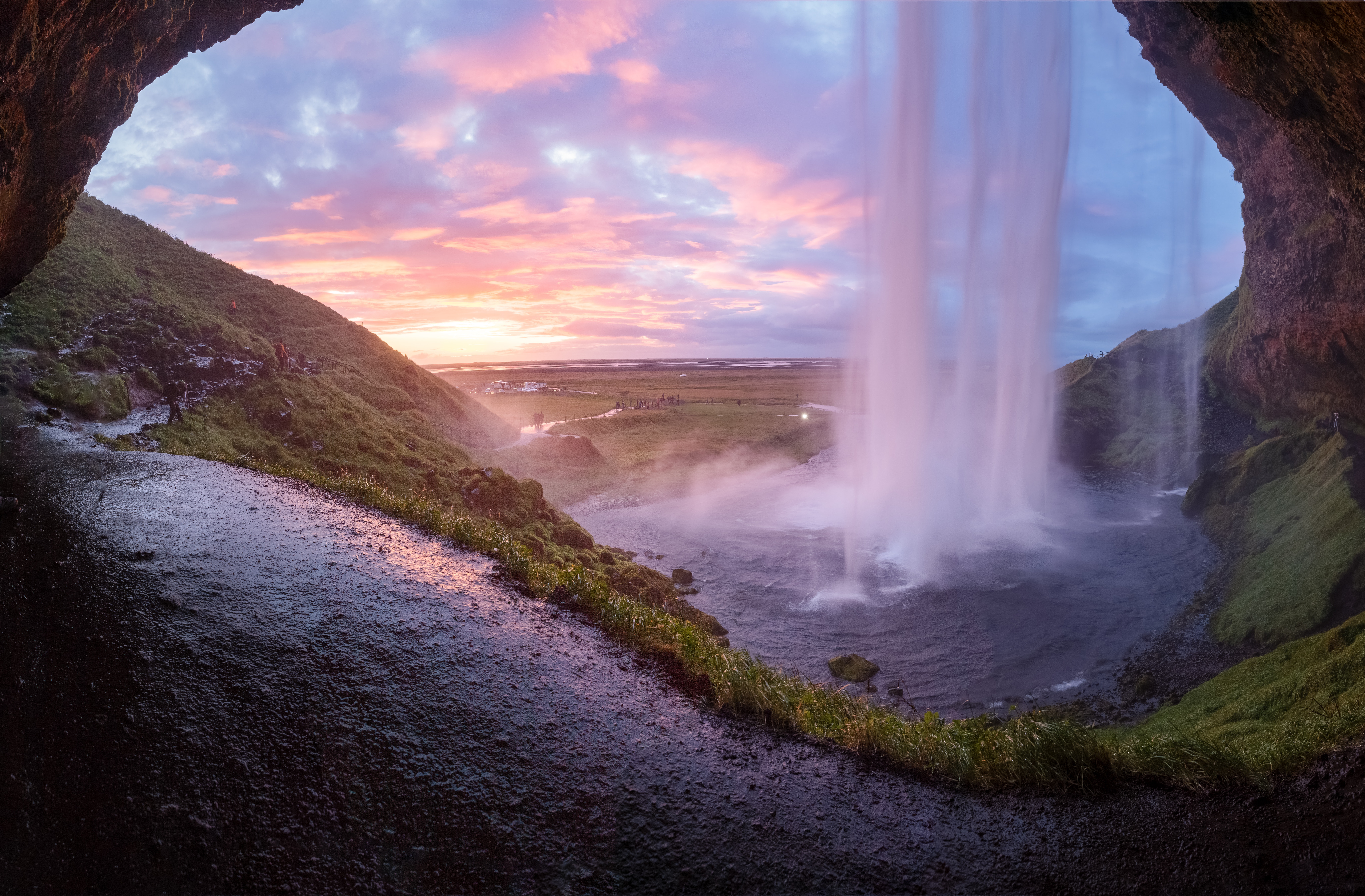 2. Gullfoss
While many believe Gullfoss to be the biggest waterfall in Iceland, it is actually half the height of Seljalandsfoss.
However, Gullfoss waterfall is dramatic in a whole different way. When you visit, you'll see how the water from the river almost disappears into a canyon.
Whereas visitors to Seljalandsfoss stand at the bottom and look up, when you visit Gullfoss you stand at the top and look down, watching the steam rise up and coat the surrounding grasslands in this beautiful gothic mist.
It is also a part of the Golden Circle Iceland tour, making it a popular spot for visitors to take in the rugged natural beauty of Iceland.
Read next: 30 inspiring waterfall quotes about life
3. Skogafoss
Skogafoss is an enormous waterfall, equal in height to Seljalandsfoss and even wider.
You can see it from far away and up close, giving you the chance to admire it from whatever angle and place you fancy.
There's a hill with stairs cut into the land (a total of 527 steps). It takes you alongside the waterfall from top to bottom, and gives you plenty of photo opportunities along the way as Skogafoss always remains in clear view.
Skogafoss is also one of the best waterfalls in Iceland for rainbow-spotting. It's very common for visitors to glimpse rainbows climbing up and encircling the waterfall, adding even more spectacle to this beautiful place.
4. Svartifoss
Any fans of Norse mythology might be familiar with the realm of Svartalfheim, land of the dwarves who live deep underground. Svartifoss shares the same name, with 'svart' meaning 'black'.
This name comes from the black rocks which surround this dramatic waterfall.
The rocks are actually hexagon-shaped columns of cooled lava, and in the summer they glisten and take on an incredible sheen.
Locals have often commented on how these amazing lava columns remind them of the pipes of a church organ, and I agree. Seeing Svartifoss from below is one of the best views in all of Iceland.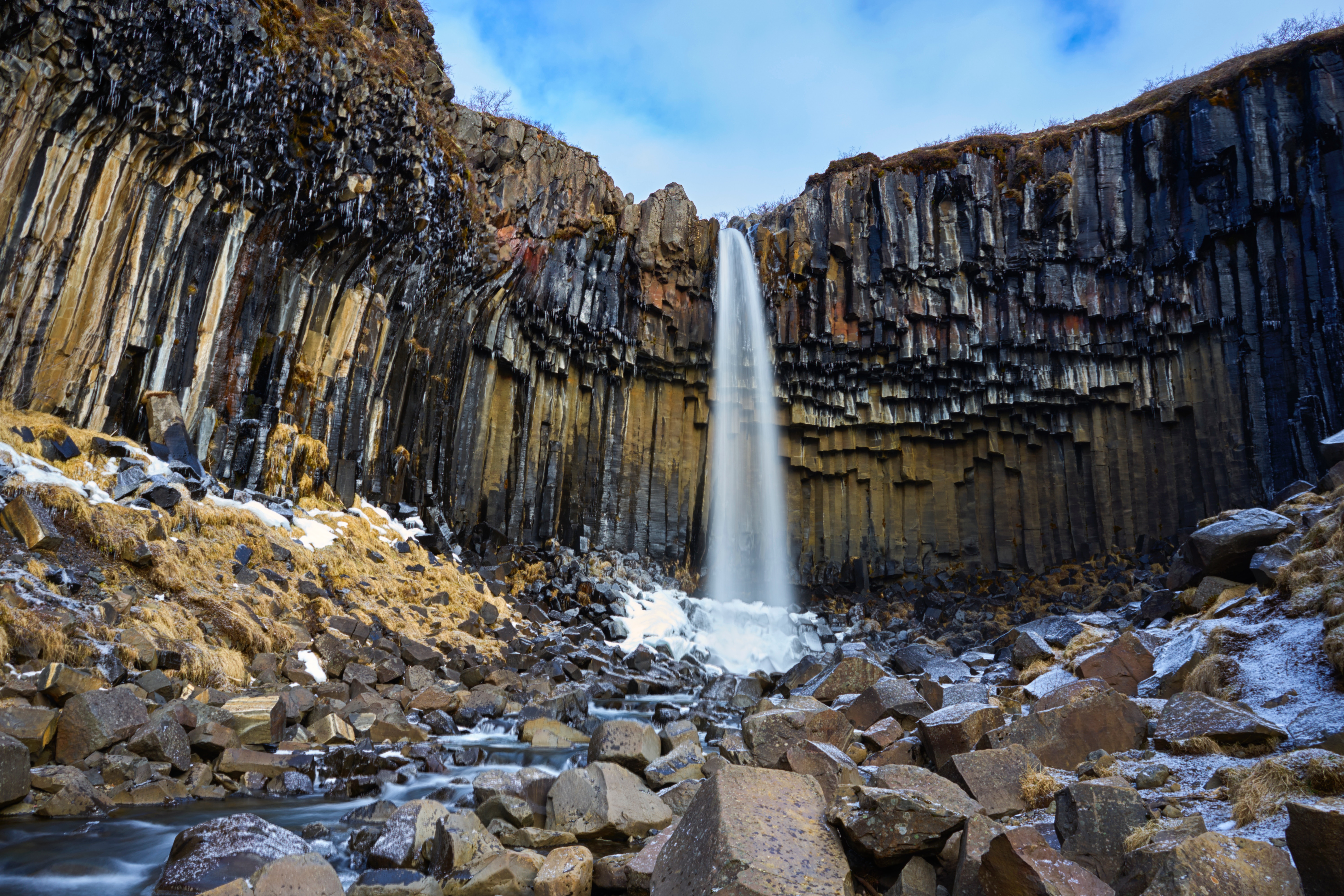 5. Gljufrabui
Also known as Gljufrafoss, this waterfall is one of the hidden gems of Iceland. It's difficult to see or even find if you don't know about it first.
The Gljufrabui waterfall is partly disguised by the rocks which surround it.
But following the trail up to it will lead you into a cave at the base of the waterfall. Inside, you can watch as columns of sunlight filter in and illuminate the water as it plummets into the cave, and listen as the roar of Gljufrabui waterfall echoes off the walls of the cave.
You'll also find a staircase that allows you to get closer to the falls and see it from higher up.
6. Bruarfoss
One of the lesser-known waterfalls of Iceland is pretty off-the-beaten-path. Bruarfoss is found at the end of a beautiful hike near the Golden Circle, following the river which eventually leads to the waterfall.
What this waterfall lacks in dramatic flair, it makes up for in its unique appearance.
The waterfall forms a perfect 360-degree ring, which stirs up foamy blue waters. And that's why many Icelanders refer to it as Iceland's bluest waterfall.
The view of the waterfall, combined with the easy hike that it takes to get there, makes for one of the most relaxed natural experiences in Iceland.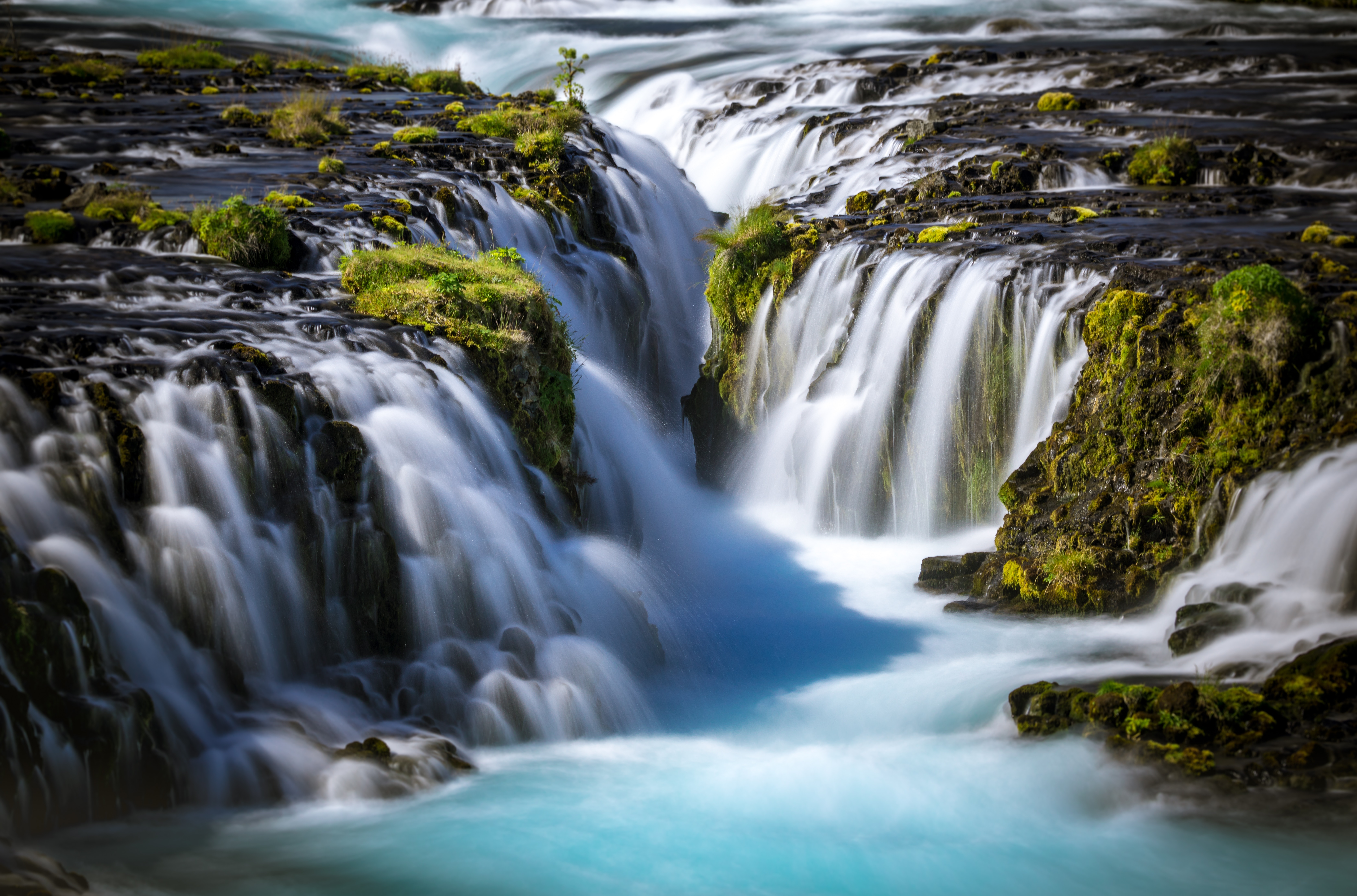 7. Hraunfossar
Hraunfossar is not a single waterfall like most others, but rather a series of cascading falls all linked together across a lava field. Its name translates to 'Lava Waterfalls'.
Because this area is made up of a collection of smaller waterfalls, it makes for a fantastic bit of personal exploration, as you make your way across the area and take in all the different views and perspectives.
It's found on the Golden Circle, so the lava field and Hraunfossar are popular spots amongst most of us visitors to Iceland.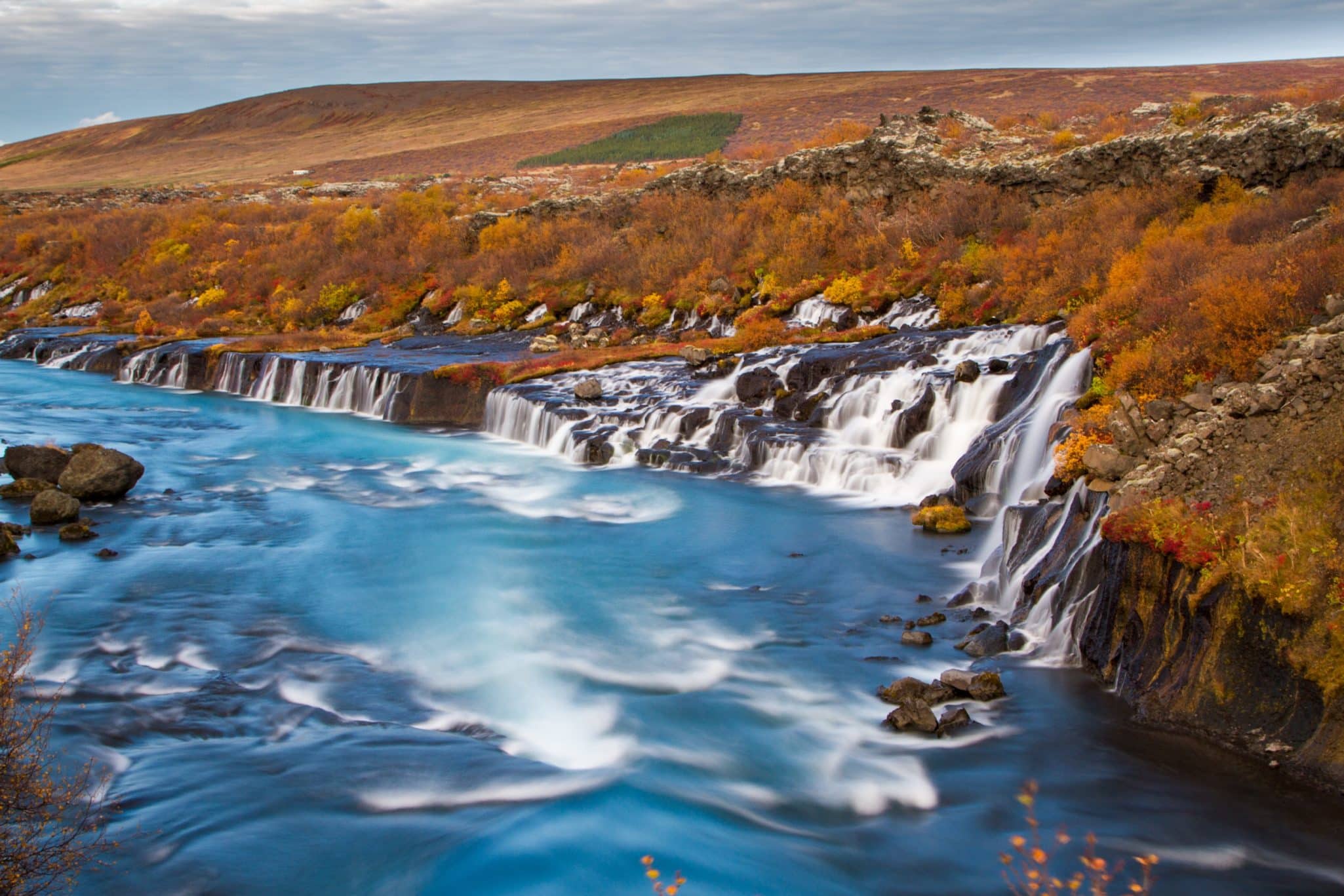 How to visit Iceland's waterfalls
The best way to get around Iceland and see all of these waterfalls is definitely by car.
The biggest pro in doing this is that you make your own schedule, and you can map out your own route in your own time, as I did.
Renting a car in Reykjavik
Renting a car in Reykjavik is easy, and given how popular car rental is in Iceland, it's quick and rental places are everywhere.
Rental places often offer 4x4s and camper vans for those who want to be fully prepared. When planning ahead, the best rental website is Discover Cars, who even offer rental at the airport.
Read next: The ultimate guide to Iceland car rental
Joining a day trip
If you'd rather not rent a car and get yourself around, Iceland also offers plenty of day tours for you to join.
A great website for these is Get Your Guide or Viator; their day tours include the must-do Golden Circle and a day trip to several waterfalls and a glacier, and will guarantee that you see the best of Iceland's waterfalls.
Book your ticket – South Iceland Glaciers, Waterfalls and Black Sand Beach Day Tour from Reykjavik (⭐ 4.5/5)
Tips for photographing waterfalls
On my visit, I used my Canon EOS 750D. Combining this with my easily transportable tripod meant that I was able to gain long-exposure shots for the absolute best results.
This is the ideal way to photograph the waterfalls, and you absolutely should if you can.
For best lighting, both sunrise and sunset will guarantee those golden colours and make the waterfalls themselves look the most alive and vibrant.
Cloudy weather is not always your friend, but in Iceland is certainly can be as it adds so much gothic and dramatic mood to the already moody landscape.
Fortunately, the falls themselves – especially Gullfoss – kick up enough steam and mist to provide those excellent gloomy shots that drip with dark atmosphere. Combining this with a sunset or sunrise setting, and you have a winning shot.
Read next: Photography basics: How to take amazing travel photos
FAQ – Waterfalls South Iceland
What is the waterfall on the south coast of Iceland?
Seljalandsfoss is one of Iceland's most famous waterfalls and is known for the fact that you can walk behind it.
The water at Seljalandsfoss drops from a height of about 60 meters (almost 200 feet) over the cliffs of the former coastline.
What is the large waterfall south Iceland?
The large waterfall in south Iceland is Skógafoss. It's one of the biggest and most visited waterfalls in the country, with a drop of 60 meters (about 200 feet) and a width of 25 meters (about 82 feet).
Skógafoss is a popular tourist attraction and is easily accessible from the Ring Road.
What is the most picturesque waterfall in Iceland?
You'll find many picturesque waterfalls in Iceland. If you seek a unique experience, walk behind Seljalandsfoss.
For sheer power, Skógafoss on the south coast is breathtaking.
On the Golden Circle, you'll encounter Gullfoss, a multi-tiered spectacle.
But don't miss Goðafoss in the north, aptly named the "Waterfall of the Gods." Choosing the most picturesque is a personal journey.
Can you walk behind Skogafoss waterfall?
No, you can't walk behind Skógafoss like you can with Seljalandsfoss.
Skógafoss has a staircase that lets you climb up for a fantastic overhead view. It's totally worth the climb, and the views from the top are amazing!
Iceland packing list
So, what do you need to take for a successful trip to Iceland?
As mentioned, get yourself the best possible quality camera you can, as well as a phone with GPS for if you get waylaid on your road trip. Also wrap up warm (it's not called Iceland for nothing).
I recommend clothes that limit the effects of the wind, and shoes that are completely waterproof. That said, packing sun lotion is always a good idea, especially in summer. Iceland can be unforgiving with its sun at times.
Waterproof and windproof jacket
If you're going to Iceland in the winter, it's worth investing in a reliable waterproof jacket. I've had my white snow jacket for almost 10 years, and it's still just as great. An insulated parka would also do the trick. It just has to be waterproof – not water repellant.
Sturdy waterproof boots
I brought my trusty Salomon hiking boots, which have served me well on hikes in Peru, Slovakia and the Swiss Alps. What I like the most about them is that they're waterproof and sturdy, which comes in handy when you're walking on glaciers, icebergs or lava beaches. You know, just another day in Iceland.
Ski Pants
Iceland is cold and windy, so you'll need to pack a pair of ski pants. Not only will they keep you warm, they're also convenient if you need to sit on the ground (for that perfect photo) or walk close to a waterfall (like Skogafoss).
A warm hat
While the most practical choice would be a balaclava, they're not really the sexiest, are they. I wore my pom pom hat, which I also use during winter in Denmark. It protected my ears and head, which is all I can ask from a hat. Just make sure it sits fairly tight, so it doesn't blow off in the wind.
A scarf
And it should be warm and snug around your neck, so go for a wollen scarf.
Waterproof Gloves
Yes, even the gloves need to be waterproof. Otherwise, your hands will be soaked the minute you touch something covered in snow or ice. Make sure to buy a pair of waterproof gloves with touch screen so you can use your iPhone.
Fleece-Lined Leggings
Lastly, you'll need a pair of warm leggings to keep warm with maximum movability. I recommend this pair for women. They're insulating and affordable.
More posts about Iceland you might like