How to drive the Iceland Ring Road in 5 days (2023)
Planning to drive the Iceland Ring Road in 5 days? I've got you covered with this curated itinerary that will take you to the best stops across the beautiful land of fire and ice.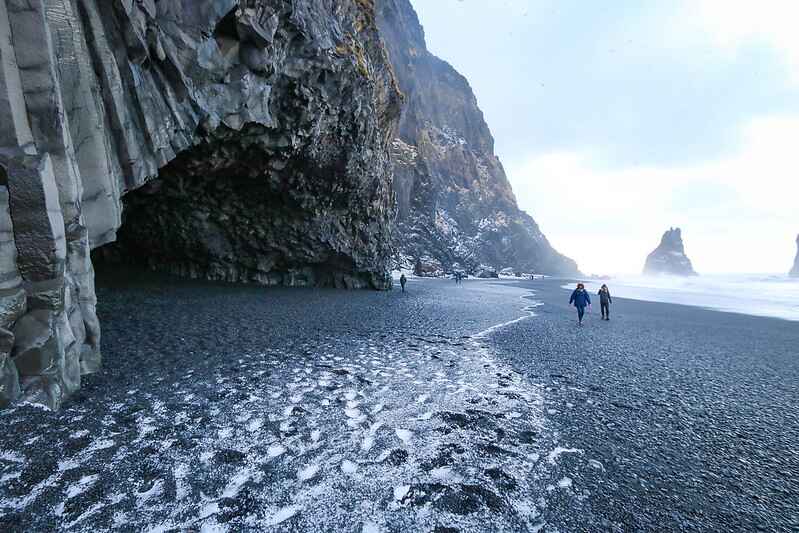 Iceland's Ring Road is made for epic road trips!
You'll come across everything from volcanos to glaciers, black sand beaches to snowy mountains.
And if you can't be here for 10 days or 2 weeks, don't worry, because I've got you covered with this 5-day itinerary. You'll get to see all the main highlights!
Ready to get started? Check out my 5-day Ring Road itinerary below!
This post contains referral links for products I love. Adventurous Miriam earns a small commission at no extra cost to you if you make a purchase through my links. Thank you for your support ♡ Learn more
What is the Ring Road?
The Ring Road, also called Route 1, encircles Iceland and spans 1,332 kilometers (828 miles).
Along the drive, you'll encounter diverse landscapes like glaciers, waterfalls, and volcanoes, and the road remains generally well-maintained and signed.
Can you drive Iceland Ring Road in 5 days?
Yes, a 5-day Ring Road trip is doable!
It will be rushed, but if you come prepared and have your itinerary sorted, you'll be able to see the most important sights!
A few tips:
Keep your gas tank full as fuel stations can be sparse, especially in the North and East.
Book hotels in advance, given your tight schedule and high demand.
Have a GPS or a reliable map; not all areas have good mobile reception.
How to rent a car
You can rent a car from any major city in Iceland, and you'll get the best deals with Discover Cars. Check out my post about how to rent a car in Iceland.
Miriam's tip: Iceland is the one place where you want to buy car insurance with extra gravel protection (GP) to cover windshield and body damage. Gravel on the road is common, and repairs are expensive.
Best Car Rental Company:
DISCOVER CARS
When booking your car rental online, I recommend Discover Cars. They compare prices at car rental agencies all over the country to get you the best deal.
Iceland Road Trip Itinerary (5 days)
Below is an itinerary of your Ring Road road trip. You can drive the route in any direction you want, but my blog post is based on a counterclockwise direction, starting in Reykjavik and going south.
Day 1: The Golden Circle, Seljalandsfoss and Skogafoss
Day 2: Reynisfjara Black Sand Beach, Fjadrargljurfur Canyon, Svartifoss Waterfall, Jokulsarlon
Day 3: The East Fjords, Myvatn, Dettifoss
Day 4: Godafoss, Mývatn and Akureyri
Day 5: Kirkjufell and The Blue Lagoon
Day 1 on the Ring Road
On your first day, you'll cover the famous Golden Circle and the two major South-coast waterfalls, Seljalandsfoss and Skogafoss. Spend the night in Vik.
Where to stay in Vik
Puffin Hotel Vík (⭐ 8.3) – We stayed at this lovely little hotel in Vik. It's 10 minutes' walk from the black sand beach, and the breakfast is great! Check rates and availability here.
The Golden Circle
Beginning in Reykjavik, you can follow the entire Golden Circle – 300 km of road – in half a day.
Making frequent stops along the way to the Grey Geyser, Gullfoss Waterfall, and Thingvellir National Park.
There is so much natural beauty packed into one single day, this is the perfect first day of driving and discovery!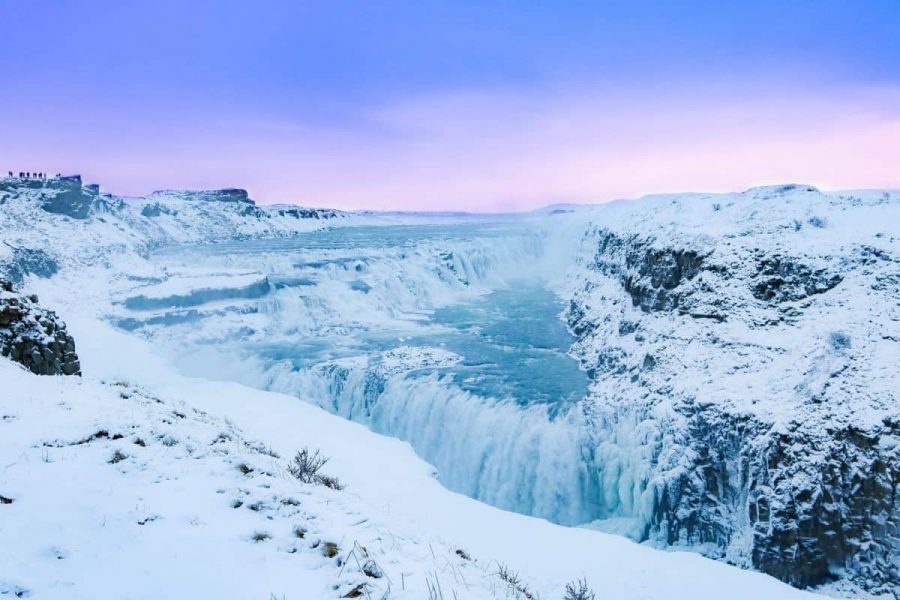 Seljalandsfoss
Next, head south to Seljalandsfoss waterfall. Aim for late afternoon; that's when you get the best light for photos.
I recommend allocating around 45 minutes to an hour.
You'll also want to walk behind the waterfall, so bring a raincoat. The path can get slippery, so good shoes are a must.
Parking's available but can fill up quickly.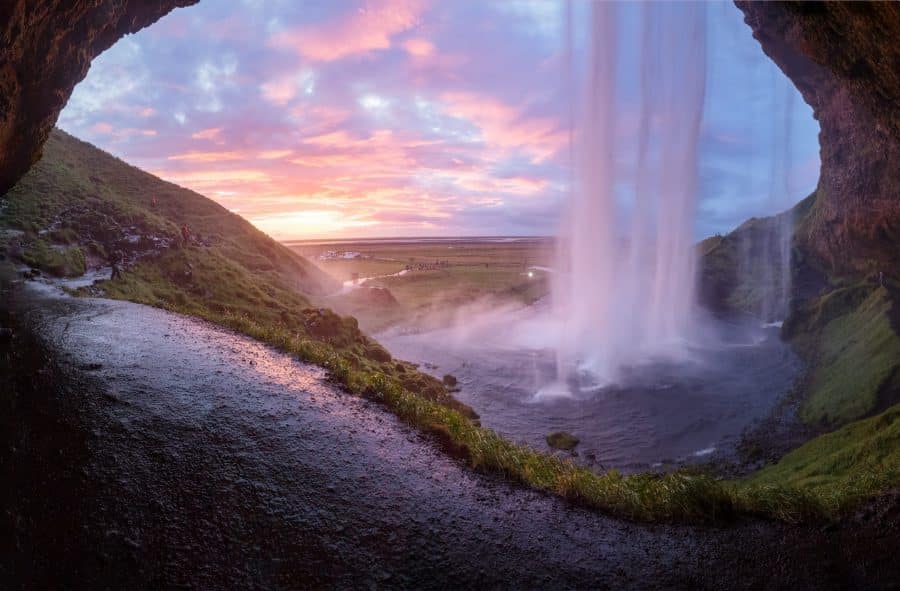 Skogafoss
Close to Seljalandsfoss is the magnificent Skogafoss Waterfall – one of Iceland's tallest and widest waterfalls. It has a drop of some 60 meters and a width of 25 meters.
Plan for an hour; the waterfall is massive and you can hike up to the top for a different perspective.
Again, sturdy shoes are a good idea—the stairs are steep.
Read next: 7 absolute best waterfalls in South Iceland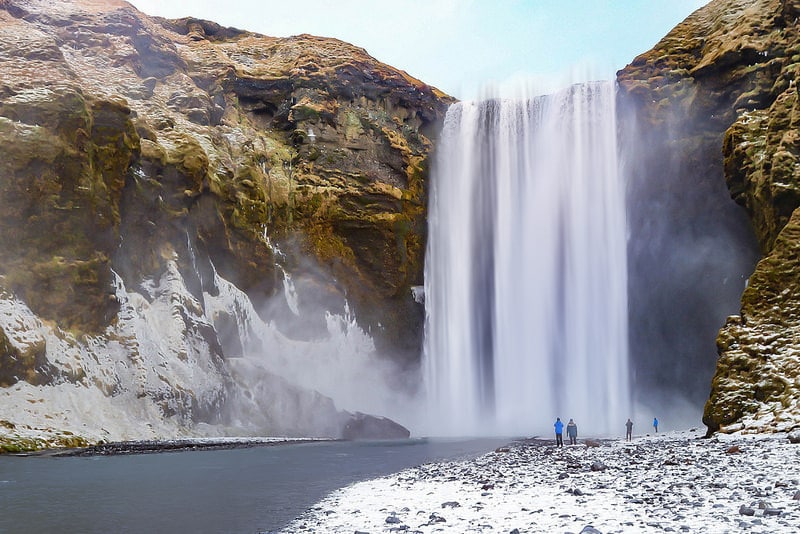 Day 2 on the Ring Road
It's day 2 on your Iceland Ring Road road trip. Today, you'll be visiting the beautiful Reynisfjara Black Sand Beach, a green fairytale canyon, a waterfall, an iceberg lagoon, and a diamond beach. This is my personal favorite day!
Where to stay in Höfn
Aurora Cabins (⭐ 8.9) – A cabin with garden views, free WiFi and free private parking. Perfect for Northern Lights hunting. Check rates and availability here.
Reynisfjara Black Sand Beach
Head to Reynisfjara Black Sand Beach for sunrise; the light's fantastic for photos.
You'll want about an hour here to explore the black sand, check out the basalt columns, and maybe climb some rocks for better views.
But keep an eye on the ocean—sneaker waves come out of nowhere and they're dangerous.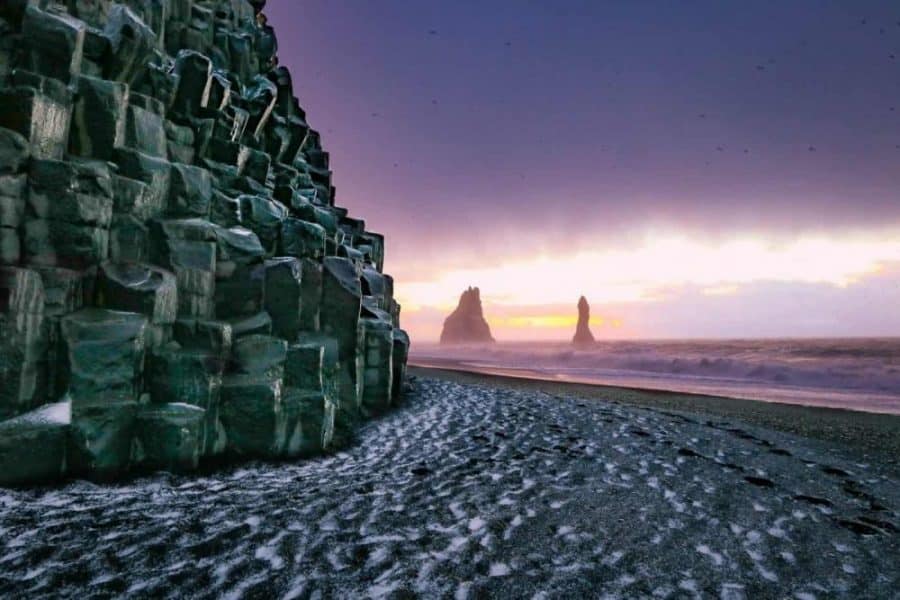 Fjadrargljurfur Canyon
The next stop in South Iceland is the steep, deep canyon of Fjadrargljurfur.
Fjaðrárgljúfur Canyon is a bit off the main Ring Road, but it's a detour worth taking. The canyon has walking paths with stunning views, so wear comfy hiking boots.
Svartifoss Waterfall
Svartifoss Waterfall is a hike-in spot, so get those hiking boots ready.
The trail takes about 45 minutes one way, so block out at least 2 hours for the whole visit. The basalt columns surrounding the waterfall make it unique, so this is definitely worth stopping for!
Parking is available at the visitor center, and from there, you hit the trail. This isn't a quick stop, but it's one you won't regret adding to your itinerary.
Jokulsarlon and Diamond Beach
Jökulsárlón Glacier Lagoon and Diamond Beach are right next to each other, so you can knock out two incredible spots in one go. Plan to spend 2-3 hours in total.
Jokulsarlon Lagoon is full of icebergs calving from a nearby glacier—perfect for both up-close and landscape shots. A boat tour is a good way to get closer, but it's not available in winter.
Diamond Beach is right across the road. It's where those ice chunks end up, sparkling like diamonds on the black sand.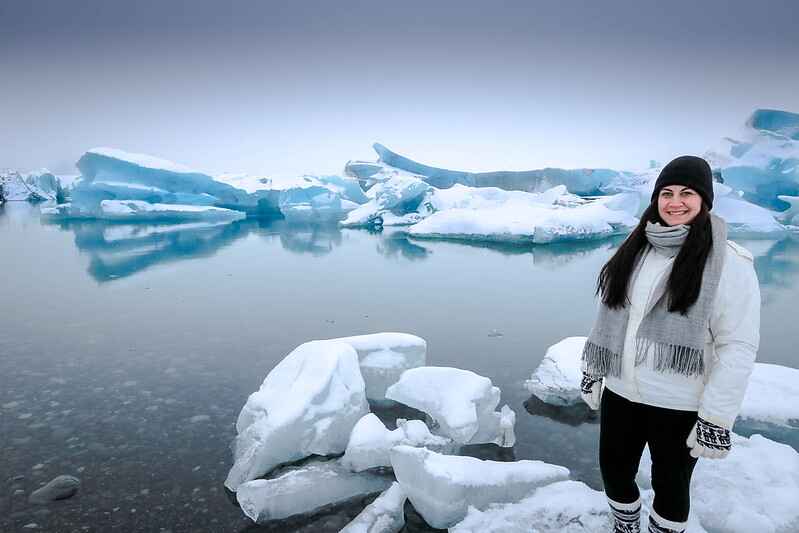 Day 3 on the Ring Road
It's time to head north where you'll come past the East fjords, another canyon, a raging waterfall, and much more. Today is going to be a long drive with lots of driving, so start early.
Where to stay in Akureyri
Hafdals Hotel (⭐ 9.3) – Spend the night at this lovely hotel with a sea view – the perfect place to unwind after a long day of exploring. There's free private parking. Check rates and availability here.
The East Fjords
On your third day, drive north to the East Fjords for a quieter, less touristy experience.
The winding roads take time but offer amazing views of the coastline and mountains. Look out for seals and puffins (in summer).
Small villages along the way are good for quick stops and snacks. Just make sure to keep your fuel tank topped!
Studlagil Canyon
Studlagil Canyon became a hot spot after a nearby hydroelectric plant tamed the once-raging river and revealed these amazing basalt columns.
You can either take a quick stroll from Grund farm for a peek or go for a longer hike on the east side to get up close to the waterfall and river.
Either way, it's a must-see.
Rainbow Street in Seydisfjordur
Further north is Seydisfjordur, a small but lively Icelandic town.
Known for its artist community, you'll see colorful Norwegian-style buildings, quirky garden sculptures, and a rainbow path leading to a blue church.
It's a great place to have lunch and spend an hour or two.
Dettifoss
Dettifoss is the most powerful waterfall, not only in Iceland but in all of Europe.
You can imagine the incredible sound that this power creates as the water roars over the edge and into the canyon below which swallows it all whole.
Despite its incredible size and power, being the biggest waterfall in Iceland, Dettifoss is easy to visit. And that means: great views and photo opportunities are guaranteed.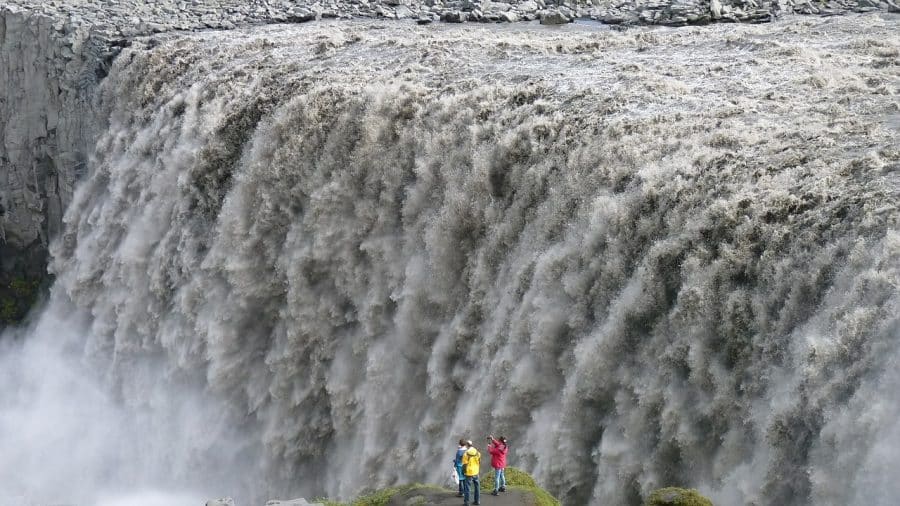 Viti Crater In The Krafla Volcanic Region
Krafla's Viti Crater is like stepping into another world. You'll need to walk about 20 minutes to get to the rim, but it's totally worth it.
Just a heads-up, the rim path can sometimes be closed. But don't worry, even one viewpoint offers stunning vistas of the blue lake and colorful mountains.
As you wander, you'll find a smaller lake, some bubbly mud spots, and endless lava fields. It looks surreal.
Day 4 on the Ring Road
Get up early and explore a few more Iceland highlights on the North Coast. After you've visited Myvatn, you've got a 6-hour drive to Kirkjufell.
Where to stay in Kirkjufell
Kirkjufell Guesthouse and Apartments (⭐ 9.0) – The view is the best part of this guesthouse. Rooms are spacious and it's the perfect location for seeing the Northern Lights. Check rates and availability here.
Akureyri
Akureyri is the Capital of the North.
A couple of hours lets you explore the botanical garden, grab a coffee, or visit the iconic church on the hill. Parking's usually easy to find, and it's a good spot for stocking up on supplies.
Consider it a laid-back break from nature-focused stops.
Godafoss
You may be able to guess from the name but Godafoss is Iceland's waterfall of the gods.
It has a deep and fascinating legend behind its name and its location. It's here that statues of the old Norse gods were said to have been tossed over the edge as Christianity took over Iceland.
While Godafoss may not be all that tall, its width of 30 meters forms a gorgeous crescent that wraps around the lagoon which it falls into.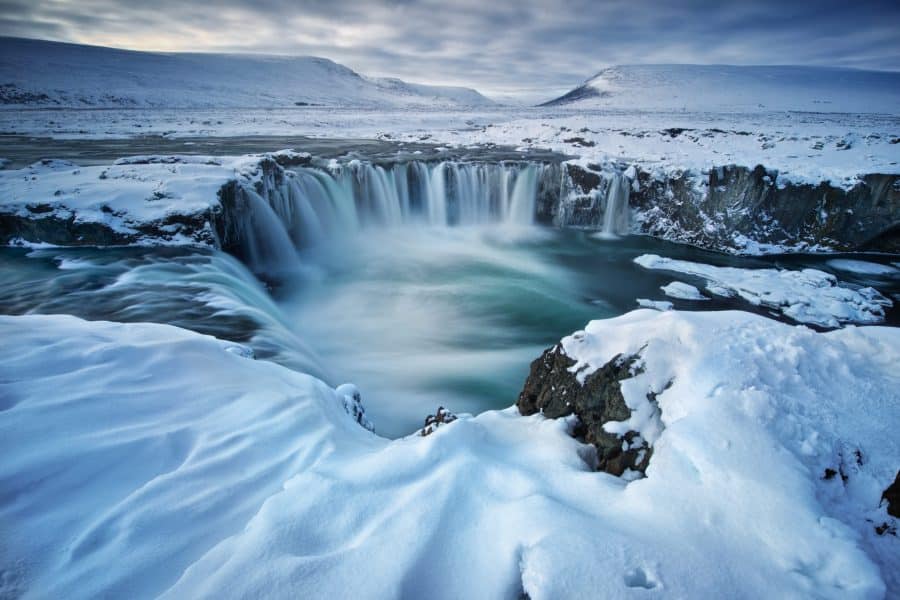 Myvatn Nature Baths
Myvatn Nature Baths is a less crowded, more affordable alternative to the Blue Lagoon.
The geothermal baths have healing minerals and warm water between 36-40°C. Also features two steam baths.
Bring a swimsuit for the Mývatn Nature Baths, and don't miss the pseudo-craters!
Day 5 on the Ring Road
On your last day on the Ring Road, head to Kirkjufell and the Blue Lagoon. Consider stopping by Hellnar, an ancient fishing village hidden amongst a rugged sea landscape before going south.
Kirkjufell
My goodness, Kirkjufell is amazing.
It's a bizarre-looking mountain, almost perfectly symmetrical, tapering up to the heavens.
Beside it is its little sister, Kirkjufell Waterfall.
Try to get the perfect photo that features them both – make sure to stand with the waterfall to your left and the mountain dead ahead. You may even get lucky at night and snap them with the northern lights.
When you're done exploring, head back to Reykjavik.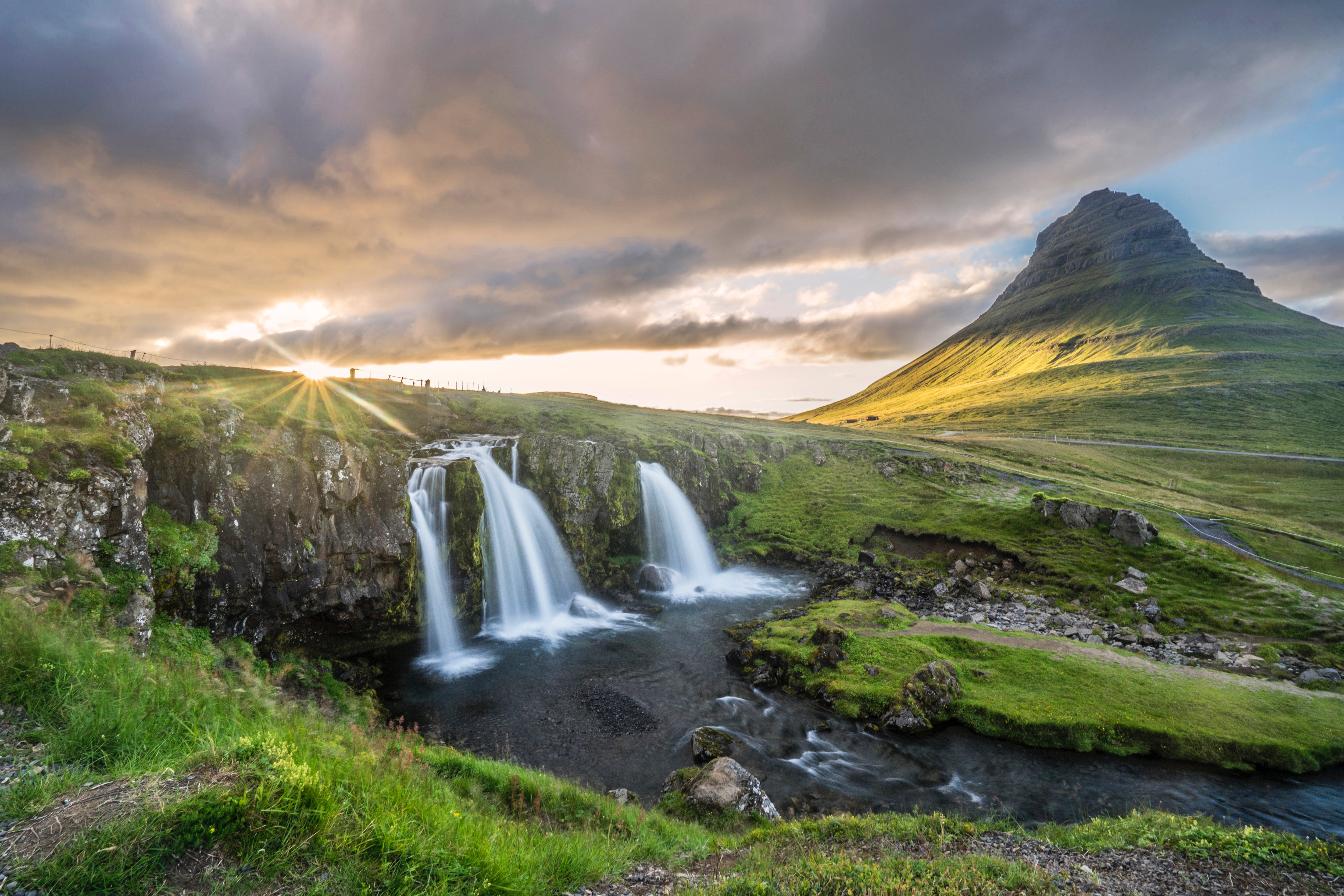 The Blue Lagoon
The last stop on your Ring Road itinerary is one of the country's most famous spots: The Blue Lagoon.
This is an open-air thermal pool that really is blue, as its name suggests. There is a fee to get in ($70) and you need to book your ticket in advance. But it's very much worth it.
Naturally warm rock pools, mud masks, and cleansing waters. It's the best way to finish off your road trip before heading home.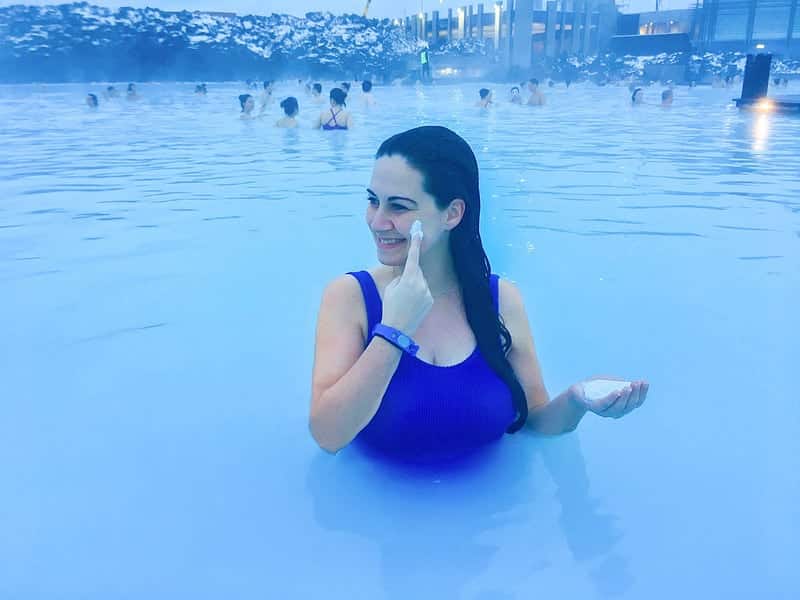 Essential packing list for visiting Iceland
If you're heading to Iceland in the summer, expect the sun to never truly set. So, something that will definitely help you sleep is a comfortable sleeping mask.
And, no matter what the season, Iceland can have sharp winds and some unexpected cold days with snowfall, so don't go without a waterproof windbreaker, even in the summer months.
And, since you'll be taking a long road trip, and you can go a whole day without seeing anyone, make sure you pack some food supplies. Bring a water bottle and a backpack for your essentials.
FAQ – Iceland Ring Road in 5 days
How many days do you need on Iceland Ring Road?
A typical Ring Road trip takes 7 to 10 days, which gives you time for stops and exploration. However, you can do a faster trip in 5 days if you're up for the challenge.
Is 5 days enough to see Iceland?
Absolutely, 5 days in Iceland is enough to experience many of the country's highlights! You'll have to be strategic and prioritize key attractions, but it's definitely doable.
Can you do Iceland Ring Road in a week?
Yes, you can definitely do the Iceland Ring Road in a week!
7 days give you enough time to see all the major highlights, from stunning waterfalls to dramatic volcanoes. It's a good balance between travel time and exploring.
Just remember to book accommodations in advance and plan your fuel stops, especially in less populated areas.
More posts about Iceland you might like
Save it!