The ultimate guide to Iceland car rental in winter (2023)
Looking into an Iceland car rental in winter? You're in the right place as I've been through the process, and I'm here to show you through the entire Iceland car rental process.
Driving in Iceland is the ultimate road trip fantasy come true. It's an island of live volcanoes, blue glaciers, and towering waterfalls.
Public transportation is so limited that it's best to take advantage of car rental in Iceland and set out on the open road yourself.
No matter if you've got several weeks or just a few days, you can still see so much in Iceland.
Ready to find out how to rent a car in Iceland?
Let's take a look!
Find the right Iceland car rental in winter
The first thing to figure out is where to book your car rental.
I recommend checking out Discover Cars because they're the best deal finders for rental car companies in Iceland.
I prefer them since they consistently offer the best deals, and they provide free cancellations up to 48 hours before the reservation.
How to rent a car in Iceland with Discover Cars
3. You're ready to book
Once you've filled out your Driver details, click Book now and you'll get instant confirmation.
That's it! It's so straightforward.
What are the requirements to rent a car in Iceland?
To rent a car in Reykjavik or elsewhere in Iceland, you need three things:
A valid driver's license
A credit card
You're 20 years or older
1. Driver's license
You don't need an international driver's license to drive in Iceland. Your regular license will be just fine. Just make sure it's valid.
2. Payment methods
To rent a car in Iceland, you'll need a credit card. Car rental companies don't like debit cards, for insurance purposes, so make sure you have a credit card.
3. Age
With car hire, Iceland requires you to be at least 20 years old. That's it!
How is the winter weather in Iceland?
And now to the weather in Iceland.
Let's talk about winter and how it is to drive in Iceland.
Winter in Iceland is cold, with temperatures between -10°C to 1°C (14°F to 34°F). Coastal areas, like Reykjavik, are milder, while the interior is colder.
In Iceland's winter, coastal areas like Reykjavik get intermittent snow, often just a few inches that can melt quickly. The interior and north see more snow, sometimes several feet over the season.
Daylight is short, and weather can change quickly, so be prepared.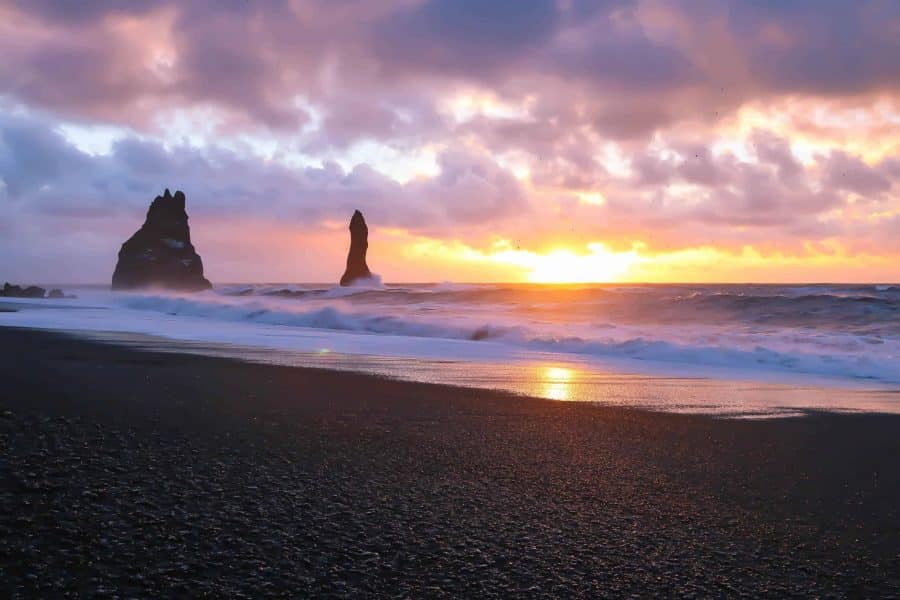 How are the roads in Iceland?
The Ring Road and other main roads are excellent and well-maintained.
However, you'll most likely want to venture off the beaten path on a road trip, so you'll need a 4×4, Jeep or SUV in the winter.
What if I get in an accident?
Your car rental company, Discover Cars, will provide you with insurance that covers roadside recovery, along with a number to call.
If you're injured, the emergency number in Iceland is 112.
Facts about driving in Iceland
Speed limits
When you're driving in Iceland, the speed limit shifts between 30km/h and 50km/h in populated areas.
It's usually 80km/h on the rougher tracks and roads, then goes up to 90km/h on the main roads. Also, speed is strictly enforced so you really shouldn't take any risks!
Which lane is used for driving?
After you rent a car in Iceland, remember to drive on the right side of the road. The driver sits on the left side of the car.
What it's like to drive in Iceland in winter
Driving in Iceland is incredible. Iceland might well be the most beautiful place on Earth for all its natural wonders and rugged landscapes.
The roads are open and quiet. They're well-maintained and everything is signposted clearly. You won't come across anything you can't handle.
How to choose the perfect car in Iceland
Are you going on a short trip or a long road trip?
Likelihood is, it's the latter. Most people who visit Iceland take a long road trip to see everything.
And that really is the best option.
If you're taking the car into the more rugged areas, down the rougher roads, and you're driving in the snowy season, I definitely suggest taking a 4×4. And when it comes to 4×4 rental, Iceland is very well-stocked. Most of the rental places stock a range of 4x4s.
Manual or automatic
Typically, with car hire, Iceland prefers manual transmission. If you can drive a stick, you'll get access to the broadest selection of rental choices.
If you only drive automatic, though, you'll still be fine. But your rental car may cost a little extra.
Car rental in Iceland
What's the best place to rent a car in Iceland
The best place to rent a car in Iceland is Keflavik Airport in Reykjavik because it has such a large selection.
A Keflavik Airport car rental is the most convenient since you're flying there anyway. You'll find the most rental car companies there, with a wide range of vehicles to choose from.
One-way rental fee
This basically means renting from one branch and returning to another. If you're planning on driving across a whole country in one direction, this option really frees you up on your journey.
However, when it comes to car hire, Iceland is very circular. Taking a road trip, following the Golden Circle or Silver Circle, you always start and end in Reykjavik.
The one-way rental fee usually doubles the price of your rental, which is fine if you've got the money to do it! But in Iceland, it's not really necessary. All roads lead out of, and back to, Reykjavik.
Costs and extra charges
The biggest extra costs are fuel and upgrading your car. If you're going out in winter, where snow can be heavy and the weather is unpredictable, it's best to upgrade to a 4×4. And that will cost you extra.
Other than that, fuel is about $2.3 per liter, and you need to factor that in when you're budgeting.
Minimum age
The minimum age for car hire in Iceland is twenty. If you're 20, you're good to go!
Documents you need for renting a car in Iceland
All you need to rent a car in Iceland is your driver's license (international is fine but not necessary) and a credit card.
If you rent a car in Iceland, you can take a ferry to Denmark and the Faroe Islands. And there's no border-crossing card required to take your car.
Budget for your road trip in Iceland
You've probably heard that car hire in Iceland is expensive. And while I won't argue with that, you can still visit Iceland without breaking the bank.
Remember, while most of your budget will go to car rental and hotels, more or less every sight – every waterfall, glacier, black sand beach, and iceberg – is FREE.
There's no admission fee to any of the sights (unless you book an ice cave tour or a whale watching tour or something similar). So, take that into consideration when you plan out your budget.
Accommodation: $200 per night for a nice apartment
Food: $20-30 per day for eating out
Car rental: $100-160 per day for a car
Fuel: $2.3 per litre
So, when to visit Iceland?
There's no simple answer to this! Iceland is so diverse that you'll find something great all year round.
Here's what to expect: If you visit Iceland in February and March, or September and October, it'll be cold – probably snow – but they're the best months to see the Northern Lights.
In June, the sun never fully sets, which is a rare experience! July and August are the warmest months and the best for hiking and exploring the terrain.
FAQ – Iceland car rental in winter
Is it safe to rent a car in Iceland in December?
Renting a car in Iceland in December is safe, provided you take certain precautions:
Winter Conditions: December is in the middle of Iceland's winter, so expect icy and snowy road conditions.
Vehicle: Ensure you rent a vehicle equipped for winter, ideally with studded winter tires.
Drive Cautiously: Always drive slower than you might in less challenging conditions and be prepared for limited visibility.
Check Forecasts: The Icelandic weather can change rapidly, so regularly check weather and road condition updates.
Daylight: December has limited daylight hours, so plan trips accordingly.
Is it difficult to drive in Iceland in the winter?
Driving in Iceland in winter can be challenging due to icy roads and quick weather shifts. But in general, it's easy because the roads are so great.
December and January have limited daylight, so you need to plan accordingly. Make sure you have a winter-ready vehicle and check weather updates frequently. If you're not used to icy conditions, it might be tough.
Do rental cars in Iceland have winter tires?
Yes, rental cars in Iceland typically come equipped with winter tires during the winter months. It's a requirement given the country's icy and snowy conditions.
However, it's always a good idea to confirm with the rental agency beforehand to ensure that the specific car you're renting has them fitted.
What is the best car to drive in Iceland in winter?
In Iceland's winter, opt for a 4×4 SUV like the Toyota Land Cruiser or Suzuki Vitara. Ensure it has studded winter tires.
AWD or 4WD vehicles are best for icy conditions. If hitting remote areas or mountain roads, go for a larger, robust vehicle.
Heated seats and steering wheels are a plus. Always drive cautiously and check road conditions.
More posts about Iceland you might like
Save it!