10 delicious traditional foods you must eat in Bologna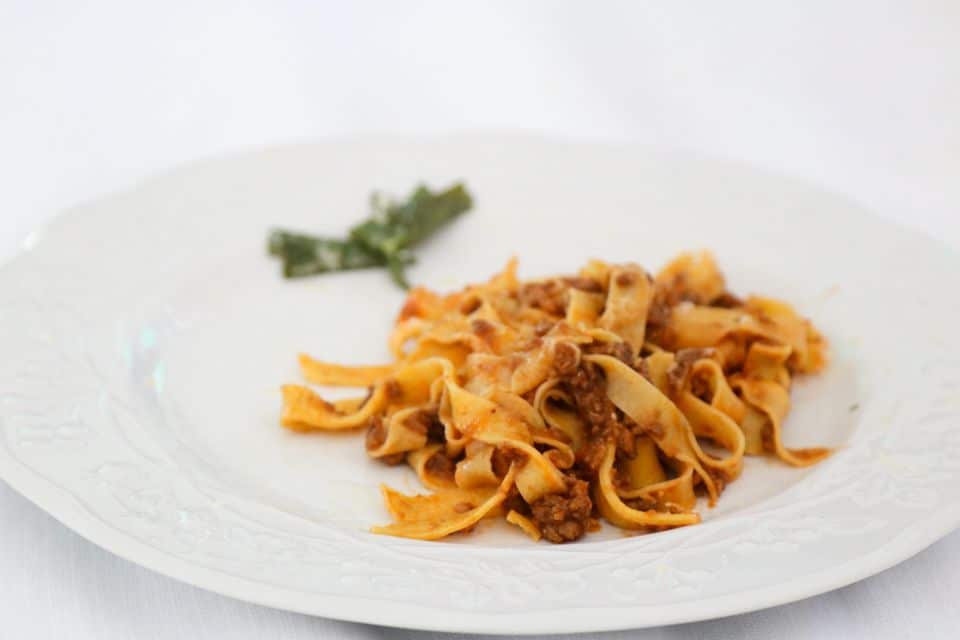 Wondering what food to eat in Bologna? This is a list of the absolute must eat in Bologna, including tips on where to find it.
The cuisine is one of the main reasons to visit Bologna. Delicious pasta, homemade tortellini, mortadella, and flavourful balsamic vinegar and Parmigiano reggiano. The many traditional foods of Bologna has made it the gastronomic capital of Italy – which says quite a lot.
In this post, I'll be sharing the 10 most traditional foods in Bologna, the best restaurants, food shops and markets, and finally a great food tour and cooking class.
Let's dig into the Bologna food guide.
My trip to Bologna was sponsored by Iniziative Turistiche and Assoturismo Confesercenti Bologna.
This post contains referral links for products I love. Adventurous Miriam earns a small commission at no extra cost to you if you make a purchase through my links. Thank you for your support ♡ Learn more
Traditional food you must eat in Bologna, Italy
Bologna is world-famous for its cuisine. It's where the famous tagliatelle al ragu (Spaghetti bolognese), 'Bologney' (Bologna sausage), Parmigiano reggiano, parma ham and Balsamico Modena comes from. So, tasting some of the traditional Italian food is simply a must when you're in town.
I mean, what could be better than eating pasta, pizza and parma ham right in the heart of where it comes from?
Read next: How to explore Bologna in one day
Join a food tour in Bologna
Imagine eating your way through Bologna and getting to know all the inside recommendations for restaurants and great meals from a local.
A Bologna food tour is a fantastic introduction to Italian food.
Your local guide will take you to 6 different historical shops to taste local specialties such as tortellini, ragù, Parmigiano Reggiano, Aceto Balsamico di Modena, mortadella, regional wine and much more.
1. Mortadella
Mortadella is the king of Bologna.
The savoury sausage is made of finely ground heat-cured pork with at least 15% small cubes of pork fat. Sometimes (but not always), it contains pistachios. It's sliced thin and served with bread and cheese or in a sandwich.
Now, you might think that mortadella is boloney's exclusive cousin, or worse – that it IS boloney. It is not. Mortadella is in a whole other league!
Whereas mortadella is made from pork and has cubes of fat break up the meat, bologna can be made of any kind of meat, which is emulsified with the fat into one uniform mixture.
Read next: 3 days in Bologna
2. Tagliatelle al ragu
Another traditional Bologna dish is tagliatelle al ragu – which you probably know as spaghetti bolognese.
Bologna is where the famous bolognese comes from – or a version of it anyways. In Bologna, they call it tagliatelle al ragu, and it's made with long, flat ribbon pasta (tagliatelle) instead of spaghetti, and the sauce has a more intense flavour because it's made with finely chopped celery, onion and carrots and a splash of white wine.
This is the real deal, guys. If you're in Bologna, you have to try it!
3. Tortellini or tortelloni
There's the chewy stuffed pasta you buy from the supermarket back home and then there's Italian tortellini.
I've never had the real deal until I tasted it in Bologna, and now I. Am. Hooked. So buttery soft and stuffed with delicious ricotta, meats or vegetables, these small dumplings are simply amazing – especially when sprinkled with sage.
The tortellini is with meats like pork or chicken, and the tortelloni is sans meat.
4. Tortellini in brodo
Another traditional Bologna dish is tortellini in brodo. Basically, it's tortellini soup as the small dumplings are served in a clear, hearty broth.
5. Crescentine Fritte
Say hello to the most delicious bread in the world: Crescentine Fritte.
This puffy bread has been fried not in oil but in lard, which makes it extra soft and crispy at the same time – definitely a must eat in Bologna.
6. Lasagna bolognese
Layers upon layers of lasagna noodles baked with flavourful Bolognese sauce, bechamel, and Parmesan cheese. Mhhhm…
Whereas we all know the classic Italian lasagna, the lasagna bolognese is a bit different because it's made with bechamel – not fresh ricotta like the original.
7. Culatta parma ham
Bologna and the Emilia Romagna region is home to parma ham, which is perfectly paired with cheese and a glass of local Lambrusco.
Try the lean Culatta, which has a sweet and delicate taste, or go for the Speck, if you prefer a fattier meat.
8. Parmigiano reggiano
THE cheese!
Parmigiano Reggiano is a hard, granular cheese that originated in the Italian regions of Parma, Reggio Emilia, Modena, Bologna, and Mantua. It's made from raw cow's milk and aged for at least two years, which gives it that nutty and salty flavour.
Due to the strict regulations surrounding its production, Parmigiano Reggiano is considered to be one of the finest and most prestigious cheeses in the world!
9. Balsamic vinegar of Modena
The Balsamic Vinegar Tradizionale of Modena is with no doubts one of the Italian most famous and fine products. It comes from the city of Modena, which is close to Bologna.
This world-famous balsamico is excellent for highlighting the flavours of your food. Simply drizzle it over salads or – as in Bologna – over cheese. Go ahead and try it, it's super tasty!
10. Lambrusco
Italy is spoiled with wine, but in Bologna there's a favourite:
Lambrusco
You can get red Lambrusco, rosé Lambrusco, Lambrusco Salamino, Lambrusco di Sorbara, and even white Lambrusco. But always Lambrusco. It's simply a perfect match for the heavier foods in Emilia-Romagna.
Happy hour: Aperol Spritz
Happy hour in Italy is known as an 'aperitivo', and Aperol Spritz is the way to properly enjoy it. The tasty drink consists of prosecco, Aperol and club soda – there's beauty in simplicity.
Bologna food markets
As one of the top food cities in the world, you simply have to walk through at least one of the food markets. There are several to visit in Bologna, and each are quite different. On a food tour, the guide will take you through the markets so you can visit some of the oldest, most historic shops.
The Quadrilatero
The Quadrilatero is one of the most atmospheric areas of the city. It's a must-visit, if you ask me. Imagine a small cobblestone street with rows of food stalls, crowded shops, flower stands, and cafes with tables spilling onto the sidewalk – that's the Quadrilatero. It's a great place for picking up lunch or go shopping for handicrafts or fresh produce.
Historic shops that you shouldn't miss:
Salumeria Simoni – Via Drapperie 5 / 2a
Pastificio Paolo Atti e Figli – Via Caprarie 7
The Tamburini gastronomy – Via Capriarie 1
Bologna's very first indoor market – Mercato di Mezzo
The Mercato di Mezzo (the Middle Market) is an indoor food market, just a few steps from Piazza Maggiore (the town centre). Here, you can stop to eat at the counter or in the few tables in the main hall. ​There's also a wine store.
FICO Eataly world – The Disney World of Food
FICO Eataly world is a massive food theme park where you can discover Italy's great culinary heritage. Like a behind-the-scenes creation of Italian food and drinks. Eataly World spans 10 hectares (25 acres), so don't forget a map and a bike – available for rent.
Best restaurants in Bologna
What should you eat in Bologna? Well, if you go for tagliatelle, tortellini, lasagna and mortadella, you can't go wrong. You can find great food all around Bologna, but these are some of the top restaurants to have a proper traditional meal.
Osteria dell'Orsa
Osteria dell'Orsa is known for traditional Bolognese food like tagliatelle al ragu – a must eat in Bologna.
Sfoglia Rina
This is one of the best pasta stops in town – go for a plate of fresh, handmade tortellini – it's the ultimate comfort food.
Pizzeria Due Torri
If you're looking for a quick bite, look no further. Located near the two towers, you can get a large pizza slice here for just 2 Euros!
Osteria del Sole
For a slightly different and very local experience, head to the Osteria del Sole in Quadrilatero. Opened in 1465, it's the oldest tavern in Bologna!
The unique thing about this restaurant is that you bring your own food (bought in the outdoors shops) – you can order wine, beer, and spritz there. It's a characteristic meeting place, and it has been visited by several famous people like Marilyn Monroe (check out the photos on the walls).
Cooking class in Bologna
If you feel like trying to cook your own pasta, I highly recommend joining a cooking class. This is where I had the best pasta in Bologna – and I made it myself, which was so much fun.
You can find great cooking classes in Bologna city (like this cooking class), but if you want an authentic experience and learn how to make grandma's traditional meals, head to the Try and Taste cooking school in the food valley of Bologna and Modena.
The two sisters, Monica and Barbara teaches you how to make pasta from scratch in a very relaxing and authentic atmosphere. I highly recommend going – it was the highlight of my trip to Bologna. 
Before you go – don't miss these posts: