How to spend a day in Edinburgh Itinerary [2023]
Spending a day in Edinburgh? Find the best things to do right here.
Edinburgh might just be the most haunted and atmospheric city I've been to. And you know, it has had its fair share of serial killers, ghost stories and plague outbreaks.
In the Old Town, memories from the Middle Ages lurk around every corner, in the dark alleyways and the moldering graveyards.
In this post, I've put together all the unmissable things to do if you have a day in Edinburgh.
I've also pinned all the activities in this guide on a map so that you'll have more context when planning your trip.
Read next: The perfect Scotland itinerary 7 days
This post contains referral links for products I love. Adventurous Miriam earns a small commission at no extra cost to you if you make a purchase through my links. Thank you for your support ♡ Learn more
Planning a day in Edinburgh
Is a day in Edinburgh enough?
Honestly?
No, one day in Edinburgh is not enough to see all the best sights in Edinburgh. Sorry, but it's not gonna happen.
In a perfect world, you'd have 2-3 days, which would give you time to really experience all that Edinburgh has to offer. If you do have a day more to spend here, you should.
However, if one day in Edinburgh is all you got, we will make it work, and I'll help you! I've rounded up the top highlights so you can see those, but brace yourself: it's going to be a tight schedule.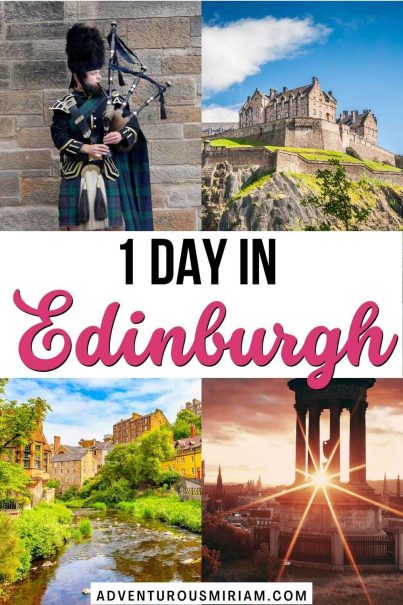 Getting from the airport
You know the feeling when you just arrive in a new country, right?
You're tired, maybe you don't know the language, you're looking for an ATM and it's all slightly confusing. Personally, I make sure to plan in advance for a smooth and hassle-free arrival because it gives me a great start to the trip.
The best way to do that? I always have a pickup waiting at the airport so I don't have to worry about taxis, prices and haggling.
In Edinburgh, you can pre-book a bus ticket from/to the airport. It's super cheap and just as easy. Definitely the way you want to go.
Map of Edinburgh
On this map, you can find the best things to do in Edinburgh. You can use the + and – icon in the left corner to zoom in and out. Click the purple pins to see the sights.
Edinburgh in one day
Edinburgh itinerary
Calton Hill
The best place to begin your one day in Edinburgh is at Carlton Hill.
It'll give you one of the best panoramic views and viewpoints in Edinburgh.
You'll also find several iconic monuments up there, like the National Monument and the City Observatory.
Calton Hill is easy to hike and it only takes 5-7 minutes. I also went there in the morning to catch the sunrise, but you know.. Scotland and the weather.
The Royal Mile
Next up is the Royal Mile.
The Royal Mile is a walking street in the heart of Edinburgh's Old Town. It has Edinburgh Castle at one end and the Palace of Holyroodhouse at the other.
Basically, it's packed with most of the best things to do in Edinburgh. To explore it, simply begin in one of the ends and follow the road. My Edinburgh itinerary begins at the end where Palace of Holyroodhouse is located.
Things to do along the Royal Mile
🏰 Edinburgh castle
🔮 Camera Obscura
🥃 The Scotch Whisky experience
👻 The Real Mary King's Close
🏴󠁧󠁢󠁳󠁣󠁴󠁿 Scottish Storytelling Centre
⛪ St Giles' cathedral
🏛️ The Scottish Parliament
🏰 Palace of Holyrood House
Mary King's close
Next up is one of the most atmospheric and historic spots in Edinburgh: Mary King's Close.
Back in the 1600's, Mary King's Close was one of Edinburgh's busiest and most vibrant streets. It was named after Mary King of Scotts.
This guided tour was by far the most fun and interesting I joined in Edinburgh and I highly recommend it.
Our guide was absolutely hilarious while realistically explaining how life was 400 years ago. Clue: it wasn't pretty.
St. Giles cathedral
A little further up the Royal Mile, you'll find St. Giles' Cathedral.
Take time to enter the church. It's almost 1.000 years old, so there's a unique atmosphere inside.
St. Columba's Free Church
You'll also walk past St. Columba's Free Church. While there's no need to go inside, make sure to notice the red door.
I love how it stands out among Edinburgh's grey and brown buildings.
Camera Obscura
While on the Royal Mile, make sure to stop by the Camera Obscura and World of Illusions. What you'll get is six floors of optical illusions, cool tricks, a mirror maze and much more.
On the roof there's a panoramic view of Edinburgh. It's super fun to visit, especially when you're traveling with friends or family.
Try a whisky tasting
Another very Scottish thing to do in Edinburgh is drinking whisky.
Now, I'm not really a whisky drinker, but after joining the Scotch Whisky Experience, I am definitely more open-minded.
This place is home to the largest Scotch whisky collection in the world, and you'll get to taste the famous smoked Highland whisky → not my favourite, but it's fun to try.
Read next: 10 best Edinburgh whisky tours you can't miss
Edinburgh Castle
Of all the things Edinburgh has to offer, Edinburgh castle takes the prize. It's perched high on a steep, rocky cliff and has been at the centre of numerous wars, having been attacked and besieged many times.
You'll reach Edinburgh Castle at the end of the Royal Mile. Tickets can be bought at the entrance, or you can pre-book a guided tour here and learn about the bloody history of Scotland and the castle.
For instance, did you know that back in the day many prisoners were locked up in the dark dungeons at the castle… and forgotten?
Watch bagpipers
Scotland has a lot of history and you see traces of it everywhere. From the bagpipers on every street corner to Edinburgh castle which is built on a 700 million year old extinct VOLCANO.
Make sure to stop and listen to some of the bagpipers. They're so unique to Scotland.
Taste haggis
Are you the adventurous type? Then you'll like this one.
When I came to Scotland there was one thing I HAD to try: haggis. On purpose, I didn't read up on what exactly it was because I'm pretty sure it would have scared me off.
I ended up trying haggis three times, each cooked in different ways. And you know what? It was surprisingly good. Sort of spicy and dark in flavour.
🔥 If you're up for it, try haggis at the Arcade Bar. You can find it on a map here.
The National Museum
Now it's time for a bit of history at The National Museum.
The Scotts' history with the English is very much alive today. The quote below is just one of the freedom texts that are found in the National Museum.
Oh, and guess who you'll find?
Dolly, the cloned sheep! I had no idea she was from Edinburgh, but what do you know.
Entrance is free, but if you'd like a guided tour, you can ensure your ticket here.
Greyfriars Bobby
Have you heard about the legendary Greyfriars Bobby? That's your next stop, and it's actually a heart-warming story.
Greyfriars Bobby was a courageous little Skye Terrier who gained fame in the 1800s for standing guard at his owner's grave for an astounding 14 years. He passed away on January 14th, 1872.
He has become part of Edinburgh's rich history, and you can find his statue in front of the tavern with his name. Here it is on the map.
Greyfriars kirkyard
Right next door is Greyfriars kirkyard, which is the graveyard where Greyfriars Bobby and his master are buried (the pink headstone at the entrance).
Here, you'll also come across several Harry Potter names. They're etched on the Giles grave located in the northern yard of the graveyard, also near the entrance.
You can explore the graveyard yourself, but if you'd like a guided tour which includes spooky tales of the bodysnatchers, murderers and murdered at the graveyard, this tour is for you.
The New Town
You've explored the best of Edinburgh's old town, and now it's time for a change.
As a city, Edinburgh is a bit like Jekyll and Hyde when you compare its Old Town and New Town.
Most European cities with a medieval old town have a sharp architectural contrast, like Colmar or Tallinn. But the difference with Edinburgh's Old Town is the atmosphere. It's dark in a ghostly kind of way, while the Georgian town houses in the New Town are classy and simplistic.
Best views of Edinburgh
And there you go. You've seen the best on a day in Edinburgh. If you have time to spare, I recommend admiring Edinburgh's skyline.
I mentioned that Calton Hill was a great viewpoint in Edinburgh, but the view from Camera Obscura building is actually better.
The city also lights up after dark and I was lucky enough to watch it from atop the Edinburgh castle during the Military Tattoo Festival. If you're in Edinburgh in August, the Festivals should be at the top of your list!
Going elsewhere in Scotland? Grab my itinerary to the best road trip in the Scottish Highlands
Where to stay in Edinburgh
Market Street hotel (⭐️ 9.0) has the perfect location in the centre of Edinburgh. You're only a few minutes walk from the Royal Mile, and at the end of the day you can return to your boutique-style room and have a drink at the rooftop lounge. Find the latest prices here.
Disclaimer: Many thanks to Edinburgh Festivals, Visit Scotland and Visit Britain for hosting me on this trip to Edinburgh. As always, all opinions are my own.
More posts from Scotland you might like