The perfect Scotland itinerary 7 days
Keen for a wee road trip in Scotland? Check out my Scotland itinerary 7 days, which includes whisky tastings, Scottish castles and finding Nessie.
I spent a week in Scotland and found a lot of fun places to visit. I think it's actually the perfect amount of time to visit the highlights: Edinburgh, Scottish highlands, Isle of Skye and Loch Ness.
In this post, I'll share the absolute best things to do in Scotland in 7 days. While it's possible to take the train and busses, several of the places on this itinerary are located in the wild. You'll need a car to get around or join an organised trip to see everything on the list.
Let's go!
This post contains referral links for products I love. Adventurous Miriam earns a small commission at no extra cost to you if you make a purchase through my links. Thank you for your support ♡ Learn more
Scotland itinerary 7 days
Planning your Scotland trip
The best places to visit in Scotland
A week is the perfect amount of time to explore Scotland's best attractions while also allowing you to relax and soak it all in.
Before we go into more details, below is a quick overview of how to best spend time.
Here's the breakdown of your 7-day Scotland road trip:
Day 1 – Edinburgh
Day 2 – Edinburgh
Day 3 – The Kelpies, Devil's Pulpit, Glen Coe
Day 4 – Glen Coe
Day 5 – Glenfinnan Viaduct and Isle of Skye
Day 6 – Isle of Skye
Day 7 – Eileen Donan castle and Loch Ness
Map of your road trip itinerary
Below is a map of your Scotland itinerary 7 days. Use the + and – sign in the left corner to zoom in or out.
How to get around
By car
The best way to experience Scotland is with a car. Plus, a road trip is super fun! The roads in Scotland are well-maintained and signed, so it's safe to drive around the country on your own.
🏁 I use Discover Cars to find and book my rentals. They search all the rental companies for the best prices and you always get free cancellation.
By train
You can also get between the major cities and towns in Scotland by train. However, in the Highlands and the Southern Uplands, you'll need to switch to local busses.
This 7-day Scotland itinerary is only doable by car or organised tours. Otherwise, you need more time since you'll be dependent on public transportation schedules.
Organised tour
Taking organised tours is also an option, and an easy one. You can easily explore Edinburgh by yourself. From there, you can take full-day or multi-day trips to the rest of the country.
This 3-day tour covers Isle of Skye, the Highlands and Loch Ness. You'll get to see the highlights although the itinerary is a bit more rushed than if you had your own car (you can hear, I'm pro renting a car, right).
And that leads me to….
🚙 How to rent a car in Scotland
Where to get your rental car: The best way to rent a car in Scotland is to book it online before your trip. Remember to get a GPS!
You'll begin your trip in Edinburgh, so I suggest you pick up the car there after your stay and return it at Edinburgh airport when you leave. It's easy to get around Edinburgh on foot or with public transportation.
Good to know: One thing you should know about driving in Scotland is that they drive on the left side of the road.
Yep. It takes a little getting used to, but you'll get the hang of it. Also, beware of sheep and other animals on the road, especially on Isle of Skye. There are lots of sheep.
The ultimate 7-day Scotland itinerary
🏰 Day 1-2: Edinburgh
Edinburgh might just be the most haunted, historic and atmospheric city you'll ever visit. It has a long history of serial killers and ghost stories, and you'll see signs from the Middle Ages lurking around every corner.
At the same time, Edinburgh is warm and lively with pubs around every corner, year round festivals and an entertaining arts scene. You'll find lots of things to do here.
🎭 If you can – make sure to visit in August during the Edinburgh Festival. It's legendary, and you will see comedy performances, drama and artists at the Fringe festival or visit the Book Festival, Jazz Festival or many others. I took the photo below at The Royal Military Tattoo Festival. It was the highlight for me!
Top things to do in Edinburgh
1. Hike to Calton Hill
Calton Hill is one of the best viewpoints in Edinburgh, so let's begin there. Aside from the view, you can find these three monuments and buildings:
The National Monument: Built to commemorate Scottish soldiers who died in the Napoleonic Wars.
The Nelson Monument: A tower in honour of Admiral Lord Nelson's victory at the Battle of Trafalgar in 1805. You can climb to the top.
The City Observatory: Interactive exhibits about astronomy and space.
🔥 I recommend visiting Calton Hill in the morning. It's an easy hike from the Old Town and should only take you 5-7 minutes. Here's a map.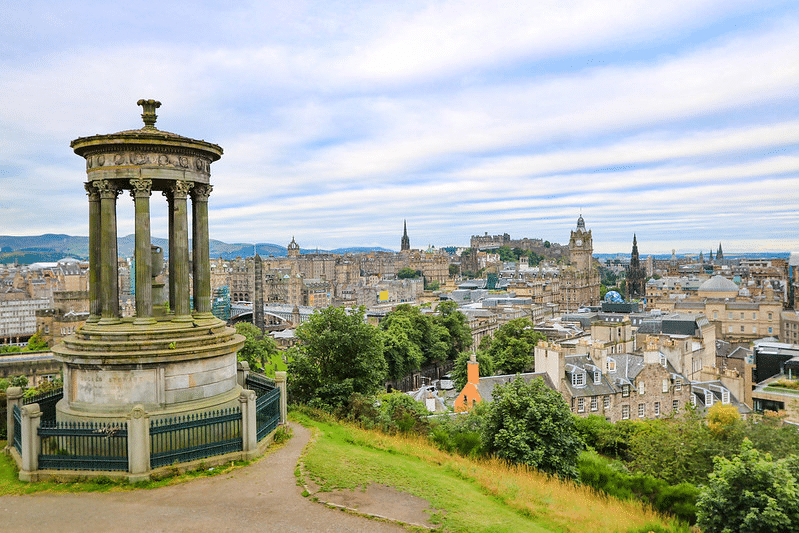 2. The Royal Mile
The Royal Mile is a walking street in the heart of Edinburgh's Old Town. If you follow the Mile from Holyrood palace, you'll end up at Edinburgh Castle.
Make sure to take time to see and try the things along the way. I can recommend all of the four below activities, they were so much fun.
Things to do along the Royal Mile: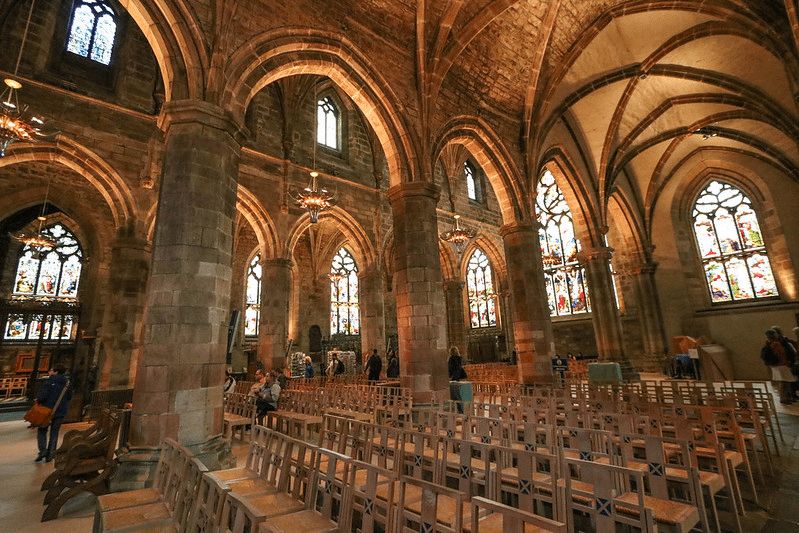 3. Edinburgh Castle
At the end of the Royal Mile, you'll reach Edinburgh Castle.
The castle is perched high on a steep, rocky cliff and has been at the centre of numerous wars, having been attacked and besieged many times. Definitely a highlight of Edinburgh!
Opening hours: April-Sep: 9.30-6pm. / Oct-March: 9.30-5pm.
Entrance fee: £19.50 / $23 or pre-book a guided tour. Tickets sell out fast.
Duration: 2 hours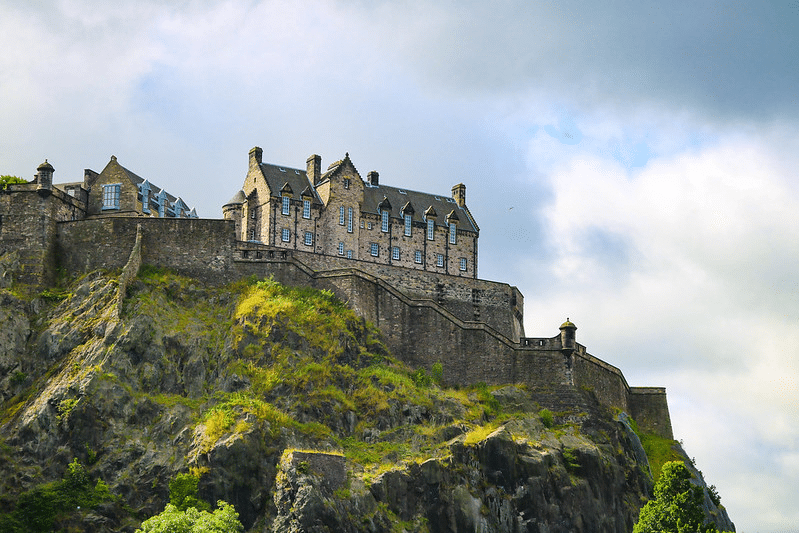 4. The National Museum
Next up is the National Museum, which is a super interesting place to visit.
You can explore everything from ancient Egyptian mummies to modern technology here. I even found Dolly the Sheep!
Open daily: 10 am – 5 pm
Free entry
5. Greyfriars Bobby and kirkyard
Greyfriars Bobby was a little Skye Terrier who became known for his loyalty to his owner, John Gray. After Gray's death, Bobby guarded his grave in Greyfriars Kirkyard for 14 years until his own death.
You can find a statue of Bobby in front of a tavern by the same name, and the graveyard is close by.
👻 Greyfriars kirkyard is said to be one of the most haunted cemeteries in the world. Aside from Bobby and his master, you can find Harry Potter names on the graves. A guide can help you find the graves while sharing ghostly stories of murderers, body snatchers and violent ghosts on this tour.
The best place to stay in Edinburgh
🛏️ Market Street hotel (⭐️ 9.0) has the perfect location in the centre of Edinburgh. You're only a few minutes walk from the Royal Mile, and at the end of the day you can return to your boutique-style room and have a drink at the rooftop lounge.
🐴 Day 3: The Kelpies + Devil's Pulpit + Scottish highlands
After your first two days in the capital of Scotland, it's time to dive deep into the fascinating nature of this country. Pick up your rental car and set the GPS to the Kelpies.
You'll then move on to the mystical Devil's Pulpit before you end the day in the Scottish highlands – one of Scotland's most visited outdoor attractions.
I haven't included Stirling castle on this itinerary, but you can stop by if you'd like. It's on the way.
The Kelpies
Have you heard of the Kelpies?
The Kelpies are 30 meters high horse-head sculptures – I remember when I saw them for the first time – they were HUGE! They're actually the world's largest horse sculptures!
In Scottish folklore, a kelpie is an evil shape-shifting water creature that appears on land as a horse.
They were built by the entrance to the canal as a dramatic welcome to visitors and as a tribute to Scottish heritage. You'll see them from the road, they're hard to miss. Make sure to stop and take photos.
Devil's Pulpit
And from one Scottish ghost tale to the next: You're off to the Devil's Pulpit. It's a one hour drive from the Kelpies.
Devil's Pulpit is a unique hiking destination that's surrounded by an eerie atmosphere and myth.
The rock formation lies at the heart of Finnich Glen, which according to legend, was where the devil himself stood as he addressed his followers amidst swirling blood-red waters.
Others believe that this site was once used for practicing witchcraft or carrying out executions, or perhaps as a secret meeting place for druids hidden amongst the shadows of the steep walls.
The hike down doesn't take long, BUT it's very muddy and slippery, so you need to dress and walk accordingly. There's a stairway leading down to the canyon, make sure to hold on to the robe while you walk. The descend is steep and wet, but the canyon view makes it worth it.
Duration: 30 minutes round-trip
Bring: Sturdy hiking shoes, a towel and extra shoes – it's slippery and you have to walk through a bit of water to get there!
Glen Coe
Next up is the magical Glen Coe! It's a 2-hour drive from the Devil's Pulpit, but you can stop by Loch Lomond, which is on the way.
Glen Coe is one of the reasons I wanted to visit Scotland in the first place. It's the heart of the Scottish Highlands and it's BEAUTIFUL.
Once you arrive, get settled in at your hotel and stop by the Glen Coe Visitor Centre. It's a great place to get information about the area, wildlife, hiking trails and the weather, you name it.
🎬 Fun fact: Glen Coe has been used as a filming location for several movies and TV shows, including James Bond's Skyfall, Harry Potter and the Prisoner of Azkaban, Outlander, Braveheart, Highlander, Rob Roy, and Monty Python.
🛏️ The best place to stay in Glencoe
Bothan Creag Sobhrag (⭐️ 9.0) A lovely little pod with a bedroom, kitchen, a seating area with TV and a bathroom. Outside is a garden and terrace where you can enjoy the beautiful mountain views. It's the perfect place to relax after a day of exploring Glen Coe.
⛰️ Day 4: Glen Coe
Day four is all about Glen Coe, the famous Scottish highland's valley.
Glen Coe is perhaps best known for the Glen Coe Massacre in 1692, a dark chapter in Scottish history, where 38 men, women and children from Clan MacDonald were betrayed and brutally murdered by their guests.
Today, Glen Coe is a popular place for spotting wildlife (red deer and golden eagles), towering mountains, serene lochs and an atmospheric moor (wild area).
🤓 A glen is a valley in Scotland. So, while Glen Coe is the valley, Glencoe is the village.
Glen Coe
Begin your day with a hike. I've listed some of the best hiking trails for you below. If you'd rather bike, you can also rent mountain bikes in town.
Great hiking routes in Glen Coe:
Once you're done hiking, it's time to enjoy the local cuisine. You'll find several charming cafes and restaurants that serves traditional Scottish fare like haggis or fish and chips.
🦉 Day 5: Glenfinnan Viaduct and Isle of Skye
Day 5 of your week in Scotland is spent driving to Glenfinnan Viaduct to see the famous bridge from Harry Potter and then on to the most beautiful place in Scotland: Isle of Skye.
Glenfinnan Viaduct
Any Harry Potter fans here? Then you'll recognise the Glenfinnan Viaduct!
This stunning bridge carries the iconic Jacobite steam train from Fort William to Mallaig, and it gained fame from its appearance in the Harry Potter movies.
🚂 Note: The Jacobite steam train only operates in the summer months, but you can still catch another train crossing or hike along the trail to see the viaduct from several viewpoints. Check out the train's timetable here.
Isle of Skye
Set your GPS to Portree because you're off to the Isle of Skye next!
I've found this great standalone apartment for you in Portee where you'll find restaurants, gas and supermarkets. It's a tiny town so if you need to stock up on anything, do so before you cross the Skye bridge.
Once you're settled in, head to Neist point. If you're back before dinner, you'll have time to relax and walk around Portree.
Neist point
Neist Point and its lighthouse are located at the westernmost point of the Isle of Skye, about 1 hour from Portree. This spot is perfect for catching a stunning sunset, so try to time your visit accordingly.
Start by taking the trail down to the lighthouse where you can explore the area around it. Be wary of the wind, though, it gets quite strong!
📷 Viewpoint tip: Once you're done exploring, make your way up to the lighthouse viewpoint on top of the hill to the right of the car park.
🛏️ The best place to stay on Isle of Skye
Portree is small, and places to stay fill up fast, especially in the summer. So, you'll need to book well in advance and expect higher prices here.
Portree Garden Room (⭐️ 9.2) is a great little, standalone apartment with a private garden! It's located in Portree, which is the main town on Isle of Skye.
🍀 Day 6: Isle of Skye
The beautiful Isle of Skye is a treasure trove of nature spots. It's SO pretty.
You'll have one full day here, so prepare to get up early, stay out late and drive a lot: You'll want to see as much as possible. The below Isle of Skye itinerary is just a suggestion, though. So, feel free to skip some of the sights or the hike if you feel like it. It's your trip, after all.
🏴󠁧󠁢󠁳󠁣󠁴󠁿 Read more: Isle of Skye: 8 amazing experiences
The Fairy Pools
First stop of the day is the Fairy Pools, and I recommend getting there around or just after sunrise. We came early and had much of it to ourselves, which was really nice.
The Fairy Pools are a series of blue rock pools filled with crystal-clear mountain water that flows from streams and waterfalls. This is a must-see in Isle of Skye.
Fairy Glen
The most magical place in Isle of Skye is the Fairy Glen. You'll be heading here next.
Fairy Glen is a distinctive hilly terrain with rock circles and outcroppings. Scots believe that fairies live here, and judging from the landscape and vibe, I kind of do, too.
The Quiraing
Next up is the Quiraing, a well-known landslip, perfect for hiking or enjoying the landscape. If hiking isn't your thing, don't worry; you can skip the Quiraing and continue your journey towards Kilt Rock & Mealt Falls.
The 6.2 km circuit hike typically takes around two hours to complete, so you may want to choose between either the Quiraing or Old Man of Storr (see below).
Kilt rock
Kilt Rock is a strange rock formation that looks like pleats along the cliffs, while Mealt Falls cascades into the ocean over Kilt Rock. This location is an excellent spot for a quick stop and some memorable photos.
The Old Man of Storr
You can either hike or admire The Old Man of Storr from below. It's more beautiful from the top (I've seen pictures), but it's not too shappy from the road, either.
The Old Man of Storr hike spans 4.8 km and usually takes around 1.5 hours to complete. However, if it's rainy or cloudy, you might not be able to do the hike, since visibility will be limited.
🐍 Day 7: Eileen Donan Castle and Loch Ness
On your last day in Scotland, get up early and drive towards Eileen Donan Castle. You'll be spending some time there before moving on to Loch Ness and then onwards to Edinburgh.
See if you can spot a wee coo on the way.
Eileen Donan Castle
After you have crossed the Isle of Skye bridge, you'll see the Eilean Donan Castle. You've probably seen it in photographs, because it's iconic to Scotland.
What makes this castle truly unique is the surroundings, so even if you're not going inside, do make sure to snap some pictures and soak up the stunning scenery.
I absolutely loved visiting the Eileen Donan Castle during my trip. I couldn't resist taking countless photos of the castle from every possible angle.
Loch Ness
What kind of Scotland tour would be perfect without trying to find Nessie?
I do believe Loch Ness needs to be on any first timers Scotland itinerary though I was surprised to find that it looks a lot more like a river. It's 36 km long, 2,7 km wide and 226 meter at its deepest point – that's just a little less than the height of the Eiffel Tower, people!
Spend a few hours here looking for the Loch Ness monster and have lunch in Fort Augustus, which is at the south-west end of Loch Ness. It's a 3.5 hour drive back to Edinburgh.
🤓 Loch is the Gaelic word for lake, and Scotland has many, MANY freshwater lakes – 31,460 to be exact.
What to pack for your road trip
I've got a post dedicated to road trip packing, but these are the top things you should pack for your road trip (make sure to pack according to the season).
Here's a packing list for your Scotland road trip :
Rain jacket and trousers (it's Scotland, after all)
Comfortable clothing and shoes
Snacks and drinks
GPS
First aid kit
Phone charger and power bank
Cash and credit cards
Entertainment like books, music, or games
Sunscreen and sunglasses
Camera
Toiletries including toilet paper, hand sanitizer, wet wipes, and tissues.
🦉 Prolong your trip — 10 days Scotland itinerary
If you have some extra time in Scotland and would prefer a 10-day itinerary, here are some ways you can spend the next 3 days in this country.
OPTION 1: ISLE OF MAN
Day 8: Drive from Loch Ness to the jaw-dropping Isle of Mull — it's a 3-hour drive.
Day 9: Explore Isle of Mull's waterfall and beautiful stretch of white sandy beaches. Visit Duart castle, see puffins, lazy seals and otters and more.
Day 10: Drive back to Edinburgh (it's a 4.5-hour drive from Mull Island).
OPTION 2: GLASGOW
Day 8: Drive from Loch Ness to the modern, cultural Glasgow — it's a 3.5-hour drive.
Day 9: Explore Glasgow's captivating music scene, food, art galleries, and nightlife.
Day 10: Drive to Edinburgh once you're done exploring
Useful things to know before visiting Scotland
💸 Scotland travel insurance
I highly recommend having travel insurance because let's be real — the last thing you want on your trip is for accidents to get in the way.
I recommend Safety Wing — they offer affordable prices, great coverage, and a reliable 24/7 on-call service.
Is 7 days in Scotland enough?
Yes, you can see the highlights of Scotland in 7 days.
However, if you want to delve deeper into Scotland's history or enjoy outdoor activities like hiking or kayaking, you may want to plan for a longer trip. And that brings us to….
How many days is enough for Scotland?
If you want to visit the major cities, see some iconic landmarks and take a scenic drive through the Highlands, 7-10 days is enough to spend in Scotland.
What are the best months to visit Scotland?
The best months to visit Scotland are May – September.
During these months, the weather is mild and pleasant with longer daylight hours which means more time for exploring Scotland's landscapes and attractions. I went in August, which was amazing! Plus in August, you can visit the Edinburgh Festivals, which I highly recommend!
Just keep in mind that the weather can be unpredictable in Scotland year-round, so it's always a good idea to pack layers and be prepared for rain at any time of year.
How do I plan a week in Scotland?
Planning a week in Scotland is easy. Here are some steps to help you plan your trip:
Decide on your itinerary: Determine which cities, attractions, and landmarks you want to visit during your week in Scotland. The most popular destinations include Edinburgh, Glasgow, the Isle of Skye, Loch Ness, and the Scottish Highlands.
Book accommodations: Once you've decided on your itinerary, book accommodations that are convenient for visiting those destinations. Consider staying in a mix of hotels or B&Bs to get a variety of experiences.
Rent a car: A car rental is the best way to explore Scotland's countryside and remote areas. Make sure you have an international driver's license and are comfortable driving on the left side of the road.
Plan activities: Want to do some hiking or other fun tours like whisky tasting? Make sure to research and book ahead of time.
Pack appropriately: Scotland's weather is unpredictable so make sure to pack layers including waterproof jackets and trousers as well as comfortable shoes for walking and hiking.
More tips about Scotland you might like