Adventurous Miriam uses affiliate links, which means that if you make a purchase through my links, I may earn an affiliate commission.
August might just be the best time to visit Scotland. Why, you ask? First of all, you have a 50% chance of sunshine, which by Scottish standards is a wee bit better than the rest of the year. And second of all, it's EDINBURGH FESTIVAL TIME!
For many years, artists, performers, musicians and dancers have flocked to Edinburgh in July and August to be part of the 8 Edinburgh Festivals:
The Film Festival
The Jazz & Blues Festival
The Art Festival
The International Festival
The Royal Military Tattoo Festival
The Fringe
The Book Festival
The Mela
These festivals are so huge and popular that Edinburgh is now known as the world's leading festival city. August is the busiest month where you have the chance to experience several festivals in just a few days. I went to 5 festivals in just one weekend. Here's a quick introduction and a first timer's guide to the famous Edinburgh Festivals and which shows to watch.
Read my post about things to do in Edinburgh
MORE SCOTLAND TRAVEL TIPS: GET MAPS, ITINERARIES AND SCOTTISH PHRASES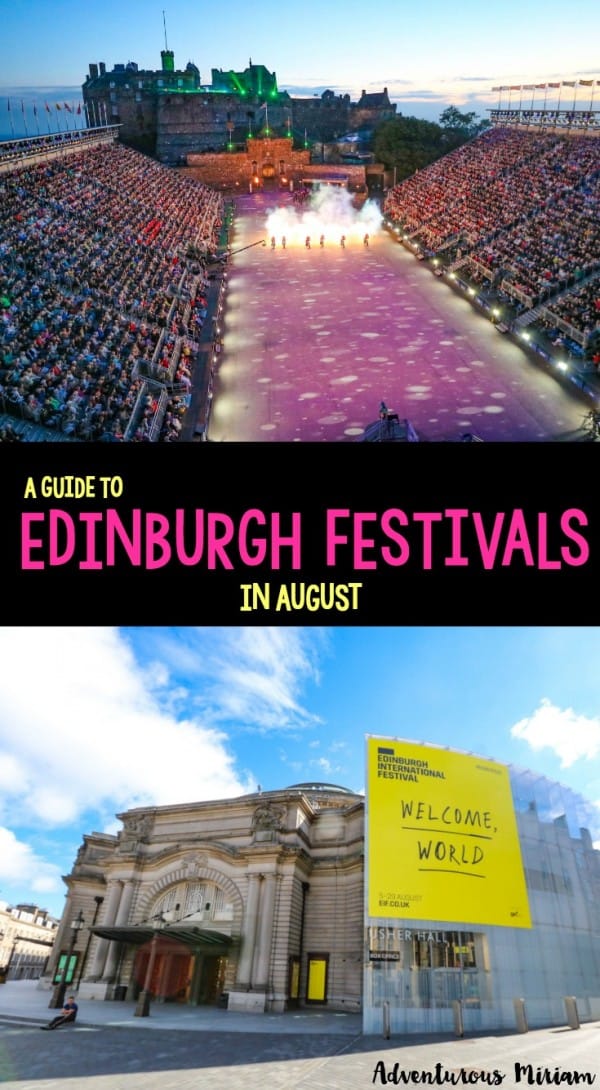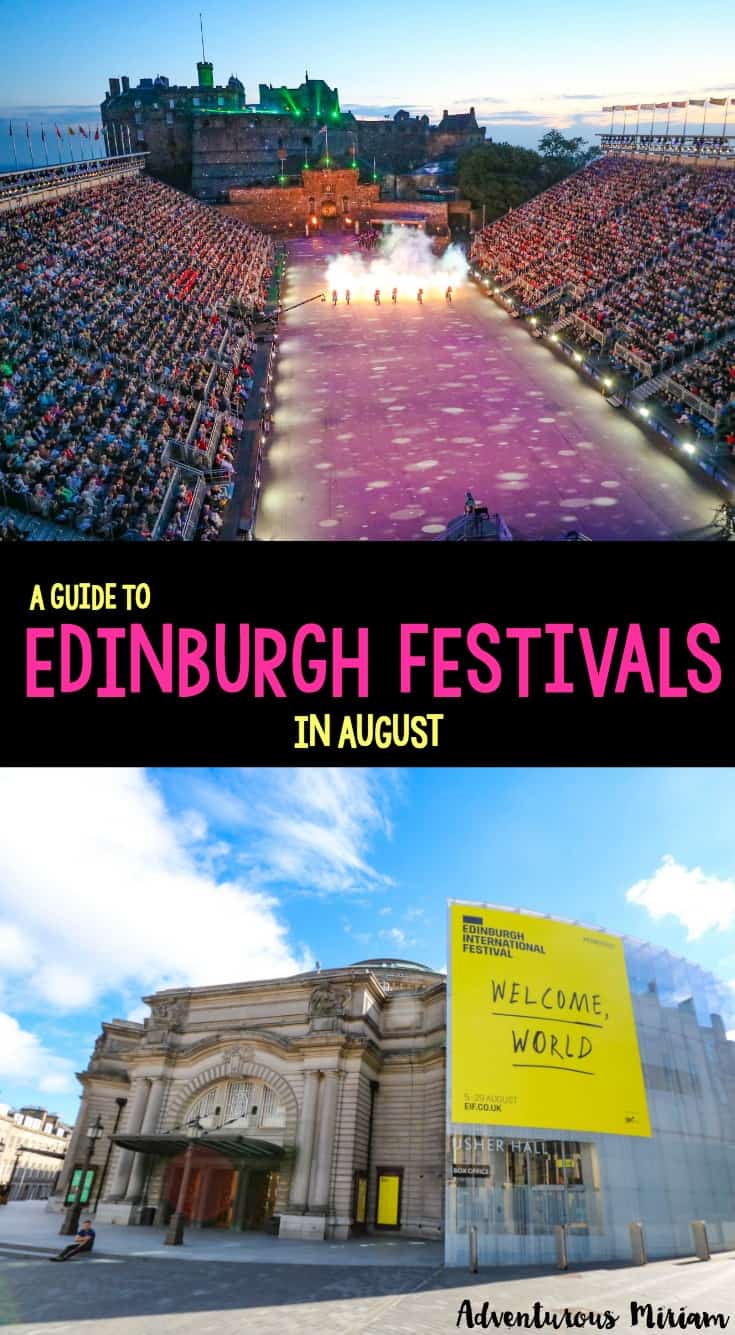 THE FRINGE FESTIVAL
Aside from the majestic Tattoo festival, which a) I'll get to in a minute, and b) has absolutely nothing to do with tattoos, the Fringe festival is the best known of Edinburgh Festivals.
The Edinburgh Fringe is the largest arts festival in the world, and you kind of get that feeling walking down the Royal Mile. It attracts big names and unknown artists who want to build their career doing theatre, comedy, dance, circus, cabaret, children's shows, musicals, opera and much, much more.
The first show I attended was a modern dance performance at the National Museum. I haven't seen a performance like it before; it was very moving and beautiful.
Another Fringe show I watched and will late forget, was the Elixir.
If there's one show, I would recommend above the rest, this would be it. Elixir is performed by the Head First Acrobats; three not-so-bad looking Aussies acting as scientists who attempt to create the elixir of life. The show is well-performed, acrobatically impressive and absolutely hilarious. Think handsome acrobats who don't take themselves too seriously.
These guys ↓
ART FESTIVAL
The Art Festival is the UK's largest annual celebration of visual art. Most of the festival events are free to attend, and includes exhibitions, artist talks performances, screenings and guided tours.
I joined a free choral workshop by artist Olivia Webb, which was a bit daunting, but I'm so glad I did it. What I really like about the Edinburgh Festivals is that they get you out of your comfort zone and pique your senses, if you let them.
INTERNATIONAL FESTIVAL
The Edinburgh International Festival has been around for 69 years and like the Fringe, it's very diverse. It includes dance, opera, music and theatre performed by artists from all over the world.
One of the most impressive shows I saw was the Chotto Desh; a story of a young boy's struggle to impress his traditional father and fulfill his dream of becoming a dancer. This 50 minute show is danced entirely by one male performer, whose remarkable performance kept me completely engaged the entire time and made every movement worth watching.
I also had the pleasure of seeing Alan Cumming perform on home turf. I know him from The Good Wife, The L Word, and Bernard and the Genie, but I had no idea he was a singer and entertainer as well. But clearly he was.
His show was intimate – a mixture of his personal life and him singing and making people laugh.
After the show, they opened the doors for an after-party at Club Cumming with Alan as the DJ. It was quite fun so if you're in Edinburgh next August, make sure to get tickets, and well in advance.
THE INTERNATIONAL BOOK FESTIVAL
Now, let's not forget about the Edinburgh International Book Festival. The majority of the events are held in Charlotte Square, where it's possible to join author readings, literature talks and book signings. There's also a rather large bookstore for children and grown-ups. The festival grounds have a nice and relaxed atmosphere.
ROYAL EDINBURGH MILITARY TATTOO
Price: £25-£39 for standard seating, £199-£460 for bespoke packages
Last but not least, there's the Royal Military Tattoo, which has an annual audience of 217,000 people. With military performers from over 48 countries, the show combines precision marching, bands, light shows, singing, pipers and fireworks. It's very impressive to say the least.
Tickets for the Tattoo Festival are high in demand, but it's definitely a show worth seeing. The theme changes every year, and this year it was Tunes of Glory as a tribute to The Queen's 90th birthday.
TIPS FOR JOINING EDINBURGH FESTIVALS
How to choose: There are more than 2,000 performances at the Edinburgh Festivals, and it might seem impossible to pick and choose. I recommend picking out some categories, like dance, opera and whatnot, and then choose a few shows from every festival. You can find more info on their websites (every festival has its own).
Buy tickets in advance: As mentioned, tickets for the Royal Military Tattoo Festival are high in demand. You can get tickets for the 2017 Tattoo Festival from early December this year, but no rush – they don't sell out right away.
Prepare to be inspired: Some of the shows cost a small fee, but many of them are free. Stroll down the Royal Mile and grab a flyer for one of the many events. There are lots to choose from.
Challenge yourself and join a workshop or a type of dance or musical you've never seen before – you might be surprised.
Going elsewhere in Scotland? Get the best itinerary for a Scottish Highland road trip
Many thanks to Edinburgh Festivals, VisitScotland and VisitBritain for hosting me on this trip to Edinburgh. As always, all opinions are my own.
Have you been to a festival before? Which is your favorite?