20 unique things to do in Slovenia that will truly amaze you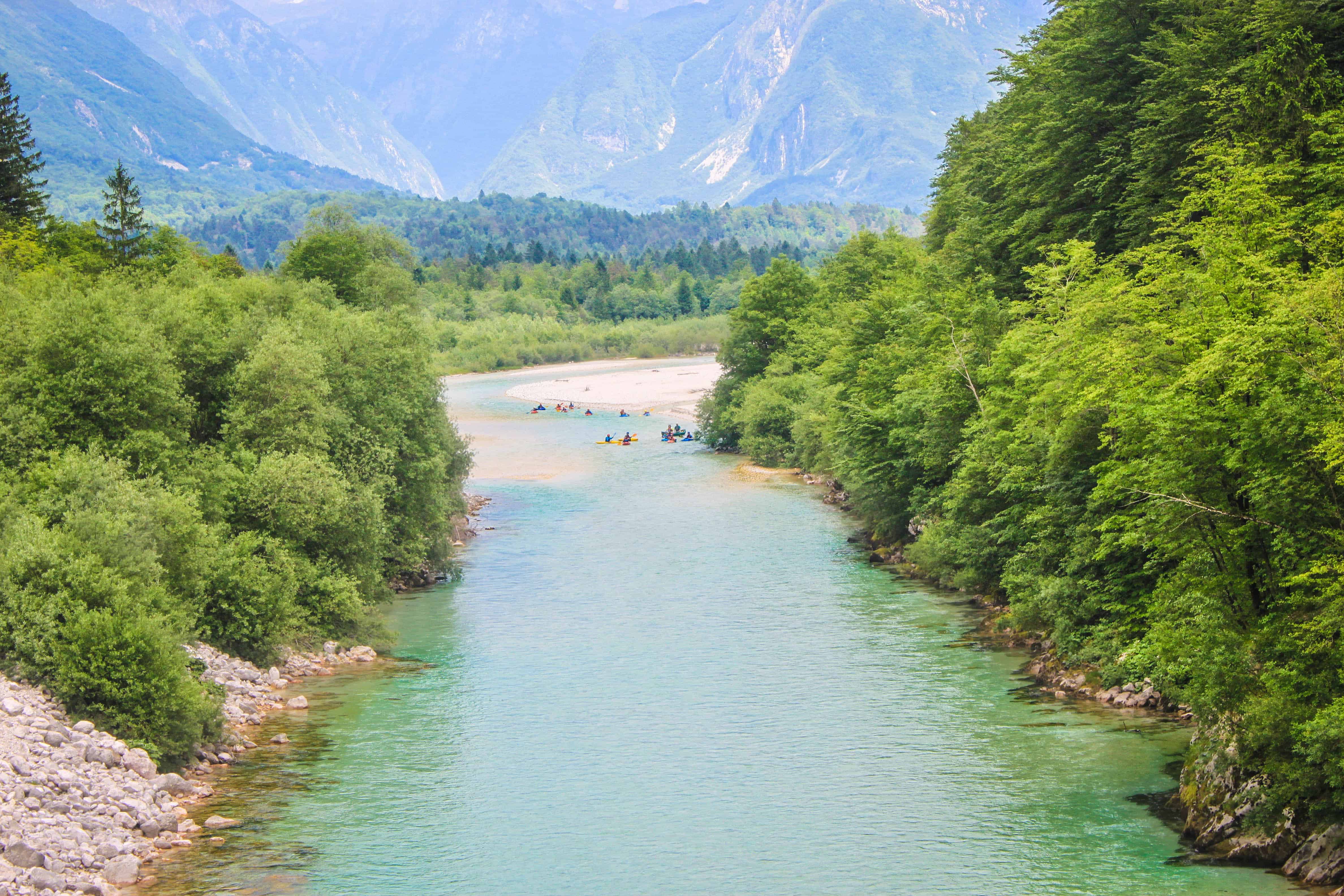 Are you planning a trip to Slovenia? What a great idea! There are so many adventurous things to do in Slovenia, it'll make your head spin! From its medieval cities to its beautiful mountains and lakes, there's no shortage of Slovenia attractions to discover!
So then, where to start?
In this post, I've broken down the top 20 things to do in Slovenia; where they are, what's great about them, and why, all together, they'll make for the most memorable trip to one of Europe's most beautiful countries.
This post contains referral links for products I love. Adventurous Miriam earns a small commission at no extra cost to you if you make a purchase through my links. Thank you for your support ♡ Learn more
Unique things to do in Slovenia
1. Lake Bled
Slovenia's number one attraction, and one of the first and best things to do in Slovenia, is Lake Bled. And what to do in Bled? Well, this lake is several attractions in one. First is the view itself! Lake Bled is the number one Slovenia tourism location for a reason. It's one of the most jaw-dropping sights you'll ever see.
From the surrounding hills, which you can hike across (such as Osojnica Hill), you'll get a view of a huge lake and the mountains framing it. In its centre is an island with a church – Church of the Assumption – perched atop it. You can take a boat out to the church and explore it for yourself. This is one of the best things to do in Lake Bled. But there are plenty more! You can go glamping in Bled, take a kayak out or swim in the lake itself during the summer months.
Lake Bled is one of the unmissable places to visit in Slovenia, and there are so many wonderful things to see and things to do in Lake Bled.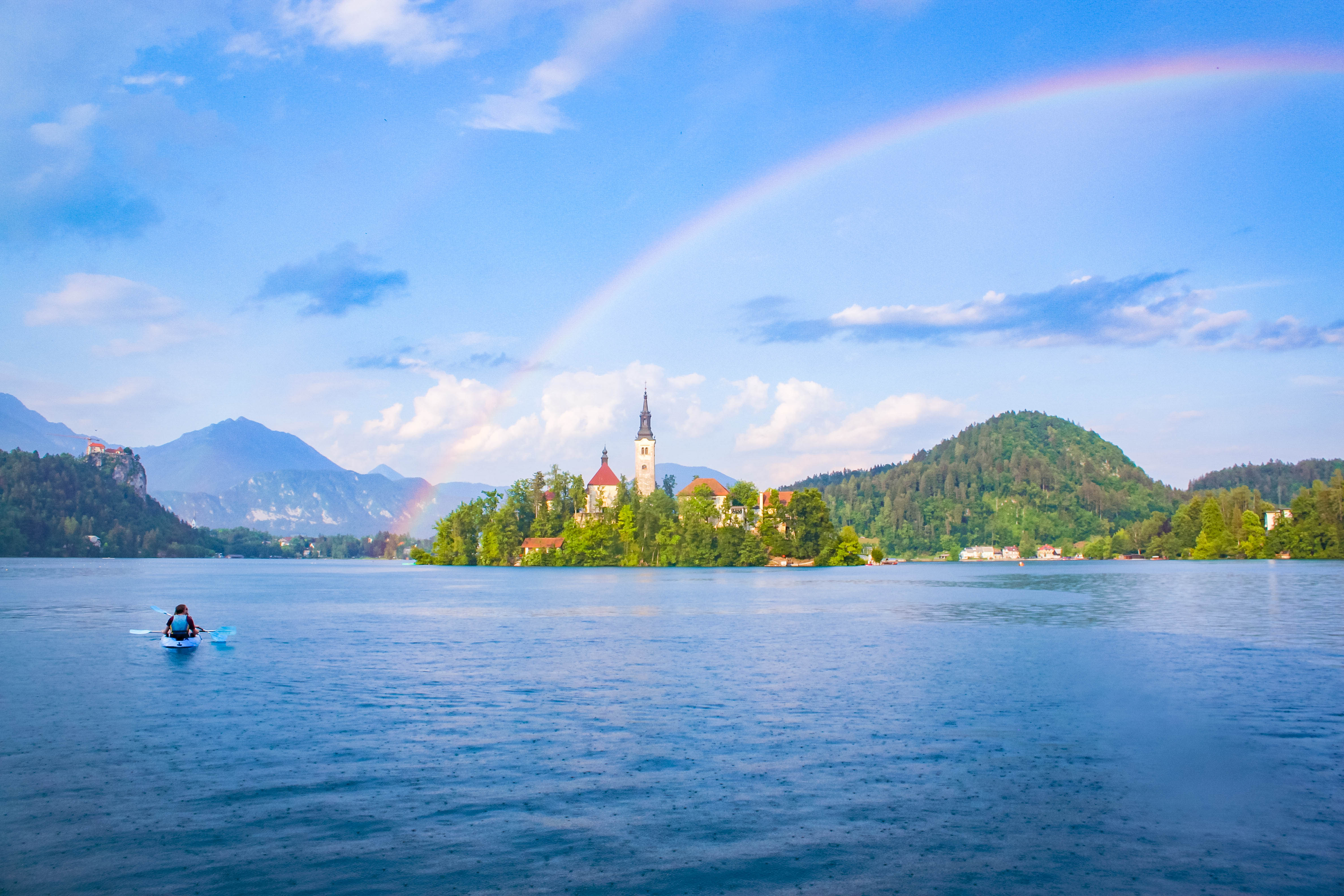 2. Vintgar Gorge
If you're wondering what to do in Bled beyond the lake, the Vintgar Gorge is as beautiful as Lake Bled, but for different reasons. It's located only a few kilometres away from Bled, making it one of the best things to do in Bled if you stay there (which you should).
The Vintgar Gorge is like a hidden fairy glade, with a river running through, as well as waterfalls, rock pools, and even rapids! You can take a wooden gangplank which keeps you low to the water and guides you around the gorge, taking in all the sights, sounds, and atmosphere of this eerie, colourful, fairy tale natural wonder.
Taking an afternoon to explore the gorge is not only one of the best things to do in Bled but one of the most wonderful things to do in Slovenia, full stop!
Read next: 10 Most Beautiful Cities in Slovenia You Must Visit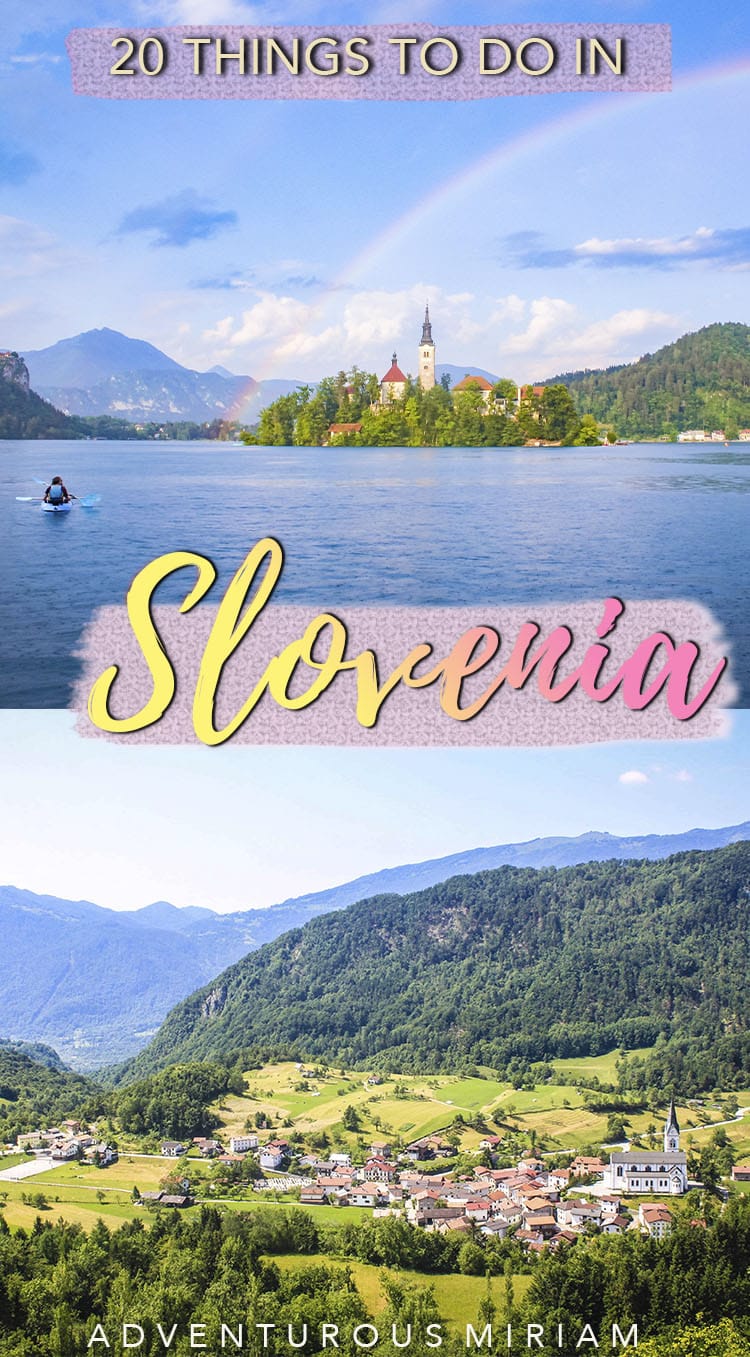 3. Lake Bohinj
Lake Bled gets all the attention, but just 30 minutes away is another beautiful lake – Lake Bohinj. In terms of what to see in Slovenia, this is also a must-see sight.
Lake Bohinj is quieter than Lake Bled, and that's only a good thing. It lacks none of the splendour and beauty, and you only get more of it to yourself for how quiet the whole place is! You can head out and swim across the lake in total serenity. On a clear blue-sky day, it's the most joyful, tranquil things to do in Slovenia.
If you're looking for a bit of peace and quiet, or want to get into sports activities, this is it. You can come here and feel like this lake is all yours.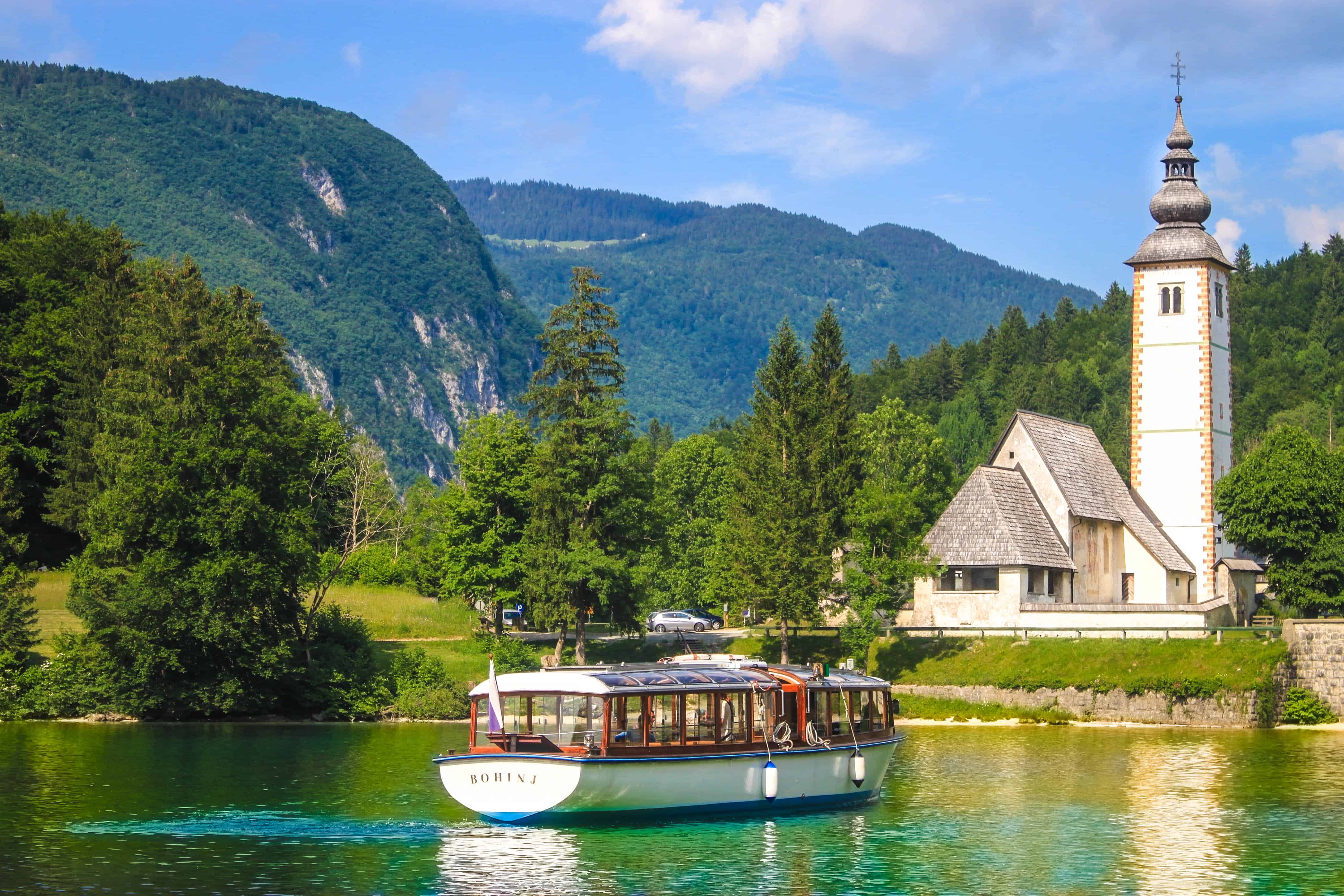 4. Road Trip
Maybe you're looking for the best cities in Slovenia, the best places to visit in Slovenia, and what to do in Slovenia, all within just a few short days? Take a road trip! That way you don't miss a single Slovenia tourism attraction! Here's a perfect itinerary for a road trip across Slovenia that will cover all the key Slovenia attractions.
Read next: How to rent a car in Ljubljana
Day 1 and 2: Ljubljana
Before you pick up your rental car in Ljubljana, spend two days exploring the city. Try out the local food at some classy restaurants, take a walk across the amazing Dragon Bridge, and get to know the locals at some delightful Ljubljana bars and pubs. These are some of the best things to do in Ljubljana.
Day 3 and 4: Lake Bled and Lake Bohinj
As I've said, there are countless wonderful things to do in Lake Bled and Lake Bohinj. Swim, kayak, hike, explore, go camping and glamping. And stay in the city of Bled itself; it's a lovely place at the edge of Lake Bled.
Day 5 and 6: Vrsic Pass and Soca Valley
Guys, the Vrsic Pass is the reason for the road trip. Driving across this magical, untouched piece of landscape is like nothing you'll ever do! Follow the Soca valley and the winding snake-like river for views unlike anything else.
Day 7: Kobarid
Kobarid is the perfect place to get away from the cities and find out what the quiet, rural valley life is really like in Slovenia. While you're there, head to Predjama Castle, built into the very face of a mountain, and Postojna Cave Park, a network of giant caves!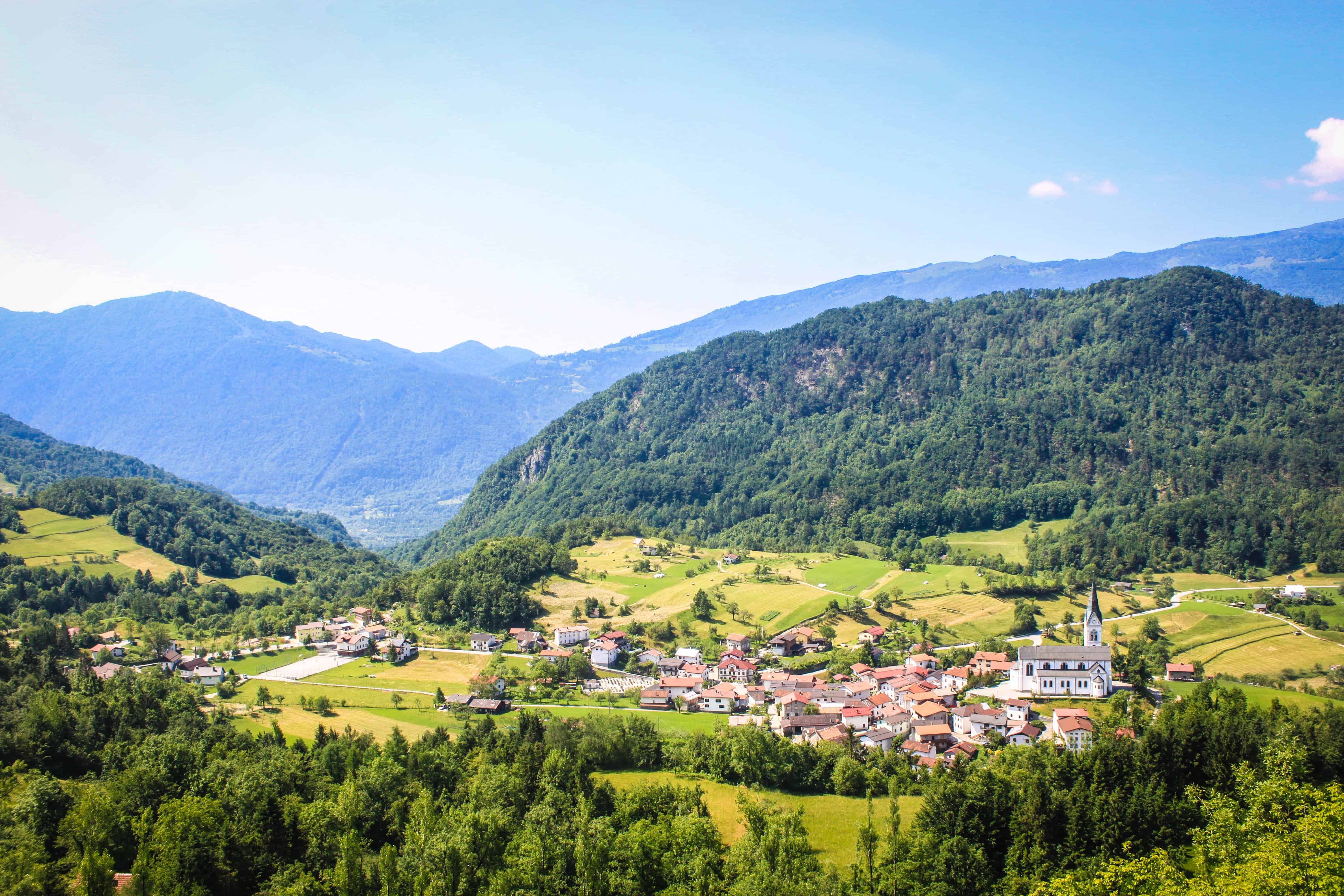 5. Visit the real Narnia in Soca Valley
This gorgeous valley that stretches on for kilometres, with a long twisting river snaking through its depths, is one of the most fun places to visit in Slovenia. Here you can go white water rafting, ziplining, hiking, mountain biking, climbing, and even paragliding! If you're a thrill-seeker looking for the most exciting things to do in Slovenia, they're all here in Soca Valley!
And – it's also the filming location of Narnia.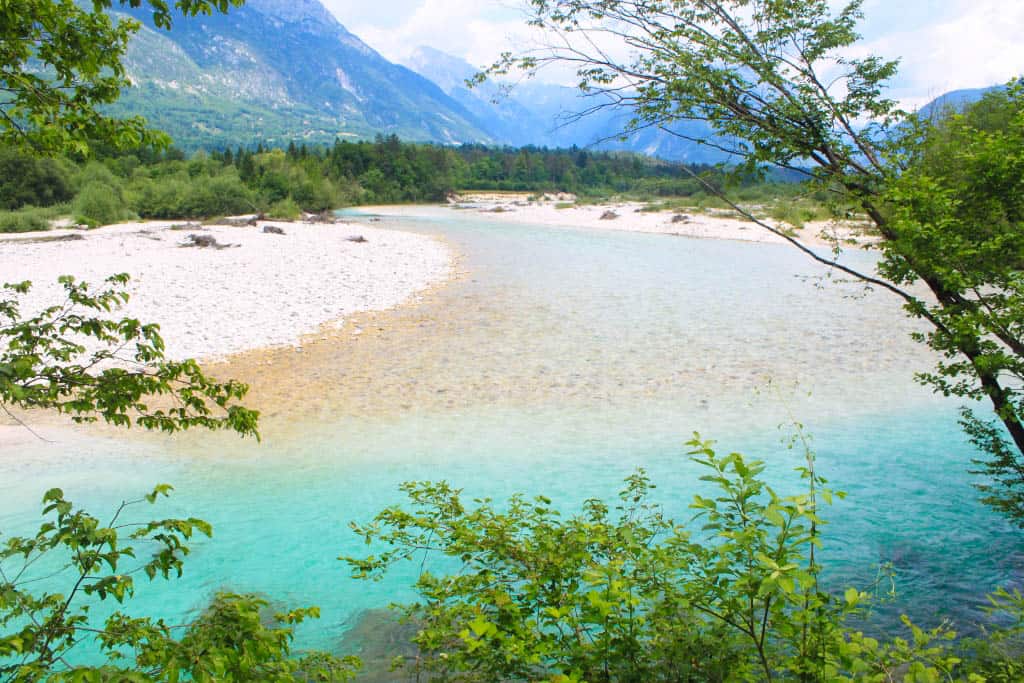 6. Stay in a tree house
One of the most unique and magical things to do in Bled is to stay in a tree house. Garden Village Bled is exactly what it sounds like: a village network of treehouses built into the forest beside Lake Bled. The treehouses have private bathrooms, natural pools of spring water, and nothing but dense forest on every side!
This is a wonderful way of escaping into the depths of nature without sacrificing any of your luxuries. Garden Village Bled will even help you get organised with kayaking, rafting, and hiking excursions around the lake! This is a great place to stay for anyone, from solo travelers to couples to families.
7. Drive the Vrsic Pass
Triglav National Park is nothing short of a magical fairy tale place in the Slovenian wilderness. Everything you imagine when you close your eyes and picture a fantasy fairy tale is here: green meadows framed by snow-capped mountains; tall fir trees reaching for the sky; winding paths between the mountains and valleys; old log cabins with white smoke pouring from their chimneys.
And you can take a car and drive through it all. There's a road that cuts through the national park. It's the highest mountain pass in Slovenia, giving you the ultimate view of the lakes, mountains, and valleys that stretch on for miles.
Looking for one of the best things to do in Slovenia? This is certainly that!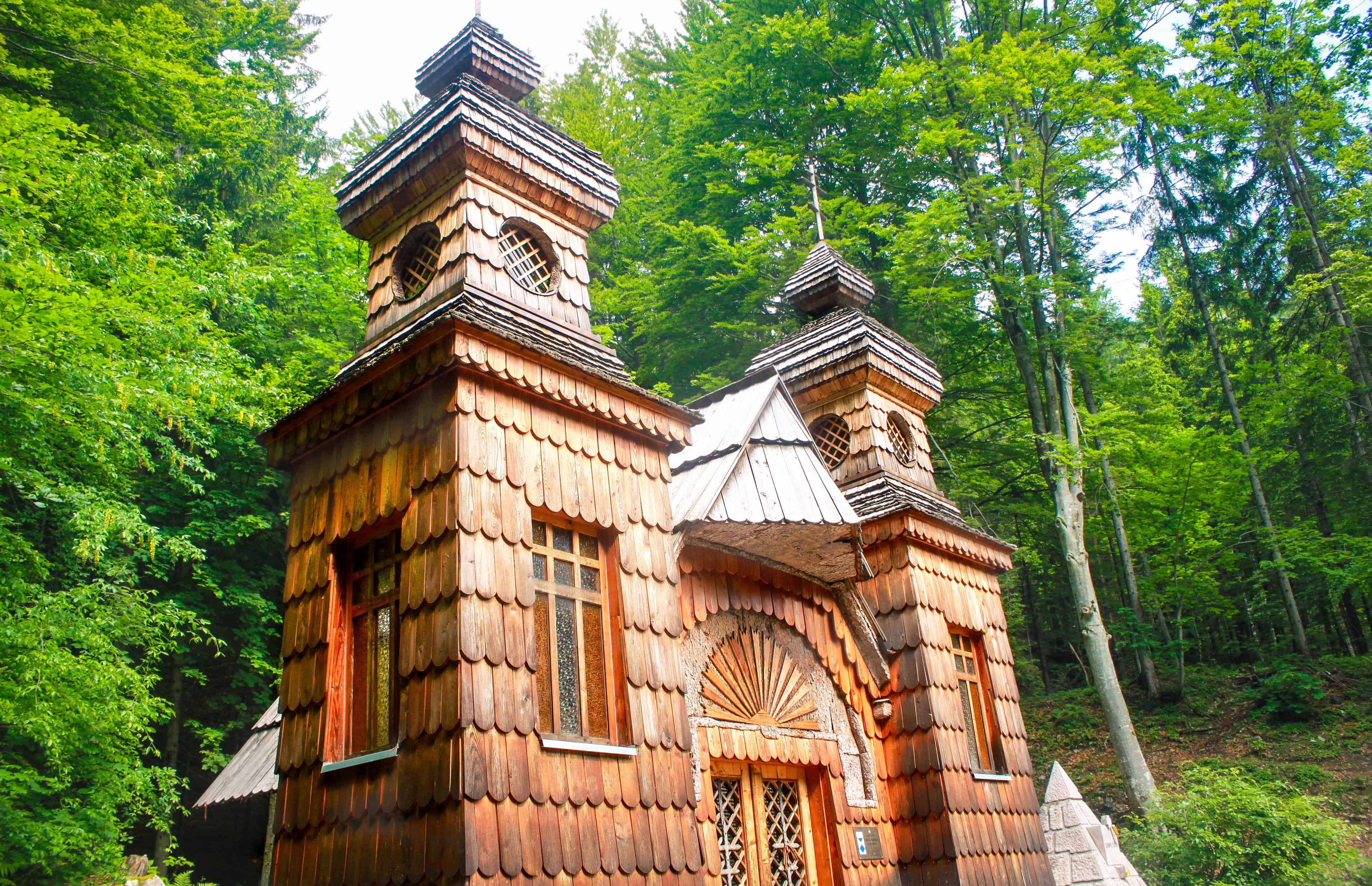 8. Lovely Ljubljana
And it really is lovely!
The capital city of Slovenia, one of the best cities in Slovenia, is a celebration of history, with buildings of medieval stone and renaissance art. It shares its space with nature, looking like it grew naturally as a piece of the landscape. And what are the best things to do in Ljubljana?
First, visit Ljubljana Castle, which sits atop a hill overlooking the city. Then, you have to cross the Dragon Bridge, and if you like what you see you can even track down the rest of the dragons hidden across the city! Dragon hunting is certainly one of the most unique things to do in Ljubljana.
If you're a history buff wondering what to do in Ljubljana, you cannot miss both the City Museum of Ljubljana and the Church of St Nicholas.
More of an art and beauty lover wondering what to do in Ljubljana? Make sure to visit Metelkova, Tivoli Park, the National Gallery of Slovenia, and the beautiful architecture of the Town Hall. These are some of the best Ljubljana things to do.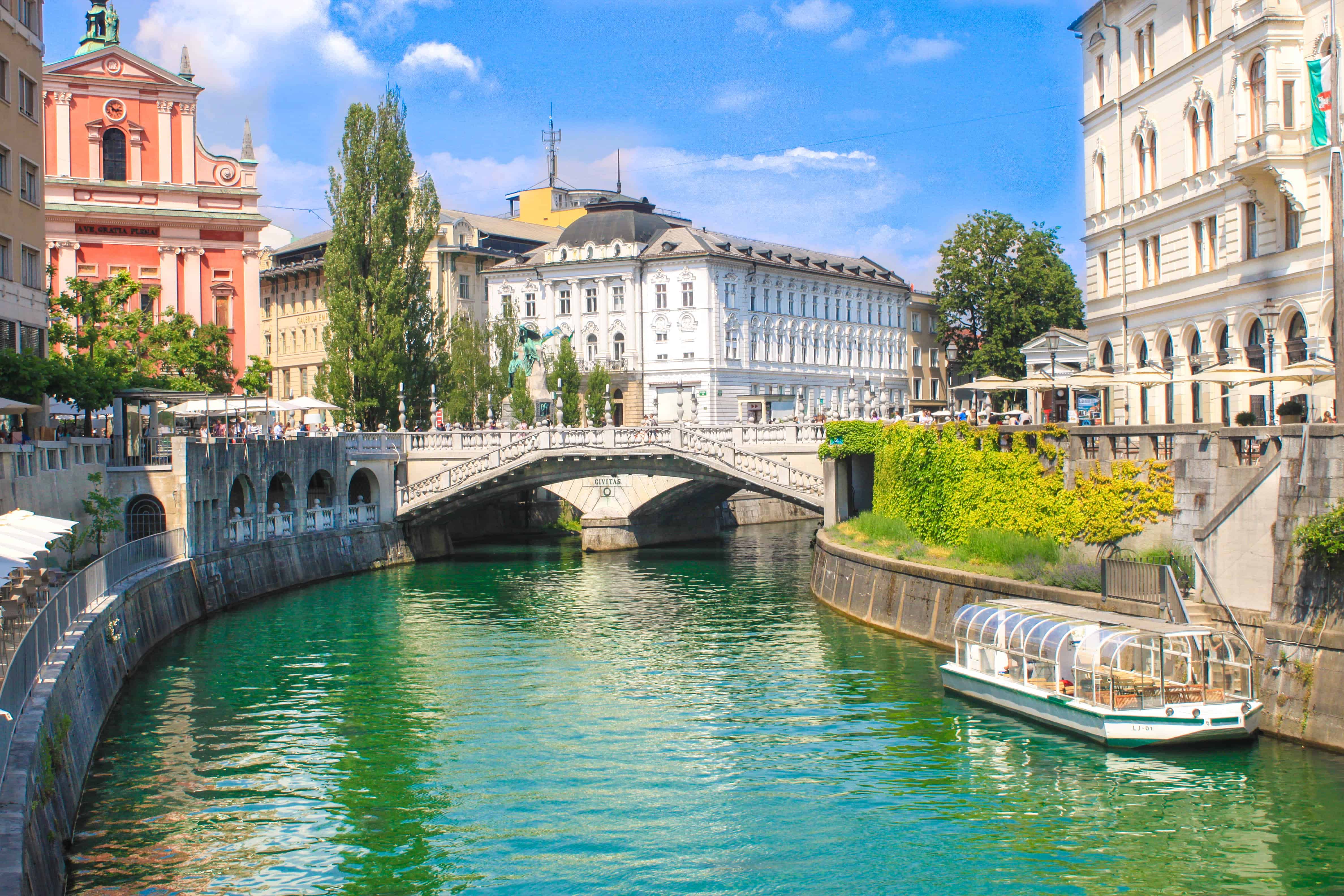 9. Spend the night in a former prison
What was, for a hundred years, a political prison is now Celica Hostel. It's a unique and important look at the more hidden, darker side of history in Slovenia. When you stay at the hostel, your room is an actual real prison cell!
I slept in cell 107 when I stayed. The basement, which you can visit, is totally unlit and it's where prisoners would be held in solitary confinement. Their scrawls still remain on the walls to this day. The first floor is an art gallery with daily exhibitions that you can explore for yourself.
A rare experience indeed!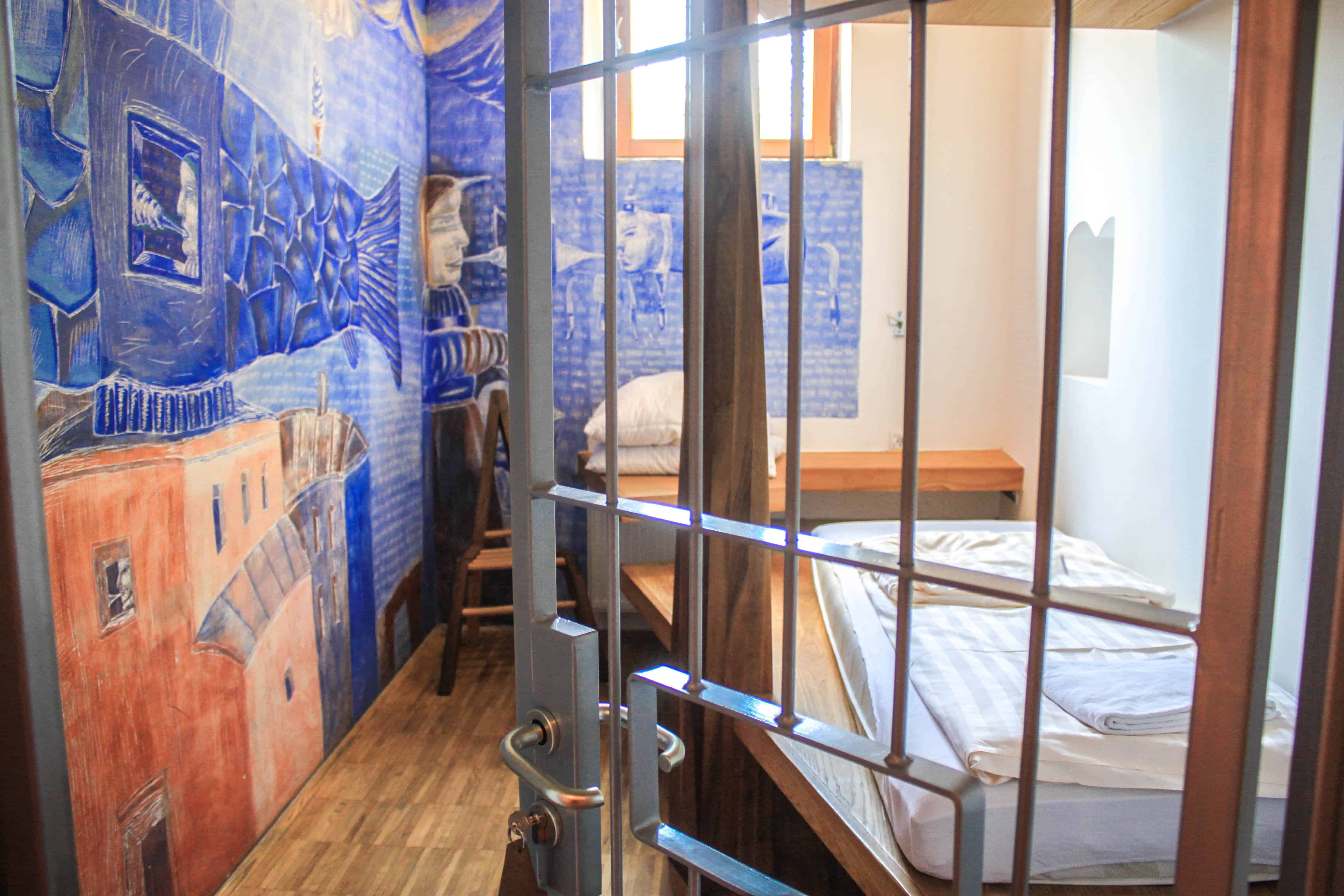 10. Hike in Triglav national park
If you'd rather not rent a car and drive the Vrsic Pass, you can still visit Triglav National Park on foot and hike its hills and mountains yourself! There are hiking trails all across Triglav for you to follow, and you can even stay overnight in the mountain huts! Just make sure you follow the park trails to keep yourself completely safe, and to ensure you don't get lost.
But when you do go, take your camera. This place is amazing. Triglav is one of the greatest Slovenia attractions, without a doubt.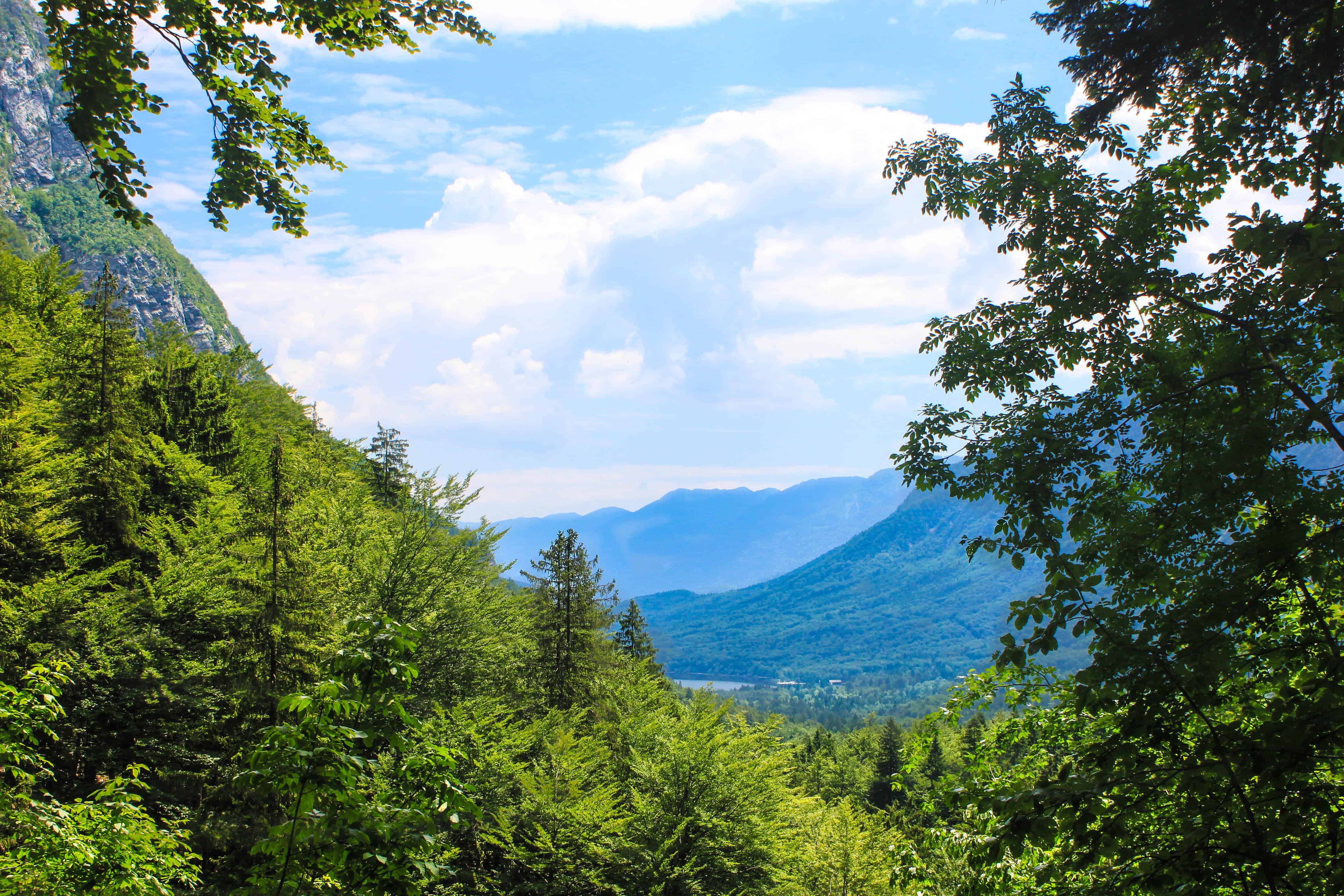 11. Tolmin Gorge
In the southernmost area of Triglav National Park you'll find a deep gorge, one kilometre long and carved out over thousands of years by the flow of two Slovenian rivers. Just like how Lake Bohinj is a quieter, off-the-beaten-track alternative to Lake Bled, so too is Tolmin Gorge a quieter, off-the-beaten-track alternative to Vintgar Gorge.
It's smaller, less explored, and therefore gives you the feeling of being a true explorer. This makes Tolmin Gorge absolutely one of the cooler and lesser-known things to do in Slovenia.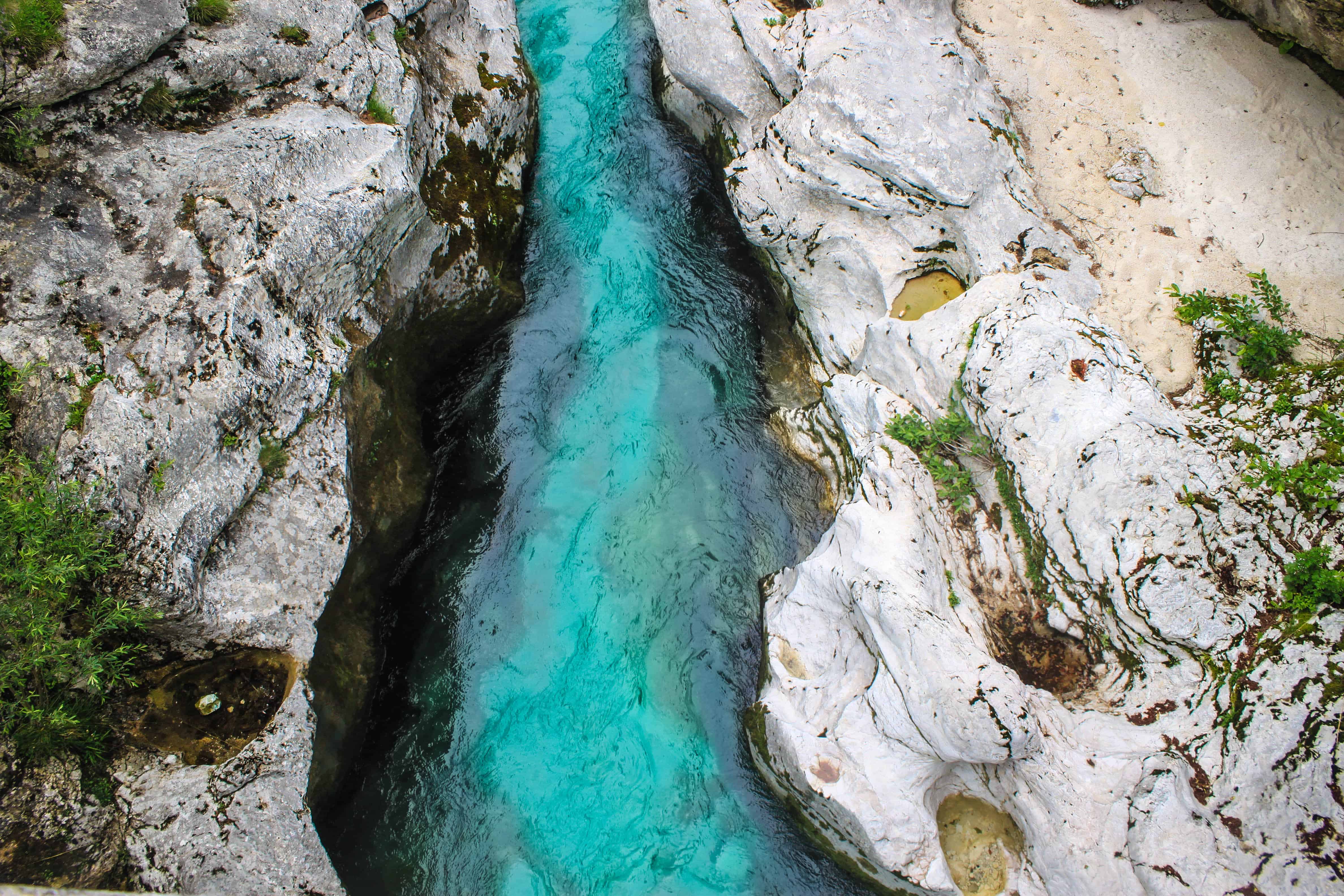 12. Predjama Castle
There are so many breath-taking, gorgeous natural sites in Slovenia. But when it comes to man-made beauty, there is one place that stands head and shoulders above the rest: Predjama Castle.
There are a lot of castles, forts, and medieval/renaissance buildings in Slovenia, but this one is by far the best. There's just something so awe-inspiring when you see a man-made structure that exists in a secluded, strange, natural environment. Imagine the Eyrie from Game of Thrones and you won't be far off.
This castle exists inside a cave carved into the side of a mountain. An impenetrable fortress that blends almost seamlessly into the landscape it lives in. It's pretty unique.
13. Postojna Caves
Just a few kilometres away from Predjama Castle are the Postojna Caves. This is a massive network of giant caves that'll make you feel like an ant when you explore them. These caves are a world unto themselves.
There is a diverse landscapes of rock formations and creatures living in these caves. Every corner you turn in the Postojna Caves leads to a new and unique sight. And, when you visit, there's an actual underground train you can ride which will take you around all the best parts of the cave.
14. Savica Waterfall (at Lake Bohinj)
This waterfall is super cool, resembling a letter A as it splits off into two different tracks on its way down the cliff at Lake Bohinj. At the bottom, the falls lead into a gorgeous emerald green pool of water surrounded by high moss-covered cliffs. It's a very tropical and secluded spot in what is already one of Slovenia's lesser-known wilderness areas.
The fall also doesn't drop from over the cliff, but rather appears from an underground cave within the mountain and then trickles down, as though the mountain has sprung a leak.
The only thing to note before you visit is that there are 500 steps that take you up to the Savica Waterfall, so be prepared for a small hike! The steps are very safe and pretty easy-going, though, so don't worry.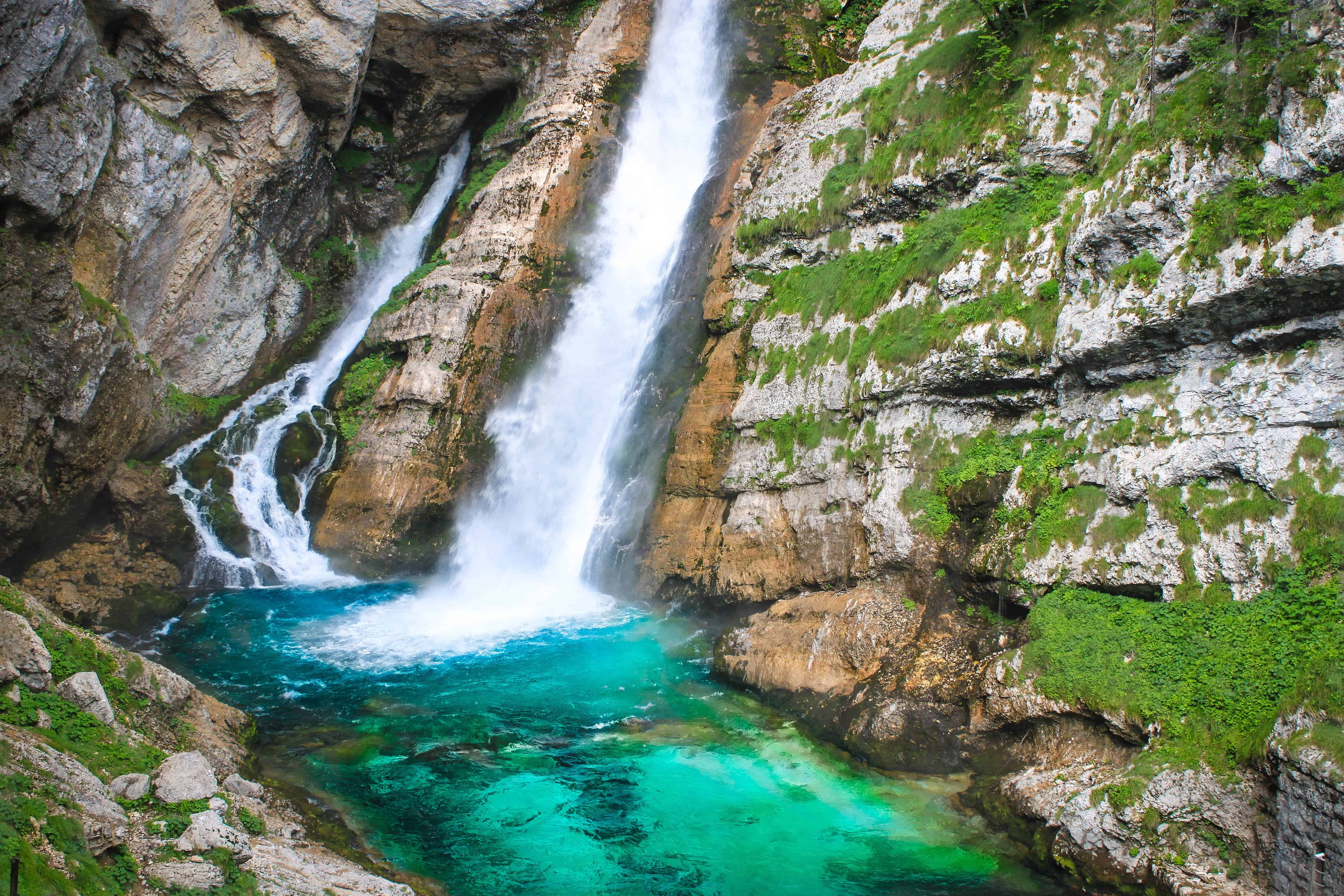 15. Lake Jasna
What this lake has over Lake Bled and Lake Bohinj is its scenery. Lake Jasna is framed by the most breathtaking snow-covered mountains. You can swim in the warm waters of the lake while being surrounded by the icy tips of jagged, monstrous mountains.
It's like something out of Lord of the Rings. Actually, no, it's better.
There just isn't a landscape like this that can be found anywhere else. And, to add to the view, there's also a bar, an ice cream parlour, and a diving platform to encourage some fun water activities. Because of all these additions, you can easily spend an entire afternoon here lounging, swimming, and taking in the view.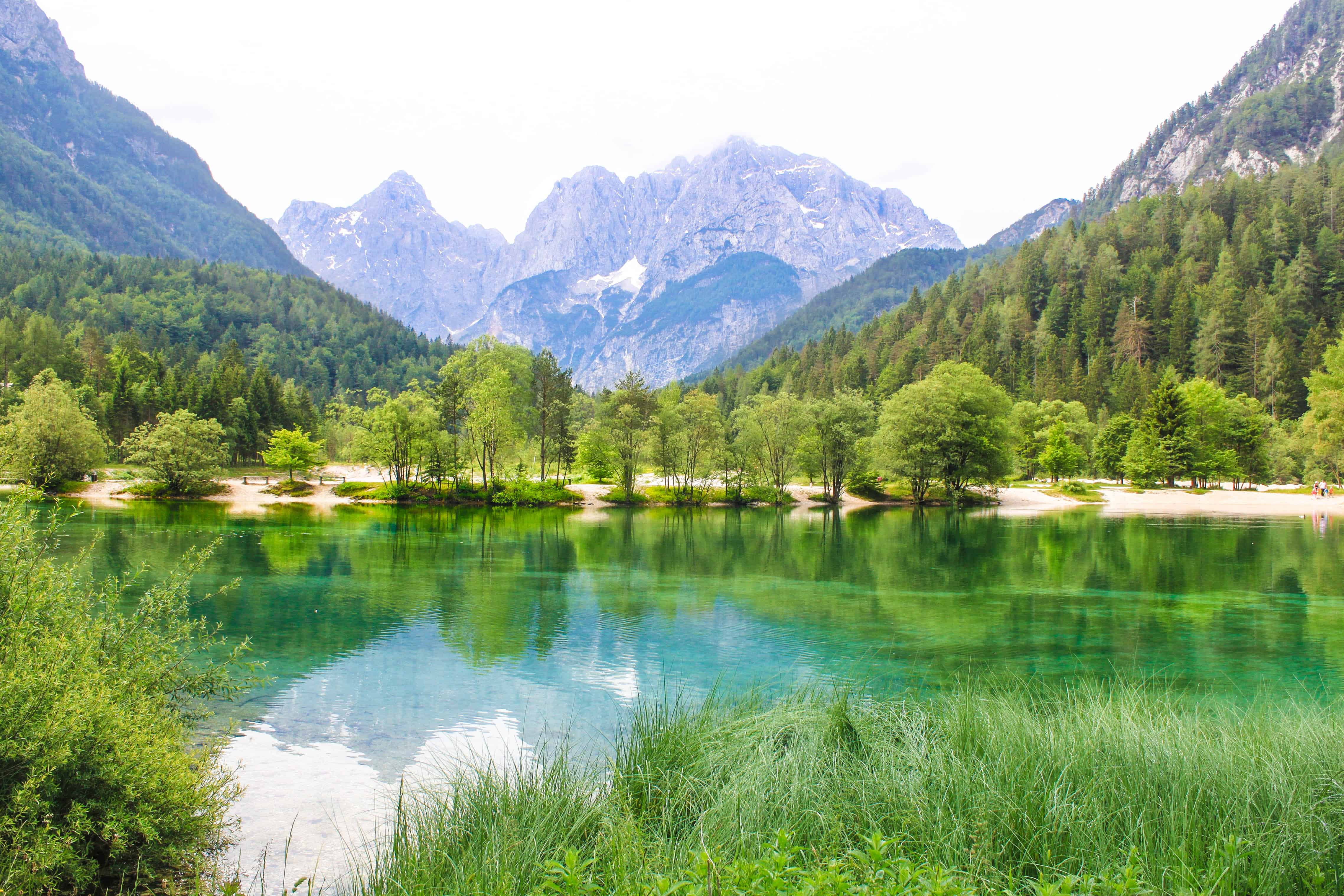 16. Kranjska Gora
If you're wondering what places to visit in Slovenia during the winter months, this is it. Kranjska Gora is an Alpine resort that's blanketed in heavy snow all through the winter. It sits at the border of both Italy and Austria, in the Julian Alps.
If you're coming in the winter, it's all skiing and snowboarding. But this is also one of the best places to visit in Slovenia during the summer months as well. There's hiking, cycling, climbing, and even ziplining, all out in the gorgeous open wilderness.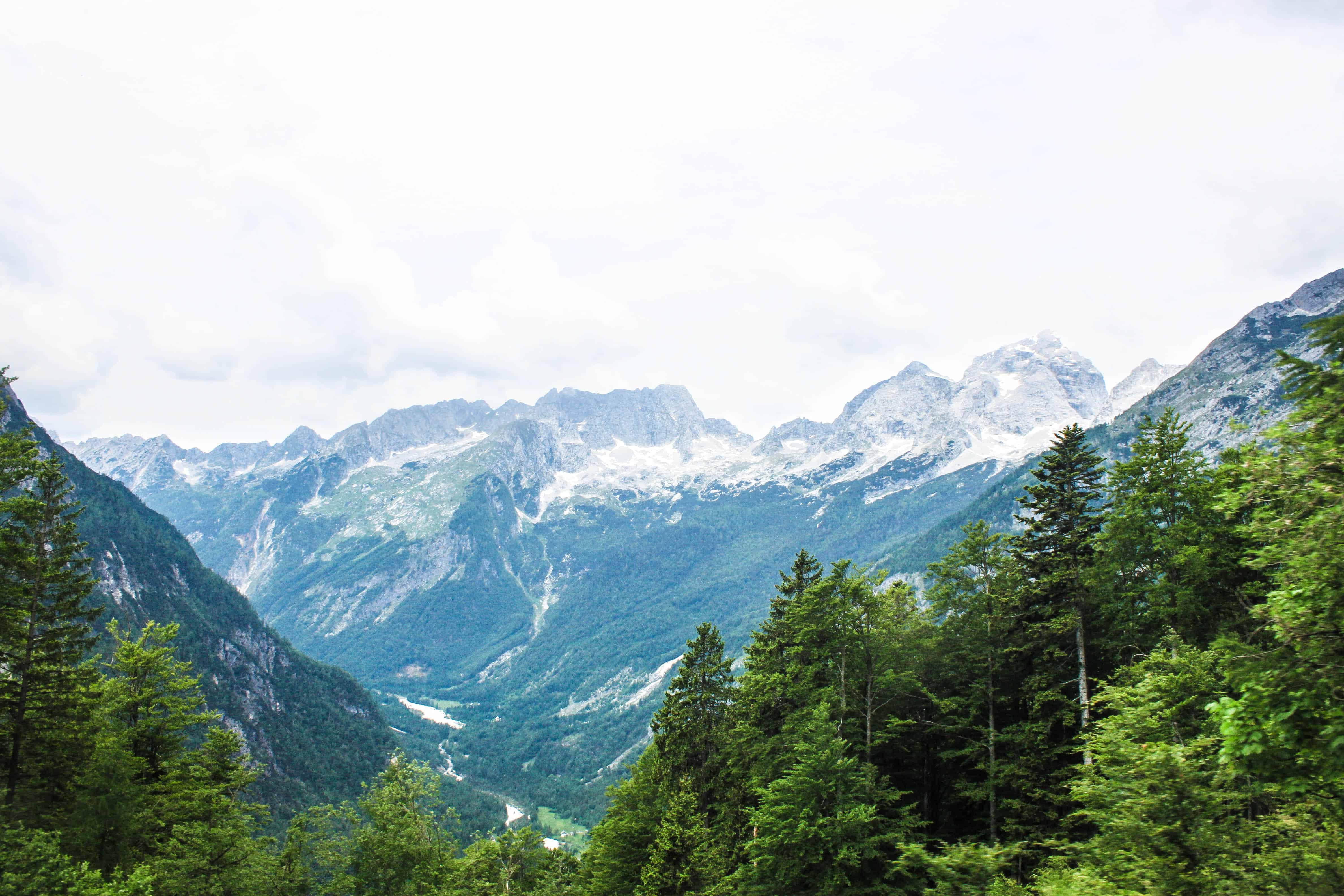 17. Adrenalin rush in Soca Valley
The township of Bovec is nestled in the Soca Valley, and if you stay here, you'll have a wealth of exciting sports and activities at your fingertips! From Bovec you can head to the river and go rafting down the Soca rapids! If you visit Slovenia with friends, this is a great adrenaline rush for the whole family!
If you're feeling even more daring, you can also go rock climbing and cliff jumping! The emerald green pools are incredibly deep, with cliffs looming just overhead, making them basically a natural swimming pool complete with diving board. If you're confident enough, go for it!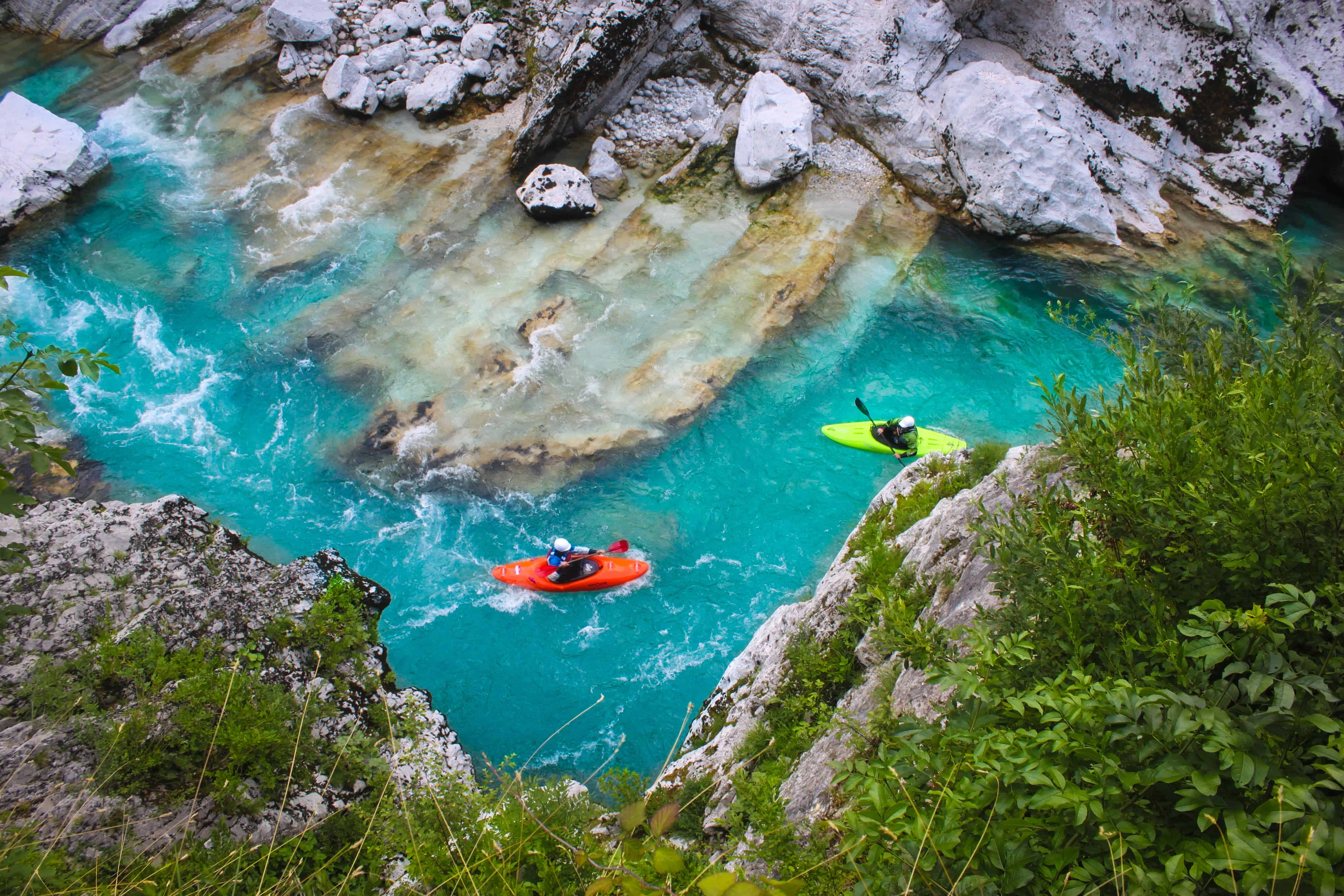 18. Find the best (hidden) beach in Slovenia
On the southwestern tip of Slovenia is the little-known beach area of Strunjan and Moon Bay. These beaches are nothing short of a fairy tale experience. These beaches, with their rock pools and surrounding forests, absolutely feel like a fairy tale, just as much as the inland forests and hills of Slovenia do. Moon Bay in particular is all high green cliffs, deep blue open waters, pebbly beaches, and hill views.
This area is somewhere few tourists ever even hear about, so you're more than likely to have it all to yourself, even in the summer months!
19. Wine tour
Slovenia is very much one of Europe's wine capitals. If you're excited to sample the local delicacies when you visit Slovenia, why not start with the wine!
If you go with Get Your Guide you can book a range of wine tours that include exploring the vineyards, learning about the history and uniqueness of Slovenian wine, and sampling the local flavours for yourself. This tour will take you to the Vipava Valley where you can see where the wine comes from.
Another takes place in Ljubljana and gives you a few hours to taste all the great wines of Slovenia for yourself!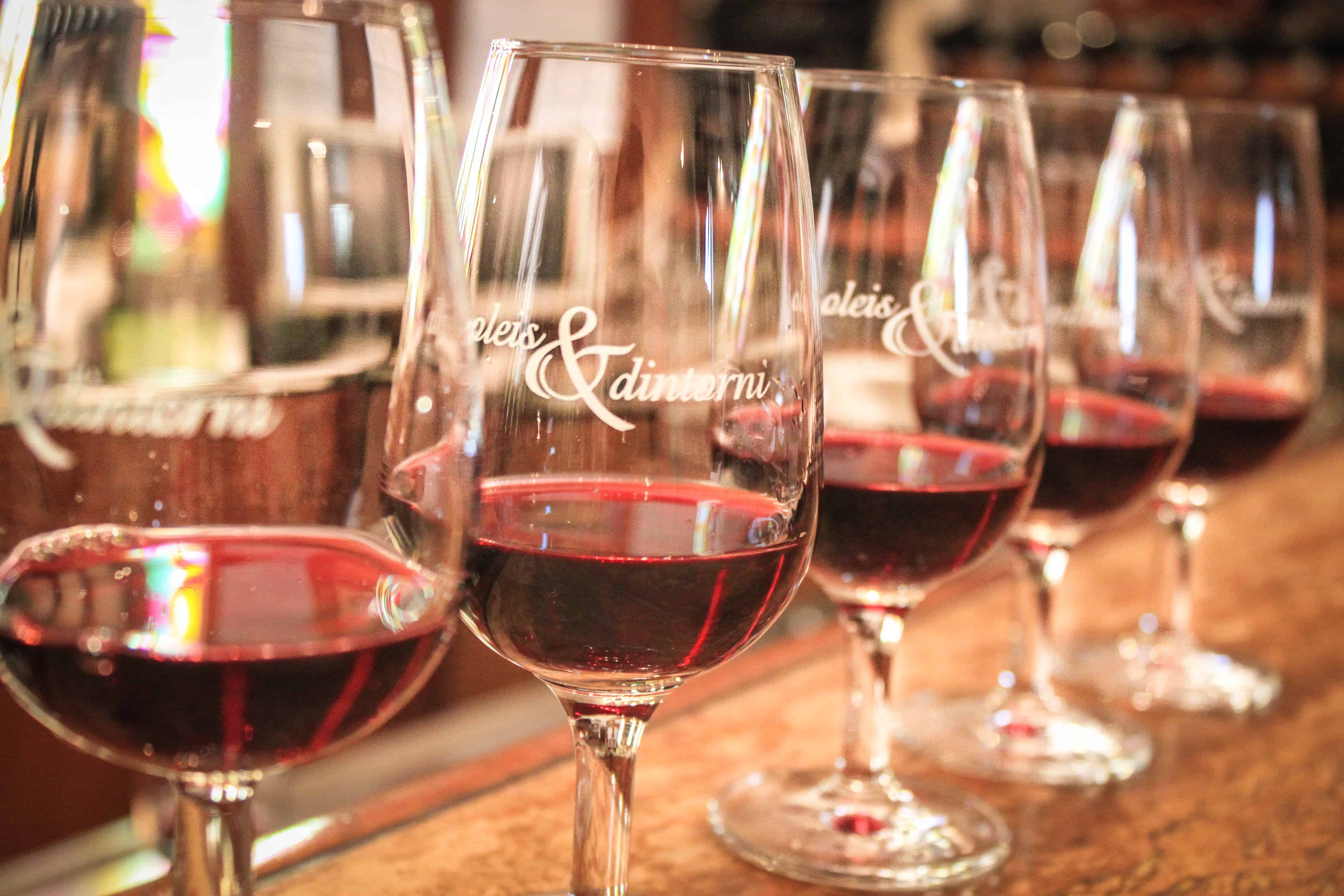 20. Go skiing in Vogel
Right beside the serene Lake Bohinj is the unassuming ski resort of Vogel. Come winter, this is one of the best places to visit in Slovenia for a skiing and snowboarding winter holiday! Slopes, downward tracks, jumps – everything a ski-addict could want is right here.
Slovenia might be one of the best countries to visit for the spring and summer months, but Vogel proves that it's also one of the best countries to visit in the winter as well!
Where to stay in Slovenia
Ljubljana –

FORUM Apartment
Beautiful and spacious, minimalist and warm. This is a fantastic place to stay in the heart of Ljubljana with a huge TV and comfy sofas to make you feel at home during your stay. Staying here means having a real home away from home. Click here to find the latest prices.
Lake Bled –

Carman Guest House
With room views that overlook Lake Bled itself and also let all the natural light in that you could need to make you feel warm and relaxed, this is a great choice for Lake Bled. At this guest house, you get a spacious modern room with a very soft bed, and they even have a row boat you can use! Click here to find the latest prices.
Bovec –

Apartments Alpha Center
A beautiful cottage with its own gardens in the heart of the Bovec countryside. If you decide to take a road trip to reach here, the apartments have their own private parking available. You're only half a mile away from the city centre, and yet all the gorgeous landscapes you could ever want are surrounding you completely. Great for staying during either winter or summer. Months! Click here to find the latest prices.
Kobarid –

Apartments RA-fting
A selection of apartments right beside the river Soca, ideal for solo travellers, couples, and families. Anyone looking for adventure! As the name suggests, rafting along the Soca river is the big activity in this area! Click here to find the latest prices.
Maribor –

Sweet Little Home
Here is a gorgeous apartment with a patio and a private garden in Maribor. It has a sweet, quaint, traditional Slovenian aesthetic inside and out. A delightful place to make a home of during your holiday. Click here to find the latest prices.
Piran –

Apartments Pronavtik
Private apartments with spacious rooms and the option for bike rental. This is a fantastic option for solo travellers and couples looking for something private and relaxed in the Piran area. Click here to find the latest prices.
Kranj –

Goldenfields Apartment
This spacious apartment is set in some of the most peaceful and tranquil countryside you could ask for! You get a balcony, and there are both cycling and skiing options nearby. It's a stunning apartment in an even more stunning area. Click here to find the latest prices.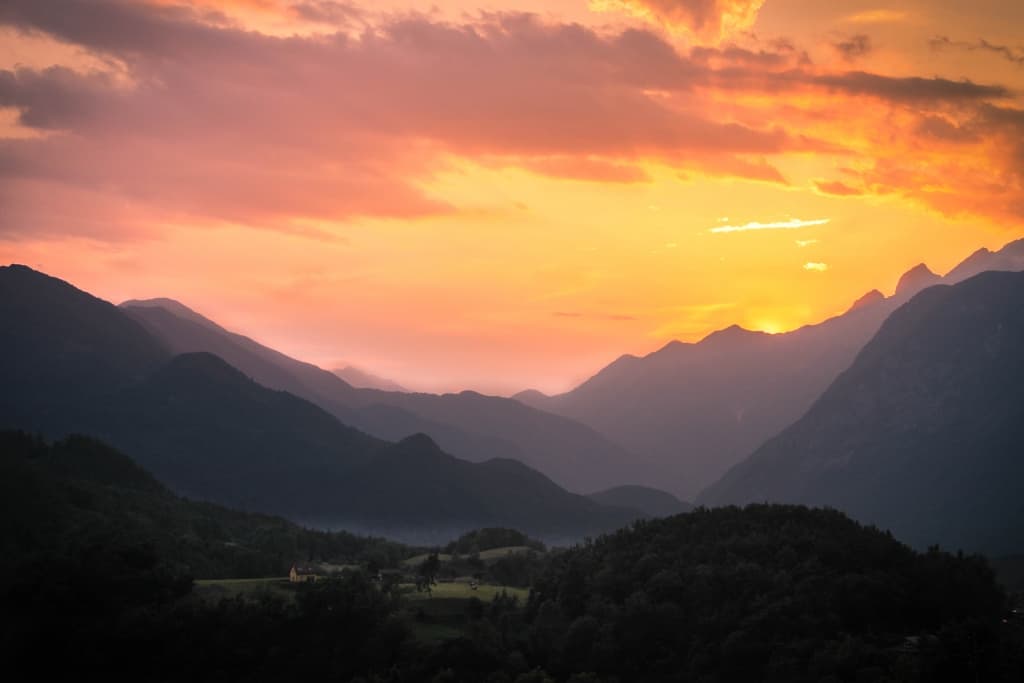 Before you go – don't miss out on these posts: