10 best things to do in Ljubljana you don't want to miss
Visiting the Slovenian capital? Here are the best things to do in Ljubljana that you shouldn't miss.
Plan your trip to Ljubljana – Quick tips
👩🏻 Best guided tours in Ljubljana
🏡 Where to stay in Ljubljana
Ljubljana. Don't you just love that name?
Before I arrived in Ljubljana Slovenia I had no idea what to expect. Would there be any fun things to do in Ljubljana?
I had a feeling it would be like any other capital; Crowded with a capital C, busy, a bit impersonal. But I was SO wrong.
Gosh. Twist my arm.
❄️ Read next: 18 magical things to do in Ljubljana in winter
This post contains referral links for products I love. Adventurous Miriam earns a small commission at no extra cost to you if you make a purchase through my links. Thank you for your support ♡ Learn more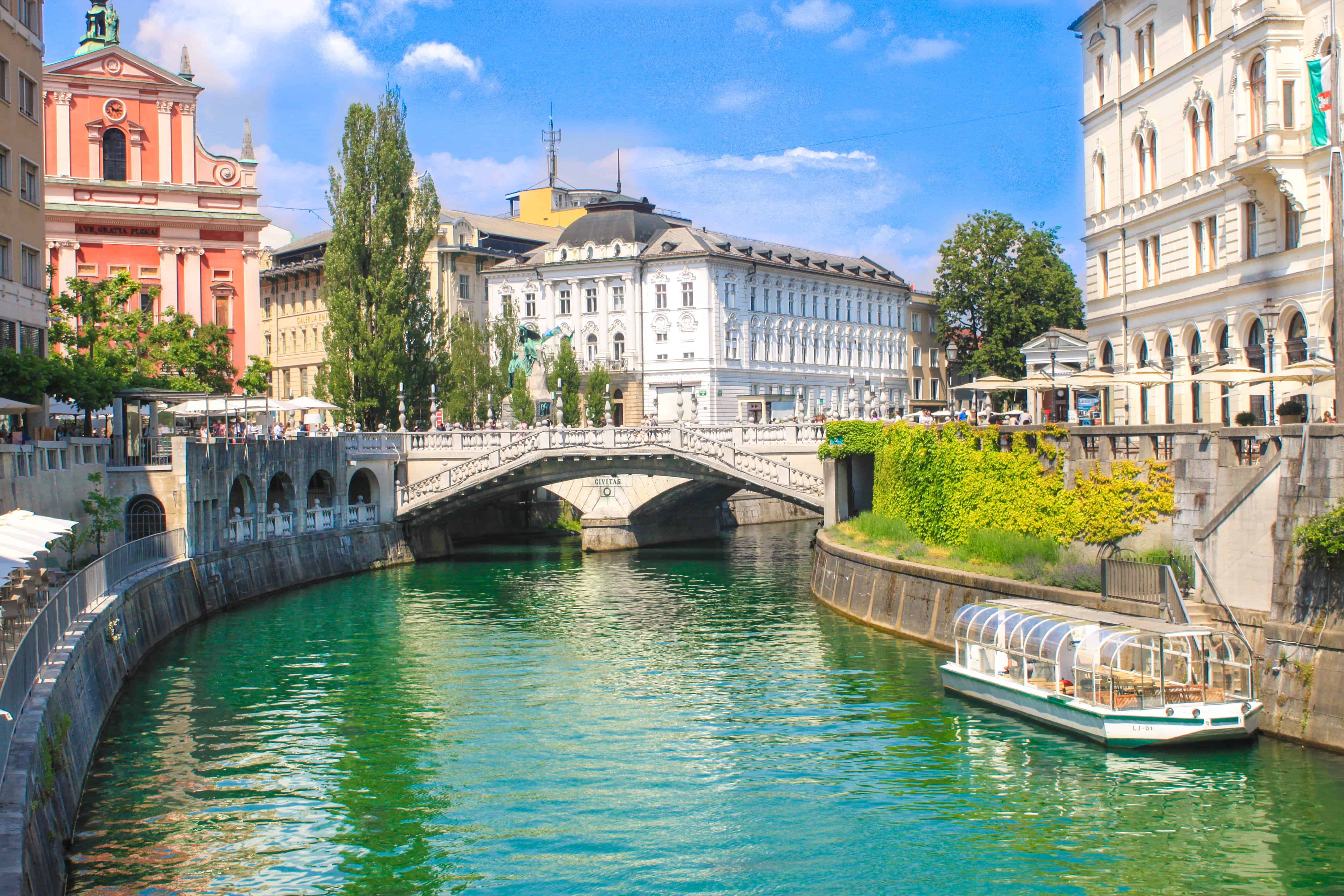 Best things to do in Ljubljana Slovenia
Ljubljana is the CUTEST little capital I've been to. Ever. Only 280,000 people live here, and during the summer they're all in the streets playing cards, chatting to neighbours or drinking coffee at one of the gazillion cafes around town.
It reminds me so much of my hometown Aarhus, – the loveliest city of all times – which has the exact same vibe.
Yes, Ljubljana was love at first sight. And I felt right at home in this adorable little capital.
Whether you're here for a day, a weekend or longer, there are plenty of things to do in Ljubljana. From experiencing a medieval castle and chasing dragons to spending the night in a former prison cell, you can have a really fun time here.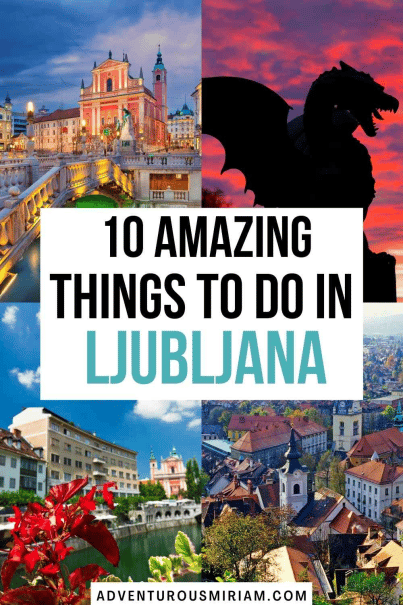 Join a walking tour of Ljubljana
Walking around Ljubljana on your own is fairly straight forward. It's a small city and sights are located in close proximity.
But with a guide or on a tour you just get some inside info that you wouldn't have otherwise. Like where the best restaurants are or some hidden, Instagram-worthy spots, stuff like that.
It's totally doable to see Ljubljana without a guide, but I often use one when I travel just to get some inside knowledge. Whatever you prefer, this is a great walking tour of Ljubljana.
1. Dragon Bridge Ljubljana
One of the first things I wanted to see was the dragons. I had seen photos of them, heard tales about them so I wanted to find out what the fuss was about.
As it turned out, dragons are everywhere in Ljubljana, or at least at the Dragon bridge, where there are no less than four giant statues.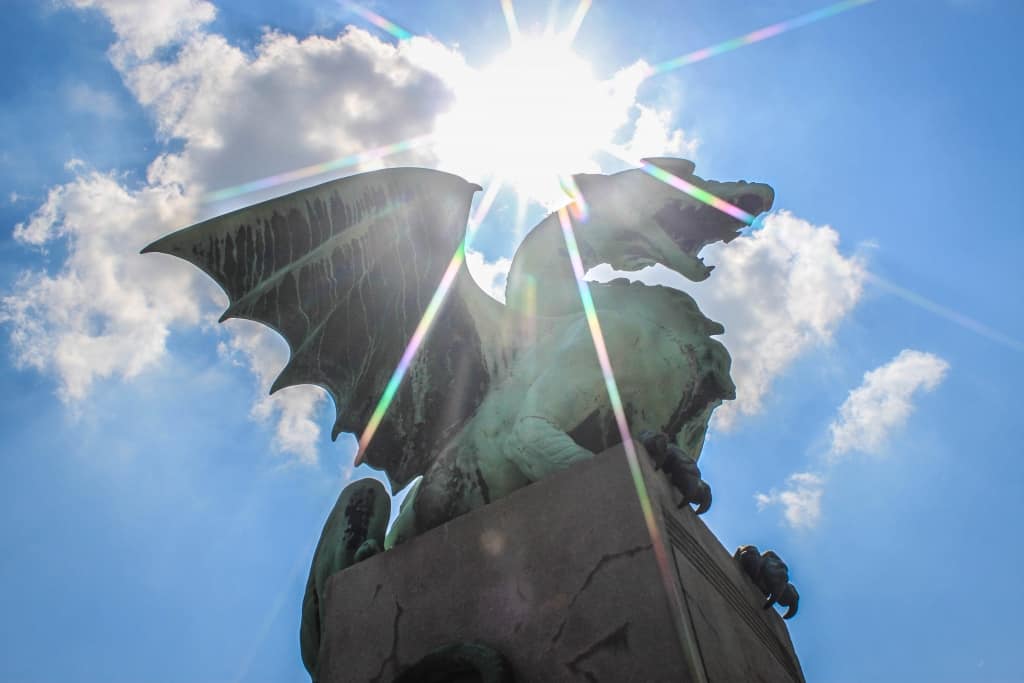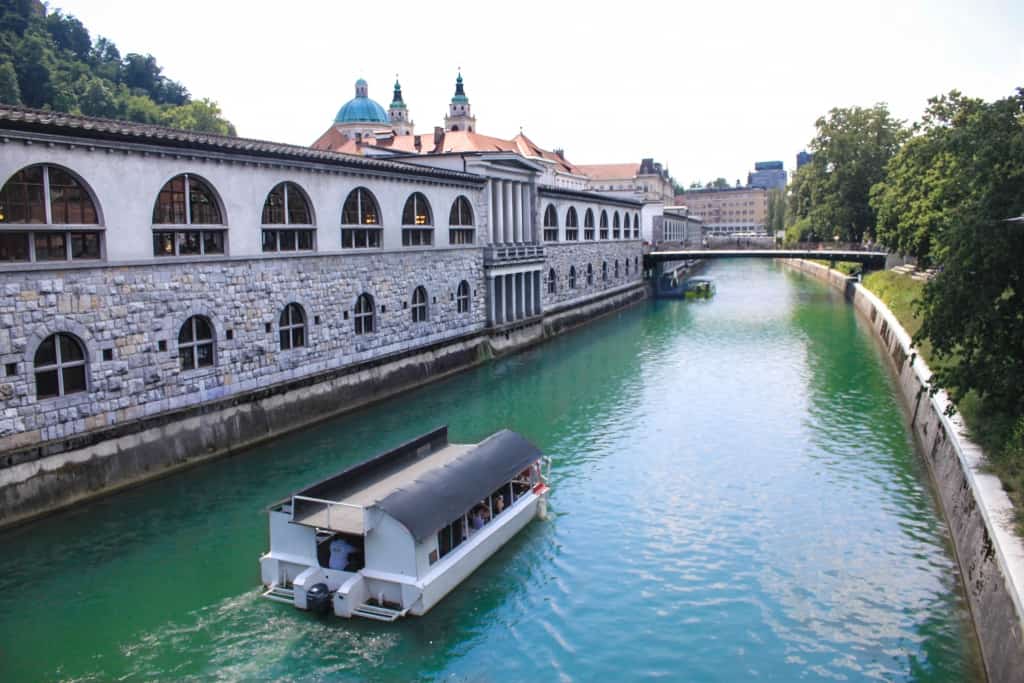 2. Love on the Butcher's Bridge
Besides the Dragon bridge, Ljubljana also has a Butcher's Bridge. Along with slightly grotesque frog sculptures and figures from Greek mythology, there's a sculpture of Adam & Eva portraying their shame after the banishment from Paradise.
Not exactly the most romantic spot in Ljubljana. However, this is the place hundreds of love-struck couples have locked their souls together in a padlock, hung it on the bridge, and thrown the key over the edge.
If you ask me, this bridge is the prettiest and most charming in Ljubljana.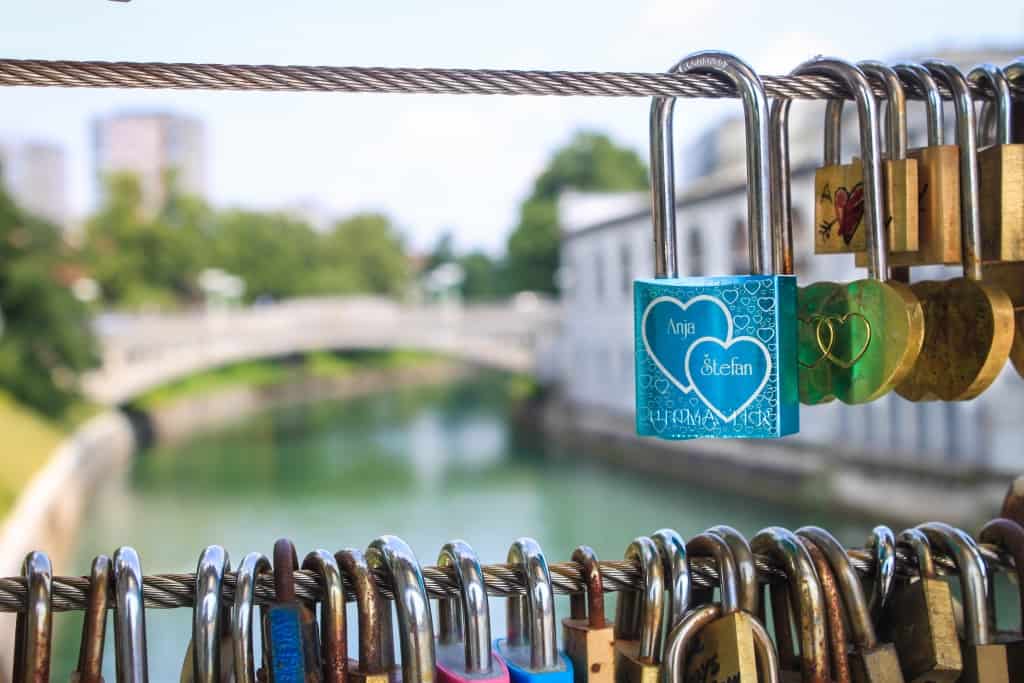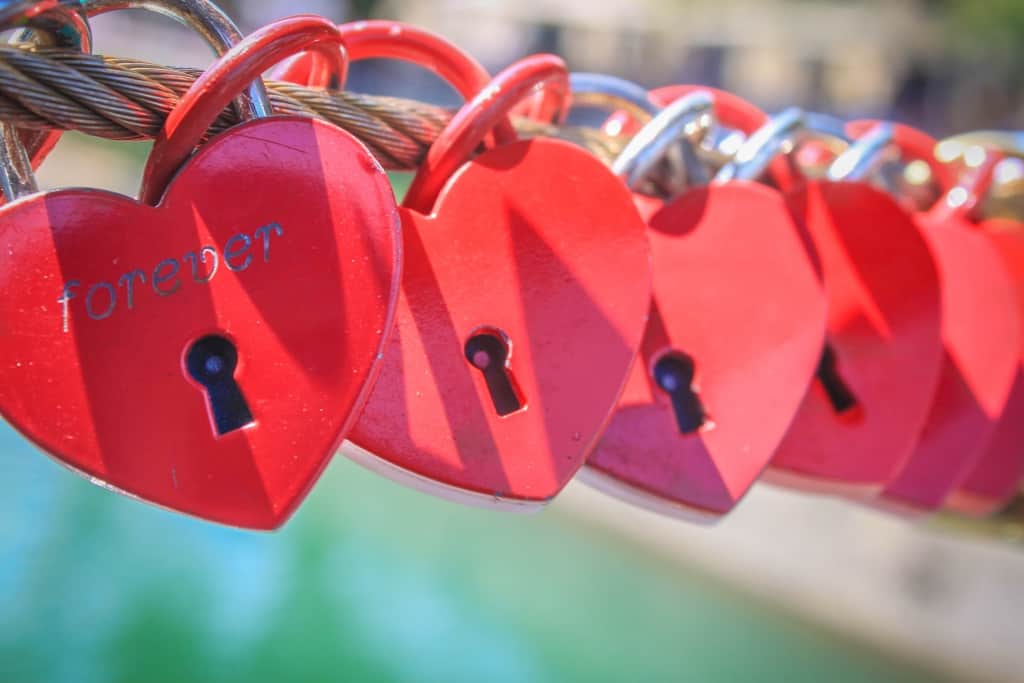 3. Slovenian Food Market
At the end of the Love bridge, there's a local food market. I love these places – not only because the food is really cheap, but also because it's local.
This is where Slovenians buy flowers, fruits and vegetables. And this is where I bought two bags of strawberries and cherries.
I love, love, LOVE European fruits.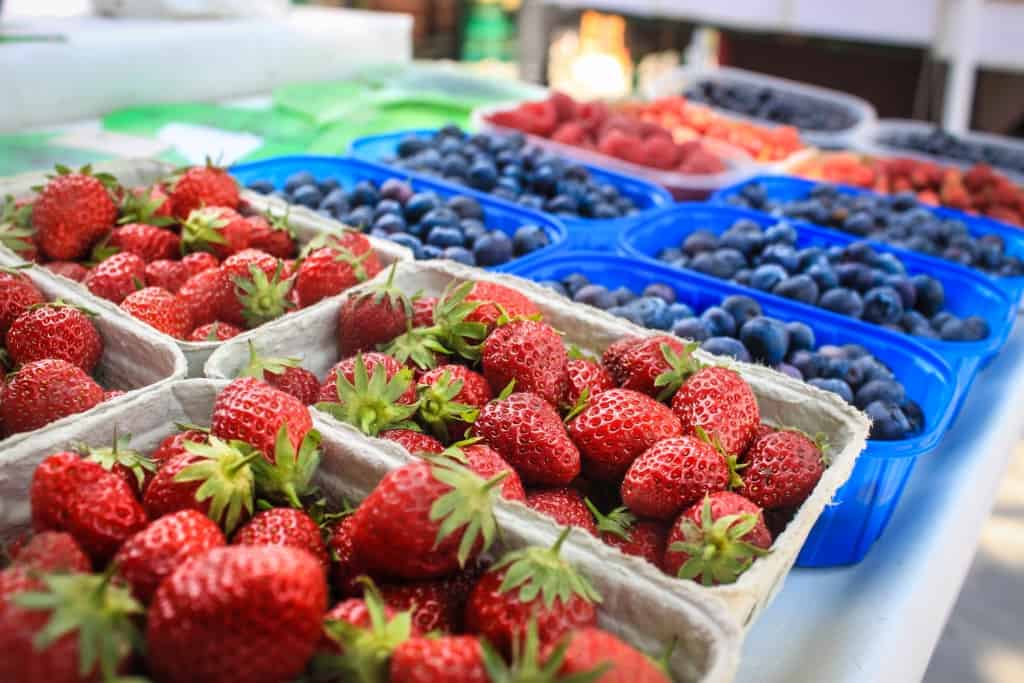 4. Cafes along Ljubljana River
Taking a stroll along the river took me past dozens of small cafes and bars. MAJOR COSYNESS. I had a genuinely hard time picking out which one to go with, and at last I settled on one of the many, many pizzerias.
Wait, whaaaa? Like, who should even eat that when they're in such a culinary city?
I know. It sounds bad. But let me just say that pizzas in Slovenia are special. Recipes are inspired by the Italian pizza, which is thin and crisp and with such a gorgeous delicate flavour that just melts in the mouth. Oh praise be.
For 2 Euro ($2,2), I had a pizza slice and a scoop of ice cream for desert. VERY AWESOME.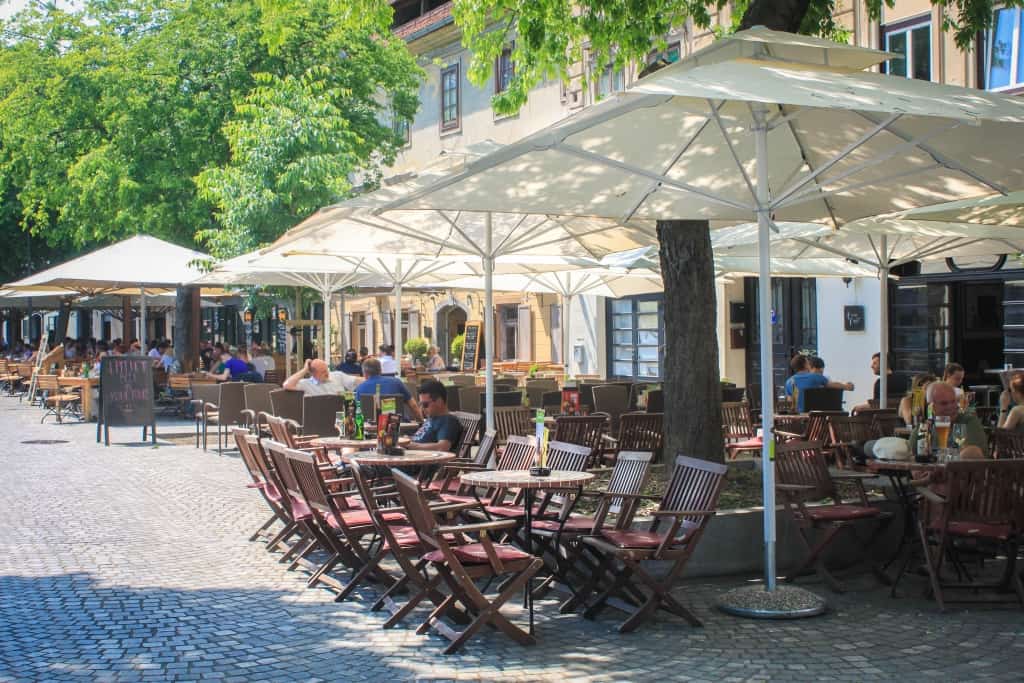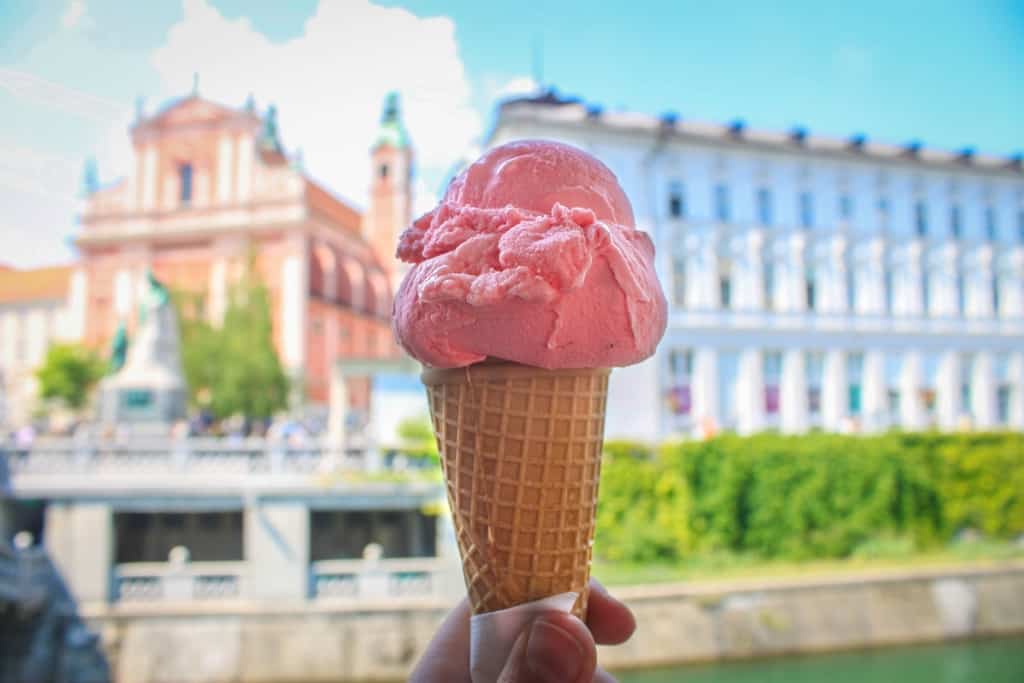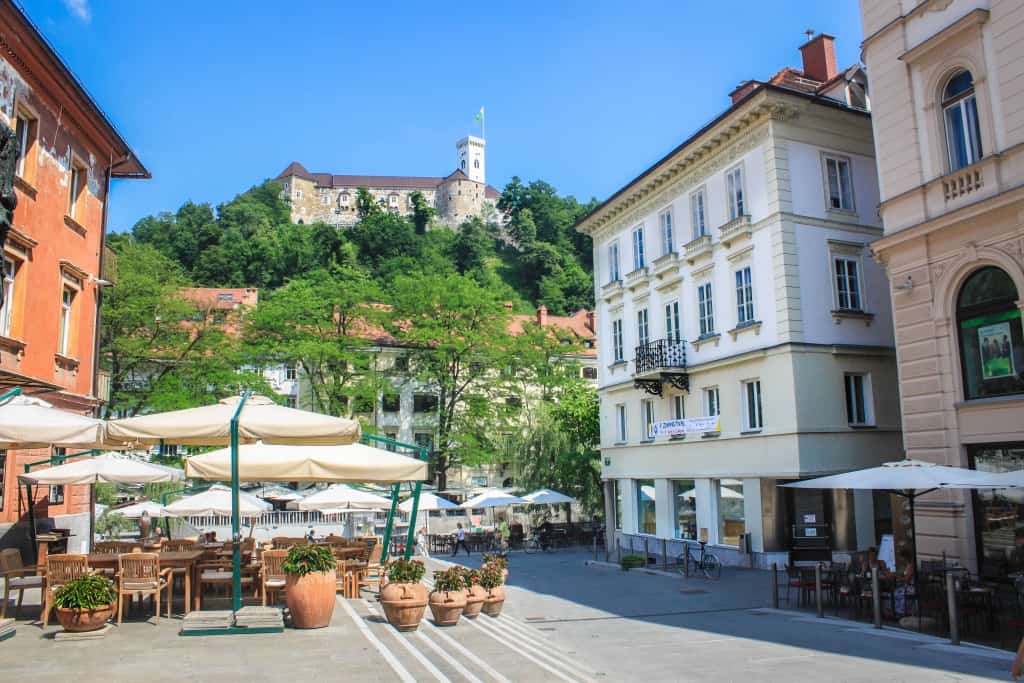 4. Ljubljana River
The river in Ljubljana is like the Eiffel Tower in Paris: the heart, the centre point of the city. Walking along it takes you past all the important sights and shows you what the city is all about.
I thought about taking the Ljubljana river tour, but since it was 32 degrees and I was feeling the summer love to the maximum, I decided I should walk the few kilometres instead.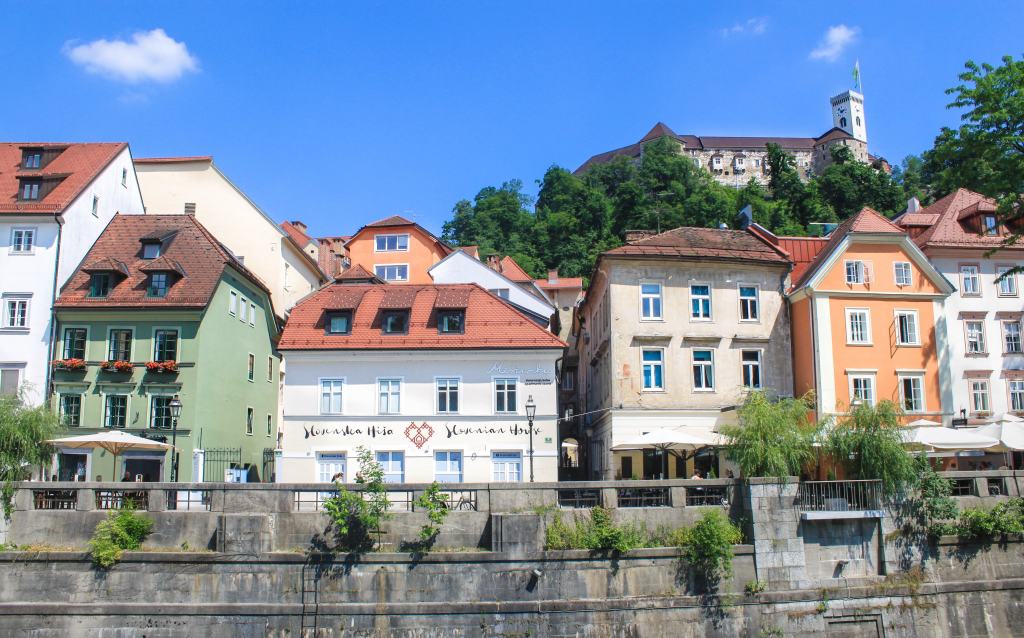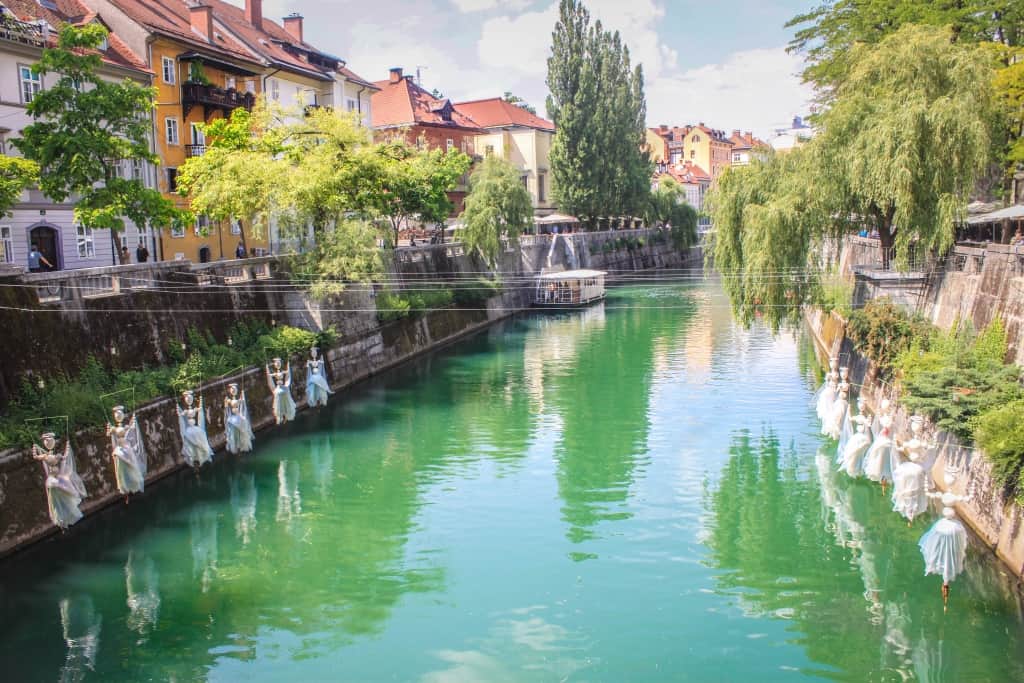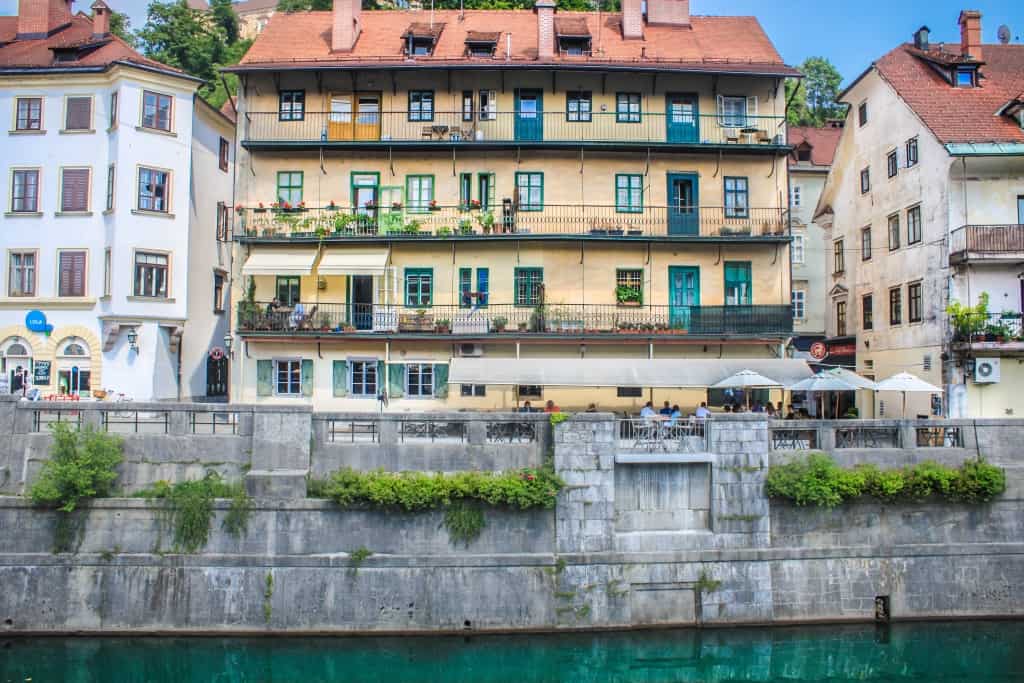 6. St. Nicholas Cathedral
One of the best things about this capital is that it's walkable, and everything is in a close range.
On my way down the canal, I passed St. Nicholas Cathedral; a 300 year-old baroque church with an impressive interior design.
Read next: 10 Most Beautiful Cities in Slovenia You Must Visit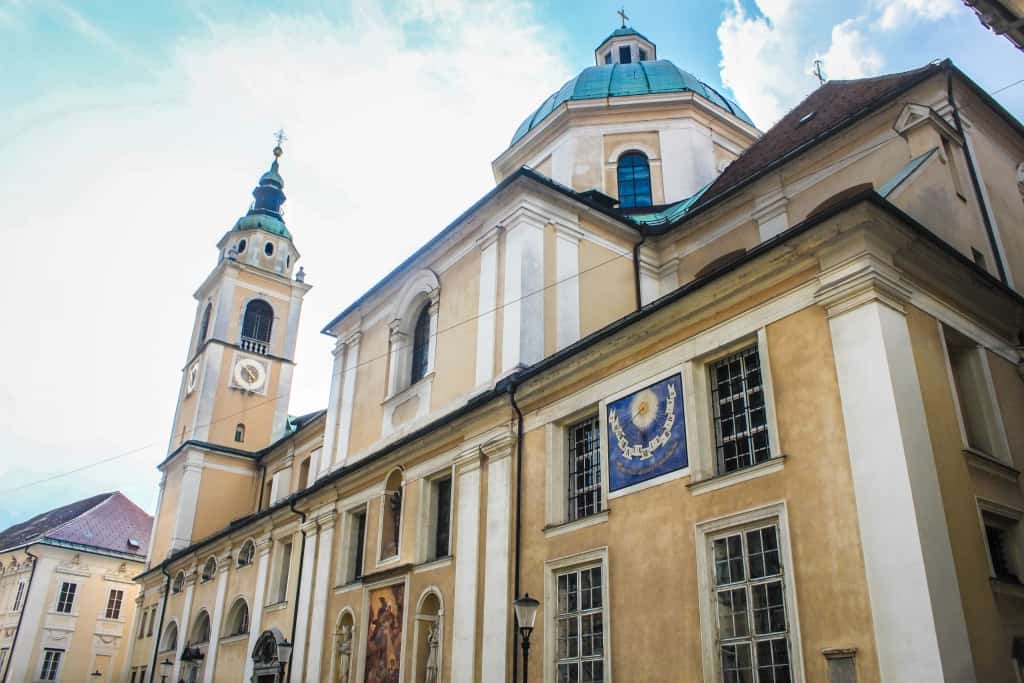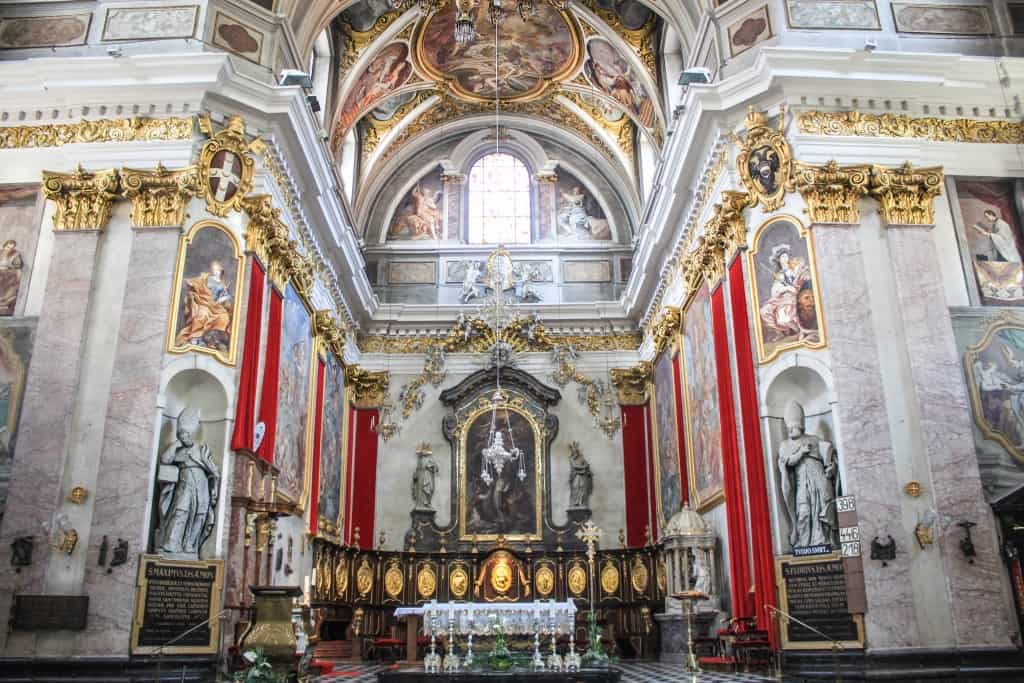 7. Metelkova
One of the best things to do in Ljubljana is visiting Metelkova.
Metelkova is not particularly cosy or inviting. Actually, it's quite the opposite. But the street art, the vibe, the people and buildings are worth the visit.
It's only 10 minutes walk from the city center, and it's easily reached by foot. The coolest thing, though? In Metelkova, you can spend the night behind bars in a former Yugoslavian prison.
If you're in town, go here. That's all I can say.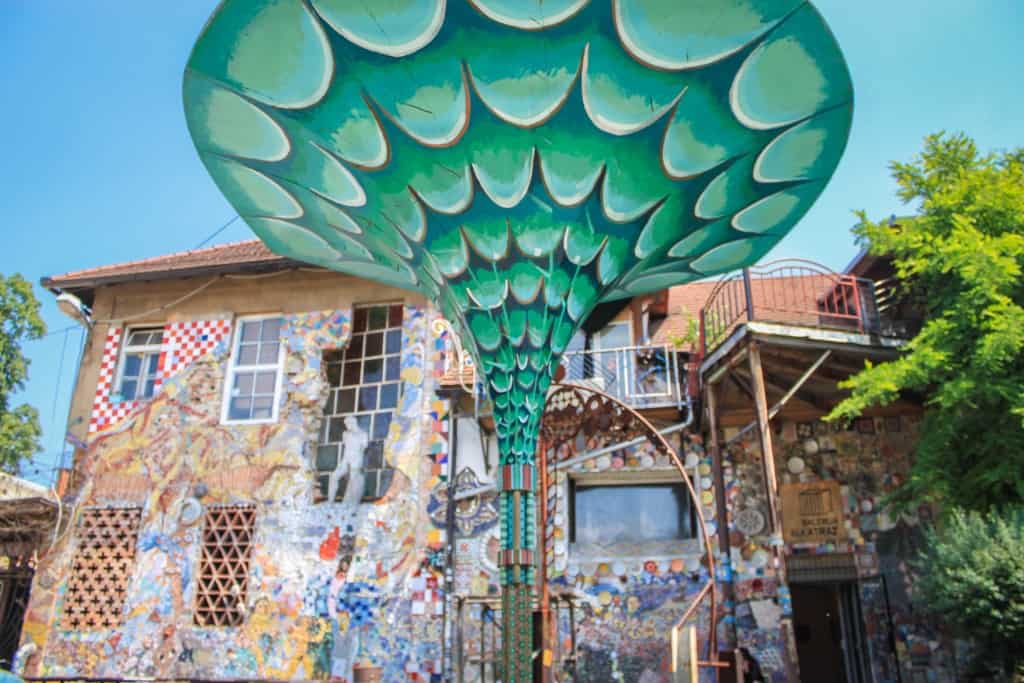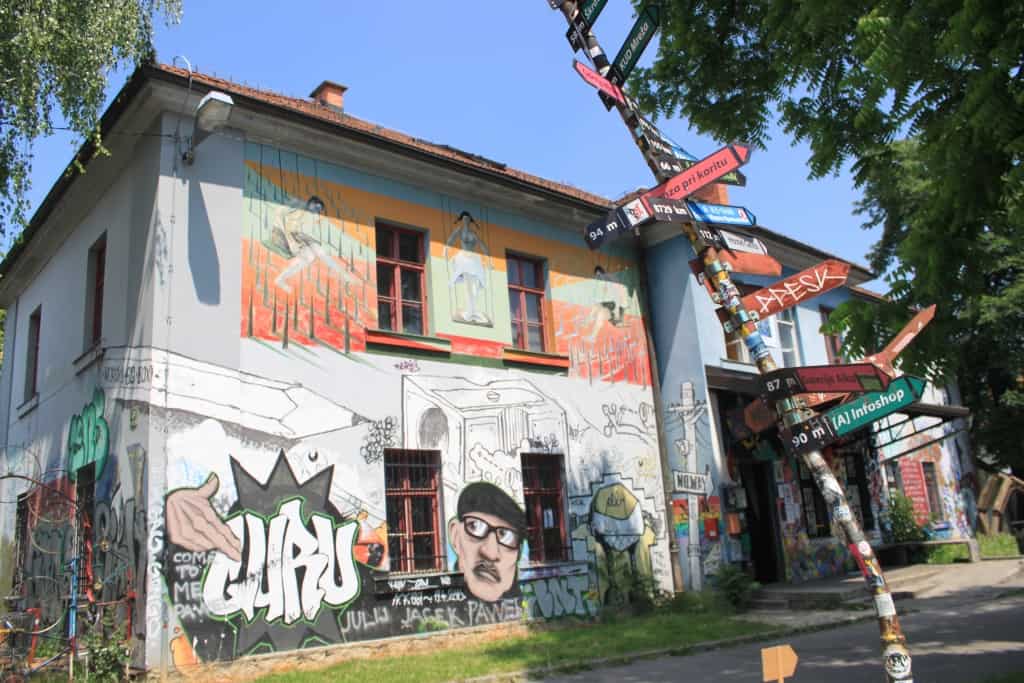 8. Stay in a prison
Yes, that's right.
In the funky Metelkova area you can actually spend the night in a former Yugoslavian prison – the hostel Celica. You stay in an old jail cell – with bars! It's not as horrible as it sounds, though.
The owners are super nice, and there's a great vibe at the place and many activities during the summer. Check latest rates and availability here.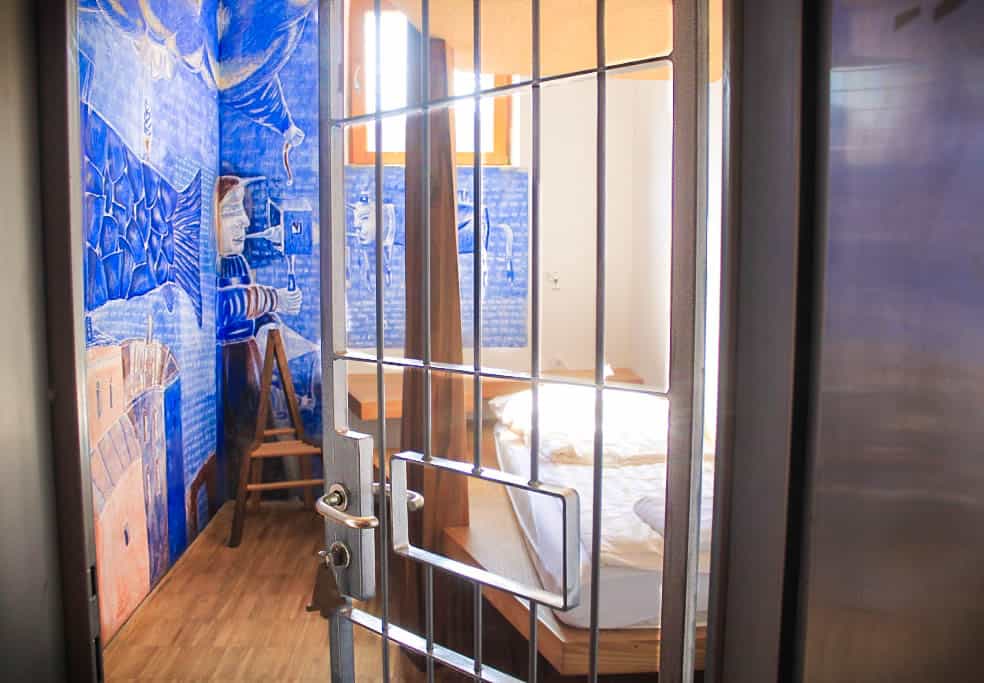 9. Ljubljana Castle
No matter where I was in town, I always had sight of Ljubljana castle. It was originally a medieval fortress, built in the 11th century.
So cool. MUST-VISIT.
There are two ways to reach the castle: by foot or by cable car. I recommend the latter, unless you enjoy hiking ridiculously steep hills when there's actually an alternative.
I took the walking path on my way down which was great. It goes through the forest and is a 15 minute walk.
On this 2-hour guided tour with Viator, you'll get to visit the castle and get an introduction to Ljubljana. It's the perfect way to get to know the city.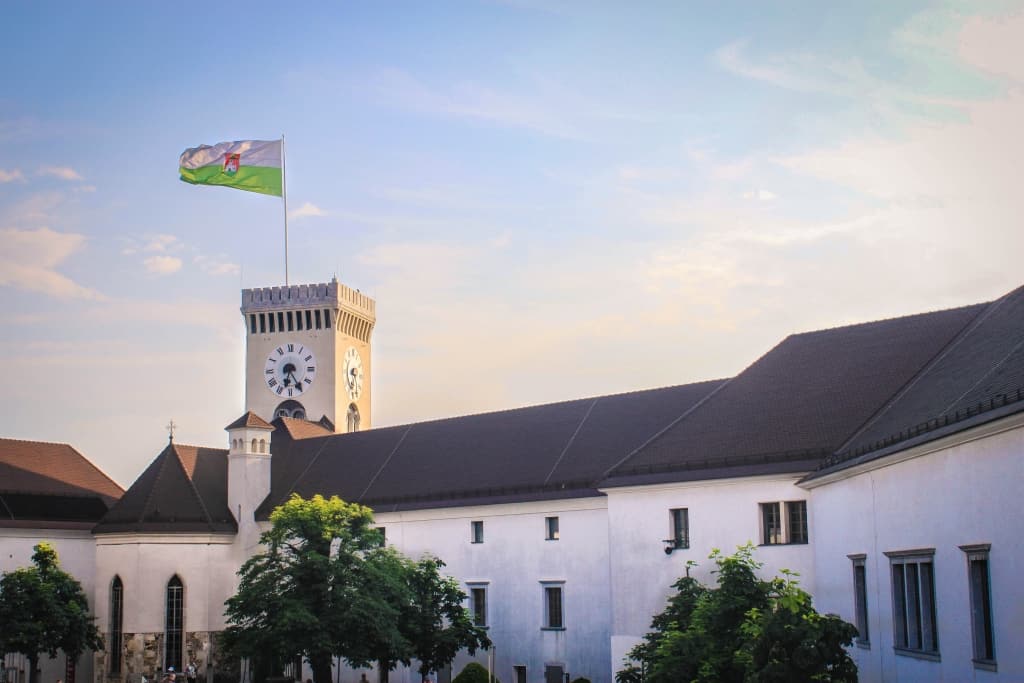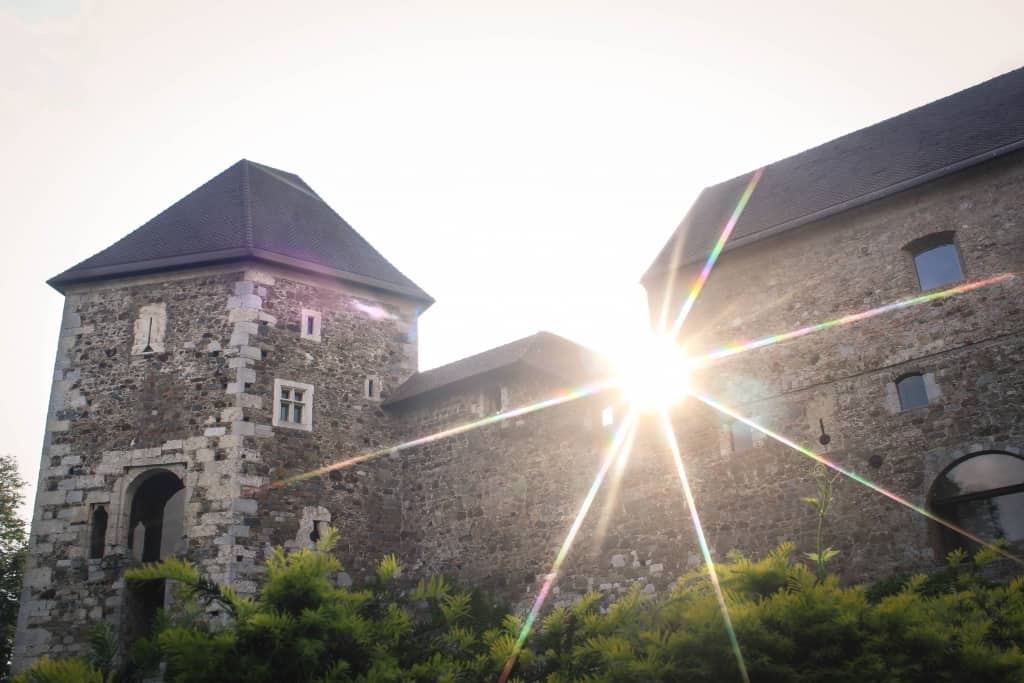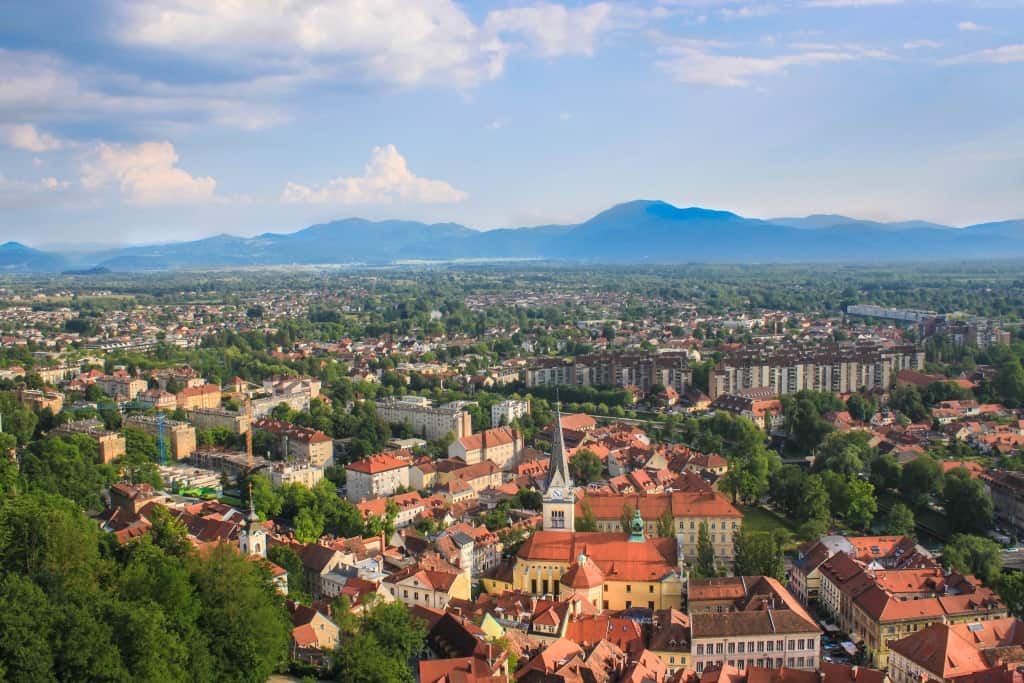 10. Ljubljana Skyscraper
Another of the great things to do in Ljubljana is visiting Skyscraper, or in Slovene: Nebotičnik. Quite the original name, I have to say. This building was constructed in 1933 and was – at that time – the tallest building in Yugoslavia.
On the highest floor, 50 metres above the streets, there's a bar where I enjoyed the sunset with a glass of amazing white wine. Slovenians really know how to make good wine.
It was the perfect ending to my first day in Slovenia; a country I was about to fall pretty much head-over-heels in love with…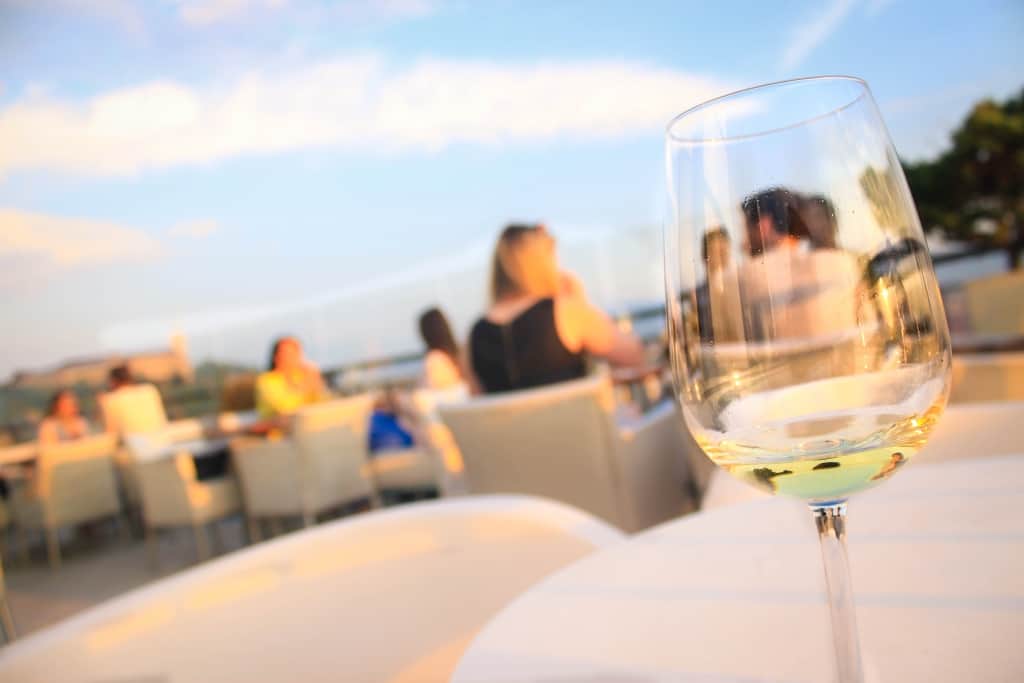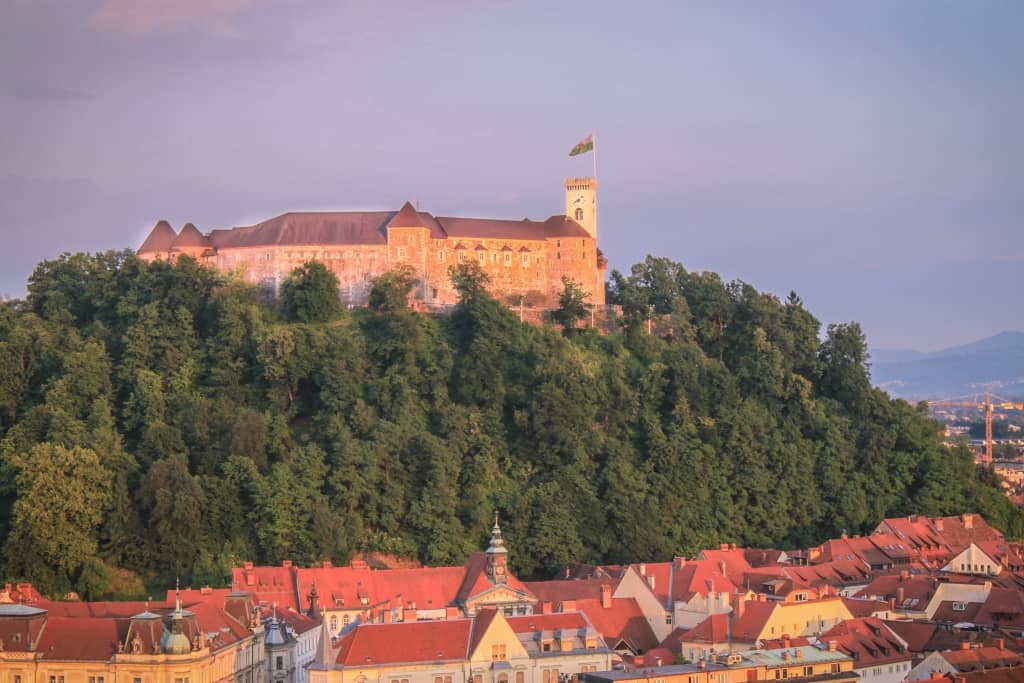 Where to stay in Ljubljana
If you're up for it, I recommend spending a night in jail otherwise known as Hostel Celica. Simply because it's a unique and fun experience! If you're looking for something a little more up-scale, this hotel is amazing:
Urban Boutique Hotel Center. A lovely boutique hotel in the heart of Ljubljana. Spacious rooms with air con, and the hotel offers airport shuttle and bike hire. Click here to find the latest prices.
FAQ about things to do in Ljubljana
What are the top tourist attractions to see in Ljubljana?
Some of the top tourist attractions in Ljubljana include the Ljubljana Castle, Triple Bridge, Dragon Bridge, Ljubljana Old Town, and Metelkova (a hidden gem).
Are there any free things to do in Ljubljana?
Yes, there are many free things to do in Ljubljana, such as visiting the Ljubljana Central Market, exploring the Ljubljana Old Town, taking a walk along the Ljubljanica River, and hiking up to the Ljubljana Castle.
What are the best day trips from Ljubljana?
Some of the best day trips from Ljubljana include:
– Lake Bled (beautiful lake with a fairy tale island). Check availability.
– Postojna Cave and Predjama Castle (one of Slovenia's most popular attractions). Check availability.
– Piran and Skocjan Caves (UNESCO World Heritage Site). Check availability.
What should I wear when visiting Ljubljana?
The dress code in Ljubljana is generally casual, so I recommend comfortable clothing and shoes.
It's also a good idea to bring a jacket or sweater, especially during the cooler months.
Is it safe to walk around Ljubljana at night?
Yes, Ljubljana is generally a safe city to walk around at night. I visited Ljubljana as a solo traveler and felt very safe.
However, it's always a good idea to take normal safety precautions, such as staying in well-lit areas and being aware of your surroundings.
Before you go – don't miss these posts: