Lake Bohinj Slovenia is magical and here are 10 reasons to visit asap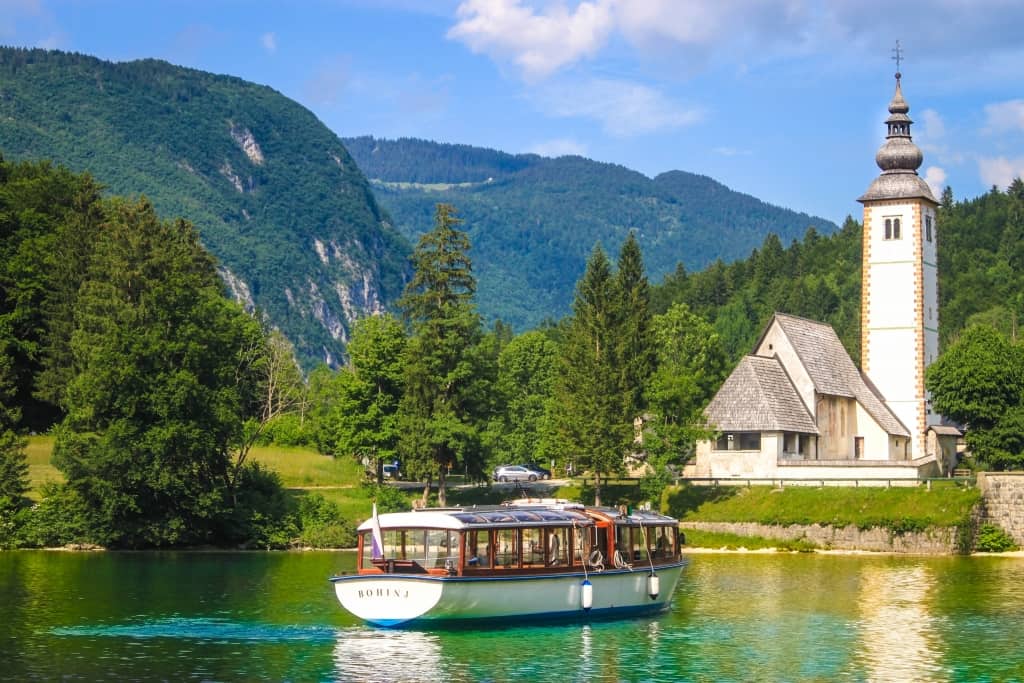 Discover 10 fun things to do in Lake Bohinj, including hiking, biking, swimming and much more.
Many people visit Slovenia for Lake Bled, and they don't explore the area around it. That is a mistake.
Now, don't get me wrong. I absolutely LOVE Lake Bled – no question there, and you should definitely visit for sure. However, compared to Lake Bohinj it is more crowded and honestly not as authentic.
Plus, Bohinj is the place for outdoors activities such as hiking, biking, paragliding and waterfall trekking, with beautiful scenery, snow-capped mountain top views and reflective lakes as background.
If you're in the area and have time, I hope you do make it to Lake Bohinj. It's worth the trip.
This post contains referral links for products I love. Adventurous Miriam earns a small commission at no extra cost to you if you make a purchase through my links. Thank you for your support ♡ Learn more
Introduction to Lake Bohinj Slovenia
Bohinj (after Boh, the Slovenian word for "God") is a valley enclosed by the Lower Bohinj Mountains and the Triglav mountain range. It's divided into the Higher and Lower valley and dotted with 24 small villages and 5,118 inhabitants.
Bohinj is probably known mostly for its glacial lake, Lake Bohinj, which is the largest lake in Slovenia. In the summer, people come here for swimming and other water sports. In the winter, the area becomes a hotspot for skiing, snowboarding and ice climbing.
Get a Julian Alps card
Price: 3 days: 19 € / 5 days: 26 € / 10 days: 29 €
When: Available from 1 April to 31 October
If you're visiting in summer or shoulder season, plan to spend two nights and want to experience just a few of the fun things to do in Lake Bohinj, then you should get a Julian Alps card. The card covers all public transport, parking fees and entrance fees to gorges, museums, waterfalls and much more.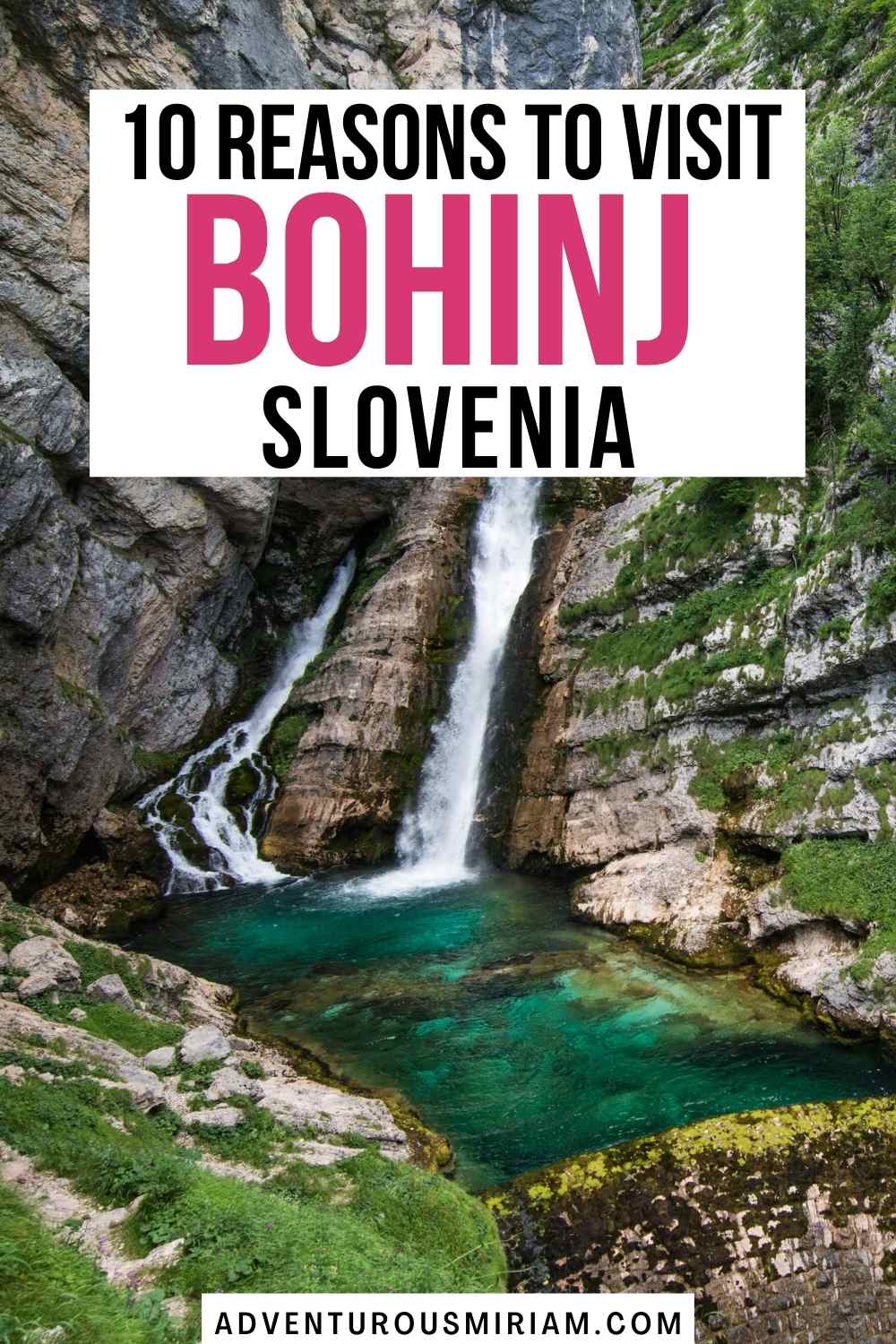 How to get from Lake Bled to Lake Bohinj
You've got three ways of getting from Lake Bled to Lake Bohinj: by car, by bus and by train.
By car
The drive from Lake Bled to Lake Bohinj takes 30 minutes, and it's very scenic. Think really gorgeous mountain scenery and nature. You can either rent a car or go for a private transfer. 
By bus
Another good option is taking the bus. It takes 45 minutes and runs on an hourly schedule. It's free with the Julian Alps card.
By train
A less convenient option is the train. The journey is 35 minutes, but it doesn't take you all the way to Lake Bohinj. It's an option, but I wouldn't recommend it. 
1. St John the Baptist church
Entrance fee: €3 (free with the Julian Alps card)
Aside from the lake itself, St John the Baptist church is the hallmark of Bohinj.
This postcard-worthy medieval church and stone bridge are more than 700 years old, covering time periods from Romanticism to Baroque. Be sure to walk around the church to look at the frescoes.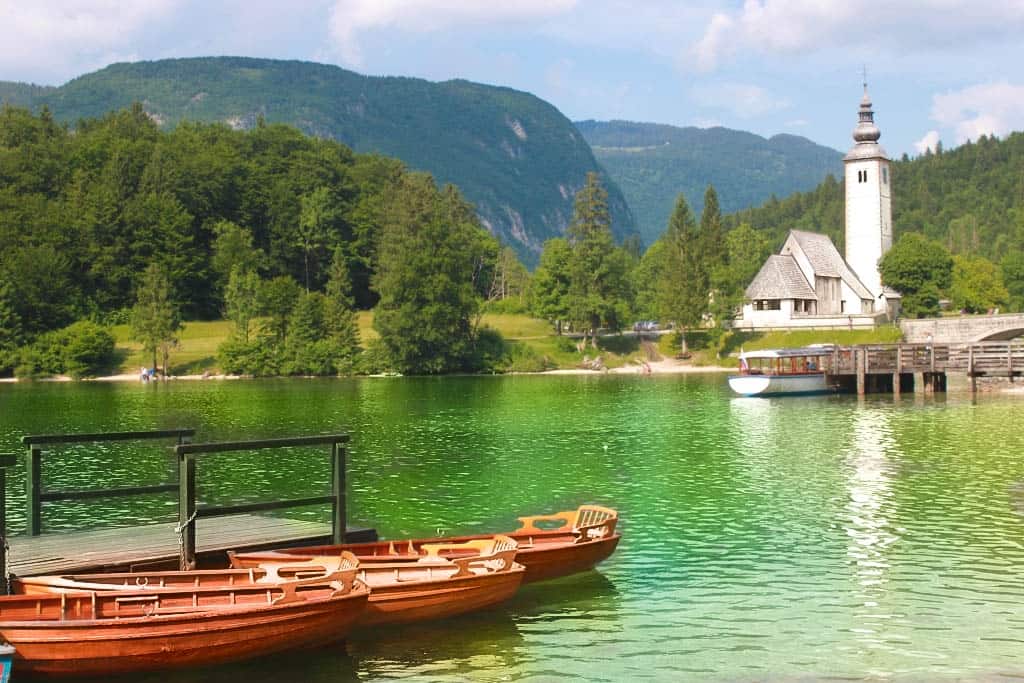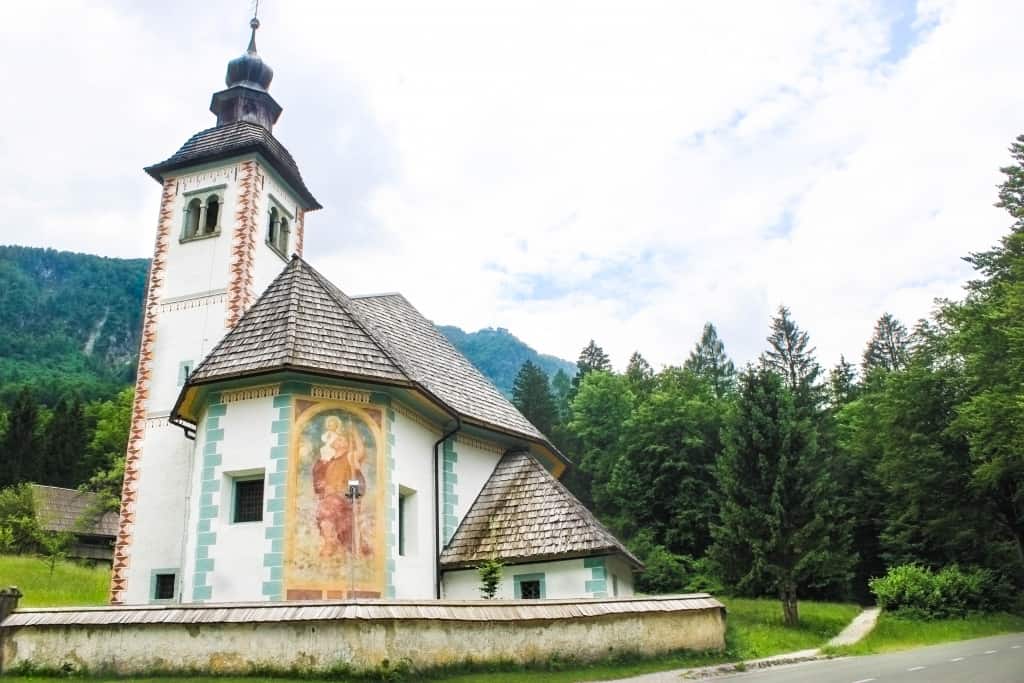 2. Zlatorog at Lake Bohinj
Any visitor to Slovenia will inevitably come across legends, statues or images of the golden-horned Zlatorog. Legend tells about this mythical mountain goat who lived on the Triglav Mountain, guarding a secret treasure.
It was shot by a greedy hunter who was after the treasure, but the dying Zlatorog ate a flower which revived it. After that, it killed the hunter and destroyed the garden. Since then it left the area, never to return.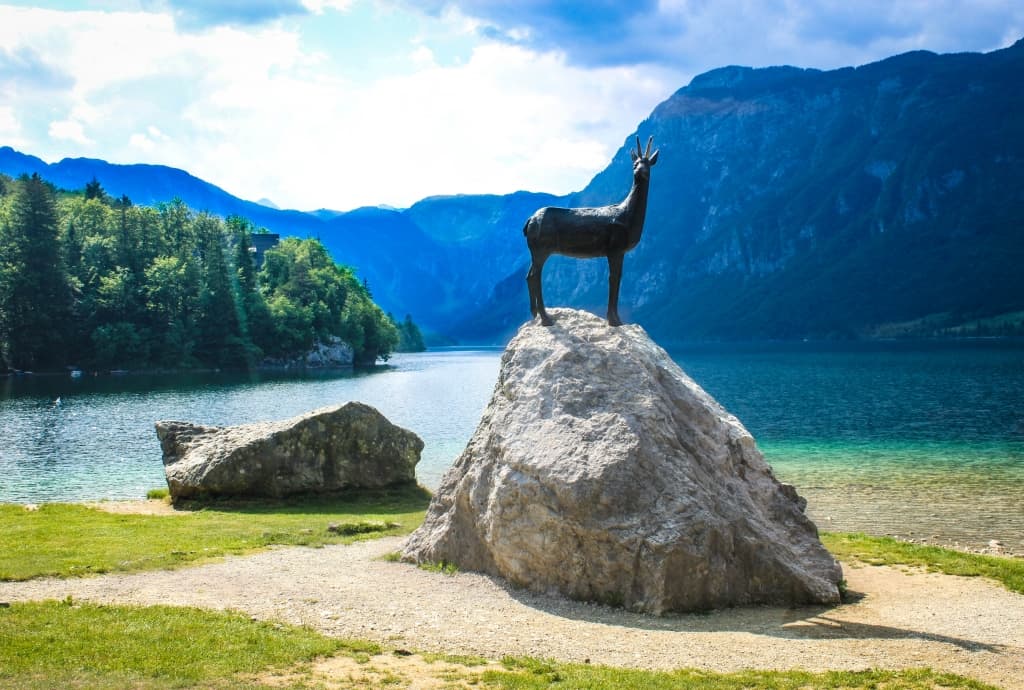 3. Swim in Lake Bohinj
If you're visiting during the summer, swimming is a fantastic way to spend a day at the lake. Lake Bohinj is 4.2 km long and 1 km at its maximum width so there's plenty of places to go for a swim.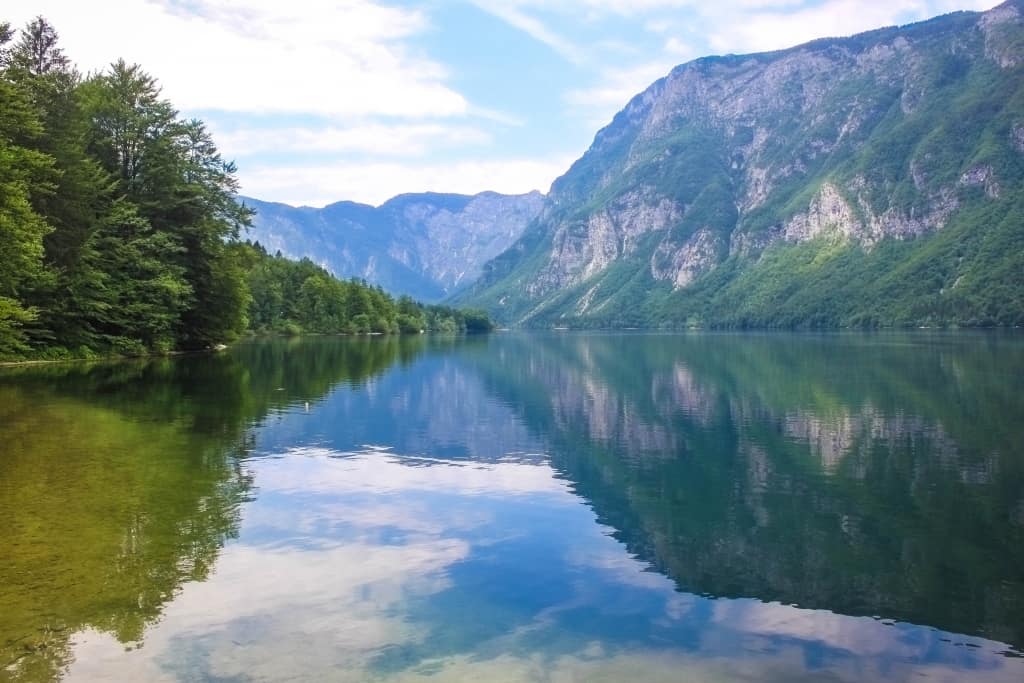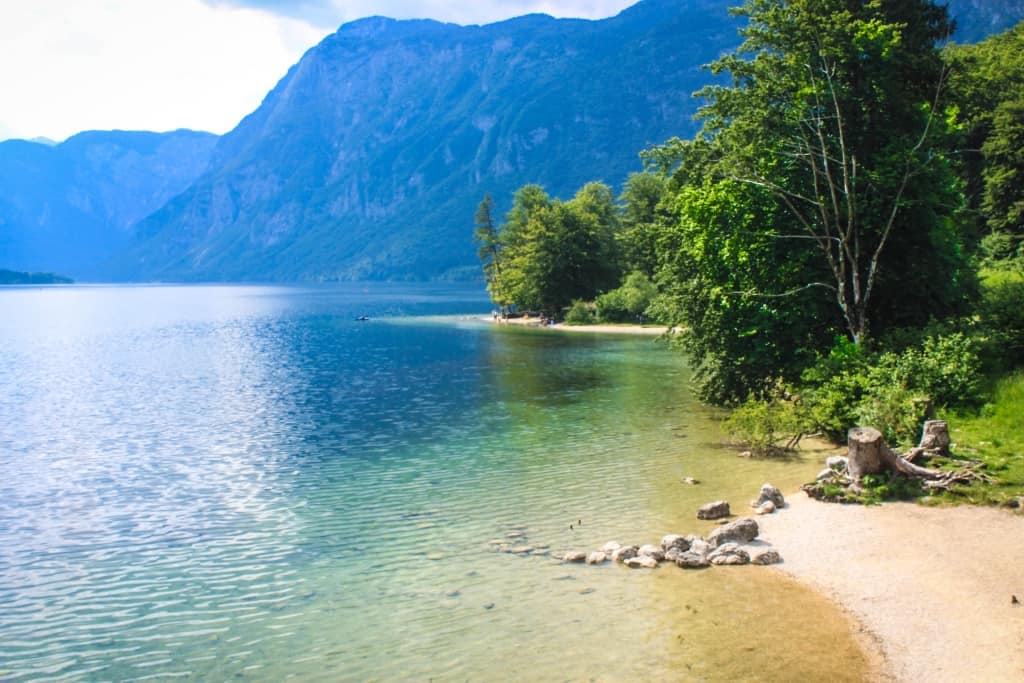 4. Bohinj cycle trail
Length: 11km circular trail
Route: Bohinjska Bistrica – Brod – Ribčev Laz – Stara Fužina – Studor – Srednja Vas.
I went on a bike trip with Grega from Hike & Bike and had a super fun day!
As we drove through the landscape, we came past these hayracks, which are the trademark of the Slovenian cultural landscape. Farmers are usually very proud of their hayracks, and their specific construction reveals the owner's attitude to it.
They are used for drying grain sheaves, clover, hay, grass and more, and they are seen throughout the fields and meadows in Slovenia.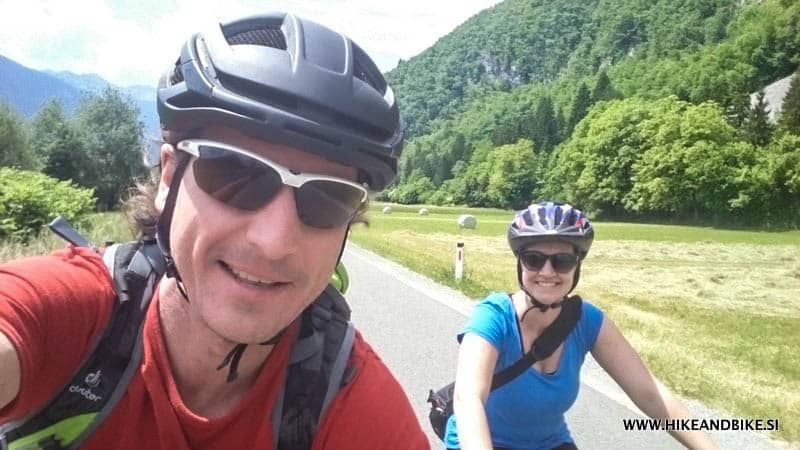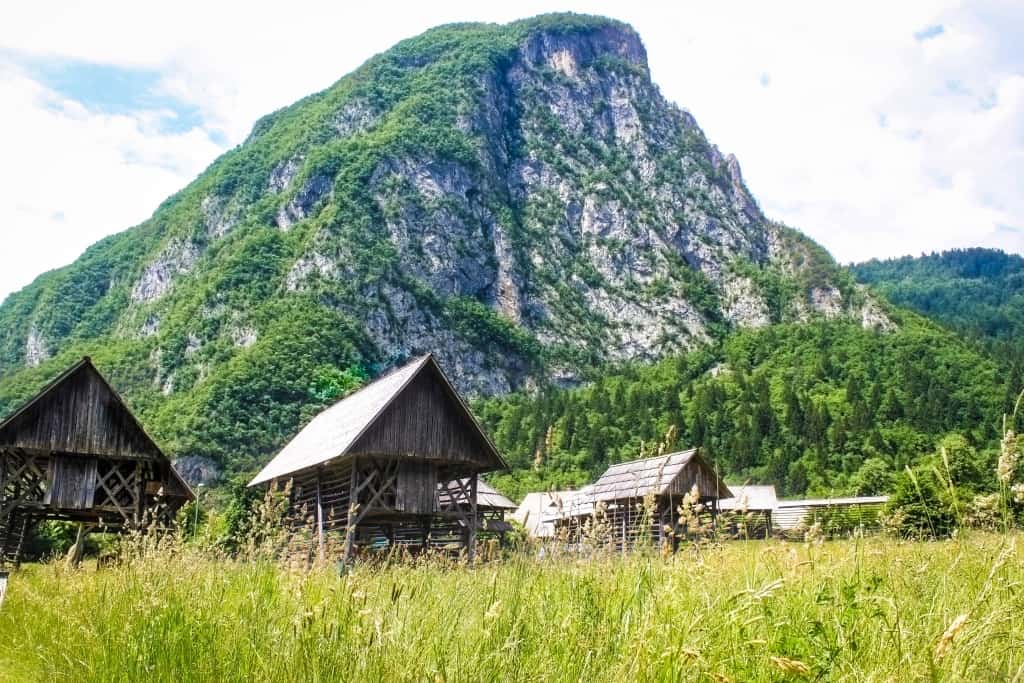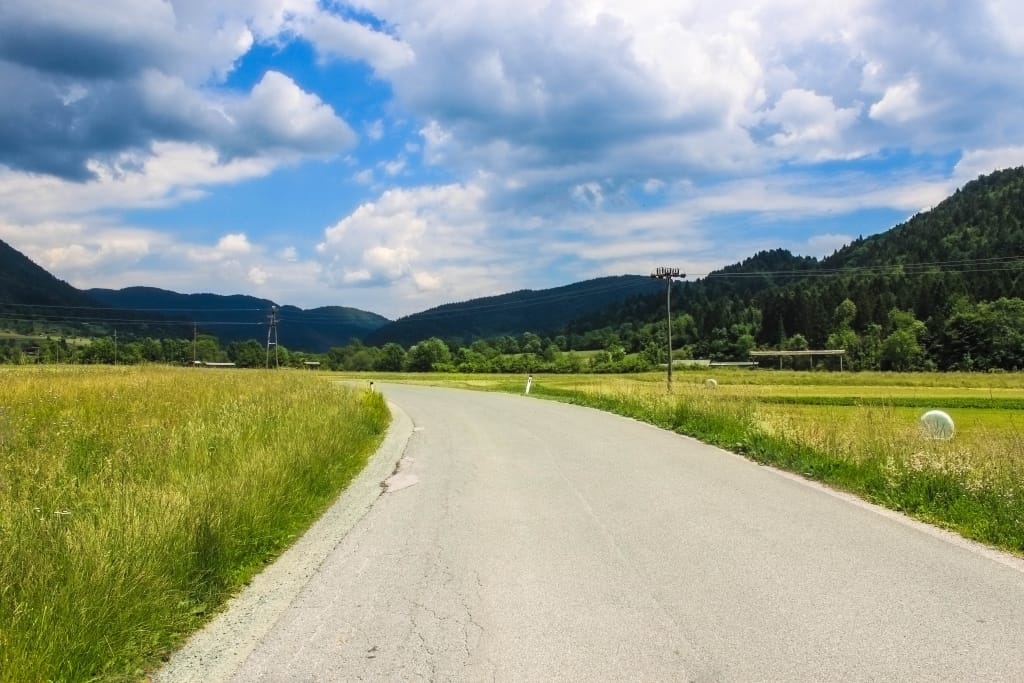 We had lunch in Srednja, which is a small village in the middle of Bohinj. And guess what that means in Slovenian?
Of course… the middle village.
I love how town names almost always have a deeper meaning here in Slovenia. Nothing is left to chance.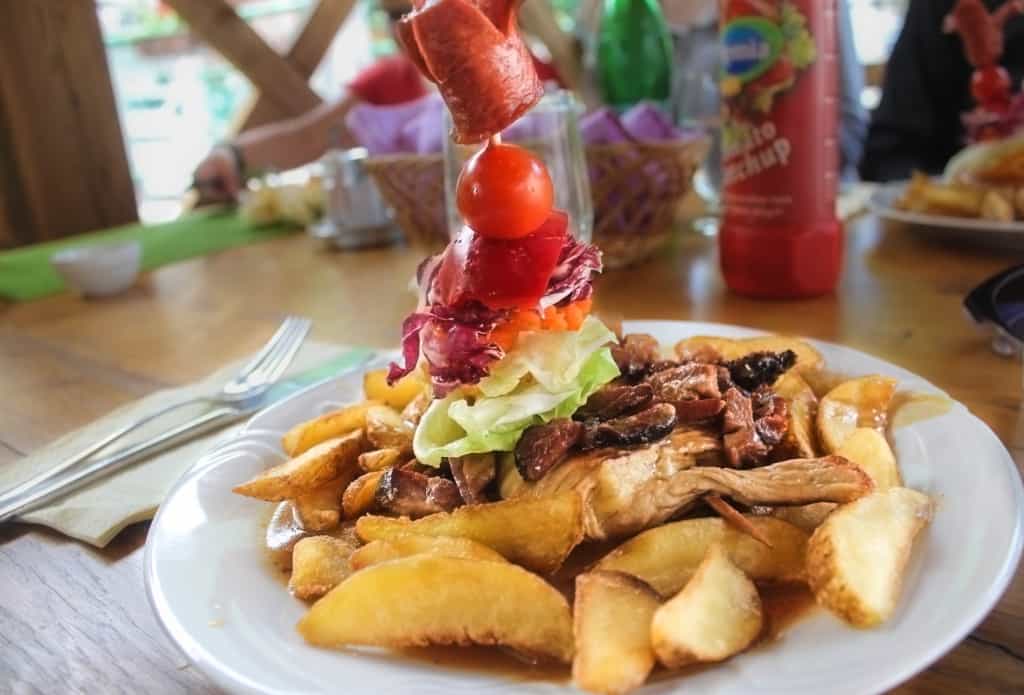 5. Magical forests
Bohinj Slovenia is a beautiful forested area where you can go hiking, biking and strolling.
Just before Lake Bohinj, we passed this magical forest that had large rocks lying around. We stopped for a few minutes and I walked into the woods.
"This is where the fairies live," Grega said.
I stood still between the trees, mostly shaded with filtered sunlight, and looked around me. Glints of light appeared in the canopy, on the shimmer of waxy leafs. These shimmers, sparkles, flashes of lights – could these be the fairies he was talking about?
Either way, the forest was beautiful and I saw what he meant.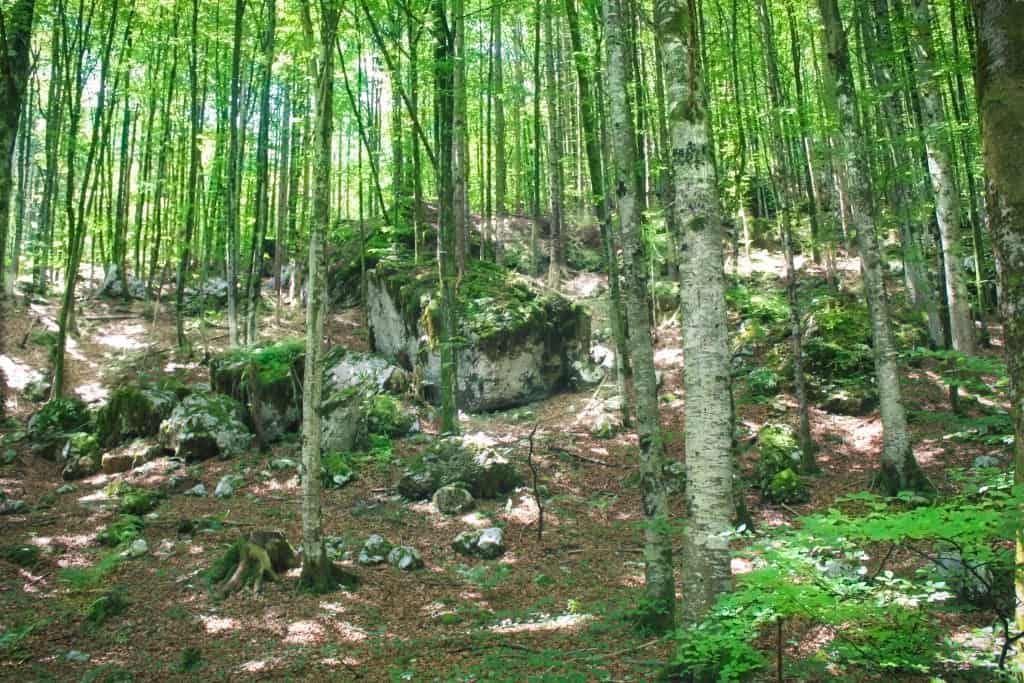 6. Lake Bohinj hikes
Hiking is one of the most popular things to do in Lake Bohinj.
The most popular trails around the lake require little planning and they're well-marked. Just make sure to bring water and a good pair of sneakers or hiking boots.
The most popular Lake Bohinj hiking trails are:
Savica waterfall hike (see details below)
Mostnica Gorge Hike (super beautiful hike – takes around 3 hours)
Trail around Lake Bohinj (12 km and takes about 3-4 hours)
Vogel Ski Center hikes (see details below)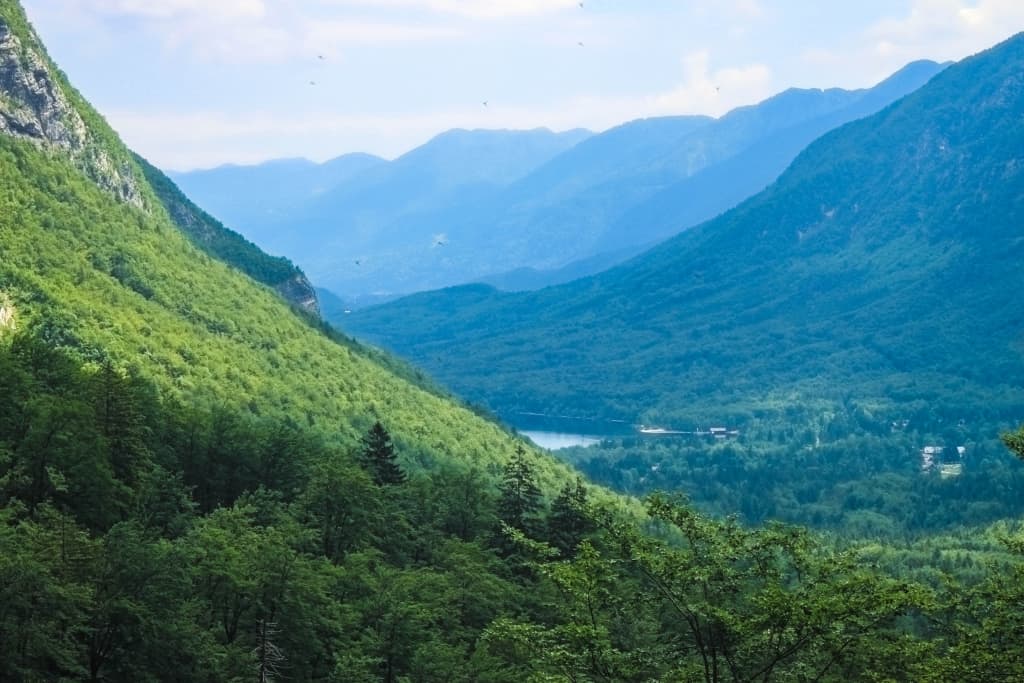 7. Savica Waterfall
Entrance fee: €3 (free with the Julian Alps card)
Despite its small size, Slovenia has no less than 300 waterfalls!! Three-hundred.
Can you believe that? As a devoted waterfall fan I sure couldn't. I know I've said this a million times already, but Slovenia just keeps taking my breath away!
The hike to the Savica waterfall is not hard – it's a bit steep, but those in good shape shouldn't have a problem. It takes about 20 minutes to the top, but unfortunately you cannot get to the base of the falls. You see it from about 50 meters away.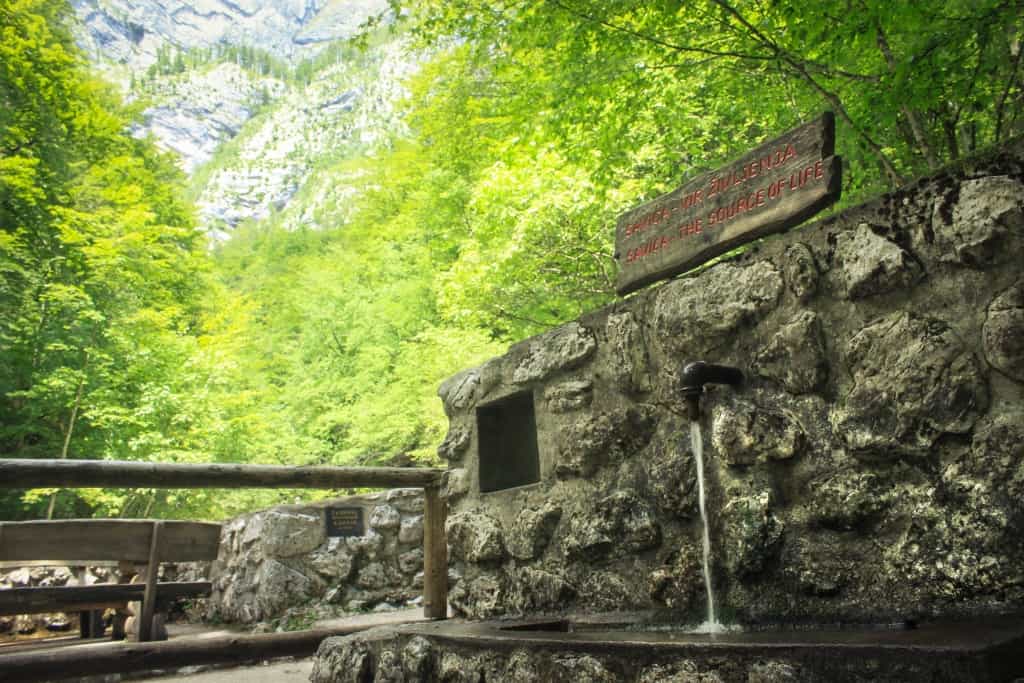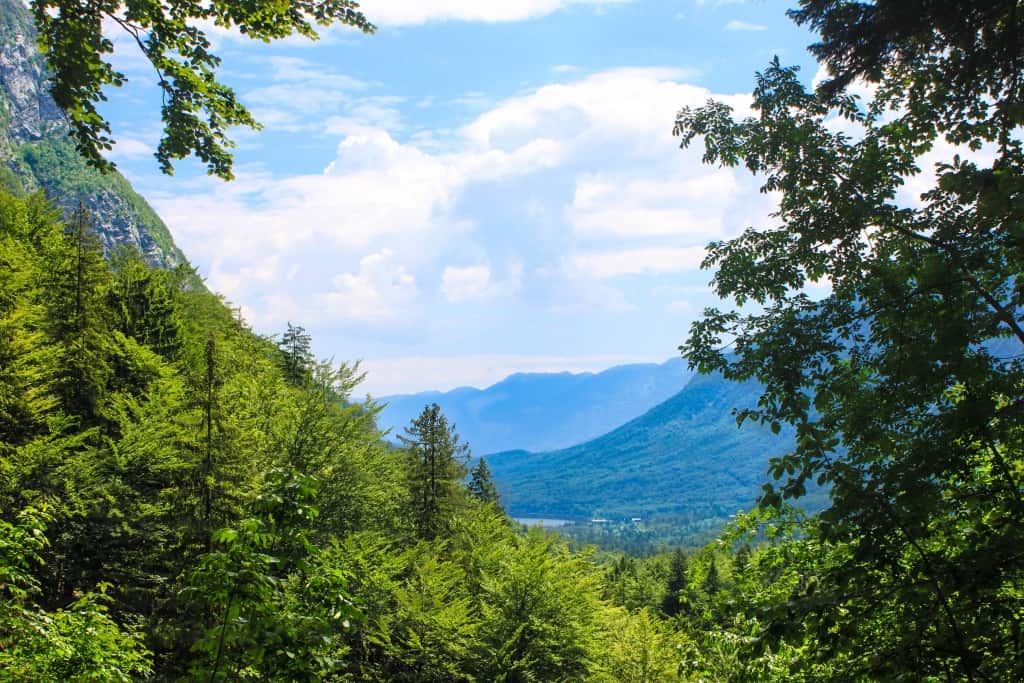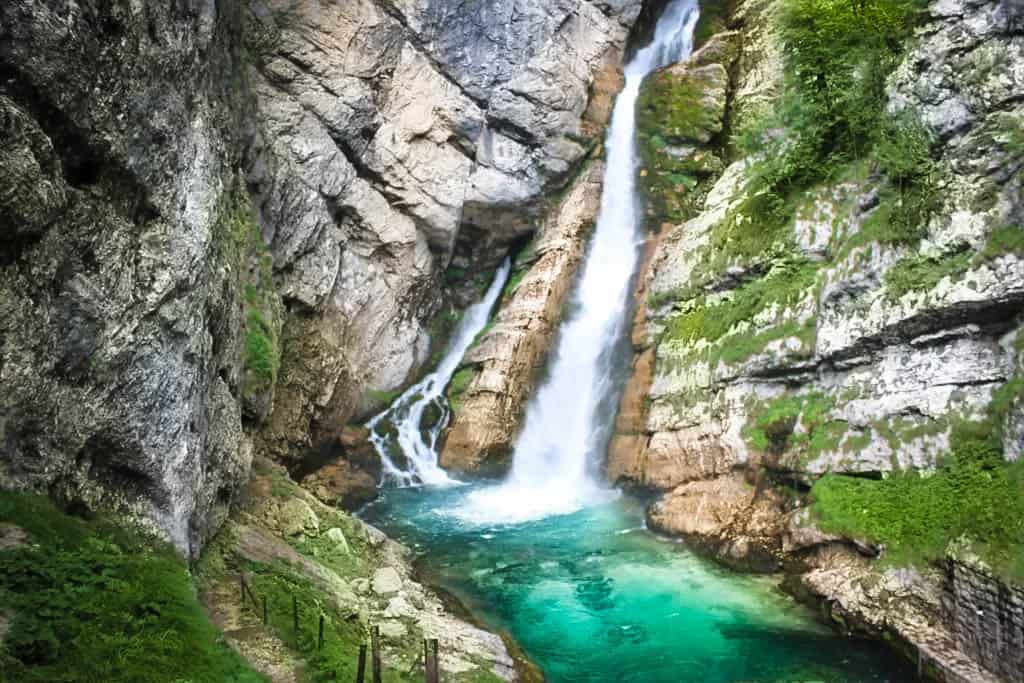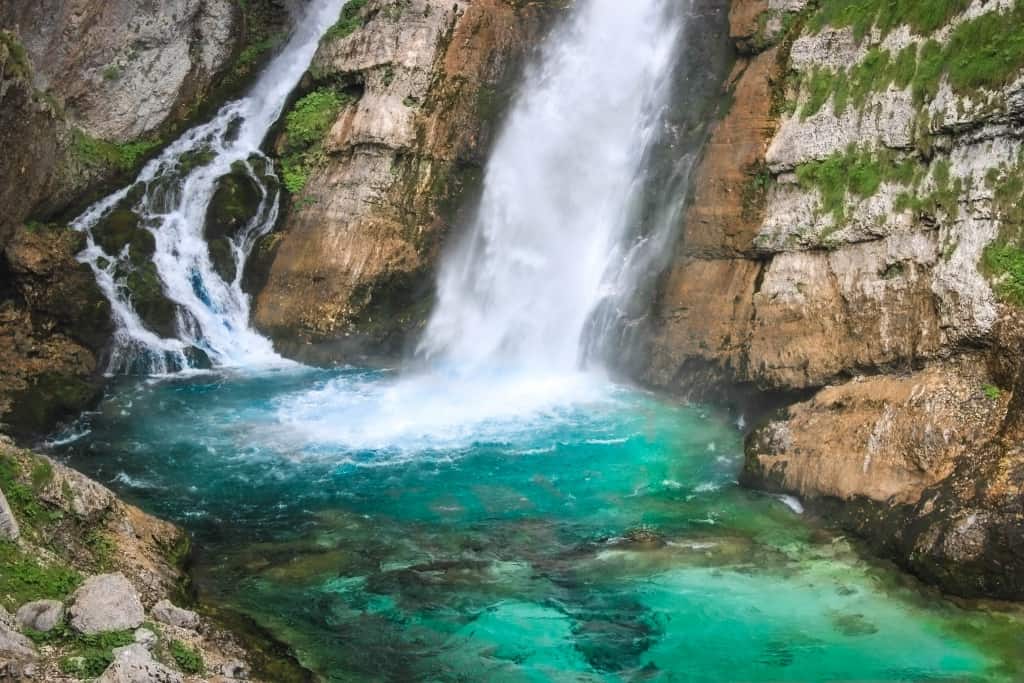 8. The Lake at the End of the World
The magnificent Savica Waterfall cuts deep into a gorge 60 metres below and ends in Sava River, as seen below. Sava runs through Ukanc which is at the end of Lake Bohinj and in Slovene means the end of the world.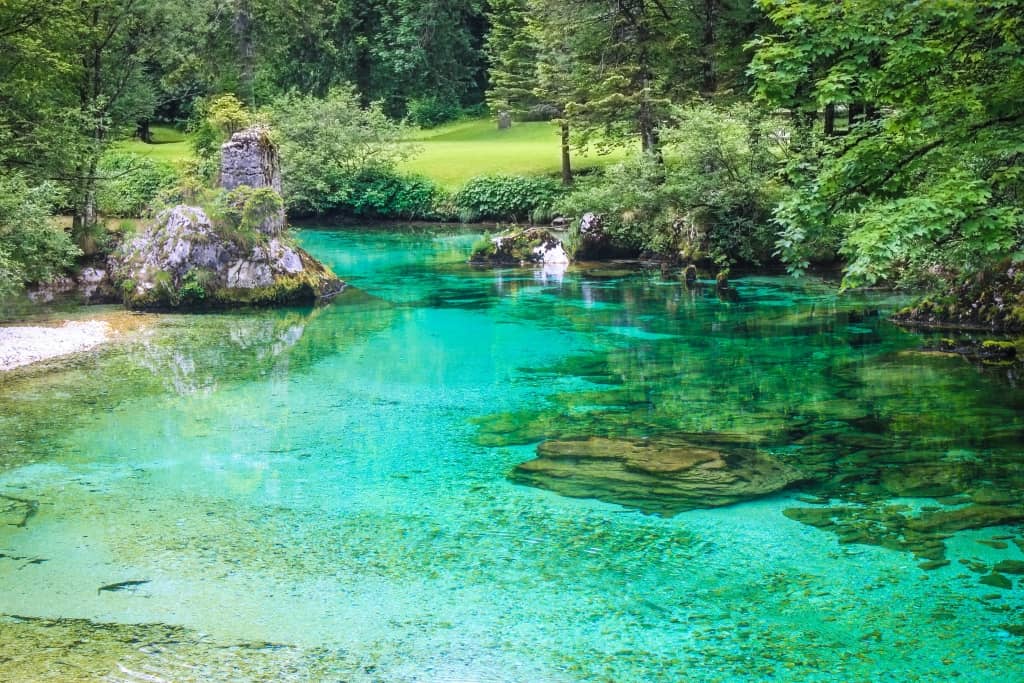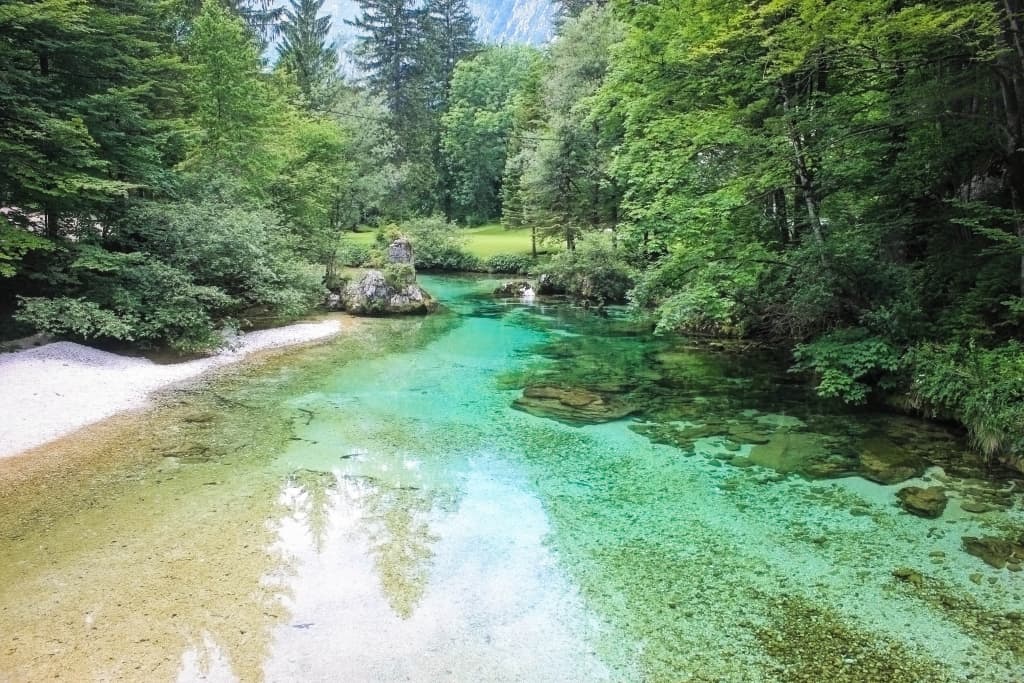 9. Take the Vogel cable car
Price: 15€ – return / 11€ one-way (free with the Julian Alps card)
When: From 08:00 to 18:00 (daily, every half an hour) in summer and winter
One of the must-do activities in Bohinj is taking the Vogel Cable Car! In a 3-4 minutes ride, you'll be lifted from Bohinj lake (569m) to Vogel ski center (1533m) and get the most stunning view of it all.
The top offers you beautiful viewpoints and several hiking trails. Find the trails here.
10. Triglav memorial in Bohinj
Before leaving Lake Bohinj, notice this monument.
Mount Triglav is Slovenia's highest mountain, and it's a matter of national pride for Slovenians to summit the mountain at least once in their lives. This monument stands in front of Triglav and is a memorial to the first ascend in 1778, made by a group of four local men.
I asked Grega if he had climbed the mountain.
"Of course" he said. "Every Slovenian has."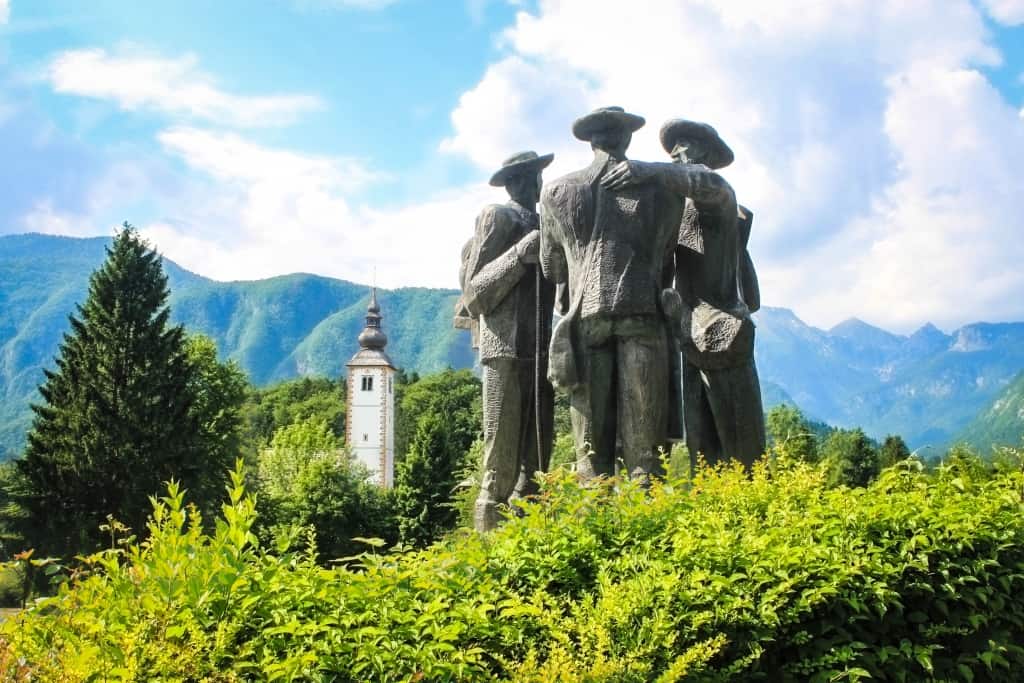 Many thanks to Spirit Slovenia for generously hosting me in Slovenia, and thanks Grega from Hike & Bike for a super fun and active day. As always, all opinions and thoughts are my own, regardless of who is footing the bill.
Before you go – don't miss these posts: