How to visit Kozjak Waterfall, Kobarid (step-by-step guide)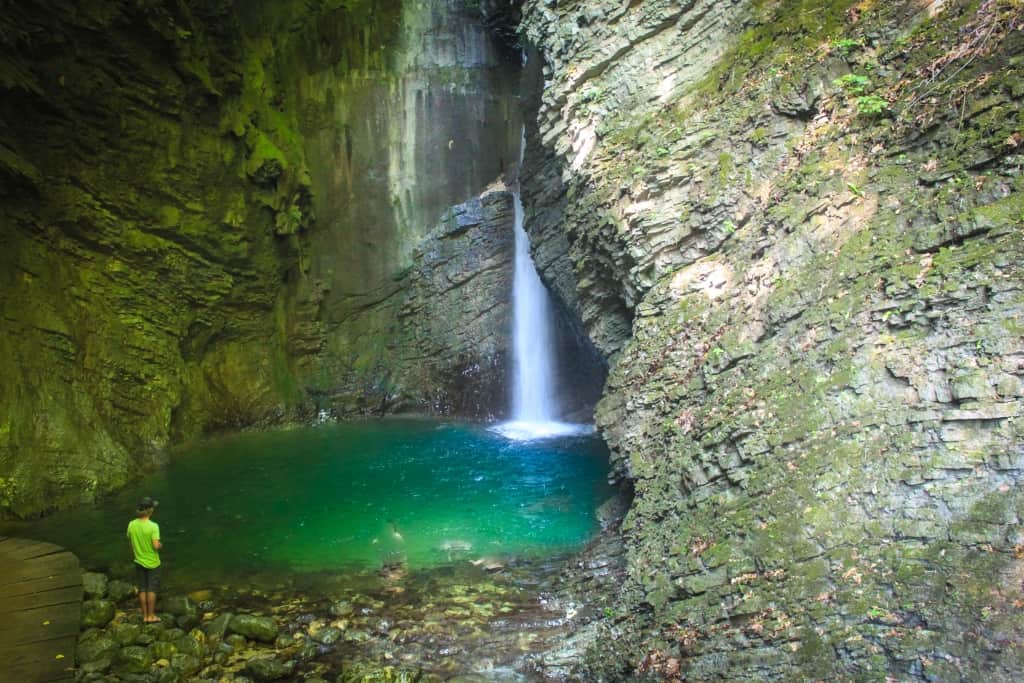 Wondering how to visit Kozjak Waterfall? Here's everything you need to know to plan your trip.
So far, my trip to Slovenia had taken me past fairy tale lakes through the magical world of Narnia to the majestic Boka waterfall. And now, I was heading to Kozjak; a waterfall hidden in a cave.
Kozjak waterfall is a 45 minutes hike from the town center of Kobarid. The hike has beautiful scenery of turquoise rivers, vast green nature, a hanging bridge and a historical bridge.
This post contains referral links for products I love. Adventurous Miriam earns a small commission at no extra cost to you if you make a purchase through my links. Thank you for your support ♡ Learn more
Introduction to Kozjak Waterfall
Kozjak Waterfall, or Slap Kozjak as they say in Slovene (slap means waterfall), is by many considered the most beautiful waterfall in Slovenia.
I tend to agree although I'm pretty taken by Savica waterfall, too!
What makes Kozjak waterfall unique is that it's located inside a cave. Hidden. The walls leading inside the cave are covered in moss, which makes it a super enchanting sight.
The waterfall is 15m high.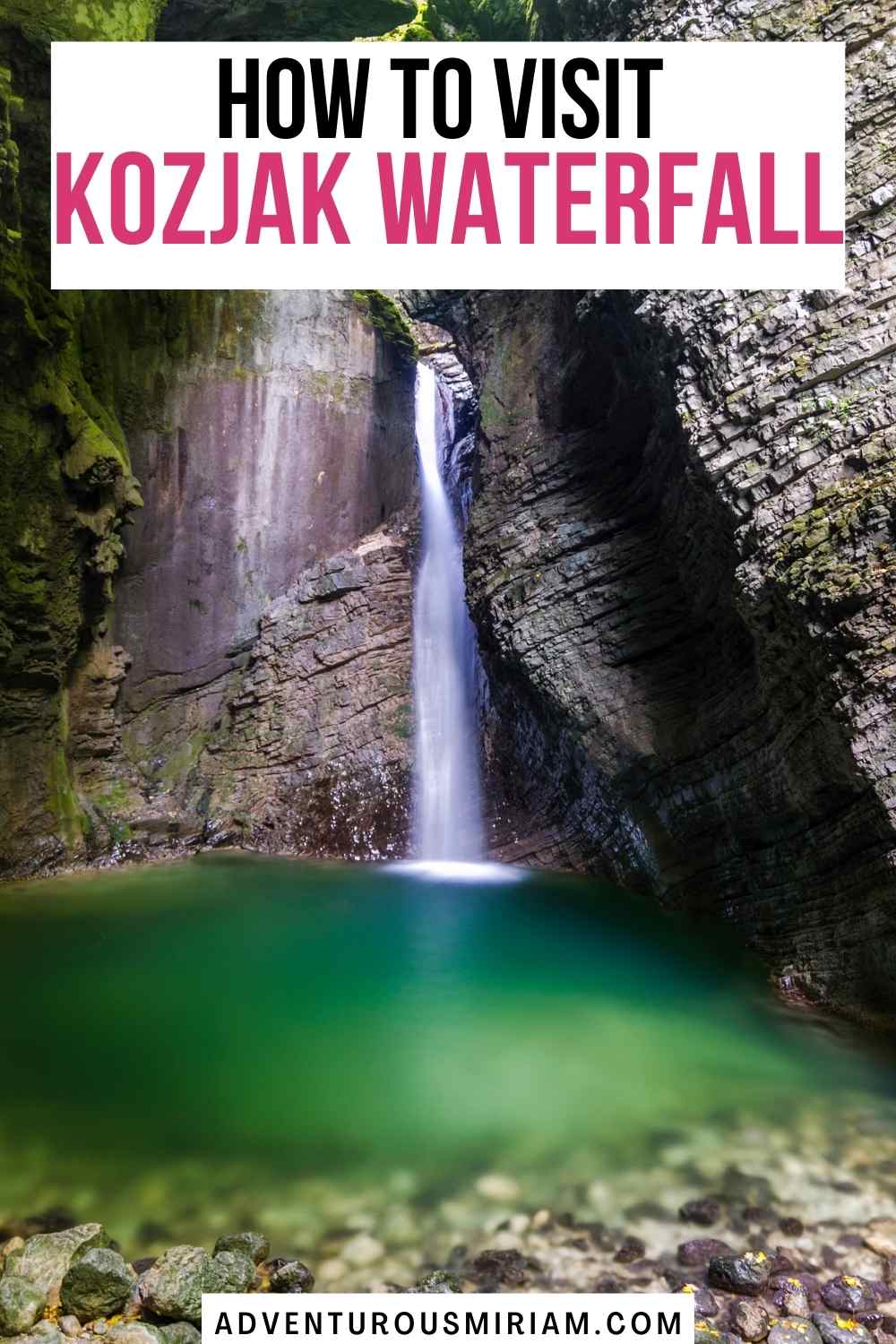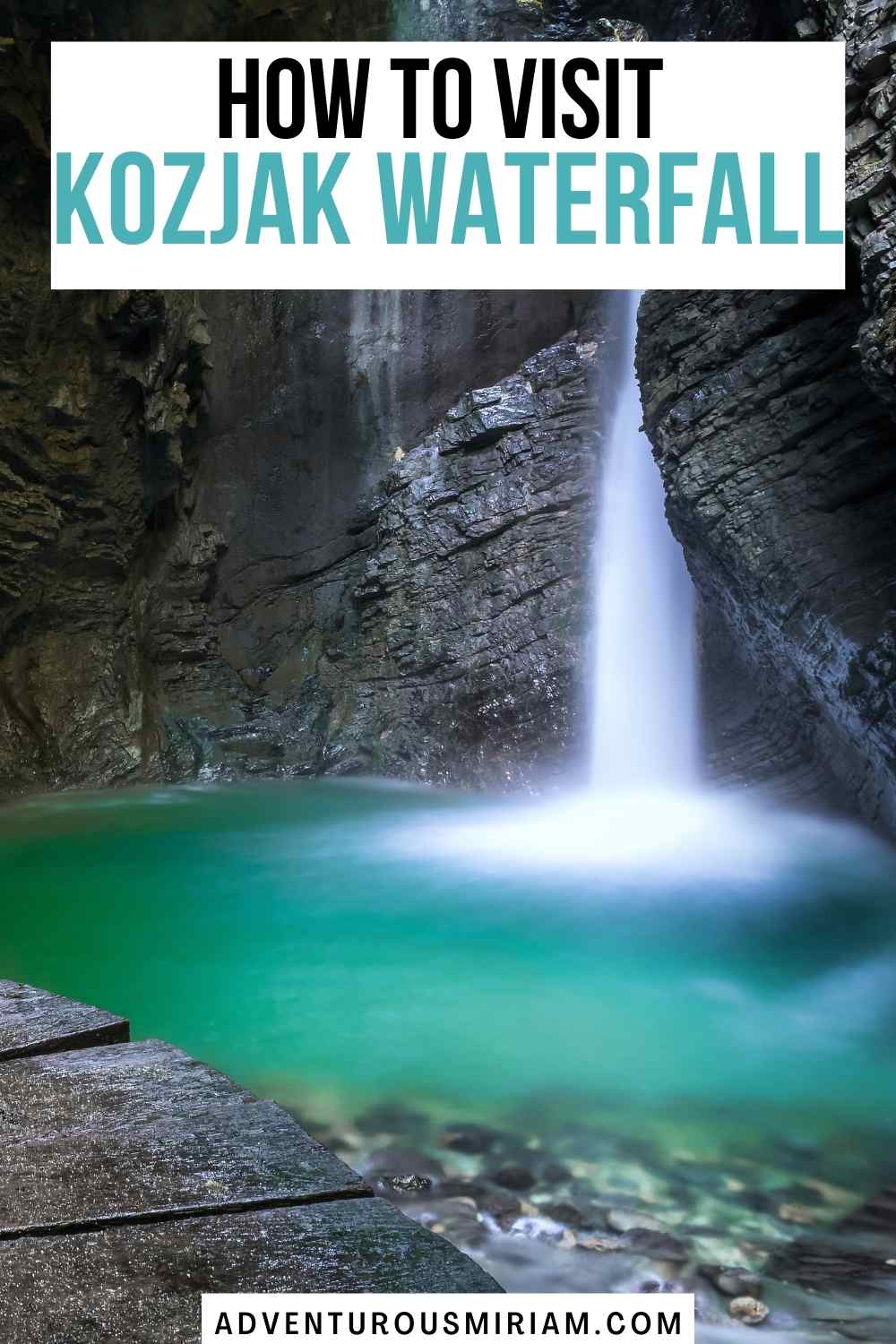 How to get to Kozjak Waterfall
There are two ways of getting to Kozjak Waterfall: by car and on foot. The route from Kobarid is the same until you reach Napoleon Bridge. If you're on foot, I recommend taking one way there and the other way back for a change of scenery. That's what I did.
By car / on foot – From Kobarid, drive towards the Napoleon Bridge. Once you get there, cross the bridge and take the road to the left towards Dreznica. 150 m up the road is a parking lot on your right side. From there, you're looking at a 30 minute hike to Slap Kozjak. Remember to buy a parking ticket and display it in your car window!
On foot – From Kobarid, walk towards the Napoleon Bridge. You can cross it (like the cars) OR continue straight ahead and then cross the hanging bridge further ahead. The walk takes 45 mins from Kobarid town centre to Slap Kozjak. The trail is well marked and easy to walk.
Travel tips
When to visit
Go in the morning or before noon. That way you won't run into too many people.
Entrance fee
Adults 4€ / Children from 7-14 years 2€ / Family 10€
Opening hours
1 July – 15 August: 8.30-20
1 September – 1 July: 8.30-19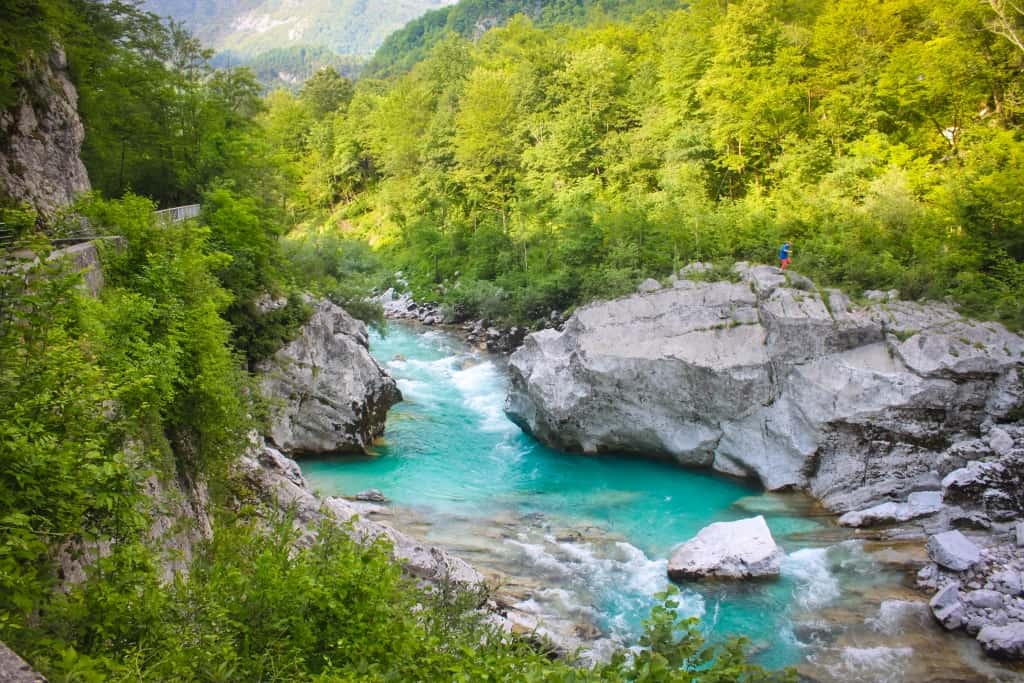 Napoleon Bridge, Kobarid
Napoleon Bridge is the first highlight you'll get to on your way to Kozjak Waterfalls.
The bridge was built in 1750 and got this name because Napoleon and his troops marched across it on their way to Predel Pass. During World War I it was blown up, but later rebuilt.
Napoleon Bridge is where the road splits. So, if you're by car, you need to cross the bridge, and if you're on foot, just continue straight ahead.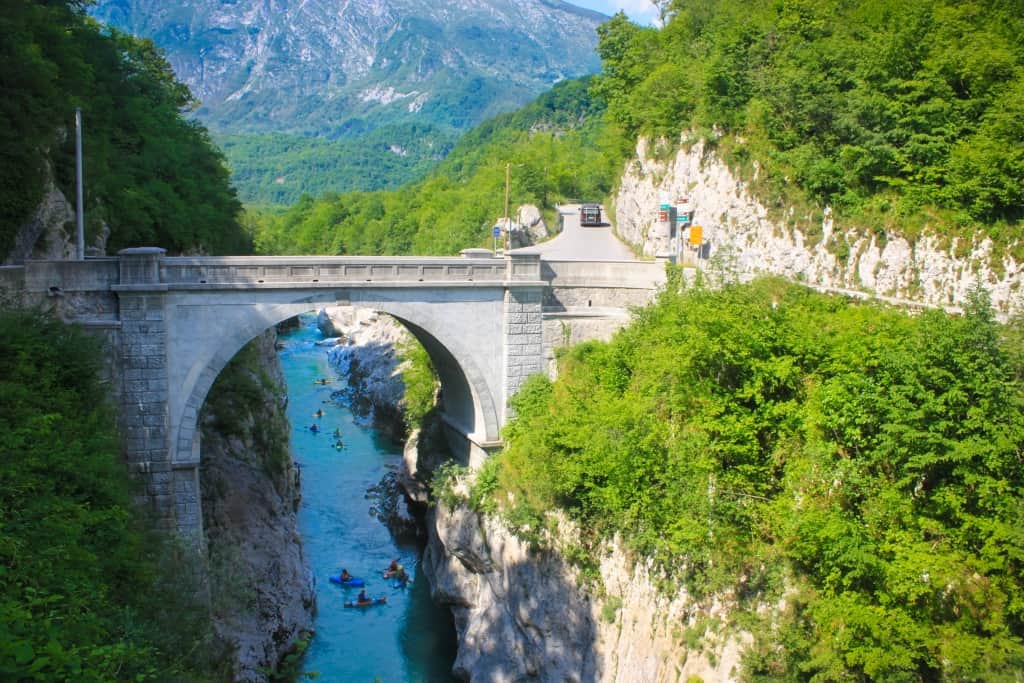 The route to Kozjak Waterfalls
Once you've reached the parking lot, follow the pathway. The first stretch is open and easy to walk.
Soon after, you'll get to Soca River and walk right next to it. It's super beautiful! Just continue straight ahead.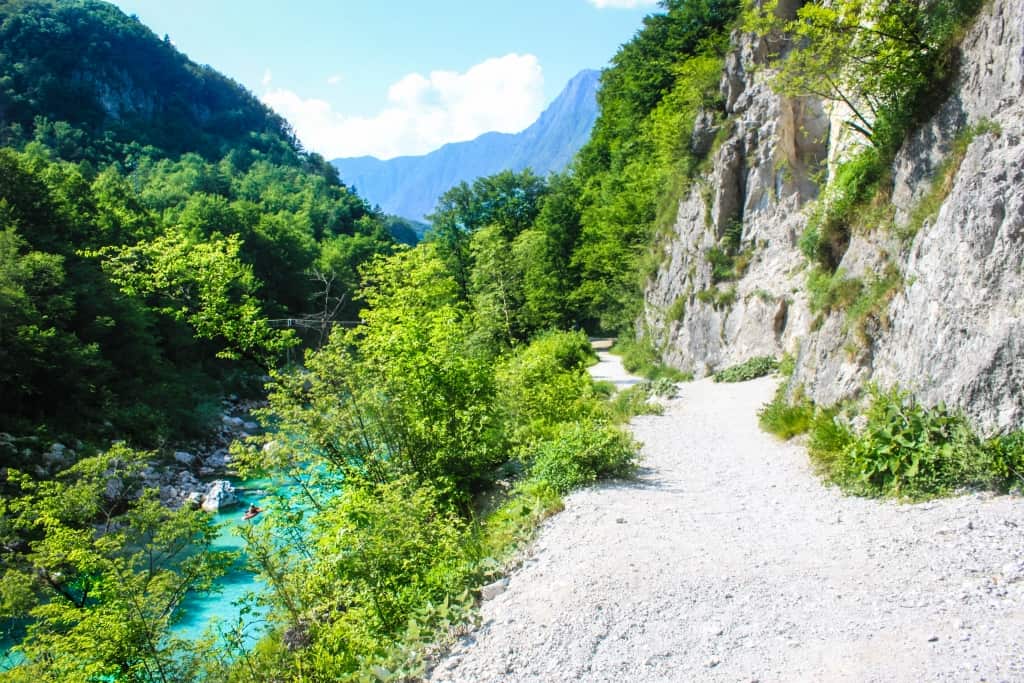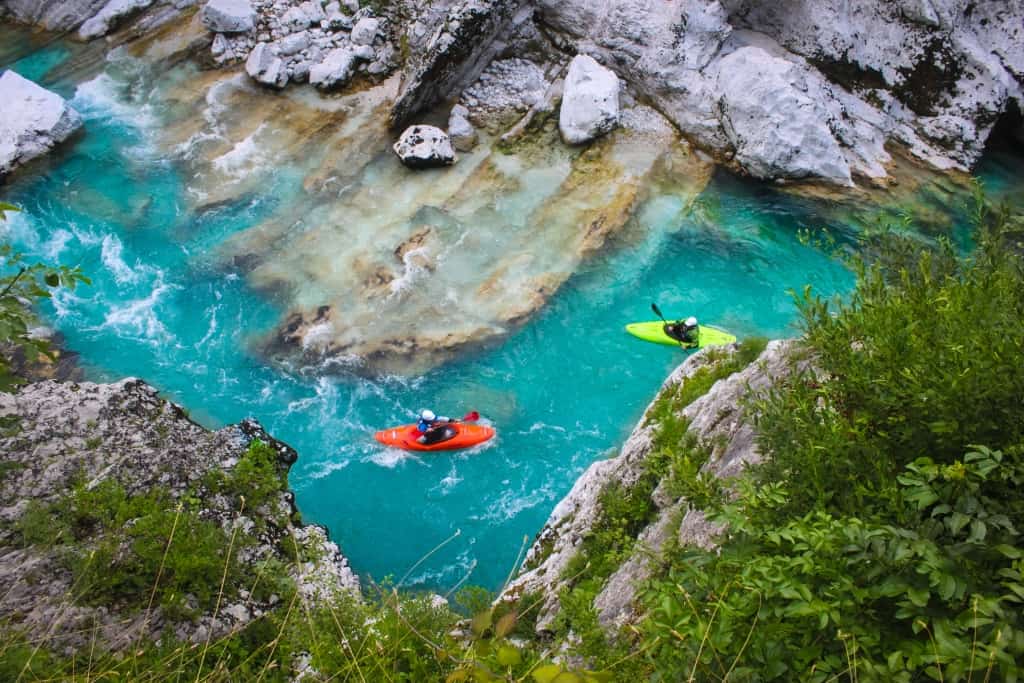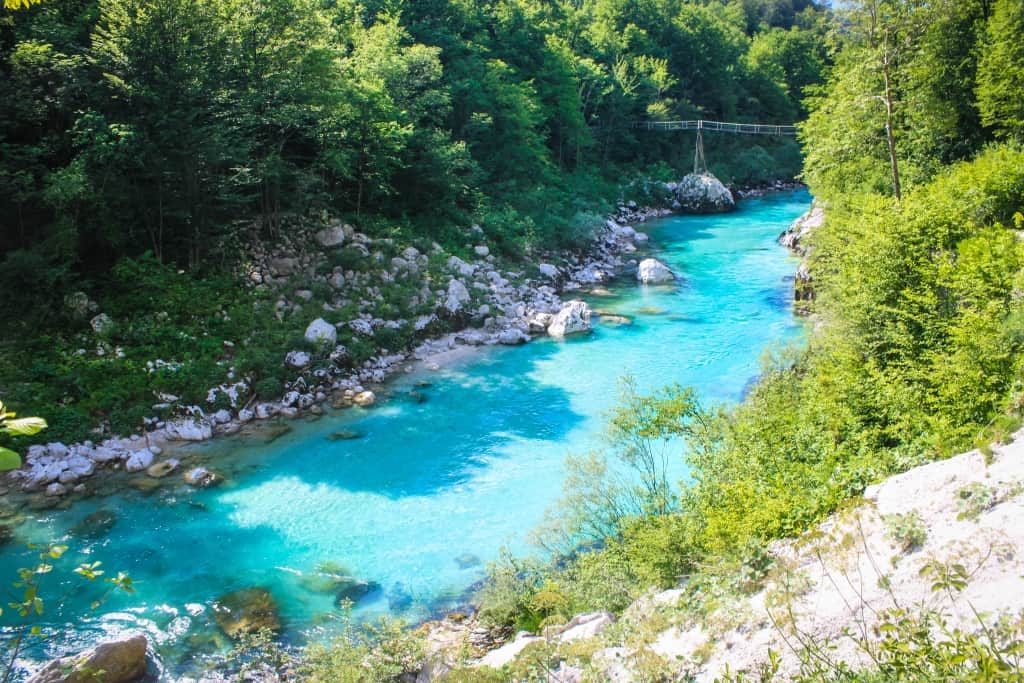 The suspension bridge
Then, on your left side, you'll see a suspension bridge. This is where to cross if you went straight ahead at Napoleon Bridge.
If you want, you should go stand in the middle of the bridge to admire the Soca River. It's an amazing view from there and you'll inevitably see kayakers pass by in the summer.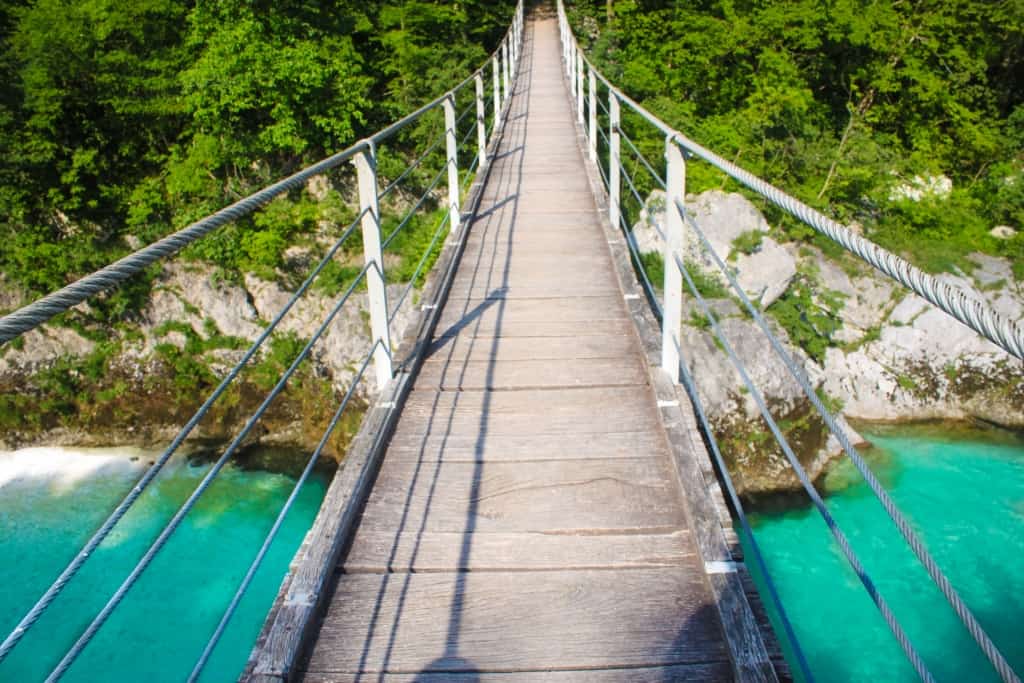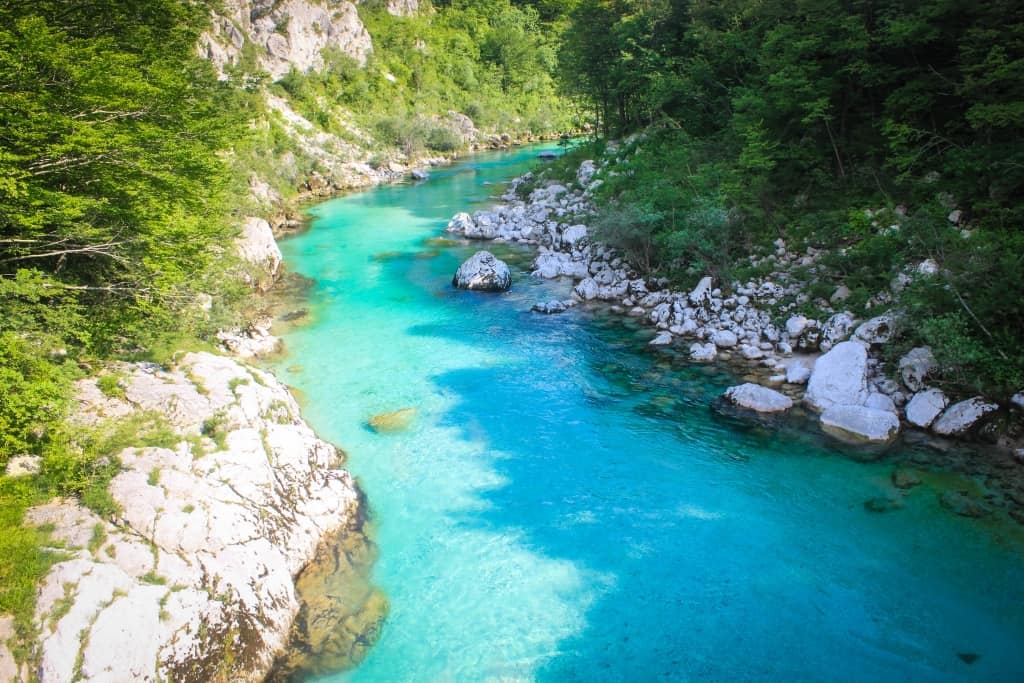 Kobarid forest
Ok, so get back on the pathway and walk a little further. You're now entering the forest.
It's so green and lush, and you can hear a small creek nearby. Slovenians believe that forests are magical, and I think I've become a believer, too 🙂 The way the sun hits the tree tops, the leaves, and the small caves and labyrinthine paths. If this isn't magical, I don't know what is.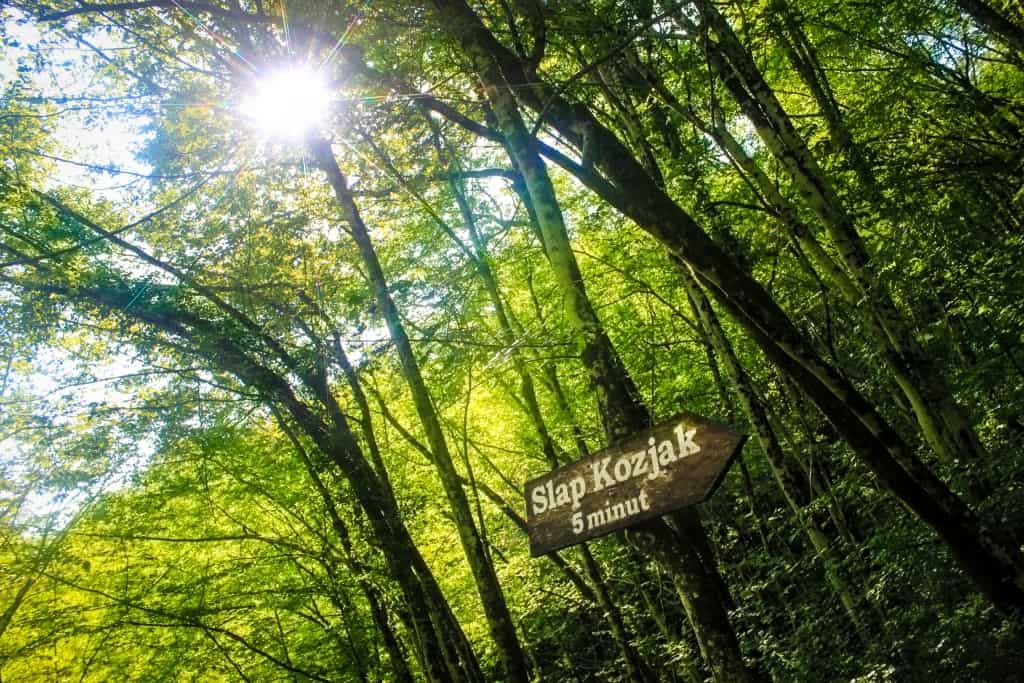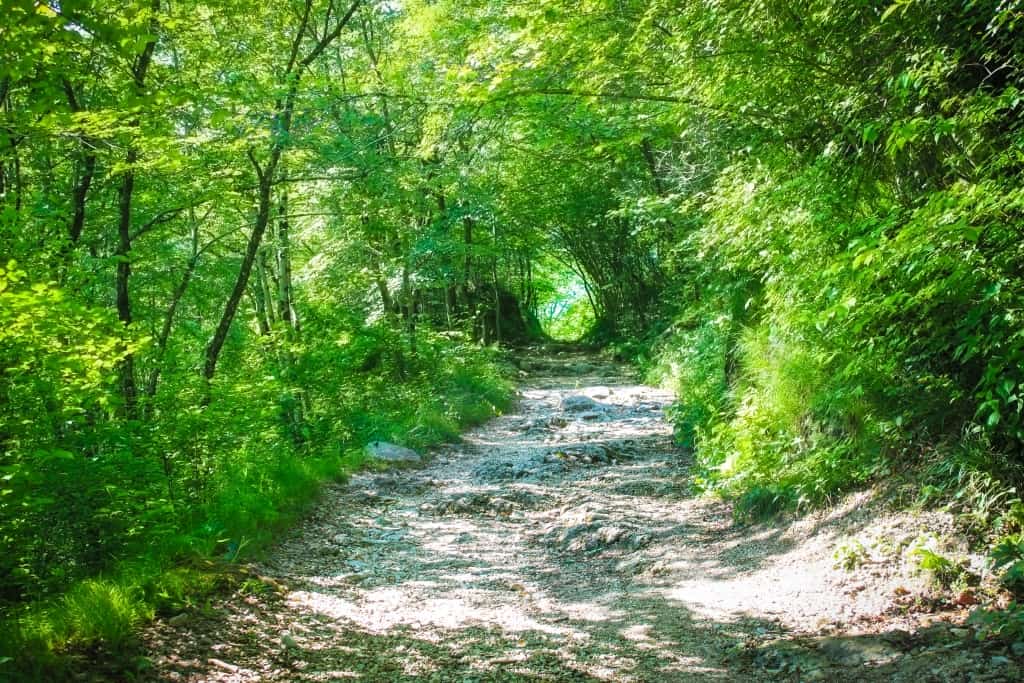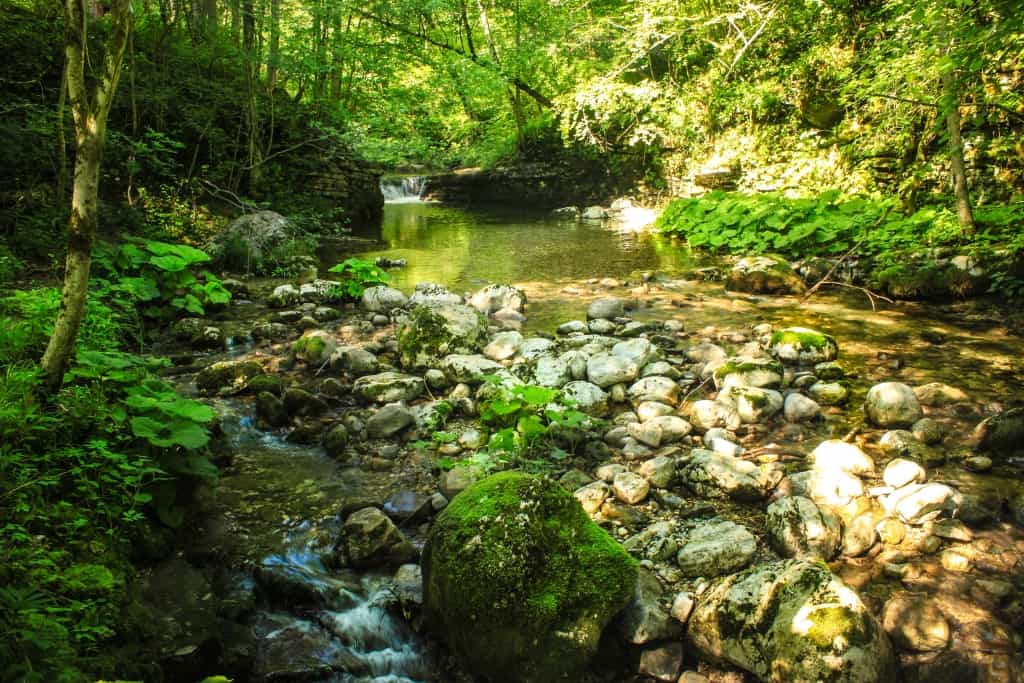 Mali Kozjak Waterfall
Many do not know this, but there are actually TWO Kozjak waterfalls. You've got Veliki Kozjak Waterfall (the big one) and a small one: Mali Kozjak Waterfall.
The small waterfall is located in the forest under an old wooden bridge. It's 8m high, but it seems smaller.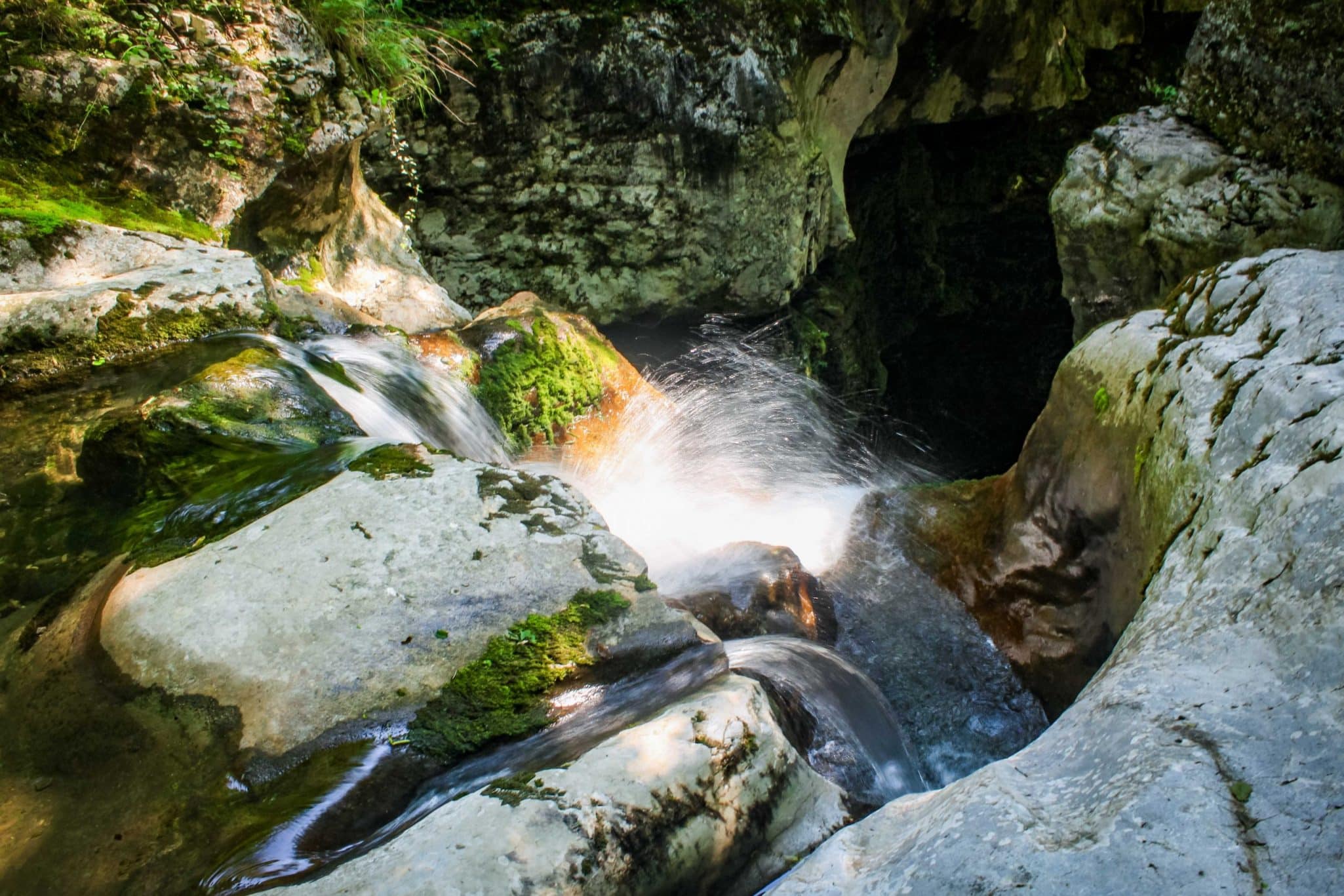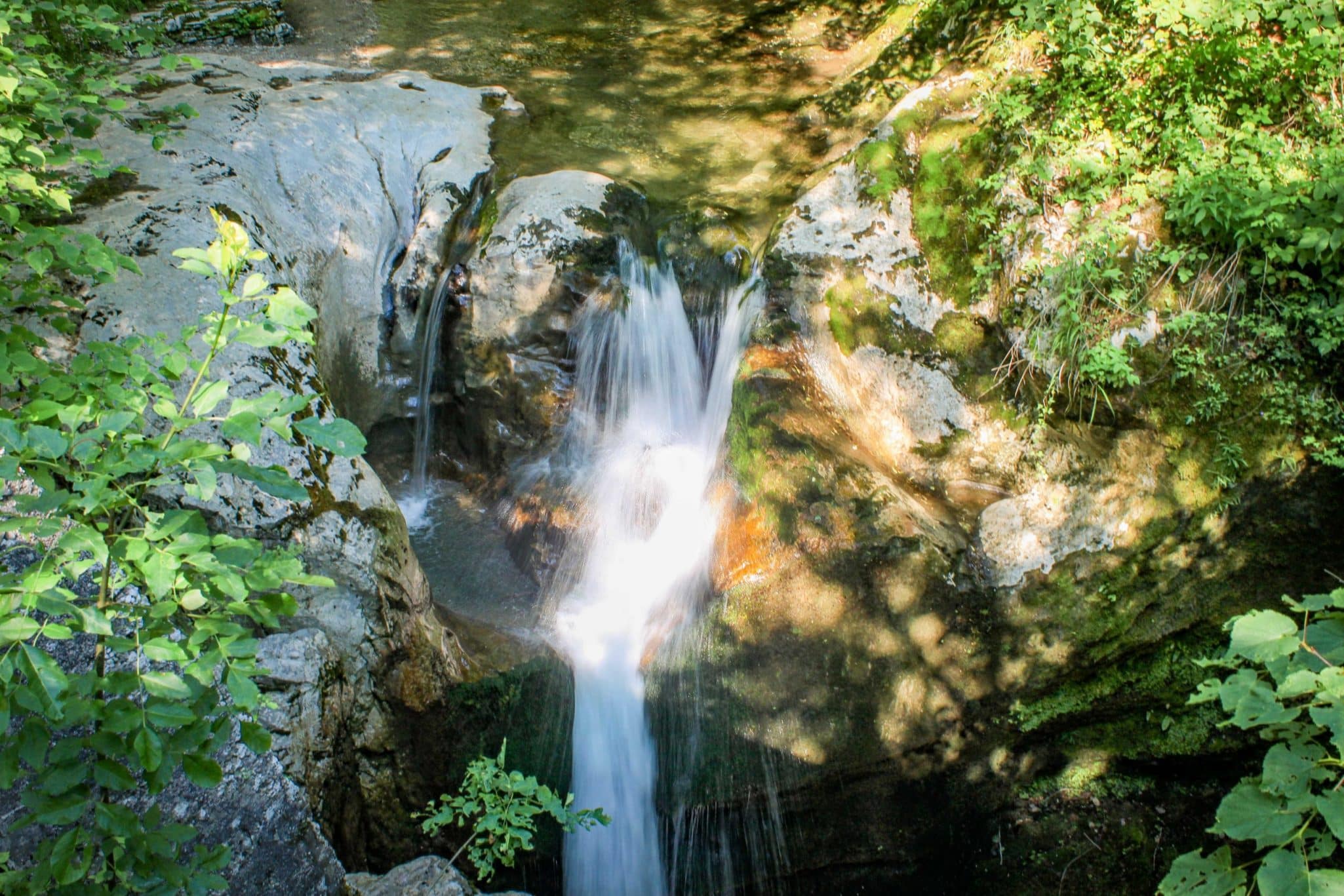 Veliki Kozjak Waterfall
Once you see moss-covered walls, you know you're almost there. As you approach the waterfall, the walls narrow. You'll enter a cave-like grotto carved from limestone and cross a wooden plank across the creek. Continue a few steps and go inside.
There it is.
A 15 meter high waterfall, its bottom covered by a vast blue and green pool, and its walls reminiscent of those in caves. It's an incredible sight.
Is swimming allowed?
You might see people swimming in the waterfall. At the moment, swimming is allowed. BUT it's super cold.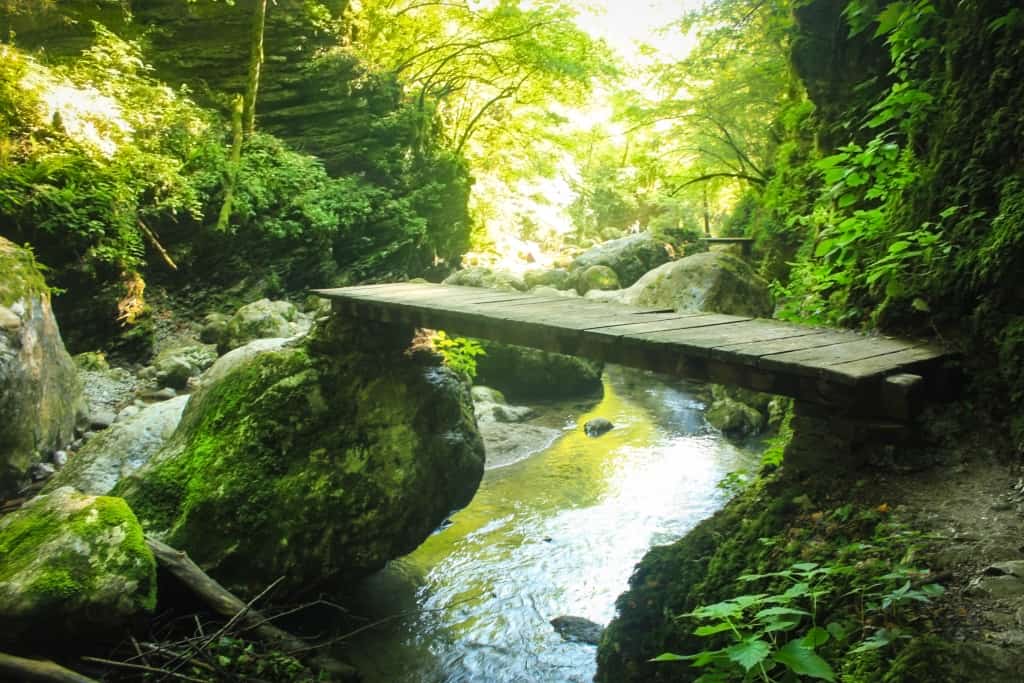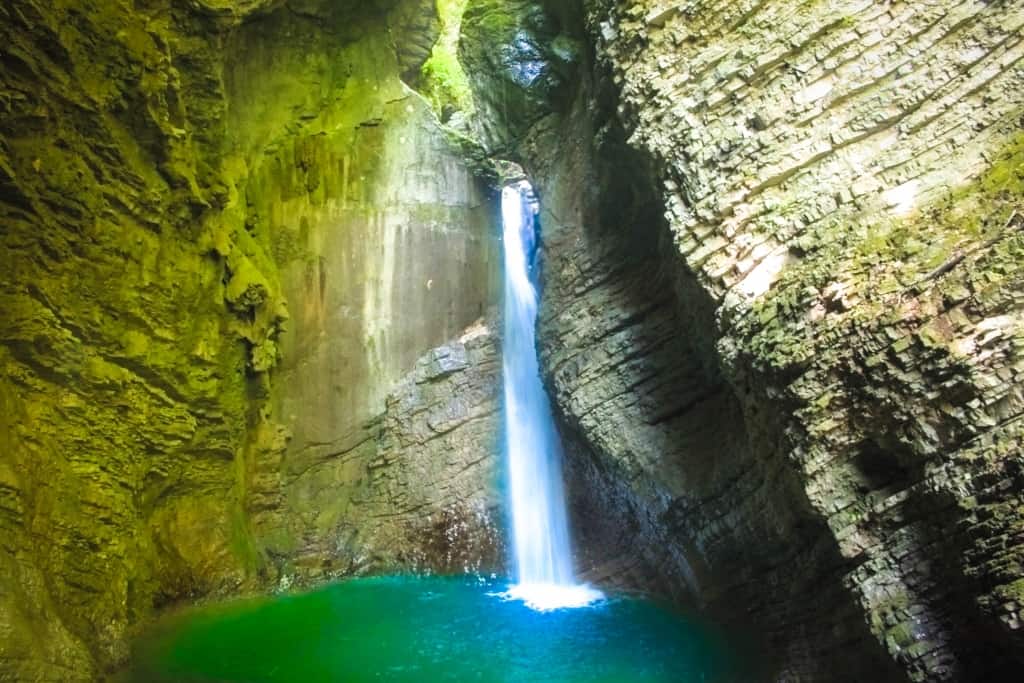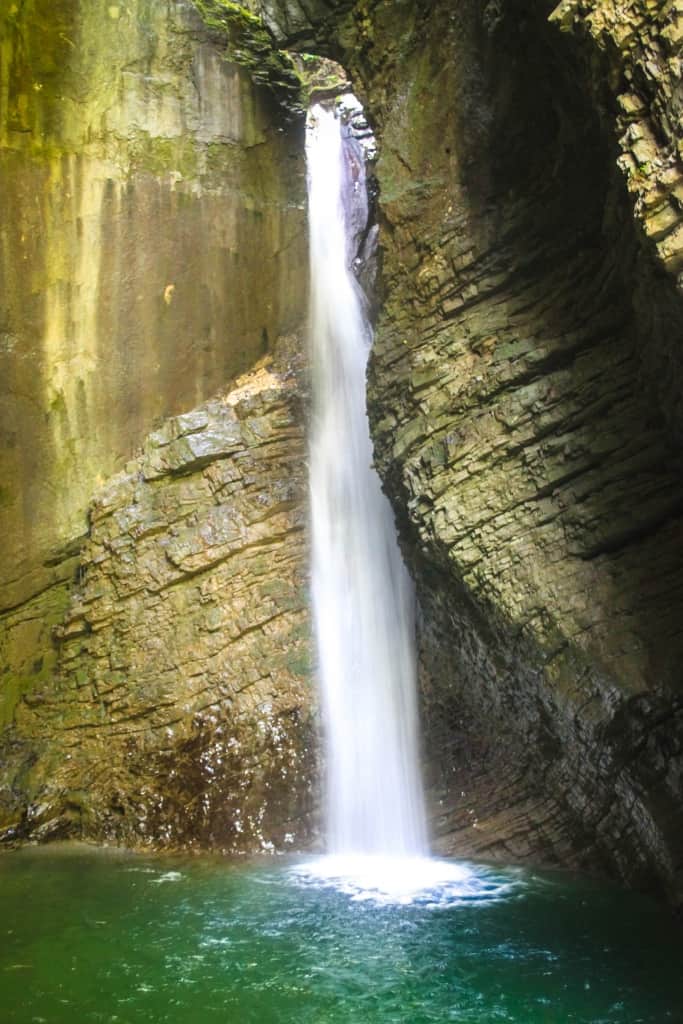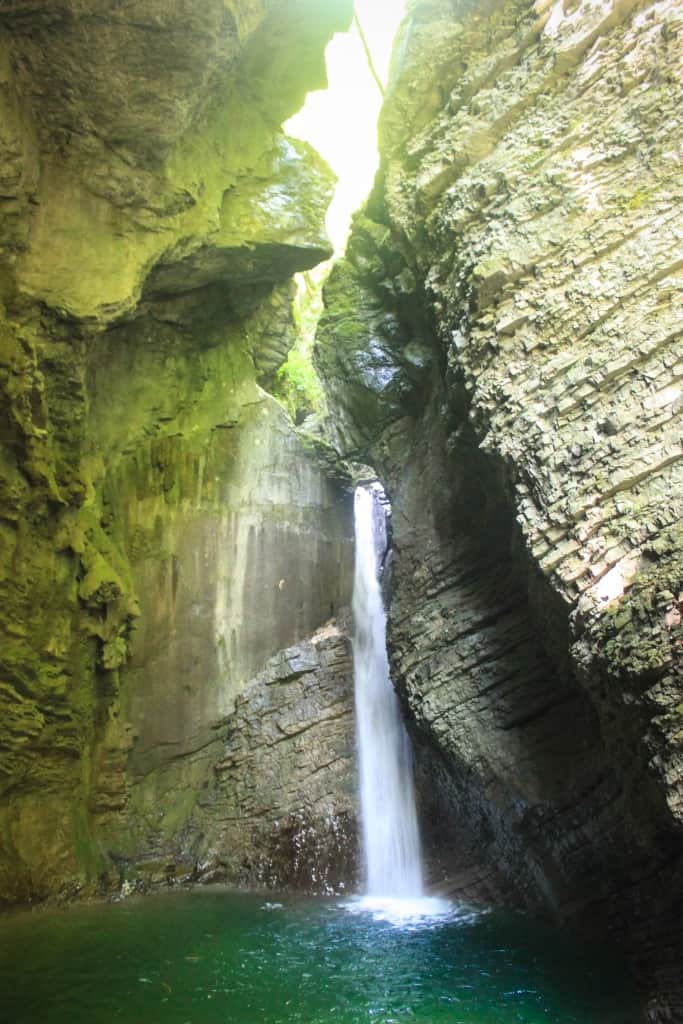 Getting back
Once you're done exploring the waterfall, it's time to head back. If you're on foot from Kobarid, consider crossing the suspension bridge and walk that way back to Napoleon bridge. It's a scenic hike.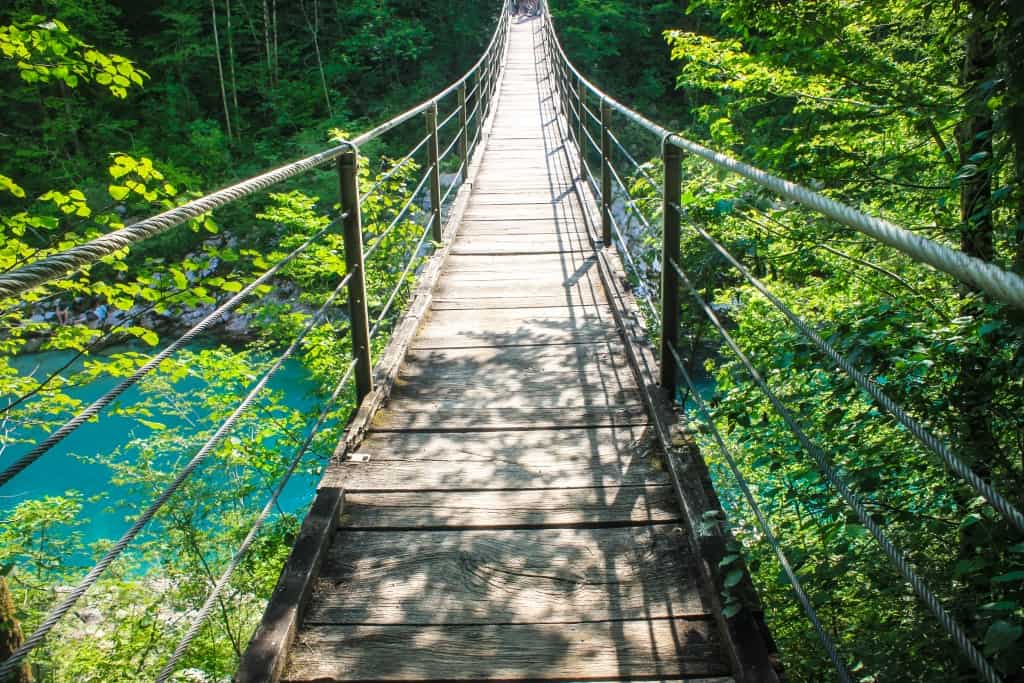 So, what do you think of Slovenia? Would you go there?
Before you go – don't miss these posts:
Many thanks to Spirit Slovenia for generously hosting me in Slovenia. As always, all opinions and thoughts are my own, regardless of who is footing the bill.