10 magical things to do in Lake Bled Slovenia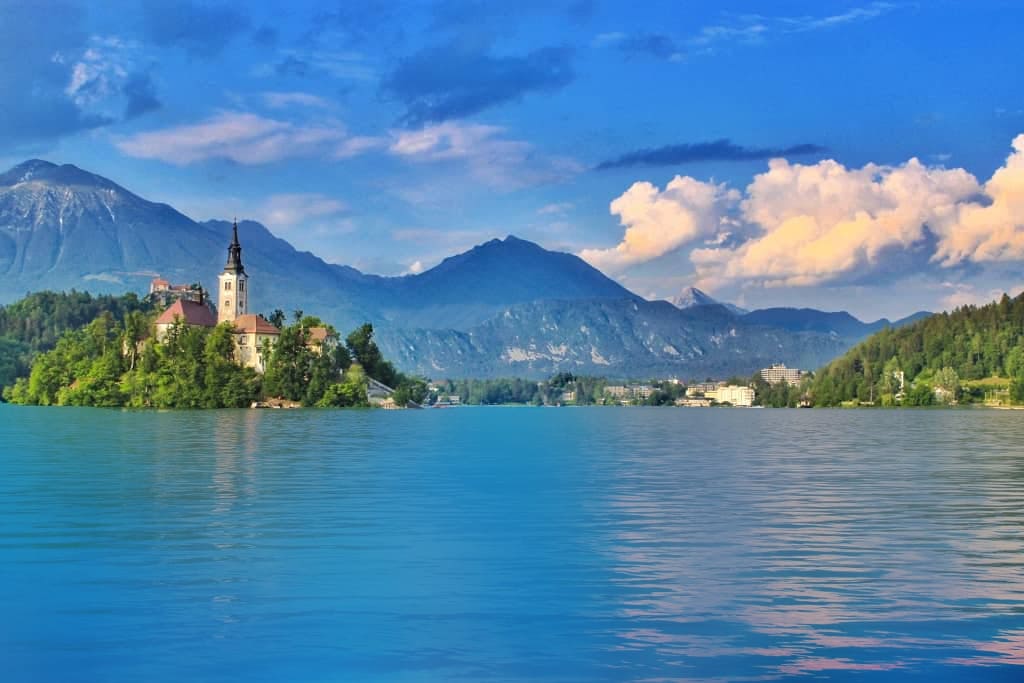 If you haven't already picked up on it, Lake Bled Slovenia took me by storm and every time I think about it, my heart beats faster. It was love at first sight, and the fact that the weather was perfect during the whole trip only added to my infatuation.
Read along as I share the best things to do in Lake Bled and hopefully convince you to visit.
This post contains referral links for products I love. Adventurous Miriam earns a small commission at no extra cost to you if you make a purchase through my links. Thank you for your support ♡ Learn more
Things to do in Lake Bled Slovenia
Until recently, I had never heard of Lake Bled. I'm not even sure how it came on my radar – all I know is that when it did, I made it an INSTANT priority to visit. Some have described the lake as enchanting. Magical even. So I was pretty excited to see if it lived up to the hype. I have visited a few phenomenal lakes before and I hoped this one would be just as great.
The verdict?
It was mind-blowing. M-I-N-D-blo-wing! Like stepping right into a fairytale that you never want to leave.
Some people visit Lake Bled to relax and do nothing. It's the perfect place for it! But if you're looking for a more active vacation, there's lot of things to do in Lake Bled to keep you busy.
From swimming and kayaking to hiking and castle exploring – you won't be bored.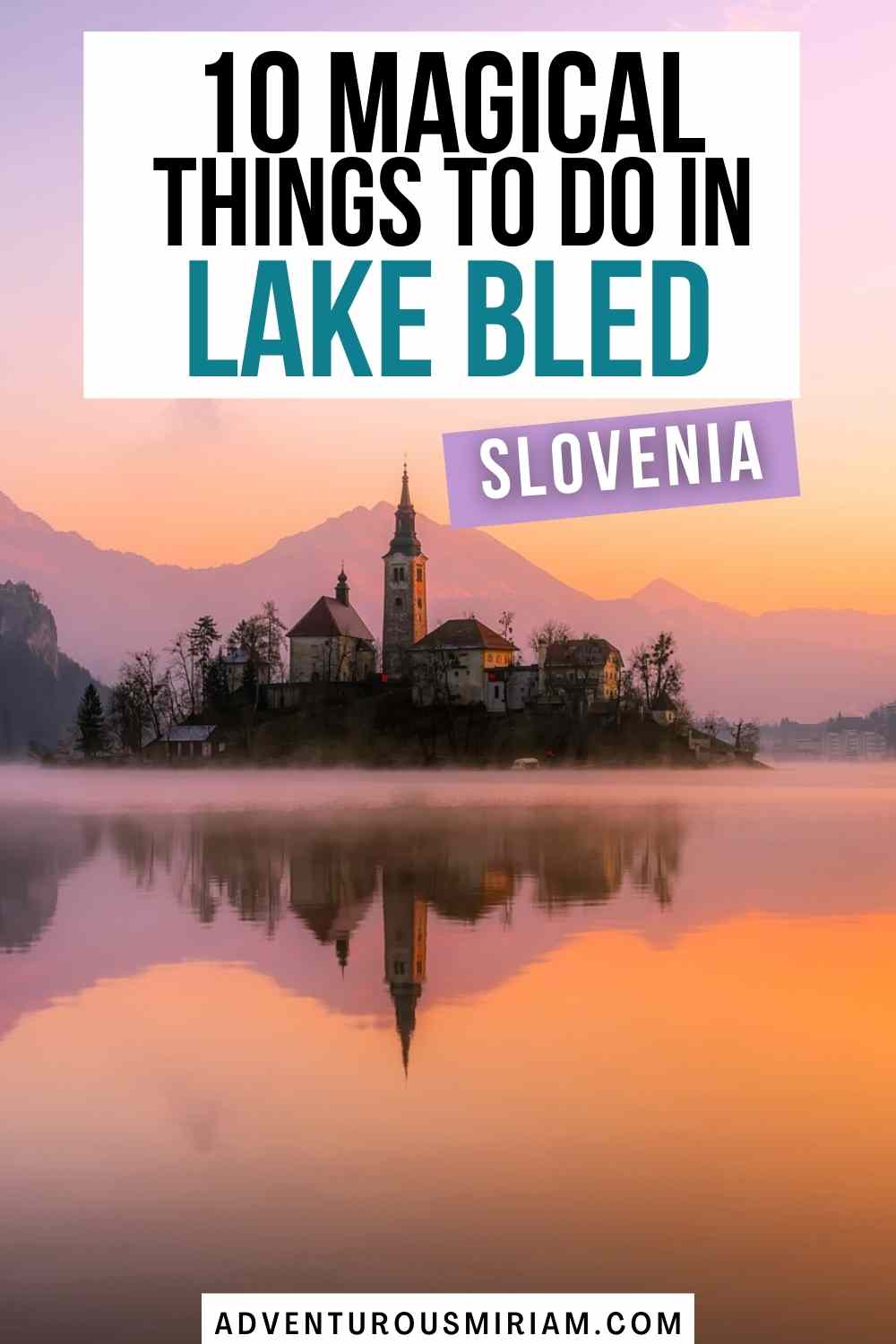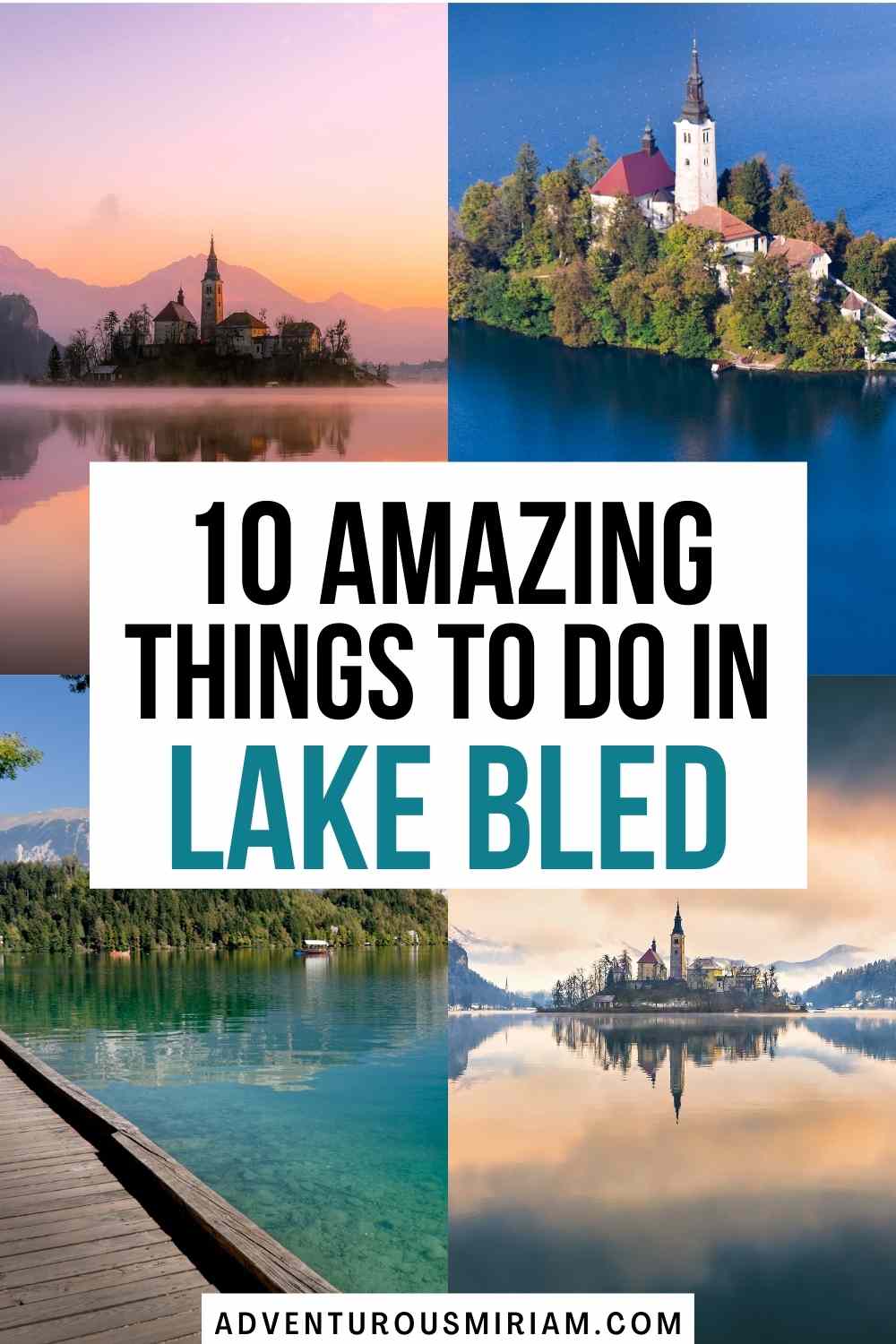 How to get from Ljubljana to Lake Bled
By bus: 54 km – one-way ticket: 5 Euro
The easiest way to get from Ljubljana to Lake Bled to Bled is by bus. I took the early morning bus and it was super easy. There's a direct bus departing from Tivoli and arriving at Bled 1 hour later. The bus departs every hour, every day of the week.
Read next: 3 ways to easily get from Ljubljana to Lake Bled
1. Visit Bled Castle
Price: $11 (Bled Castle Website).
The top sight in Lake Bled is the castle, which is easily reached by car.
The medieval castle is perched atop a high hill, steep and long, from which it overlooks the scenic Lake Bled. This medieval castle is over 1,000 years old and it's the oldest in Slovenia. It's also a great viewpoint for the lake, the romantic Bled island and the church on it.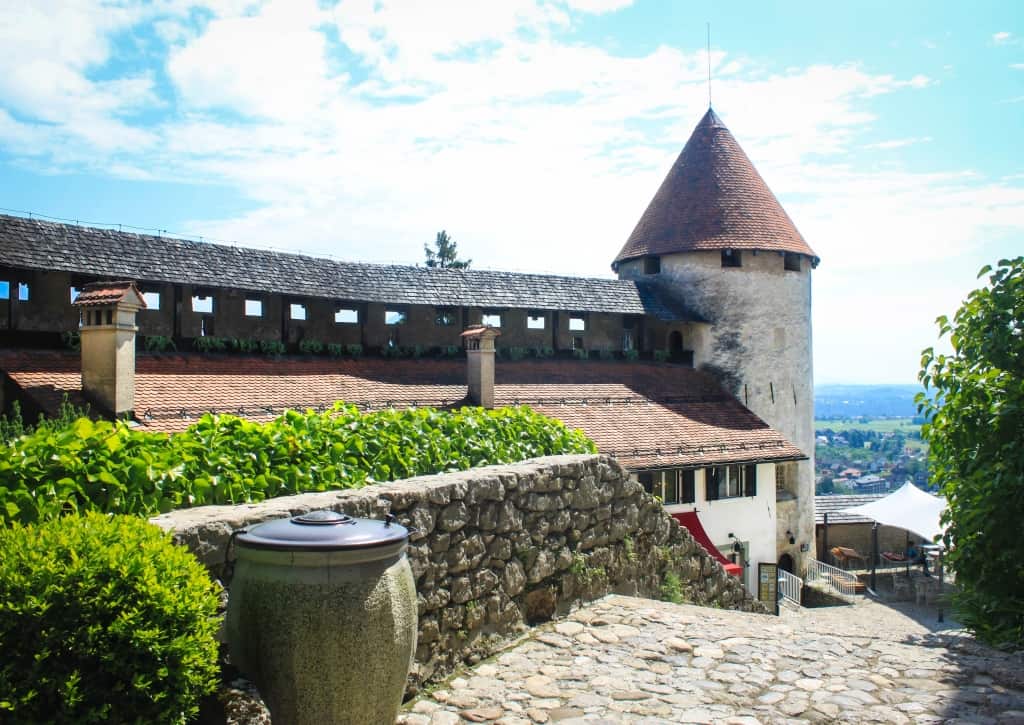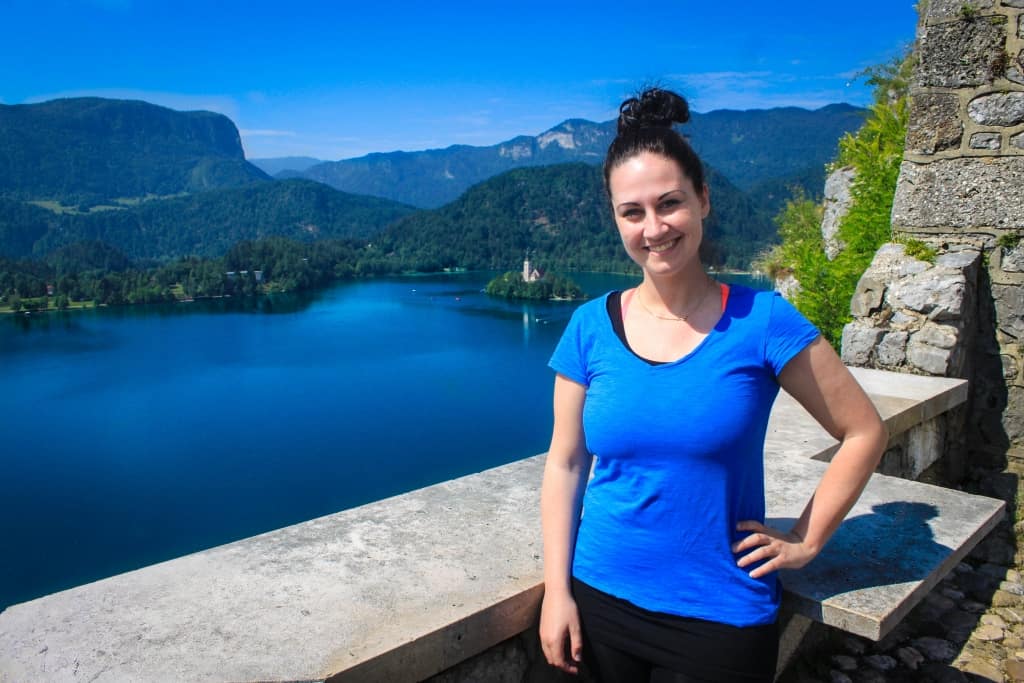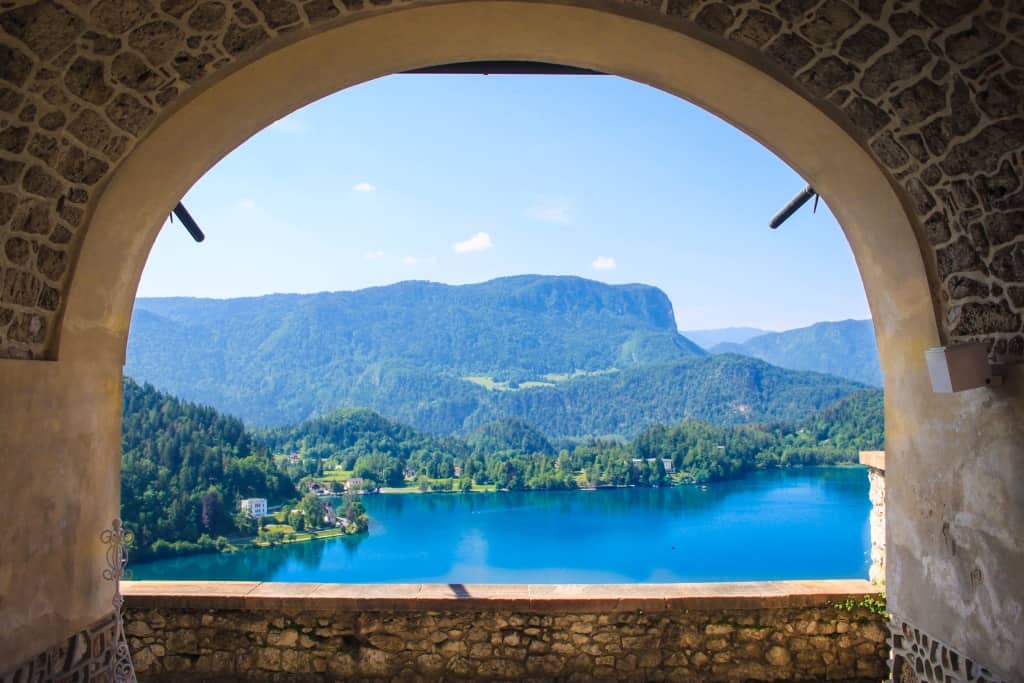 2. Wine tasting
Did you know that Slovenia has the most amazing wine? Yeah. They do. My favorite is muscat wine, which is a sweet white wine. But they also have plenty of amazing red wines.
One way to get acquainted with this deliciousness is to order a glass at a restaurant or cafe while you enjoy the beautiful lake view. If you'd like a more thorough introduction (or just taste more wines), I've got the perfect wine tour for you. On this two-hour tour, you get to taste 7 different Slovenian wines in a 100-year old wine cellar.
Book your ticket here: Wine Tasting Bled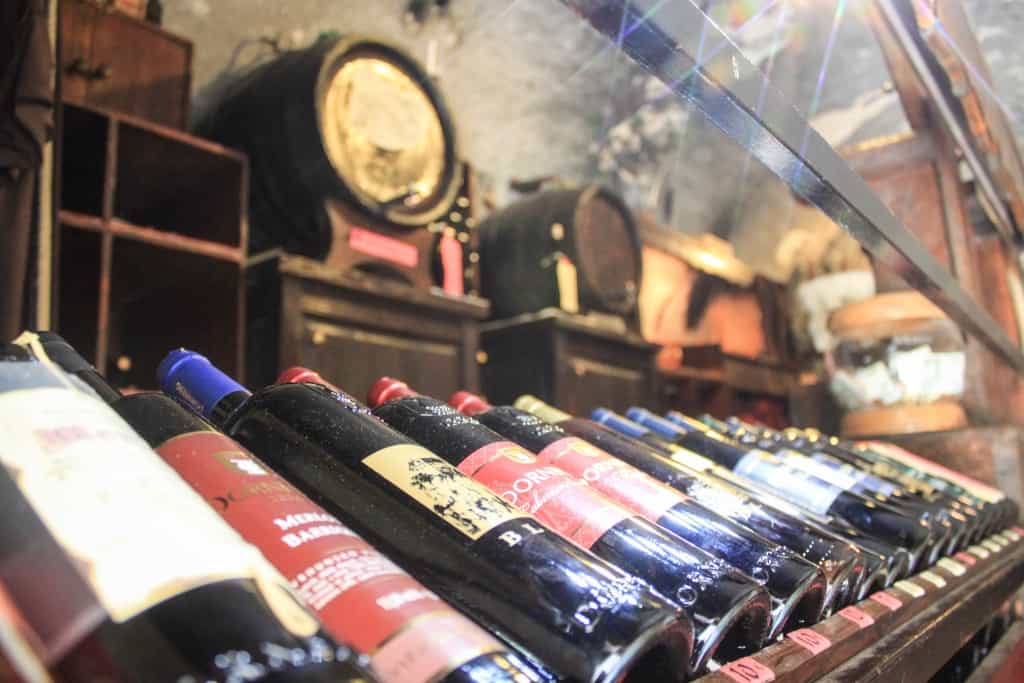 3. Hike to Osojnica Hill
There are lots of things to do at Lake Bled, and hiking is one of the main activities. The best hike is to the top of Osojnica hill where you'll get a better view of the lake.
Ironically enough, I've never considered myself a hiker, but somehow I always end up hiking when I travel. Thank you, Self, for this torturing experience. It turned out to be worth all the struggle when I finally reached the summit.
I hiked this hill to get that view, and I recommend you do the same –>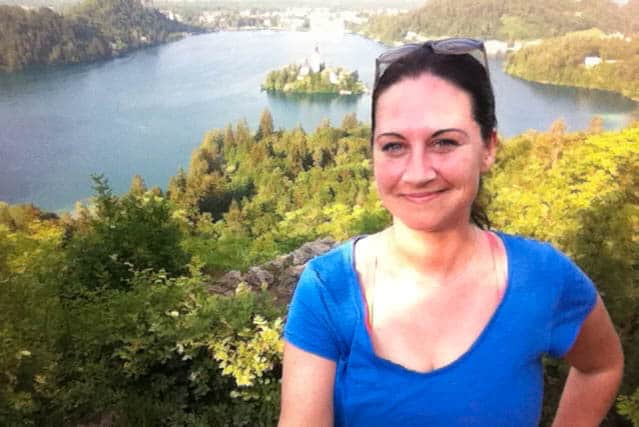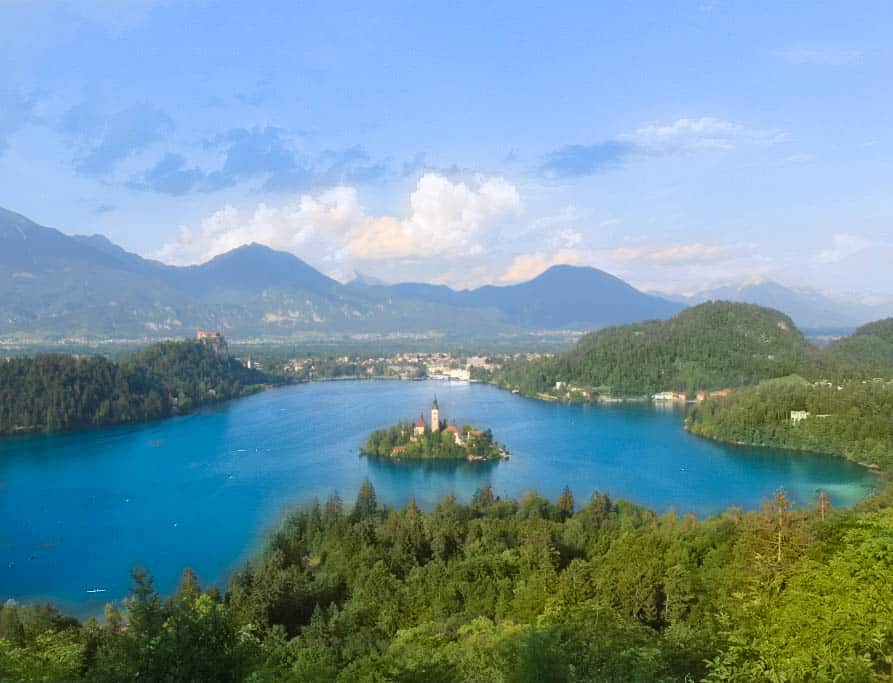 4. Stroll along the boardwalk at Lake Bled
Lake Bled is surrounded by a 6 km wooden walkway, which is the perfect way to explore Bled from the lake side. You can also rent a bike if you prefer that over walking.
During one of my walks there, I saw the most beautiful rainbow! The sky was full of gorgeous colours, and that gorgeous background just made it picture perfect.
5. Taste the famous Bled Cake
The most obvious symbol of Bled would be the iconic island, right? Or the beautiful view from the castle. But it's not actually. It's a cake.
The original Bled cream cake, also known affectionately as Kremsnita is a superdelicious desert cake with rum and lemon rind. You can get it at most cafes or restaurants in Lake Bled, and I highly recommend it. It's kind of a must when you're there.
6. Row to the Church of the Assumption
Bled island is the only island in Slovenia. You can reach the island by a special boat with a roof, called pletna, or you can rent a boat. On the island, there's a Baroque church called Church of the Assumption, where many couples come to pledge their eternal love to each other.
The stone staircase with 99 steps is especially famous in wedding rituals and according to tradition, it's good luck if the groom carries his bride up all 99 steps.
7. Kayaking and swimming in Lake Bled
Did I mention that the water is clear and turquoise? It is. Just by my glamping site there was a small beach area and a bathing jetty. Visit during the summer, and you'll be longing to jump in that warm lake water.
You can also rent a kayak and explore the lake by water.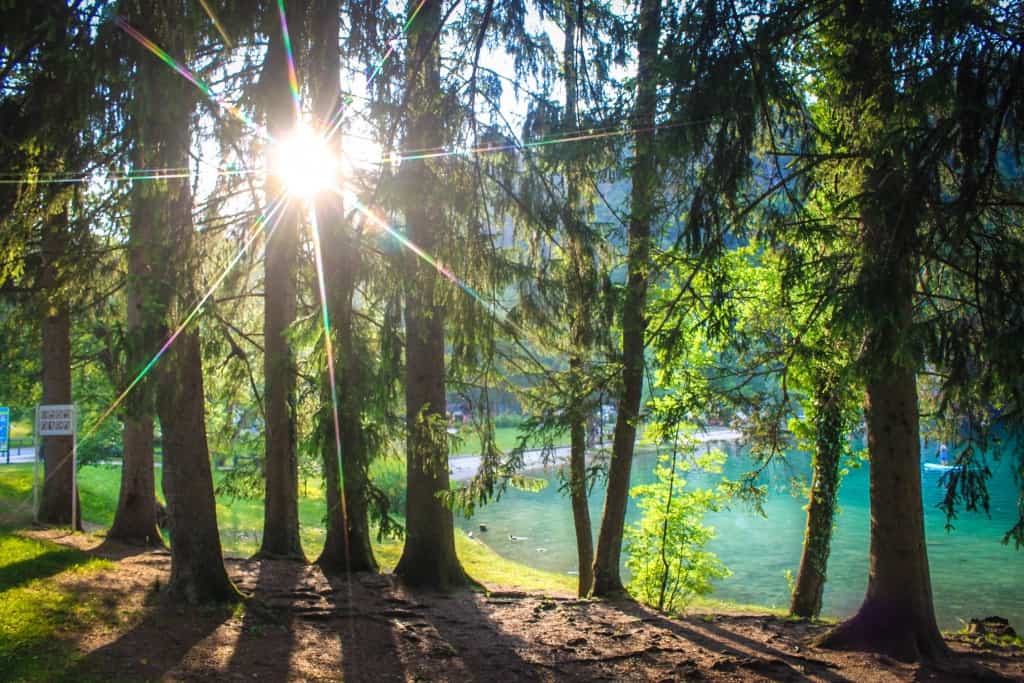 8. Picnic at Lake Bled
Another magical thing to do in Lake Bled is a picnic. Imagine sitting by the lake with a packed lunch, some fruit and one of those delicious Slovenian wines. Bled is the perfect place for that. If you're staying at a glamping site, you can most likely order a picnic basket from there.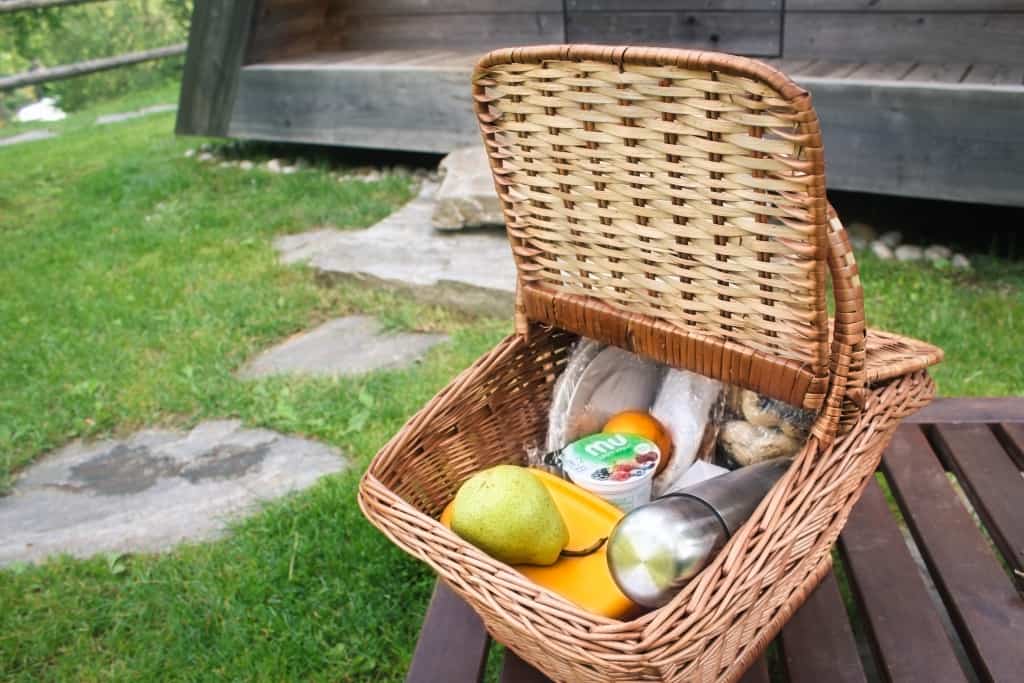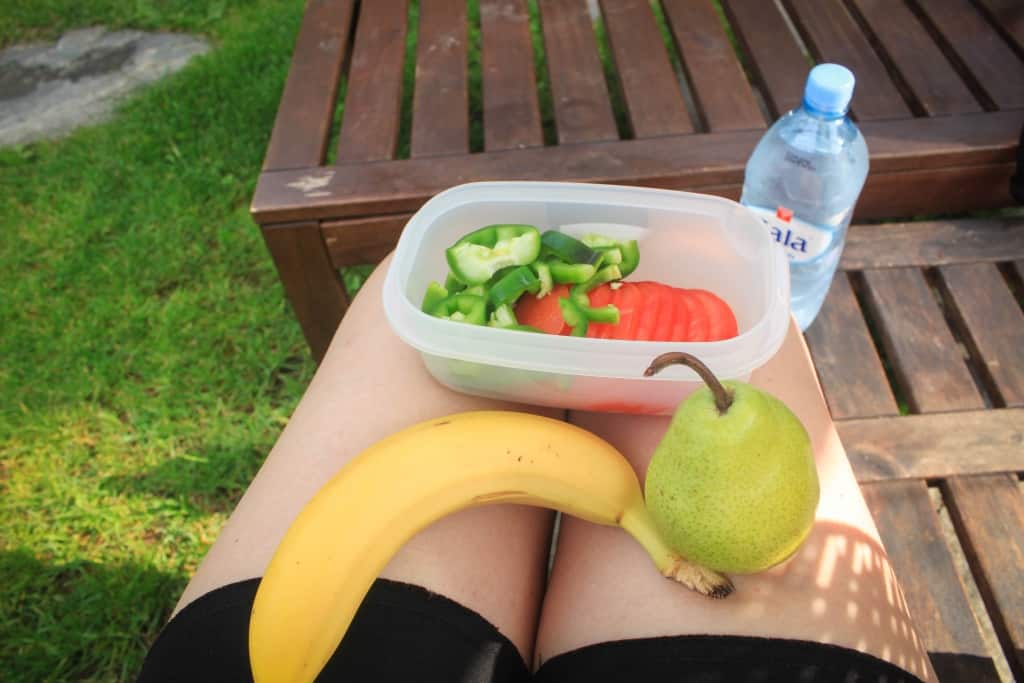 9. Slovenia Camping or Glamping
I do love being in the nature, and you know I love camping so when I found out that there was glamping in Lake Bled, I knew exactly where I was spending the night. If you're not familiar with glamping, let me introduce you to this amazing type of accommodation:
Read next: Glamping in Lake Bled: 5 Best Luxury Camping Sites
Glamping is the glamorous kind of camping. It's the luxurious way of getting back to nature. You'll still stay at a camping site, but you live in a luxury tent, trailer or hut, often with a private kitchen and bathroom. It's the VIP of camping.
My glamping site included a private hut with outdoors jacuzzi. A private bathroom with shower and towels. And a breakfast picnic in front of my forest hut. Amazing, I tell ya.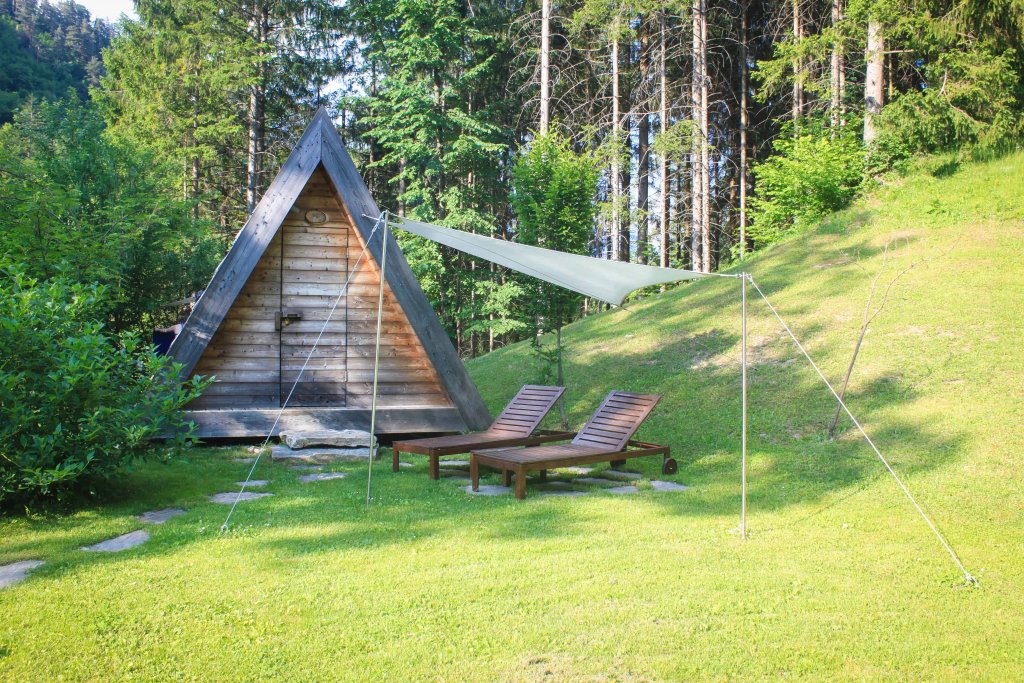 10. Watch the sunrise over Lake Bled
The most magical thing to do at Lake Bled is to watch the sunrise. This might sound like a pretty basic thing to do, but trust me on this – it's hypnotic with that mountain and Bled castle background.
You guys know how much I LUV sunsets and sunrises. I usually like to sleep in, but on this trip, I was up before sunrise almost every day. I didn't mind, because THIS —>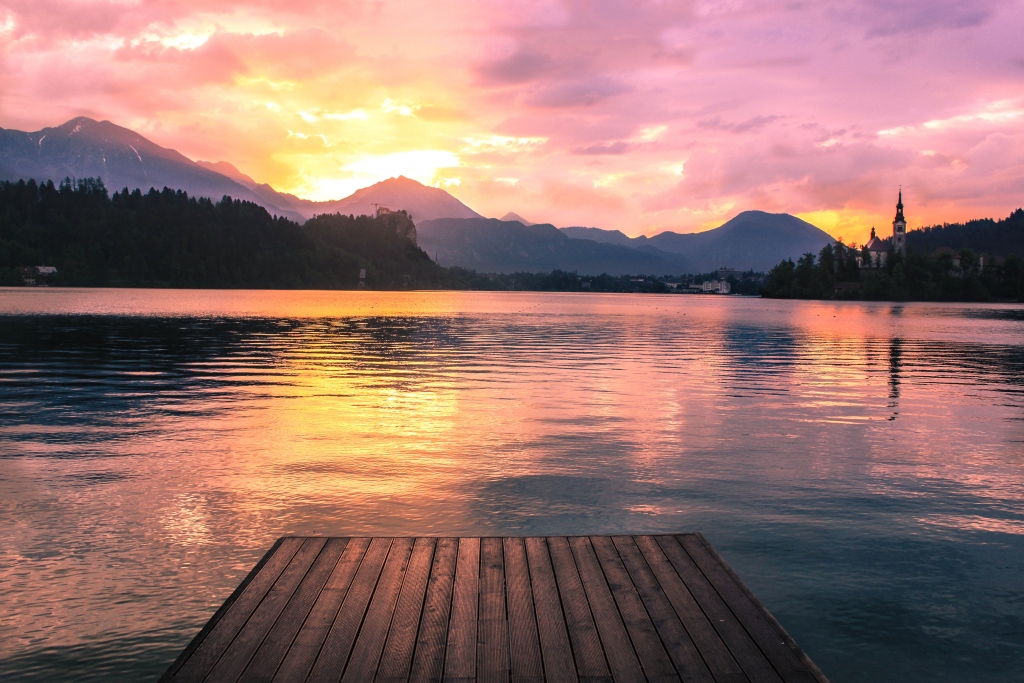 And this —->
So, in short, Lake Bled was epic, and it's one of those places I know I'll return to again and again. It stole my heart. That's for sure.
Where to stay in Lake Bled
So, my favourite accommodation in Lake Bled is definitely glamping. While you'll find several decent hotels there as well, Bled is just made for staying in the nature – so why not make it a premium experience! I've handpicked these two glamping sites based on their location, facilities and review rates.
Glamping Pibernik – Pr' Hostar. A private hut with a flat screen, good location for biking, and a delicious huge breakfast that you can eat in your room or outside. Click here to find the latest prices.
Garden Village Bled. This glamping site is entirely ecologically designed and has a river flowing right next to it. The tree houses are perfect for families and groups. Click here to find the latest prices.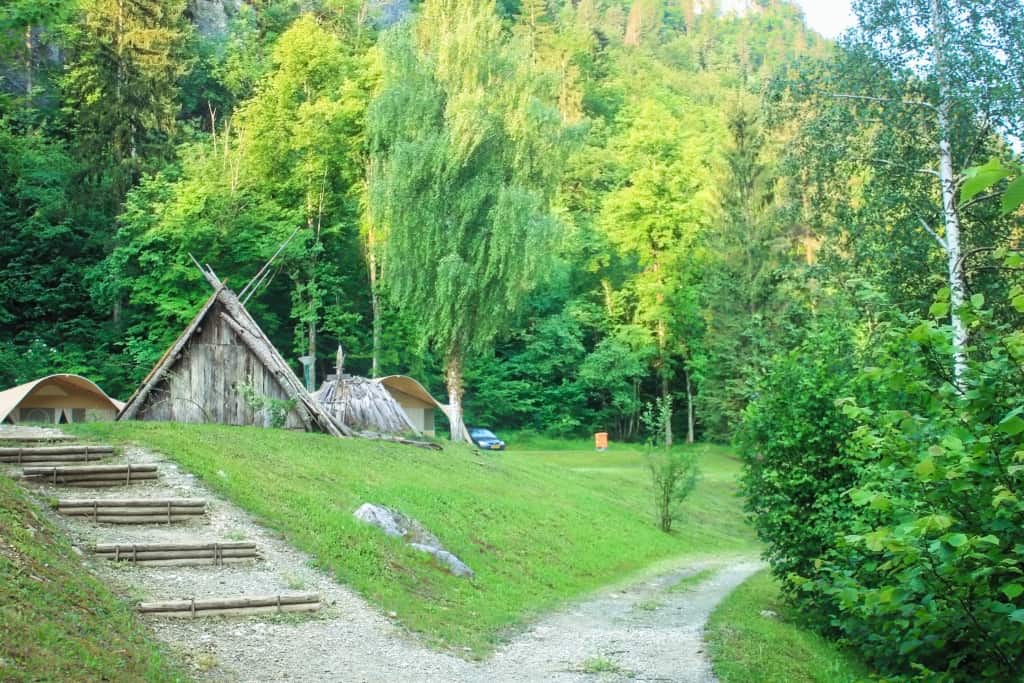 Day trips from Lake Bled
Lake Bled is not only a magical place to stay for a long weekend or even a week. It's also a great base for exploring the rest of Slovenia.
LAKE BOHINJ
29 km from Bled
Just 30 minutes (beautiful) drive away, you'll find the lovely Lake Bohinj, which is similar to Bled. The main difference between the two is that Bohinj is more adventure packed with hiking and biking. Bohinj also has a waterfall and a cute little church by the water. It's very photogenic.
Read my post about things to do in Bohinj.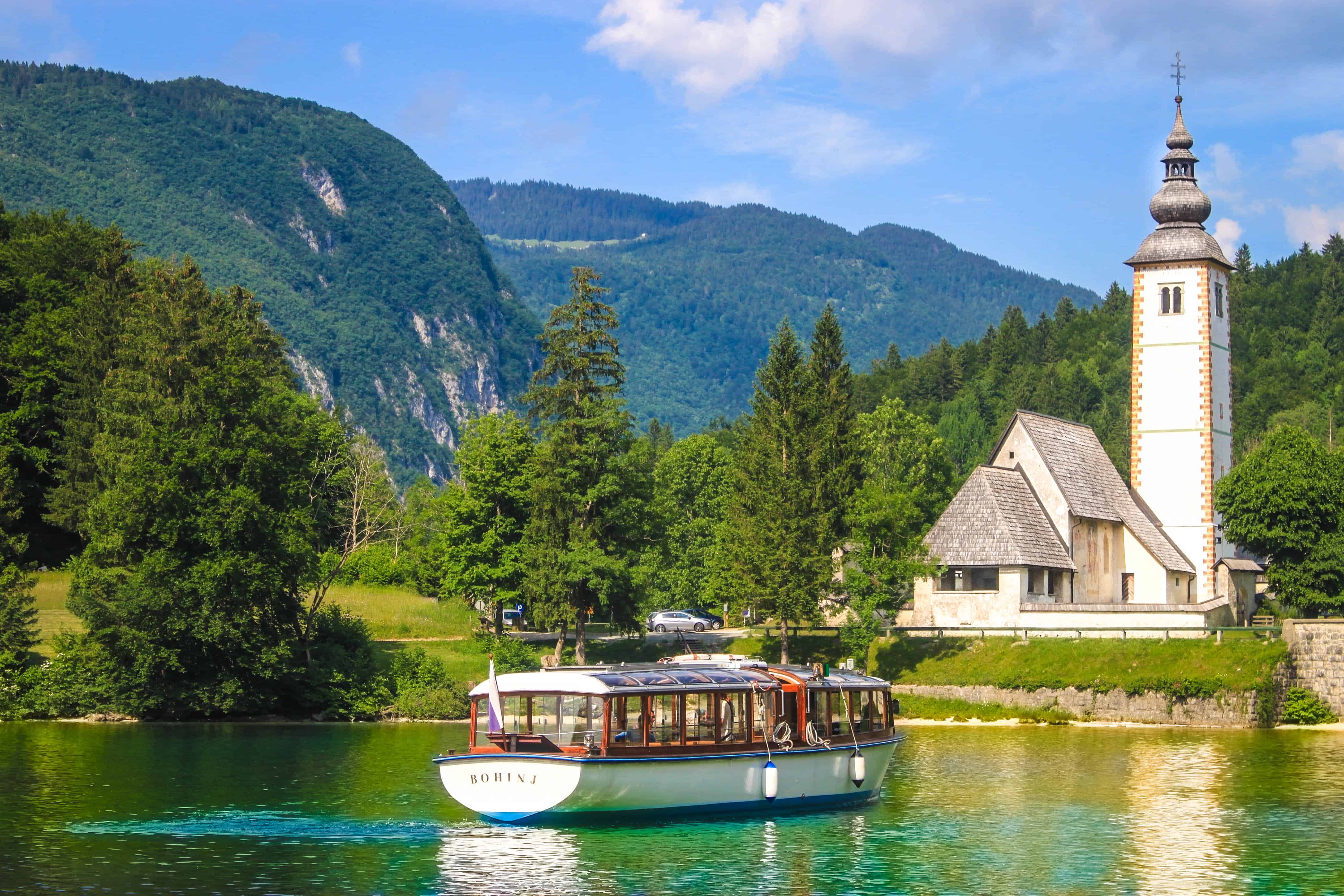 LAKE JASNA
40 km from Bled
A little further away, you'll find Lake Jasna. Located just 2 km from Kranjska Gora, Jasna is smaller than Bohinj and Bled, but it's still super beautiful. This is a perfect place to stay at the beach, swimming and sunbathing on summer days.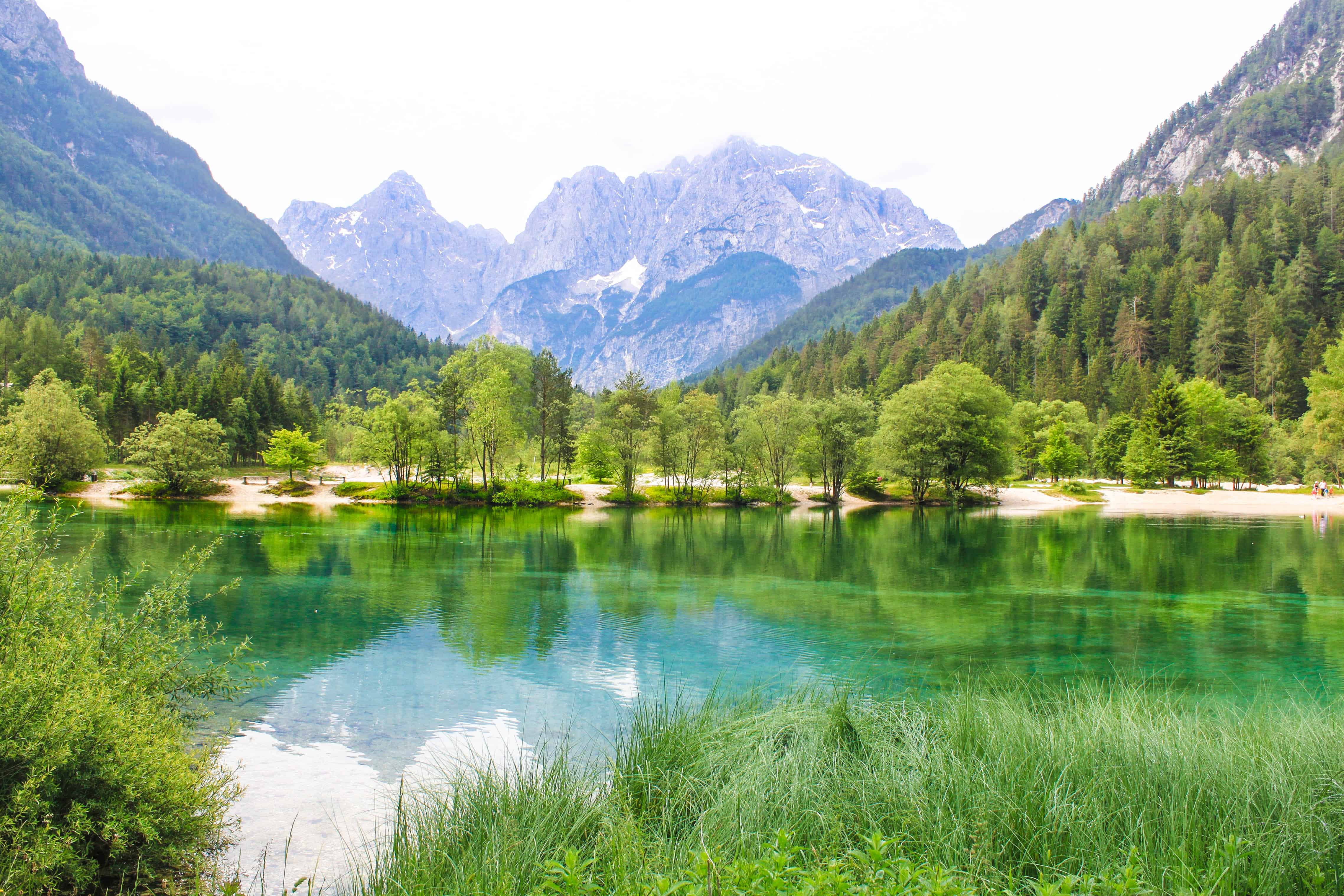 VINTGAR GORGE
4 km from Bled
Vintgar Gorge is a 1.6-kilometer gorge, just a short walk or taxi drive from Lake Bled. It's gorgeous, it's easy to walk and it's easy to get to. I highly recommend visiting.
SOCA VALLEY
86 km from Bled
Have you seen Narnia? One of the scenes from Prince Caspian was actually filmed right here in Soca Valley. It's a magical area and the perfect place for a road trip. You'll pass waterfalls, gorges, mountain passes and much more. It's definitely worth visiting – plus the views on your way there are incredible.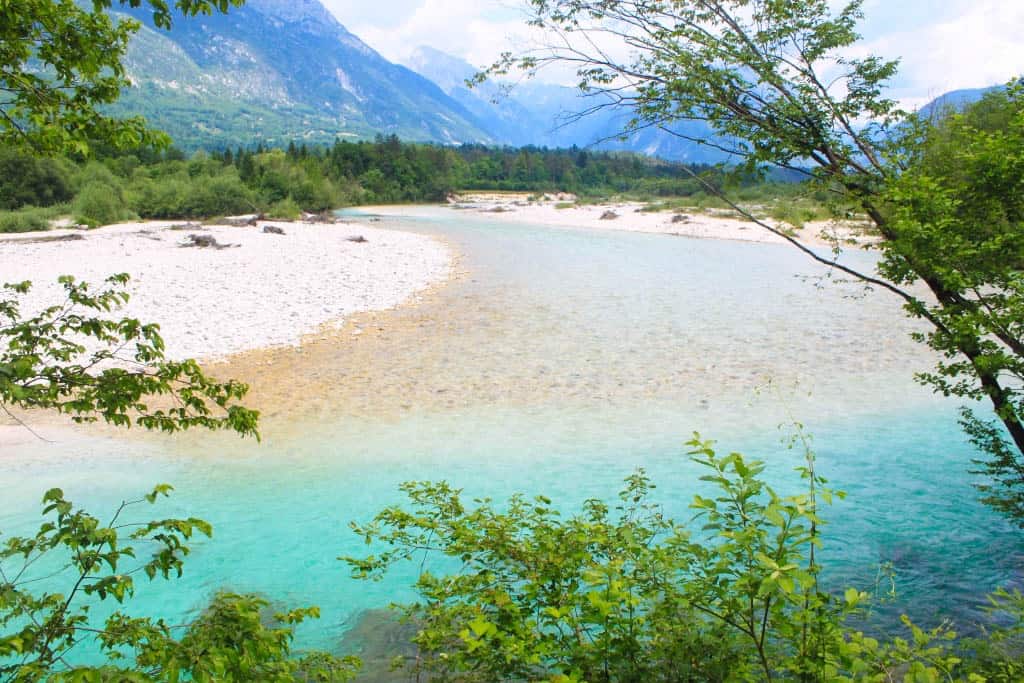 Many thanks to Spirit Slovenia for generously hosting me in Slovenia, and thanks Grega from Hike & Bike for a super fun and active day. As always, all opinions and thoughts are my own, regardless of who is footing the bill.
Before you go – don't miss these posts: