Traditional Danish Food: 20 amazing dishes you must try in Denmark
Traditional Danish food is more or less all about meat and fish dishes with potatoes and gravy – like stegt flæsk med persillesovs and herring.
However, within the last 20 years, Danish chefs have incorporated more organic and local produce into the cuisine, so you'll see this a lot in Danish restaurants – especially on Bornholm and in Copenhagen.
This is known as New Nordic cuisine or New Danish cuisine.
Copenhagen is home to several Michelin restaurants, such as NOMA, Kadeau and Geranium to name a few. In this post, I've included what we in Denmark call "mormor-mad", which is traditional Danish food the way grandma used to make it.
So, let's dig in! – or 'velbekomme', as we say in Danish.
Read next: 6 best places for local food on Bornholm
This post contains referral links for products I love. Adventurous Miriam earns a small commission at no extra cost to you if you make a purchase through my links. Thank you for your support ♡ Learn more
Danish Food and Cuisine
In general, Danish cuisine is quite heavy and meaty (particularly pork).
We eat a lot of potatoes and vegetables on the side, and traditionally they're boiled or steamed.
A lot of traditional Danish dishes are only seasoned with salt and pepper, making the ingredients take centerstage.
New Nordic Food
So, a few words about New Nordic food because it's such a big part of Danish culture.
New Nordic cuisine is inspired by a manifesto written by Danish food activist and culinary entrepreneur Claus Meyer in 2004.
New Nordic food is known for its experimentation, and it has an innovative approach to traditional Danish food along with a focus on health and an ethical production philosophy.
Proud fact: In 2019, Danish restaurants hold a total of 35 Michelin stars, more than in any other Nordic country.
How to taste the best Danish food
Obviously, the best place to have the best Danish meal is at a Dane's house. A warm, hearty dish, cooked from scratch ❤️
However, since you probably don't know that many Danes, except me, there are other great ways to taste both modern and traditional Danish food.
If you find yourself in Copenhagen, try one of these fun food tours:
On this walking tour, you'll get to taste some of the best Danish food, such as smørrebrød (open sandwich) and organic hot dogs. You'll also try Craft beer and more seasonal cuisine. Check availability here.
20 best Danish food
1. Stegt flæsk med persillesovs
Crispy pork with parsley sauce
Let's begin with the Danish national dish, shall we. Stegt flæsk med persillesovs. This is a very rustic dish that consists of crispy fried pork served with boiled potatoes, parsley sauce and pickled beetroot. You can taste our national dish in several restaurants around Denmark.
2. Karbonader
Breaded Pork Patties
Karbonader is one of the typical Danish foods, also known as krebinetter. Earlier on, karbonader were served with peas and carrots in a white sauce, but the younger generation likes them with a green salad or rye bread.
3. Frikadeller
Danish meatballs
Mhm, frikadeller! Danish meatballs consist of equal calf and pork, flour, eggs, milk, onions and spices and is served with rye bread or potatoes. Frikadeller is also a popular topping for smørrebrød (both hot and cold). And in the summer, they're typically served with potato salad (double yum!).
4. Juleand
Christmas duck
If you happen to be in Denmark during Christmas, you're bound to taste the Christmas duck (juleand). On Christmas Eve, we eat roast duck with potatoes, caramelised potatoes and the best gravy ever.
Read next: How we celebrate Christmas in Denmark (+ lots of food pics)
5. Smørrebrød
Open-faced sandwiches
Some say that stegt flæsk med persillesovs is the Danish national dish, but I'd say smørrebrød wins first place. Smørrebrød is an open-faced 'sandwich' that consists of a piece of buttered rye bread called rugbrød, topped with topping such as pieces of meat, fish, egg, cheese or avocado and topped with garnishes.
We usually eat smørrebrød for lunch every day – although it's not usually this elegantly decorated ↓
6. Fresh seafood
Denmark is surrounded by the sea, so it's only natural that we have a lot of seafood. Herring and fiskefrikadeller are among the most popular everyday food in Denmark, but the best – in my opinion – is the plaice fillet, cod and the shellfish (crab claws and Norway lobster tails).
Shellfish is quite expensive, but on the flip side: you will get premium quality. And if you buy it directly on the harbour and cook it yourself, it's much cheaper. You can get super cheap fish in Bønnerup. We always go there for fresh fish.
7. Tarteletter
Chicken and asparagus in tartlets
Tarteletter are puff-pastry tart shells filled with chicken, white asparagus and a white sauce made of butter, flour, and milk with carrots and peas. One of the classic Danish dishes, and a favourite for Christmas lunches.
8. Flæskesteg
Danish Pork roast
Another typical Danish food is flæskesteg, which is a pork roast. Flæskesteg is served with red cabbage, caramelized potatoes and boiled potatoes with gravy. Some Danes eat it on Christmas Eve, but it's also a common dish on Sundays.
9. Pickled herring
Most Danes love pickled herring, and it's one of the most popular toppings for rye bread. Even my 2-year old eats it at day care. One of the most beloved versions is herring in a creamy curry sauce, but you can also get it marinated or in cognac, just to name a few.
10. Danish hot dog
Hot dogs, known as pølser in Denmark, are the most popular street food. You can get them all over from a pølsevogn ("sausage wagon") or any gas station. A Danish hot dog extends far beyond the boundaries of the bun and is topped with crunchy fried onions, raw onions, sliced pickles and ketchup, mustard and remoulade.
Another classic is the french hot dog. It's a toasted bread with a hole through the middle, filled with ketchup and stuffed with a grilled sausage. And always get a chocolate milk drink called Cocio and eat it at the wagon.
11. Koldskål med kammerjunker
Cold buttermilk soup with biscuits
Although you can buy koldskål at the grocery store all year around, it's most common to eat during summer. Koldskål is made with buttermilk, eggs, sugar, cream, vanilla, and sometimes lemon. It's a perfect light dinner, topped with biscuits, banana or strawberries. As a child, my mom always made it with oats roasted in sugar and butter, which is my absolute favourite!
12. Leverpostej
Danish liver pate
Danish liver pate is probably one of the most traditional toppings on rye bread or white bread. Normally, you'd eat it on its own, but many like to top it with either pickled beetroot or fried bacon and mushrooms. You can get liver pate anywhere in Denmark, but the king of leverpostej is the homemade version (like the one below).
13. Klarsuppe
Clear soup with meatballs and dumplings
Imagine a soup plate filled with a pure, clear chicken broth with buttery dumplings and small meatballs, flavoured by bits of carrots, celery and onion. That's traditional Danish clear soup.
14. Boller i karry
Danish meatballs in curry
Although curry isn't a typical Danish ingredient, Boller i karry is one of the most traditional Danish dishes. Basically, it's just meatballs cooked in a sauce and served with rice. Kids love it, and it's easy to make.
15. Forloren hare
Mock hare / Danish meatloaf
Mock hare is traditional Danish food on Sundays. It's also one of my favorites because of the sauce – it's to die for. Danish meatloaf – or mock hare – is made of equal calf and pork and wrapped in crispy bacon.
16. Mørbradgryde
Pork tenderloin in creamy sauce
Mørbradgryde is pork tenderloin in a creamy sauce with bacon, mushrooms and cocktail sausages. Traditionally, it's served with rice but some Danes also eat it with mashed potatoes.
17. Stjerneskud
Shooting star
Stjerneskud – shooting star – is actually an upscale smørrebrøds edition. What you get here is a slice of rye bread with fried and steamed plaice fillet, topped with shrimps, lettuce, white asparagus and caviar. You'll get the best ones in Northern Jutland and by the sea.
18. Stegt medister med rødkål og kartofler
Stegt medister is a thick, metre-long, spiced, minced pork sausage served with potatoes, sauce and red cabbage (similar to sauerkraut but a little sweeter).
19. Hamburgerryg med flødekartofler
Baked ham with mustard glaze
One of the classic Sundays meals is mustard glazed ham served with scalloped potatoes. Traditionally, hamburgerryg is baked, but you can also boil it and then use the leftovers as smørrebrød toppings (like on the photo below)
20. Fiskefrikadeller
Cod fish cakes
Fiskefrikadeller or cod fish cakes are frikadeller, but with fish. And if you ask me, they're the best! Remember I mentioned that curry isn't a typical Danish ingredient? Well, we eat fiskefrikadeller with curry sauce, which, granted, might sound like an odd mix, but I promise – fiskefrikadeller + curry sauce = the perfect combination.
Traditional Danish beer and alcohol
Denmark is a major player in the history of beer, and as of 2014, there are 120 Danish breweries, which makes Denmark the country with the highest number of breweries per capita. This is the most popular Danish beer and alcohol:
Carlsberg
Tuborg
Royal Unibrew
Harboe
Vestfyn
Juleøl / Christmas beer (limited edition, only available during Christmas)
Hvidtøl / a sweet white malt beer
Schnapps (Akvavit)
Mokai and Sommersby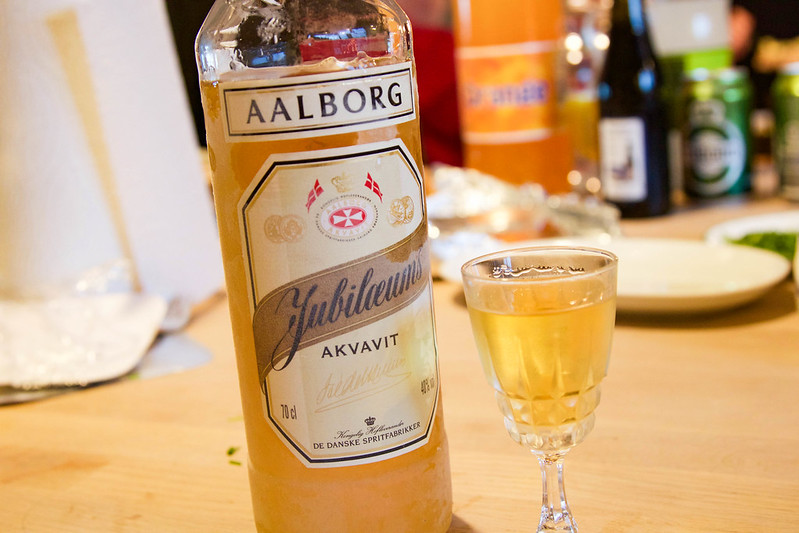 Danish Breakfast
A traditional Danish breakfast is typically eaten at home. A typical Danish dish is skyr with granola or fruit, cereals or oats or rundstykker, which is morning bunds sprinkled with seeds or grains.
On weekends (but definitely not limited to), many Danes have a breakfast dessert, known as wienerbrød. Among the most important type of wienerbrød are the snail pastries with cinnamon, butter, and iced sugar. You can get them at any bakery or at the modern chain; Lagkagehuset.
Danish Dessert
As you might have picked up, Danes love sweets; especially cake, chocolate and liquorice. That's why, for any desert or celebration, we include something sweet. Whether it's a homemade sneglekage (cinnamon cake with frosting) or a strawberry tart – the king of cakes – Danish delicacies are simply the best.
Here are a few examples of Danish desserts:
Chocolate cake / chocolate fondant with ice cream
Ice cream
Strawberry tart
Rød grød med fløde / Strawberry pudding with cream
Koldskål
Æblekage
Lemon fromage (definitely something grandma would serve)
Risalamande (for Christmas)
Fresh strawberries with sugar, milk and a bit of cream (during summer)
Danish Christmas Food
Oh, the Danish Christmas food. I could go on and on about this.. which I already have in two other posts, so I'll keep it short.
Traditional Danish Christmas food includes:
On Christmas Eve: Roast duck (or pork roast) with caramelized potatoes, boiled potatoes and gravy
Risalamande (cold rice pudding with whipped cream, sugar, vanilla and almonds)
Risengrød (rice pudding)
Æbleskiver (baked round cakes made of pancake dough)
Klejner (fried pastry)
Gloegg with rum-marinated raisins
Read next: Top 10 Danish Christmas Foods
Must-eat Danish cuisine
Like any other country, Denmark has some specialties you just HAVE to try. Russia has vodka, Japan has sushi and Denmark has – well, if I had to choose just one super Danish thing, it would liquorice. Here are a few must-try's from the Danish cuisine.
Licorice (go for the sweet liquorice to begin with or Turkish pepper if you're hardcore. For luxury quality, try Johan Bülow)
Mathilde Kakaomælk (chokolade milk)
Wienerbread (you would probably know them as a 'Danish')
Flødeboller (Spangsberg is the best, but the discount ones from Netto aren't too shabby, either)
Rugbrød
Danish food FAQ
What is Denmark's famous food?
The Danish national dish is 'Stegt flæsk med persillesovs' – a classic crispy pork recipe served with parsley sauce and potatoes. Frikadeller (a pan-fried meatball of minced pork is another famous Danish food.
What is a typical Danish lunch?
A typical Danish lunch is smørrebrød, which is dark bread (ryebread) with butter and topped with cold-cuts such as boiled egg, leverpostej or salami. We also like to eat sandwiches for lunch.
What is a typical Danish breakfast?
Many Danes eat bread rolls or cereals for breakfast. At our house we eat oatmeal with raisins and milk every morning, both the kids and us. Another popular Danish breakfast is skyr og yoghurt topped with berries and musli.
What snacks are Denmark known for?
Denmark is known for Carletti (confectionary, sweets and biscuits), Kelsen Group (Royal Dansk biscuits), Summerbird (chocolate), Johan Bülow liquorice, Toms (chips and sweets).
What is the national drink of Denmark?
Akvavit (Gammel Dansk, meaning "Old Danish") is one of the national drinks of Denmark. Another is shnaps. We're also proud of our Carlsberg and Tuborg beer.
What sweets is Denmark known for?
Denmark is known for these sweets:
Summerbird chocolate
Johan Bülow liquorice
Toms chips and sweets
Danish pastry:
– a "snegl" (cinnamon roll-style pastry)
– a spandauer (pastry with a dab of custard cream in the middle)
– tebirkes (pastry filled with remonce and topped with poppy seeds)
More stuff you'll love: