Experience the 7 UNESCO sites in Denmark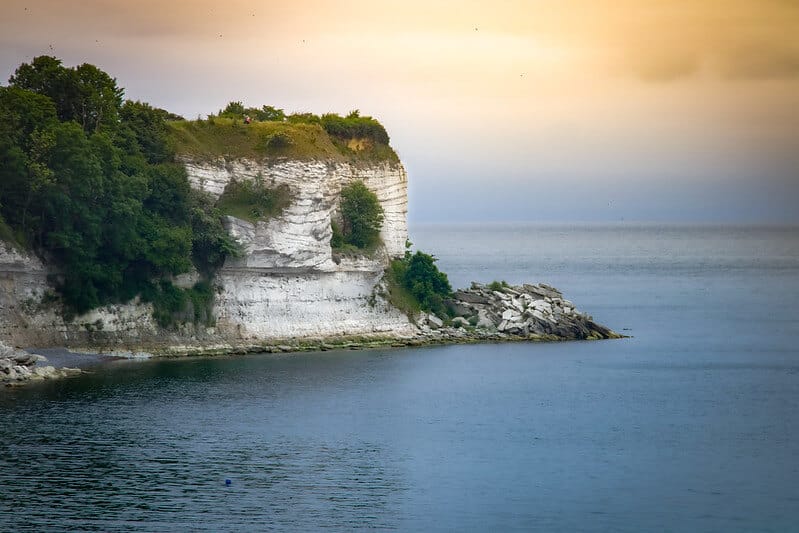 In Denmark, we have seven sites on UNESCO's world heritage list. That's seven places, which not only show the best of Denmark but also rank alongside renowned places such as the Great Wall of China, the Taj Mahal in India, Machu Picchu in Peru and Angkor Wat in Cambodia.
The best part about the UNESCO sites in Denmark is that everything is close by. Because, as you might know, Denmark is a fairly small country.
This post contains referral links for products I love. Adventurous Miriam earns a small commission at no extra cost to you if you make a purchase through my links. Thank you for your support ♡ Learn more
UNESCO sites in Denmark
If you want to experience the best nature in Denmark, learn about the Danish history, or just have a great cultural experience, then this list of UNESCO sites in Denmark is a great start.
We currently also have four sites on the tentative list, which means they'll be considered for nomination. I've been to all four on the tentative list and they definitely deserve a visit, too. So, if you have time for it, swing by Amalienborg, which is home of the Danish royal family, Fur island, Viking Age ring fortresses and Dragør old town.
I'll explain below what it means exactly to be on the UNESCO list and what it requires. I'm sure you'll love a trip to either of these UNESCO sites in Denmark:
The Wadden Sea
Christiansfeld
Jelling Mounds
Kronborg Castle
Par force hunting landscape in North Zealand
Roskilde Cathedral
Stevns Klint
What is a UNESCO World Heritage site?
A World Heritage Site is a cultural or natural attraction, which is considered to be of outstanding universal value for future generations.
UNESCO describes it like this: "Heritage is our legacy from the past, what we live with today, and what we pass on to future generations. Our cultural and natural heritage are both irreplaceable sources of life and inspiration".
As of 2020, there are a total of 1121 UNESCO World Heritage Sites in the world (869 Cultural, 213 Natural, and 39 Mixed). Italy and China are the two countries with the most UNESCO sites in the world. They each have 55 sites.
It's a huge honour when monuments, attractions and areas are enlisted. And once a site gets World Heritage status it brings with it responsibilities and international scrutiny, governed by UNESCO (United Nations Educational, Scientific and Cultural Organisation).
1. The Wadden Sea
How to get there: From Copenhagen, it takes 4 hours (303.4 km) via E20.
One of the natural UNESCO sites in Denmark is Vadehavet (the Wadden Sea). It's also one of the five Danish national parks, where the North Sea water flows into the Wadden Sea twice a day, flooding the mud flats with seawater. During low tide, you can go or drive out there and experience how it feels like to walk on the sea bed. We spent a day driving out there and got to see how the water came back in.
For its unique geological features and biodiversity, the Wadden Sea was listed as a UNESCO site in Denmark in 2014.
If you visit during spring or autumn, you might see the most famous natural sight in Denmark – black sun (sort sol). Black sun is when hundreds of thousands of starlings turn the sky black by dancing and circling around. It's a really unique sight!
Read next: Why you should visit the Wadden Sea National Park
2. Christiansfeld
How to get there: Christiansfeld is 1,5 hours (73.4 km) from the Wadden Sea. Just follow Route 24. From Copenhagen, it takes 2.51 hours by car (251.6 km) via E20.
Christiansfeld is a town in Central Jutland and was enlisted as a World Heritage site in 2015 because of its unique stringent architecture that represents the Moravian Brethren in Denmark. It's named Christiansfeld after King Christian VII who planned the city.
The town was built around the church, placing God and the church at the centre of everything. The square in front of the Moravian Church itself is shaped like a cross with a well in the middle. The Moravian community, which originated in Germany, is based on equality, which is clearly seen in the town's architecture. All houses are similarly made of yellow bricks with red roofs in perfect symmetry on straight rectangular streets.
Read next: Christiansfeld – Denmark's only UNESCO town
3. Jelling Mounds
How to get there: The Jelling Stone is located just 50 minutes drive north from Christiansfeld. From Copenhagen, it takes 3 hours by car (249.9 km). Follow E20.
Not far from Christiansfeld, you'll find the famous Jelling stone. It's a large rune stone, erected by King Harald Bluetooth in 965 in memory of his parents, Gorm and Thyra. The inscription on the stone tells the story of Harald's achievements and how he unified Denmark and made the Danes Christian.
The Jelling mounds, rune stones, and the church have all been part of the UNESCO heritage list since 1994.
Fun fact: Did you know that Bluetooth wireless technology was named after Harald Blåtand ('Blåtand' literally translates from Danish to "Bluetooth")? The Bluetooth logo is actually ol' King Blåtand's initials written in ancient Danish runes. How about that.
4. Kronborg Castle
How to get there: From Copenhagen, it takes 46 minutes (46.6 km) via E47.
You've heard about Hamlet, I'm sure. And Kronborg Castle in Helsingør is the actual castle that Shakespeare set Hamlet in back in the 1600s.
Although Shakespeare immortalised Kronborg Castle and made it world-famous, that's not the reason why it's on the Denmark UNESCO list.
Kronborg Castle was built in 1420 by Danish King Frederik II. It's one of the national symbols of Denmark and probably the most famous Renaissance castle in Northern Europe. With its strategic position between the North Sea and the Baltic, it was a legend in its heyday. With its threatening guns pointing directly at the ships in the Baltic Sea, sailors did not dare to sail past the castle without paying the king his Sound Tolls.
In 2000, Kronborg Castle became a UNESCO World Heritage Site in Denmark.
5. Par force hunting landscape in North Zealand
How to get there: The Par force hunting landscape is just 36 min (38.6 km) south of Kronborg Castle. Just follow Route E47.
Just 30 km north of Copenhagen, you'll find the Par force hunting landscape in North Zealand. This is a collection of hunting grounds and forests with three main areas: Store Dyrehave, Gribskov and Jægersborg Dyrehave/Jægersborg Hegn.
The royal landscape was designed in the 17th century with straight forest roads in a pattern of stars surrounded by squares as in a Baroque garden. It was made for a special kind of hunting called par force, which was considered the noblest form of hunting. In this process, the game was run down and exhausted by dogs before the kill was made by the King. Par force hunting was not about getting food on the table. Instead, it was an organised show to demonstrate the absolute power of the King.
The par force hunting landscape became one of the Denmark UNESCO World Heritage Sites in 2015 because it shows the par force landscape design and demonstrates how royalty demonstrated its pomp and power by controlling nature.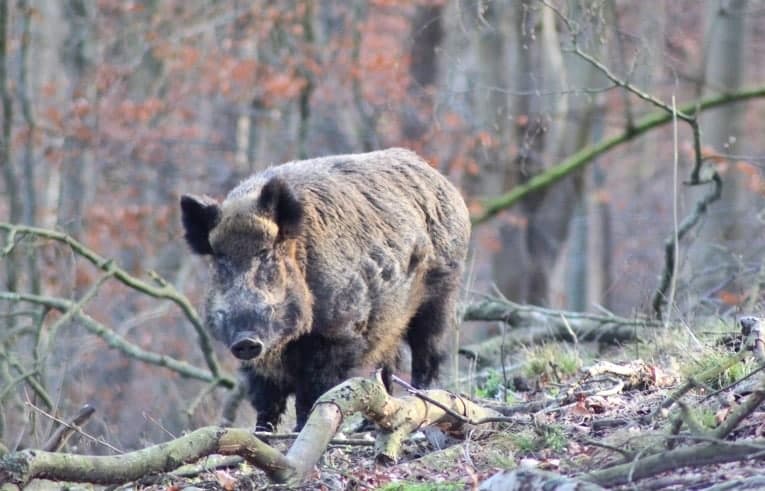 6. Roskilde Cathedral
How to get there: Follow Route 21 west from Copenhagen and you'll reach Roskilde in 41 min (37.3 km).
In the middle of Zealand is Denmark's first capital, Roskilde. Here, you'll find Roskilde Cathedral, a unique and beautiful brick Gothic cathedral from the 13th century.
What's really unique about the cathedral is the inside: Almost 40 kings and queens of Denmark are buried here, incl. the Viking kings Harold Bluetooth (d. 985) and his son, Sweyn Forkbeard (d. 1014). This makes Roskilde Cathedral a world record holder in regards to royal church burials.
Each monarch has a separate chapel, built in the styles of their era. This means that you'll see baroque, Gothic, neo-classical, modernist, and even a post-modern sarcophagus ready for the reigning Queen Margrethe II. The cathedral shows the religious architectural development in Europe, which is one of the reasons it made the list of UNESCO sites in Denmark in 1995.
7. Stevns Klint
How to get there: From Copenhagen, it takes a little over an hour to reach Stevns Klint (73.7 km). Follow Route 261 and E20 south.
My favourite item on this Denmark UNESCO world heritage list is Stevns Klint. But I love nature, so I might be biased.
Stevns Klint made the Denmark UNESCO world heritage list in 2014. It's a 40-meter-high cliff south of Copenhagen and it basically explains what happened on Earth approximately 65 million years ago when the dinosaurs went extinct.
Stevns Klint consists of chalk and limestone formed millions of years ago, when the sea covered Denmark. Between the chalk and limestone is fish clay – a thin layer of grey clay. By examining the fish clay, scientists discovered that it was rich in iridium, a metal that's rare on Earth but common in meteorites. This showed that a giant meteorite had hit Earth and caused the mass extinction – not volcanic activity, which was long thought of as the only cause for the big catastrophe.
While you're there, look for fossils at the beach. I can also recommend the Cold War Museum; a nuclear attack-proof fortress where you can see war machines and experience a large underground fortress, which consists of 1.7 km passages, 18 metres below ground.
Read next: You need to visit Stevns Klint before it's overrun by tourists
Planning to visit one of the UNESCO sites in Denmark? Ask me anything in the comments!
More stuff you'll love:
Pin it!