12 mind-blowing places for nature in Denmark
Denmark has some mystical and grand nature, full of fairy tale vibes. Here are the 12 best places for nature in Denmark you just have to visit.
I've been exploring my country quite a lot these past years, especially Jutland where I live. And you know what? Even though Denmark is a small country, I discover new sides of the Danish nature almost every time I venture out.
Denmark's landscape is diverse and beautiful and you can spend days exploring it. So, grab your camera and go visit these must-see places.
This post contains referral links for products I love. Adventurous Miriam earns a small commission at no extra cost to you if you make a purchase through my links. Thank you for your support ♡ Learn more
Where to find the best nature in Denmark
The great thing about Denmark is that it's small so you're always close to the sea, sand dunes, a gnarly troll forest or an impressive natural UNESCO world heritage site.
From the colliding seas at Grenen and one of the largest migrating dunes in Europe to the world-class Black Sun phenomenon, 55-million-year-old fossils and exposed granite formations, you'll find beautiful nature in Denmark more or less anywhere.
To narrow it down a bit, I've highlighted the prettiest landscape in Denmark below. You can discover the best places in Denmark here.
Read next: Experience the 7 UNESCO sites in Denmark
1. Fur – the fossil island
I recently went to Fur island for the first time and it was quite the adventure. Nowhere else in Denmark will you find such a colourful and unique landscape!
Fur is known as Denmark's most wonderful island and it's currently on the UNESCO tentative list for its moler (or moclay in English). Moler is a special kind of clay layered with black volcanic ash. It's 55 million years old and can be found on Fur island along with fossils of particularly fish, insects and birds.
It's the perfect place for a day trip and it's easy to get around by car or bike.
2. Bulbjerg Klint
And then there's Bulbjerg Klint – a 47m high limestone cliff and one of the most amazing places for nature in Denmark. It's just breathtaking.
Bird-watchers can have a field day at Bulbjerg, too. As the only bird cliff in Denmark, it's home to kittiwakes, common puffins and northern fulmars. Even if you're not into birds, this place is just epic.
What makes it special for me is the dramatic, grass-covered cliffs overlooking the roaring North Sea, and that wide-open, crisp-air feel at the top of the cliffs. You can see them from below, too.
3. Thy National Park
It's the first national park in Denmark. It has the wildest nature in the country. And it's perfect for a multi-day road trip.
National Park Thy has a special wilderness, formed by the wind, sand and the salty North sea. There's something untamed about Thy. Something restless, unpredictable and uncompromising.
Here, you can enjoy a unique landscape: sand dunes, dune heaths, wetlands and lakes with a number of rare species – from birds to insects and plants. And – after a 200-year absence from Denmark, wolves have been spotted here in 2012.
4. Råbjerg Mile
Råbjerg Mile is one of the largest migrating dunes in Europe, and it's a super fun place to visit. The sand dune consists of a 1000-m long and 1000-m wide mound with about 4 million m3 of sand. The highest point is 40 m above sea level and from the top you can see all the way to Skagen.
It's moving towards Kattegat sea at a rate of more than 15 m a year. It's expected to cover the main road to Skagen in a century or two.
5. Rebild Bakker
Rebild Bakker has some of the most vibrant nature in Denmark. You can find heathland all over Denmark, but Rebild National Park is something special.
If you visit in August when the heath is in bloom, you can have a picnic or walk through the purple idyllic setting. Rebild is also a great place for outdoors activities such as biking, hiking or fishing.
6. Stevns Klint
Stevns Klint is a UNESCO world heritage site and absolutely deserves a visit if you love nature. So does Møns Klint, by the way, which is located 1,5 hours south of Stevns Klint. They're both chalk cliffs and were formed millions of years ago when the sea covered Denmark.
Whereas Møns Klint isn't on the UNESCO list, Stevns Klint made it there in 2014. That's because the 40-meter-high cliff shows evidence of the giant meteorite that hit Earth and caused the mass extinction about 65 million years ago.
It's an easy day trip from Copenhagen.
7. Jammerbugten
If you're looking for spectacular nature at the North Sea coastline, go to Jammerbugten (The Bay Denmark). With 13 beaches – all wide, white and surrounded by rolling sand dunes – Jammerbugten has some of the best beaches in Denmark.
Jammerbugten also has one of the best mountain bike tracks in Denmark by Slettestrand. Or you can go for a walk in the forests, plantations and along the beaches. It's wild, untamed and – if you ask me – some of the best nature in Denmark.
8. Faxe Kalkbrud
Faxe Kalkbrud (Limestone quarry) is such a beautiful and unique place with crystal blue lakes and sandy white hills – it's unlike anywhere else in Denmark. 63 million years ago, it was at the bottom of the ocean. As a result, it's the perfect place to find fossils.
You can join a guided fossil hunt organised by Geomuseum Faxe, but you can search on your own as well. Today, it's used to extract calcium.
9. The Wadden Sea
The Wadden Sea (Vadehavet) is one of the natural UNESCO sites in Denmark. What makes this place unique is that the North Sea water flows into the Wadden Sea twice a day, flooding the mud flats with seawater. When the tide is low, you can drive or take tractor-bus rides to offshore islands and watch harbour seals on the sandbanks.
During spring or autumn, you can also see the most famous natural sight in Denmark – black sun (sort sol). Black sun is when hundreds of thousands of starlings turn the sky black by dancing and circling around. Don't miss it!
10. Bornholm
Bornholm is known as the sunshine island because it's the sunniest place in Denmark. There's a unique and idyllic landscape on this Baltic island, which is why Danes love to visit. 
The island's southern coast is lined with beautiful white-sand beaches including Dueodde, which has been voted one of the best beaches in Denmark on several occasions. The northern coast on the other hand has some of the only cliffs in Denmark and is also home to Hammershus, the largest medieval fortress in Northern Europe.
If you visit, don't miss out on the world-class food, especially at Christianshøjkroen and Fredensborg Hotel (try the lavish seafood buffet!).
11. The troll forests
The twisted trees of Denmark's troll forests are up to 200 years old and look as though they are bewitched. This enchanting and a bit eerie landscape were planted as an attempt to reduce the sand flow in the area, but it didn't work. Now, these strange woods can be found in Thy national park (Thagaards Plantage), Rold forest (the Troll forest) and Tisvilde.
12. Lille Vildmose
Lille Vildmose (Small Wild Bog) is the largest nature preserve in Denmark and Northern Europe's largest raised bog. You'll find some of the most untouched nature in Denmark here, while you look for wild animals, from moose to deer and various birds.
Pin it!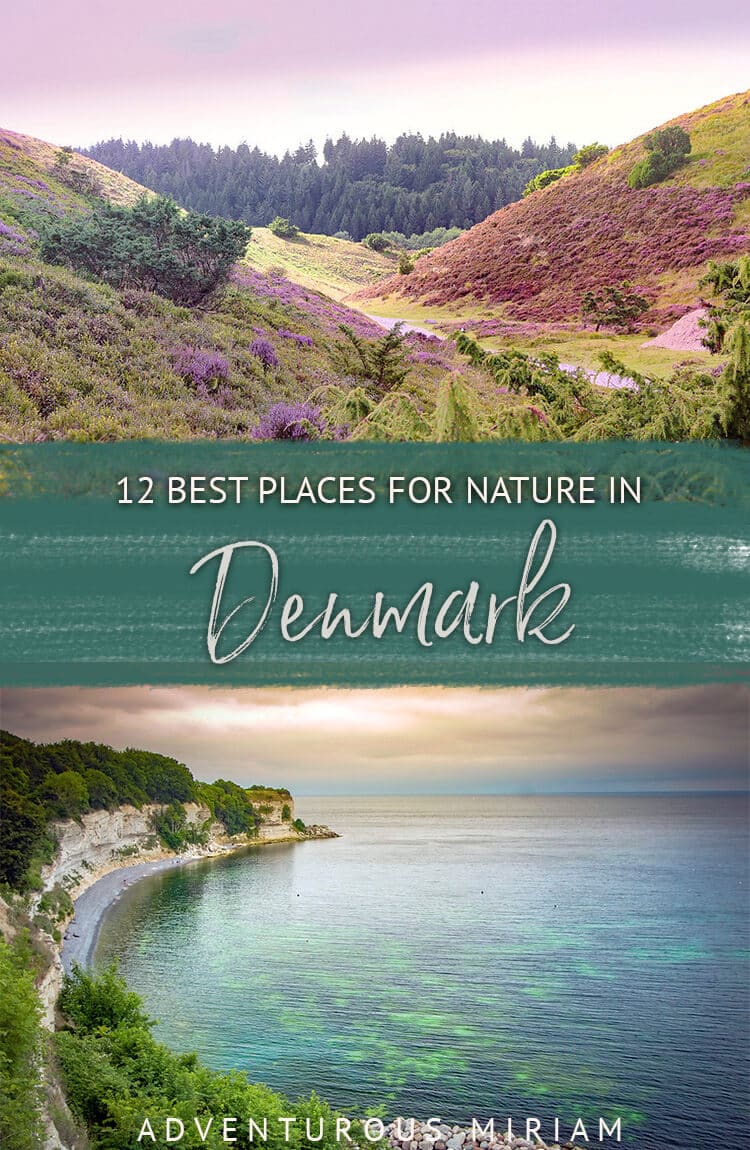 Looking for more nature in Denmark? Ask me anything in the comments!
More stuff you'll love: