10 fantastic things to do on Mors Island (2023)
Mors Island is great for nature and outdoor activities. After visiting this bucket list Danish island, I put together a list of the best things to do in Mors.
Mors is one of the best places in Denmark. Aside from the fact that it's stunning, it also has authenticity and a feel of the real, untouched Denmark.
What do I mean by that?
I mean that locals greet you in the streets or wave at you. There are no crowds, often you're alone at the sights.
And like my mom pointed out; they leave extra toilet paper for guests in the public restrooms, and no one does that anymore because it gets stolen. But not here on Mors Island.
Mors is a local community where people trust each other, and you instantly feel that. Places like that are rare, so I love finding them in my home country.
Let me show you how beautiful Mors Island is and what to experience here.
Let's dive in.
Read next: 17 bucket list Danish islands you should visit
This post contains referral links for products I love. Adventurous Miriam earns a small commission at no extra cost to you if you make a purchase through my links. Thank you for your support ♡ Learn more
About Mors Island
Mors is an island in North Denmark.
It's the largest of the Limfjord islands and packs 367 square kilometers of diverse landscapes.
Mors is known for its ancient moler cliffs in the north, its incredible shellfish, and for Jesperhus, which is a popular Danish flower park and children's amusement park.
The best time to visit Mors
The best time to visit Mors Island is in summer. Weather is simply better this time of year, and nature is lush and pretty.
Also, only part of Jesperhus is open in the winter, and shellfish season is in the summer.
So, I recommend visiting anytime from May to September.
Read next: 10 unique things to do in Lolland-Falster
How to get around Mors
You'll need a car to get around Mors Island. It's simply not possible to take public transportation.
You can rent a car in Arhus, Copenhagen, or other major cities in Denmark.
Plus, if you're coming from Copenhagen, you can visit Odense, Aarhus, and many more places in Denmark on your way.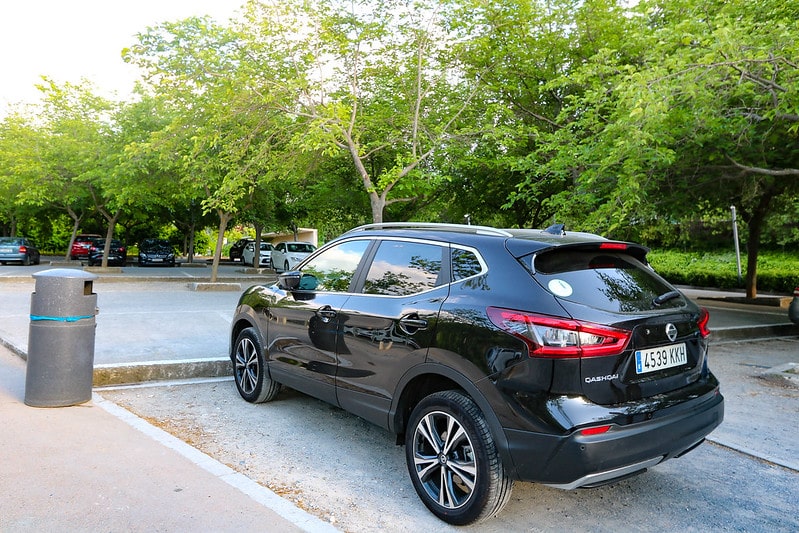 Best Car Rental Company:
DISCOVER CARS
When booking your car rental online, I recommend Discover Cars. They compare prices at car rental agencies all over the country to get you the best deal.
Mors Island
1. Feggeklit
I suggest starting in the north at Feggeklit.
Feggeklit is a towering 25 m high mound of moclay, originally surrounded by sea.
The west side of the cliff is grass-covered with visible earth slides, while the east towards the sea has steep cliffs of exposed moclay. Make sure to visit both sides.
What is moclay?
Moclay is a rare sediment formed over 54 million years ago from tiny algae called diatoms. It's a snapshot from the Lower Eocene era, right after the dinosaurs disappeared.
2. King Fegge's grave + viewpoint
On the other side of Feggeklit is a flight of stairs leading to the top of the cliff.
I went up with Theo and on our way, we stumbled upon Hamlet's Grave. I'm sure you've heard of Shakespeare's Hamlet – well, he was inspired by this tale:
The story goes that Hamlet avenged the murder of his father right on Feggeklit by killing his treacherous uncle, King Fegge, who had seized power there.
Following his revenge, Hamlet burried King Fegge atop Feggeklit, where his grave still stands, marked by an inscribed rock.
3. Ejerslev Marina
The most beautiful place in Mors is Ejerslev Harbor.
It's a fishing spot from 1911 where locals head out for herring, eel, and lobster. But more than that, it also has cliffs, a lagoon, and a quarry that shows off all these neat layers of earth.
Make sure to spend a few hours here, and walk around the lagoon. It's so, so pretty!
Read next: 17 beautiful small towns in Denmark you should visit
4. Hanklit
Hanklit is the official star attraction on Mors.
It's a 61-meter cliff with a layer of volcanic ash that tells a story of over 55 million years.
Fossils of ancient animals and plants are still found here. And you can see some amazing examples at the nearby Moler Museum, which has an impressive collection of fossils.
Fossil hunters, this is your paradise. And there's easy parking at the end of Hanklitvej.
Similar cliffs in Denmark you might like:
5. Salgjerhøj
Salgjerhøj is a Bronze Age burial mound, nearly 4000 years old. At 89 meters, it's the highest point in Mors.
On a clear day, you can gaze over Thisted Bredning, much of North Thy National Park, northern Mors, Livø Bredning, and Fur Island.
You can also see 22 of the island's 34 churches if you look closely!
At Salgjerhøj, you can take short or long hikes. Theo and I walked from the parking lot at Hanklit along the beach until we reached the – very steep, might I add – stairs.
It's a terrific walk! We came past beautiful nature with cliffs, and forests and saw deer and cows.
6. Try the famous shellfish
Oysters are a local delicacy in Mors. And Mors is one of the last remaining places in Europe to hunt for wild oysters.
In Nykøbing Mors, you can join an oyster safari from the Danish Shellfish Center – they'll provide waders and a bucket.
Afterward, you can enjoy your fresh catch with wine at their center, along with tasty recipes to take home.
You can also experience Mors' Shellfish Festival in June and the Oyster & Mussel Premiere in October.
7. Go to the beach
Mors Island has great sandy beaches.
The best beach is Sillerslev Beach, where the water is shallow and crystal clear. It also has a beach volleyball court and excellent conditions for surfing.
Danhostel Nykøbing Mors also has a great beach, and I also quite liked the beach south of Feggeklit.
So, if you're visiting in summer, make sure to bring your swimsuit and a towel.
Read next: 12 best beaches in Denmark
8. Jesperhus Flower Park
Jesperhus Flowerpark is the largest flower park in Scandinavia.
It has everything from roses to succulents, plus massive flower statues. There's a cool H.C. Andersen-themed garden with characters from his tales.
And smack in the middle? Pirate Land, which is filled with fun activities like carousels, roller coasters, mini trains, and even a place to bounce around.
Nearby is the camping ground with a water park, playgrounds, and lots of fun for kids. Don't miss the Hugo Show, if you're traveling with children under 9.
9. Dueholm Monastery
Dueholm Monastery is a historical gem in Denmark, dating back to the 1300s.
You get to walk through old monks' cells and see ancient religious artifacts. This is a glimpse of history that shows you how life was 700 years ago.
10. Have a picnic on the island of Mors
One of the things I love most about summer in Denmark is picnics. We often take day trips with my parents and find a lovely place to explore and relax.
Previously, we've been to places like Fur, Rebild Bakker or Mønsted Kalkgruber. There are lots of great spots around Denmark.
In Mors, you can bring a blanket, something to drink, a few sandwiches, some snacks – and that's all you need to experience Danish summer hygge.
More posts about Denmark you might like
Save it!