Faxe Limestone Quarry – visit the Danish Maldives (2023)
Faxe Limestone Quarry (Faxe Kalkbrud) is one of the most unique hidden gems in Denmark. Millions of years ago, it was home to sea monsters and coral reefs!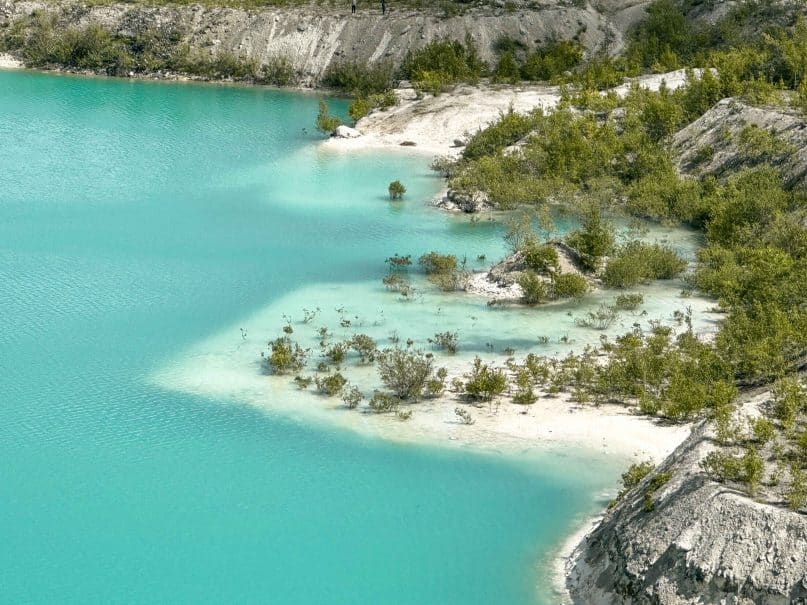 63 million years ago, the limestone quarry in Faxe was a large coral reef covered by sea.
Giant sharks, crocodiles, prehistoric sea creatures, and plant organisms lived here and gradually caused the lime and turquoise green lagoons.
Today, Faxe Kalkbrud looks like something from another world. And in some ways, that's exactly what it is.
Here's how to visit!
Read next: 30 unique places to visit in Denmark (by a Dane)
This post contains referral links for products I love. Adventurous Miriam earns a small commission at no extra cost to you if you make a purchase through my links. Thank you for your support ♡ Learn more
Faxe Kalkbrud
About Faxe Limestone Quarry
Faxe Limestone Quarry is the largest man-made hole in Denmark, and it reveals 63 million-year-old limestone formations.
Formed from 900 years of lime production, it spans 110 hectares, which is the same as 140 football fields. So, it's huge.
It's an active quarry, so it keeps getting larger. But for now, its deepest point is 41.5 meters.
Faxe Kalkbrud history
The limestone of Faxe Limestone Quarry was formed during the early Paleocene age, about 63 million years ago, when Denmark was covered by a deep ocean.
Lush coral reef grew in Faxe, and the limestone and fossils left behind are unique as it's part of the world's oldest deep-water coral reefs.
Fossils and Danekræ
Today, you can find fossils of the creatures that lived on the coral reefs. They're preserved in the limestone.
If you look closely, you've got a good chance of seeing a fossiled crab, snails, sea urchins, or even a shark's tooth.
And the best part? You can take it home with you!
Fossils of unique scientific or exhibition value may be declared as Danekræ – and you might get a reward from the Danish Government to have found it.
Can you swim in Faxe Limestone Quarry?
No. You can't swim in Faxe Kalkbrud.
It looks inviting, but here's why it's dangerous:
The lakes are filled with groundwater that has a constant temperature of 8C. Only the top centimeters of water warms up in the summer or freezes in winter. This means that any ice is too thin to walk on, btw!
The water has a high pH level, which can cause rashes, and the lake itself is filled with flint and sharp edges.
Where is Faxe Limestone Quarry
Faxe Limestone Quarry is located in Faxe, in the middle of Zealand, Denmark.
It's about 80 kilometers (50 miles) south of Copenhagen. It's roughly an hour's drive from the city.
Opening hours of Faxe Kalkbrud
Faxe Quarry is open 24 hours a day, so you can visit whenever you want.
However, I strongly recommend that you go there during the day as it gets slippery and rocky – not the safest terrain to walk in when it's dark.
Where to park
Parking is available at Geo Museum Faxe, right next to the limestone quarry, making it easy to get into the quarry.
There's a second parking spot further north, which I think is better because it's closer. Here, you'll follow a gravel road down to the quarry.
What to wear
You should wear sturdy hiking shoes or rubber boots to prevent slipping on the limestone terrain in the quarry. We visited in July, just after a rain shower, and it was very muddy!
In general, prepare to get dirty. Our pants and jackets were white/grey from the limestone – it came off in the wash, but I still wouldn't wear my finest outfit here.
Also, bring a bottle of water and wear sunscreen so you don't get sunburned.
Entrance fee to Faxe Kalkbrud
Access to the limestone quarry is free.
If you'd like to know more about prehistoric Denmark or see fossils, visit Geomuseum Faxe. No advance ticket booking is needed, just show up.
5 things to do in Faxe Limestone Quarry
Here's what to do in Faxe Kalkbrud during your visit:
1. Go fossil hunting
The most popular thing to do in Faxe Kalkbrud is fossil hunting. You might find belemnites, mussel shells, or shark teeth, and you can keep what you find!
You've got two options: either join a guided tour by the Geomuseum Faxe or go fossil hunting on your own.
If you go on your own, you can rent a hammer and chisel from the Geomuseum at DKK 30. You can also bring your own.
Miriam's tip:
In Denmark, you can also go fossil hunting on Fur Island, Mors Island, Møns Klint, and Stevns Klint.
2. Get a scenic view from the Prismet
The viewing platform Prismet stands at the edge of Faxe Limestone Quarry.
It's shaped like a prism with a deck between two mirrored triangles for viewing the quarry.
Both the quarry and Prismet are free to visit.
3. Take photos
The azure waters and chalk-white limestone mountains are extremely picturesque so make sure to bring your camera or phone.
You'll get some great shots from the two parking spots and also down in the quarry.
Read next: Photo tips: How to take amazing travel photos
4. Hike around the lakes
You can walk around the lakes and explore the different colors. The lake farthest away is the greenest, so make sure to go there.
There are paths leading around the lagoons.
5. Visiting Geomuseum Faxe
Geomuseum Faxe is located at the edge of the limestone quarry.
If you'd like to know more about the quarry and fossils, you'll get lots of info here.
Its new permanent exhibition, "Denmark's Fossil Coral Reef," showcases the time when the coral reef thrived. This exhibition shows the best ancient fossils from the quarry.
Practical info
Entrance prices:
Adults: DKK 120
Students & seniors: DKK 105
Children 6-17 years: DKK 35
Children 0-5 years: free
Opening hours:
April to October: 10 am – 5 pm
November to March: 11 am – 3 pm
December 18th to January 8th: Closed
Safety at Faxe Kalkbrud
There are a few things you should be aware of before you visit the quarry. Here goes:
👉🏼 It gets slippery – The paths and stairs can get slippery, especially when it's raining, so wear rubber boots or shoes with solid soles.
👉🏼 Stay on the path – The quarry is very deep with high walls. Climbing on them is dangerous and not allowed.
👉🏼 Risk of landslides – Climbing on hills or slopes is not permitted. It's also not recommended to stand near overhanging inclines, slopes, and walls due to the risk of falling rocks.
👉🏼 Stay off the machines – Faxe Limestone Quarry is a functioning workplace. The machines are dangerous, so keep a safe distance.
FAQ – Faxe Limestone Quarry
What is a limestone quarry?
A limestone quarry is an open-pit excavation where limestone, a sedimentary rock composed mainly of calcium carbonate, is mined or extracted from the ground for various applications such as construction, agriculture, or industrial processes.
Are there toilets?
Yes, there are toilets at the Geocenter Faxe. There are no toilets down in the limestone quarry.
How deep is the limestone quarry?
Faxe Limestone Quarry has a depth of around 41.5 meters from the surface to the water level.
Is it still being used?
Yes, it's still an active workplace, so beware of the large machines when visiting the limestone quarry on weekdays.
Where to next?
Wondering where to go next? These three places are located within an hour and 15 minutes from Faxe Kalkbrud.
Stevns Klint
Stevns Klint is a UNESCO site in Denmark where you can find 65 million-year-old fossils. It's a beautiful and dramatic site!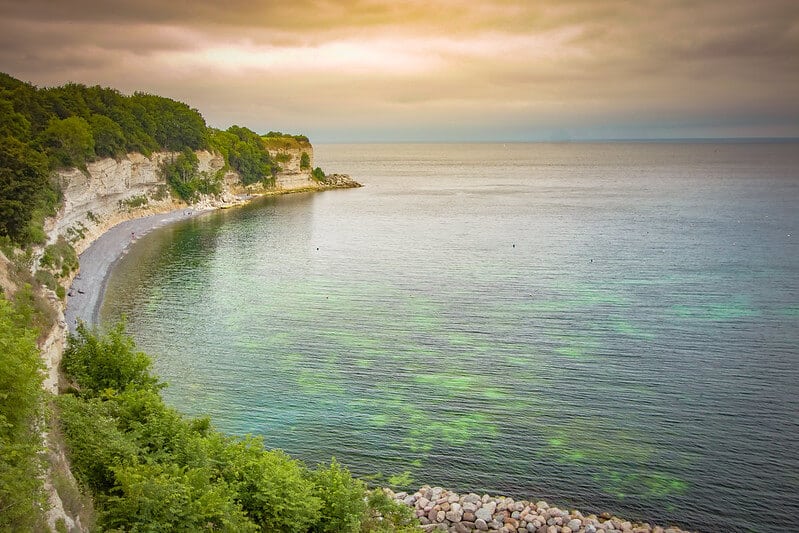 Copenhagen
Copenhagen is Denmark's capital, and it's worth visiting for its historic architecture, modern design, cycling culture, and the colorful Nyhavn harbor.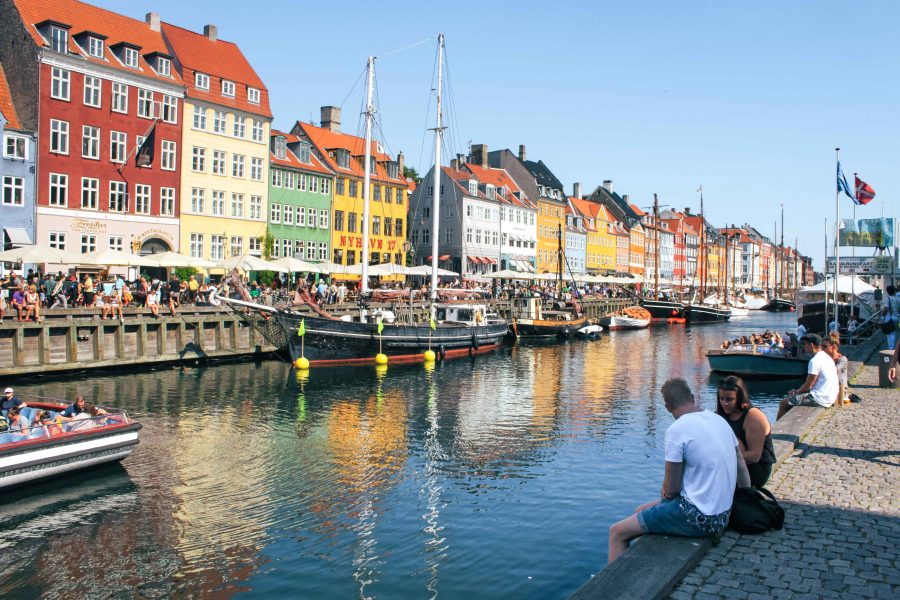 Møns Klint
Møns Klint is another striking chalk cliff in Denmark, known for its fossil-rich terrain and beautiful views.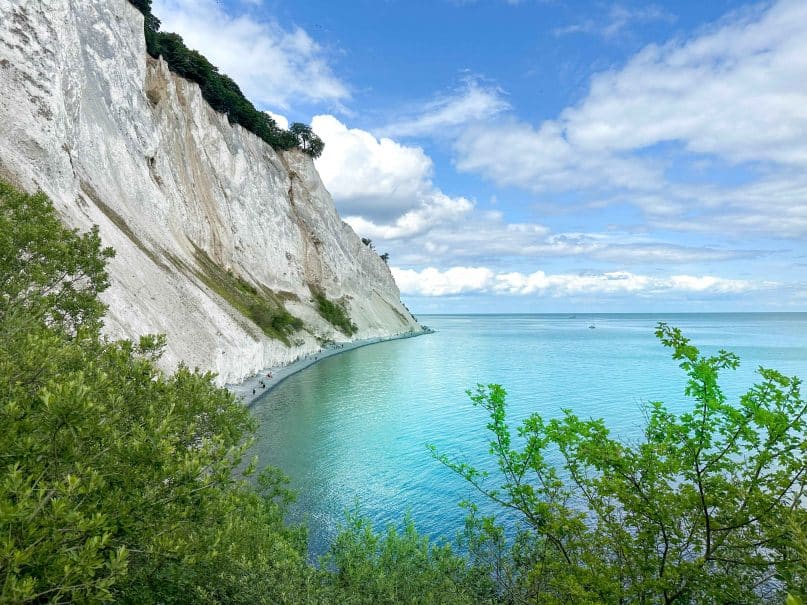 More posts about Denmark you might like
Save it!