Dragør Denmark – the perfect day trip from Copenhagen
Looking for an easy day trip from Copenhagen? Dragør Denmark is perfect for it! Located just 30 minutes away, it's one of the most beautiful towns in Denmark.
With its narrow streets and half-timbered houses from the 1700s and 1800s, Dragør is one of the best-preserved towns in Denmark.
Its old town holds 76 protected properties, plus 5 on the harbor, which is the highest concentration of protected properties in a small town in this area.
Dragør is the perfect day trip from Copenhagen and it's easy to get there.
Read on to find out everything you need to know so you can plan your trip to Dragør.
Let's dig in!
Read next: 25 best places to visit in Denmark (by a Dane)
This post contains referral links for products I love. Adventurous Miriam earns a small commission at no extra cost to you if you make a purchase through my links. Thank you for your support ♡ Learn more
Is it worth visiting Dragør Denmark?
Yes, absolutely!
Dragør is a short 30-minute trip from Copenhagen and it's easy to get there by public transportation.
Its Old Town and Harbour are noted by UNESCO for their maritime heritage. So yes, definitely visit for a few hours or half a day.
History of Dragør Denmark
Dragør was established as a fishing village in the 1100s. Throughout the Middle Ages, it was a busy trading spot for merchants thanks to the many herring fish.
In the 16th century, the Danish king invited Dutch farmers to live nearby in the village of Store Magleby to grow food for the royal family. They even brought carrots to Denmark, so you can still experience the Dutch influence!
Over time, Dragør grew larger.
In 1611, Dragør had 26 houses, by 1677 another 27, and around 1700, the town was home to 135 families. The town's architecture can be divided into three prosperous periods – 1770, 1830, and 1890.
Now, its maritime days are in the past, but the beautiful houses remain.
Where is Dragør?
Dragør is located on the southeastern coast of the island of Amager in Denmark, about 12 kilometers from central Copenhagen.
How to get to Dragør from Copenhagen
Public transportation
Head to Copenhagen Central Station and get the 29 train south. Get off at Tårnby Station and switch to the 350S bus to Dragør Stationsplads.
The train takes 10 minutes, and the bus another 15 minutes, making this one of the most chill day trips from Copenhagen.
Rent a car
You can also rent a car if you're planning to see more of Zealand – there's lots to discover, such as Kronborg Castle, Faxe Kalkbrud, Stevns Klint, and Møns Klint, just to name a few.
Renting a car in Copenhagen gives you the freedom to stop for photos anytime you want and explore at your own pace.
You can rent a car in Copenhagen.
Read next: How to rent a car in Denmark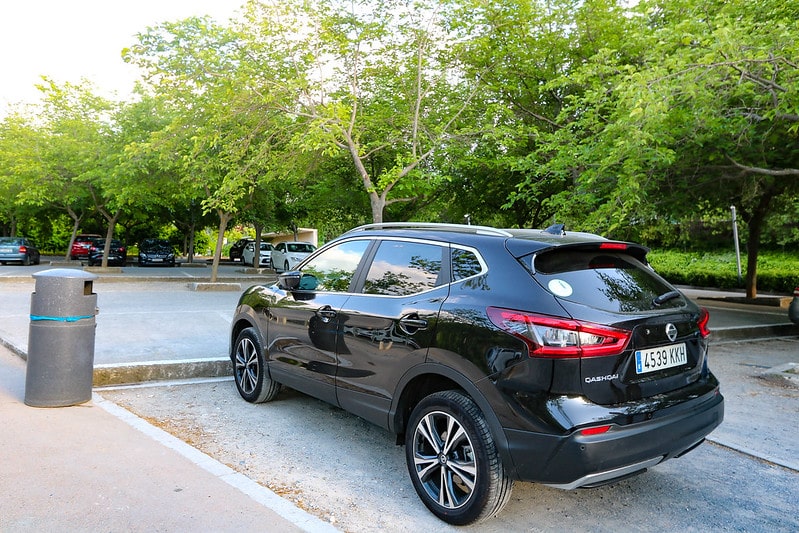 Best Car Rental Company:
DISCOVER CARS
When booking your car rental online, I recommend Discover Cars. They compare prices at car rental agencies all over the country to get you the best deal.
16 things to do in Dragør
1. Explore the old town
The best thing to do in Dragør is explore the old town. Some of the houses here are 400 years old.
13 'skipper houses' stand out for their beautiful proportions, several built by master builder J. H. Blichmann.
2. Notice the alleys
The houses in Dragør Old Town are built in rows going east-west, each with a garden to the south.
This layout creates a blend of cozy streets and alleys, reflecting a time when land was scarce so every piece was precious.
3. Admire the hollyhocks and roses
In the summer (during July and August), you can admire the colorful hollyhocks and roses in the old town.
They emerge between cobblestones, splashing colors from soft whites to deep burgundy across the town.
4. Stalks Space and the Pilot Tower
The Stalks Place is where fishermen dry and fix their nets on tall sticks. It's near the Pilot Tower.
After fixing, they would dip the nets in tar to make them stronger, then dry them again.
Old photos there show it was busy around 1900 with 45 fishing boats in Dragør. Today, it's used less, but still, a spot where the old fishing routine lives on.
5. The Bailiff's Square
Bailiff's Square in Dragør is named after Isbrandt P. Schmidt, a bailiff who worked there from 1870-1901.
The square used to get flooded during storms, so it wasn't a popular place, attracting mostly poor people and sailors.
Isbrandt would organize night watchmen who met at his place before patrolling the town. There was also a ring on the wall to tie up horses when visiting the bailiff.
6. Jens Eyberts Square
Another noteworthy square in Dragør is Jens Eyberts Square.
It's named after skipper Jens Eybertsen, who lived during the 18th century.
The square has a well from that era and houses characteristics of the period. One of Eybertsen's rooms from his house at number 6 on the square is preserved in Dragør Museum.
7. Dragør Søbad
Dragør Søbad is a great spot to swim from May to August, 7:00 AM to 5:00 PM. It costs 25 DKK for adults and 10 DKK for kids.
It's by a kid-friendly beach, making it great for a summer splash. In winter, it's for cold-water swimming for a club's members.
8. Dragør fort
Dragør Fortress, perched on an artificial island, was built to guard Copenhagen back in the early 1900s.
Fast forward, it's now a hotel and restaurant.
Is still has a military vibe with a moat and a deck mole as remnants of its stern past. Now, it's about enjoying a good meal rather than warding off a naval attack.
9. Walk along the promenade
We love walking along the promenade in Dragør.
You can see the quaint houses from here and go down to the beach. There's also a playground here if you're traveling with kids.
10. Dragør harbor
Dragør's Old Town and Harbor were Denmark's maritime hotspots twice over, in the late 1700s and again in the late 1800s.
What started with a herring market morphed into a bustling harbor. Today, it's mellowed down.
A few fishermen, a pilot station, some yachters, and cozy eateries keep the harbor's heart beating, all wrapped in a setting that hasn't changed much since 1850.
11. Elisabeth K571
The cutter Elisabeth K571 is a living piece of history. It ferried refugees from occupied Denmark to Sweden in 1943 during World War II.
Einar Larsen, the skipper, helped around 70 Jews before fleeing himself in 1944.
12. Eat at Dragør smokehouse
Stop by Dragør Smokehouse for a Danish fish frikadelle-to-go.
Nestled in the heart of the Old Port, Dragør Smoker serves tasty smoked goods, salts, and fresh fish in their shop, with light bites available on the terrace.
13. Catch crabs at the crab bridge
Grab a bucket, net, and crab pole from Dragør Turistråd for your kids. It's a fun place to catch crabs and explore ocean life.
14. The Weaving Booth
The Weaving Stall is open by appointment.
It's open in the summer from June to August and hosts a Christmas market in December.
15. Explore Dragør Museum
In Dragør Harbor, you'll find Dragør Museum in a quaint house from 1753. It's your gateway to the town's maritime history.
A touch screen lets you try old-time fishing or ship steering.
Upstairs, themed displays like "Dragør – The Skipper Town" and "Dragør at War" take you deeper into Dragør's seafaring days.
16. Discover the beach meadows
The Beach Meadows, south of Dragør, overlooks the busy Øresund sailing route. It's a protected area, where you can find many birds and occasionally seals.
Once used for textile bleaching, now it's a calm retreat with a cafe, showcasing Dragør's layered history.
Where to stay in Dragør
You can easily visit Dragør on a day trip from Copenhagen. But if you decide to spend the night, this is the best place to stay:
Dragør Hotel & Apartments – A large flat in the countryside, close to the train station. The host, Birthe, makes a delicious and very generous breakfast. Find the latest prices here.
Other day trips from Copenhagen
If you're visiting Copenhagen and want to see more of Zealand, why not discover the beautiful nature sites?
Stevns Klint: A dramatic chalk cliff along the coastline, known for its geological importance and fossil-rich layers.
Faxe Kalkbrud: A historical limestone quarry, now a unique nature area where you can explore and collect fossils.
Møns Klint: A majestic stretch of white chalk cliffs offering breathtaking views, nature trails, and a glimpse into Earth's geological history.
FAQ – Dragør Denmark
Are there events or festivals celebrated in Dragør?
Yes, there are several traditional events in Dragør throughout the year.
Dragør hosts events like the Shrovetide Feast, Dragør Market, Herring Day, Art Festival, and a cozy Christmas Market annually​.
Are there any guided tours to Dragør?
Guided tours are available exploring Dragør's historic village, picturesque fishing town, and even horse riding tours through open fields.
How to get from Copenhagen to Dragør, and how long does it take?
Dragør is about 14 km from Copenhagen, a short drive or bus ride away. It takes approximately 30 minutes to reach by car or public transport.
More posts about Denmark you might like
Save it!