Summer in Denmark: 23 amazing activities and events
Spending your summer in Denmark? Here are 23 of the best activities and events in the country.
Summer is the best time to visit Denmark. Days are longer, temps are higher, and more attractions are open.
Whether you head to Copenhagen, take the ferry to Bornholm or venture into the desert in Northern Jutland, there are plenty of ways to enjoy your summer holiday in Denmark.
Here are the best things to do in Denmark.
This post contains referral links for products I love. Adventurous Miriam earns a small commission at no extra cost to you if you make a purchase through my links. Thank you for your support ♡ Learn more
When is it summer in Denmark?
So, first of all – summer in Denmark runs from June to end of August. Warmer and brighter days start already in May.
Also read: Visit Denmark in winter
What is the weather like in Denmark in summer?
The weather in Denmark is changeable and unpredictable. It can rain all summer (yep, that has happened several times) and it can be windy and cold one day and 27 °C a few days later. So, that's the only thing you can be certain of – be prepared for anything.
The hottest months are typically July and August where temperatures hover around 21.2 °C. Last summer, though, there was a long heat wave with temperatures above 30 °C. I was 9 months pregnant and can attest that it was VERY hot.
Pro tip: If you want the best chances of sunshine, visit in August or the first week of September.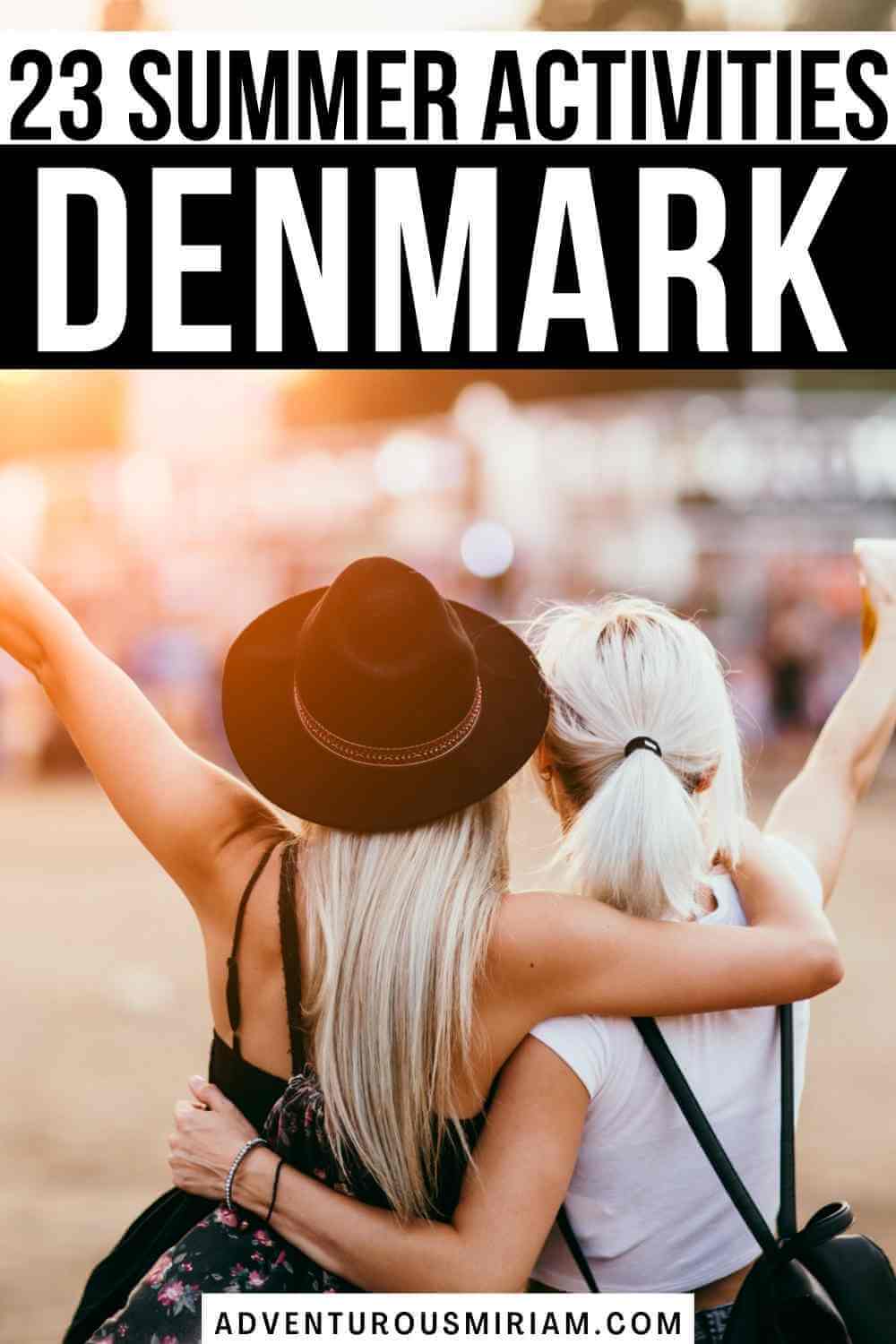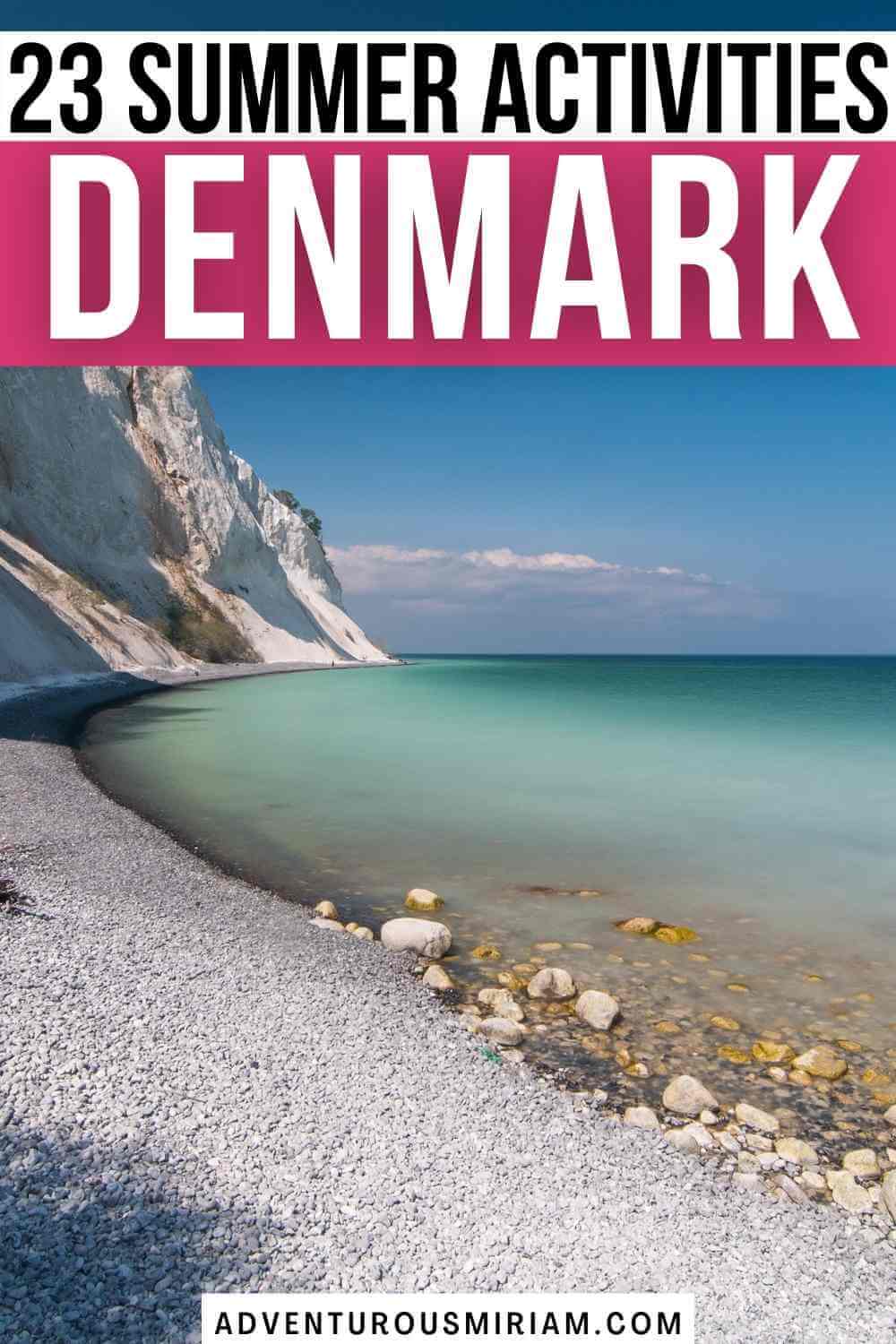 What to pack for Denmark in summer
Since the weather is unpredictable you have to bring a little of everything. The climate is more or less the same around the country, though, which makes packing easier.
I recommend bringing a light rain coat, sneakers, warm-weather clothes, swimwear, trousers and a few sweaters.
Read next: The ultimate travel packing list (to anywhere)
Pros & cons of visiting Denmark in summer
Before we dig into the activities, let's go over the pros and cons of visiting Denmark in summer:
Pros: Warmer days and more sunshine. All attractions and festivals are open.
Cons: It's the high-season and therefore more expensive. Most Danes go on vacation from mid to end July (week 28-30), which means less availability on hotels and camping sites.
23 amazing things to do in Denmark in summer
Now that you've got an idea of the weather in Denmark, let's jump into the fun activities and events. I've hand-picked these activities and sights because they're most suitable for summer or only available between June and August.
Essential reading: 25 best places to visit in Denmark in any season
1. Go island hopping
Denmark has a lot of islands. There's no official number, but it's above 400 and some sources even say over 1000. The main islands are Sealand, Funen and Jutland (a peninsula), which are connected by bridges, but there are lots of smaller islands.
Islands like Bornholm, Læsø, Samsø, Fur and Ærø and you can get there by ferry. Visit one or several of the Danish islands to get a glimpse of the different landscape, culture and history.
2. Visit the top of Denmark
Here's another fun place to visit during summer in Denmark: Skagen.
Skagen is also known as the top of Denmark because it's the northernmost point in the country and marks the spot where the two seas, Skagerrak and Kattegat, meet (this place is called Grenen).
Skagen is Danish cultural heritage with its well-known Skagen painters and museums. It has the most beautiful wide-open nature and a unique light, because the sun shines for more hours in Skagen than anywhere else in Denmark. This makes it one of the most popular summer destinations in Denmark after Copenhagen.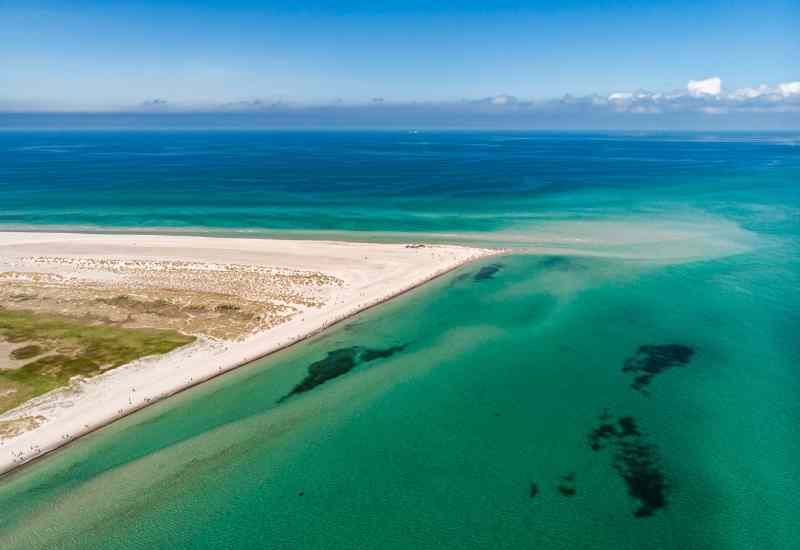 3. Discover the purple hills of Rebild
Rebild bakker is a beautiful place all year round. However – in August, it's magical. August is when the heath is in bloom and covers the rolling hills like a purple blanket.
It's definitely a must-visit during the Danish summer.
4. Go hiking
Summer in Denmark is also perfect for hiking through forests, hills and along beaches. If you pick a multi-day hike, you can stay in shelters, designated camps or organised camping grounds.
These are some of the best hiking routes in Denmark:
Hærvejen (280 km) from south to north Jutland
Gendarmstien (74 km) from Padborg to Als
Himmelbjergruten (40 km) in mid Jutland
5. Try wild camping
And speaking of camping in the wild – if you like the outdoors and getting close to nature why not spend the night in a shelter? It's an up-and-coming accommodation type in Denmark.
Read more about how to plan a shelter trip and what to cook.
6. Bike trip
Denmark is the country of bikes. Everyone owns one because they're great for getting around in cities. That's one way of spending the summer – biking around the city. Another is to bike in the countryside, forests or between cities. Just make sure to bring or rent a proper bike.
7. Swim in the North Sea
We have many amazing beaches in Denmark. The best ones, though, are located along the North Sea.
The North sea is lined with large sand dunes and German bunkers from World War II, and the waves are rough. That's what makes it special.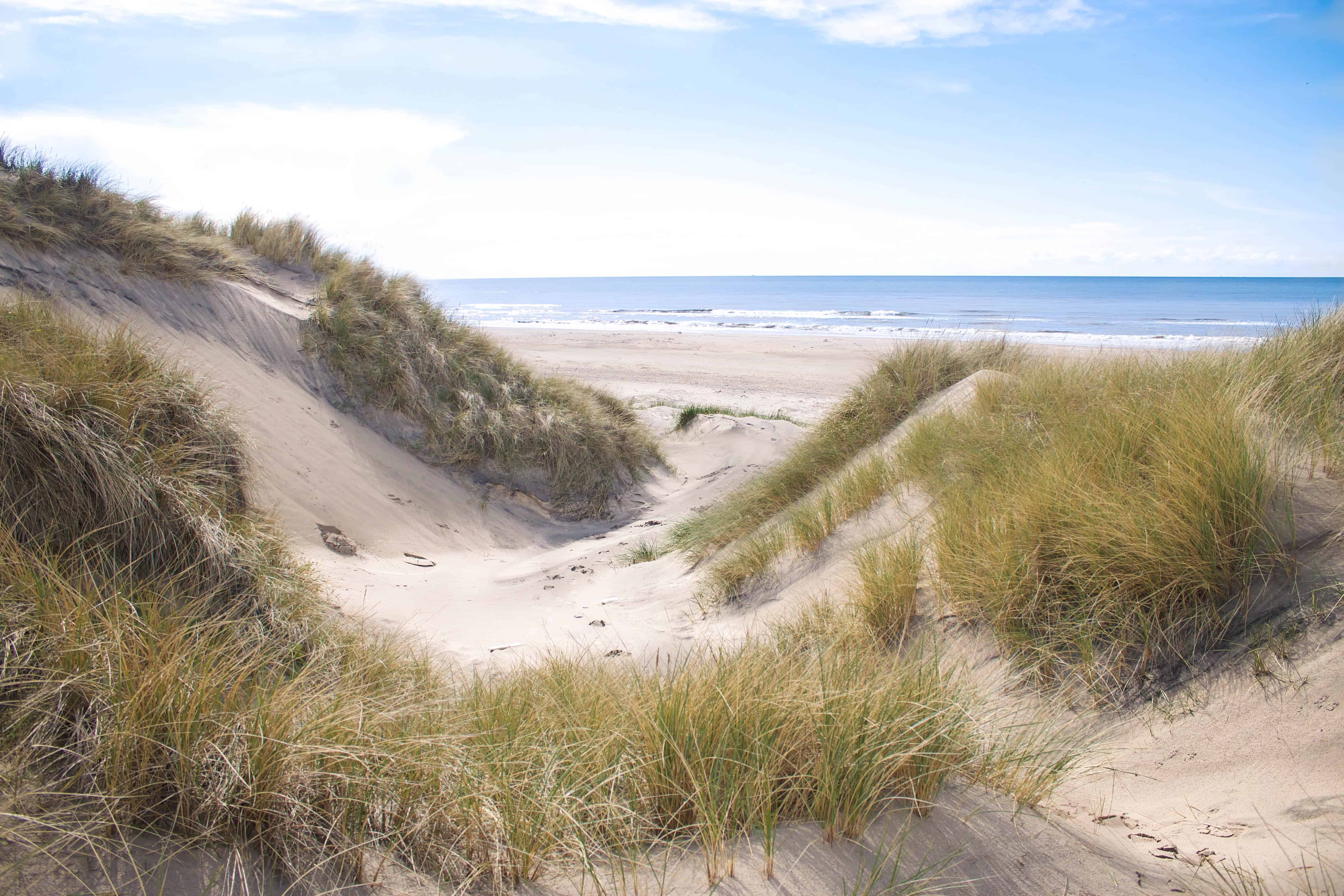 8. Visit the world's largest limestone mine
Did you know that the world's largest limestone mine is located in Denmark?
I visited twice last summer and I highly recommend it! Especially if you've got kids. Mønsted Kalkgruber is an endless maze of underground paths that stretches for 60 km and up to six floors in height.

9. Find the only palm tree beach in Denmark
Denmark has quite a few amazing beaches, but one of them is unique – the Palm beach in Frederikshavn.
Every summer, 70 palm trees are imported from the Canary Island and set on the 400-metre beach to create a tropical scenery. There's a nice little ice cream shop by the road, too.
10. Enjoy a fadøl at Nyhavn
Nyhavn is one of the most iconic places in Copenhagen. It's a great photo stop but also a picturesque summer spot for a draft beer (fadøl) while you watch the world go by.
11. Hike the Forest Tower at Camp Adventure
The Forest Tower at Camp Adventure is a new attraction in Denmark. And it's pretty unique. The tower's upper platform is located 135 meters above sea level so you'll get a terrific view from the top. It's one of the best nature experiences in Denmark and a perfect summer activity.
12. Go on oyster safari in the Wadden Sea
Twice a day, the water retreats at the Wadden Sea (UNESCO). When that happens, you can explore the seabed by foot or car, watch seals and pluck oysters. You can find organised oyster safaris here.
13. Visit one of the quaint Danish towns
Denmark has so many charming, quaint towns with cobble-stoned streets and centuries-old half-timbered houses. In the summer, they really come alive! Some of the most memorable towns are Ribe, Ebeltoft, Møgeltønder, Svaneke and Dragør, but there are many more.
14. Spend the night in a beer can, a jail or on a farm
You've got some interesting choices of accommodation in Denmark. How does spending the night in jail, a beer can (at Smukfest) or a prairie wagon sound like? You can do that (and more) during summer in Denmark.
15. Try Sønderjysk Kaffebord
If you like cake, this one is a must. Sønderjysk Kaffebord is a tradition in Southern Jutland – a cake feast with at least 14 delicious cakes; 7 soft, 7 dry and 7 hard cakes that must be eaten in a specific order.
16. Visit H.C. Andersen's home town
Hans Christian Andersen, the famous Danish writer best known for his fairy tales like The Little Mermaid, Frozen, The Snow Queen and The Ugly Duckling, was born in Odense on Funen.
Odense is a photogenic town where you can step into the writer's footsteps and experience the historic sites.
17. Visit a national park
A national park is another great destination during summer in Denmark. And it just so happens that we got three new national parks (May 2021), which makes it eight in total. My favourite is National Park Thy, which is the oldest in Denmark.
18. Watch one of the impressive cliffs
Summer in Denmark is also the perfect time to explore the beautiful cliffs (klint in Danish) around the country. They are pretty impressive especially considering this is one of the flattest countries in the world.
These cliffs won't disappoint: Bulbjerg klint, Sangstrup klint, Knudeklinterne, Helligdomsklipperne, Stevns klint (UNESCO) and Møns Klint.
19. Castles
Denmark is home to some of the most beautiful castles in Europe, so why not pay one a visit?
There are plenty of castles to choose from, but the more popular ones are Kronborg castle (UNESCO), Egeskov, Amalienborg and Marselisborg. You can also visit one of the many manors, like Old Estrup Manor on Djursland.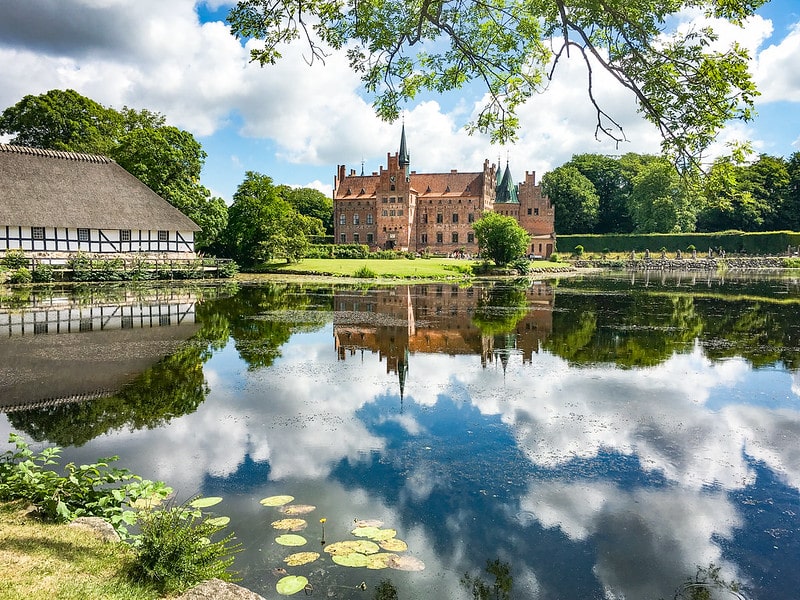 20. Djurs Sommerland
Speaking of Djursland. This is where Scandinavia's largest summerland is located.
Djurs Sommerland a must if you've got kids. The amusement park has themed areas and is fun for the whole family. It's open from May 8th to end of August with a few extra opening days during the weekends. Find opening hours here.
21. Søndervig sandskulptur festival
The Sand Sculpture Festival is open from May to November and features beautiful 200 m long and 7 m high sand sculptures. The exhibition is made by talented sculptors that work with a new theme every year, like the Middle Ages or Africa's wild animals.
22. Attend a festuge
During the summer, you can join arts and cultural festivals in one of the main cities. Many Danish cities host a local festival that usually lasts for a week. Aarhus Festuge is probably the largest one and lasts for 10 days. Another popular event is Aalborg Carnival; an annual cultural event carnival that runs for a week.
23. Attend a music festival
Danes LOVE music festivals and there's one to satisfy any taste. Roskilde Festival, Grøn Koncert, Northside and Skanderborg Festival (Smukfest) are among the most notable festivals in Denmark. But there are many more to choose from, spread across the summer months.
Before you go – don't miss this: