Why Sangstrup Klint is a natural wonder you should visit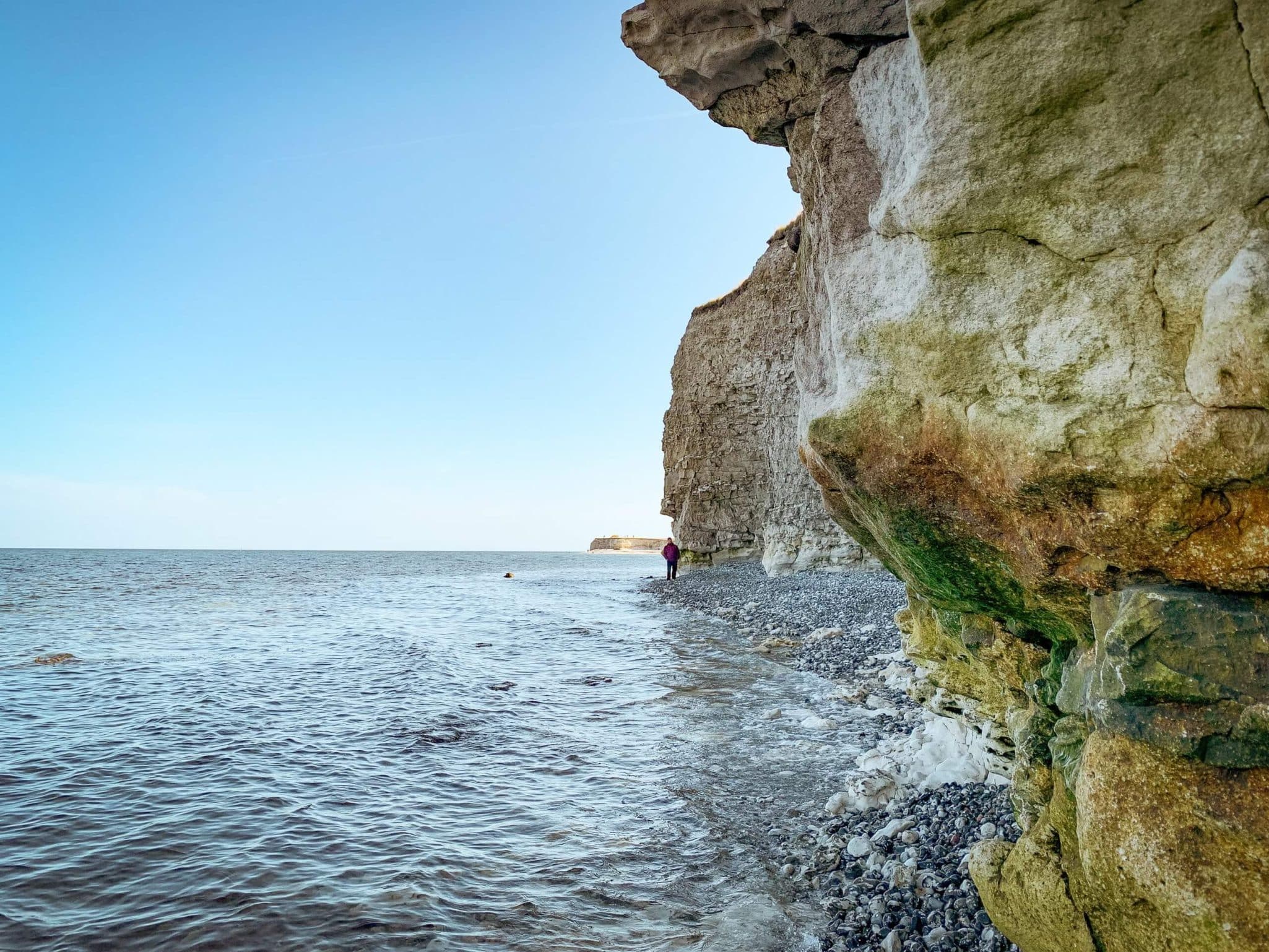 Sangstrup Klint is a beautiful natural sight in Djursland, Denmark. Located 10 minutes outside of Grenå city, the cliffs are perfect for a day trip for the whole family. And it's one of the few places in Denmark to find fossils.
One of my favourite trips this spring was to Sangstrup Klint (Cliffs of Sangstrup). It was just in the beginning of the pandemic and we were looking for an easy day excursion nearby. That's when I heard about Sangstrup.
Now, Denmark is very flat. Like, we have this place called Himmelbjerget and it's one of the highest points in Denmark.
It's 147m high.
And there's no reason to laugh about the name either, which means The Sky Mountain.
So, yeah. It doesn't take much to impress a Dane when it comes to heights. And that's why I was so taken by Sangstrup Klint. Those dramatic cliffs with millions of years of history, and basically right next to where I live. Why haven't I heard of it sooner!
And that's the beauty of Sangstrup. Almost no one knows it's there. We barely saw any people the day we visited, and there are still lots of fossils on the beach, because so few people visit.
So, pack your camera and your rubber boots. I'll tell you all the travel tips I can think of in this little guide.
Read next: 12 mind-blowing places for nature in Denmark
This post contains referral links for products I love. Adventurous Miriam earns a small commission at no extra cost to you if you make a purchase through my links. Thank you for your support ♡ Learn more
Introduction to Sangstrup Klint
Sangstrup Klint is an ancient limestone cliff on Djursland peninsula. The cliffs are 5 km long and up to 17 m high, and you can walk along the beach or on the cliff to explore it.
The sea has hollowed out several caves into the cliff walls. You can enter some of them from the narrow shoreline, while others are only accessible from the shore when the tide is low.
Pro tip: Look closely and you might see cannonball holes in the cliffs. They're supposedly from target shooting performed by German warships during World War II.
Look for fossils
Besides admiring the cliffs, you can also go fossil hunting here – just like on Fur island and Stevns Klint.
That's because Sangstrup Klint is super, super old. You see, 65 million years ago after the dinosaurs went extinct, Denmark was covered by the ocean. Life began to evolve undersea. And here at Sangstrup Klint, you can find some of these sea animals, buried inside the chalk rocks. Sea urchins are the most common fossils at Sangstrup, but you can also find starfish, crabs, sea stars or maybe even a shark tooth.
You don't need fancy equipment. Bring a hammer or chisel to get them out. You may need to pry, or even whack them out of solid rock.
We didn't find any fossils, but I did see a lot of these 'sandwich' stones.
Outdoor activities
Fossil hunting is the most obvious thing to do at Sangstrup Klint. But you can also do other fun activities, like scuba diving, snorkeling, kayaking and fishing. While it's not possible to rent any kind of equipment here, you can bring your own.
Scuba diving – The limestone formations are also under water, which you can see while scuba diving or snorkeling. You might also see porpoise. They're the only whale species breeding in Danish waters.
Kayaking – Kayaking along the shore is a great way to explore the cliffs. Plus, you'll be able to enter some of the isolated coves.
Fishing – Sangstrup Klint is a great place for fishing because the water gets deep just a few meters out and the rock, seaweed and sand bottom attracts predatory fish. You can catch sea trout and cod (in the spring and autumn), garfish (in the early summer) and flatfish (most of the year).
How to get there
Sangstrup Klint is the perfect place for an easy day trip. Since it's a natural sight and not very known to locals, it's not serviced by public transportation or organised tours. If you've got a car, that would be perfect. But if that's not an option, you can also walk or bike from Grenå. This is how to get there:
From Grenå – Drive north of Grenå, and you'll get there in 10 minutes. You can also walk or bring your bike on the train. Sangstrup is located 7.5 km from Grenå train station.
From Ebeltoft – Take bus 351 from Ebeltoft to Grenå. The trip takes 1 hour and runs four times a day.
From Aarhus – Take the tram (Letbanen). It runs hourly and the trip takes 1 hour.
From Copenhagen – Although Copenhagen is located on Sealand (another island), you can get here fairly quickly by bus. The Flixbus from Copenhagen runs 7 times daily and takes 3.45 hours. Take the bus to Aarhus and then the tram to Grenå. You can also take the Flixbus from Copenhagen to Grenå directly, but it only runs once a day and not every day. Check the time schedule here.
Read next: How to rent a car in Denmark
Know before you go
Just a few tips for your trip:
The beach is right by the parking lot, and you can explore the cliffs to the right and to the left.
In some places you have to watch high tide, as the beach can be flooded right up to the slopes.
There are no restaurants, shops or toilets here. Bring some water from home.
You can bring a picnic. There are green areas and a few tables where you enjoy your food.
Bring rubber boots. I did and it's much easier because you won't have to worry about getting your feet wet.
Where to stay in Djursland
You can visit Sangstrup Klint on a day trip, but if you decide to spend the night nearby, these are the best places to stay:
Grenå – I personally love staying at B&Bs in Denmark. It's very affordable and a great way to experience Danish culture. Grenå Bed and Breakfast is located outside of the city, which may not be convenient if you don't have a car. However, if you do it's perfect to escape the hustle and bustle. Find the latest prices here.
Ebeltoft – This is the perfect town to stay in if you love quaint, charming medieval cities. Baghuset is located in the heart of the city and comes with beautiful views and the nicest hosts. Ebeltoft is 40 minutes drive from Sangstrup Klint. Find the latest prices here.
Where to go after Sangstrup Klint
If you are visiting Sangstrup Klint, you will have plenty of time left to explore some more of Djursland. Not sure where to go?
Read here about 10 fantastic places in Djursland.
And there you have it, everything you need to know about visiting Sangstrup Klint in Djursland, Denmark and how you can look for fossils. Should you have any questions, do not hesitate to leave a comment down below or share your experiences of Sangstrup Klint yourself! And, oh, don't forget to pin it for later…
More posts from Denmark you might like
Pin it!