Bulbjerg Klint is as spectacular as you would expect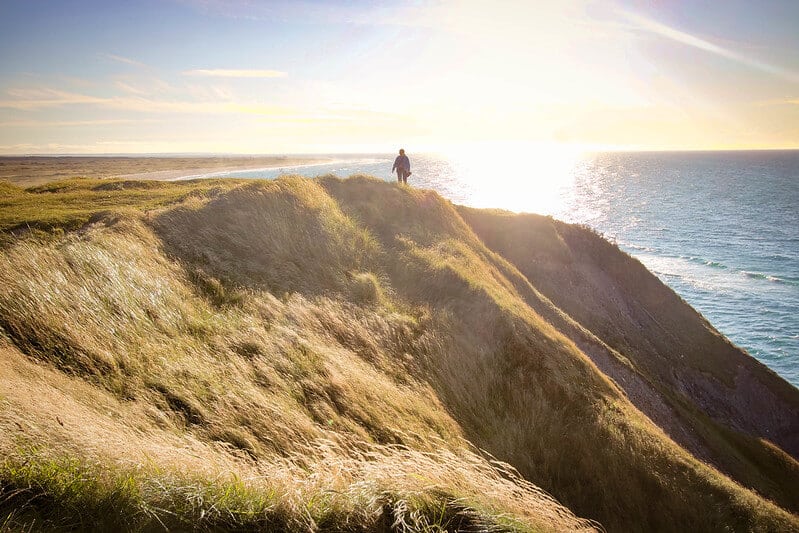 Bulbjerg Klint is a 47m high limestone cliff in North Jutland. Find out how to visit the beautiful coastal cliff on an easy day trip.
Ah, Bulbjerg. It's one of those places that just takes your breath away.
After our successful discovery of Sangstrup Klint a few months ago, I decided to look for more cliffs around Denmark. So, we went to Stevns Klint (the latest UNESCO site in Denmark), to Knudeklinterne on Fur and Bulbjerg and discovered a whole new side of Denmark.
Each of these cliffs are unique. Fur for its moclay, Stevns Klint for its UNESCO status and Sangstrup Klint for its fossils. But what makes Bulbjerg unique is the birds. It's the only bird cliff in Denmark outside of Bornholm. If you ask me, though, I was more impressed by the grass-covered cliff scenery, which looks like the dramatic landscape in the Faroe Islands.
Let's take a look at Bulbjerg. I'll share travel tips, information and history with you below.
Read next: 12 things to do in North Jutland
This post contains referral links for products I love. Adventurous Miriam earns a small commission at no extra cost to you if you make a purchase through my links. Thank you for your support ♡ Learn more
History of Bulbjerg Klint
Bulbjerg Klint is a 47 meter high limestone cliff. It's located on the northernmost part of Bulbjerg Island, which is one of the many islands that covered the area during the Stone Age (7,000 years ago).
But the limestone is older than that. It was formed 65 million years ago by colonies of bryozoans (moss animals) that evolved into reefs in the warm sea that covered Denmark. The limestone in Bulbjerg also contains large layers of flint and many fossils, including sea urchins.
Another leftover from time is Skarreklit, a rock column in the sea about 100 metres off Bulbjerg. It fell down in a storm in 1978, and at low tide and calm sea, you can see the remains of it.
The only bird cliff in Denmark
So, back to the birds…
Bulbjerg Klint is the only bird cliff in Denmark outside of Bornholm. It's home to several bird species, including the North Atlantic kittiwakes and the rare northern fulmars. Bulbjerg is protected to preserve the area's unique nature and views. And that leads me to this…
Flying a drone? Then please be considerate.
When drones are flown too close to bird nests, the noise and unfamiliar presence could drive adult birds away from their eggs, leaving them vulnerable to predatory birds. The Danish Nature Agency recently urged visitors to follow the rules and keep drones at least 500 meters from the bird mountain.
The bunkers
There are phenomenal views – and thus overview conditions – from the top of Bulbjerg, where you can see far out to sea. Therefore, the place was an important strategic point for the Germans during World War II.
You will find several bunkers and other WWII remains here, and at the tip of Bulbjerg is an old observation bunker designed as a small museum. It's worth a visit.
How to see Bulbjerg Klint
There are two ways of experiencing Bulbjerg Klint – from the beach and from the top of the cliffs. I highly recommend that you do both!
From below
From the parking lot, it's an easy 5 minute walk to the cliffs. You can get up close to the cliffs and see the birds. During low tide, you can walk along the shoreline and get to see Bulbjerg from different angles. It was high tide and pretty stormy the day we visited so we only saw it from one side of the beach.
From above
To get a completely different view, head to the top of the cliff. There's an AMAZING view from up here. If the weather is clear you can see all the way to Rubjerg Knude Lighthouse.
At the top, you'll also find the bunkers and get a good view of the nearby dune plantation and burial mounds. Don't miss it!
How to get there
Bulbjerg is located in Frøstrup, northwestern Jutland. When you get to Frøstrup and drive along Bulbjergvej, the road splits just before you reach the bird mountain. One road leads to the beach and the other to the top of the cliff. Both roads have a parking lot.
You can't reach Bulbjerg Klint by public transportation, so you'll need a car. This is how to get there from the two largest cities in Denmark:
From Aarhus – Follow Route E45 north. Take exit 33 towards Aars, then continue towards Fjerritslev and follow Route 569 to Frøslev. The trip takes 1,50 hours.
From Copenhagen – Get on Route E20 until you reach Jutland. Then follow E45 north like above. The trip takes 4,5 hours.
Read next: How to rent a car in Denmark
Know before you go
Just a few tips for your trip:
There's a parking place at the beach and at the top. There's also a toilet.
In some places you have to watch high tide, as the beach can be flooded right up to the slopes.
There are no restaurants or shops here. Bring some water from home.
The weather can get quite stormy at the west coast. Bring a windproof jacket and beware of the strong wind at the top.
Remember binoculars.
Beware of ticks. They're commonly found in North Jutland and most active between April and October. Do a tick check when you get home (especially behind the knees, elbows and armpits) and contact the doctor if you get a red circle (like a bull's-eye) around the place where the tick has been sitting.
Where to stay near Bulbjerg
You can visit Bulbjerg Klint on a day trip, but if you decide to spend the night nearby, these are the best places to stay:
Bulbjerg – We stayed at a nice B&B, just a few kilometres from Bulbjerg Klint. It was remote and a great place for some peace and quiet. Book here.
Klitmøller – Amazing little hotel with breakfast and dinner included. You can watch the roaring ocean from bed. Book here
Where to go after Bulbjerg Klint
If you are visiting Bulbjerg Klint in the morning or evening, you will have plenty of time left to explore some more of Thy. Not sure where to go?
Read here about 15 beautiful highlights of National Park Thy
And there you have it, everything you need to know about visiting Bulbjerg Klint and how to get there. Should you have any questions, do not hesitate to leave a comment down below or share your experiences of Bulbjerg Klint yourself! And, oh, don't forget to pin it for later…
Are you going to Bulbjerg Klint? Ask me anything in the comments!
More stuff you'll love:
Pin it!