12 amazing reasons to visit Bornholm island (Denmark)
Did you know that Bornholm island is the sunniest place in Denmark? The sunshine island as we call it has always been special for Danes, and most of us has made the pilgrimage there at least once, usually as part of a school trip. This was my second visit to the island and with its time warp, magical forests, medieval fortresses and glorious FOOD, it was just as idyllic as I remembered.
Read next: Renting a Car in Denmark
Are you looking for reasons to visit Bornholm island? Here they are…
This post contains referral links for products I love. Adventurous Miriam earns a small commission at no extra cost to you if you make a purchase through my links. Thank you for your support ♡ Learn more
Why you should visit Bornholm Island
Most people visiting Denmark stay in Copenhagen, and that's such a shame. Bornholm island is one of the hidden gems that make Denmark so magical and quaint, and it's actually just a short ferry ride from Copenhagen (food for thought). Let me just show you a map of Bornholm so you can get a sense of where we're at.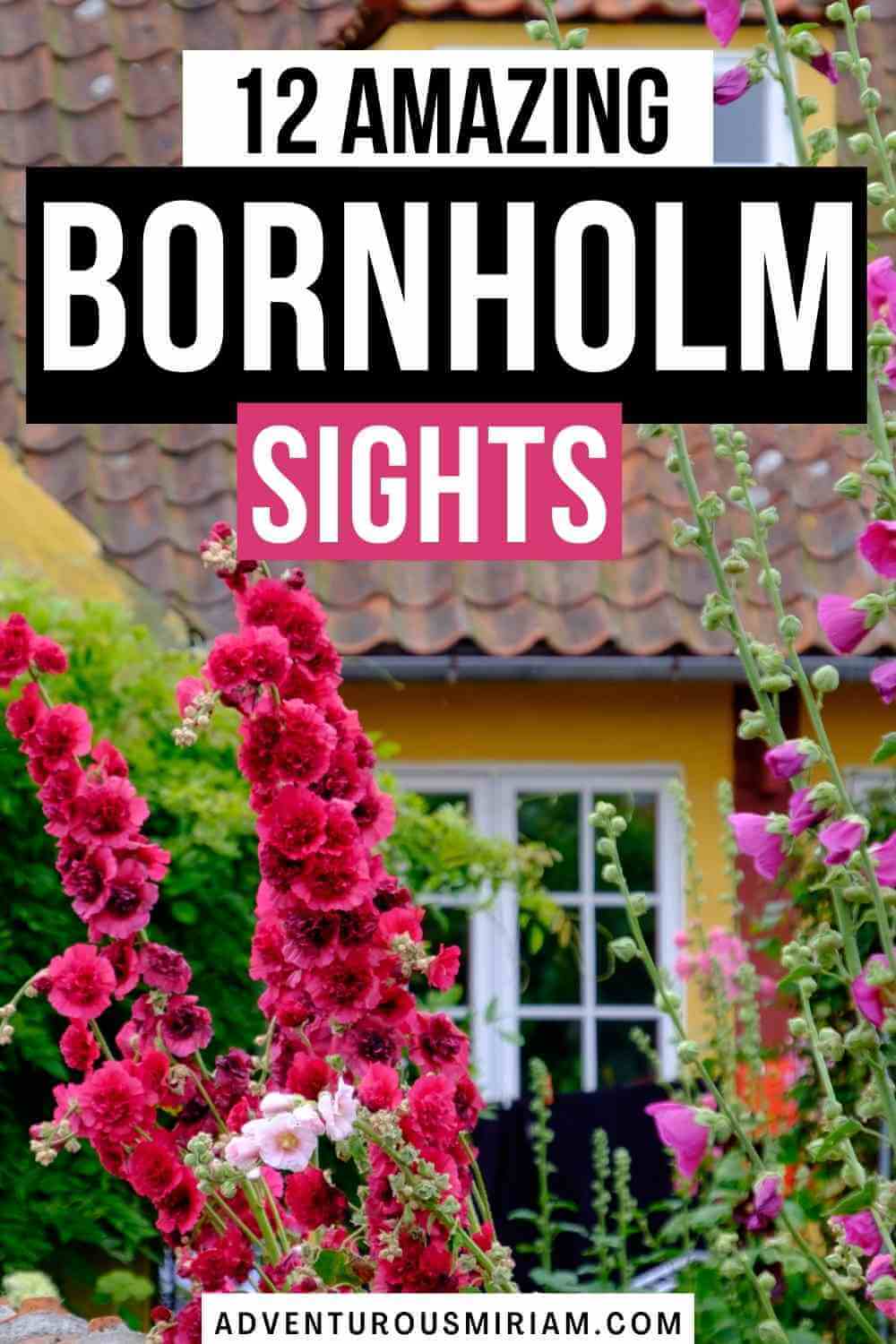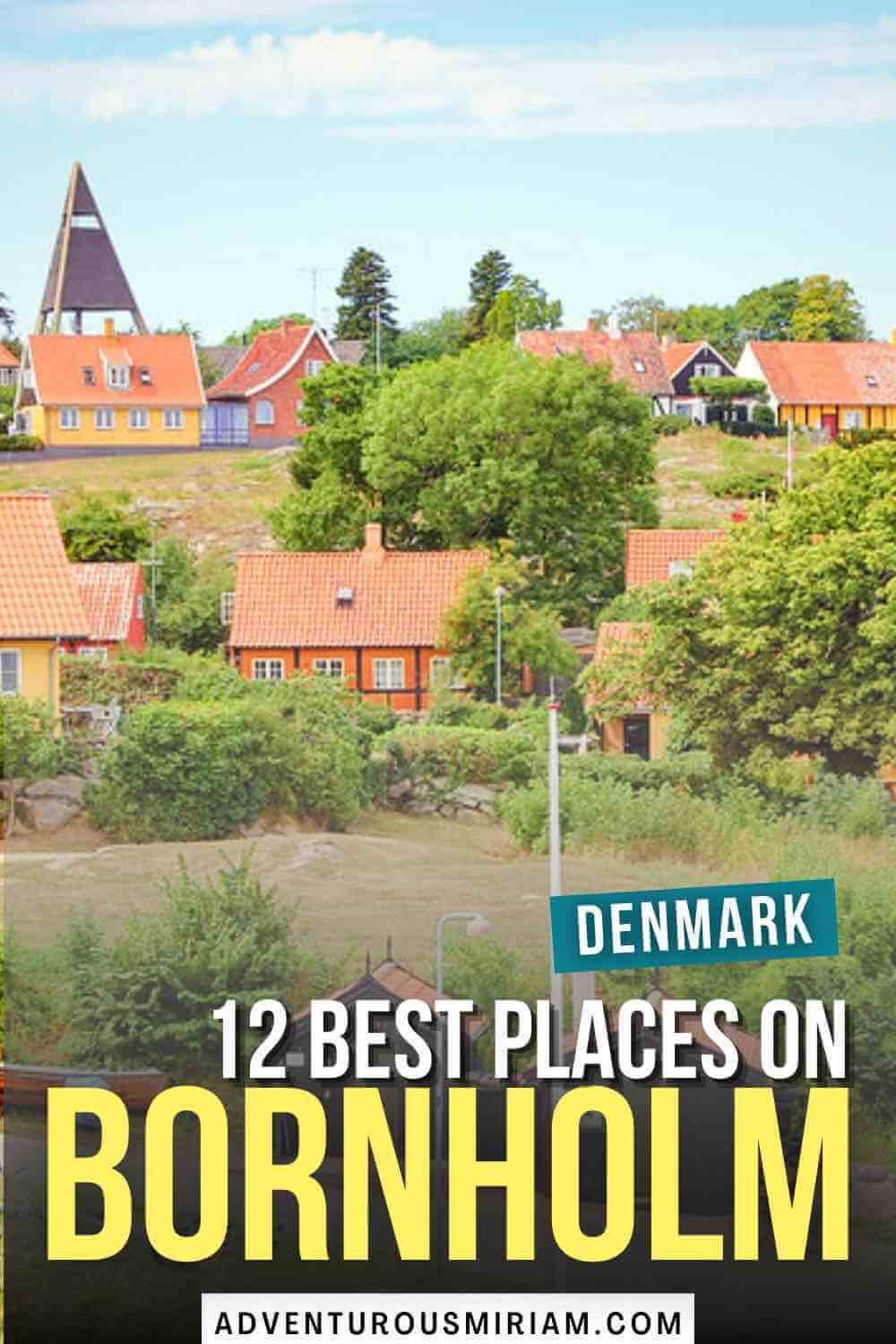 Map of Bornholm
So, where is Bornholm?
Bornholm is located in the Baltic Sea. It's closer to Sweden than Denmark, which explains why locals speak with a funny quite unique dialect. It's easy to get around the island. Renting a car is without doubt your best option for seeing everything on this list and more. But if that's not for you, you can always take the bus to the major villages or join day trips.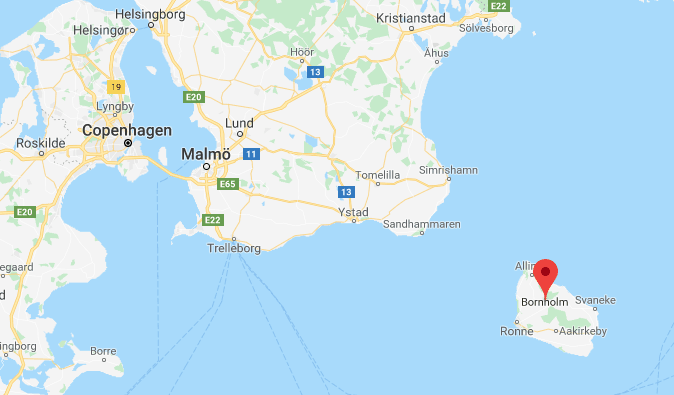 1. Hammershus
So, the number one attraction on Bornholm is without doubt the medieval Hammershus. Nowhere in Denmark do we have a fortress like this – in fact it's the largest castle ruin in all of Northern Europe. It's perched high on a steep, rocky cliff 74 metres above the sea and has been at the center of numerous wars, having been attacked and besieged many times. Hammershus is old, like seriously old. The oldest part of the fortress was probably built in the early 12th century, and although it's a ruin today, it's in quite good shape.
We drove up to Hammershus, but you can take the bus, too. It stops near the parking lot and takes about 55 minutes from Rønne (largest city on Bornholm).
2. Opal Lake
A short 20-minute walk from Hammershus is the beautiful Opal Lake (Opalsøen in Danish) – another great reason to visit Bornholm Denmark. You just have to go here if you're at Hammerhus, it's a must. This lake is special for several reasons. For one, it's really pretty. Once a granite quarry, the Opal Lake has retained its craterlike form. It's really quite unique.
You have several hiking trails surrounding the lake. And you can swim or go for some zip line action with its 290 m long zip line. If you conquer the cliffs, you get an impressive view over the Baltic Sea and Hammershus.
3. Eat at a traditional smokehouse
Aside from Hammershus, you should definitely visit a Bornholm restaurant, including a traditional smokehouse. In these smokehouses, you get freshly smoked fish and seafood, warm just out of the oven. We got this plate of deliciousness, it was sooo delish!
4. The rocking stone
Back in the 6th grade, I went to Bornholm on a school trip. Aside from getting incredibly seasick on the ferry from Copenhagen, one of the more memorable moments was the infamous rocking stone.
Actually, the island of Bornholm has no less than 800 rocking stones – yep, you read that right – but the one below is the largest and can be found in Paradisbakkerne. The 35-tonne-heavy rocking stone has been there since the last ice age, but it's not quite living up to its billing. At least I couldn't rock it anywhere.
To reach the rocking stone, you'll need to walk 1 km from the parking lot. It's an easy walk and you can bring a stroller.
5. Visit the charming fishing villages
If there's one thing Bornholm does well, it's the idyllic villages. I've previously introduced you to some of the fairy tale villages in Denmark, like Ebeltoft, Skagen, Faaborg and Ribe. Well, Bornholm also has its fair share of dreamy towns with half-timbered houses and quaint little shops.
One of the most popular ones is Svaneke, which I personally like the best. Svaneke is also where you'll find the largest smokehouse, a fabulous chocolate store and the one and only Johan Bülow liquorice shop.
6. The Echo Valley
Next on the list is the Echo Valley; a long rift valley stretching 12 km through Almindingen Forrest. You can follow a path in the valley and try shouting something to hear the echo. The most popular thing to shout is: "Hvad drikker Møller?" and wait for the reply "øller", which means, "What does Miller drink? Beer!"
You probably need to be Danish to get the pun 🙂
7. The iconic Bornholm round churches
Oh, these are a must. In Denmark, we have seven round churches from the Middle Age and four of them are located on Bornholm. The largest and most impressive is Østerlars round church, which was used both as church and fortress. The fact that Bornholm has four of them says something about its strategic location in the Baltic Sea. The island has been fought over for centuries by Denmark, Germany and Sweden. Denmark won, of course 😀
You can find the other three round churches in Olsker (the highest), Nylars (the best preserved) og Nyker (the smallest and youngest).
8. The sanctuary rocks and the camel heads
Bornholm island has a lot of dramatic rock formations in the north (very unlike the rest of Denmark), and Helligdomsklipperne (Sanctuary Rocks) are some of the more popular rocks. They're adjacent to a holy spring, hence the name. Another popular rock formation is the Camel heads and Lion head.
9. Ertholmene (Christiansø)
Just 20 km north of Svaneke, you'll find Ertholmene; Christiansø and Frederiksø – two inhabited islands where Christiansø is the largest. Centuries ago, these islands were used as a place of banishment for life time prisoners, but today they're a popular retreat for 40,000 guests each year.
The rugged nature and old fortress, which hasn't changed since its foundation in 1684, offer an unrivalled atmosphere. Also, there are no cars or dogs on the island.
10. Brændesgårdshaven (Joboland)
Brændesgårdshaven (also known as Joboland) is a major amusement park with both playland, water park and zoo. It's the largest in Denmark and a great place for families in particular. Brændesgårdshaven also has a nice garden with beautiful flowers and trees.
11. Rytterknægten
At 162 m, Rytterknægten (literally the knight's squire) is the highest point of the island. It's situated on a wooded bedrock of gaiter formations in Almindingen forest, not far from the Echo Valley. There's free access and you get views of Bornholm, Christiansø and even Sweden in good weather.
12. Dueodde beach
Bornholm has several great beaches. The most popular one is Dueodde beach where the sand is ultra-fine and the water is clear and clean. It stretches for several kilometres and on the widest stretch you'll find lots of sand dunes where you can tan or swim undisturbed.
Bornholm hotels
Bornholm is the ideal place for a seaside retreat. I've already told you about the magnificent Fredensborg Hotel where I stayed. It's located in Rønne, the largest town on Bornholm, and it's a great place to base yourself while exploring the island.
Bornholm weather
As I've mentioned earlier, the sun shines a lot on Bornholm. Weather tends to be warmer, and the island gets more hours of sun. The best time to go to Bornholm is from June to mid-September with attractions, tourist offices, transport and cultural events operating at full steam. Needless to say, you should book hotel in advance during summer, especially in the most crowded month, July.
Copenhagen to Bornholm (how to get there)
Getting to Bornholm island is easier than you might think. Here are your options:
By plane
You can fly directly in just 35 minutes from Copenhagen or Jutland. Bornholm airport is located in Rønne, just 4 km from the city centre. Find the cheapest flights here.
Car + ferry
You can take the Bornholm ferry from Sweden, Germany, Poland and several places in Denmark. Find schedule and prices here: bornholmslinjen.com
Bus + ferry
You can also take the bus from Copenhagen. The Bornholmerbus coach service (route 866) departs all year from Copenhagen train station to the ferry terminal in Ystad, Sweden. There, you'll get off the bus and on with ferry to Rønne, Bornholm. You can also take Bus 700 where you'll be on the bus all the way from Copenhagen to Bornholm. The trip takes 2.5 hours.
A thousand thanks to Bornholm Hotels for hosting me and making me feel at home in Bornholm. I was a guest, but all opinions are my own as always.
So, what do you think? Would you visit Bornholm island?
More stuff you'll love: