12 best beaches in Denmark
Looking for the best beaches in Denmark? From Bornholm and Sjælland to Fyn, Jylland and Rømø, find your perfect Danish beach destination here.
One thing about Denmark that's simply indisputable? It's lined with some of Europe's most gorgeous beaches, many with warm dunes, tall beach grass, the finest white sand and clear, shallow water.
From the high sand dunes along the North Sea in Jutland to the calm shores of the Danish riviera, these are the best beaches in Denmark.
Read next: 12 mind-blowing places for nature in Denmark
This post contains referral links for products I love. Adventurous Miriam earns a small commission at no extra cost to you if you make a purchase through my links. Thank you for your support ♡ Learn more
Beaches in Denmark
Did you know that we have more than 1,300 beaches in Denmark? No matter where you are, there's never far to the coast. Before you visit, though, here are a few things to know:
Lifeguards. 58 beaches in Denmark have lifeguards during the main summer months (from the end of June to mid August) daily from 10:00 to 18:00. The lifeguards use the following colour flags:
– Half red, half yellow: Recommended bathing area with lifeguard.
– Yellow: Pay special attention.
– Red: Danger. Swimming is not recommended.
Vesterhavet – Vesterhavet is the Danish name for the North Sea coastline. The sea is rougher and more dangerous than the calmer interior waters surrounding the rest of Denmark. If you're going to Vesterhavet, be aware that the undercurrents are strong and may take you by surprise.
Blue flag is an International eco-label awarded to beaches all over the world. When you visit a Blue Flag beach, you'll experience high water quality, clear and distinct environmental information, good outside facilities and top notch safety. We have 200 blue flag beaches in Denmark.
All Danish beaches are free to use, but parking may not be.
1. Blokhus beach
Where: North Jutland – Lifeguard present
Blokhus has some of the finest white sand in Denmark. And on a clear sunny day with offshore winds, you'll be lucky to see a rare side of Vesterhavet – calm, clear and shallow water ↓ Blokhus beach is around 100 m wide with a high dune area.
As with many beaches along the North Sea, cars are allowed on the beach. Simply pack up the car and drive all the way to the waterfront.
2. Blåvand beach
Where: South Jutland
Another favourite is Blåvand beach. What's special about this beach is that the North Sea is always calm and clear here – it's usually wild, untamed and windy. Add to the fact that it's surrounded by child-friendly, snow-white beaches and pretty vast sand dunes.
All of this makes Blåvand Denmark perfect for families or anyone who likes the dramatic and unspoiled nature of the North Sea, but without the strong current.
Many families head to Hvidbjerg Strand Camping for their summer holidays as it's located right next to a beach.
3. Bøgebjerg beach
Where: Fyn
Bøgebjerg beach is located on Fyn, near Kerteminde. It's a beautiful little beach with sand reefs and a bathing jetty where you can catch small fish and crabs.
It's a child-friendly beach, perfect for snorkeling, building sand castles and playing beach volley. There's also a giant water trampoline right off Camp Hverring.
Read next: Best snorkeling gear for your next underwater trip
4. Rømø beach
Where: Rømø
Rømø is a Danish island in the Wadden Sea National Park. The entire west coast is one long, sandy beach that's perfect for sun-bathing, kite surfing and sunset-watching. Rømø beach is also the widest beach in Denmark.
While you're there, try horse riding in the forest, oyster safari at the Wadden Sea or windsurfing. And pass by Ribe on your way there. It's the oldest town in Scandinavia and packed full of viking history and medieval charm.
5. Hornbæk beach
Where: Sjælland – Lifeguard present
Hornbæk beach is part of the Danish riviera, and it makes the list of best beaches in Denmark for several reasons. For starters, it has shallow, clear water and a child-friendly environment with a beach play ground where the kids can play while you relax. You'll find Café Sunspot on the beach or you can bring some street food from the nearby 'Det Fedtede Hjørne'.
Each year, summer is welcomed with 'Store Badedag', where up to 1,000 people jump in the water. You can also rent SUPs here.
6. Dueodde beach
Where: Bornholm
Dueodde beach is known for its soft, ultra-fine white sand and clear water. The beach extends for several kilometres on both sides of the southern tip of Bornholm and there's both shallow and deep water close to the shore. Take a walk along the sandy beach and let the little ones splash around in the calm waters.
Read next: 12 reasons to visit Bornholm
7. Marielyst beach
Where: Falster – Lifeguard present
Marielyst Strand is a 10 km long beach on Falster. It's child-friendly with shallow, calm water and vast sandy dunes and hollows where you can relax and be undisturbed. Marielyst beach has been rated the best beach in Denmark for several years in a row by readers of Rejseliv.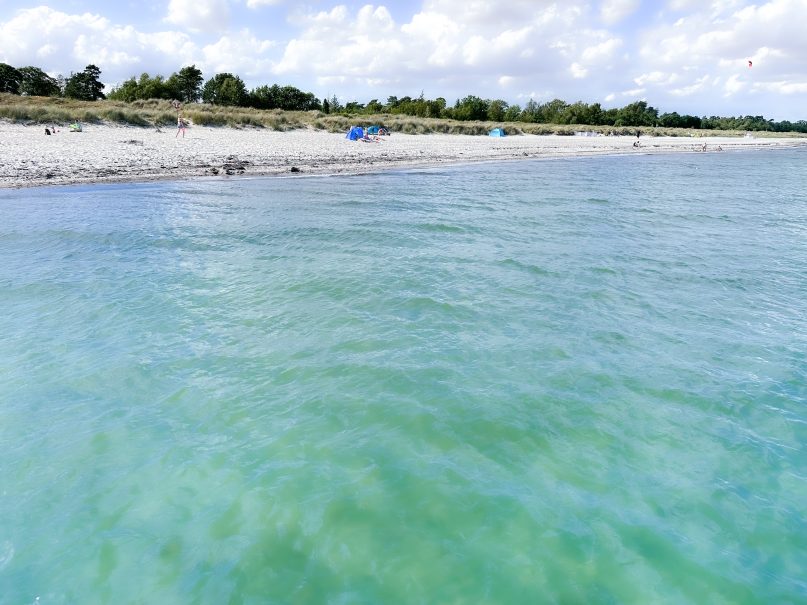 8. Fjellerup beach
Where: Djursland, Jylland
Fjellerup beach is probably the beach I've been to the most in my life. It might have some seaweed and pepples, but it's still lovely and has one very important factor – Fjellerup Vaffelbageri! It serves the best ice creams in our little kingdom, and it's conveniently located on the beach.
Read next: 10 fantastic reasons to visit Djursland
9. Tornby beach
Where: North Jutland – Lifeguard present
The wide sand and sandy hills along Tornby Beach are ideal for a relaxing day by the sea.
The beach is beautiful and more secluded than nearby Blokhus or Løkken, and the main draw here are the charming cottages scattered among the rolling sand dunes at the North Sea coastline. We've often stayed at one of the cottages and I'll tell you – the view is spectacular!
10. Tversted beach
Where: North Jutland
Tversted beach is one of the widest beaches on the west coast – here you'll find high dunes and epic views. What Tversted beach has above the other nearby beaches is the famous Det Blå Ishus. People come here from all over Denmark to taste the "guf", a topping made of whipped egg whites with sugar and fruit flavouring.
11. Palm beach (Palmestranden)
Where: North Jutland – Lifeguard present
Palmestranden in Frederikshavn is an exotic oasis with something no other beach in Denmark has – palm trees and white seashells. Every summer, around 70 palm trees are imported from the Canary Island and set on the 400-metre beach to create a tropical scenery.
Palm beach is a child-friendly beach equipped with loungers and parasols, and you'll also find volleyball nets and a little ice cream hut nearby.
12. Skiveren beach
Where: North Jutland
One of the other great beaches in Denmark is Skiveren beach. The wide beach, high dunes and the many WWII bunkers invite to long walks along the brisk blue sea. The wind conditions make it perfect for windsurfing.
Looking for more great beaches in Denmark? Ask me anything in the comments!
More stuff you'll love:
Pin it!