Best snorkeling gear for your next underwater trip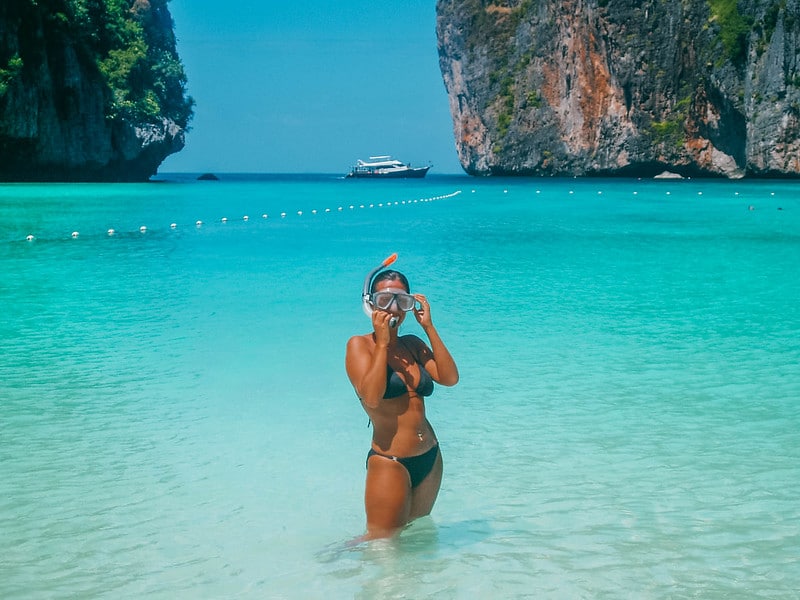 Snorkeling is the best, isn't it! You've got complete freedom to explore the underwater world with all its mysteries and colours, and it's so beautiful. But to do that, you need the very best snorkeling gear.
Let's take a look at the best snorkel set, the best snorkeling fins, best snorkel masks, and more to ensure you have an absolute amazing experience. The best snorkeling gear can make all the difference.
Please note: Adventurous Miriam uses affiliate links, which means that if you make a purchase through my links, I may earn an affiliate commission. Read my disclaimer.
The best snorkeling gear (Quick tips)
When it comes to snorkeling gear, there's a few things you need to consider. Like, do you want long or short fins and what kind of mask do you like. I can more or less work with it all, except the full face mask!
There have been too many deadly accidents associated with this popular mask. I'll leave it up to you to decide what you prefer, but I'm not including the full face mask in this post, because it's dangerous.
What I do prefer and consider safe is an anti fog mask with a semi-dry snorkel. I like the dry snorkels as well, but I guess with the semi-dry snorkel I feel like I have more control some how. There are lots of great brands out there, but Cressi is my go-to. And my favourite fins are the long ones with a closed heel, just because they're easier to use and don't require diving socks.
Why buy the snorkeling gear instead of renting
You never know who used it before you or if it was cleaned – This is the big mystery, isn't it? If you're after the best snorkeling gear, you don't want the gear you're given to be shrouded in mystery. How old is it? How has it been used? Is it still safe and functional? By using your own gear, you're eliminating these questions and concerns. It's your gear; you use it, you look after it, you know it.
Not the best quality – I don't just mean that it might be cheaper or poorer quality because it's a rental, but rather that gear does wear down and get damaged over time. The more it's been rented and used, the lower the quality will be. And not everyone who has rented it before will have looked after it like you will. So, if you want the best snorkeling gear, buy your own.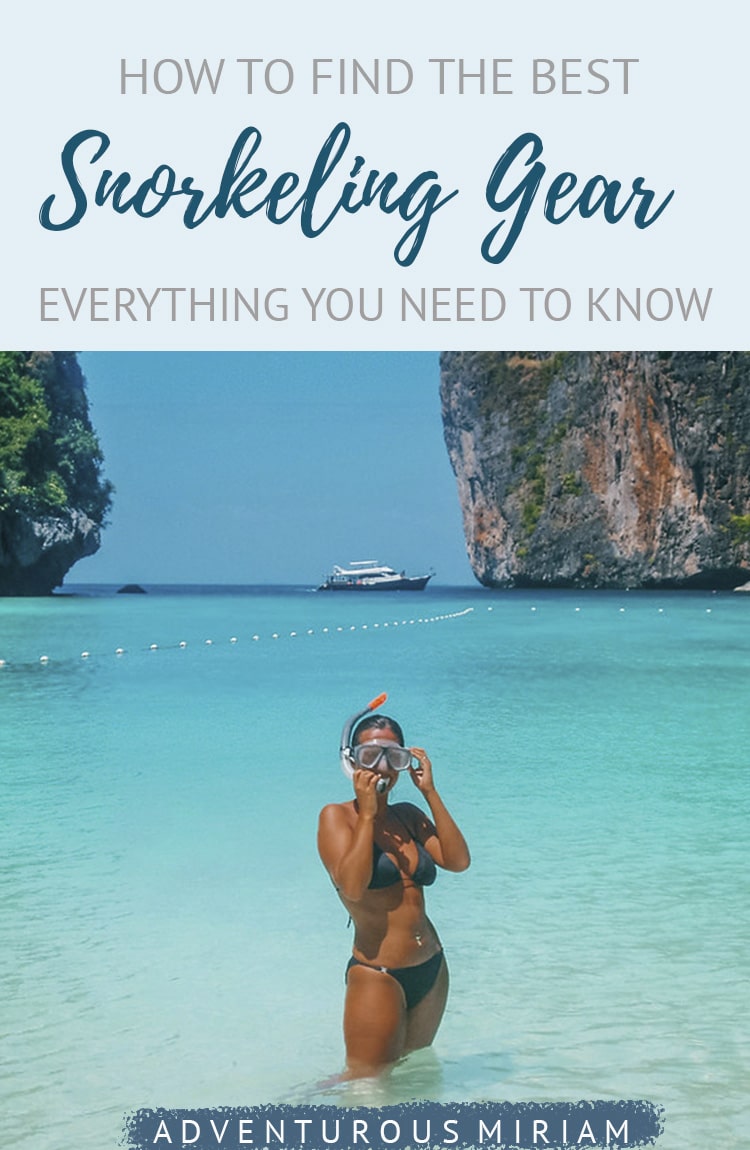 Things to consider before buying
Do you want a set or buy them individually? This is really up to you. It depends on what you already have, what you need, and what you don't. There's no point in buying a full snorkelling set if you don't need every piece. But then again, buying a set is often cheaper. So, consider what you need and what you don't.
Price – Of course, you're still looking for the best snorkeling gear possible, but think about what you can afford. You want to find the best quality gear that's actually within your budget. Prioritise what you need most, what's highest priority, and budget accordingly.
Find the right fit – This is important for safety as well as comfort. Ensure you know exactly what fits and what will be most comfortable before you spend money on a mask or fins.
Ease of use – The best snorkelling gear is also the easiest to use. It should be simple to put on and to adjust.
Choosing the best snorkelling gear
Whatever you're doing when you travel, you want the best equipment. The best suitcase or backpack, the best hiking boots, the best waterproof gear. Snorkeling is, of course, the same: you want the very best snorkeling gear available. Obviously, higher priced gear is usually of a higher quality. But there are also other things to look for when choosing the best snorkel mask or the best snorkeling fins.
Let's take a look at what's essential to know, what to look for, and what to consider when shopping for the best snorkelling gear.
Snorkel mask
This is the first piece of equipment to consider. Whether you're looking for the best snorkel mask for kids or for yourself, you want quality. The best snorkel mask is one that's comfortable, first and foremost. Having something stuck to your face, irritating your skin, or not sticking safely and comfortably is only going to cause distractions, discomfort, and irritation.
Something with these problems can ruin your whole experience. And that goes double for when looking for the best snorkel mask for kids, since kids are even more sensitive to things like discomfort and irritation. I've included the best snorkeling gear for kids at the end of the post, just FYI.
Features to look for:
Anti fog
Comfort
Viewing range (look for wide-angle view)
Flexibility (some are even foldable)
Snorkel
Compared to masks, snorkels have a little more variety to consider. And it's the snorkel that you're going to be most reliant on when you're exploring. You want something safe and secure, especially when choosing the best snorkel for kids. You need a snorkel you can rely on. The more expensive snorkels are of a softer rubber material; they're flexible and fit your mouth much more comfortably. And when they sit against the side of your head, they don't feel hard or uncomfortable.
I would definitely recommend a softer rubber snorkel, especially as the best snorkel for kids. They're worth paying a little extra money for. Let's take a look here at the three main types of snorkel.
Classic snorkel
A classic snorkel is a standard plastic or rubber U-shaped snorkel. It has no extra quality-of-life improvements and is the cheapest, simplest option of the three.
Dry-top snorkel
Dry-top snorkels are great, especially if you're shopping for the best snorkel gear for kids. Dry-top snorkels use something called a float valve that seals the snorkel and keeps water out when you submerge. This keeps the inside of the snorkel dry at all times so you never have to worry about water getting in.
Semi-dry snorkel
Another great option especially if you want the best snorkel gear for kids. Semi-dry snorkels don't come with a float valve for when you submerge the snorkel, but they do have a splash guard at the top which stops water from entering the snorkel form the top. This can happen if you're in windy waters or if there's a lot of splashing around for whatever reason, hence the name.
Classic snorkel / Dry-top snorkel / Semi-dry snorkel
Fins
Whether you're looking for scuba fins or snorkeling fins, the same rules apply. You want fins that fit comfortably and ensure ease of movement when in the water. If you've never used fins before in the water, it's amazing how quickly and instinctively you get used to them!
Becoming a mermaid becomes second nature and it's a good feeling. But to get there, you need to ensure that you have snorkel fins that are comfortable and that fit well. You can't be fiddling with your fins when you're in the water, after all. So, look for snorkel fins that are reliable, comfortable, and easy to put on and take off.
Short or long snorkeling fins
There's no right answer to this but there are some pros and cons. Put simply, long fins are easier. They do a lot of the work for you and you can swim around (almost) effortlessly. But their shape eventually becomes distorted, so they have a much shorter lifespan than short fins. Eventually you'll have to replace them. Short fins, however, last much longer but require a bit more effort to use in the water.
Open or closed heel
Closed heel (often known as full-foot fins) are fins which encompass your entire foot, meaning there's no need for any other accessories to go with them. They're the fins generally preferred by experienced divers. Open (or adjustable) heels, however, offer more wiggle room for adjustability for a custom fit, so they're more comfortable. But they must be worn with booties or diving socks and they're a little more expensive.
Accessories
Snorkel vest – While optional, a snorkel vest is one of the safer scuba diving accessories. It keeps you afloat and warm in cooler waters. They're not essential but they are definitely recommended for less experienced snorkelers and swimmers. They're essential as part of a kids snorkel set.
Underwater camera or house – Since the point of snorkeling is to see the mysteries below the water, a camera is definitely a good idea. It's up to you whether you choose to buy an underwater camera specially for snorkeling or buy a house for your camera that will keep the water out. Houses work very well and are far cheaper than buying a whole new camera.
Antifog mask spray – This is one of those essential scuba diving accessories. Fogging up your mask is irritating and potentially unsafe but spraying with this stuff can keep that from happening. Definitely recommended!
Dry bag – A dry bag is used to carry our clothes and valuables in while you snorkel. They're useful if you're not returning to the same spot to collect your things, or if you're not comfortable with leaving your valuables unguarded while you head out snorkeling.
Waterproof phone case – If you're using your phone to take photos or capture video, rather than a camera, a waterproof phone case is a must-have. I love mine, and I've used it for visiting waterfalls and The Blue Lagoon in Iceland as well. It's super safe.
Reef safe sunscreen – This is an essential, trust me! Snorkeling exposes you – especially your back – to a lot of sun for a long time. You need waterproof and reef safe sunscreen for snorkelling. And a good one!
Kids snorkel set
Best snorkel for kids – Now, my toddler just turned two, and I can't wait to take him snorkeling. When you look for the best kids snorkel set, choose a kids snorkel set with a mask, dry-top snorkel, and fins. I also highly recommend a snorkel vest or inflatable armbands at the very least, and make sure to soak your little one in waterproof sunscreen!
Best snorkeling places around the world
So, now you know what to look for to find the best snorkeling gear, but what are the best places to go snorkeling around the world? Below, I've listed what I consider the absolute best snorkeling and scuba spots anywhere on Earth. Head to any one of these and you'll have a magical, unforgettable snorkelling experience.
Ambergris Caye, Belize
Hawaii
The Philippines
The Maldives
Great Barrier Reef, Australia
Galapagos Islands, Ecuador
Grenada, the Caribbean
Bora Bora, French Polynesia
Yucatan, Mexico