13 important tips for visiting The Blue Lagoon Iceland (2023)
Are you visiting the magical Blue Lagoon Iceland and wondering what to bring? I've made a list of Blue Lagoon tips with all the things you need to know, based on my own visit.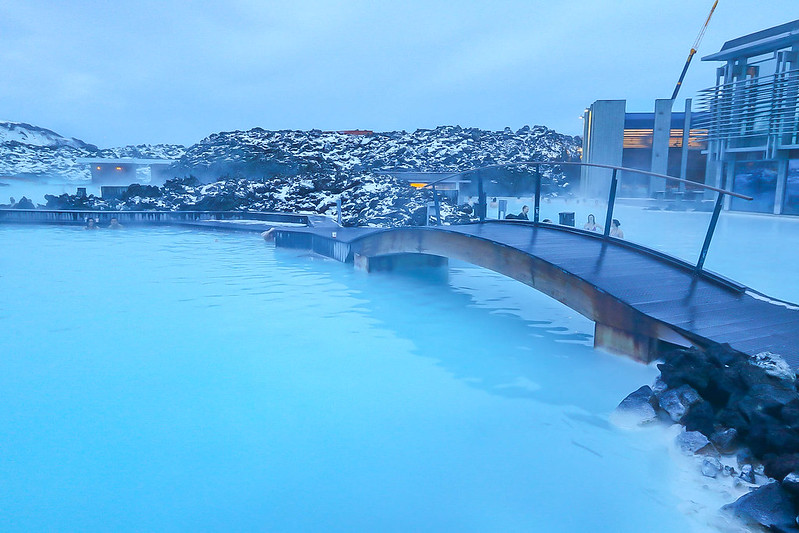 The hot thermal baths of the Blue Lagoon are Iceland's most famous attraction, so we didn't exactly have it to ourselves.
But I didn't mind. I've wanted to visit for ages and this winter I finally got the chance.
Before our trip to Iceland, I spent tons of time researching important tips, like:
Can you bring your camera?
How much does it cost?
Is it safe if you're pregnant? (yes, it is, btw)
And how much time should we spend at the Blue Lagoon?
So if you're going to the Blue Lagoon, here's the lowdown with the most important tips I picked up.
This post contains referral links for products I love. Adventurous Miriam earns a small commission at no extra cost to you if you make a purchase through my links. Thank you for your support ♡ Learn more
Blue Lagoon tips
5 quick
facts about the Blue Lagoon Iceland
Here are a few facts about Icelands' Blue Lagoon:
1. The Blue Lagoon is manmade
Did you know that Iceland's Blue Lagoon is manmade?
I've always thought that it was natural, but it isn't. The lava around it is natural, but the water is actually the result of runoff from the power plant next door.
2. Why it's called the Blue Lagoon
The Blue Lagoon Iceland got its name because the water looks blue when reflected in the sun. In reality, though, the water is milky white.
3. The water is good for your skin
The water of the Blue Lagoon is full of minerals, algae, and silica, and it's really good for your skin. Especially if you have psoriasis or other skin conditions.
4. The Blue Lagoon water is warm
The temperatures of the milky water hover between 37 and 39°C all year round. It basically feels like you're taking the bath of your life in a giant hot bathtub.
5. The sulfur makes it a bit smelly
Thanks to the sulfur in the lagoon, it smells a little. But just a little. The good news is that after a while you won't mind.
Read next: 5 best private Northern Lights tours in Iceland
Join a day trip to the Blue Lagoon
If you also want to get the most out of your time, you can join a day tour and fill two needs with one deed.
With the Golden Circle, Kerid Crater, & Blue Lagoon Tour (⭐ 4.9), you'll get a full-day tour of sightseeing around the Golden Circle and Kerid Crater with relaxation at the Blue Lagoon at the end of the day.
Alternatively, if you're short on time, you can also pre-book transport to the lagoon from Reykjavik.
After having enjoyed everything The Blue Lagoon has to offer, you can take the bus back to Reykjavik.
👉 Book here: Golden Circle, Kerid Crater, & Blue Lagoon Tour (⭐ 4.9)
10 tips for visiting The Blue Lagoon Iceland
1. Prices
Okay, so let's begin with the unpleasantly high entrance fee you need to pay.
Prices at the Blue Lagoon Iceland are steep and they're also dynamic, depending on:
1) the season and time of day you visit, and 2) how far in advance you book.
You choose between three types of entrance tickets at The Blue Lagoon and you can rent towels, slippers, robes, and swimsuits as add-ons.
The Blue Lagoon entrance ticket price varies throughout the year.
Here are your choices with the lowest to highest prices:
The Comfort ticket ($72 – $104) I recommend this one
The Premium ticket ($82 – $122)
Retreat Spa ($567 -$638)
Also, you need to pre-book your ticket to get in, which you can do on the Blue Lagoon's website.
And this is important: If you're visiting in the high season (summer), be sure to pre-book months in advance. And yes, I mean months in plural.
2. How to save money
Like anything else in Iceland, a visit to the Blue Lagoon doesn't come cheap. BUT, there are ways to save money. For instance:
The silica mud masks are free – You'll see people putting white mud stuff on their faces – that's silica and it's really good for your skin. The mud masks are supplied out of a swim-up bar and you just help yourself to as much as you like.
Bring your own towel and anti-slip water socks – that way you don't need to rent a towel, bathrobe, or slippers.
Drink from the tap – the tap water in Iceland is some of the cleanest in the world so there's no reason to buy pricey bottled water at the lagoon.
Go for the Comfort entrance ticket – there's really no reason to buy the Premium or Spa ticket unless you want "the full spa experience".
3. It's not cold in the Blue Lagoon
Despite how snowy and cold it is, you won't freeze your butt off at The Blue Lagoon.
We went in January, which is one of the coldest months of the year, and the lagoon was the perfect place to warm up.
Remember, the water is almost 40 degrees all year round, so while the air might be cold, the water is not.
Read next: How to drive The Golden Circle Iceland in winter
4. How to protect your hair – guys, too
I've read several blogs about how the Blue Lagoon will damage and turn your hair into straw, but that wasn't my experience, really.
How I treated my hair
Before going into the lagoon, I wet my hair and applied a lot of conditioner (they have free shampoo and conditioner in the showers). Afterwards, I washed and blow-dried it. It felt a little brittle, but nothing too concerning, and it went back to normal after a day or so.
If you don't want to take any chances, you can always just avoid getting your hair wet or wear it in a bun.
Or you can bring along a small bottle of clarifying shampoo. It strips the minerals out of your hair, and you can use it at home afterward.
5. Visit before or after your flight
The Blue Lagoon is located in a lava field in Grindavík about 45 minutes outside of Reykjavik and 20 minutes away from the airport.
We went there just before our flight back and it couldn't have been better planned. I felt so relaxed afterward, and I wouldn't have done it any other way.
If time doesn't allow it, you could also visit the lagoon right after your flight lands in Iceland.
If you don't have a car, you can travel with ease with a Blue Lagoon transport. The bus picks you up/drops you off at the airport or your hotel in Reykjavik.
6. Go early to avoid the crowds
Our flight was at 2 pm so we went to the lagoon at 8 am.
In the winter, the sun doesn't rise until 11 a.m. so it was still dark when we got in – which was actually kind of nice.
The best thing about visiting early though is that you avoid the queues and the hordes of tourists.
From noon till afternoon is the worst time to visit!
Read next: How to spend amazing 2 days in South Iceland
7. Give yourself enough time
We spent around 4 hours at the lagoon and it was perfect.
If you're going for a massage or having a bite at the restaurant you might spend more time.
Plus, depending on what time you visit and in which season, there might be queues. Long queues.
You'll want to take that into consideration, especially if you have a flight to catch.
8. You don't need your wallet inside
When you arrive at the Blue Lagoon, you get a digital rubber wristband. Do not lose this wristband!
It will open and close your locker and you can buy stuff from the bar, the reception, wellness, and the restaurant.
When you leave the lagoon, you settle the bill.
Read next: How to plan the best road trip in Iceland
More tips for visiting Iceland's Blue Lagoon
9. You can store your luggage here
If you're on your way to or from the airport, you can store your luggage in the Service Center building next to the parking area for ISK 550 (US $5,2).
You can fit your hand luggage, clothes, camera, etc. in private electronic lockers in the changing rooms.
10. Bring a waterproof sleeve for your phone
Don't bring your phone into the lagoon unless you have a waterproof case.
I bought this one for $6.99 on Amazon and it was brilliant – not just in the lagoon, but also when we visited waterfalls or when it rained!
Also, I wouldn't bring my DSLR into the lagoon – you really don't want to accidentally drop it (oh, horror!).
11. Don't wear contact lenses
The Blue Lagoon Iceland strongly recommends against wearing contact lenses in the water.
The reason is that the silica can get into your eyes and make it super painful if you're wearing contact lenses.
12. Leave your jewelry in the locker
Also, don't wear any rings, earrings, or necklaces.
Not only to prevent losing them, but the silica, algae, and minerals can damage the jewelry.
13. Packing list – what to bring to Blue Lagoon
Wondering what to bring to the Blue Lagoon? I've included what to wear to Blue Lagoon and everything else you should need.
You can get my complete guide on what to wear in Iceland here.
Swimwear – You'll need a swimsuit or swim trunks to enter the pool and saunas. I brought this blue swimsuit.
Sunglasses – Expect any kind of weather in Iceland, including sharp sunlight. Add to the fact that the lagoon reflects the rays – so, it's a good idea to bring a pair of sunglasses. I went for the blue aviator style.
Camera or a phone with a camera
A waterproof case for your phone. This is a MUST if you plan on bringing your phone into the lagoon. It's humid in there. So even if it doesn't get wet, it might get damaged from dampness. Find something that will make your phone waterproof, but still useable. You could invest in a Lifeproof case to keep it safe or get something simple like a dry sleeve (what I did).
Hair elastics
Deodorant
Hairbrush
A bottle of water (Optional to save money)
Your own towel (Optional to save money)
Slippers – if you visit in the winter, the floor is ice-cold. You can bring a pair of slippers or anti-slip water socks, which are super effective in the cold.
As mentioned earlier, the Blue Lagoon Iceland provides free shampoo and conditioner. They also have blow dryers.
Where to stay in Reykjavik
ION City Hotel (⭐ 8.9) – Comfy bed and helpful staff that goes out of their way to help. It's close to a supermarket, and the Hallgrímskirkja Church is 500 meters away. Check rates and availability here.
FAQ – Blue Lagoon tips
How many hours should you spend at the Blue Lagoon?
I recommend spending about 4 hours at the Blue Lagoon. This gives you time to relax in the lagoon, try spa treatments, and perhaps grab a bite at the on-site restaurant.
Do you need flip-flops for the Blue Lagoon?
Only if you visit in winter. By then the ground is super cold. You should bring a pair of slippers or anti-slip water socks, which are effective in the cold.
Can you take your phone in the Blue Lagoon?
Yes, you can take your phone in the Blue Lagoon, but definitely bring a waterproof case to protect it from water and silica. I bought my case on Amazon, and it was so cheap but highly effective!
More posts about Iceland you might like
Save it!