The 2 days in South Iceland itinerary you'll want to steal
Are you looking for the perfect 2 days in South Iceland itinerary? Here's everything you can experience in just two days.
It's no secret that South Iceland impressed me the most on my recent trip there. Its ever-changing landscape includes some of the country's biggest volcanoes, glaciers and most iconic waterfalls. It's simply out of this world!
We did a 4-day Iceland road trip, spending 1 day along The Golden Circle, 2 days on the South coast and the rest at the Blue Lagoon and in Reykjavik.
Here's how you can do the same.
This post contains referral links for products I love. Adventurous Miriam earns a small commission at no extra cost to you if you make a purchase through my links. Thank you for your support ♡ Learn more
2 days in South Iceland itinerary
First, let's talk about safety
I wish it wasn't necessary to include this section, but I feel I have to.
The thing is, as beautiful and extreme as Iceland is, as deadly it can be, so please be careful there. I've seen tourists jump on icebergs in Jökulsárlón, take selfies in front of raging waves or get dangerously close to the edge of a cliff.
I'm embarrassed to admit it, but I've also been careless at Svínafellsjökull glacier when it was raining hard and I still wandered onto the slippery rocks to get a photo. Stupid, that's what it was, and I shouldn't have done it!
The danger lies in getting too close – to the waves, the icebergs or the edge.
A sudden change in the wind (and trust me, the wind can be extreme) or the so-called deadly sneaker waves can take you by surprise and sweep you out to sea or over the cliff. Even on a sunny, clear day.
Just two days before we went to Reynisfjara Black Sand Beach, a German mother of two was caught by the waves and drowned in front of her family. Unfortunately, this tragic accident is not an isolated event, so do take extra care.
TIPS – How to stay safe in Iceland
Don't turn your back to the sea
Don't get lost in taking that selfie
Stay off the ice at Jökulsárlón
Never underestimate how quickly the weather can turn (especially when hiking). Always bring warm clothes
Never go into an ice cave or hike on a glacier alone
Don't ignore local advice or warning signs
Is 2 days in South Iceland enough?
So now that we got that out of the way, let's talk about your South Iceland itinerary.
If you visit in the winter season, especially in December and January, you have fewer hours of sunlight (5-6 hours) so ideally you'd want 3-4 days.
It is still possible to do this itinerary in 2 days though, you just have to plan your day. All other months of the year, 2 days is enough.
Miriam's Tip:
Base yourself in Vik for a South Coast road trip. It's the southernmost village in Iceland, located on the main ring road right between Reykjavik (starting point) and Jökulsárlón Glacial Lagoon (ending point).
Best things to do in South Iceland
South Iceland itinerary
Here's the most practical itinerary for 2 days in South Iceland, including how long I spent at each site.
Day 1 sights are located between Reykjavik and Vik (West of Vik). The sights on day 2 are all located between Vik and Jökulsárlón (East of Vik).
Day 1:
Reynisfjara Black Sand Beach and Dyrhólaey Lighthouse (a couple of hours)
Seljalandsfoss and Gljúfrabúi Waterfalls (1-1,5 hours)
Skogafoss waterfall (30 minutes)
Sólheimasandur plane wreck (includes a 20-30 minute walk from the parking lot)
Day 2:
Fjaðrárgljúfur canyon (0,5-1 hour)
Svínafellsjökull glacier (just a 15-minute stop)
Svartifoss waterfall (there's a 2-hour hike to the waterfall and back)
Jökulsárlón and Diamond beach (a must-see! Spend at least 1,5-2 hours here)
How to get around
A self-drive tour is how I prefer to get around in Iceland because there's so much to see off the path. You can rent a car in Reykjavik and other major cities in Iceland.
Read next: The ultimate guide to Iceland car rental in winter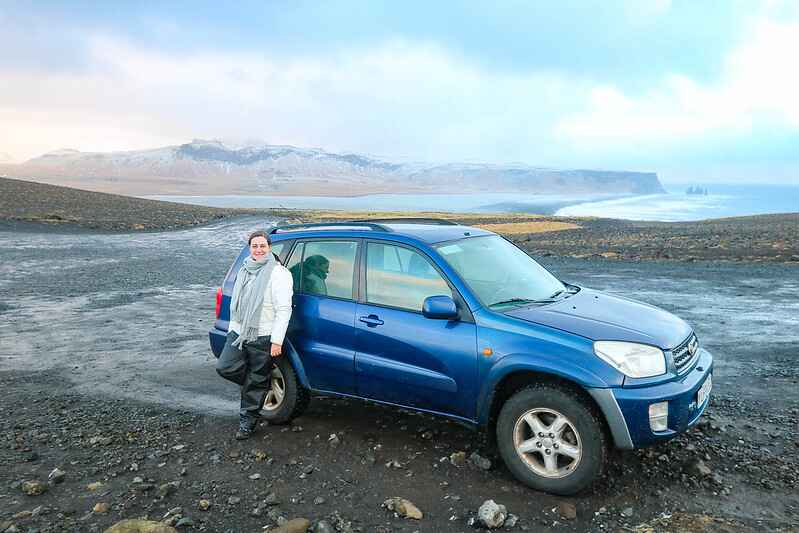 Best Car Rental Company:
DISCOVER CARS
When booking your car rental online, I recommend Discover Cars. They compare prices at car rental agencies all over the country to get you the best deal.
Iceland South Coast itinerary
Day 1
Reynisfjara Black Sand Beach
You know that saying, "Timing is everything"?
At Reynisfjara Black Sand Beach it is.
Sure, you can visit in the afternoon or evening, but if you want those spectacular colors, make sure to be there at sunrise – which in the winter is at around 11.
Dyrholaey
About 10-to 15-minute drive from Reynisfjara Black Sand Beach you'll find Dyrhólaey Lighthouse.
The lighthouse itself is nothing spectacular, but the view – Oh. My. Gosh.
Make the trip to Dyrhólaey, you won't regret it.
Seljalandsfoss waterfall
Seljalandsfoss is another beautiful place to visit at sunrise, especially if you walk behind the waterfall and view the sunrise through the falling water.
Because yes, you can walk behind this unique waterfall.
Me and my pregnant body decided that it was a bad idea to get up on those ice-slippery stone steps, but that shouldn't stop you.
You will get wet (possibly drenched) also in summer, but if you're wearing a raincoat or cape and some sturdy shoes, you should be fine.
Seljalandsfoss is 60 meters high with a footpath behind it at the bottom of the cliff.
But what many visitors don't know is that there's another and equally stunning waterfall very close.
This waterfall is called Gljúfrabúi, which means "Dweller of the Gorge", and it's hidden away.
Gljufrabui Waterfall
Gljúfrabúi is 40 meters high and in front of it is a big rock almost covering it.
You can wade through the gorge and climb up the rock in front of the waterfall (it's a killer photo!).
I only made it halfway into the gorge because there was so much water, but if you bring rain boots or visit when there's less water in the river, definitely go in!
Skogafoss Waterfall
Just 20 minutes from Seljalandsfoss, you'll find Skogafoss.
Oh, I forgot to mention that both of these waterfalls are located just by the road and they're only a minute walk from the parking lot (parking is free).
Skogafoss is pretty spectacular.
And not just because it's 25 meters wide with a drop of 60 meters, although that is rather cool in itself. No, this waterfall is unique because of its magnitude and sheer power.
It's simply overwhelming to stand next to it, and you can get super close although not without getting soaked (speaking from bitter experience).
Sólheimasandur – the plane wreck
The last sight on day one is Sólheimasandur plane wreck.
This US Navy plane crash-landed in Sólheimasandur in the 1970s and has been abandoned since.
It takes about 30 minutes to walk to the plane wreck, but the photo opportunities make it well worth it.
iceland southern coast itinerary
Day 2
Fjadrarglufur Canyon
So, day 2 will be a little busier than the first day so leave your hotel early.
The first stop is Fjaðrárgljúfur canyon where you'll easily spend around 1-1,5 hours – unless you're hiking because then you need more time.
Fjaðrárgljúfur canyon has been formed by thousands of years of erosion, caused by the melting glaciers.
Today, 2 kilometers long and up to 100 meters deep, it's still being carved by the Fjaðrá river.
Aside from the fact that it's often referred to as the most beautiful canyon in the world, Fjaðrárgljúfur is a great place for hiking and beautiful photos!
Svinafellsjokull Glacier
You can see Svínafellsjökull glacier from the road (on your left coming from Vik).
On our way to Jökulsárlón, I suddenly spotted something blue in the distance between the hills.
Just 5 minutes later we were at the parking lot in pouring rain to get a closer look at the blue thing that turned out to be Svínafellsjökull glacier.
Pro tip:
If you sit or stand there for a while and listen, you can actually hear creaking which is the ice dropping into the water.
Although we couldn't get up close to the glacier, because that's unsafe, we still had a good view from where we stood.
Just at the entrance to Svínafellsjökull, there was a memorial stone to two German hikers who went out on the glacier alone a few years ago and never returned.
If you want to hike a glacier (I know I do), hire a private guide or join a tour. Anything else is dangerous.
Book your tour here – Skaftafell Ice Climbing & Glacier Hike
Svartifoss Waterfall
Svartifoss waterfall is another stunner in South Iceland, famous for its basalt rocks. 
It's situated in Skaftafell, which is part of Vatnajökull National Park.
If you visit Svartifoss, be aware that you have a 5.5 km round-trip walk ahead of you from the parking lot, which will take around 2 hours in total + time spent at the waterfall.
The walk is easy though, and the trail is well indicated.
Read next: How to drive the Iceland Ring Road in 5 days
Jokulsarlon Glacier Lagoon
Ah, Jökulsárlón Glacier Lagoon – the highlight of South Iceland.
I had never seen an iceberg before, not to mention a whole beach filled with diamond-shaped ice blocks. So yeah, I was pretty blown away.
Jökulsárlón is a large glacial lagoon that stems down from Europe's largest glacier, Vatnajökull.
The lagoon is estimated to be around 25 km2 and it's constantly getting larger as ice breaks off the glacier every year.
Diamond Beach
Just on the other side of the road is a black sand beach, but not everyone knows it's there.
It's called Diamond Beach (or Breiðamerkursandur) because it has ice blocks in all sizes and shapes glistening on the black beach.
Many of the icebergs have a bright blue color and you can actually follow them from the Jökulsárlón glacial lagoon and down to the beach. If it hadn't been raining so much, I could have spent hours walking up and down Diamond Beach.
It's that amazing!
If you only have a few days to spend in Iceland, do go to South Iceland. I promise you, it's out of this world.
FAQ – 2 days in South Iceland itinerary
How many days do you need in South Iceland?
Two days in South Iceland is enough for a quick trip.
Day one, cover the Golden Circle. On day two, visit Seljalandsfoss and other nearby waterfalls. It's fast-paced but doable. Good for short breaks and family trips.
Is it worth going to Iceland for 2 days?
Absolutely, a 2-day trip to Iceland is worth it.
You can cover the Golden Circle, see stunning waterfalls, and even dip into the Blue Lagoon. It's a short but packed adventure that gives you a taste of Iceland's natural beauty. Ideal for quick getaways.
How long is the South Coast tour in Iceland?
A typical South Coast day tour in Iceland lasts about 10-12 hours. You can also do multi-day tours for a more in-depth experience.
How many days do you need for the Golden Circle?
One day is enough for the Golden Circle in Iceland.
You can see Þingvellir National Park, Geysir, and Gullfoss waterfall all in a day. It's a popular route that's easily doable within 6-8 hours, including travel time.
Great if you're on a tight schedule.
More stuff you'll love
Save it!