A luxurious spa day at ESPA Riga you seriously deserve
Wondering where the most luxurious, fabulous spa is in Riga, Latvia? You've landed in the right place. ESPA Riga, hidden behind the beautiful facade of a historic Art Nouveau building, is six floors of sheer wellness heaven. 
This five-star spa offers award-winning treatments and is located right next to the Radisson Hotel in the heart of Riga.
I had the pleasure of visiting ESPA this summer, and you know what? It delivered. If you're planning a girls' spa weekend or a couple's for that matter, this is the place to go.
I really can't recommend it enough.
This post contains referral links for products I love. Adventurous Miriam earns a small commission at no extra cost to you if you make a purchase through my links. Thank you for your support ♡ Learn more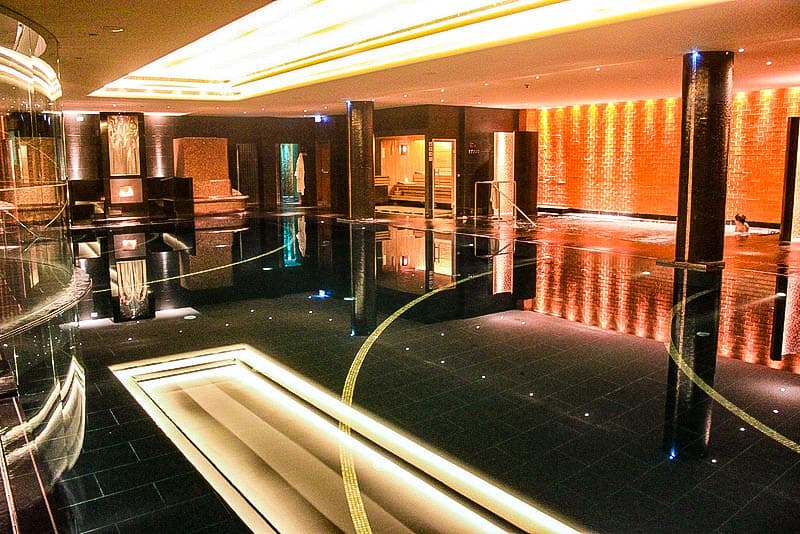 How to spend a spa day at ESPA Riga
ESPA Riga offers several treatments, spa time, and lunch. I recommend arriving at least 3 hours before your treatment begins. It might not seem like it, but you can easily spend a whole day here.
I experienced the signature Elegant Day Spa Offer, which includes a full body Salt & Oil Scrub, hot stone massage, facial treatment, and a 2-course lunch. It was divine!
Pool / Sauna / Fitness:
2.5 hours – 28.50 EUR
Body Treatments:
25-55 minutes – 45-80 EUR.
Treatment / Massage / Lunch:
3 hours – 140 EUR
First, some pool time
I started the day on the ground floor that holds a stunning 18-meter-long, 28° C swimming pool and a sleek granite pool bar. Next to the pool, there's a jacuzzi, a Turkish steam room, a labyrinthian bath, and two separate saunas. 
I arrived 1.5 hours before my scheduled treatment and thought that I'd have plenty of time. But time flies quickly at a place like this, so I wish I'd come earlier to spend more time in the pool and saunas.

The bar is located by the stairs. What a lovely place to enjoy a strawberry daiquiri → my favorite drink.
The spa treatment – Riga massage
My therapist was a delightful, young Latvian woman who made me feel like a V.I.P. for my treatment. Everything was explained in detail and she would often check that her pressure was fine, as well as an initial check of the room temperature, light, and music.
It was so relaxing that I fell asleep several times during the treatment.
Espa Riga Spa Cafe
After the treatment, I was shown to the Spa cafe on the first floor. I was served roast chicken with vegetables and fresh fruits for desserts. It was the perfect ending to a luxurious day at the spa.
ESPA products and skincare
One of the things I really enjoyed about this spa experience was the personalized skin care analysis. After the treatment, the therapist gave me a folder with an analysis of my skin type and she explained how to correctly care for it.
During the treatment, she also used cremes specifically designed for the cold Nordic climate, which my Scandinavian skin thanked her for!
In all, I felt relaxed and pampered after a day at ESPA Riga, and I'm already plotting my return.
Hopefully sooner than later.
I was a guest of Espa Riga, but all opinions are my own. Whenever I write a review, there will always be full disclosure about whether my stay was hosted or paid for with my own money. And even if I was offered complimentary services, my review would never be swayed one way or the other.
Ask me anything about visiting a spa in Riga!
Before you go – don't miss out on these Riga posts:
Pin it!