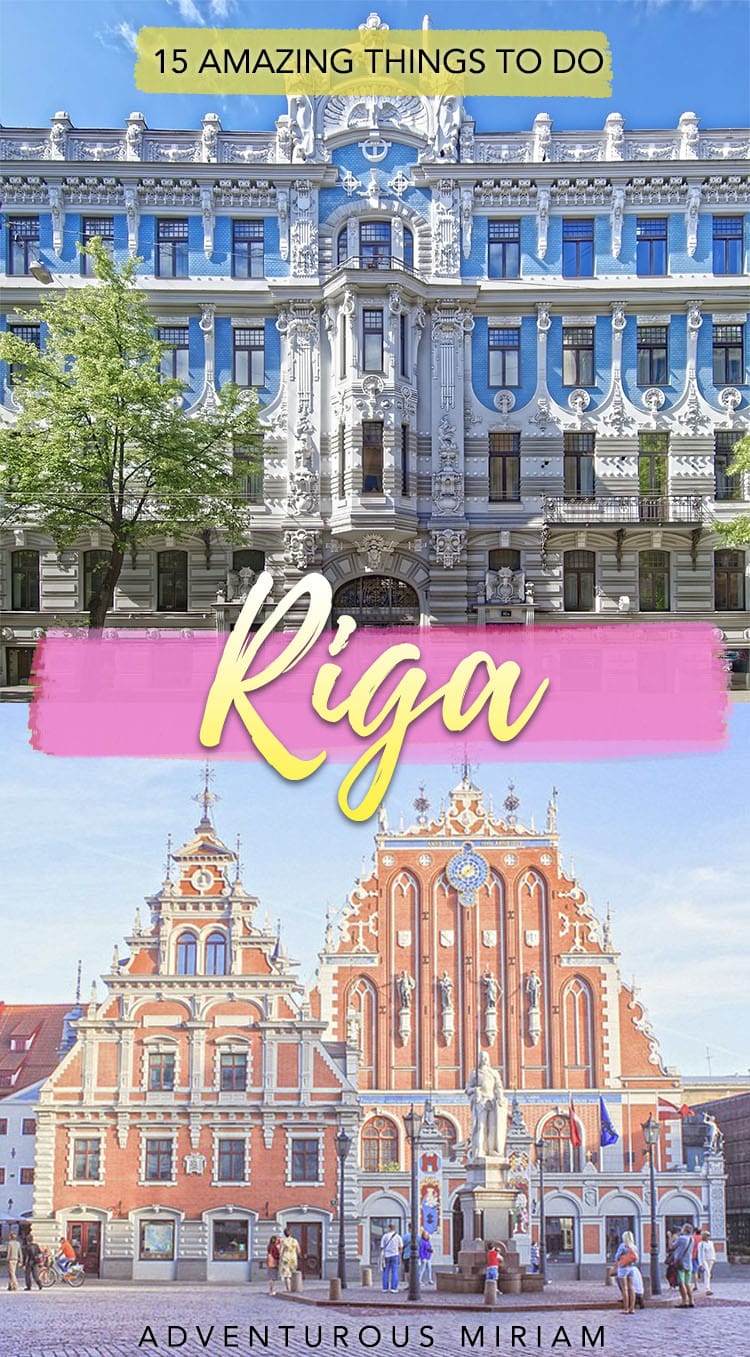 Wondering what to do in Riga? Last week we talked about why you should visit Latvia. Besides the fact that it's cheap and you get some serious value for your money, there are so many things to do in Riga.
In this post I'll take you through the best places to visit in Riga, Latvia step-by-step, with photos and links to all the resources you need to visit Riga, Latvia. Let's jump in…
Read next: Why you should visit Latvia right now
Things to do in Riga, Latvia
Most of the major sites are located in the Old Town, which is a UNESCO protected area with unique buildings and architectural masterpieces. This part of town has many cafés and restaurants so it's easy to spend a whole day exploring without having to venture outside for lunch or dinner.
Aside from sightseeing, there's a great selection of spas & wellness, historic buildings and markets. I never ran out of things to do while I was there! Whether you have a week or only a few days, here's a list of the top things you should do when you're in Riga.
Join a guided tour of Riga
If you're visiting Riga, you probably want to see everything the town has to offer. I couldn't agree more and it's a beautiful town to visit. If you only have limited time in Riga, taking a guided tour is a good way to maximize your time as the guide knows where all the sights are located and will give you the history and background behind the places.
This Riga Old Town: 2-Hour Private Walking Tour takes you around the best sights in town, including the Town Hall Square and the largest churches. Your guide can also give you tips on where to eat, go out and much more, so make sure to ask.
Book here: Riga Old Town: 2-Hour Private Walking Tour
You may also like: Riga: Private Tour with a Local Guide
1. Visit the three brothers
Location: In the Old Town on Maza Pils Street
The Three Brothers – almost impossible to photograph, but pretty nonetheless. Together, the houses form the oldest complex of dwelling houses in Riga. The white house is from the 15th century, the yellow is from 16th and the green from the 17th century.
2. Notice the architecture
Location: Everywhere in Riga
So cosy and so charming. The architecture in Riga goes from wooden buildings to art nouveau, from Modernism to Gothic. It's a different landscape depending on which part of town you walk though, and you'll be able to find unique statues of cats, wooden compounds, and colorful houses.
Be sure to bring your camera as you'll want to snap pictures!
Read next: Where to find the beautiful Art Nouveau in Riga
3. Visit House of the Blackheads
Location: In the Old Town at the Town Hall Square
If you were a German merchant and single in the Middle ages, you'd have a room here at the House of the Blackheads. This house was built in 1334 for upper class merchants and was used as a venue for meetings and banquets.
The House of the Blackheads is to Riga what the Eiffel Tower is to Paris, so make sure to put it at the top of your list.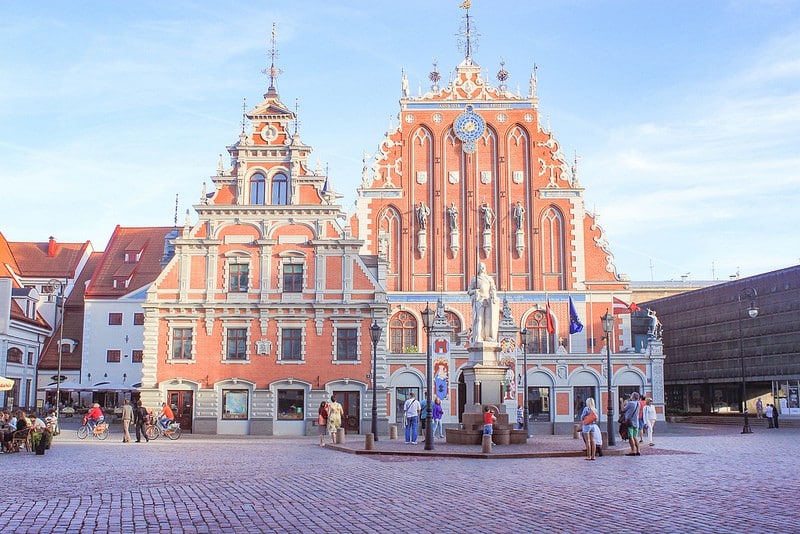 4. Relax in the park
Location: Close to the Old Town and Freedom Monument
I love green areas in larger cities. It's like a breath of fresh air, away from the busy streets and downtown horns. In Riga, the park has a canal running through it and a bridge with love locks. It's a great place for a jog, for relaxation or a picnic, and for a boat ride. In the winter, you can feed the ducks that live on the canal.
5. Learn about the occupation of Latvia
Location: Close to the park and the Old Town
Latvia has a long history of being occupied by foreign powers so freedom is a particularly important value for Latvians. Right next to the park, you'll find the Freedom Monument. It is a significant symbol as it's dedicated to the Latvian heroes in the fight for freedom 1918-1920.
If you want to learn about the occupation from 1940-1991, you can head to The Museum Of Occupation, which is only 10-15 minutes walk away (right next to House of the Blackheads in the Old Town).
6. Visit the Art Nouveau district
Location: Albert Street, 20-30-minute walk from the Old Town
So, aside from the Old Town, which houses most of the major sights in Riga, you should head to Albert Street and Elizabeth Street. Here, you'll find the fascinating Art Nouveau architecture, which is absolutely worth a visit. Riga has a total of 800 art nouveau buildings, but the majority is around Albert Street. This is one of the best things to see in Riga.
Read my post about where to find the beautiful Art Nouveau in Riga.
In case you haven't heard of art nouveau before – I hadn't before I visited – it's inspired by nature and mythology, so there are lots of flowers, sphinxes and Cerberuses on the houses. I'm not really an arts person, but I actually thought it was very cool.
7. Shop at Central Market
Location: Next to the Old Town by the river
Monday – Saturday: 08.00-18.00
Sunday: 08.00-17.00
Hungry or just in the mood for people watching? Then go to Central Market. It's one of the largest marketplaces in Europe, where locals sell anything from fresh fruits and vegetables to cakes, dairy, clothes and bags. There's both an inside and outside area so you could easily spend 45-60 minutes at the different market stalls.
The place is fun to explore, but don't go wandering off at the outside market. I ended up getting lost at the outer rim of the marketplace, and this area seemed very poor, dirty and unsafe, plus there's nothing to see or do there. You should also be careful of pickpockets and swindlers.
8. Visit Riga's many churches
Location: In the Old Town
Riga has many beautiful churches and you can't help but see at least a few when you're walking around the Old Town. For me personally, I was most impressed by St. Peter's Church and Nativity of Christ Cathedral. The latter is Russian and adds a bit of bling to the skyline. These are the most important churches in Riga, Latvia:
Riga Cathedral – the church organ is considered one of the most historical organs in the world.
St. Jacob's Catholic Cathedral – the beginning of the Reformation in Latvia took place here and in St. Peter's Church in 1522.
St. Peter's Church has a cool observation tower at 72 metres. It costs €9 to enter the tower.
Nativity of Christ Cathedral – the biggest Orthodox church in Riga.
Notice that the oldest churches in the Old Town have roosters atop their spires, not crosses. According to tradition, the rooster scares away the devil and keeps watch for God.
Outside St. Peter's church, there's a sculpture of four animals: a donkey, a dog, a cat and a rooster standing on each other. It is based on a fairy tale by the Brothers Grimm and represents the Town Musicians of Bremen.
9. Nativity of Christ Cathedral
Location: Close to the Freedom Monument
This cathedral was so unique that I gave it a chapter of its own. I actually found it by coincident on my way to Albert Street, but was really taken aback by the structure and flashy Russian style. It's definitely worth a visit if you ask me!
Mind the dress code if you want to enter: You can't wear shorts, and women must cover their heads.
10. The Swedish Gate and Old City Walls
Location: In the Old Town at the end of Aldaru street
Only a small part of Riga's old city walls remains today, and you'll find it at the Swedish Gate. The Swedish Gate (Zviedru vārti) was built in 1698 when Sweden took over the city, and it's the only structure in the Old Town that has preserved its original looks.
Interesting fact: The apartment above the gate belonged to the city executioner, who would put a red rose in his window the night before a head rolled.
11. Try Riga black balsam
Location: At every bar, pub and restaurant, more or less
When I first heard the word "Riga balsam", I thought of hair conditioner because that's what we call it in Denmark. In Latvia however, Balsam couldn't have less to do with hair products. Can you guess what it means then?
ALCOHOL, of course!
Black Balsam is an herbal elixir made from pure vodka and it's used in traditional medicine and sold in every tavern in town. It's kind of a must when you're in Riga. Even the locals say it ↓
12. Visit a Latvian spa
Location: Try Espa for a high-end experience. It's next to Radisson Hotel
I've mentioned this before, but the spa in Riga is reason alone to visit! Aside from the fact that the service is excellent, it's also super cheap. So, if you're a girl and you like wellness, facials and hour-long massages…. ok, who are we kidding → if you're female, go here. You won't regret it.
Read next: How to plan a spa weekend in Riga
13. Head to Jurmala beach
Location: 25 kilometres from Riga
The sandy beach of Jurmala is full of life and people in the summer. Aside from several sports activities, you can swim, sunbathe, enjoy the sunset or visit one of the many restaurants there.
It's easy to reach Jurmala beach; simply hop on the train and you'll be there within 30 minutes. The price is maximum $1.80.
14. Indulge in the food
Goodness, don't get me started on the food. I've mentioned earlier that sushi is superbly cheap and that Lido is a great restaurant if you want Latvian food at a fair price. Here are some more suggestions.
Where to eat:
Sushi: Tokyo City, Ganbei
Salads & traditional Latvian: Lido
Café: Al Cappuchino; close to Albert street (the coffee is great for Instagram photos)
Hot new restaurant: Koya (at the banks of Daugava River)
Great for sunset view: Terrace Riga (on top of shopping mall Gallery Riga, close to the Freedom Monument)
15. Go out
Location: In the Old Town and the centre
Aside from being a cultural and historical capital, Riga also has a party-scene worth traveling for. The many pubs, cafés and bars in the Old Town is a major draw for stag parties, but there are also quite a few clubs and cocktail bars around town that are worth checking out.
And there you have it. As you can see, there are LOTS to do in the city of Riga, and you can easily spend weeks here. If you're limited in time, you won't have trouble seeing all of the above sights in two days.
Hotels in Riga
There are so many great hotels in Riga to choose between. In general, I recommend you stay in the Old Town or in the city centre, because it's close to everything. You can always take the tram around town, but convenience and location matters when you're on vacation. I've handpicked these hotels based on location and overall comfort and rating:
High-range: Hotel Centra Riga $85 per night, located in the quiet area of Elizabeth street (iela), close to Albert Street. Click here to see the latest prices.
Mid-range: Hotel Garden Palace $45 per night, excellent location in the Old Town. Click here to see the latest prices.
Budget: Two Wheels $16 for a dorm room. Located 15-minutes walk from the Old Town. Click here to see the latest prices.
So, what do you think? Would you go? Did I miss anything?
Psst! This post probably contains affiliate links, which means I earn a commission (at no extra cost to you) if you click through and make a purchase. As always, I only recommend products and services I trust.