10 fun things to do in Tallinn Old Town – Estonia's medieval gem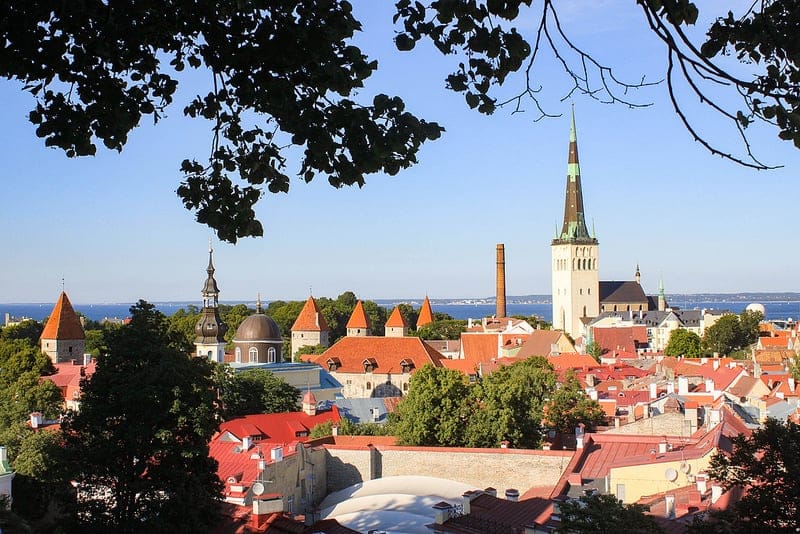 There are so many things to do in Tallinn and I'm not at all surprised it's one of the more popular destinations in Europe. Despite the blooming tourism, Tallinn has kept its charm and medieval atmosphere, and I felt very safe visiting as a solo female traveler.
The capital of 440,000 inhabitants (2016) has an intriguing history of espionage, its conquerors and war, which makes it exciting and quaint at the same time.
Tallinn is fairytale meets modern-day; it gives you high-tech business areas, contemporary buildings, art districts and an Old Town, all in one.
This post contains referral links for products I love. Adventurous Miriam earns a small commission at no extra cost to you if you make a purchase through my links. Thank you for your support ♡ Learn more
THINGS TO DO IN TALLINN OLD TOWN
The top things to do in Tallinn Old Town are easy to explore so it's the perfect destination for a weekend or 3-day mini vacation. And, if you have the time, you can take the ferry to Helsinki for the day. It only takes 2 hours each way so you can be back before night if you leave in the morning.
Must-visit highlights in Tallinn, Estonia:
Old Town: a UNESCO site and absolute MUST!
Kadriorg: a very beautiful palace and park. The entrance fee to the palace is €5.5
Kalamaja: the hipster area of Tallinn with a young vibe and lots of restaurants
Pirita: one of the most prestigious areas in Tallinn with a beach and yachting harbour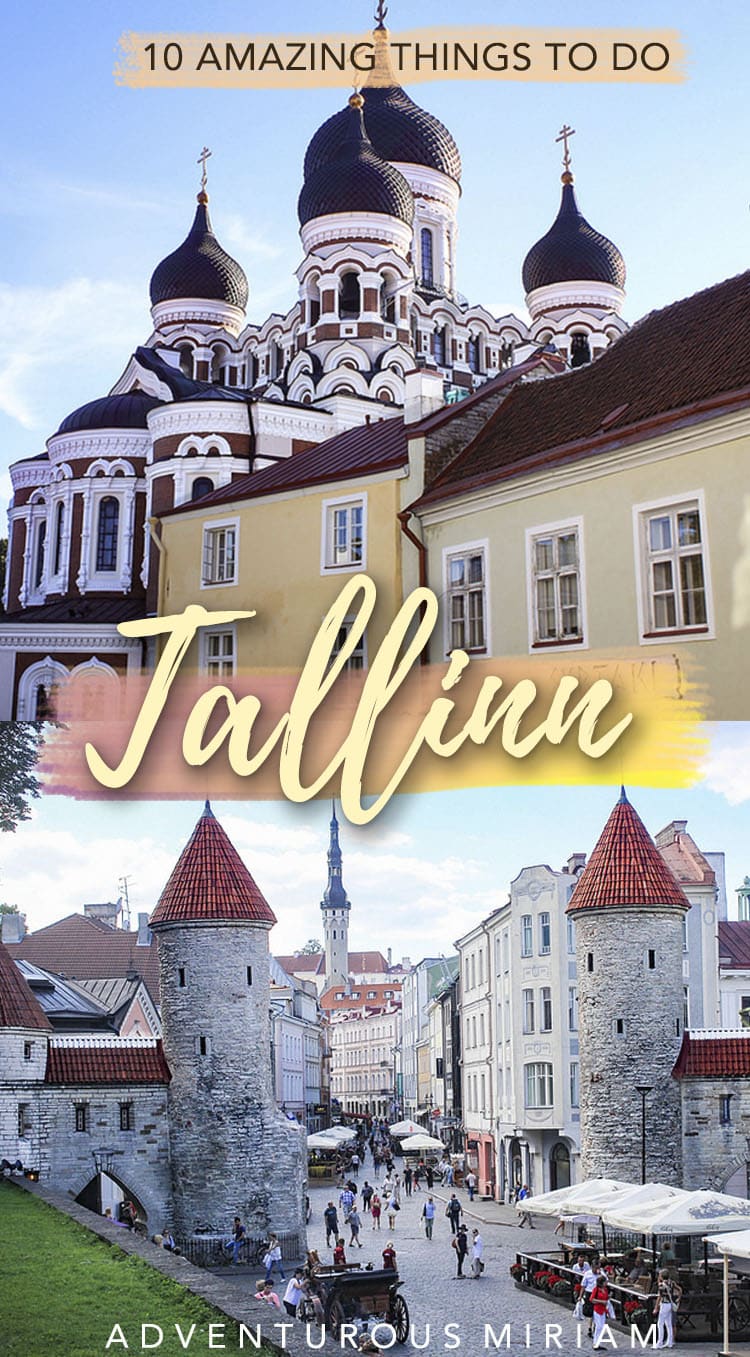 1. WALK THE CITY WALLS
Price: €3
Ok, so of all the things to do in Tallinn, the first place you should go is the Old Town. From here, you can enter the city walls and get a good look over the city. You can enter the walls from several entry points, but you should know that it costs €3 every time you enter a new walking passage. The walls are maintained by volunteering locals, and the fee goes solely to maintenance of the walls.
These walls are some 800 years old and one of the main reasons why Tallinn's Old Town was named a UNESCO site in 1997.
2. TOWN SQUARE
Price: Free
Another must-see in the Old Town is the lively town square, also known as Raekoja plats. It's the heart of the city and a center for colorful historic buildings, the mighty Town Hall (built in 1371) and a myriad of restaurants and cafés.
Fun fact: The oldest working pharmacy in Europe from 1422 is located here.
3. VISIT ONE OF THE MEDIEVAL RESTAURANTS
Price: A meal in the Old Town costs between €15-30
I've raved about the amazing food I had at The Hermitage (which is Russian Estonian) already, but if you want a pure Estonian food experience, you should go to one of the traditional, medieval restaurants. Although it can seem touristy, it's a fun way to enjoy a meal with a bit of culture and history on the side.
Some of Tallinn's medieval restaurants:
Kuldse Notsu Kõrts
Olde Hansa
Must Puudel (for a more local experience)
4. VISIT THE CAT'S WELL
Price: Free
You know how almost every country has its own local customs and legends? Well, Tallinn has a few actually and one of them involves the Cat's Well.
According to legend, some of the townsfolk believed that an evil water spirit dwelled at the bottom of this well. It was said that the spirit threatened to flood the entire city, so it was decided that a sacrifice had to be made. To keep the spirit happy, the occasional sheep but mostly stray cats were tossed, sometimes alive, into the well. This practice became so normal that the well was named Cat's Well.
Today, the well has been closed due to contamination and the cats of Old Town no longer live in fear.
5. TOOMPEA HILL VIEWPOINT
Price: Free
Tallinn's Old Town is divided into two parts: the lower part, which holds the town square and the upper part, which is also known as Toompea Hill or in English: Cathedral Hill. Toompea Hill is about 50 metres high and has for centuries been the throne for the ruler in Tallinn.
At Toompea Hill, you'll find Alexander Nevsky cathedral, the Danish King's garden and St. Nicolas' Church. Also, you'll get a brilliant view over the Old Town.
6. ALEXANDER NEVSKY CATHEDRAL
Price: Free
Behold: the most magnificent and beautiful cathedral in Tallinn! The Alexander Nevsky Cathedral was built in 1894 and named after a 13th Century Russian prince. You can't see it from the outside, but the towers has an impressive total of 11 bells!
Note: You are not allowed to take photos inside the cathedral.
7. DANISH KING'S GARDEN
Price: Free
As a Dane I just have to put this on the list! According to legend, this is the place where a flag descended from the heavens during the Danish invasion in 1219. The Danes won the battle, and the flag later became the national flag of Denmark (Dannebrog). Dannebrog is the oldest flag in the world, which I personally think is really cool.
You can enter the city walls from here, too.
8. ST. NICOLAS' CHURCH
Price: Free
St. Nicolas church was built in 1230, but most of it was destroyed during World War II. It has since been restored and there's really beautiful art work inside.
Other must-see churches include:
St. Olav's church
St. Mary's cathedral
9. KATARIINA KäIK
Price: Free
Katariina Käik is such a pretty little walkway. On the south side, you'll find a passage of handicrafts and art works, while the north side holds what's left of St. Catherine's Church. It's super romantic and definitely worth a visit!
10. TAKE A BALLOON TRIP
Price: €25
Aside from the walls and Toompea Hill, another fun thing to do in Tallinn is going up by hot air balloon. I went with Balloon Tallinn, which takes you 120 m above the ground and provides an excellent view over the city and the Gulf of Finland. Some say that on a clear day, you can see all the way to Finland, but somehow I find that hard to believe.
The trip takes about 15 minutes and is suitable for kids, elderly and wheelchair users. The balloon is connected to the ground by a cable, and there's a trained staff on deck at all times.
Tip: Do the balloon ride in the morning when the sky is clearest or at sunset. You'll get the most beautiful views.
HOW TO GET AROUND TALLINN
Did you know that citizens living in Tallinn get public transportation for free? What a great service, Estonia! As a visitor though, you need to buy a ticket at €1.6 from the driver or a kiosk. You can walk around the Old Town, but if you're visiting other parts of Tallinn or heading to the International bus station etc, these are your options:
The tram (4 lines): The tram can take you around town, but it doesn't operate on weekends
The bus (64 lines): You can take the bus between 5:20 and 0:20 every day
The trolley bus (7 lines): They serve the Western part of Tallinn
WHERE TO STAY IN TALLINN, ESTONIA
There are many great places to stay in Tallinn. My favorite was St. Petersbourg hotel, which is in the heart of the Old Town, but you can easily find cheaper options, too. Here are the best ones if you ask me:
More about Tallinn:
Have you been to Tallinn? Would you go?