18 cozy things to do in Tallinn in winter (if I were you)
Experience the magic of Tallinn in winter with lots of cozy activities. These are my top things to do in Tallinn in winter.
When I came to Tallinn, I wasn't at all prepared for the intense medieval atmosphere. It's one of the most cute and charming old towns in Europe!
Entering the Old Town was like entering a fairytale; a small kingdom in the Baltics with tall thick city walls, narrow alleyways, and locals in traditional attire. I literally felt like I was back in the 13th century.
So, if you're wondering if Tallinn is worth visiting in winter, my answer is yes, you bet! I mean, just look at the photo above.
Ready to hear about the best things to do in Tallinn during winter?
Let's get started.
This post contains referral links for products I love. Adventurous Miriam earns a small commission at no extra cost to you if you make a purchase through my links. Thank you for your support ♡ Learn more
18 things to do in Tallinn in winter
1. The Gothic town hall
Go for a stroll down the cobblestone streets of the Old Town, and you'll inevitably end up at the town square.
This is the heart of Tallinn.
The tall, Gothic town hall in the middle is surrounded by traditional colorful houses and a number of restaurants, cafés, and bars.
Fun fact: This is the only intact Gothic town hall in Northern Europe. It was built in 1402.
2. Eat at Kuldse Notsu Kõrts or Olde Hansa
The medieval buildings and houses certainly add to the fairytale feel, but so do some of the restaurants.
One of the more well-known places is Olde Hansa, located right next to the town hall.
The restaurant comes with medieval menu cards and atmosphere, but prices are hefty.
Personally, I preferred Kuldse Notsu Kõrts restaurant, which offers traditional Estonian meals, all prepared with fresh products from local farms.
I loved visiting local restaurants where the staff was dressed in traditional clothes and the interior was medieval.
It turned my dinner into a whole experience! And even though it came across as touristy, I wasn't put off by it, because the food was great and people were nice. The dressed-out locals, the themed restaurants, and the colorful old houses brought a certain energy and charm to this Baltic city.
3. Visit the old town walls
My favorite thing about Tallinn was the city walls.
They reminded me of the walls in Dubrovnik and I liked that you could walk on them and get a view of the town.
Aside from the fact that the walls made Tallinn's Old Town a UNESCO site in 1997, they are almost 800 years old and still in fairly good shape.
A few tips: You'll get the best view from Viru Gate, Kiek in de Kok, and Hellemann Tower. And another thing, the walls are split into sections so it's not possible to walk around the entire city. You'll need to pay an entrance fee of €3 every time you enter a new tower and walking passage.
4. Visit the Christmas Market
In 2018, Tallinn's Christmas Market was ranked the best in Europe.
It opens in mid-November and closes in early January, lighting up the Old Town.
It's a major event in Tallinn's cultural scene and a must-see in winter. So, go explore on your own or join a magical Christmas tour.
5. Visit the Cat's Well
Almost every place has its own traditions and myths, and Tallinn is no exception. One of its stories is about the Cat's Well.
The legend goes that a harmful water spirit lived in this well and could flood the city. To stop this, people threw in offerings, mainly stray cats. This became so routine that the well got its name as the Cat's Well.
Today, the well is closed because of pollution, and the local cats are no longer at risk.
6. Viewpoint from Toompea Hill
Tallinn's Old Town is divided into two parts: the lower part (the center) and the upper part (Toompea Hill).
If you want a panoramic view of the Old Town, its towers, steeples, and picturesque red-tiled roofs without climbing the city walls, you should go to Toompea.
7. Alexander Nevsky Cathedral
Aside from the viewpoint, the upper part has another stunning feature → the beautiful Alexander Nevsky Cathedral.
Do you remember I showed you a Russian cathedral in Riga?
Both that one and the Alexander Nevsky Cathedral were built during the Russian oppression and they stand out from the rest of the city.
8. St. Nicolas' Church
Built in 1230 and later damaged in World War II, St. Nicolas Church has been beautifully restored, housing some captivating art that's well worth seeing.
Other must-visit churches include:
St. Olav's Church
St. Mary's Cathedral
9. Maiden's Tower
Built in the 14th century for defense, Maiden's Tower (Neitsitorn) has served as both a residence and café.
It's part of the Kiek in de Kök Museum and offers great views of the Danish King's Garden and lower town.
Nearby are the Stable and Gate Towers, which hold events and exhibits. You can enter from the Danish King's Garden or the Kiek in de Kök Artillery Tower.
10. Danish King's Garden
As a Dane, I just have to mention this!
Legend has it that during the Danish invasion in 1219, a flag miraculously fell from the sky at this spot.
The Danes went on to win the battle, and that flag became Denmark's national flag, known as Dannebrog. It's known to be the world's oldest flag, which I find really cool.
11. Katariina Käik
Don't miss the charming Katariina Käik pathway.
The south side shows an array of handicrafts and art, while the north side features the remaining elements of St. Catherine's Church.
12. Marzipan room of Café Maiasmokk
The Marzipan Room is the place to dive into the rich history of marzipan through an audio guide.
You'll also find an exhibition of intricate marzipan figures and a collection of candy boxes from the Stude era. Its story began in 1864, which makes it the oldest continuously operating café in Tallinn—possibly in all of Estonia.
13. Join a food tour
A food tour is one of the best ways to experience a town. And this small-group food tour (⭐ 5/5) is no exception.
Your friendly local guide will take you from street stalls to cafes, stopping at a chocolate museum and even a medieval tavern.
You'll not only taste delicious local treats but also learn about Estonia's rich food traditions. Check rates and availability here.
14. Go ice skating
Ice skating in Tallinn's Old Town is a winter highlight.
The seasonal rink opens in early December and closes in late March. Located on Harju Street near the historic St. Nicholas Church, it's a perfect spot to make winter memories.
You can also go ice skating on forest lakes, but unless you're an experienced skater, I recommend you go with a guide.
15. Take a walking tour of Tallinn
Another fun tour is this private 3-hour tour (⭐ 4.5/5) or this group walking tour (⭐ 5/5).
Your expert guide will pick you up from your hotel or cruise port for a blend of walking and comfy air-conditioned drives.
You'll discover highlights like the elegant Kadriorg Palace, seaside Pirita, the iconic Old Town Square, and the stunning views from Toompea Hill!
16. Estonian Open Air Museum
Just 15 minutes from Tallinn, you'll find the Estonian Open Air Museum which shows rural Estonian life from the 18th to 20th centuries.
With 14 farms and several historical structures, it's an interesting experience.
Tickets are €9 for a self-guided tour, but a 3-hour guided tour from Tallinn will give you a deeper insight. You can also enjoy handicraft shopping, horse riding, and traditional Estonian food.
17. Balti Jaama Turg Market
In North Tallinn, Balti Jaama Turg Market offers three floors of shopping plus outdoor space.
Find a supermarket and gym in the basement, traditional food stalls on the ground floor, and antiques and clothing on the first floor.
Enjoy terrace cafes outside. It's a must-visit in Tallinn!
18. Day trip to Helsinki
A popular day trip from Tallinn is Helsinki. It only takes about 2 hours on the ferry!
Three ferry companies offer up to 12 daily sailings to Helsinki, with fares starting at €10 and rising to €60-80 in summer.
To make the most of your day, consider a day trip to Helsinki (⭐ 4.5/5) where everything is arranged for you.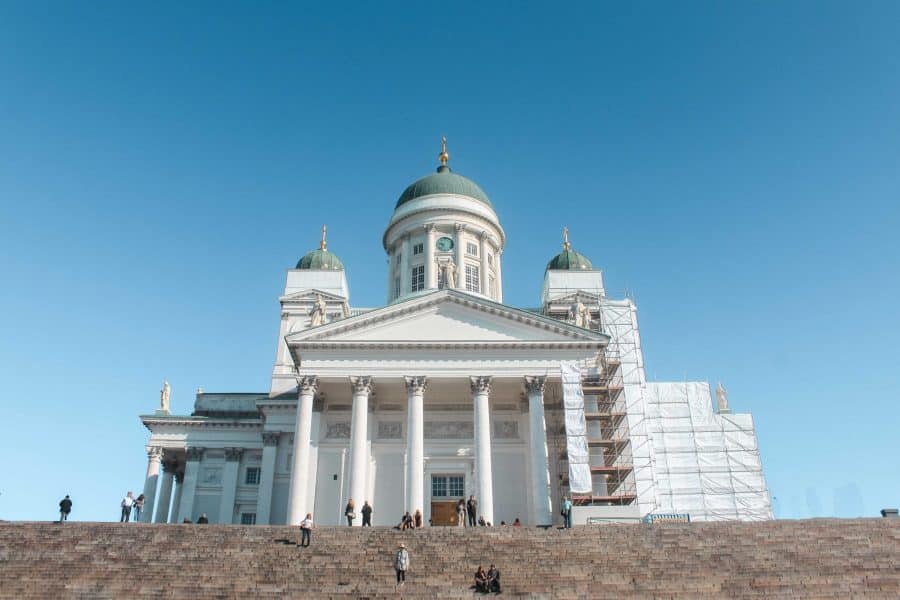 Where to stay in Tallinn
There are many great places to stay in Tallinn. My favorite was St. Petersbourg hotel, which is in the heart of the Old Town:
FAQ – Tallinn in winter
Is Tallinn worth visiting in winter?
Yes, Tallinn is a great winter destination. The city turns magical with snow-covered medieval buildings and a renowned Christmas market.
Despite shorter daylight hours and chilly weather, Tallinn's winter charm makes it a worthwhile visit. Just pack warmly!
Is Estonia worth visiting in winter?
Absolutely, Estonia offers a unique winter experience.
Its capital, Tallinn, is known for its picturesque Christmas market and snow-draped medieval architecture.
Beyond the city, you can explore national parks for winter hiking and wildlife spotting. The country also offers winter sports like cross-country skiing and ice fishing.
Is Tallinn worth visiting in December?
Definitely, Tallinn in December is especially magical with its renowned Christmas market and festive decorations.
The city's medieval architecture takes on a fairy-tale quality when covered in snow.
You'll find a range of seasonal activities, from ice skating to cultural events, making it a memorable place to experience the holiday season.
Is Tallinn Estonia worth visiting?
Yes, Tallinn is definitely worth visiting. Its well-preserved medieval Old Town, rich cultural scene, and modern amenities make it a captivating destination.
Whether you're into history, food, or arts, the city offers something for everyone, all in a compact, easily walkable area.
More posts about Tallinn you might like
Save it!