Game of Thrones tour in Dubrovnik: 12 best film locations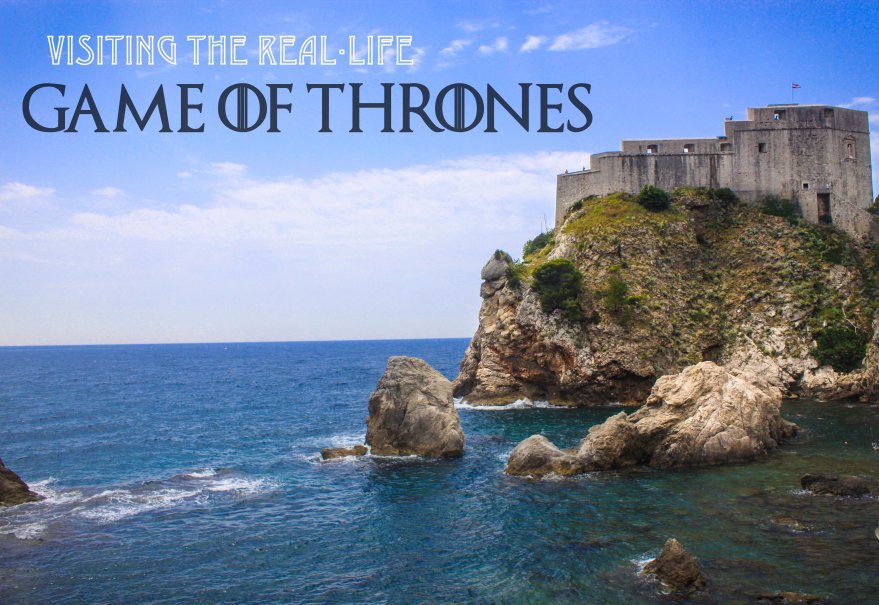 Attention Game of Thrones fans! In Croatia, there's one thing you do not want to miss: The Game of Thrones tour in Dubrovnik!
Aside from the stunning Dubrovnik city walls and a long list of things to do in Dubrovnik, seeing the Game of Thrones film locations should be your number one priority. I mean, it's not every day that you get to stand in the place where [SPOILER ALERT] The Mountain bare-handedly crushes Oberyn's head like a melon.
I have two things to say about that episode: First: legendary scene! And second: too legendary to not visit the real-life location!
So, in this post I'll share all the locations from the TV-series.
You'll also see how to get to these filming locations in Dubrovnik on your own, if you don't want to take a Game of Thrones tour (which is actually my #1 recommendation).
Ready to discover the famous King's Landing?
Let's get started!
Read next: The ultimate guide to Croatia
This post contains referral links for products I love. Adventurous Miriam earns a small commission at no extra cost to you if you make a purchase through my links. Thank you for your support ♡ Learn more
How to join a Game of Thrones tour in Dubrovnik
I went on a guided tour of the Game of Thrones filming locations, which is the easiest way to explore them. It's also the best option if you don't want to deal with finding them yourself.
My pick for Best Game of Thrones tour in Dubrovnik  is this Game of Thrones and Iron Throne Walking Tour, with a perfect 5 Star rating.
Why should you join a tour?
Normally, I like to explore on my own, but with this particular tour I was so happy I had a guide with me.
He brought it all to life for me and provided screen shots of the places that were filmed in the show.
As an enthusiastic Game of Thrones fan, I was stoked to visit the real-life King's Landing and walk the same streets as Tyrion Lannister, my favorite Game of Thrones character of all time. He's such a badass.
Sure, you can find the locations yourself. But you won't get the trivia and the behind-the-scenes info about Game of Thrones.
Dubrovnik is King's Landing
In Game of Thrones, Dubrovnik was used to represent King's Landing and a few locations with Daenerys Targaryen.
The Game of Thrones filming locations include St. Dominic street, Knežev dvor, Lokrum island, and Sponza palace, Fort Lovrijenac, Fort Bokar, the Minčeta tower and the abandoned hotel Belvedere.
Game of Thrones filming locations in Dubrovnik
1. Pile Gate
So, in Game of Thrones Season 2, Episode 6, there's a pivotal moment where a riot breaks out in King's Landing.
This happens right after Myrcella is sent off to Dorne.
As the royal entourage makes its way back to the Red Keep, Joffrey orders his guards to kill the crowd members, and that's how the riot starts.
The location for this intense scene is actually pretty unique—it's situated between the outer walls and the Old Town. To get there, you'd have to cross a drawbridge and then proceed down either a set of steps or a path, eventually reaching an archway that leads into the Old Town.
Interestingly, this isn't the last time you'll see this particular gate.
It makes a reappearance in Season 3, Episode 10, which marks Jaime Lannister's return to King's Landing after being captured and subsequently freed. So, this location serves as the backdrop for more than one key moment in the series.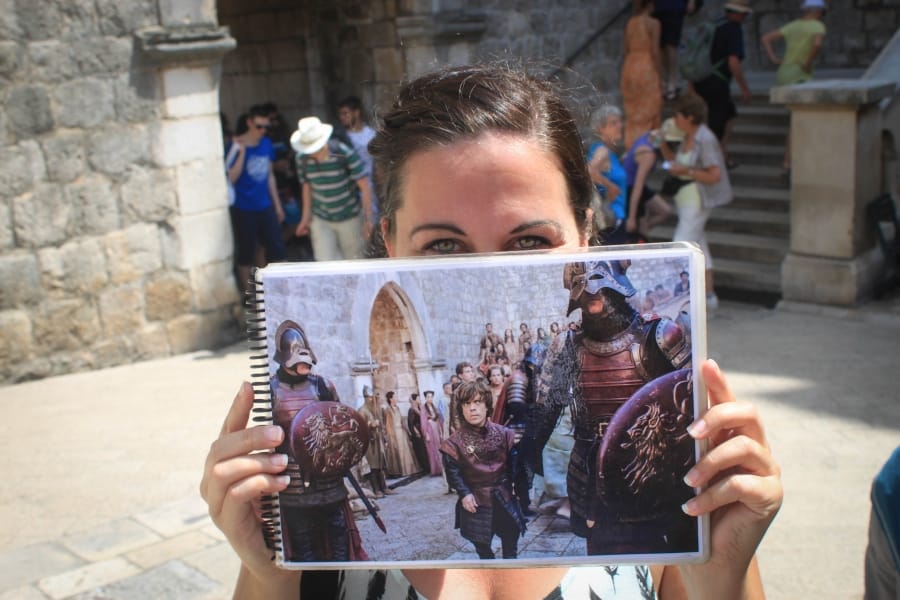 2. Lovrijenac Fort – The Red Keep
Most of the action that goes down in the Red Keep was actually filmed at Lovrijenac Fort.
Yep, that includes memorable moments like Joffrey's name day celebration and those intense chats between Cersei and Littlefinger in the first season.
When you're at Fort Lovrijenac, you're also in for a treat: You can spot the next three Game of Thrones filming locations in Dubrovnik right from the fort's walls.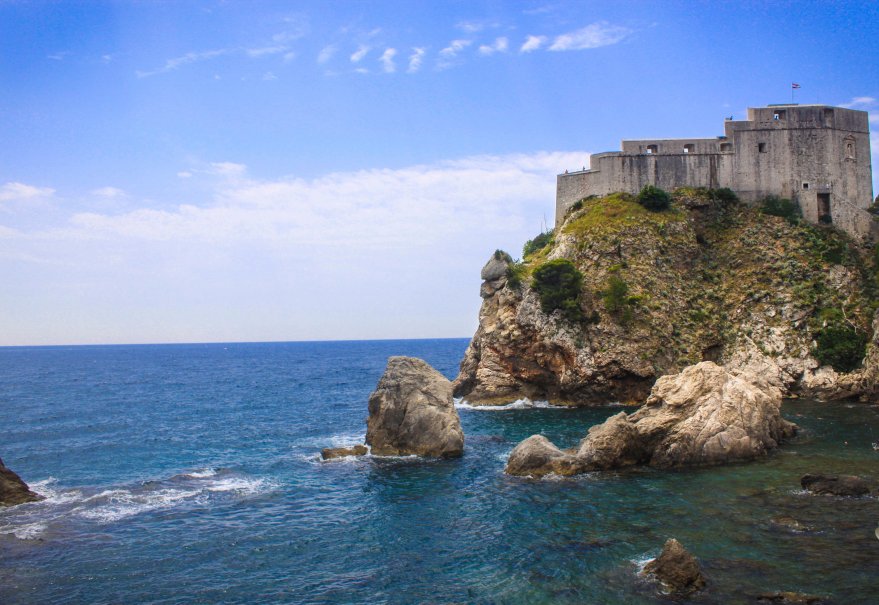 3. Pile Harbour
The beach near the Old Town walls has been the go-to spot for King's Landing's harbour scenes.
Whenever you see boats sailing away from King's Landing, chances are it was filmed right there.
For instance, in Season 2, Episode 6, it's where Myrcella sets sail for Dorne. Fast forward to Season 6, and it's the same spot where Cersei is anxiously waiting for Myrcella to come back.
4. Minčeta tower – House of the Undying
In Season 2 of Game of Thrones, there's a memorable sequence where Daenerys Targaryen discovers that her dragons have been stolen.
Accompanied by Ser Jorah Mormont, she rushes to the enigmatic House of the Undying, a towering structure seemingly without an entrance.
As they circle the tower, Daenerys inexplicably vanishes around a corner and finds her way inside.
This intriguing scene was filmed on the walls of Dubrovnik, specifically near the Minčeta Tower.
The location provides the perfect backdrop for the mysterious and mystical qualities of the House of the Undying, and it serves as yet another real-world location that has been integrated into the Game of Thrones universe.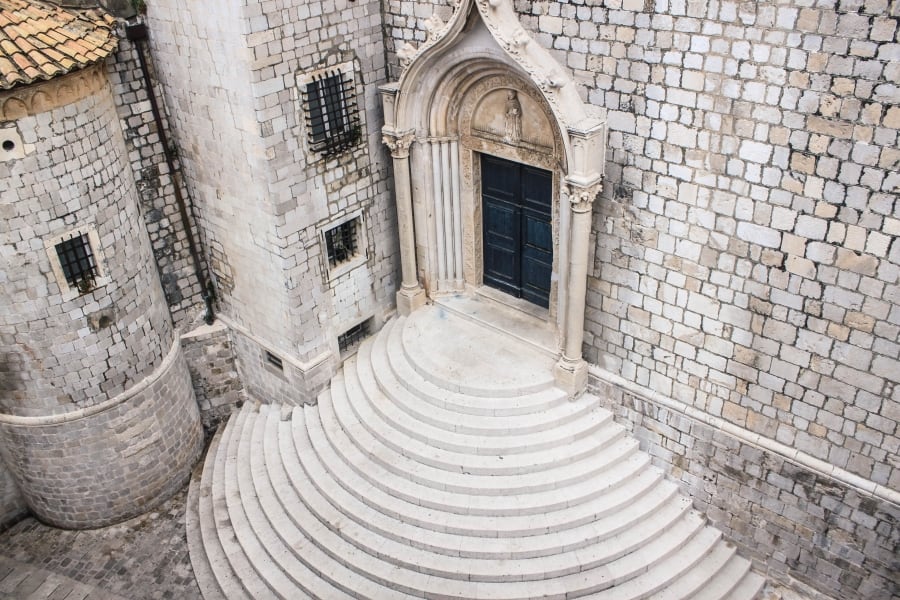 5. Ethnographic Museum Rupe – Little Finger's brothel
The Ethnographic Museum Rupe from 1590 was the filming location for Littlefinger's brothel, most notably seen in a scene from Season 4 where Tyrion Lannister meets Oberyn Martell.
6. Gradac Park – King Joffrey's wedding
From the vantage point of Lovrijenac Fort, you can overlook a parking lot and Gradac Park.
If Gradac Park sounds familiar, it's because it was the filming location for the infamous Purple Wedding—yes, the one where Joffrey meets his untimely end, likely the inspiration for the "purple" descriptor.
They changed this place for the scene. Even the fountain in the park had an added statue for that extra touch of grandeur.
7. Blackwater Bay and Bokar fortress 
Bokar Fortress is where Varys and Tyrion planned the defense of King's Landing in season 2.
Nestled in Dubrovnik's Old Town walls, Bokar Fortress is basically a regular on Game of Thrones. It's the go-to spot for all those scenes where characters stroll along King's Landing's city walls, deep in conversation.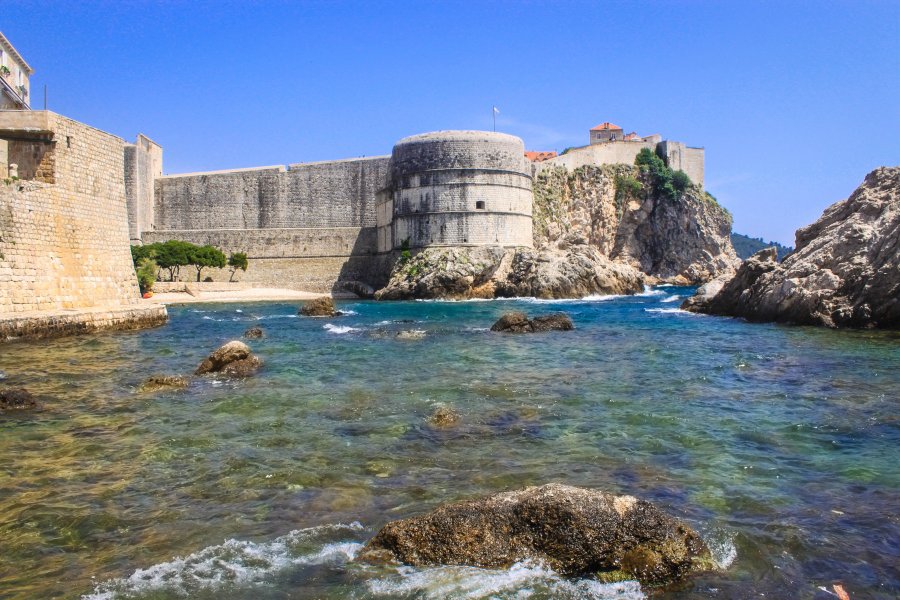 8. Dubrovnik West Pier
The West Pier is the meeting place between Shae, Sansa, and Petyr Baelish at the docks in season 3.
So, this bay is more than just ships and explosions—it's also a setting for some of the series' intimate and suspenseful moments.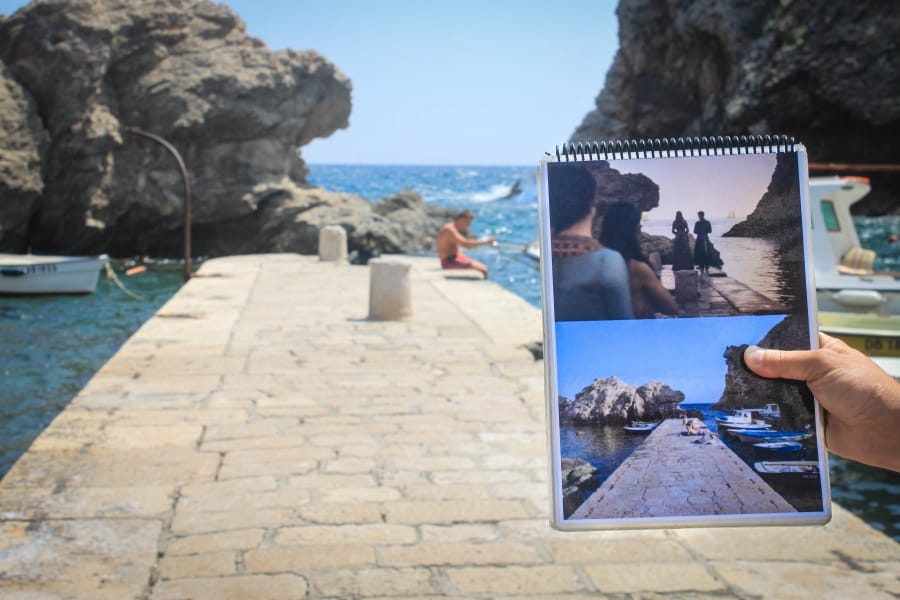 9. Jesuit Staircase by Saint Ignatius Church
Ah, the Jesuit Staircase by Saint Ignatius Church in Dubrovnik—you might recognize it from one of Game of Thrones' most jaw-dropping scenes.
Yep, we're talking about Cersei's infamous Walk of Shame from the Great Sept of Baelor to the Red Keep, all while that relentless "Shame!" bell-ringer follows her.
That first dramatic shot of Cersei standing at the top of the staircase, eyeing the crowd below?
Filmed right there at the Jesuit Staircase.
10. Qarth – Rector's Palace
So, you know Qarth, that exotic city in Game of Thrones? It's actually a mashup of different spots around Dubrovnik.
For instance, the mysterious House of Undying? That's the Minčeta Tower.
And the indoor political intrigue, like when Daenerys gets a hard "no" from the Thirteen rulers of Qarth? That went down at the Rector's Palace.
It really highlights the Herculean effort behind the show. What we see as a seamless 3-minute scene could involve multiple days of shooting, hustling from one side of Dubrovnik to the other.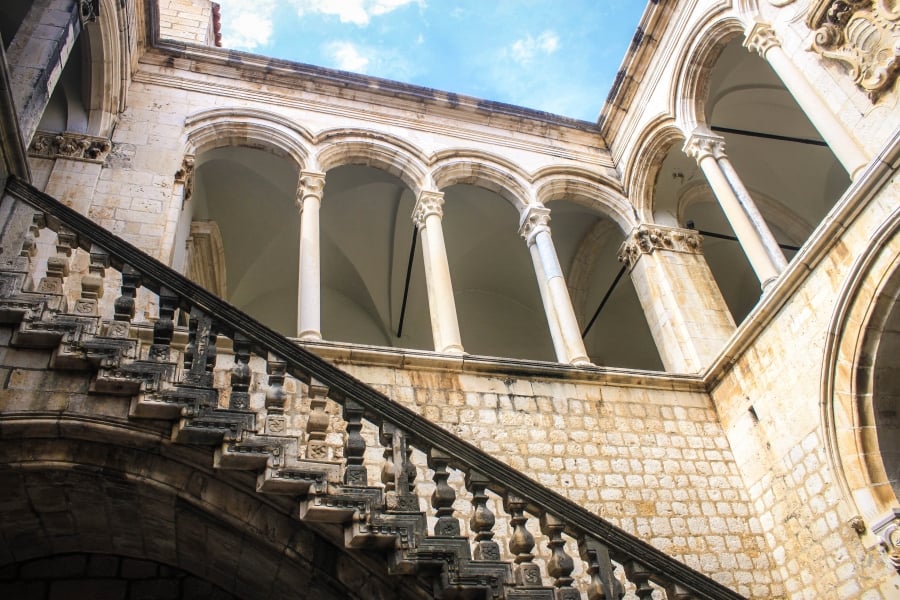 11. Lokrum Island
Lokrum Island also got its moment in the Game of Thrones spotlight, especially when it comes to Qarth.
Remember that party in Season 2, Episode 5, where everyone's mingling and a mysterious veiled woman slips Ser Jorah a message? Yep, that was shot on Lokrum Island.
12. Sit on the Iron Throne
And now to the seizing of the throne! (the actual throne is found in Lokrum).
The highlight of my Game of Thrones locations tour in Dubrovniik was finding the Iron Throne.
It's located in a Game of Thrones fan shop (Dubrovnik City shop), which you can find in one of the side streets next to main street (Stradun). It's not very easy to find, but there's a big sign outside, and it's on the side leading up to the cable car.
Note: You have to buy something first or you can't have your picture taken.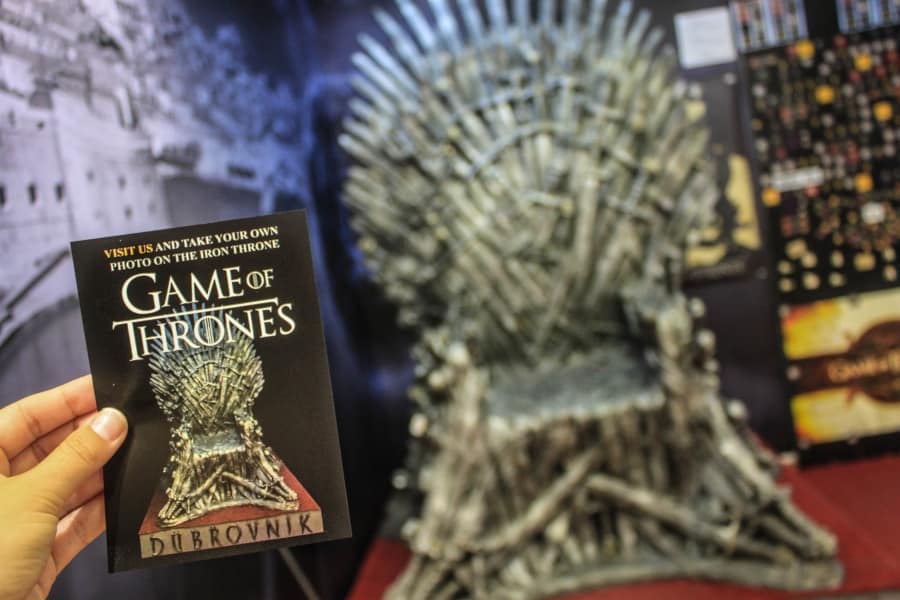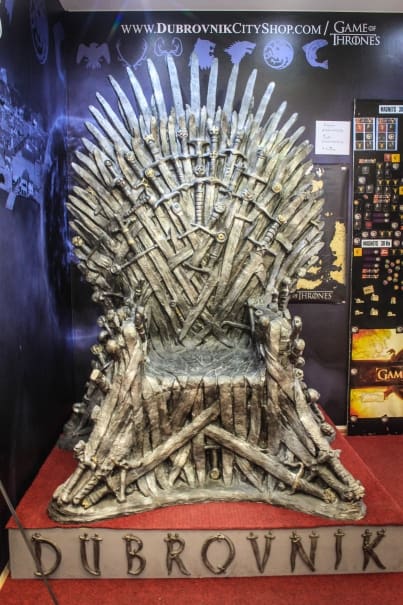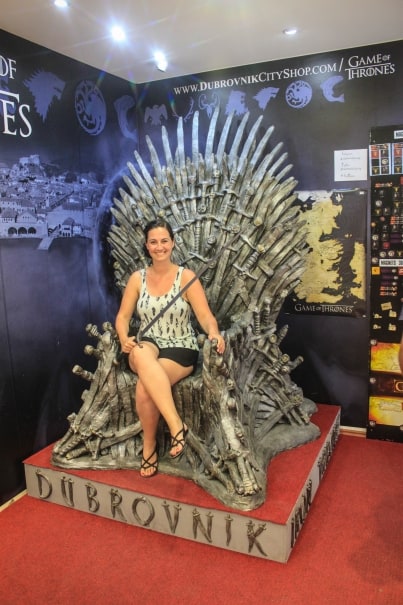 Want to visit more Game of Thrones locations?
You can find Croatia's Game of Thrones locations not only in Dubrovnik, but also in Šibenik and Split.
All the film locations are located in Dalmatia (South of Croatia), and they're easy to get to and from with bus or car.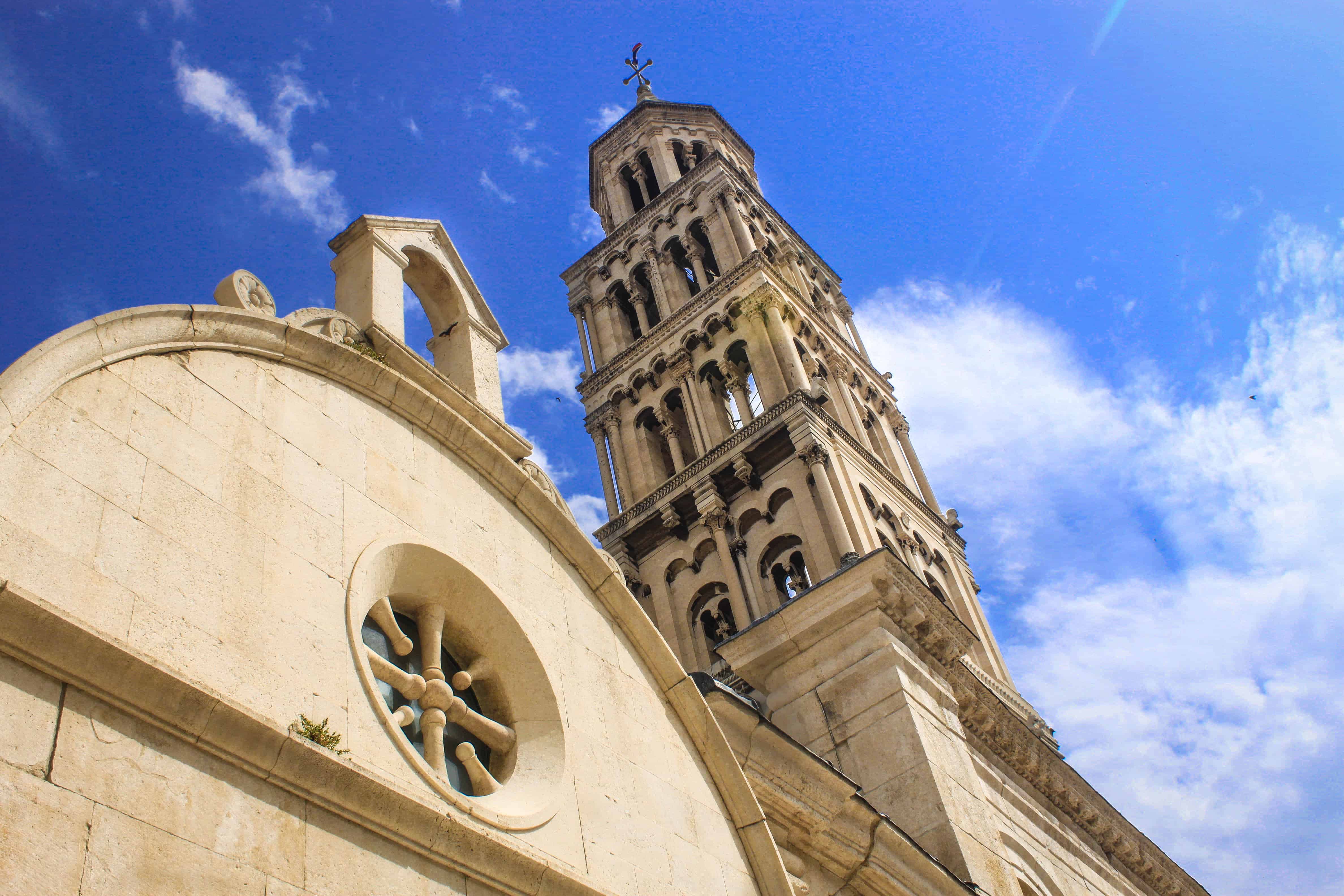 Is it worth taking a Game of Thrones tour?
Normally, I love exploring a place on my own, but some of these locations are just so well hidden that you wouldn't be able to locate them all (let alone the Iron Throne).
I think it's worth finding a guide who can show you around town and explain about the scenes. Plus, with a guide, you won't have to pay to sit on the Iron Throne.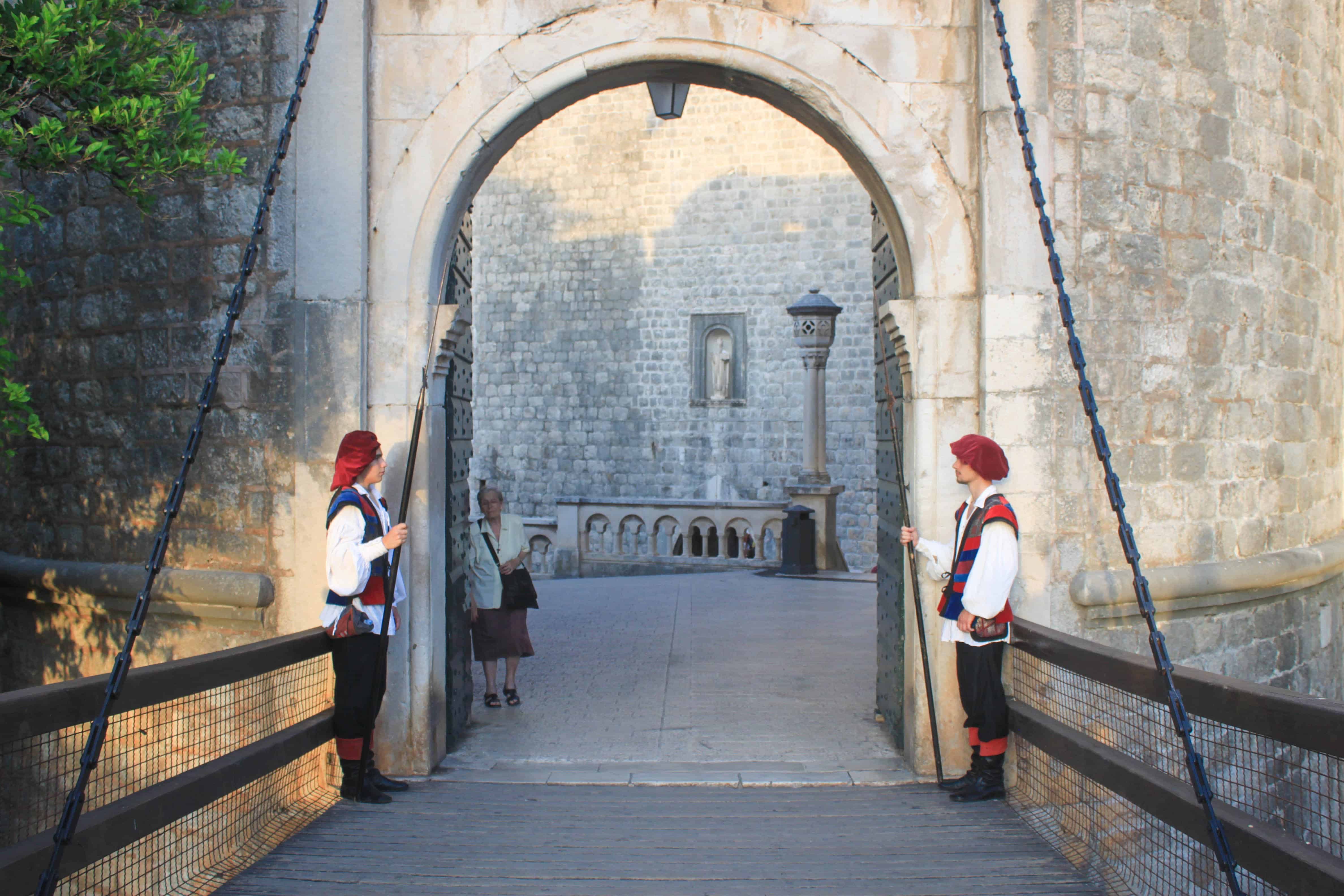 Where to stay in Dubrovnik
Scalini Palace (⭐ 8.8) – If you're looking for a lovely hotel right in the heart of the old town, this is it. Aside from excellent location, the staff is helpful and rooms are modern and inviting. Click here to see the latest prices. 
Rixos Libertas Dubrovnik (⭐ 9.2) – Great location close to the old town. There's an indoor and outdoor pool, spa with steam and sauna rooms. The view is amazing and staff very helpful. Click here to see the latest prices.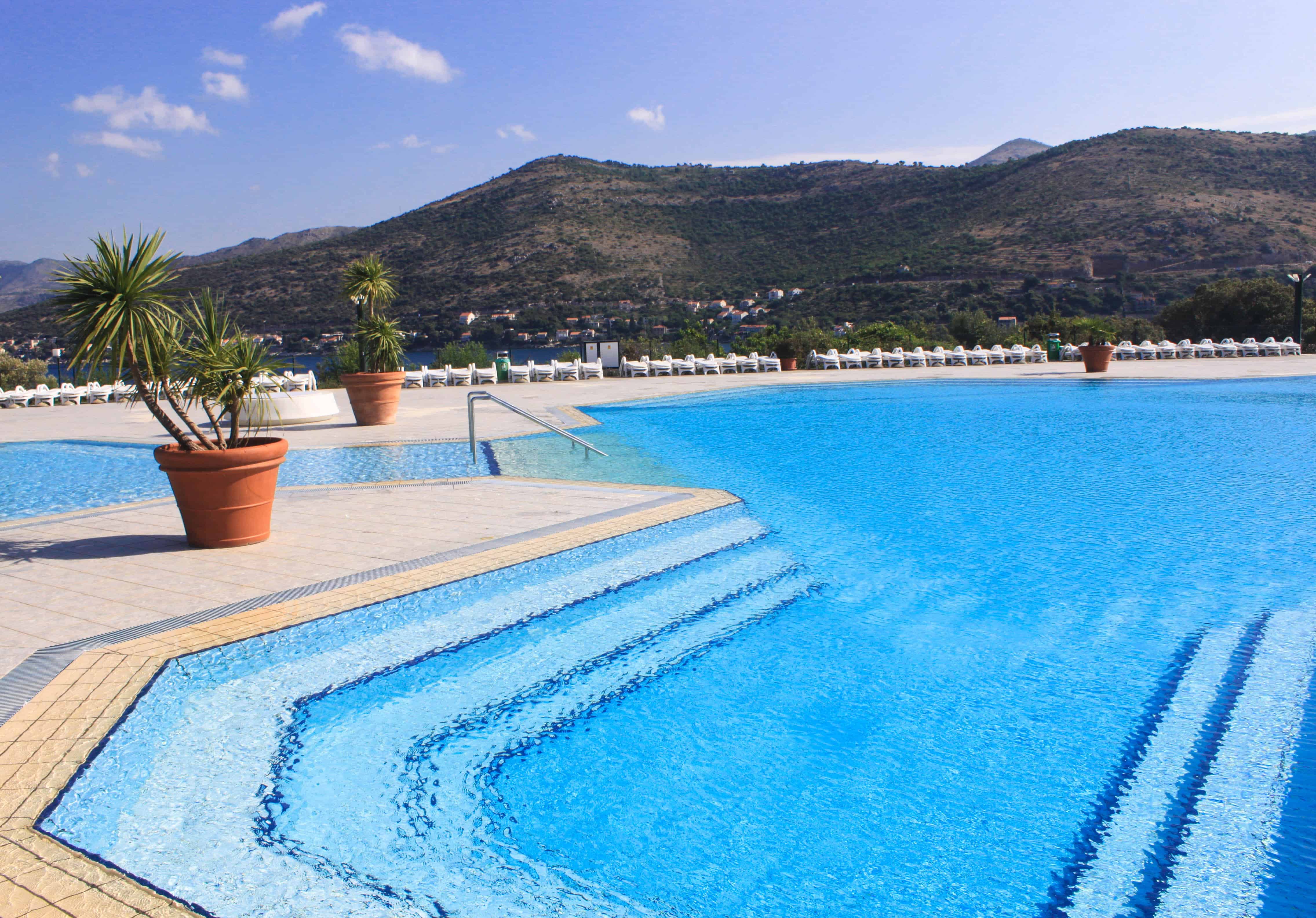 FAQ – Game of Thrones Dubrovnik
Which Game of Thrones tour is best in Dubrovnik?
This 2-hour guided Game of Thrones tour in Dubrovnik (⭐ 5/5) is the best.
You'll visit the key filming locations from the HBO series, like Lovrijenac Fort, Blackwater Bay, the Red Keep, and Cersei's walk of shame. You'll also learn about the city's history along with insider filming trivia from the set.
Can you do your own Game of Thrones tour in Dubrovnik?
Yes, you can do your own Game of Thrones tour in Dubrovnik.
Many iconic locations like the Lovrijenac Fort, city walls, and Minčeta Tower are publicly accessible, allowing you to walk in the footsteps of your favorite characters.
How much is the Game of Thrones tour Dubrovnik?
A typical Game of Thrones tour in Dubrovnik should cost between $24 – $32 with Viator or Get Your Guide. It usually takes around 2 hours.
More Game of Thrones locations
Save it!