Adventurous Miriam uses affiliate links, which means that if you make a purchase through my links, I may earn an affiliate commission.
I giggled, when the guide mentioned the fairies on our Isle of Skye tour: "You can't whistle. And you can't take anything away from the Fairy Glen, not even a petal." Those were the rules of engagement.
Read next: Where to stay on Isle of Skye
24 hours later, after my bracelet had vanished in the fairy pools, after my beloved iPhone had slipped out of my hands and been shattered to pieces, and after I'd sprained my finger (yes, the rude finger), I began questioning if I had done something to piss off the fairies.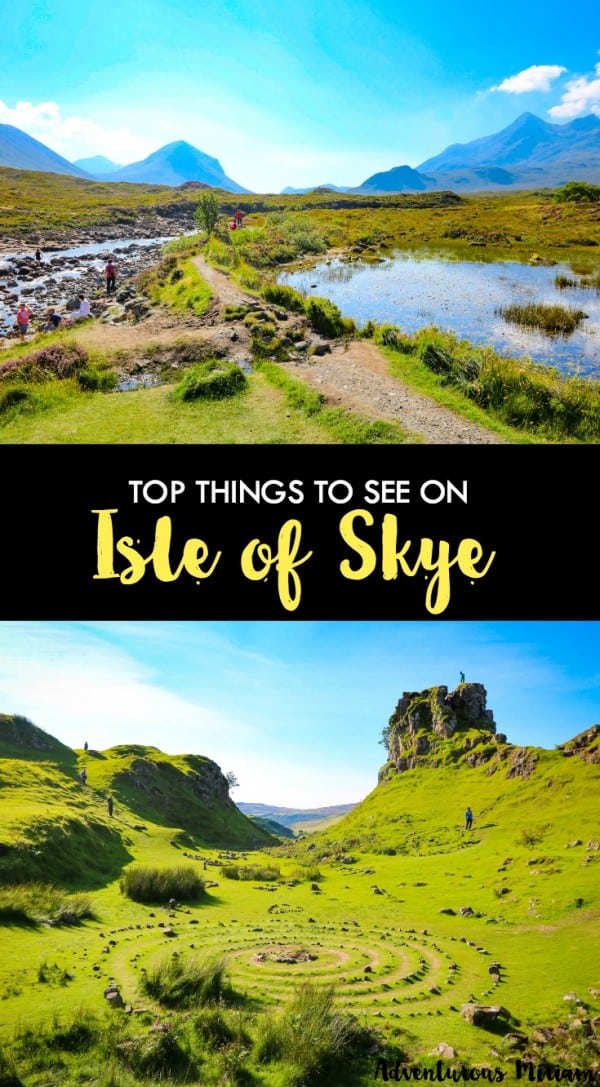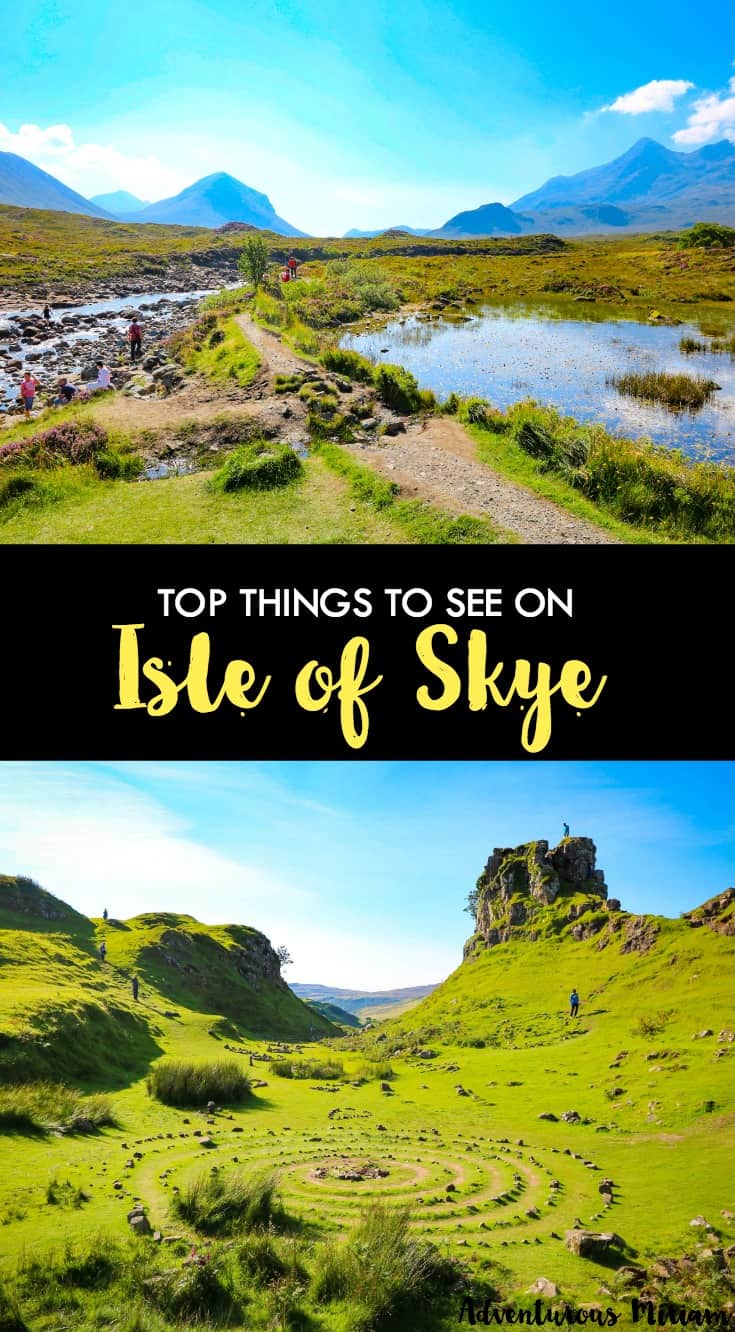 THE ISLE OF SKYE TOUR
I went with Heart of Scotland on their 3-day Isle of Skye tour. The trip started and ended in Edinburg, and on the way to Skye we visited Eileen Donan Castle, Glencoe and the Scottish Highlands, Fort Augustus, Loch Ness and several other beautiful landmarks in Scotland. As a side bonus, we also went looking for hairy coos.
I really enjoyed this tour and our lovely guide Colin. I traveled by myself so it was the perfect way to experience more of Scotland. The tour is suitable for families, solo travelers and couples and it costs between £109 – £119 per person.
1. THE FAIRY POOLS
On the morning of Monday, August 15th, I got in a wee red bus in Portree and set sail for the Fairy Pools.
A wonderful-ish experience lay ahead.
The "wonderful" part is a result of the fact that the Fairy Pools are one of the most beautiful places on Isle of Skye. Think crystal clear water pools with sky-capped mountains in the background.
The "ish" part comes from the fact that I lost my favorite gold bracelet (a gift from my husband) and jammed my finger in the tripod. Kind of depressing, right?
Let's move on.
There's no fact about the Fairy Pools that I enjoy more than the name. Who knows why or how they got it, but I prefer to imagine it's the home of fairies who are obsessed with bracelets, and anyone who ever laughed at them about it would promptly get a finger stuck in their camera equipment.
Okay, let's move on for real now.
Regarding the whole pool thing, these streams of water are running from the Cuillin mountains in the background. You can see them on the picture above and below. The water is almost still, only punctuated by busy waterfalls, and on a clear sunny day like today, you can really see how blue and greenish the pools are.
It's a beautiful walk. I especially liked the view from the parking lot where you have a clear view of the Cuillins and the green vast meadows below.
By the way, if you're going to the Fairy Pools, just know that it's very popular so go early. Even at 8.30 in the morning it was busy.
Like any other place on Skye, the Fairy Pools have their fair share of magic. Locals say that if you hold your head under the freezing water for seven seconds, you'll be blessed with the gift of eternal youth. I kid you not, but I saw more than three hopeful tourists, heads deep under water. I wouldn't be surprised to find locals nearby, laughing their Scottish arses off.
2. THE GHOSTS AT DUNTULM CASTLE
Another beautiful place on isle of Skye is the Duntulm castle. The castle ruin itself is not that special, but the view is. You can walk downhill to the shore or just sit at the bench and enjoy the dramatic view.
Speaking of drama. Guess who lives among these Scottish ruins? That's right – ghosts.
Rumor has it that one of the ghosts is a local girl. She, sister of chief MacLeod, fell in love with a young lad from the MacDonald clan. Make no mistake – these two clans really hated each other and constantly tried to wipe each other out. Coupled with the fact that they were neighbors, this placed them at each other's throats for centuries.
But surely this love story would see an end to the war between the clans? Err, not exactly.
In an attempt to bury the hatchet, the young couple got permission to be betrothed and move in together. All was swell until one day when the poor lass fell from her horse and lost an eye. Since that wasn't really MacDonald's problem, he sent her back to her family on a one-eyed donkey, accompanied by a one-eyed servant and a one-eyed dog. It was the ultimate insult.
Long story short, the MacLeods promptly went ape and started a war over it (War of the One-Eyed Woman). The clans eventually settled the feud, only for the girl to haunt these ruins for time and all eternity ↓
3. KILT ROCK
Let's move on to Kilt Rock, a sea cliff in the north-east Trotternish. It's right next to the Mealt Waterfall, where the water free-falls off the cliff for 60 meters. Sometimes when the wind is strong, the water is blown away and it doesn't reach the bottom at all.
The Kilt Rock got its name because it's folded like the pleats of a kilt.
I can't really see the resemblance. Can you? Here's a kilt to compare it ↓
Anyway, the Kilt Rock was one of my favorite stops on Isle of Skye. The scenery is beautiful, and the piper in the background gives it a Scottish touch. It's a really nice place.
4. LEALT WATERFALL AND CLIFFS
Only a few minutes drive from Kilt Rock is Lealt waterfall. The waterfall itself is hidden between the rocks so I barely saw it, but the cliffs were very, very visible. And so was the scenery.
It's one of those places I could have stayed at for hours.
5. OLD MAN OF STORR
Before coming to Isle of Skye, I had a long, extensive list of things I wanted to see. The Old Man of Storr was one of them. The Storr is a rocky hill range with craggy pinnacles and rock spires created by landslip, and the Old Man is the tallest and most distinctive of these spires.
You can see the Old Man of Storr from many sides, but the best viewpoint is from the top. I would have loved to do the hike, but it takes several hours and we didn't have time.
6. SLIGACHAN BRIDGE AND THE CUILLINS
If you've seen photos of Skye, you've probably seen this bridge before. It's the Sligachan bridge and it's situated at the foot of The Cuillins. Side note: It's here the MacDonalds and the MacLeods fought on one of many occasions.
Colin, our guide told us a story about a local lad who was dared to climb one of the mountains. So, he threw off his shoes and stormed up the mountain and back…. How long do think it took him? Like, seriously, how long would it take to race up a mountain and back again, with no shoes on? My guess was 3 hours, but it was way off.
The correct answer is 50 minutes! Can you believe this guy? No one has managed to break Speedy Gonzales' record, although plenty have tried.
Imagine this place at sunset → a photographer's dream
There's a campsite on the opposite side of the bridge, which seemed like a great place to set camp and spend the night.
7. MAGICAL FAIRY GLEN
Isle of Skye is a magical and very beautiful place. The landscape is unique and so is the scenery, but the most impressive place I saw was the Fairy Glen. This little valley of strange green mounds and moss-covered stones made me feel like I'd entered another world. There was something magical about this place, I've never experienced anything like it before.
There were these stone circles at the center of Fairy Glen, but no one seems to know how they got there. Whether or not they were placed there by tourists or locals, fairies or aliens, I didn't walk among them. Call me superstitious, but I didn't need any curses or more bad luck!
There are no signs to Fairy Glen, you even can't find it on a map. And I'm not going to tell where it is. It's unspoiled and still fairly unknown to the rest of the world. I think it should stay that way.
8. PORTREE ON ISLE OF SKYE
My first and last stop on Isle of Skye was Portree, which is conveniently located for exploring the island. While I was there, I walked down to the harbor and had some fish & chips – a must on Skye! Portree is very small and it only takes a 5-10 minutes to walk around town, but it still has a decent selection of restaurants, cafés and ATM's.
Read next: Where to stay on Isle of Skye
I spent two nights on Isle of Skye, which is not nearly enough to explore the island fully. We had a pretty tight schedule and I still had a lot of places left on my Isle of Skye bucket list when we left – like the Quiraing, the Neist Point Lighthouse, The hidden Cave of Gold and Coral beach. I'd also love to do some hiking.
Isle of Skye is any photographer's and nature lover's dream destination. It's beautiful and unique, it's rugged and mysterious. Lots of clan history, lots of Scottish tales and back pipes. People aren't exaggerating when they say it's the prettiest place in Scotland. It really is that special.
Read next: Amazing things to see in Scottish Highlands (3 days)
Many thanks to VisitBritain and VisitScotland for generously hosting me in Scotland, and thanks to Colin from Heart of Scotland for being a wonderful guide. As always, all opinions and thoughts are my own, regardless of who is footing the bill.
So, how beautiful is Skye?!