The perfect 2 day Isle of Skye itinerary (2023 guide)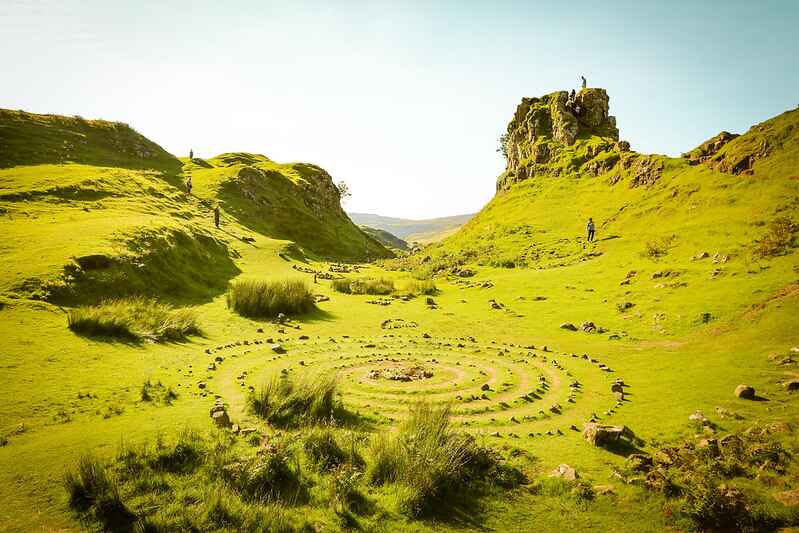 Looking for a 2 day Isle of Skye itinerary with the best highlights? I've handpicked the top things to do on Scotland's most beautiful island.
Isle of Skye is any photographer's and nature lover's dream destination. It's beautiful and unique, it's rugged and mysterious. Lots of clan history, lots of Scottish tales and bagpipes.
People aren't exaggerating when they say it's the most beautiful place in Scotland. It really is.
There are tons of things to do on Isle of Skye, and it can be daunting to plan an itinerary. But luckily, you won't have to.
In this post you'll find a 2-day itinerary that you can follow, plus tips on where to stay and how to get around. Basically all you need to plan your trip.
Let's get started.
This post contains referral links for products I love. Adventurous Miriam earns a small commission at no extra cost to you if you make a purchase through my links. Thank you for your support ♡ Learn more
2 day Isle of Skye itinerary
This itinerary includes the 18 best things to do on the Isle of Skye. You can visit all these places in 2 days.
The first day is focused on the Northern part of the peninsula (a Trotternish loop Skye), while the second day will be spent in the south and west part.
Below is the breakdown of your 2 day Isle of Skye itinerary:
Day 1
The Old Man of Storr
Lealth falls
Kilt Rock and Mealt Falls
Quiraing
Duntulm Castle
Gold Cave
Uig for puffin spotting
Falls of Rha
Fairy Glen
Day 2
Sligachan old bridge
Fairy Pools
Talisker Bay Beach
Talisker Distillery
Fairy Bridge
Dunvegan Castle
Coral beach
Neist Point
Map of Isle of Skye
Here is a map of Isle of Skye with the main attractions. You'll see two colours: Blue is day 1 and Orange is day 2.
Simply click on the + and – sign in the left corner to zoom in or out. Then click the numbers to discover the attraction and its location.
How to get to the Isle of Skye
By car
The best way to get to and around Isle of Skye is by car. You'll have maximum freedom plus you'll be able to take it at your own pace.
They drive on the left side of the road in Scotland. It takes a little getting used to, but you'll get the hang of it.
The best way to rent a car in Scotland is to book it online before your trip. Remember to get a GPS. If you have time, make sure to make a quick stop at Eilean Donan Castle – it's worth it!
🏁 I recommend Discover Cars to find and book car rentals. They search all the rental companies for the best prices and you always get free cancellation.
By bus
The cheapest way to get to Isle of Skye is by bus. You can take a public bus to Portree, but there's limited transport on Skye so this is not the best way to get around.
Organised tour
A great way to experience the Isle of Skye is on an organised tour. From Edinburgh, Glasgow or Inverness, you can take full-day or multi-day trips to the Isle of Skye.
I went as a solo traveler so this was perfect for me. I recommend this 3-day tour with Viator.
Where to stay on Isle of Skye
Portree is the largest town on Isle of Skye. It's small, so accommodation fills up fast, especially in the summer. Make sure to book well in advance.
Portree Garden Room (⭐️ 9.2) is located in Portree in a great, central location. It's a small, standalone apartment with a private garden.
Best time to visit Isle of Skye
The best time to visit the Isle of Skye is between May and September. However, the summer months, in particular July and August, are the high season.
I visited in August and actually had sunshine every single day during my 7 days in Scotland. Given how unpredictable the weather usually is, I felt lucky.
No matter when you visit, make sure to pack a rain coat and sturdy shoes (leave the umbrella at home, it will blow away anyways).
Isle of Skye road trip
Day 1
On your first day on Isle of Skye, you'll be doing a circuit of the northern part: the Trotternish peninsula. If you leave in the morning, you'll be back around 6 p.m. This is your itinerary:
The Old Man of Storr
Lealth falls
Kilt Rock and Mealt Falls
Quiraing
Duntulm Castle
Gold Cave
Uig for puffin spotting
Falls of Rha
Fairy Glen
1. Old man of Storr
Before coming to Isle of Skye, I had a long, extensive list of things I wanted to see. The Old Man of Storr was one of them.
The Storr is a rocky hill range with craggy pinnacles and rock spires created by landslip, and the Old Man is the tallest and most distinctive of these spires.
You can see the Old Man of Storr from many sides, but the best viewpoint is from the top. It takes a few hours to do the hike.
2. Lealt Waterfall and cliffs
Let's move on to Lealt waterfall. The waterfall itself is hidden between the rocks so it's barely visible from the it top, but the cliffs are very, very visible. And so is the scenery.
It's one of those places I could have stayed at for hours.
3. Kilt Rock and Mealt Waterfall
Only a few minutes drive from Lealt waterfall is Kilt Rock; a sea cliff in the north-east Trotternish.
It's right next to the Mealt Waterfall, where the water free-falls off the cliff for 60 meters. Sometimes when the wind is strong, the water is blown away and it doesn't reach the bottom at all.
The Kilt Rock got its name because it's folded like the pleats of a kilt.
I can't really see the resemblance. Can you? Here's a kilt to compare it ↓
Anyway, the Kilt Rock was one of my favourite stops on Isle of Skye. The scenery is beautiful, and the piper in the background gives it a Scottish touch. It's a really nice place.
4. Quirang
The Quirang is a landslip on the east side of Meall na Suiramach.
You can hike the 6.8 km hill circuit in two hours without stops, but you should allow yourself 3-4 hours so you have time to admire the landscape.
If you're short on time or don't feel like tackling the full path, walk at least part of it to get the stunning views. Oh, and wear good, sturdy shoes!
5. The ghosts at Duntulm Castle
Another beautiful place on isle of Skye is the Duntulm castle. The castle ruin itself is not that special, but the view is. You can walk downhill to the shore or just sit at the bench and enjoy the dramatic view.
Speaking of drama. Guess who lives among these Scottish ruins? That's right – ghosts!
Rumor has it that one of the ghosts is a local girl. She, sister of chief MacLeod, fell in love with a young lad from the MacDonald clan. Make no mistake – these two clans really hated each other and constantly tried to wipe each other out. Coupled with the fact that they were neighbours, this placed them at each other's throats for centuries.
But surely this love story would see an end to the war between the clans? Err, not exactly.
In an attempt to bury the hatchet, the young couple got permission to be betrothed and move in together. All was swell until one day when the poor lass fell from her horse and lost sight on her eye.
Since that wasn't really MacDonald's problem, he sent her back to her family on a one-eyed donkey, accompanied by a one-eyed servant and a one-eyed dog. It was the ultimate insult.
Long story short, the MacLeods promptly went ape and started a war over it (War of the One-Eyed Woman). The clans eventually settled the feud, only for the girl to haunt these ruins for time and all eternity ↓
6. Gold Cave
Not far from there, off the coast of Uig, is the Cave of Gold (Uamh Oir). The rarely visited sea cave looks like Fingal's Cave on Staffa island.
Formed out of hexagonal columns of basalt, it has been dubbed 'Skye's answer to the Giant's Causeway' across the Irish Sea – definitely a must-visit!
How to get there:
Drive to Kulmuir and turn right off the main road, then take the next right and go to the end of the road. There'll be a parking area outside a farm.
Follow the field until you reach a fence; take a left and follow the cliff until you spot the small trail down to the rocks.
Walk along these to your right and after about one minute you'll find yourself at your destination.
The walk takes 20 minutes or so, so plan an hour in total for this hike.
7. Falls of Rha
Make your way south until you reach a river just before the town of Uig. Take the trail up along the right side and after five minutes, you'll find yourself in front of one of Skye's biggest waterfalls: The Falls of Rha.
There's hardly any parking nearby, so make sure to look out for it when you pass by!
8. Spot puffins in Uig
Next up is puffin watching!
Yes, you can find puffins and other adorable animals from Skye! During spring and summer, you can take a boat trip from Uig to see puffins, seals and otters in their natural habitat.
9. Magical Fairy Glen
Isle of Skye is a magical and very beautiful place. The landscape is unique and so is the scenery, but the most impressive place I saw was the Fairy Glen.
This little valley of strange green mounds and moss-covered stones made me feel like I'd entered another world. There was something magical about this place, I've never experienced anything like it before.
There were these stone circles at the center of Fairy Glen, but no one seems to know how they got there. Whether or not they were placed there by tourists or locals, fairies or aliens, I didn't walk among them. Call me superstitious, but I didn't need any curses or bad luck!
The perfect Isle of Skye itinerary
Day 2
On day 2, you'll be seeing waterfalls, beaches, bridges and a lighthouse with spectacular views of the dramatic coastline. Oh, and there's a whisky visit planned, too!
Here's your itinerary:
Sligachan old bridge
Fairy Pools
Talisker Bay Beach
Talisker Distillery
Fairy Bridge
Dunvegan Castle
Coral beach
Neist Point
10. Sligachan bridge and the Cuillins
If you've seen photos of Skye, you've probably seen this bridge before. It's the Sligachan bridge and it's situated at the foot of The Cuillins.
Side note: It's here the MacDonalds and the MacLeods fought on one of many occasions.
Colin, our guide, told us a story about a local lad who was dared to climb one of the mountains. So, he threw off his shoes and stormed up the mountain and back….
🔥 How long do think it took him? Like, seriously, how long would it take to race up a mountain and back again, with no shoes on? My guess was 3 hours, but it was way off.
The correct answer is 50 minutes! Can you believe this guy? No one has managed to break Speedy Gonzales' record, although plenty have tried.
11. The Fairy Pools
A visit to the Isle of Skye wouldn't be complete without a hike to the Fairy Pools. This stunning destination is one of the most popular spots in Skye and for good reason.
It's a beautiful walk. I especially liked the view from the parking lot where you have a clear view of the Cuillins and the green vast meadows below.
🧝‍♀️ The Fairy Pools is a popular destination so go early or late (even at 8.30 in the morning it was starting to get busy). It's a 2,5 km walk to the pools and back so you'll still find plenty of quiet spots along the route.
12. Talisker Bay Beach
Talisker Bay, located on the western coast of the Minginish Peninsula, is renowned for being one of the finest beaches on Skye. A level walk from the end of the road leads to this pretty bay with its sandy beach and dramatic sea stack at its southern end. The bay faces almost due west, so it's a fantastic spot to watch the sunset.
The 1.45 km one-way walk should take about 20 minutes, so with no stops the entire stop would be 40 minutes in total.
13. Talisker Distillery
The Talisker Distillery in Carbost is the oldest working whisky distillery on the Isle of Skye.
You can take a 45-minute tour and get an up-close look at how they make their signature single malt – you can even sample some, too! Make sure to book your tour ahead of time though, as tickets tend to sell out quickly in the summer months if you only have two days to explore.
14. Fairy Bridge
On your way, make sure to take a brief detour and get a picture of the iconic Fairy Bridge.
The single arch bridge dates back to the 19th century and has a special place in Skye's history, as it is where the famous Fairy Flag was exchanged many years ago!
15. Dunvegan Castle
Dunvegan Castle and Gardens is the ancestral home of Clan MacLeod in the 13th century. Explore the enchanting medieval architecture, surrounding serene gardens, and stunning views of Loch Dunvegan.
🦭 The castle is open only from 1 April – 15 October. You can also take seal trips here.
16. Coral beach
You might have seen Coral Beach in the Netflix series Outlaw King about Robert the Bruce. Its white sand and turquoise waters are made up of maerl or fossilised seaweed bits that eventually bleach white in the sun.
Located an hour southwest of the Fairy Glen, you can reach it on a short 15-minute walk from the car park.
17. Neist Point Lighthouse
The Neist Point Lighthouse is Skye's most picturesque lighthouse. It was designed by David Alan Stevenson, whose family designed most of Scotland's lighthouses.
The lighthouse is about a 45-minute walk from the car park, beginning with a steep staircase down to the point. The point juts out into the sea above dramatic cliffs, offering jaw-dropping views.
This is another of the most popular spots to watch the sunset on Skye. It's also one of the best places to see whales, dolphins, and sharks!
18. Portree
My first and last stop on Isle of Skye was Portree, which is conveniently located for exploring the island. It'll probably be yours, too. While you're there, make sure to walk down to the harbour and have some fish & chips – it's a must on Skye!
Portree is very small and it only takes a 5-10 minutes to walk around town, but it still has a decent selection of restaurants, cafés and ATM's.
Read next: Where to stay on Isle of Skye
💸 Scotland travel insurance
I highly recommend having travel insurance because let's be real — the last thing you want on your trip is for accidents to get in the way.
I recommend Safety Wing — they offer affordable prices, great coverage, and a reliable 24/7 on-call service.
🙋‍♀️ Isle of Skye FAQs
Is 2 days enough for Isle of Skye?
Two days is enough to visit the major tourist attractions on Isle of Skye, such as the Fairy Pools and Neist Point Lighthouse.
The ideal time to spend there is 3 days, though, which gives you time to visit some of the lesser known sights and waterfalls.
How do you spend 2 days on the Isle of Skye?
Spending two days on the Isle of Skye is perfectly doable if you plan it right. On day one, explore the northern peninsula, and concentrate on the Southern and Western part on day two.
What not to miss on the Isle of Skye?
The Isle of Skye is full of beauty, and there are plenty of things to do here! From spectacular castles and charming fishing villages to hidden lochs and fairy valleys.
Must-see attractions include:
The Fairy Pools: A magical set of crystal-clear pools surrounded by rugged mountains.
Fairy Glen: A magical valley
Neist Point Lighthouse: Built in 1909, this lighthouse offers stunning sea views.
The Quiraing: This rugged mountain range provides stunning panoramic views across the landscape.
Kilt Rock: Rock formations named after their tartan-like patterns on the cliff face.
What is the most beautiful town in the Isle of Skye?
Portree is often regarded as the most beautiful town on the Isle of Skye. Especially the brightly coloured cottages by the harbour are worth visiting.
Many thanks to VisitBritain and VisitScotland for generously hosting me in Scotland, and thanks to Colin from Heart of Scotland for being a wonderful guide. As always, all opinions and thoughts are my own, regardless of who is footing the bill.
More posts from Scotland you might like
Save it!