Where to stay on Isle of Skye Scotland
Wondering where to stay on Isle of Skye?
Isle of Skye is the most famous and beloved of Scotland's islands. With some of the most beautiful scenery in Britain, the island will take your breath away! It's a land of fairies and goblins, castles and lakes.
In this post, I'm going to take you across the island and introduce you to the best Isle of Skye hotels, from its biggest town of Portree to its smallest villages and hamlets.
We'll look at what each place has to offer so you can find the best places to stay on the Isle of Skye.
This post contains referral links for products I love. Adventurous Miriam earns a small commission at no extra cost to you if you make a purchase through my links. Thank you for your support ♡ Learn more
Where to stay on Isle of Skye
Here are the best Isle of Skye hotels and what each town has to offer:
How to find the best Isle of Skye hotels for you
The Isle of Skye is a rugged place of mountains and lakes, with towns and villages scattered across the whole island.
Where you choose to stay depends on what you like to do, from swimming to hiking to boating.
The island isn't easy to get around without a car, so keep that in mind when you choose where to stay! And hiking is a big part of the culture, so pack your sturdiest boots!
Here are some Isle of Skye Hotels that cater to all different kinds of travelers:
This charming little bed & breakfast is perfect for all of my fellow adventurous solo travelers out there.
This Kilmuir B&B has free parking for the solo traveler making their way around the island alone. It has views of the dramatic sea beyond the village, and the rooms are some of the most homey and cosy you'll find on the whole island!
If you're traveling as a pair or a family, this is the perfect Isle of Skye budget hotel, with all of the benefits of a high-end hotel but none of the crazy costs. It's a rural B&B out in the sticks, the kind of place you yearn for when you visit Skye.
The rooms are charming, the beds are comfortable, and a full English breakfast is included in the price! You can't ask for much more than that to really make you feel at home in the culture of Skye.
This private cabin is situated in the best landscape that Skye has to offer you. If you love long walks, sea views, and mountain hikes, this cabin is absolutely for you. The cabin is in Dunvegan, not far from the best castle on the island.
The Isle of Raasay is a tiny island found between Skye and mainland Scotland. It has a deep local history that's perfect for you if you love discovering history when you travel.
The ruins of Brochel Castle are a powerful and dramatic ancient sight. The hosts are also charming, welcoming, and very informative about the local history.
MOST scenic accommodation
This beautiful hotel is scenic inside and outside. The hotel itself is simply stunning, with some of the best décor you'll find in any hotel on the island.
Sitting on huge private grounds at the edge of Loch Snizort (what a wonderful name), the hotel is completely surrounded by the most scenic views.
Portree – where to stay in Skye for
convenience
Portree –
The largest town on Skye
Portree is the hub and capital of Skye, situated half way up the island and on its West coast.
With a beautiful harbour and roads which stretch out like veins across the rest of Skye, the town is perfect as a travel hub as you explore your way around the island. Being the biggest town, it also has the most home comforts.
You're in the centre of the island
Easy routes to and from almost every other town and village
Beautiful harbour area to explore
A wide selection of hotels, cafes, and restaurants
Further from the more rugged natural beauty

Hotels are a little more expensive since it's the capital
Where to stay in Portree
This old manor house is a short drive outside the town. It is surrounded by beautiful gardens and also has its own drawing room and pool table.
You can sit by the fire and relax in the evenings, chatting with the other guests. Then retire to a queen-size bed and a beautiful old-fashioned bath in a warm and cosy room. Prices start at $598 per night, making this hotel the height of luxury.
Check the latest prices at Booking.com
This standalone apartment comes with a private garden to enjoy! It's located within the town of Portree and is ideal for couples. With a mountain view and a private patio, from which you can enjoy the scenery, this apartment is ideal if you're traveling with your partner. Prices start at $299.
Check the latest prices at Booking.com
This B&B can be found a short drive outside the town of Portree. It has a mountain view and is nestled in amongst rugged Scottish countryside. The rooms are quaint and cosy, with everything a solo traveler or a traveling couple could need. Traditional Scottish breakfasts are also available! Prices start at $169.
Check the latest prices at Booking.com
Broadford

– best places to stay in Isle of Skye for

nature
Sits in the shadow of the Red Cuillin Mountains
Broadford is the Isle of Skye's second largest town, and you can find it south of Portree, closer to mainland Scotland.
After the Napoleonic Wars, many veterans settled here, and you can still see that history alive in the area name of Waterloo. Broadford might be the second town, but it is still teeming with wildlife.
You can find otters and seals in the Broadford Bay, as well as swans and geese swimming across the water's surface.
Pros and cons of staying in Broadford
You can go fishing and sailing off the coast

There are long hiking trails to explore and get lost on

Hiring bicycles and exploring the local area is beautiful and recommended!

It's smaller than Portree but still has all of the amenities of a town
It's close to the mainland so you're not getting lost in the heart of the island

It's not as lively as Portree nor as rugged as Dunvegan
Where to Stay in Broadford
This selection of cottages each come with two bedrooms and a view of the Red Cuillin mountains. The kitchens are well-stocked and the living areas are extremely comfortable and cosy. Here you have everything you need to bed down and live like a real Broadford local! Prices for these cottages start at $598 for couples and $651 for families of three.
Check the latest prices at Booking.com
These apartments are designed with couples in mind. They are situated right on the bay, overlooking the water. If you're lucky, you can even catch a glimpse of the northern lights from here! The apartments have modern furnishings and are splendidly warm. Prices start at $390 for two nights.
Check the latest prices at Booking.com
Breakish is an idyllic village less than two miles down the road from Broadford town. Here you'll get a more quaint and quiet stay. Breakish Escape offers lovely little hotel rooms that are perfect for solo travelers and couples. There are tea and coffee facilities, and the hosts offer home-cooked continental breakfasts. Prices start at $130 per night.
Check the latest prices at Booking.com
Dunvegan – the best accommodation on Isle of Skye for history
Home of Dunvegan Castle, seat of the chief of Clan MacLeod
This beautiful village is hidden away in the northwest of the Isle of Skye. Aside from sounding like a person who quickly gave up on the vegan lifestyle, Dunvegan sits at the edge of a massive lake known as Loch Dunvegan.
The castle is one of the most famous, beautiful, and must-see attractions on all of Skye, as well. Its history is amazing and it's so stunning to see!
Pros and cons of staying in Dunvegan
Dunvegan Castle is a highlight of the island and must be explored

There's a coral beach to stroll along

You can go fishing and sailing off the coast
Being this far north, you are very cut off from the main towns in the south and the Scottish mainland

Being a small village, there is little to offer in terms of restaurants, pubs, and cafes
Where to stay in Dunvegan
This cottage is out in the rural wilderness beyond Dunvegan. With views of the surrounding fields and the nearby river, it's perfect for you if what you seek is a little peace and quiet amongst the hills and flowing streams. Prices for a group of four people start at $868.
Check the latest prices at Booking.com
Found in the heart of Dunvegan village. Several rooms in this house have a mountain view. The bedrooms and bathrooms are incredibly modern and well-presented. Every room even has its own seating area. Prices start at $390.
Check the latest prices at Booking.com
This hotel is just a short drive south of Dunvegan village. Each room has its own seating area, TV, and bathroom. There's also a lovely little guest lounge that you're free to enjoy and relax in. Prices start at $351 for a solo traveler for two nights, with breakfast included.
Check the latest prices at Booking.com
Kilmuir

– the best accommodation on Isle of Skye for views
The northmost town on Skye, and burial place of Alexander McQueen
Kilmuir is a beautiful little village at the very tip-top of Skye, overlooking the ocean.
From here, it's possible to see the Northern Lights in all their majesty! It's also the place where legendary fashion designer Alexander McQueen is buried.
Although born in London, his father's side of the family hail from this part of Skye, and so he was laid to rest in the village cemetery.
Pros and Cons of Staying in Kilmuir
Getting there means seeing the whole island on a wonderful drive through Skye, or along its coast

It's quiet and tranquil, away from the bustle of everyday life

The ocean views and rolling hills are the best on the island
It's the furthest point from the bigger towns and the mainland

You can feel isolated and alone here
Where to stay in Kilmuir
This holiday home is a single, isolated cottage surrounded by green fields and with a wide view of the ocean. It's in a gorgeous, rugged location far from anywhere busy. It really defines the term 'getaway'.
It's a small cottage, ideal for a couple, and it includes everything a home should have, including a fireplace, TV, and WIFI. Surrounding the cottage are lakes, mountains, fields and hills. Every beautiful part of nature is here to fill your senses! Prices start at $859 for two people.
Check the latest prices at Booking.com
This three-bedroom holiday cottage is great for a small family, with three simple bedrooms and a warm livingroom. The cottage includes a fireplace for cold evenings, and is surrounded by your typical rough Scottish wilderness on all sides. The price is fantastic for all the privacy you get, as well, starting at $381.
Check the latest prices at Booking.com
This little hotel B&B is ideal for couples looking for a weekend getaway. It has double rooms with shared bathrooms. Every room has a TV and a kettle.
The building itself is nestled in the village of Kilmuir, with everything you need nearby. For a budget price of $89 per night, you still get a wholesome cottage experience at the tip of Scotland's most beautiful island.
Check the latest prices at Booking.com
Isleornsay

– the best accommodation on Isle of Skye for exclusive hotels

The best natural harbour on Skye

Isleornsay is a quiet harbour village which overlooks Ornsay, an island just off the main coast of Skye.

The village has a strong history of locals emigrating to Canada and all the way to Australia. So, many Australians today can trace their roots back to this lovely fishing village.
Pros and cons of staying in Isleornsay
The village has a deep history to discover

The hotels are the most extravagant and beautiful on the island

There's a large fishing and sailing culture
You're still south, close to the mainland, so you can miss seeing a lot of the island

The village is small, with few pubs and restaurants to enjoy
Where to Stay in Isleornsay
This beautiful old 17th century lodge has all the style of Jane Austen novel. It sits along the southern coastline of the island. Its dishes are award-winning and made with mostly locally-sourced ingredients.
If you're a wine fan, they also have a massive selection. This is one of my favourite spots to stay on the whole island. Prices for a double room with a king-sized bed start at $471.
Check the latest prices at Booking.com
Beautifully-decorated rooms, modern bathrooms, and four-poster beds. This hotel has everything. If you love a gorgeously-designed room, this is your place. Surrounding the house are luscious green gardens on all sides.
Every room is guaranteed a view of either gardens, forests, sea, or mountains. There is a shared lounge area for guests to enjoy, featuring a fireplace and a garden view. Prices start at $312 for a double room.
If you're traveling with your partner, this hotel is ideal for you!
Check the latest prices at Booking.com
This budget hotel has classically-decorated rooms and a beautiful dining room space. The dining area has its own fireplace, complete with a mantel and stunning wood panelling which takes you back in time.
Many of the rooms also boast their own fireplaces as well. A la carte dining using locally-sourced seafood and game makes for a great dining experience. You'll love your stay at this hotel, which offers so much at a budget price of $190 for a single room or $200 for a double.
Check the latest prices at Booking.com
Things to do on Isle of Skye, Scotland
With such a deep history and some of the most dramatic and gorgeous landscapes in Scotland, Isle of Skye has plenty for you to see and do.
I took a 3-day tour that included the Fairy Pools, Duntulm Castle, and Kilt Rock. Ancient roads, beautiful waterfalls, and hiking trails make Isle of Skye an outdoor holidaymaker's dream!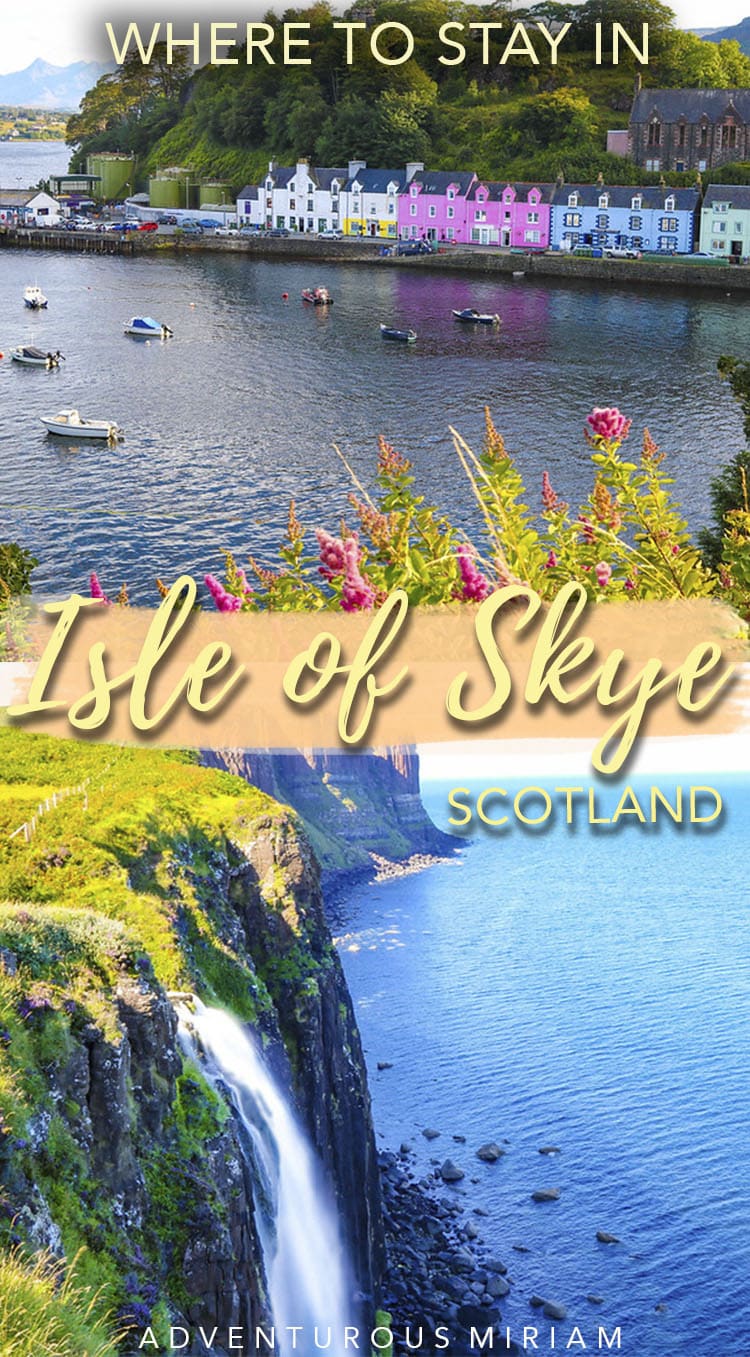 More posts from Scotland you might like